US military weapons, "full of fake Chinese parts"
US weapons are said to be "full of fake Chinese parts"

Published Wed, Nov 9 2011 5:43 AM CST
|
Updated Tue, Nov 3 2020 12:30 PM CST
I wonder if you look under the latest Jet, Rocket Launcher or M16 if it would say "Made in China", because at the end of the day - a lot of the parts that go into the high-end military arms are built in China. A story has come about that the US Senate Armed Services Committee said its researchers had uncovered 1,800 cases in which the Pentagon had been sold electronics that may be counterfeit.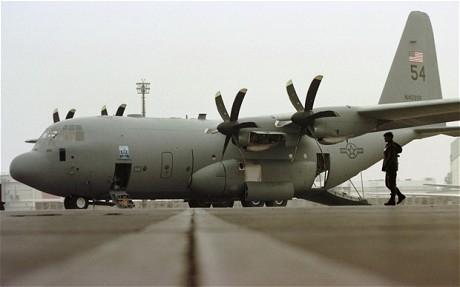 In total, the committee has said that they found more than a million fake parts that have made their way into warplanes such as the Boeing C-17 transport jet and the Lockheed Martin C-130J "Super Hercules." The problem with this is, it could be everywhere without the US military knowing, as they also found fake components in Boeing's CH-46 Sea Knight helicopter as well as the Theatre High-Altitude Area Defence (THAAD) missile defence system.
Senator Carl Levin has said:
A million parts is surely a huge number. But I want to repeat this: we have only looked at a portion of the defence supply chain. So those 1,800 cases are just the tip of the iceberg.
It is said that around seven in 10 cases that the fake parts had originated from China, while investigators traced another 20-percent of cases to the UK and Canada, known resale points for Chinese counterfeits. Counterfeit microchips are usually smuggled out of factories, especially out of the southern Chinese province of Guangdong. They're burnt off old computer circuit boards before having their identifying marks sanded off and repainted as new.
The difference between the re-badged Chinese knock-offs and Military-grade hardware is quite different, as you'd expect. In Chinese bazaars, "military-grade" microchips are openly advertised, but these chips are usually commercial chips that have been modified and relabelled. Whereas military-grade chips are designed to withstand far greater extremes of temperature and humidity, and because of this, fake Chinese parts are feared to suddenly fail.
This can mean the difference between life or death for soldiers relying on this equipment across the world. John McCain, senior Republican Senator on the committee says that "we cannot tolerate teh risk of a ballistic missile interceptor failing to hit its target, a helicopter pilot unable to fire his missiles, or any other mission failure because of a counterfeit part."
It's been going for quite a while now, with Song Xiaojun, a former Peoples' Liberation Army officer who has become a nationalistic commentator in the Chinese media said the US had "got itself into the position it is in".
He added:
The US has been dismantling its factories since the 1960s. And since the Clinton government, the US has turned a blind eye towards military requisitioning. As it keeps cutting its procurement budget, weapons dealers will keep providing cheaper quality products. This attack on China is political, given the forthcoming elections. But it should not be blaming China, this is a free market issue. The only solution the US has is to buy its components from Korea or Japan instead, but then its costs will rise a hundredfold.
Related Tags