Battlefield 3 open beta stats - over 8 million people participated
Battlefield 3 open beta stats, interesting numbers included

Published Wed, Oct 19 2011 2:31 AM CDT
|
Updated Tue, Nov 3 2020 12:30 PM CST
EA and DICE have revealed some interesting stats regarding the open beta of Battlefield 3 with some impressive numbers indeed. Over 47 billion shots were fired, 2.2 billion regenerated health contributed by Assault players.
19 million people "lost their dog tags at the end of a knife" (I think I only took two people down with a knife, boo), 21 million M-Com stations were destroyed, 635.6 meters was the longest recorded headshot (I did one at around 550m, so I was close!), 1.5 billion kills were registered and finally, 8,125,310 users participated in the Battlefield 3 open beta.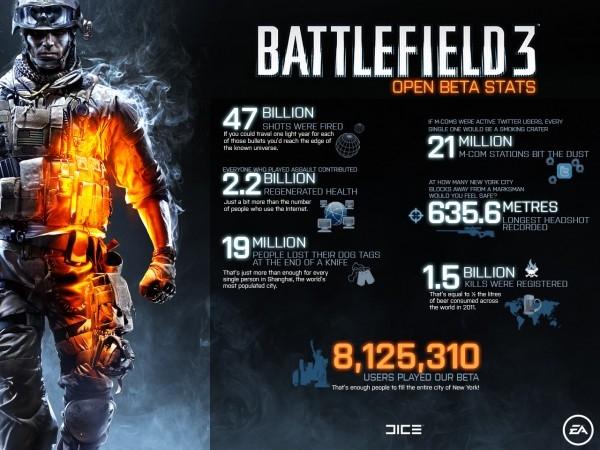 Impressive numbers to say the least. I'm very surprised at the number of players though, over 8 million! That is a huge chunk of gamers. I would love to know the split on what platforms they used too... was it more on PC? Xbox or PS3?
Related Tags