Apple iPhone 4S 'Find My Friends', catches possible cheating wife?
Find My Friends app on iPhone 4S used by husband, finds out his wife is possibly cheating.

Published Mon, Oct 17 2011 7:27 PM CDT
|
Updated Tue, Nov 3 2020 12:30 PM CST
Well, its not everyday your smartphone can be a superhero, but for some poor fello in NYC, it seems the latest iPhone incarnation has. The MacRumors forum is buzzing from a story that this man found out that his wife was lying to him. The man is actually already filing for divorce, and you can find all of the details in the below quote and picture:
I got my wife a new 4s and loaded up find my friends without her knowing. She told me she was at her friends house in the east village. I've had suspicions about her meeting this guy who lives uptown. Lo and behold, Find my Friends has her right there. I just texted her asking where she was and the dumb b!otch said she was on 10th Street!! Thank you Apple, thank you App Store, thank you all. These beautiful treasure trove of screen shots going to play well when I meet her a$$ at the lawyer's office in a few week.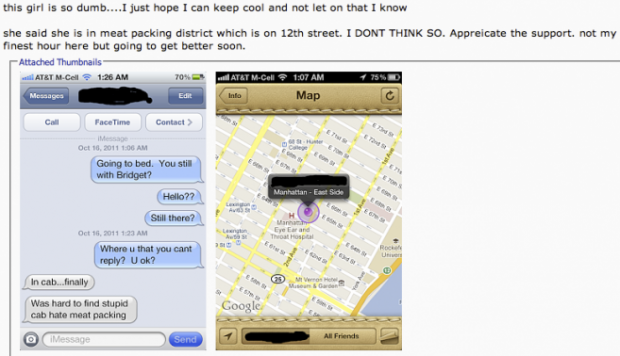 Of course, this news does raise some serious concerns. Privacy for one... yes this woman may (I can't prove this) have been cheating, but it was only through an Apple device that she was found out. Her husband had to enable an app in her phone to do this, so if she was not in fact cheating, that is a breach of her privacy from her husbands paranoia. Second, this now creates buzz across the world, thousands if not, millions of people who had never heard of Find My Friends will now be using this application.
Related Tags