Intel shows off solar-powered CPU
Intel shows off solar-powered CPU, only uses a solar cell the size of a postage stamp.

Published Tue, Sep 13 2011 9:30 PM CDT
|
Updated Tue, Nov 3 2020 12:31 PM CST
IDF 2011 - Intel is committed to low-power computing and to show their commitment to it, Intel CEO Paul Otellini challenged the Intel Labs to create a demo of just how far Intel can push technology at this current moment in time. Paul added "the ultimate goal is the most power-efficient devices known to man". Intel Labs were able to create a CPU that was capable of running Windows, powered by a tiny solar cell.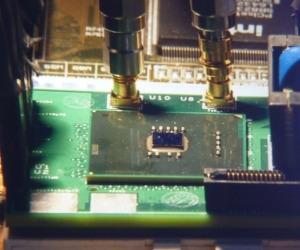 An Intel engineer stepped onto the IDF 2011 stage to show off a demo which involved a nodding cat wearing headphones. The engineer said:
What I'm showing here is technology that one day will make its way into future ultrabooks and a whole bunch of other devices...we've been experimenting with low-voltage circuits. What we have here is a microprocessor - it's an experimental prototype - which is capable of operating near to the threshold voltage of the transistors and is still capable of running Windows.
The engineer then revealed what everyone wanted to know: what was actually powering the CPU in the system, in which he said:
The processor consumes so little power that we here have it running off a small solar cell which is only about the size of a postage stamp.
The engineer moved his hand between the lamp above the solar cell and the cell itself and the cat animation stopped. This showed that the system had locked up due to the lack of power to the processor. While the solar power was only powering the CPU itself, it is an amazing feat it itself. Imagine what we'll see in the coming years...
Related Tags