Apple lying once again in lawsuit filing? Are Apple scared of Google?
Are Apple scared of Google? Apple are caught out for a second time shrinking a Samsung device in a l.

Published Fri, Aug 19 2011 9:35 PM CDT
|
Updated Tue, Nov 3 2020 12:31 PM CST
It seems Apple have shrunk the size of the Samsung Galaxy S to make it look more like a clone of the iPhone in their latest Dutch lawsuit filing. As you can see in the picture below, not only have Apple shrunk the physical size of the Galaxy S handset, but they've also gone into the App Drawer so it looks identical to the home screen of the iPhone. Android users will know, this is not how the phone looks like by default, as there is a desktop with widgets - not Apps like the iOS.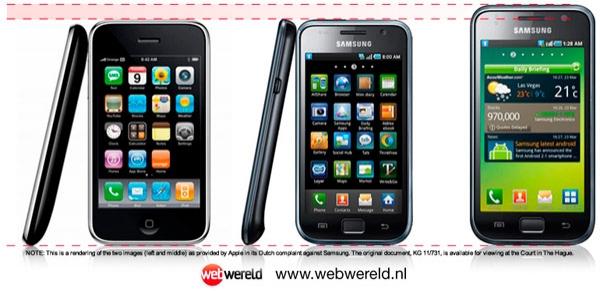 Apple have shrunk the Galaxy S by what seems around 10%, to look absolutely identical in physical size to the iPhone so they can cry fowl that Samsung are copying their design. It was only last week in which Apple submitted shrunken pictures of the Galaxy Tab 10.1 tablet from Samsung, in which they filed a picture misrepresenting the Galaxy Tab 10.1 as an incorrect 4:3 aspect ratio, while the Galaxy Tab 10.1 is actually a 16:10 ratio.
Apple - are you scared? Well, you must be. How about instead of playing like spoilt bullies, you bring out something that changes the industry again, instead of being stagnant and attacking the competition with lies.
Related Tags