LulzSec disbands after '50 Days of Lulz'
Or so it 'apparently' would seem..... for now.
Published Jun 27, 2011 9:07 AM CDT
|
Updated Tue, Nov 3 2020 12:31 PM CST
1 minute & 23 seconds read time
Following nearly 2 months of worldwide security mayhem which began with the breach and temporary (but painfully long) closure of Sony's PlayStation network, the hacker group responsible, "LulzSec" has indicated that it finally plans to withdraw its aggressive hacking antics and disband.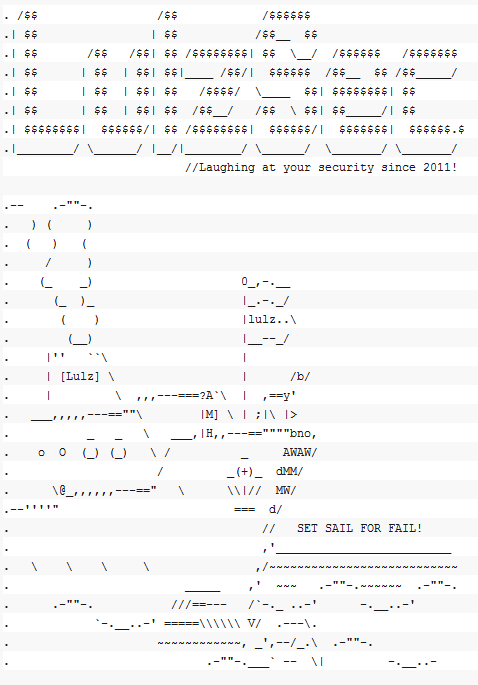 This group has certainly made quite a shattering impact in performing several high-profile security breaches and DoS attacks against the likes of Sony as mentioned, Nintendo and even the US Senate and FBI. Their hacking adventures have resulted in company costs well into the 10s of millions.
Having done wonders for their own egos and making sure they don't push it too far by ending up in a court room, it appears their intensive hacking spree has ended, with the announcement "After 50 days of mayhem, the LulzSec boat has apparently sailed its final hacking voyage" accompanied by a torrent named '50 Days of Lulz' posted on Pirate Bay; the contents of which had a mass of sensitive information including 550,000+ user details for the Battlefield Heroes Beta which were apparently provided ''to selflessly entertain others'. That torrent has now been removed from the site.
45.Again, behind the mask, behind the insanity and mayhem, we truly believe in the AntiSec movement. We believe in it so strongly that we brought it back, much to the dismay of those looking for more anarchic lulz. We hope, wish, even beg, that the movement manifests itself into a revolution that can continue on without us. The support we've gathered for it in such a short space of time is truly overwhelming, and not to mention humbling. Please don't stop. Together, united, we can stomp down our common oppressors and imbue ourselves with the power and freedom we deserve.
For the full statement, click here.
Whoever the masterminds are behind these events, they clearly have a hell of a lot of talent in the field and I highly doubt such talent would be kept dormant for too long. Having said that, I don't think we've heard the last from this elitest hacking group, at least not from certain entities within.
Related Tags