Intel Smart Response SSD cache tech tested on GIGABYTE Z68
Side by side quick look video at performance benefits.

Published Tue, May 10 2011 8:17 AM CDT
|
Updated Tue, Nov 3 2020 12:31 PM CST
Late last week GIGABYTE invited us to the fancy Miramar Garden hotel in Taipei where they were setup to shoot their own promo videos of its forthcoming Intel Z68 based motherboards launch.
We went along to check them out and snap some photos for our preview of the Z68 UD3H and UD7. Inside the hotel suite GIGABYTE had two identical systems setup with the Z68 UD7 platform with the only difference being that one was configured with an SSD using Intel's new Smart Response caching technology and the other just with a standard hard drive configuration.
What is
Intel Smart Response Technology
? In short since we can't go into extensive detail here, it is in my opinion a way of gaining some of the benefits of an SSD without blowing your bank account or having to settle for limited storage space. The idea is that you can pick up an affordable 20GB SSD, put it in a RAID array with your large spinning hard drive and regular data that is most often accessed is cached on the SSD for quicker access.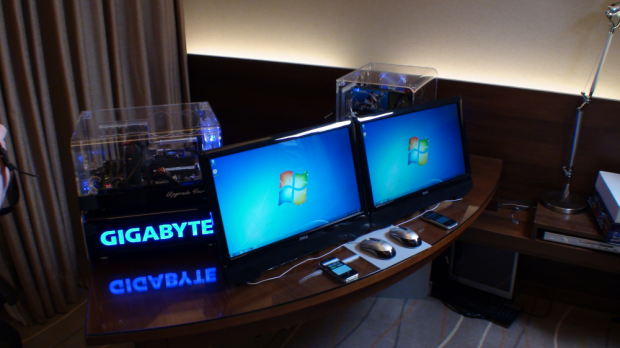 It's not like you will see the full benefits of going out and picking up say a high-performance 200GB+ SSD and running your complete OS and programs on it, but in the video above, you can see there are some gains to be had and at what should turn out to be a reasonable cost of entry. This type of technology is not new; many others have done it before - it's just that Intel is one of the big names in this industry of course and it's gained a fair bit of attention.
Related Tags