Space X has successfully launched a large capsule into Earth's orbit today, with this success it makes them the first private corporation to reach this milestone.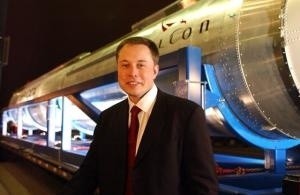 Elon Musk made a fortune by co-founding PayPal and lives the kind of life Tony Stark (aka Iron Man) but, in real life. He's a billionaire who is also the founder of Space X. He is also the co-founder of Tesla Motors and has spent $400 million of his own fortune to advance Space X to it's current point in time.
From here, the plan is cheap space ferrying. The rocket will have capabilities to transport 6000 kg with a return cargo capacity of 3000 kg. The average cost per flight will be under $5360 USD/kg. The previous cheapest option was Russia's Rockot [a converted ICBM] which delivered cargo for $7297 USD/kg (and was reportedly subsidized by the Russian Navy).
The current transport costs $10, 400 USD/kg and is provided by the US Space Shuttle.
In 2013 Space X is reported to carry astronauts to the International Space Station. The passenger variant from Space X, dubbed "Dragon" can carry up to seven people or a mix or crew and cargo. It will be competing directly with Boeing which is also designing a passenger spacecraft.