Apple's anti-sexting gets a patent
Apple enables iOS chastity belt.

Published Wed, Oct 13 2010 8:38 PM CDT
|
Updated Tue, Nov 3 2020 12:33 PM CST
Today, Apple had their anti-sexting patent approved by the US Patent and Trademark Office.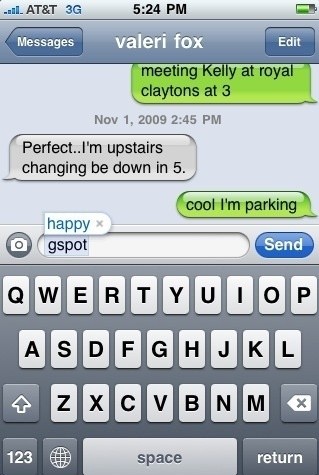 The patent aims to prevent users from sending or receiving "objectionable" text messages. The patent office does have an official title for it, sit down for this one people, "text-based communication control for personal communication device", well that was a mouthful - wait, can I say that without the anti-sexting prediction stopping me??
The "text-based communication control for personal communication device" (otherwise known as "sexting") info states that the problem it solves is that there is currently "No way to monitor and control text communications to make them user appropriate. For example, users such as children may send or receive messages (intentionally or not) with parentally objectionable language."
The patent itself, states: In one embodiment, the control application includes a parental control application. The parental control application evaluates whether or not the communication contains approved text based on, for example, objective ratings criteria or a user's age or grade level, and, if unauthorized, prevents such text from being included in the text-based communication.
If the control contains unauthorized text, the control application may alert the user, the administrator or other designated individuals of the presence of such text. The control application may require the user to replace the unauthorized text or may automatically delete the text or the entire communication.
Well, your children are now safe - Steve Jobs and Apple have created a patent for one of the biggest fears of parents. Is this a sign of things to come? Is it the end of "sexting"? Obviously, there will be work arounds, or clever word play - I find it funny, coming from a guy that has "Job" in his name, the fun that could be had! ;)
Related Tags