Official Twitter app for iPhone released
Tweeting from your iPhone gets a lot simpler.
Published Wed, May 19 2010 4:40 PM CDT
|
Updated Tue, Nov 3 2020 12:34 PM CST
Twitter has been a popular application for a while now both for those sitting at a computer or on the go. Until now, there has been no official app released by Twitter for Apple iPhone and iPod Touch users. This has been changed as Twitter has officially released a Twitter app that can be downloaded for free from the iTunes App Store.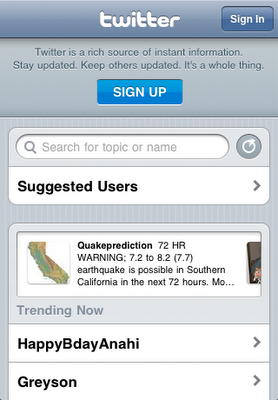 The mobile team at Twitter has put in quite a bit of work making this app easy to use on the device and you do not even need a Twitter account to use the app. Functions include checking out Top Tweets, finding popular users, and locating tweets by geographic region are included as well as a streamlined signup process to get your own account started on Twitter.
As someone who has only recently jumped on the Twitter bandwagon, I found myself surprised that this is something that is only now coming to fruition, as seeing people tweeting from their mobile devices is becoming pretty standard fare these days with the popularity of the site. Twitter's user experience analyzers obviously found this out as users have been clamoring for this for a while now and now that it's here, Apple and Twitter fans can rejoice and tweet on!
Related Tags