XFX denies 64-bit Radeon HD 5970 video card users
You have been denied!
Published Dec 3, 2009 12:20 PM CST
|
Updated Wed, Jul 27 2022 3:46 AM CDT
2 minutes & 22 seconds read time
Let me paint a picture - you've read our Radeon HD 5970 video card overclocking article
here
and you can't help but feel excited about the potential power that you're able to achieve from it. So you start going around and hunting one down, wondering which is the best to buy. So you go over to Newegg and find
this
. The XFX HD 5970 Black Edition, not only does it sound fancy, but the price tag of $709.99 and the specification saying Core Clock 725 MHz (up to +30% with OverVolt Tool) and Memory Clock 4GHz (up to +20% with OverVolt Tool).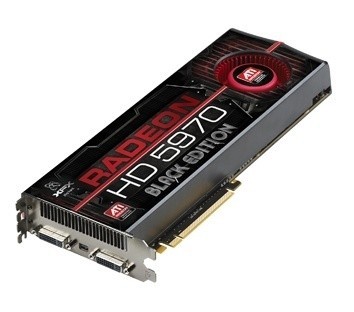 So with everything looking good, the video card arrives (probably after a month due to stock issues) and you throw it in your system and figure since you've just thrown together a nice X58 testbed with 6GB of memory, it's time to install Windows 7 64-bit and get into some serious gaming action over the holidays. So with everything installed, drivers done, thrown on some games, ran a 3DMark to make sure everything's where it should be and you say "
Okay, I don't need any more power, but let's fire up the Special XFX Overvolt tool anyway and overclock this sucka...
"
Opening up the XFX Overvolt program you find yourself denied! Hmm, this is weird you think, so you get in contact with XFX and the conversation goes a little like this: (note that his conversation involves Australian dollars and hasn't been edited)
[ 11/27/2009 7:11:49 AM] Registered my card, downloaded the overvolt tool, installed, .exe will only run under administrator, but it says "Sorry this tool does not support your video card" WTF $1200 video card and your software doesn't work?

[JEDY 11/27/2009 11:42:03 AM] Hi, thanks for your message,it is strange. could you tell us what bios version your card? thanks Jedy

[ 11/27/2009 11:46:25 AM] How can I tell that, would GPU-Z show that info? I have 2 more cards here from the same batch but they are for my customers, I hope they don't have the same grief that I have had.

[JEDY 11/27/2009 11:52:53 AM] Hi,Thanks for the update.you can find the bios information from CCC. thanks Jedy

[ 11/30/2009 8:50:33 AM] Sorry for not replying over the weekend, we had other machines on the test bench, Bios Version 012.013.000.002 Bios Part Number 113-HD58-970-102 Bios Date 2009/11/11

[ 12/2/2009 7:29:12 AM] Its been a few days since I replied, any update on this?

[JEDY 12/3/2009 9:17:09 AM] Hi,Thanks for the update. this software can't run under 64bit OS. thanks Jedy

[ 12/3/2009 10:11:32 AM] Why didnt you tell me this back in November, as if any power user would use 32bit OS these days. is the program from ATI written in 16bit, thats very old-school. Au$1200 Epic fail...
"
Epic Fail
"... I don't think I could put it better myself.
So if you're hunting down a Radeon HD 5970 and you want to do some real overclocking with the assistance of the Overvolt tool, the HD 5970 from XFX might be worth avoiding for the moment. Not only is it overly expensive at $709.99 USD, but technically you could go as far to say it's falsely advertised. Considering XFX consider themselves a bit of a performance company it's disappointing, or as our friend so delicately put it, an
Epic Fail
.
It's something worth noting as the last thing you want to do is get home and find that the software you need to really get full advantage of the model isn't going to work on your computer. Apart from the ATI branded HD 5970 we've tested a
Sapphire
model and a
Gigabyte
model and both worked with the readily available ATI branded Overvolt program.
Related Tags