Wii now offering its Internet Channel for Free
Opera based Wii Browser for all.
Published Tue, Sep 1 2009 9:30 PM CDT
|
Updated Wed, Mar 10 2021 1:19 PM CST
Nintendo has finally come out of its tiny little hole. What hole is this you might ask? Well it is the hole they have been living in while they thought it was ok to charge for the internet, or at least their internet channel.
Starting today you can get this handy little feature (complete with a new version of Flash Lite 3.1). This means that now you can browse the internet from your couch with a lazy wave of your hand. What could be better?
Well I guess there is more; you get access to a virtual QWERTY keyboard, favorites and even a home page.
If you already bought the browser for the previous 500 Wii Points you will get to pick an NES game of your choice just to make up for it.
Since the browser is provided by Opera and there are no alternatives on the Wii for Internet browsing; I have to wonder if there will be a complaint about people not being given a choice to use firefox, Chrome or IE...I will have to look into that one.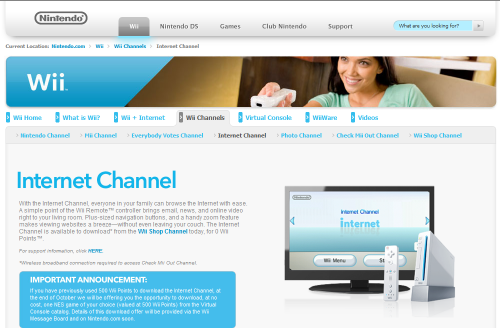 Related Tags