Cydia Store breaks 53,000 Purchases
Earns almost $1/4 Million in sales.
Published Mon, Aug 17 2009 10:02 PM CDT
|
Updated Tue, Nov 3 2020 12:36 PM CST
More news about the iPhone but this one has a little twist. We always hear about how insanely popular the App Store is. It is on the TV, on the web you name it, there is Apple telling you that.
But you know what? It is not the App store at all, it is the Apps. Yes here I am to state the obvious. People like the idea of downloading and installing different applications for their mobile devices. To prove this point Cydia, the most popular of the third party applications repositories has just passed over 53,000 purchases totaling in almost $.25 million US dollars.
This number will only grow as Apple continues to ostracize its own developers. Look at what happened to GV Mobile, Apple rejected it and now it is available on Cydia. The more arbitrary and inane their approval process the more people will jailbreak their phones just to have access to freedom of choice.
Apple will continue to try and make jailbreaking illegal by tell the lawmakers every lie under the sun from it can cause massive cellular failure to it causes acid rain. But in the end I do not think they will be able to stop the flood of people wanting to use their phones the way they want.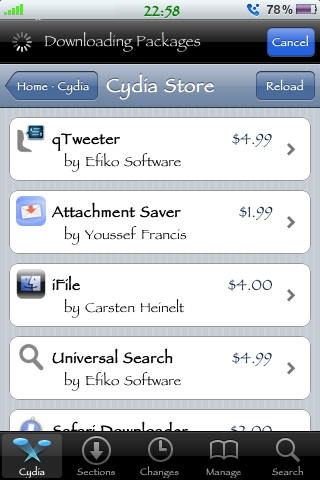 Source
Related Tags