More screen shots of Chrome OS emerge
No proof that they are real.
Published Mon, Jul 13 2009 1:08 PM CDT
|
Updated Tue, Nov 3 2020 12:36 PM CST
You know, one of my favorite things about announced products is the vast amount of fake pictures, screen shots, etc that hit the internet.
Now that Google has let Chrome OS out of the bag the number of supposed shots taken at developer's conventions, clandestine meetings, and in secret bunkers (ok I made those last two up) are growing at an alarming rate.
No one really knows what Chrome OS will look like except for a very small minority of developers. It is rumored that it will hit the market late this year or early 2010 but nothing is set in stone.
What we do know is that Chrome will be a cloud based OS for the most part. There will be some local applications to be sure but the majority will be web based. There is no word yet on if your files are stored locally, on the cloud, or if you get to chose which you want.
In the picture below you can see that someone forgot to smooth out some missing pixels. Not likely to be a mistake made in a real OS.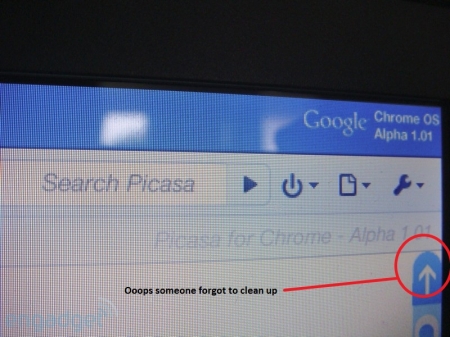 Check out some more
here
.
Related Tags