Western Digital enters the SSD Market
The one they said did not exist.
Published Tue, Jun 16 2009 9:08 AM CDT
|
Updated Tue, Nov 3 2020 12:36 PM CST
Western Digital is doing a 180 today as they have just announced their new line of SSDs. The funny thing is that six months ago they were saying there was no market for SSDs.
Boy I guess all of those reviews spec sheets, price lists and everything else were all just a Funonion induced dream.
If I am reading this right; it looks like WD made the comment, realized that it missed the boat, bought a company that actually makes SSDs and now is quietly releasing them and hoping no one remembers they said there was no market.
Read more
here
.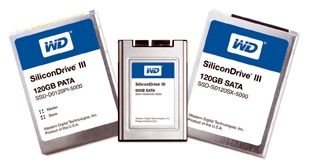 What a difference six months makes. Back before Christmas, one of the VPs at Western Digital was saying that the company only "enters markets that exist," meaning, of course, that we had to take all the tales of SSDs that we heard (in product spec sheets and reviews) on faith alone. Since then the company's acquired SiliconSystems and -- a short trip down the road to Damascus later -- it's announcing the SiliconDrive III product range. SiliconSystems' meat and potatoes were heavy hitters in such industries as communications, aerospace, and military, and it seems that WD's new range will continue to target these markets.
Related Tags