XFX to make 1GB HD 4770 cards
What could be better.
Published Thu, Apr 30 2009 11:44 AM CDT
|
Updated Tue, Nov 3 2020 12:37 PM CST
The Radeon HD 4770 is looking to be one of the lead cards this year. It is the first Desktop 40nm card available and a great overclocker to boot.
What could be better? Well how about 1GB of GDDR5 memory? That is what XFX is looking to do. It is not secret that more and faster memory means extra eye candy available in your gaming.
So we have a great overclocking GPU and now just after its launch we will see the first of the 1GB GDDR5 cards. The HD4770 is looking to be a very big hit.
Read more
here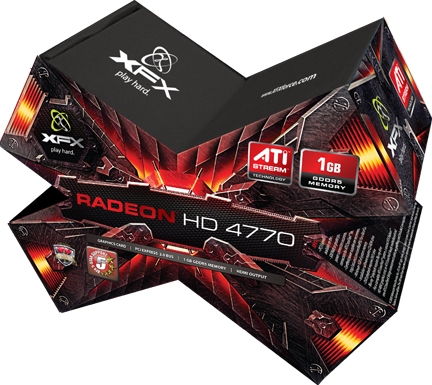 There's not much info to speak about as techpowerup found a single photo of a box with a 1GB sign on it, and the picture has been taken off of XFX's site since. There's no mention of a factory overclock on the box, but rest assured that we'll see overclocked version not long after, as we've already established that this card is a nice overclocker.

Although we're yet to see XFX's official announcement, at least this means that 1GB versions of the card are around the corner, and we'll surely pounce on the chance to dissect one of these babies to see just how much of a performance benefit it brings.
Related Tags