Scientists Make Ultra High Capacity Storage Work
Data densities of 125GB per square inch.
Published Mar 1, 2009 10:08 PM CST
|
Updated Tue, Nov 3 2020 12:37 PM CST
Scientists at the Universit of California, Berkeley, and University of Massachusetts Amherst have figured out a technique to fit 250 DVD's of data onto a surface the size of a quarter, says
Sciene Daily.
The technology to do this has been around for a little while. Self-assembling nanoscale elements have been around for a decade, but until recently scientists have been unable to make it work on a large scale.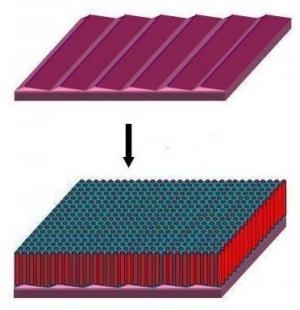 The problem was that the molecular structure of this technology would break down as the size of the area increased, until now. They think they've solved the problem by laying the copolymers on to a piece of sapphire crystal, cut at an angle, then heating it up to reorganize its surface structure. This provides a pattern of sawtooth ridges that hold the nanoscale elements in place even as the size of the surface increases.
With the new technique, the researchers were able to get defect-free arrays of the nanoscale elemennts that would translate into 125GB per square inch. This is over 15 times higher than anything they have achieved before. This could lead to huge breakthroughs in both tradition hard drives as well as optical storage.
To overcome this size constraint, Russell and Xu conceived of the elegantly simple solution of layering the film of block copolymers onto the surface of a commercially available sapphire crystal. When the crystal is cut at an angle - a common procedure known as a miscut - and heated to 1,300 to 1,500 degrees Centigrade (2,372 to 2,732 degrees Fahrenheit) for 24 hours, its surface reorganizes into a highly ordered pattern of sawtooth ridges that can then be used to guide the self-assembly of the block polymers.

"We can generate nearly perfect arrays over macroscopic surfaces where the density is over 15 times higher than anything achieved before," said Russell. "With that order of density, one could get a high-definition picture on a screen the size of a JumboTron."

"It's one thing to get dozens of soldiers to stand in perfect formation in an area the size of a classroom, each person equidistant from the other, but quite another to get tens of trillions of individuals to do so on the field in a football stadium," Xu added. "Using this crystal surface as a guide is like giving the soldiers a marker so they know where to stand.
Related Tags