Holidays 2017 Budget $700 Gaming System Build Guide
Right in time for the holidays, we build a $700 gaming PC based on a Supermicro motherboard that will keep most quite happy!
Published
9 minute read time
Our Mission and Part Selection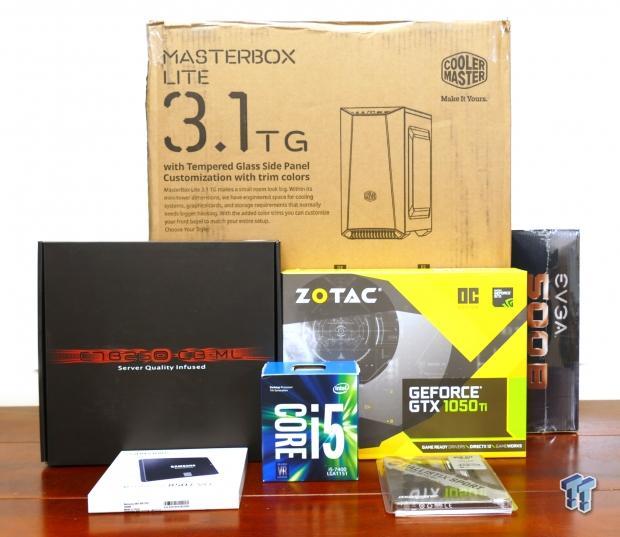 About a month ago we were tasked with one goal; build a gaming system for $700. With the advent of new technology, older technology is typically discounted. Since Intel's last three generations are all based on the same foundational microarchitecture, it's now possible to build a great system around the first or second generation of the Skylake microarchitecture, which is one of the best for gaming. Supermicro's SuperO division is sponsoring this guide and the build, and as such we are going to use one of their motherboards, the C7B250-CB-ML. We found that the Core i5-7400 offers solid price to performance ratio for gaming scenarios. You get four real cores, which many games are optimized for, and a 3.5GHz Turbo Boost.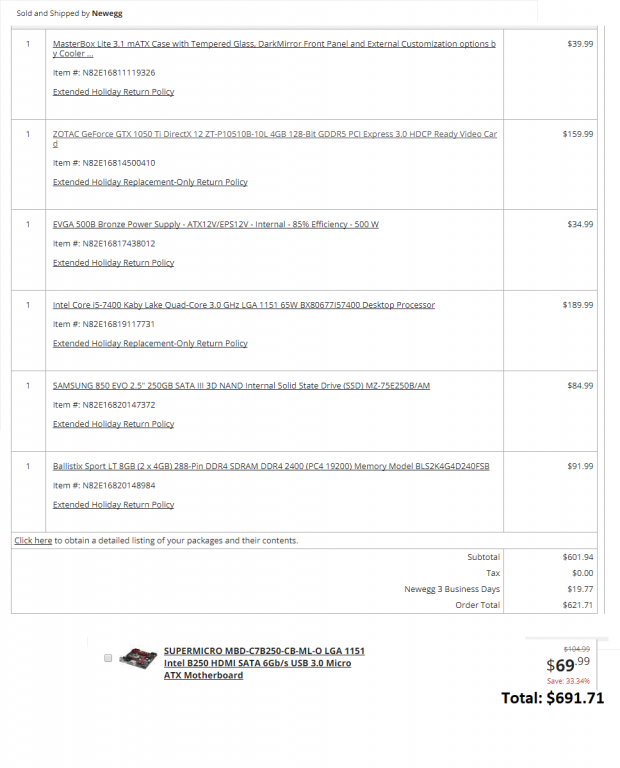 We wanted to use an SSD, which limited our budget a bit because the cheapest reasonable SSD was $85, so you could always get a 1TB HDD for around $50 instead, but we like the speed of an SSD. Not only are NAND prices high, but DRAM prices are high as well, the cheapest reasonable kit we found was a Ballistix Sport LT 2400MHz 8GB kit for $92. We made sure to get a kit with two sticks for dual channel instead of one 8GB stick, which would limit you to single channel memory. The EVGA 500W PSU we purchased had good ratings and fit our price range. The GPU is very important for gaming; we chose the Zotac GTX 1050 Ti, which should provide us with decent 1080P gaming performance. The Cooler Master MasterBox Lite 3.1 looked great and came at a reasonable price point.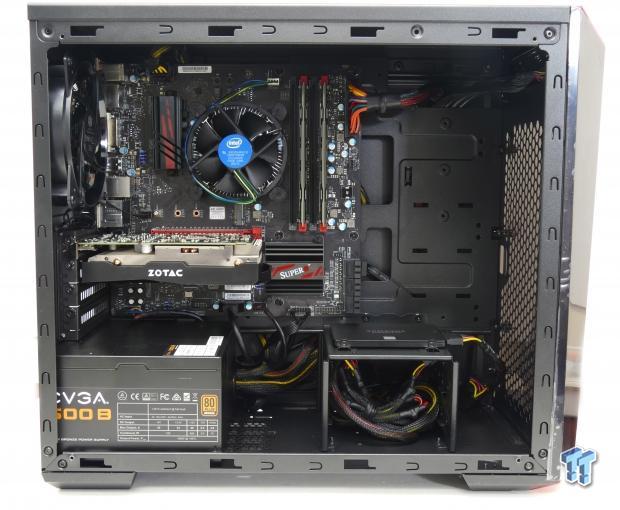 The motherboard is the backbone of every system, and as such, this guide will go over the motherboard, how to install components, and best practices. The good news is that the i5-7400, C7B250-CB-ML, and Ballistix Sport RAM work well together. CPU, motherboard, and memory compatibility are very important, as they are the root of many issues. Not all LGA1151 motherboards are the same; be sure to only use 6th or 7th generation CPUs with a 200-series chipset motherboard. In this case, we went as low we could while maintaining decent performance on multiple parts, so the GPU was one of the last choices in our build since we wanted more than 4GB of RAM and more than 128GB of SSD storage. The rest of our components are what we would consider minimal, but if you want to make your build an $800 build, you can get a much more powerful GPU.
Looking at the Motherboard as a Backbone
The motherboard is the backbone of the system, in our case it's a C7B250-CB-ML that Supermicro donated for this guide.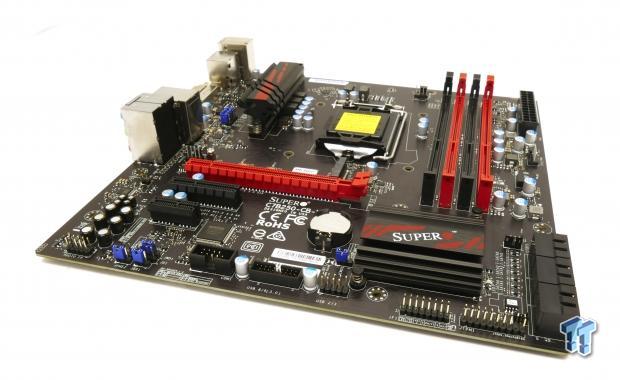 So let's take a look at this affordable B250 chipset motherboard. Supermicro's SuperO brand is all about server quality parts in consumer hardware, and it makes SuperO motherboards quite interesting and different from other motherboards in regards to quality and component selection.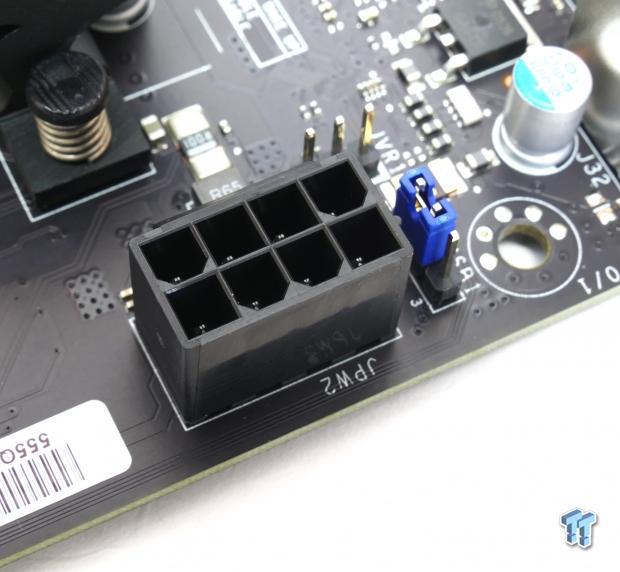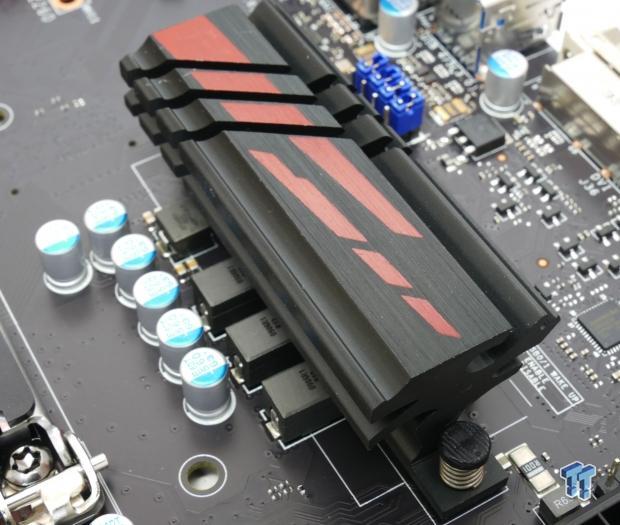 We found our first jumper near the 8-pin CPU power plug; the motherboard has many jumpers used to enable or disable features, so you don't need to enter the BIOS. The purpose of the blue jumper here is to enable standby power. The VRM here is basic but uses excellent components including server-grade inductors and integrated power stages not typically found on motherboards in the sub-$150 range. SuperO did add a stylized heat sink to cool down the phases responsible for CPU VCore.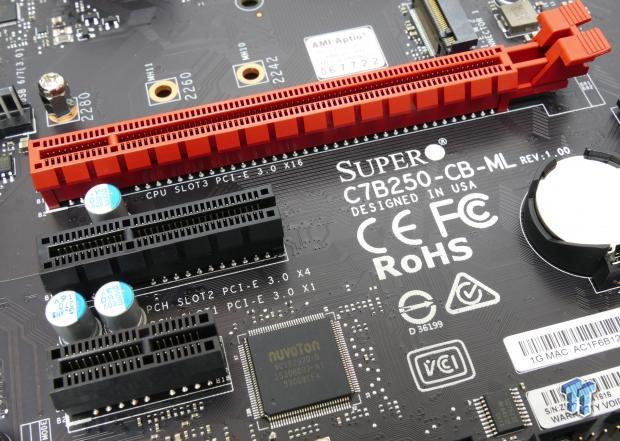 The first x16 slot is routed directly to the CPU, the x4 and x1 slots are routed to the PCH. All PCI-E lanes use the latest PCI-E 3.0, the x4 and x1 are open-ended allowing you to install longer cards, however, will use less bandwidth.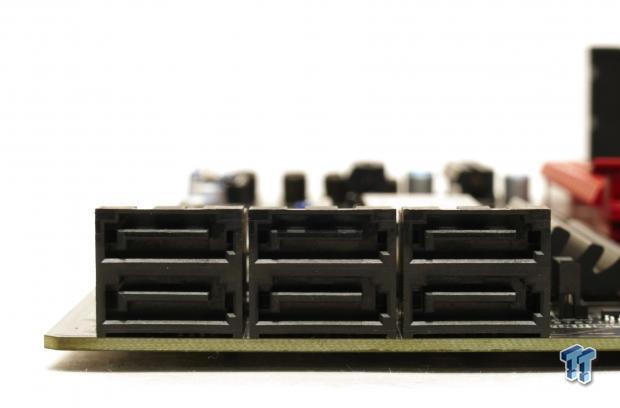 The rear IO features a PS/2 keyboard/mouse port, two USB 2.0 ports, DisplayPort, HDMI, DVI, four USB 3.0 ports, 1Gbit LAN, and 7.1 audio outputs with S/PDIF out. There are also six SATA 6Gb/s ports.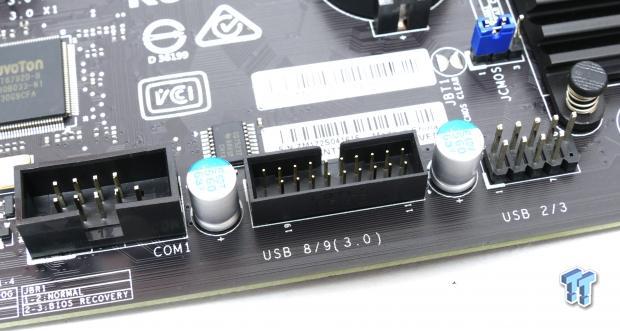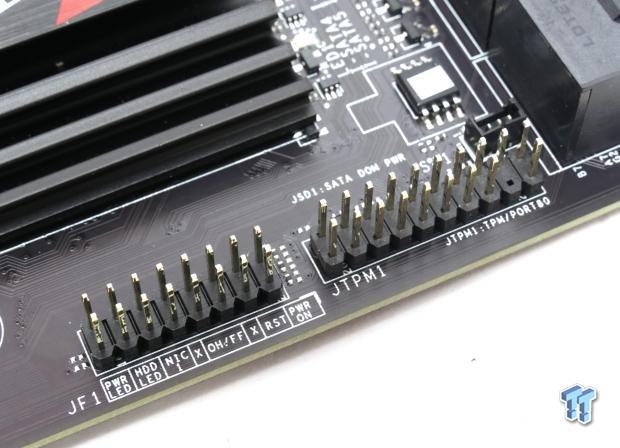 We get one USB 2.0 internal header, one USB 3.0 internal header, and one COM port header. The front case panel headers are found to the left of a TPM header.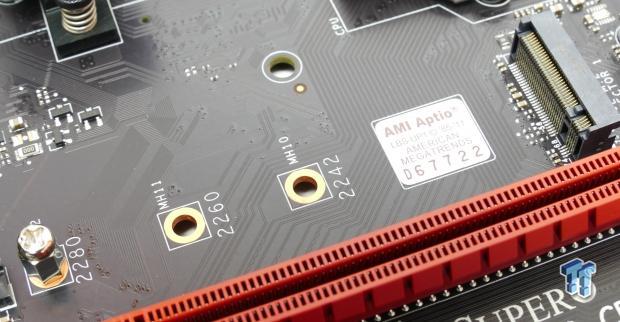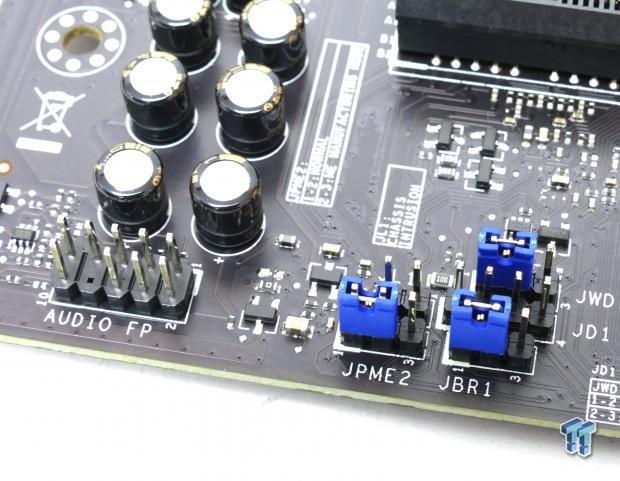 A single M.2 slot sits right below the CPU socket; it ONLY supports PCI-E/NVMe based SSDs. There is also a front panel HD audio header, and we also find one important jumper to the right of the audio header. The motherboard offers USB BIOS recovery, and the JBR1 jumper can enable that feature in case your BIOS becomes corrupted, or a BIOS flash fails.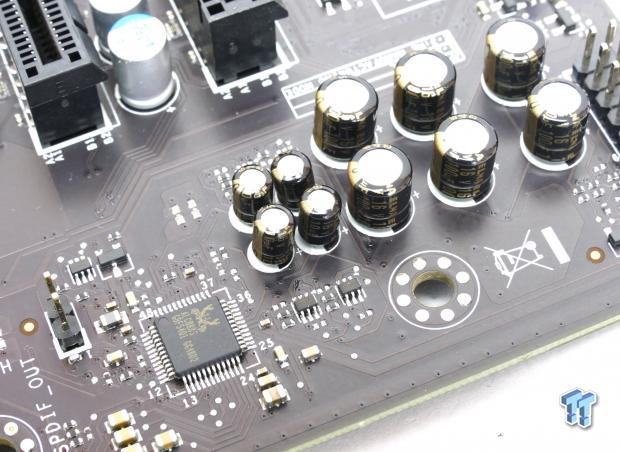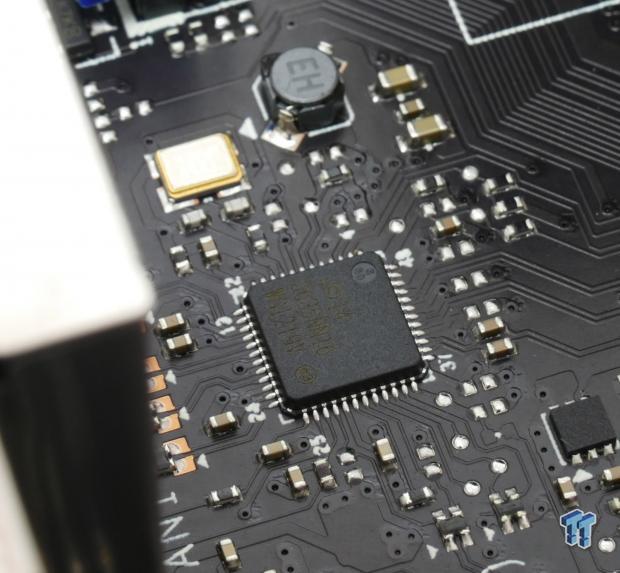 A Realtek ALC888S audio codec is used to produce audio. ELNA audio capacitors and clean audio routing should produce decent output. We find that Supermicro used the i219v PHY for Intel Gbit LAN, this is the most recent Intel PHY for Gbit LAN.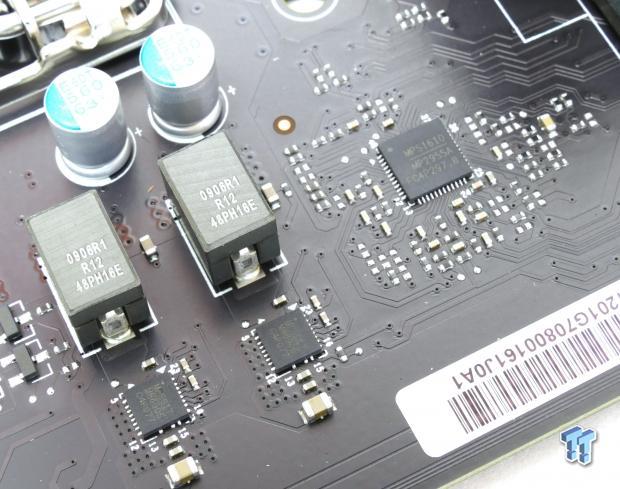 Monolithic Power Systems produces high-quality DC/DC components. An MP2955A is used as a VR13 capable multi-rail multi-phase PWM controller supporting up to 6 phases. Surprisingly we find MP86905 Intelli-Phase 50A integrated power stages, which are better than what we find on many Z200 and Z300 chipset motherboards that cost over $150. We do get the minimum phase count for the CPU and iGPU, but extremely high current rated power stages, so it should work excellently. We also get inductors from Cooper Bussmann rated for 50A as well.
Putting It Together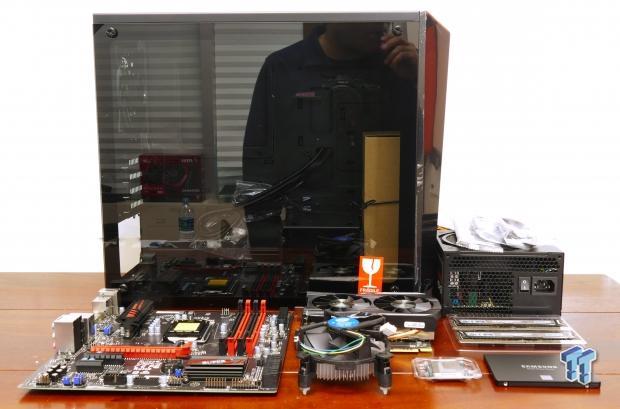 Everything is out of its packaging and ready for construction.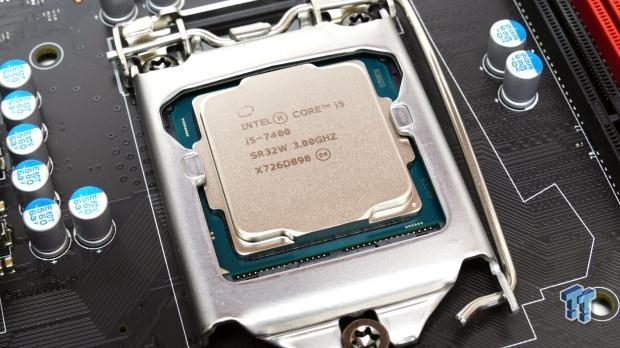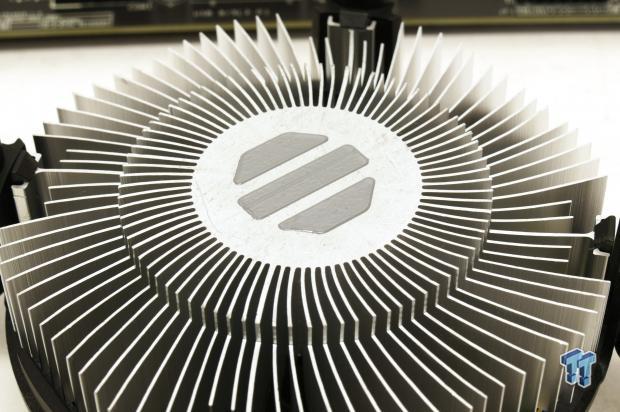 I always install the CPU first, as it's easier and safer to do when other components aren't installed and are blocking the way. Try to handle the CPU by its edges, and match the notches on the edges of the CPU to the notches on the socket. The good news is that we can use the stock Intel cooler since the CPU is not capable of overclocking we don't need a better cooler. The stock cooler comes with thermal paste pre-applied for a perfect application.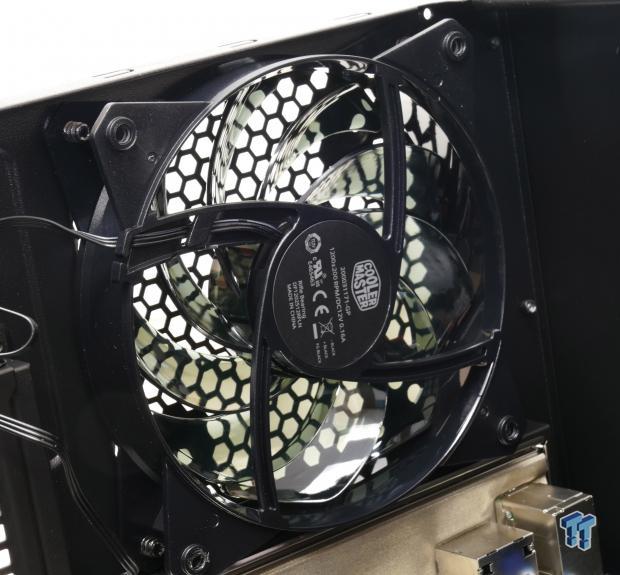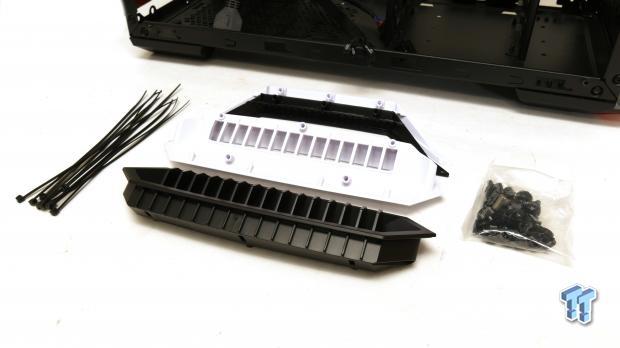 There is one case fan already installed; it's positioned to blow into the case. I reversed the fan so that it blows out of the case (opposite of the image above). The case comes with standoffs, zip ties, and black and white accents that can replace the red ones that come installed.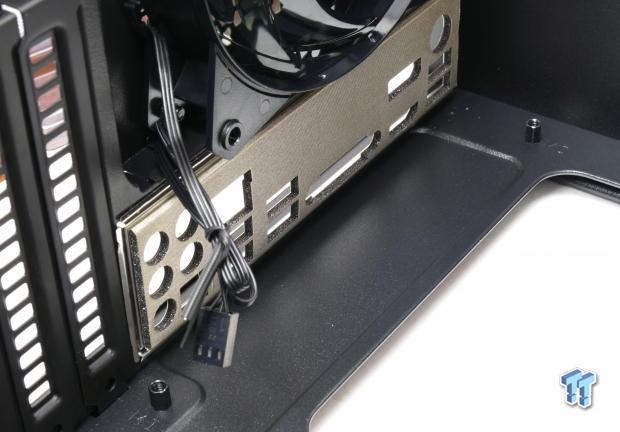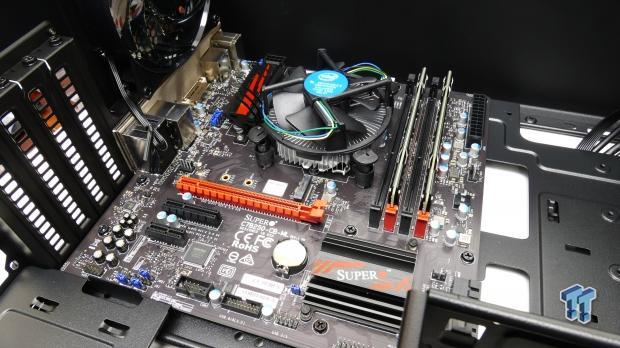 Install the standoffs for a Micro-ATX motherboard, not those for a Mini-ITX motherboard. The case we used indicated which screw holes were for each form factor. Make sure to install the IO panel before installing the motherboard. Then install the motherboard, I install the RAM after I install the CPU. If you have an M.2 drive, it's also best to install it when the motherboard is out of the case.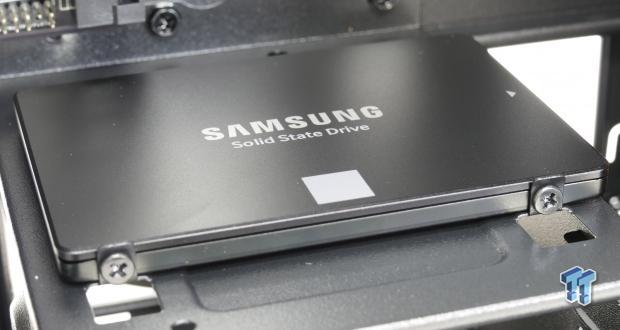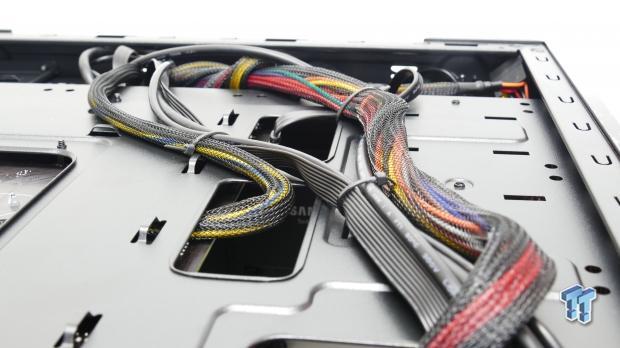 I installed the SSD on a special rack designed for 2.5" SSDs. Cable management is important, so we zip-tied some of the wires down. However, since we aren't using a majority of our power supply cables, we tucked the unused power cables into the bay for 3.5" HDDs.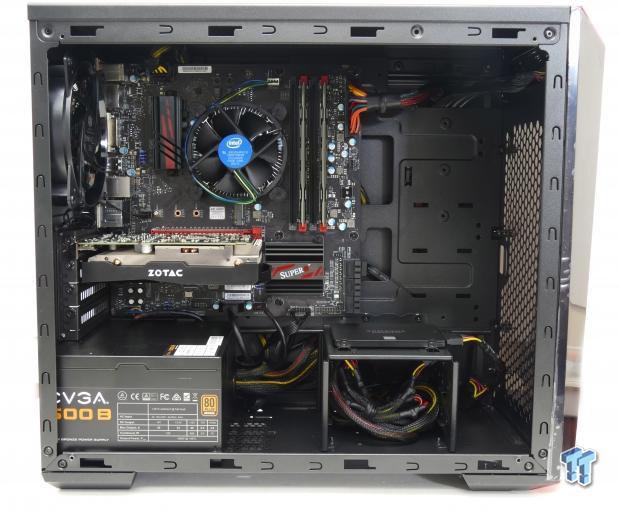 The last step is to plug in the GPU and then the power connectors. Some GPUs require extra power from the PSU, but not ours. You should also install the cables for the case's features. We installed the USB 2.0, USB 3.0, HD audio, and front panel case wires. Don't forget to connect the SSD to the motherboard with a SATA cable.
Setting Up BIOS and OS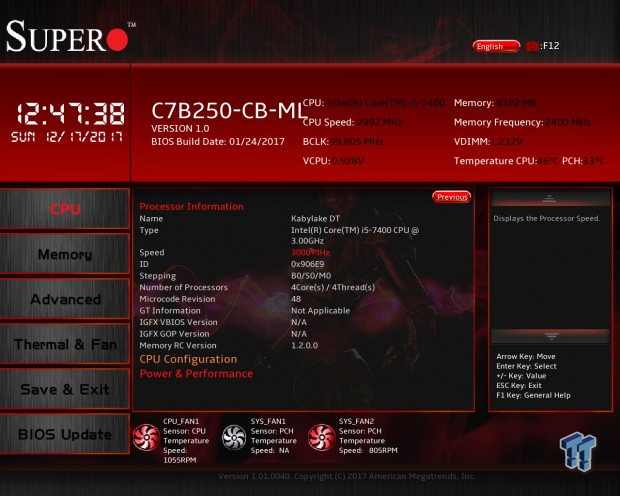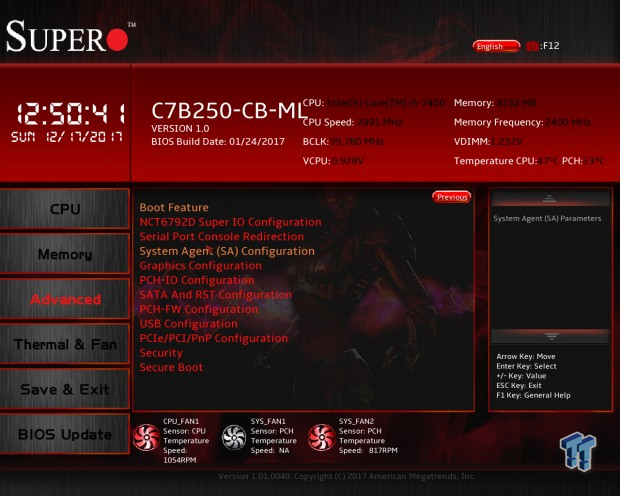 Now, it's not 100% necessary to enter the BIOS/UEFI, but I recommend making two changes in the UEFI. While those two changes are to change boot mode and set DRAM speed manually, you can also configure CPU power usage and performance profiles. The UEFI offers many different options as well for configuring everything from PCI-E to Secure Boot.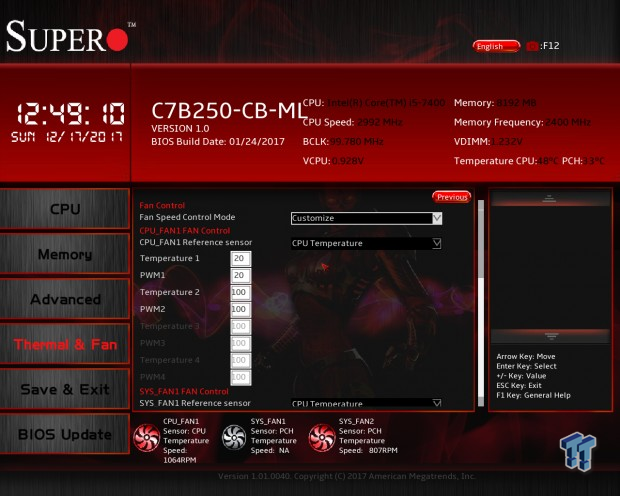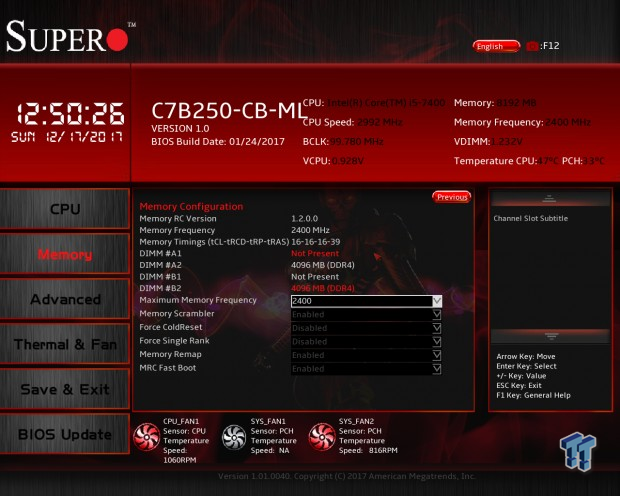 The UEFI also offers fan customization controls, and you can set up to four SMART fan curve points by changing the PWM2 value to something lower than 100. However, I chose to leave the fan curve on the standard profile, and it proved to be quite good. I would also recommend changing your DRAM speed and timings to whatever your RAM is rated for, by default you only get 2133MHz. We changed the speed to 2400MHz, and we didn't need to change the timings, the motherboard did automatically. Multipliers for DRAM go all the way up to 4133MHz.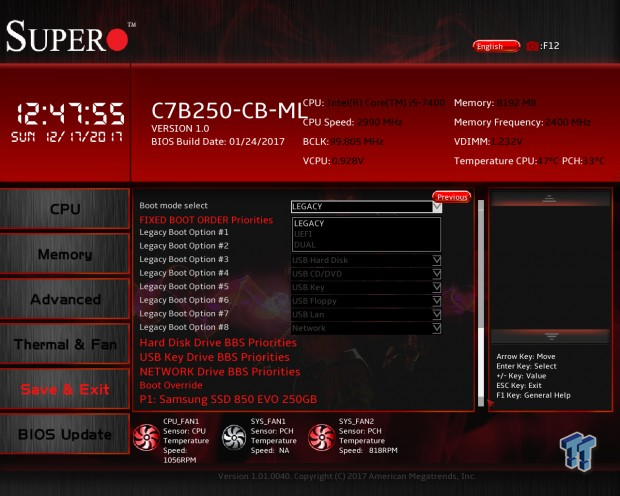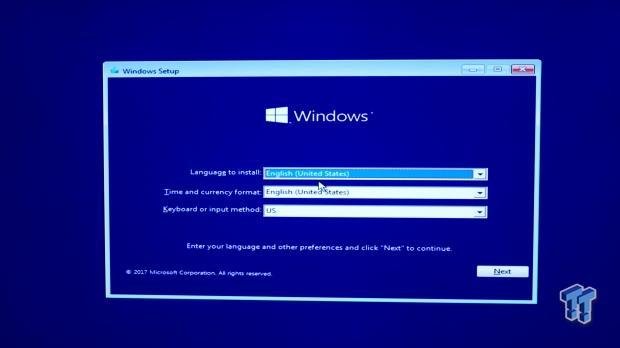 By default, our motherboard came with Boot Mode set to Legacy. However, since we are going to use Windows 10 and we don't have any legacy devices, we decided to change Boot Mode to UEFI. There is also a Dual option, but UEFI works for us. We also made a Windows 10 installation USB stick by downloading Microsoft's Media Creation Tool. Please use this tool, it will not only format your USB stick in the proper way, but it will fix any issues you might have with custom installation mediums or ISOs. Just follow along with the prompts, and if you don't have a Windows 10 key you can install the OS without a key, but you will need a key to active Windows 10.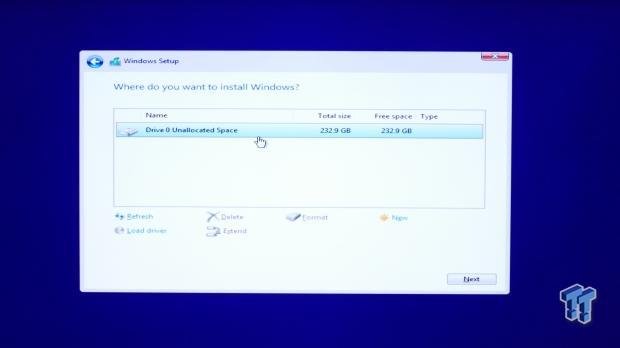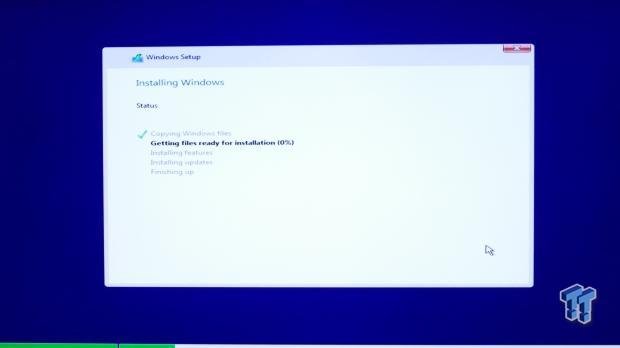 If you have followed instructions to this point, then you should see your blank SATA drive. Just select your drive and hit next. Once you hit next, the OS installation is then automated. Once the OS is installed, you will face many prompts that ask you to do things such as connect to the internet, create a login, and even setup Cortana.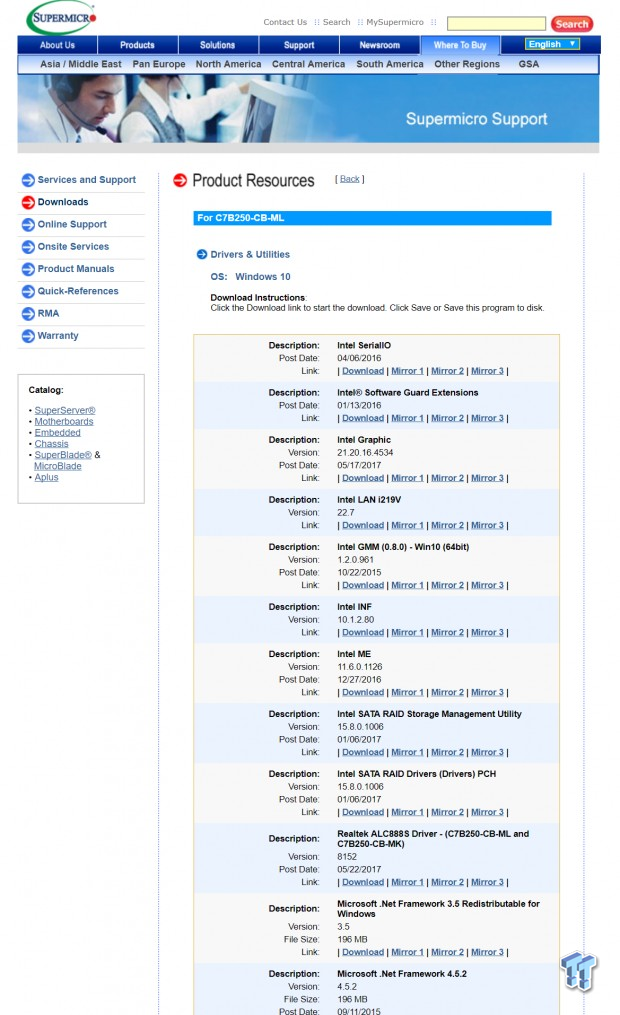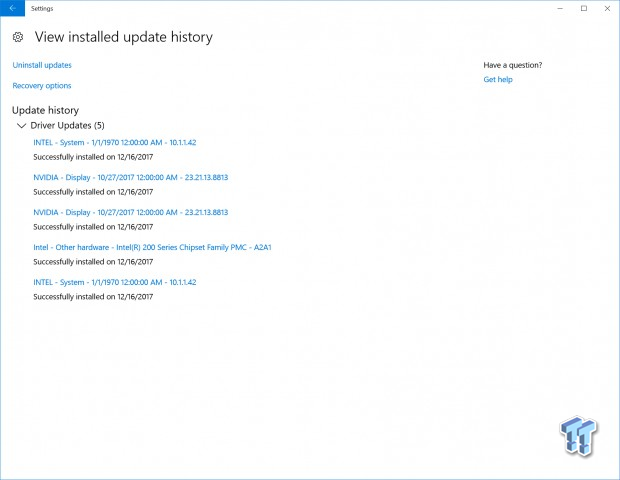 So many people still manually install drivers, and you can download those from the Supermicro product support page. However, the only driver you need is the Intel ME driver, as Windows 10 Automatic Updates will install all your other drivers automatically. The great news here is that you don't need to install your network driver to connect to the internet. The reason is because Windows 10 includes many basic drivers in the installation medium, and the NIC used on this Supermicro motherboard is included in that basic driver set. You can literally boot Windows 10 for the first time and wait about 20-30minutes for the OS to automatically install all drivers, including GPU drivers, you just have to be connected to the internet. However, Intel's ME driver isn't automatically installed, so you will see that the only device without a driver (in Device Manager in the Control Panel) is a PCI Simple Communications Controller, but once you download and manually install the ME driver from the Supermicro website, all drivers will be installed.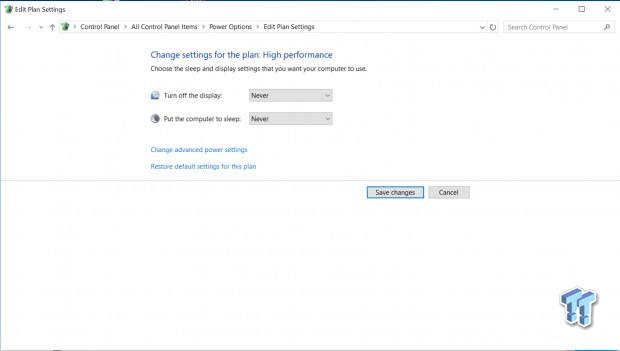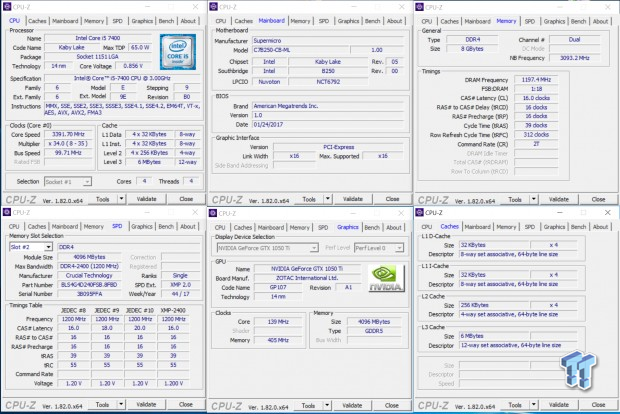 I recommend doing two more things before installing programs. The first is to set your PC Power Plan to High Performance and customize how much time elapses until the monitor turns off or the PC goes to sleep. Modern PCs are very power efficient. The second thing I like to do is download CPU-Z and check to make sure my memory increase has taken effect. DRAM frequency in CPUz shows as half the total double data rate (DDR), so 1200MHz is 2400MHz. Our timings also match the XMP table.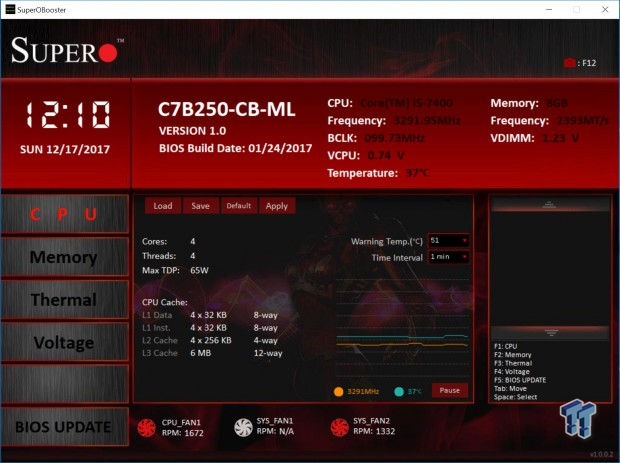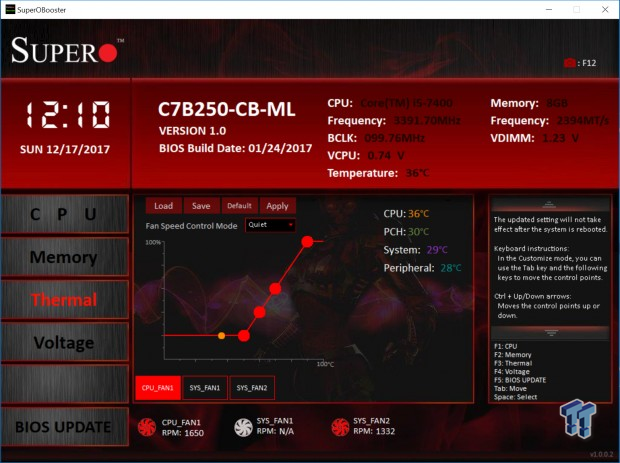 Supermicro has a software program called SuperOBooster. We wrote a guide on it here. You can use it to change fan curves in Windows, as well as update the BIOS or monitor system parameters.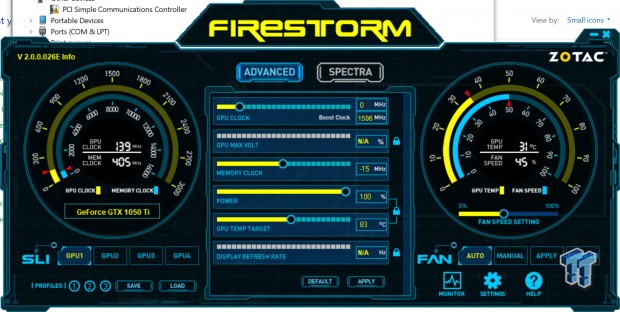 Many graphics cards come with GPU overclocking, monitoring, and feature software. Zotac is the brand we used for our GPU and FireStorm is their software for GPU overclocking. We didn't overclock the GPU, but you can if you want. Just increase GPU core and memory clocks 10-20MHz at a time, and if you get instability like driver crashes or blank screens, you can boost voltage and power. Their software also offers an on-screen display (OSD) that shows FPS inside games.
The Final Result
We put the system through our typical gaming benchmarks to see how it did. While we can always change the resolution and quality profiles down to get higher FPS (frames per second), we used the same levels as in our reviews. However, our review configurations are typically over $2000, so it wouldn't be fair to pit a system that uses a $700-$800 GPU against a whole system that costs $700.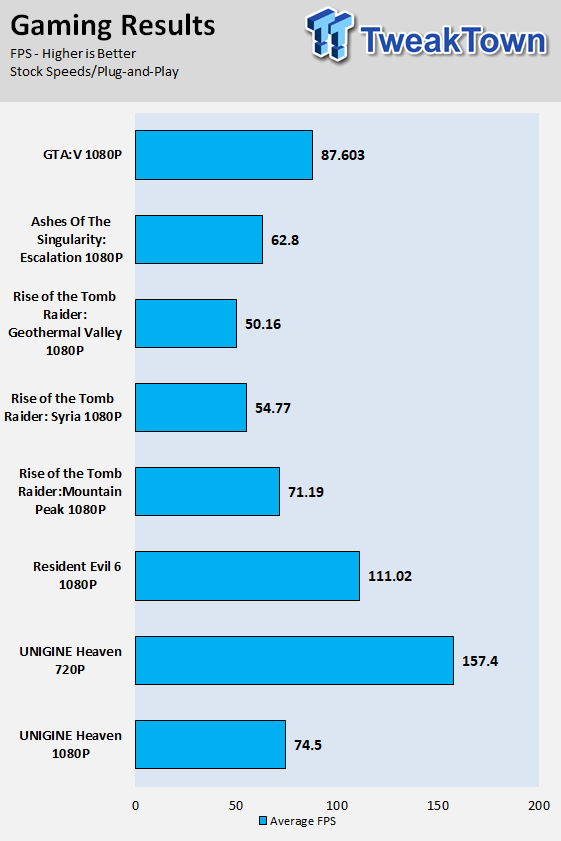 The results look pretty good, especially at our affordable price point. GTA:V is definitely playable with this system, and GTA:V is a good indicator of game performance. You can also overclock the graphics card to give your system a bit of a boost, but the pairing of the GTX 1050 Ti with the i5-7400 works well. You can always go for a stronger GPU with a few extra dollars as the CPU isn't too much of a bottleneck here, but the GTX 1050 Ti is doing well in these tests.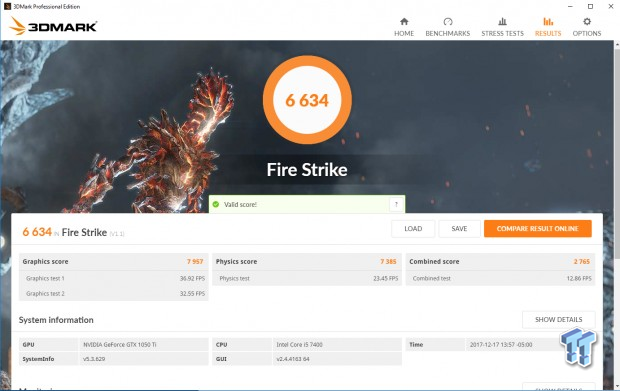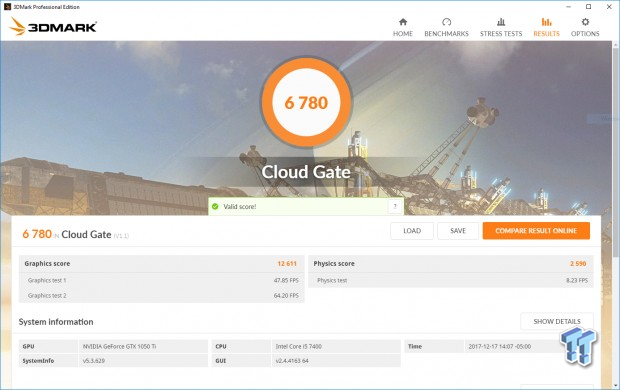 I have also posted our Fire Strike and Cloud Gate benchmark scores so you can compare with other scores on the internet.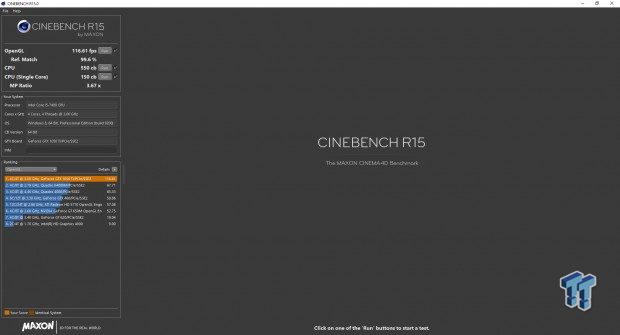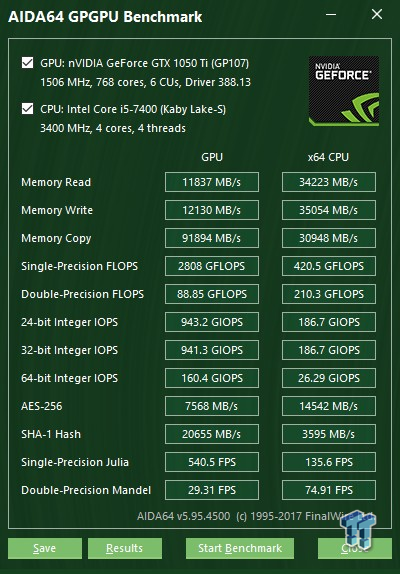 We also ran CINEBENCH and AIDA64, as those results tend to be comparable. You want to see AIDA64 memory bandwidth scores between 29GB-35GB/s for read, write, and copy. That bandwidth score is typical of DDR4 in dual channel.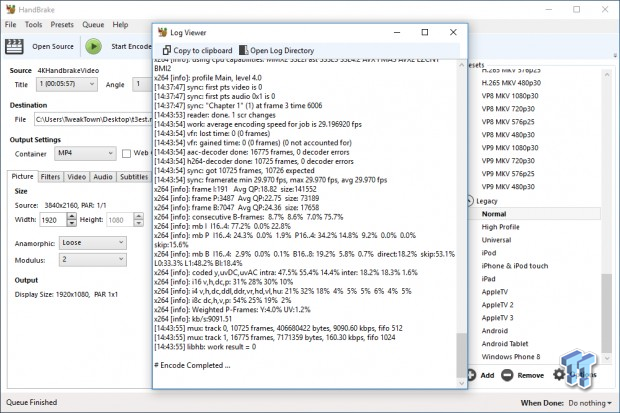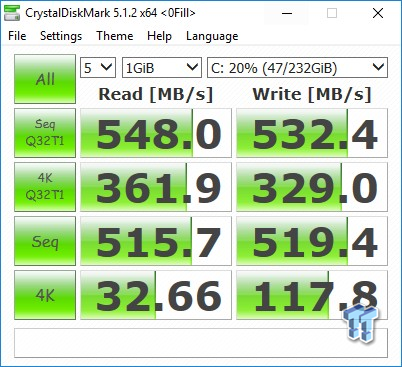 HandBrake is a real-world application that can transcode video and it logs average work speed in frames per second; we chime in around 30FPS. It's also not a bad idea to check CrystalDiskMark to ensure your drive is operating at correct speeds; you can look at the product specifications for reference scores.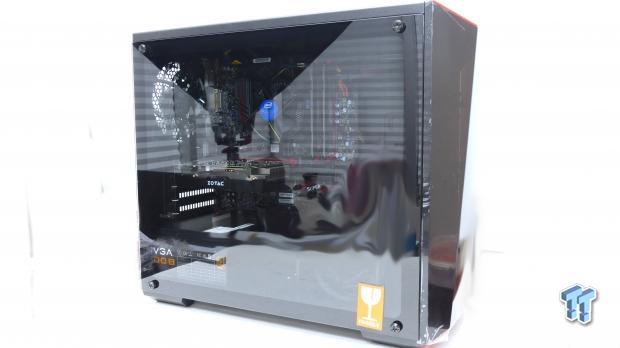 Overall, our $700 gaming build worked out pretty well. The system is extremely quiet, even while gaming. The case and the components went together flawlessly, and there is a lot of room for upgrading the system down the line. Right now, it's the holiday buying season, and good deals are easy to find, even if you missed out on Black Friday/Cyber Monday sales. The i5-7400, C7B250-CB-ML, GTX 1050 Ti, Ballistix DDR4, and Samsung 850 EVO went together flawlessly. There were no compatibility issues, and the system ran very smoothly, so if you are in the market for an affordable gaming rig, we highly recommend our configuration.
We want to thank Supermicro for sponsoring this build and the system giveaway (starting next week).
Please Note:
This is sponsored content and its contents may or may not represent the thoughts or opinions of TweakTown or its editors. You can read about TweakTown's
Editorial & Ethics Policy here
.
PRICING: You can find products similar to this one for sale below.

United States: Find other tech and computer products like this over at Amazon.com

United Kingdom: Find other tech and computer products like this over at Amazon.co.uk

Australia: Find other tech and computer products like this over at Amazon.com.au

Canada: Find other tech and computer products like this over at Amazon.ca

Deutschland: Finde andere Technik- und Computerprodukte wie dieses auf Amazon.de
We openly invite the companies who provide us with review samples / who are mentioned or discussed to express their opinion. If any company representative wishes to respond, we will publish the response here. Please contact us if you wish to respond.