AMD AM4 Ryzen Motherboard Buyer's Guide
If you are considering buying a new AMD AM4 Ryzen motherboard, do yourself a favor and check out our comprehensive guide first.
Published
18 minute read time
Introduction, Chipset Selection, What to Expect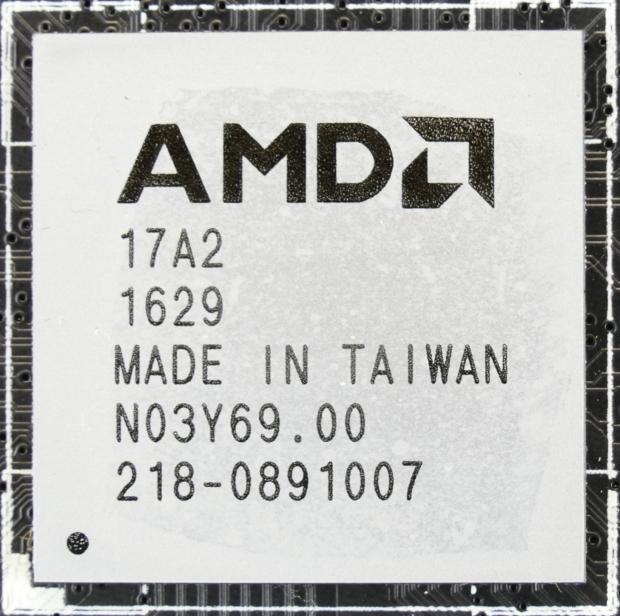 So, you are looking to buy and build a Ryzen system, and you can't figure out which motherboard is the right fit for you. Well, breathe a sigh of relief because I am going to explain what to look for in an AM4 motherboard, down to the chip level, and I will explain my reasoning along the way. Many guides are high-level and superficial, and only say, "yea that motherboard has four USB 3.1 ports", but they don't tell you the quality/performance of the ports as there are so many different USB 3.1 hardware configurations.
The AM4 platform currently has a few chipsets in two categories. The first category includes chipsets with IO (SATA, USB, PCI-E), and the second just provide security features. The second set of chipsets is meant for small form factor PCs that use mini-ITX and pico-ITX motherboards, and they are significantly smaller than their IO-bearing counterparts. The X370 and B350 chipsets are some of the most popular, and this guide will focus on those two.

The X300 and A/B300 chipsets aren't out yet, but both will be tiny and only offer TPM, secure boot, and other security features. The X300 and X370 support SLI and CrossFireX. The CPU has a lot of built-in IO, including x16 lanes for GPUs, x4 USB 3.0 ports, system management capabilities, BIOS connection (SPI bus), SuperIO/Embedded Controller connection (LPC bus), and audio codec connection (AZ/I2S bus). The CPUs also offer up x4 PCI-E 3.0 lanes for an NVMe M.2 drive, or they can also be used for SATA. The chipsets that add IO provide USB 3.0, USB 3.1, SATA, PCI-E 2.0 lanes, support for more than one GPU, and overclocking. I have produced a rudimentary flow chart in case the table above doesn't provide enough information.
Chipset Selection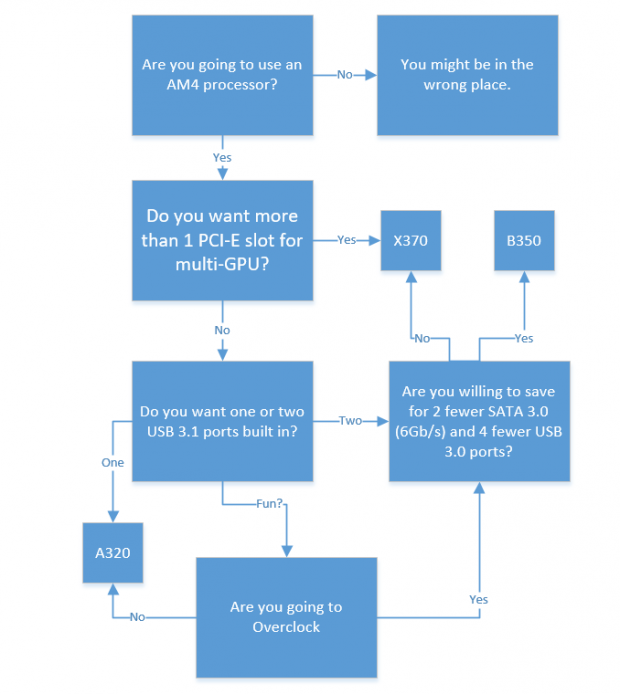 Pardon some of the logic flow within the chart. There are many different questions you have to ask yourself to decide which chipset you will use. If you need to overclock, you are stuck with the B350 or X370 chipsets (and X300), and if you want to run more than one GPU, you need an X370 (or X300) chipset motherboard.
The B350 is similar to the X370, but it does provide less USB 3.0, PCI-E lanes, and SATA ports. Many people decide to save money and go with B350 because they still get overclocking and USB 3.1, although you lose some extra IO and multi-GPU capabilities. The A320 chipset is really a more basic chipset that offers enough but doesn't go over the top. It's more suited for an office environment. Most people end up with and X370 or B350 chipset motherboard, but today I will focus mainly on X370.
What to Expect
This guide will go over the different layouts, systems, circuits, and features that different X370 and B350 motherboards provide. It will also provide insight into factors you should beware of, such as the fact that if you have two M.2 slots, one of them will run slower than the other. Some motherboards also have special designs to accommodate different things, such as a single USB or RGB header placed near the socket for easy access for Wraith Max cooler's RGB control wires. I will cover these differences between motherboards and different chips used, and attempt to rank certain things. This guide will not tell you exactly what model to buy, for that you have our reviews, but this guide will give you more insight into reviews, motherboards, and the AM4 platform in general.
I also strongly encourage anyone who is looking to buy a motherboard to download the user manual from the product website. Motherboard manuals are extremely useful, and vendors put a lot of effort into making them mistake-free. The manual will alert you to everything from switching and sharing of bandwidth to the type of fan headers used on the motherboard.
Storage and Connectivity Considerations
Storage Considerations
The motherboard does many things, but one of its major functions is to facilitate storage. These days most builders tend to use an HDD for storage and an SSD for OS and applications, but there are now different levels of SSDs. No longer is the 2.5inch SSD the king of speed, as it's limited by SATA 3 (6Gbps) and its ~570MB/s limit. These days most of the faster NVMe storage devices come in the M.2 form factor, and they reach sequential read speeds (large file read) upwards of 3.5GB/s (almost seven times faster), which is actually the limit of the M.2 slot's bus. You want a nice x4 M.2 slot rated for 32Gbps, and almost every motherboard provides one. However, there are also many other motherboards that have more than one M.2 slot, but it's not as fast as the other slot. That is because the platform's PCI-E 3.0 comes only from the CPU, and the CPU only offers x4 PCI-E 3.0 for an M.2 drive, the other link goes to the chipset, which only offers PCI-E 2.0. I will explain later.

SATA is still very relevant, and the X370 chipset offers up to eight SATA6Gb/s ports, while the B350 chipset offers a total of six. However, on many B350 motherboards, most vendors only implement four. The B350 chipset gets two fewer SATA6Gb/s ports than the X370 chipset, but both get two SATA Express ports that can be used as four SATA6Gb/s.
SATA Express is basically a PCI-E x2 connection over SATA, so I assume they reconfigure two SATA ports as PCI-E for other devices, which I assume is the reason most B350 motherboards only have four SATA6Gb/s ports. Some motherboards also offer a U.2 port, and by default, it must use x4 PCI-E 3.0, so it is always going to disable the x4 PCI-E 3.0 M.2 slot when it's in use (and vice versa).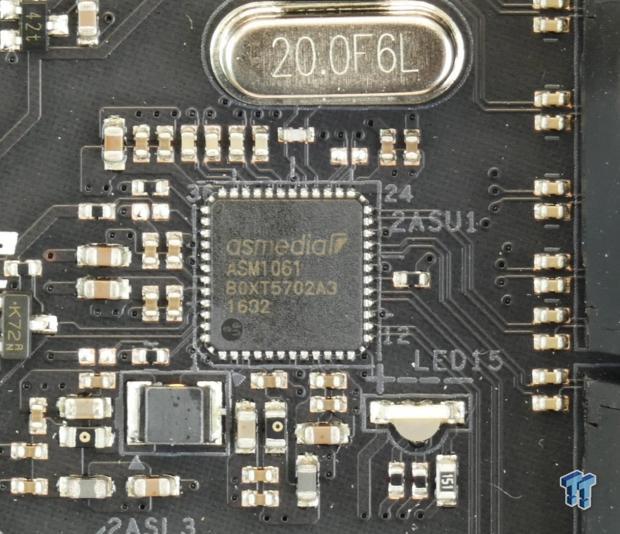 Some vendors add in SATA6Gb/s ports (SATA Revision 3.0) using a chip such as the ASMedia ASM1061 (which uses one PCI-E 2.0 lane to produce two SATA6Gb/s ports). The single PCI-E lane comes from the chipset. The most SATA ports I have seen on an X370 motherboard is ten as pictured above. The ASMedia ASM1061 is not going to offer the same speeds as the built-in ports, but it will be just fine for HDDs.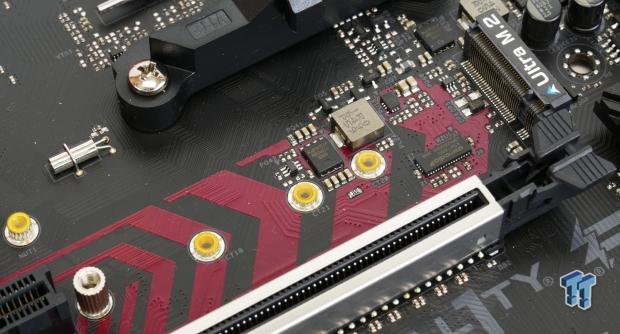 Not all M.2 slots are the same, but the one pictured above offers 32Gb/s of bandwidth, but it's not super simple to know the bandwidth of an M.2 slot. M.2 slots all look identical, but they can come as 32Gb/s (x4 PCI-E 3.0 from CPU), 16Gb/s (x2 PCI-E 3.0 from CPU), 20 Gb/s (x4 PCI-E 2.0 from chipset), or 10Gb/s (x2 PCI-E 2.0 from chipset), or 6Gb/s SATA Revision 3.0 (from chipset). The best M.2 slot on any AM4 motherboard is that routed directly to the CPU's x4 PCI-E 3.0 meant for an M.2 slot, as it supports all types of M.2 storage devices. If you want to know what type of slots a motherboard you are researching uses, read the manual, it's a great resource.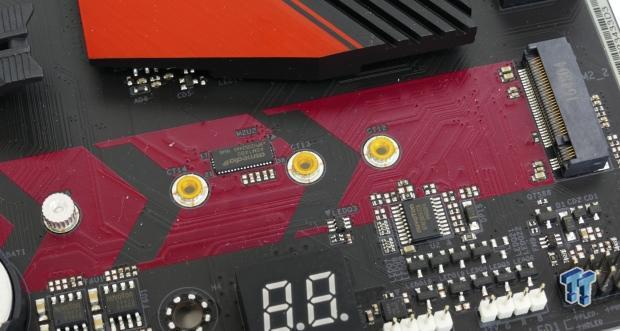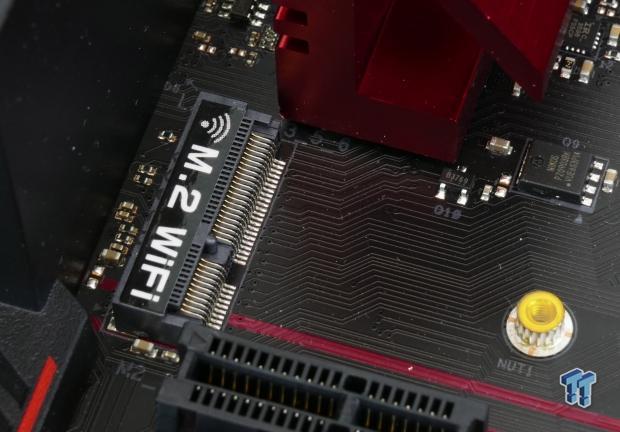 While the SoC does provide x4 PCI-E 3.0 for an M.2 slot, many motherboards offer a second M.2 slot that has to be routed to the chipset, but it's going to be a slower slot since the chipset only offers PCI-E 2.0. The slot on the left is routed to the chipset at x4 PCI-E 2.0, so 20Gb/s of bandwidth. That might be okay with a slightly slower M.2 drive like the HyperX Predator series (which are still almost 3x faster than SATA), but a super-fast Samsung 960 Pro can easily saturate it. You might not experience too much of a performance difference in real life unless you are transferring huge files. It's actually still very nice to have the second slot, so if you are going to go with a motherboard with two M.2 slots for storage, at least you can save some money on the second M.2 drive.
There are also other types of M.2 slots, such as the WIFI slot pictured on the right. All three M.2 slots pictured in this article are found on the same motherboard. I will mention that I have also seen second M.2 slots that only offer SATA6Gbps connections and only work with SATA based M.2 drives, so it's really important to read the manual before purchase.
USB Considerations
One you have chosen your storage devices (hopefully an M.2 NVMe SSD to really take advantage), then you can focus on connectivity such as USB 3.1. However, not all USB 3.1 is the same, and the components used can tell a lot about support and performance. All Ryzen SoCs are equipped with four USB 3.0 ports, so almost all motherboards put four USB 3.0 ports on the rear. However, the chipset also offers USB 3.0, X370 offers six extra and B350 offers two extra. All three higher tier chipsets provide six USB 2.0 ports. The X370 and B350 chipsets both offer two USB 3.1 ports.

The rear IO on this motherboard is loaded with support for four USB 3.1 (10Gb/s) ports. USB 3.1 ports are sometimes red, sometimes teal, and sometimes even the same shade of blue. Blue ports are almost always USB 3.0 (5Gb/s). If you are wondering about motherboards with USB 3.1 Gen 1 and USB 3.1 Gen 2, don't be, they are just renaming USB 3.0 (5Gb/s) to USB 3.1 Gen 1 and USB 3.1 (10Gb/s) to USB 3.1 Gen 2. You can thank USB-IF for that name change late in the life of the USB 3.0 protocol. Not all type-C ports are USB 3.1 either; sometimes they could be USB 3.0 or even USB 2.0, so you will need to double check product specifications.
The motherboard above also has a special feature that allows you to control the voltage of the two yellow ports. Special feature ports, such as for BIOS flashing with a CPU installed, are usually indicated in specifications or the manual.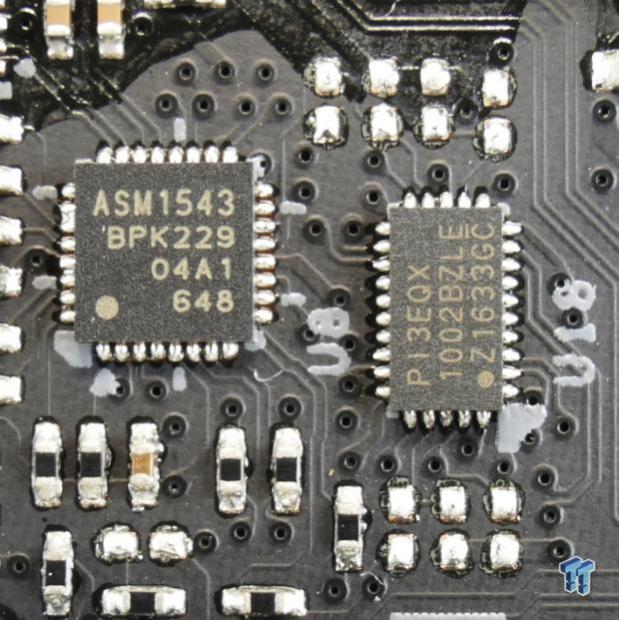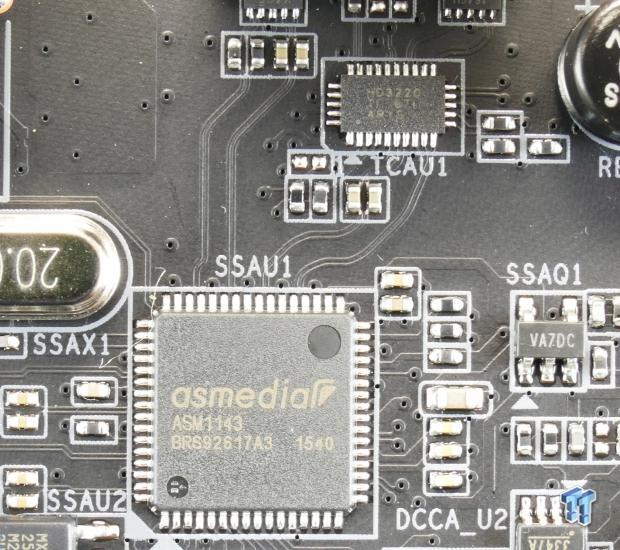 The X370 and B350 chipsets each offer two USB 3.1 (10Gb/s) ports. However, they don't just directly connect to the ports on the rear IO, as 10Gb/s over a far distance requires redrivers. In the image on the left, we see a single Pericom PI3EQX1002BZLE, and it re-drives the USB 3.1 signal from the chipset and then feeds it to the ASMedia ASM1543, which is a type-C port switch controller. Every type-C port must use a controller, as type-C is reversible, but the pin assignment might change depending on the configuration of the client device. On the right, we have a type-C port switch chip, the Texas Instruments HD3220. The ASMedia ASM1143 is found on this motherboard; it provides two extra USB 3.1 ports in addition to the two USB 3.1 ports from the chipset. The ASMedia ASM1143 is, however, not the most current generation USB 3.1 controller.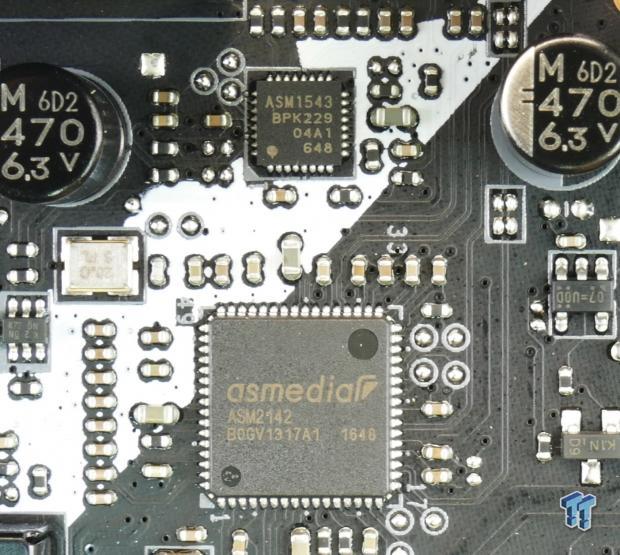 Here we see an ASMedia ASM2142 controller, which is newer and should perform better than the ASM1143. There is even a newer controller called the ASMedia ASM3142, but you won't find that on an AM4 motherboard as PCI-E lanes are sparse and the chipset already provides two decent USB 3.1 ports. The ASMedia ASM1143 is significantly more widespread than the ASM2142 on AM4 motherboards, but some select motherboards carry the ASMedia ASM2142. Most users won't notice the difference, as both controllers are still being fed PCI-E 2.0. You can find out what chip is used in the motherboard's manual or one of our reviews.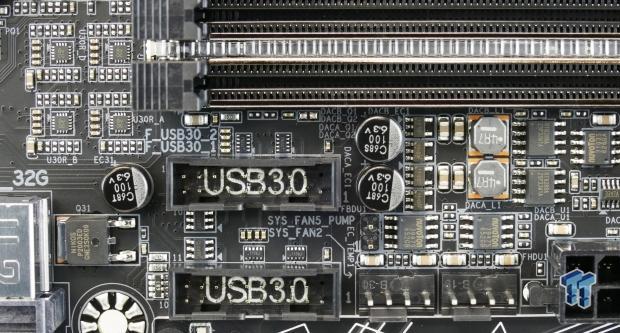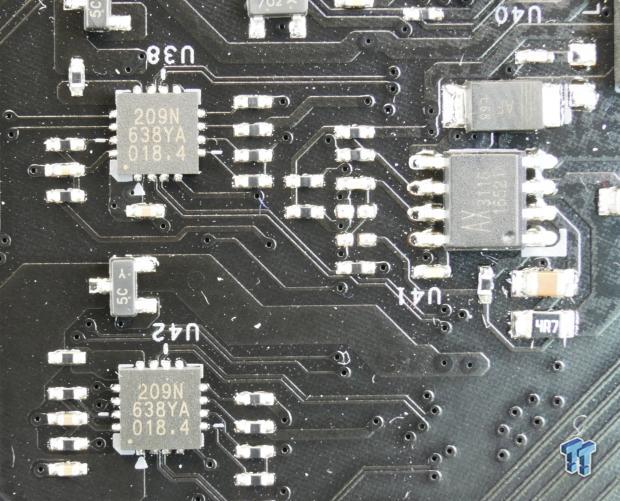 Some motherboards offer features such as USB port power control or re-drivers to improve performance. I have found evidence of this on a few motherboards from different vendors, and they do implement hardware to do things such as offer fast charging or control USB port voltage. The circuit pictured on the left supports increasing of USB voltage for very long cables or disabling of power to reduce noise. The circuit on the right is designed for fast charging is offers 12v/1.5a (QuickCharge 2.0) and 5v/2.4a (Apple). If you need those features, so far I have looked and confirmed there is hardware to back up marketing claims. In the BIOS section, we will discuss another type of USB port, one designed to facilitate recovery BIOS flashing even without a CPU.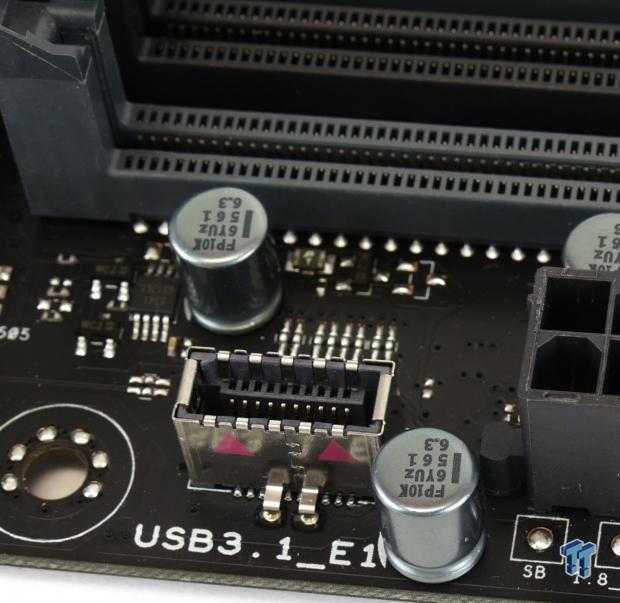 There is also a new type of header to keep in mind, the type-C internal header that supports USB 3.1. It's brand new and not very common, but we will see it proliferate when case vendors start to implement the cables it in all their cases.
Network and Audio Considerations
Network Considerations
The AMD chipset provides x8 PCI-E 2.0 lanes on X370 and x6 PCI-E 2.0 on B350. Networking requires a standalone controller, and on the AM4 platform, we have seen a broad range of controllers.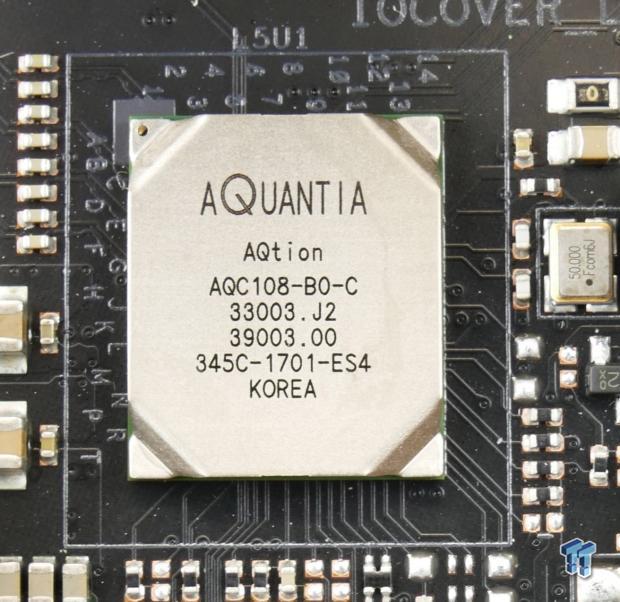 The Aquantia AQC108 is found on one X370 motherboard, but we could see it on others in the future. It supports 5Gbit, 2.5Gbit, 1Gbit, and 100Mbit speeds, which means it goes above almost all other NICs we find on X370 motherboards. It uses many PCI-E lanes, so that should be taken into consideration, and not many routers support NBase-T as of yet. Just like in the rest of this guide, I will show off all your options, but I do tend to start with the best.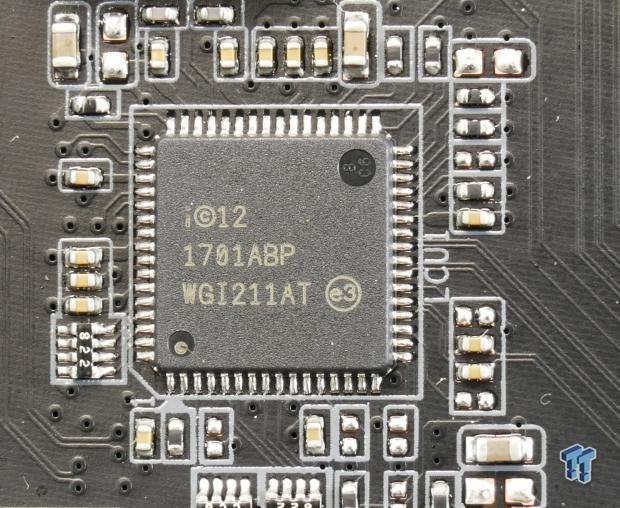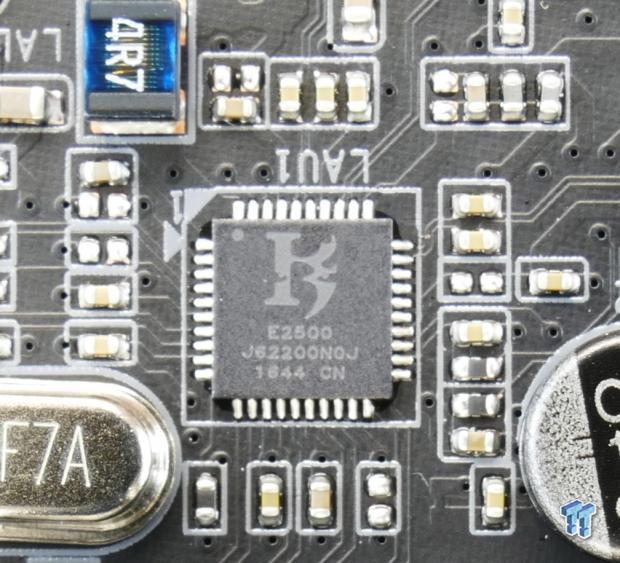 Next up we have Intel's i211AT (1Gbit), which is one of Intel's more recent consumer standalone NICs (more recent than i210AT). Killer's e2500 (1Gbit) can be seen on the right. It succeeds the e2100 and e2400 and is one of the latest in Killer's lineup. Killer is owned by Qualcomm, so it's essentially a Qualcomm Atheros NIC rebranded/repackaged for gamers.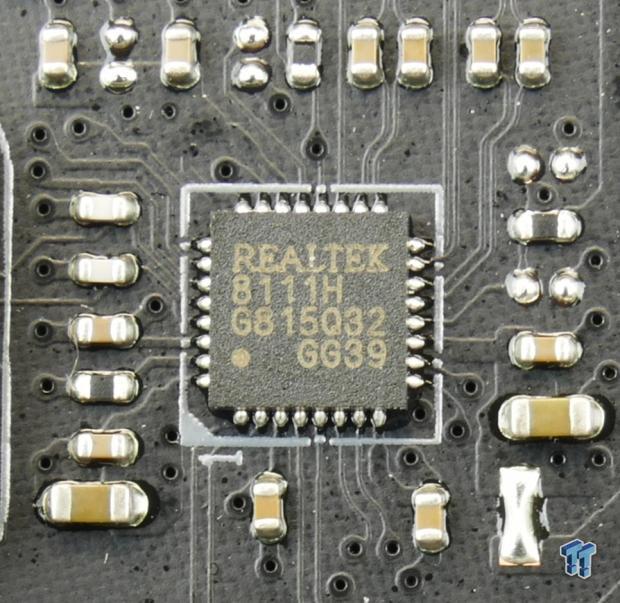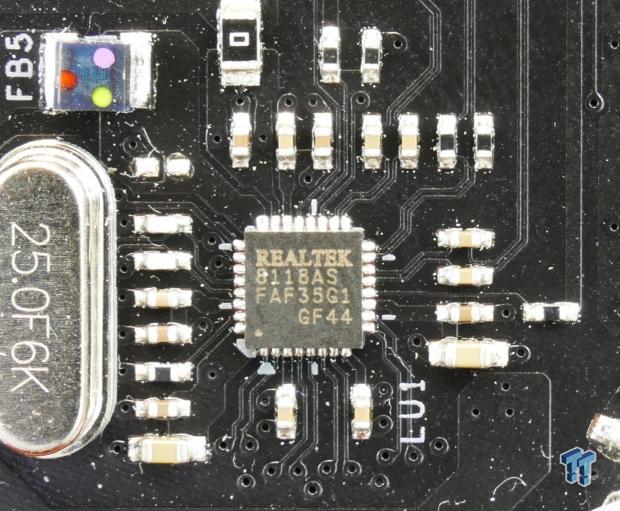 Next up we have two Realtek NICs (RTL8118 and RTL8111), both are Gbit NICs like the Intel and Killer. We find these on less expensive motherboards, but they aren't bad options these days since 1Gbit is everywhere. Producing a decent 1Gbit NIC isn't rocket-science, as 1Gbit has become pretty commonplace and performance on wired NICs is quite similar no matter the brand when it comes to raw throughput.
Audio Considerations
Motherboards have come a long way when it comes to improving audio, but there is a diverse marketplace when it comes to motherboard audio. The chipset they use is a codec that changes the digital audio signals from the built-in audio processor (inside the SoC) to analog ones and then outputs it through the rear IO and internal HD audio header.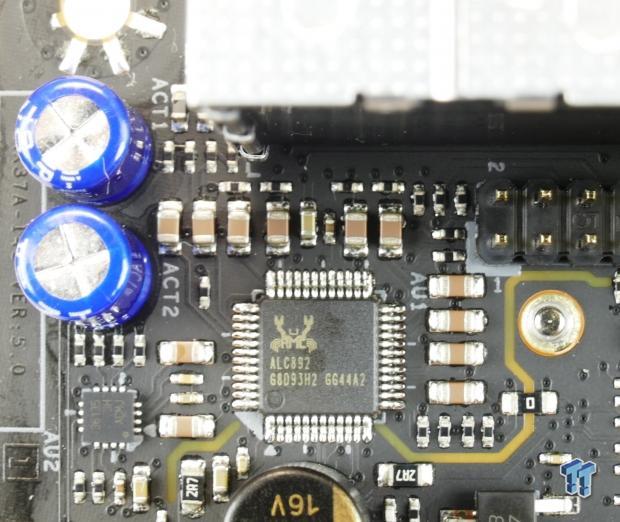 What I would consider basic would be the Realtek ALC892 audio chipset. I have seen the ALC892, ALC1150, and the ALC1220 Realtek audio chipsets on X370 and B350 motherboards. These codec's sound quality increases with the model number. The ALC892 offers 95dB SNR while the ALC1150 offers 115dB (requires a differential on the output, like an amplifier), and the ALC1220 offers 120dB SNR with a single integrated headphone amplifier. As you can see above in both pictures, vendors add in audio capacitors and a physical PCB divide. The circuit on the right also uses a sense amplifier to help amplify the output.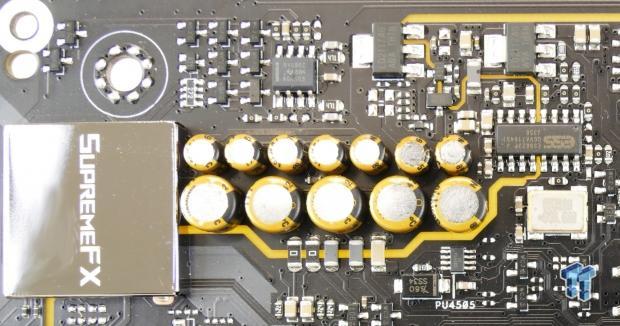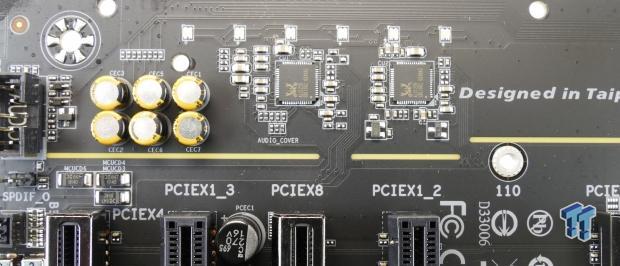 We also get some really interesting designs. The ALC1220 is used in the circuit on the left under an EMI shield. That vendor also decided to add in a secondary ESS Sabre DAC, some audio capacitors, and another amplifier to spice things up. The vendor who implemented the circuit on the right uses two ALC1220 codecs, one for the rear IO and one for the front headers so that both the front and rear get an amplified 120dB output.
RGB, BIOS, and Socket Considerations
The AMD Ryzen SoC provides the SPI bus from the CPU socket, so we almost always find the physical BIOS ROM(s) located right near the CPU socket. A few vendors have also taken great effort to try and optimize the placement of RGB and USB headers to better facilitate AMD coolers.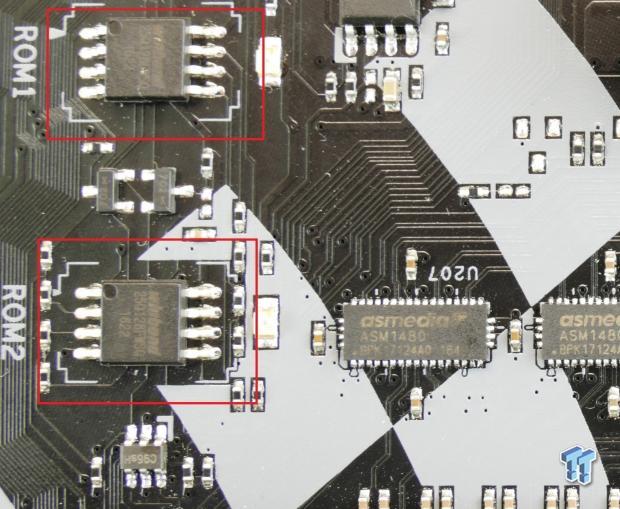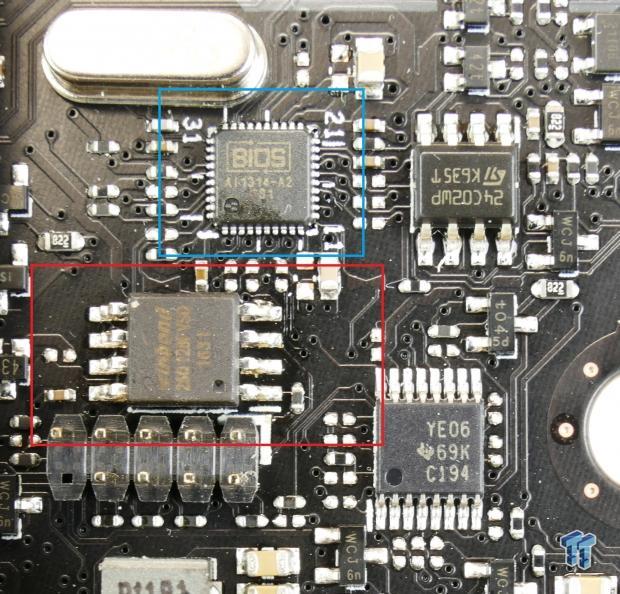 While most motherboards only offer a single BIOS ROM, it can be beneficial to have a way to recover from a bad BIOS flash or a corrupt BIOS. When you flash your BIOS/UEFI to a new version, you are at the same time erasing the ROM to write in the new ROM version, and if anything goes wrong, you could brick the system. There are two main recovery methods; two physical BIOS ROMs (redundancy) or USB based non-system BIOS flash recovery.
The second method relies on a separate, dedicated microcontroller designed to flash the ROM with an image from your USB stick, which means you don't even need to have a CPU installed. On the left, we have the redundant BIOS method where you switch between the BIOS ROMs manually, and on the right, we have a single BIOS ROM with a special chip labeled "BIOS" that offers recovery flashing. The chip for this feature isn't always labeled BIOS, but it is for this one brand of motherboard.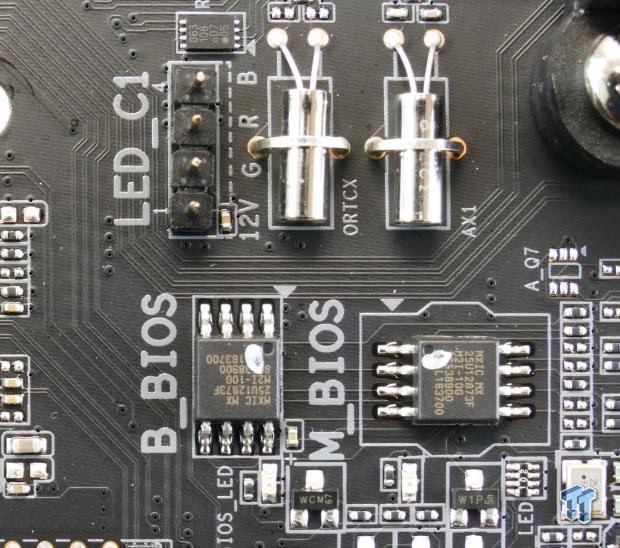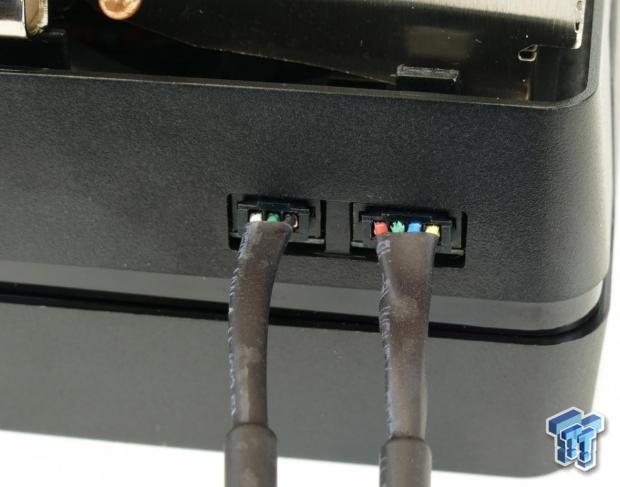 You can usually locate the BIOS ROM near a crystal oscillator, as you can see on the image on the left there are two near the BIOS ROMs. There is also an RGB LED header near this area, and that is because it's near the CPU socket. AMD's latest Wraith and Spire coolers offer a built-in RGB LED ring, and a USB or RGB led connection is required to change the color of the ring.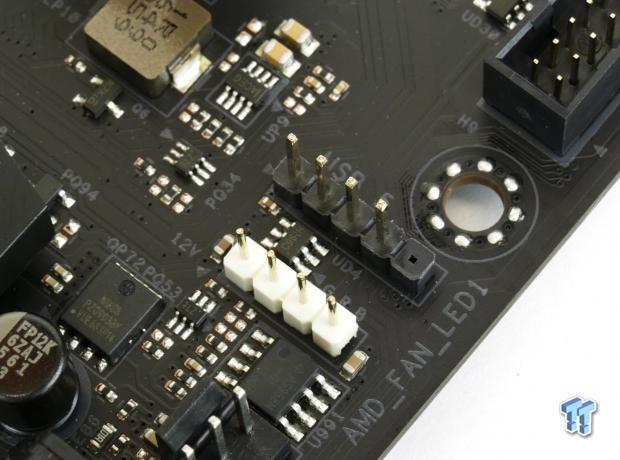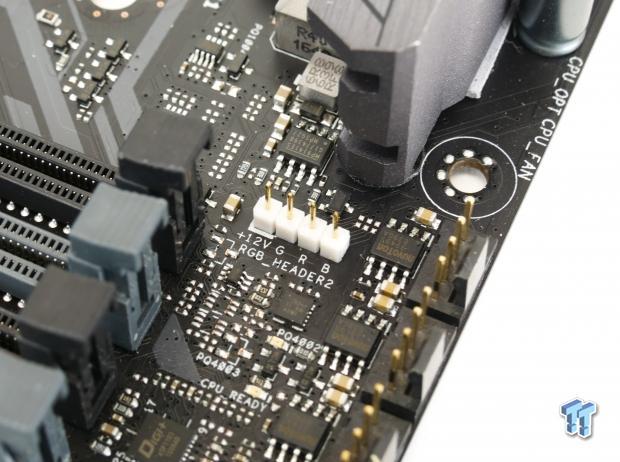 The motherboard in the image on the left offers a single USB 2.0 internal header and an RGB LED header midway through the motherboard so that the cable from the cooler doesn't have to reach far. The vendor on the right has a single RGB LED header at the top center of the motherboard for the same reason. Not all motherboards have RGB LED or single USB 2.0 headers near the CPU socket area, so if you are going to use a Wraith Max or Spire cooler with RGBs, it might be a good thing to look for.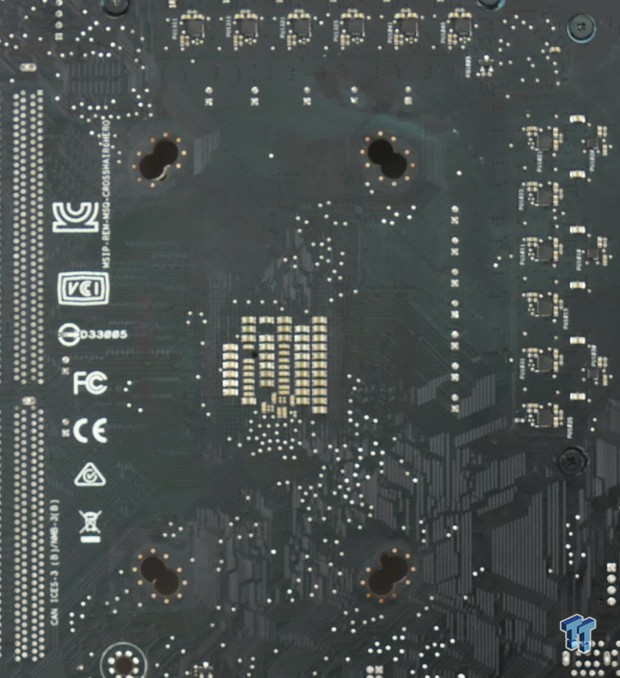 There are some unique features throughout the AM4 motherboard lineup, such as this one that allows mounting of either AM3 or AM4 coolers. It's a handy thing to look for if you just love your old AM3 cooler. Some AIO water cooling units do support AM4 since their launch, and for those that don't, cooler vendors are offering conversion kits and new coolers.
Overclocking Considerations
The Voltage Regulator Module
The AM4 platform requires many voltage regulator modules (VRMs), which takes the 12v (or 5v in some cases) and reduce it down to below 2v for different components. The most important VRMs are for the CPU (it gets two), and then memory, chipset, and so on. The CPU requires a Core and a SoC VRM right near the CPU socket. They usually use the same components as they provide power for the same part, but at different voltage and current levels. The CPU Core VRM is more important than the SoC, and when I talk phase count for the CPU, I will use a number such as 8+4, which means there are 8 phases for the Core VRM and 4 for the SoC section of the CPU.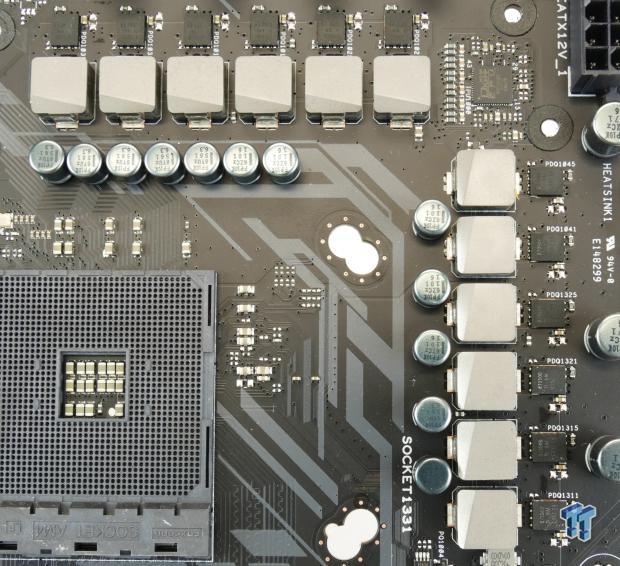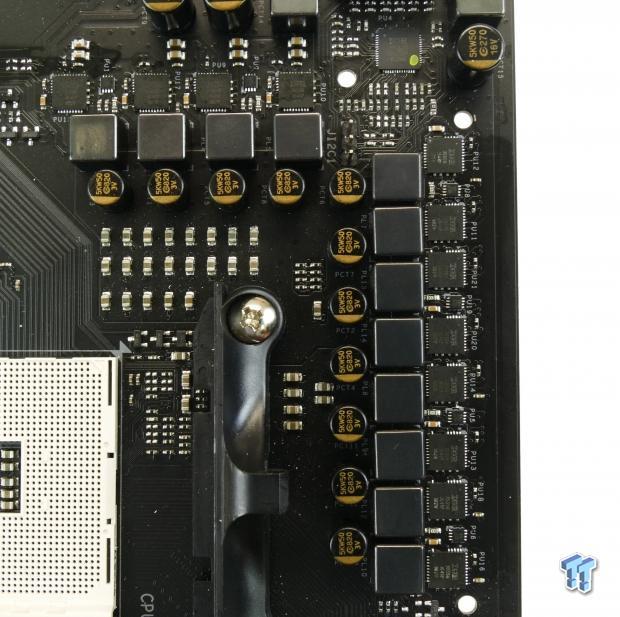 Most people figure that more phases are better, and that might be true in some cases, but component selection is equally important. Different VRM control chips, known as pulse width modulation (PWM) controllers, offer different technologies that can improve high current performance, optimize power saving performance, offer more precise voltage control, and offer more overclocking features. Different power stage components from the MOSFETs (power and efficiency), chokes (power and noise), and capacitors (power and noise) range in quality and performance, and act as the body of the VRM instead of the brain (PWM controller). Both of these motherboards are using the International Rectifier IR35201, one of the most popular overclocking-centric PWMs, and both are using the same 4+2 phase configuration doubled to 8+4 phases.
However, while the one on the left uses higher quality IR3555 (60A PowIRstage) MOSFETs while the one on the right uses Texas Instruments CSD87350 (40A NexFET) with slightly lower ratings. Both are best in class and some of the best you will find on an X370 motherboard. However, the motherboard on the left has a slightly better filter stage, with capacitors rated to 10K hours rather than 5K on the right, and a different type of inductor. Will these VRMs let you overclock significantly further than those we are about to see? Probably not, but if you have the motherboard for the long haul and you need it to last a very long time with a 4.1GHz overclock on all cores, then you will want a higher quality VRM that runs a bit cooler and not at the limits of its components.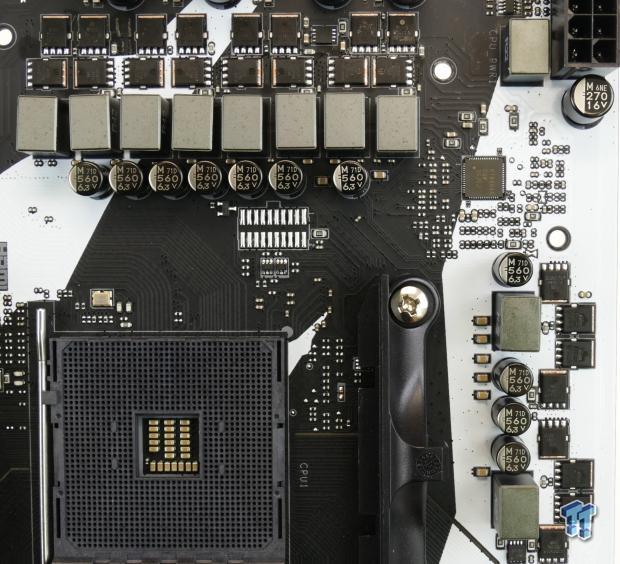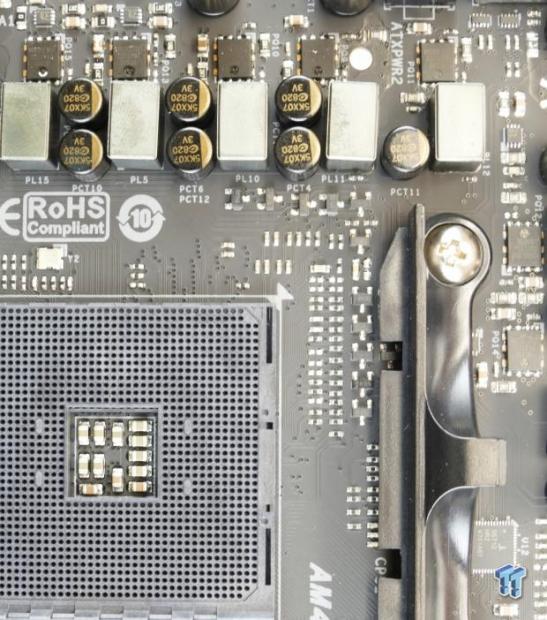 The VRM on the left uses a Richtek PWM while the one on the right uses an Intersil. Both PWMs are decent, and both offer overclocking features and will get the job done. The VRMs pictured before are on very expensive X370 motherboards, while the ones pictured above are from mid-range motherboards. The configuration on the left uses discrete MOSFETs for each power stage, while more integrated power stage components are located in the VRM in the image to the right. Each VRM phase must use one high-side and one low-side MOSFET, but there are also packages that integrated both and even a driver into a single chip.
These integrated solutions are a bit more expensive and can offer better performance, but not in all cases. The more discrete configuration on the left is actually better than the more integrated one on the right, mainly because of phase count. There is no easy way to compare if one VRM is better than another, but in our motherboard reviews, we do thermal imaging of the VRM and breakdown the parts. In this industry, you typically get what you pay for, but it's not a bad idea to read a review or two that goes over the VRM.
Clock Generators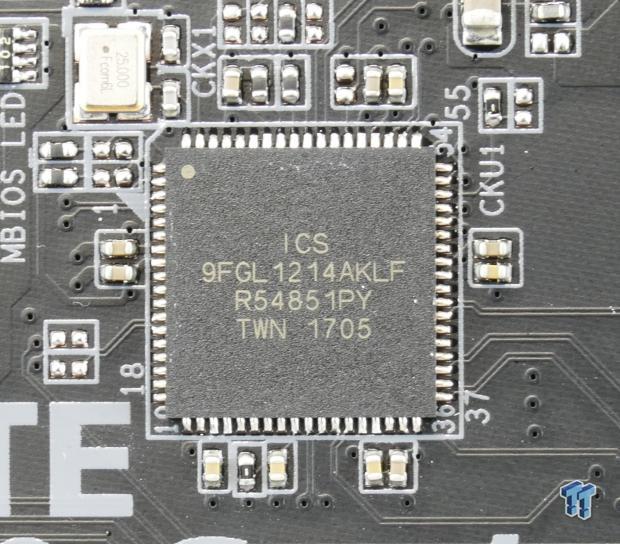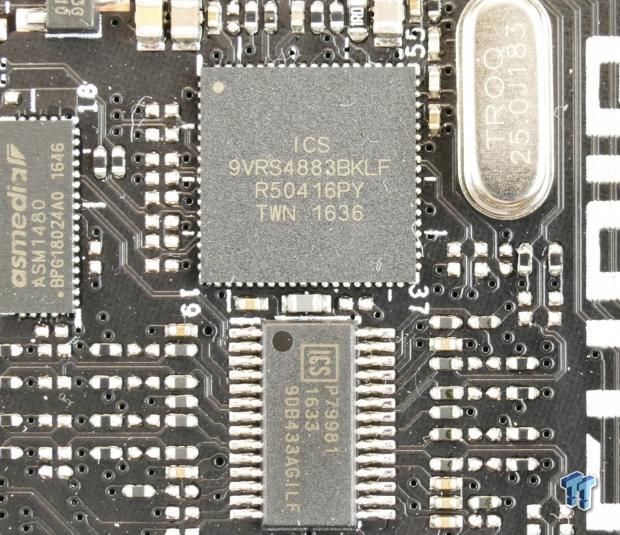 Some motherboards have dedicated clock generators. The reason for their existence is because you cannot change the CPU's bus speed without one dedicated to changing the bus speed. Increasing the bus speed can help with memory overclocking above 3.2GHz as some multipliers are better tuned that others. Now that AMD has unlocked higher memory multipliers that might change, but some lower multipliers might still be tuned better, and bus speed change could still be useful for memory overclocking. There are not many motherboards with these clock generators, but you can easily spot them as large black squares, plus they will definitely be in the marketing.
Overclocking Features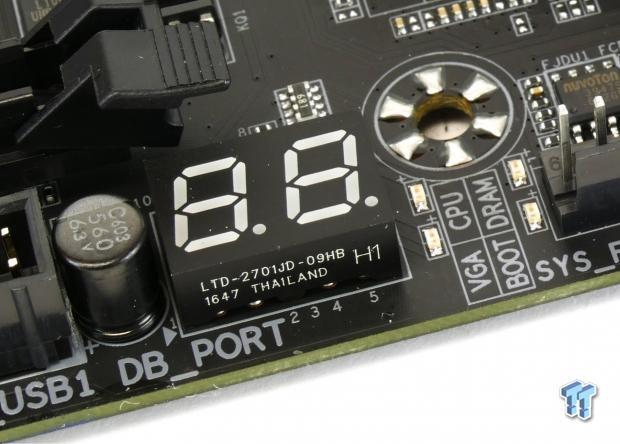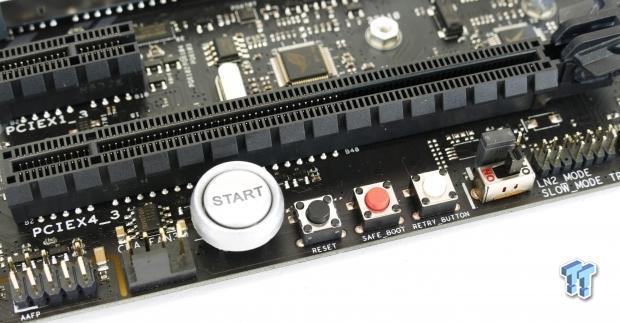 I think the handiest overclocking feature is the POST Code display, which outputs a hexadecimal pair to match against stop codes in your motherboard's manual. Not all motherboards have it, but it's very useful in diagnosing hardware or overclocking boot failures. Some motherboards might offer boot LEDs instead of a POST code display, and they can tell you if the CPU, RAM, VGA, or boot device is holding up your booting. Some motherboards also offer the typical power, reset, and clear CMOS buttons, others offer more advanced OC features such as LN2 mode, re-try, slow-mode, or safe-boot.
Memory Support
The faster you can run your memory with Ryzen, the faster you can also run the Infinity Fabric that connects the different processor units. However, Ryzen memory overclocking has proved to be a bit difficult depending on density, IC type, and number of DIMMs.

AMD officially recommends the configuration above for speed of DIMMs vs. their rank. Single rank means a memory module with memory on only one side, and dual rank means memory chips are on both sides. Dual rank memory does tend to provide better performance, but it cannot overclock much higher on the platform as of now. I strongly recommend you look at your motherboard's qualified vendor list when it comes to picking a memory module. Almost every brand keeps an active list of compatible memory kits for each motherboard.
Lane Switching and Fan Control Considerations
Lane Switching Considerations
The X370 chipset offers the ability to run the CPU's x16 PCI-E lanes as x8/x8 for multi-GPU setups. The B350 chipset only allows one x16 slot from the CPU. SLI support will differ depending on vendor and product, but you should see it in the manual or the marketing as it's not free to certify a motherboard for SLI.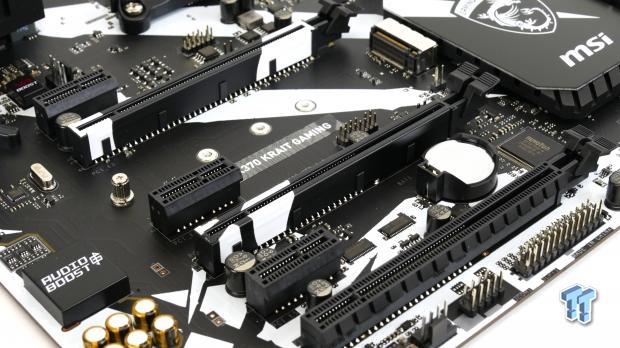 Now that we understand that those two first x16 slots will turn into x8/x8 with two cards installed, it's important to realize where the last x16 slot and the x1 slots get their bandwidth. A quick way to see if PCI-E lanes are coming from the chipset or the CPU is to see if they are PCI-E 3.0 or PCI-E 2.0. The CPU only provides PCI-E 3.0 while the chipset only provides PCI-E 2.0.
The X370 offers eight lanes while B350 offers six, and in the case of the pictured motherboard, the last slot is x4 PCI-E 2.0 wired to the X370 chipset. The x1 slots each share their bandwidth with the x4 slot. That last x4 from the chipset might also be shared between a second M.2 slot and an x4 PCI-E slot in the form of an x16 slot. The only way to know is to read the footnotes in the specifications or manual.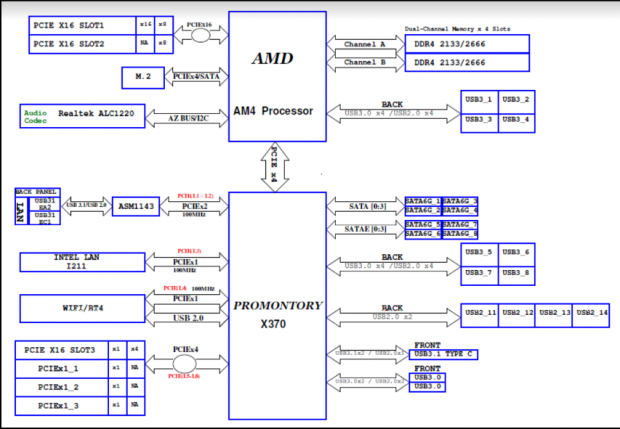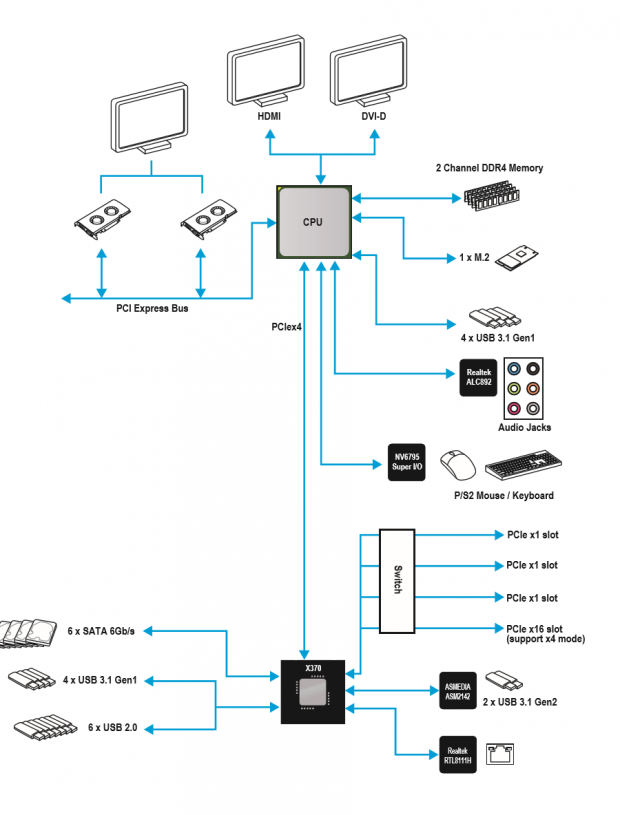 Here you can see a breakout tree diagram on the left and another on the right. We can see on both motherboards the x4 slot shares all of its bandwidth with the x1 slots. We can also see what devices come from what buses or complexes. Diagrams like these can be found in reviews or manuals of motherboards, but not many motherboard vendors off the diagrams. You can read the fine print on the specification page of each product for where the lanes are shared, and you should read the fine print if you are going to use most of the slots and ports at the same time.
Fan Control Considerations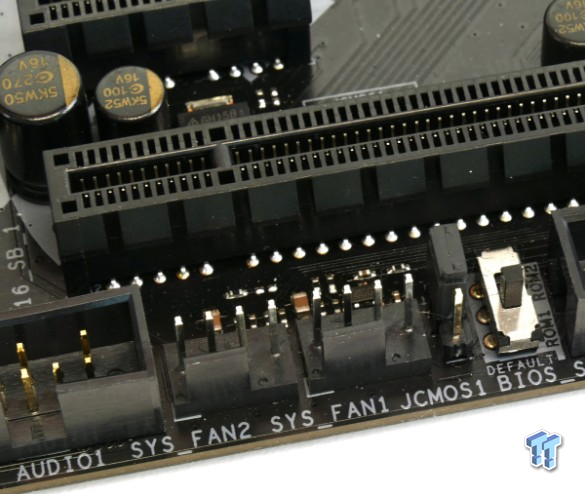 Fan headers on most motherboards are now 4-pin all around. However, not all 4-pin headers are made equal. We have both 3-pin (called voltage or DC mode) or 4-pin (PWM) headers. PWM fans are fed a constant 12v and are regulated by the 4th pin that sends a signal to the regulator on the fan. Voltage/DC mode fans rely on the motherboard to regulate their voltage. Both report RPMs back to the motherboard through their third pin.


While the header on the right and left look identical on a motherboard, you need to dig deeper into the manual to see if they support only PWM, only DC, or a hybrid. We can see on the left that the power pin is just +12v, meaning if you plug a voltage/DC mode fan into the header it will run 100%. On the picture from another motherboard's manual on the right, we can see that it's a hybrid PWM/DC header and can support either type of fan with the proper control for either. The manual is the best place to look for fan information.
The manual is the best place to look if you have any questions about an AM4 motherboard. As this guide was meant to clarify different platform features and provide an insight into the ICs used and their performance impact, I hope you learned something. If you have any questions or comments, please email me or leave a comment.
PRICING: You can find products similar to this one for sale below.

United States: Find other tech and computer products like this over at Amazon.com

United Kingdom: Find other tech and computer products like this over at Amazon.co.uk

Australia: Find other tech and computer products like this over at Amazon.com.au

Canada: Find other tech and computer products like this over at Amazon.ca

Deutschland: Finde andere Technik- und Computerprodukte wie dieses auf Amazon.de
We openly invite the companies who provide us with review samples / who are mentioned or discussed to express their opinion. If any company representative wishes to respond, we will publish the response here. Please contact us if you wish to respond.
Related Tags