Introduction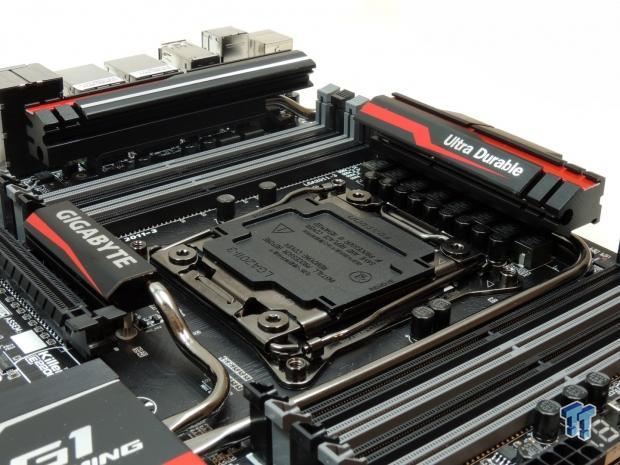 When it comes to X99, the average motherboard price is around $325. While this might seem like a barrier to entry, it guarantees a pretty hefty feature set, and durability. Today I take a trip into the land of gaming motherboards with the GIGABYTE GA-X99-Gaming G1 WIFI. The GA-X99-Gaming G1 WIFI comes from a long heritage of G1 series motherboards, and I have experienced all of high-end G1 boards since their introduction during the X58 days.
I wasn't the biggest fan of the change to red themed boards from the traditional green; however it has started to grow on me. The new GA-X99-Gaming G1 WIFI's looks are well executed, and the LED lighting is done well and isn't too strong, yet it provides nice accent lighting. The X99-Gaming G1 WIFI features eight USB 3.0 ports on the back, ten SATA6GB/s ports, four-way graphics support, eight DDR4 DIMMs, M.2 and SATA Express that share bandwidth with some of those SATA6GB/s ports, a very upgraded audio section, and a hefty VRM.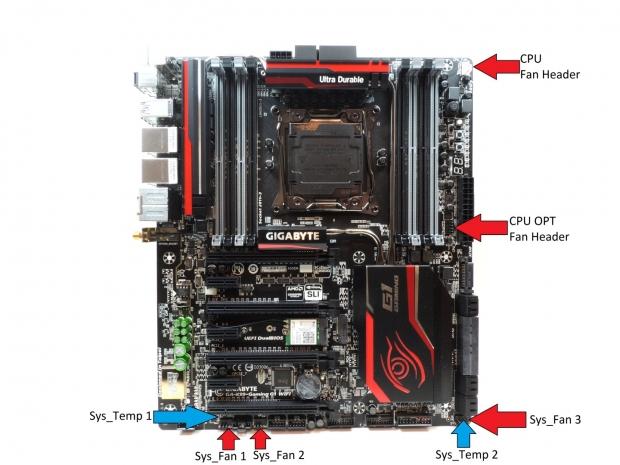 The GA-X99-Gaming G1 WIFI has five, four-pin PWM fan headers. The CPU fan header has PWM fan control, and the others have voltage mode control, meaning they use the older three-pin fan control method; they will also work with PWM fans. This time, GIGABYTE decided to throw in some more temperature sensors; they have added two system temperature sensors built into the board, right near the Sys_Fan 1 and Sys_Fan2. Fan control is provided through the UEFI, and through Windows (EasyTune/System Information Viewer).
PRICING: You can find the GIGABYTE GA-X99-Gaming G1 WIFI for sale below. The prices listed are valid at the time of writing, but can change at any time. Click the link to see the very latest pricing for the best deal.
United States: The GIGABYTE GA-X99-Gaming G1 WIFI retails for $344.79 at Amazon.
Canada: The GIGABYTE GA-X99-Gaming G1 WIFI retails for CDN$494.84 at Amazon Canada.
Voltage Regulator Circuit Analysis
CPU Regulator Analysis
With more and more things being integrated into the CPU and PCH, there isn't much that sets motherboards apart, but the voltage regulator is still one part of the motherboard that differs greatly between motherboards. With the X99 platform, the VRM area has been effectively reduced by half, while the current demand has been almost doubled due to the high TDP of the new CPUs. The X99 VRM is possibly one of the most important parts of any X99 motherboard, especially when it comes to overclocking.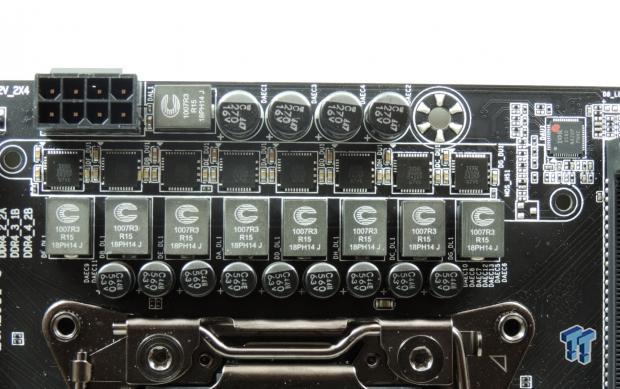 The CPU VRM features a total of eight phases; each phase is powered by an integrated power stage, the well-known International Rectifier PowIRstages. There are eight high capacity server grade inductors made by Cooper Bussmann. The FP1007R3-R15-R are 0.15uH Flat-Pac series power inductors; these feature 76A saturation current at 25C. This is an extremely high current rating, and will help reduce overall heat around the VRM area. The GA-X99-Gaming G1 WIFI uses 9x Nippon Chemicon, custom-made, 10K, can-type polymer capacitors, each rated at 560uF for a total of 5040uF.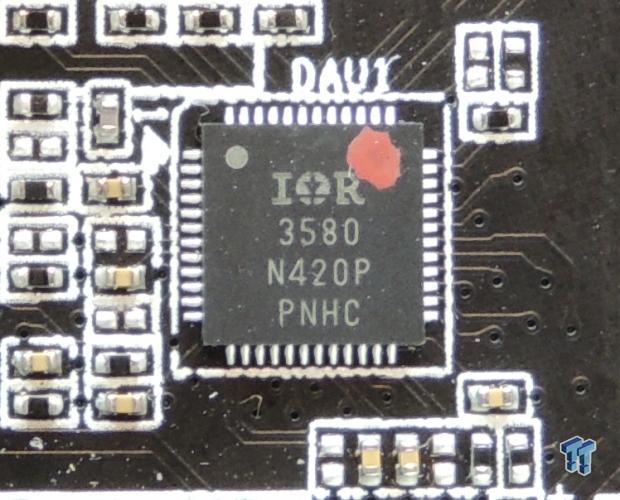 GIGABYTE is using the International Rectifier IR3580, an eight phase digital PWM. This is the latest one offered by International Rectifier. The difference between this PWM and the IR3563 is that this PWM features special low power operation modes, such as single and dual phase operation. This VRM is a straight eight, meaning there is no doubling.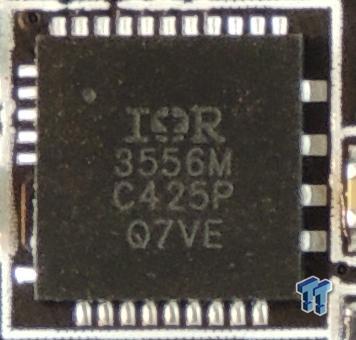 GIGABYTE has used the IR3556 for the power stages, and each one can output 50A at about 10W, and 90% efficiency. The IR3556 is a brand new PowIRstage; it replaces the IR3551. These new IR power stages offer better timing control, and reduce switch node ringing when compared to the first generation IR power stages like the IR3550, IR3551, and IR3553. They also offer internal current sensing algorithms, and improved temperature sensing, which should, according to IR, greatly increase current sensing accuracy. Support for synchronous diode-emulation through an internal zero-cross detect circuit is a new feature that should help a lot with ultra-light load efficiency.
Memory Regulator Analysis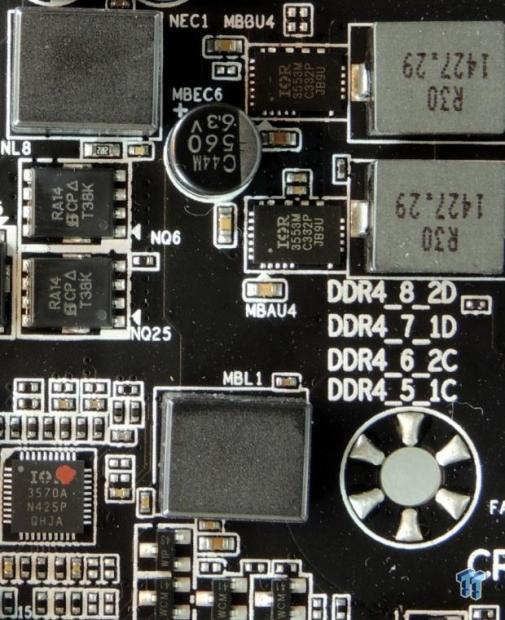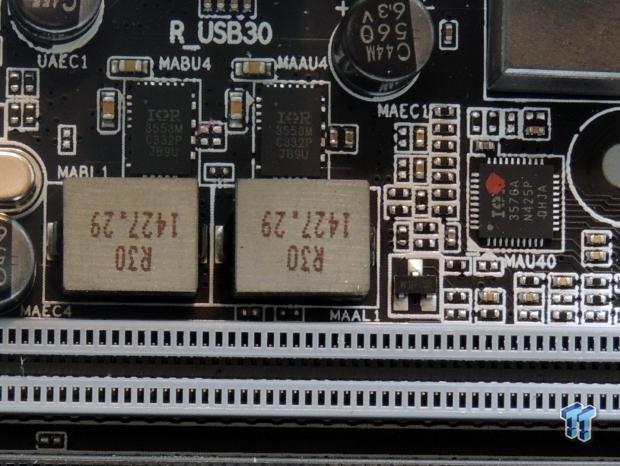 There are two sets of everything for the DDR4 power on X99; this is because there are two sets of DIMMs on every X99 motherboard. GIGABYTE chose to stay with digital PWM control for all four DDR4 VRMs; the International Rectifier IR3570 is a 3+2 phase digital PWM that is perfect for this. Two of these PWMs are in use, one on each side of the board. There are four DDR4 VRMs because each set of DIMMs requires a DRAM voltage of 1.2v, and a DRAM VPP voltage of 2.5v. The 1.2v rail is the most important, and on this board, each set of DIMMs get two phases, each with a 40A International Rectifier IR3553.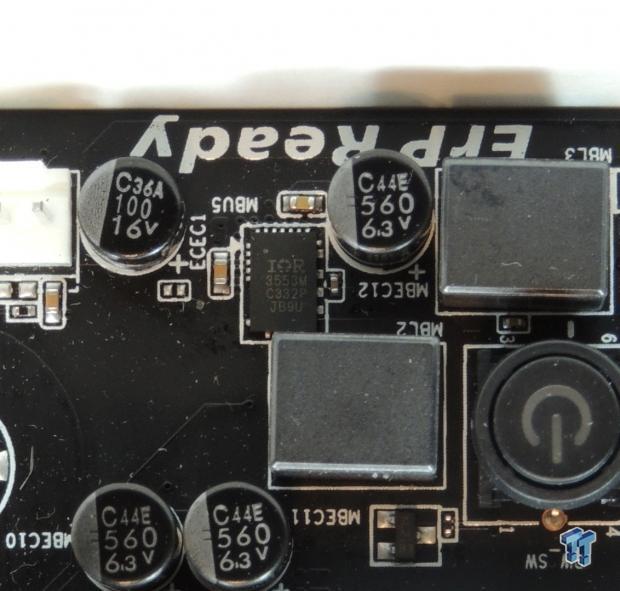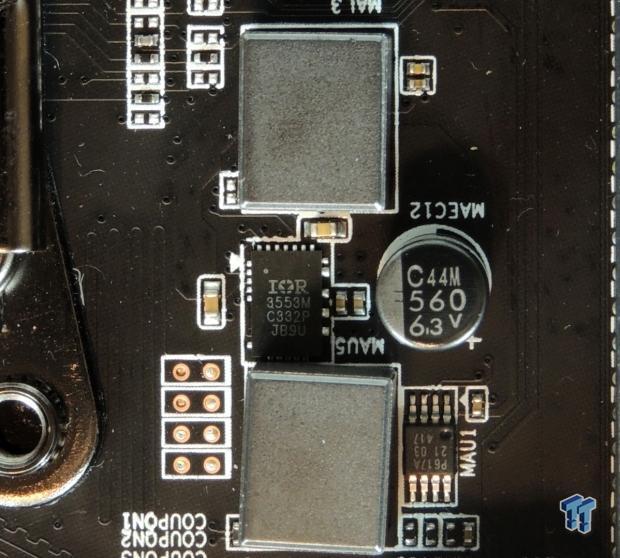 These VRMs provide the 2.5v VPP supply for each set of DIMMs. They consist of a single phase made up of IR3553 40A PowIRstages, which are controlled by the same IR3570 PWMs that are used for the main rail, since the IR3570 has two separate sets of PWM outputs.
DDR VPP is the voltage for the electrical high for DRAM row access. For DDR4, JEDEC decided to introduce a secondary external VRM that provides a 2.5v electrical high voltage for the word line (row access). Since the word line voltage is no longer pumped up from the DDR voltage (like it was for DDR3), the inefficiencies of pumping up the DDR voltage are gone, and instead you get power savings.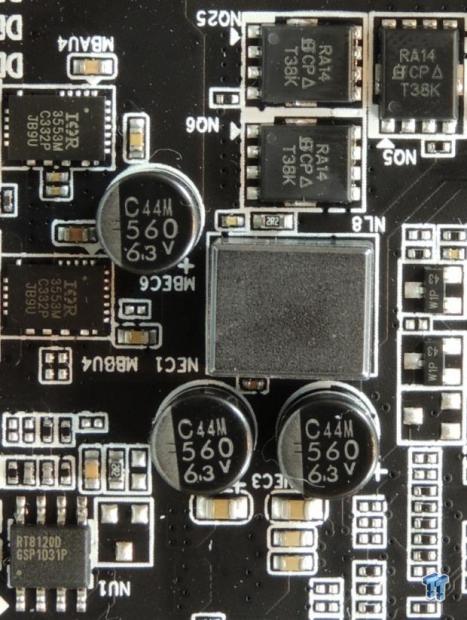 A single RT8120 is a single phase PWM, and it powers a single phase VRM using two Vishay SiRA14MOSFETs that control the PCH voltage rail.
Motherboard Circuit Analysis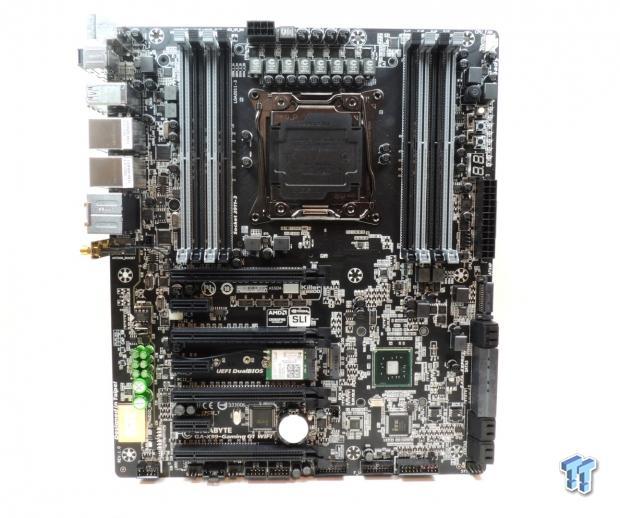 My favorite part of getting a new product is taking off the heat sinks so I can see what's underneath. In this process, the fruits of motherboard engineering are exposed for all to see, and here at TweakTown, we do it so you don't have too. If there are any secrets, then they are immediately revealed. Let's see if the GA-X99-Gaming G1 is hiding any.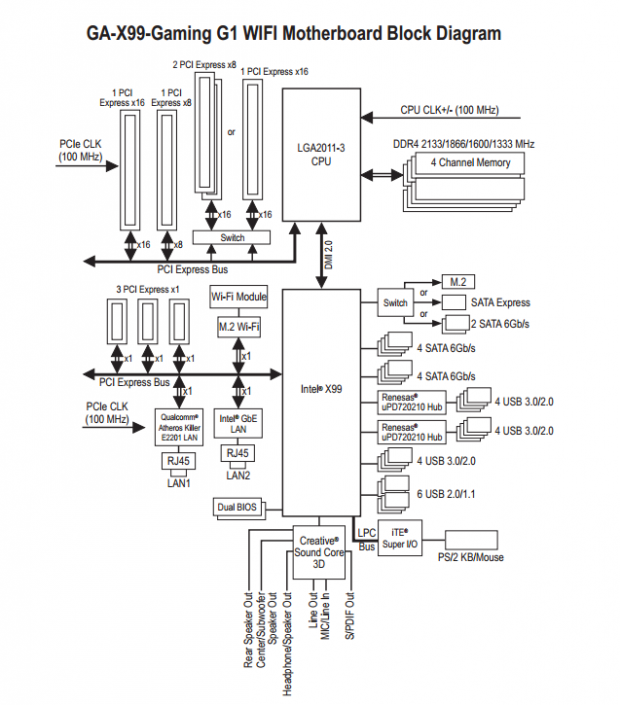 This is the routing diagram from the GA-X99-Gaming G1 WIFI; you can find it simply by opening the manual. Most everything is from the X99 PCH, and is branded Intel, except the secondary NIC (Qualcomm Killer e2201), Creative Core3Di, and the USB 3.0 hubs.

The most interesting hardware on the GA-X99-Gaming G1 WIFI resides in the audio section, so let's start there.

The main chip for the audio on the GA-X99-Gaming G1 WIFI is the Core3Di chip from Creative, the CA0132. It resides under the gold plated EMI shield. The entire audio section is separated from the main PCB where the analog and digital signals are mixed; this makes higher quality analog signals on the audio side easier to attain.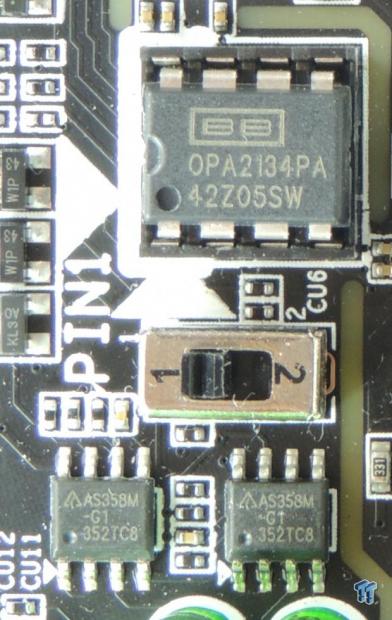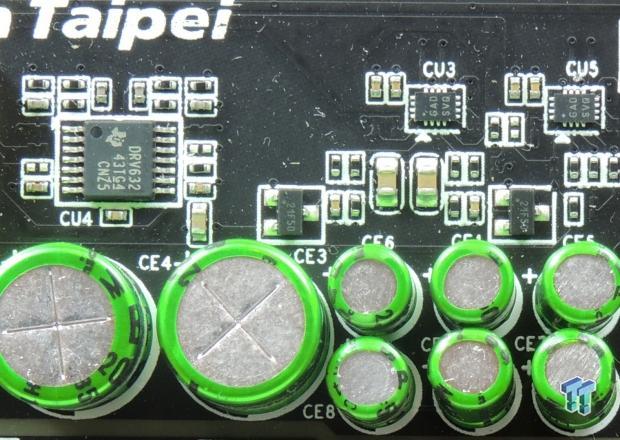 GIGABYTE provides a replaceable operational amplifier; they call this system OP-AMP. The board comes with a Burr Brown (Texas Instruments audio subdivision) OPA2134, the CAP switch next to it reduces gain from 6x to 2.5x for both channels. Dual ASM comparators help with the LED lighting modes. The GA-X99-Gaming G1 WIFI also provides an amplifier for the front panel audio; the DRV632 from Texas Instruments provides that functionality.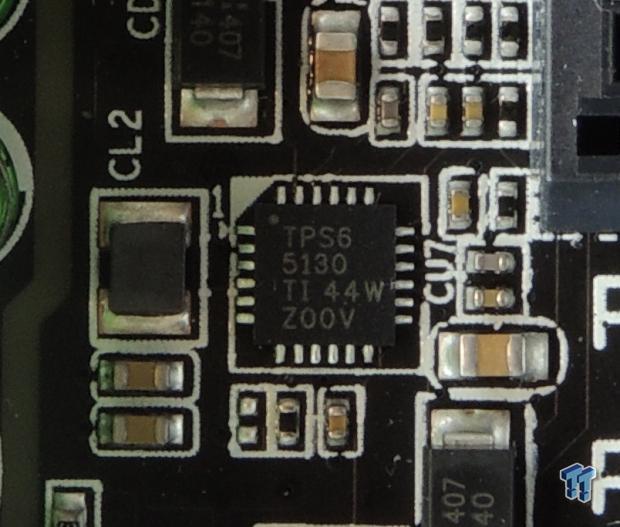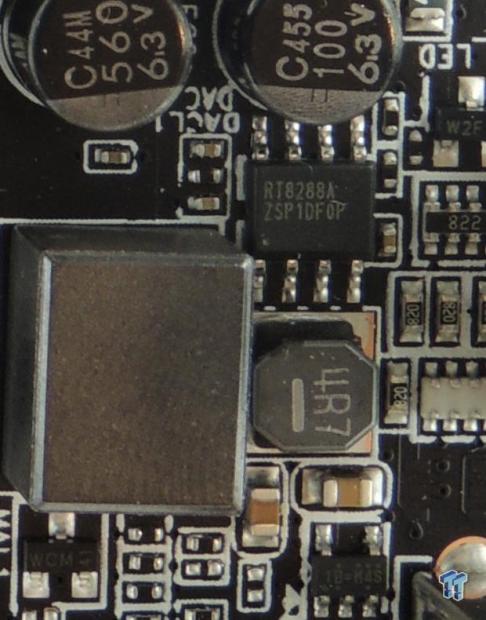 A Texas Instruments TPS65130 provides up to +/- 15v for the OP-AMP socket. While we are on the topic of audio power, you should know I decided to also tie in the RT8288A, which provides clean 5v power to the USB DAC-UP ports that are yellow on the back panel. These ports have the ability to work without any power, or with clean 5v power. Some USB DACs don't need USB power, just data, and with this system, you can cut the power without cutting the data, so it doesn't cause unneeded input noise.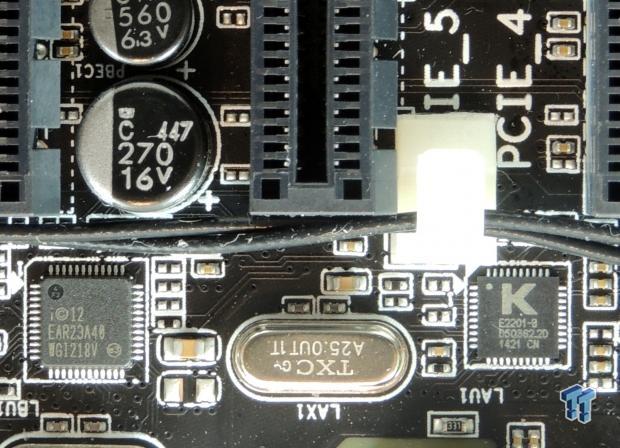 This board also has dual NICs. Some people have a preference for either Intel or Killer for their gaming network controller, and the GA-X99-Gaming G1 WIFI provides both.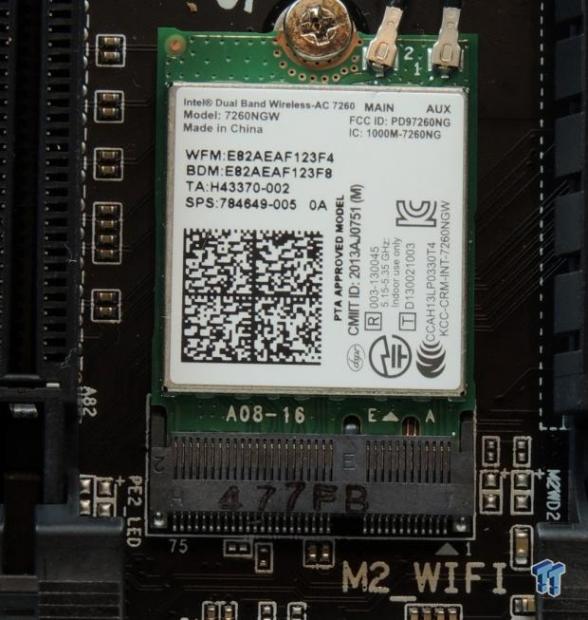 For the first time, GIGABYTE has built-in their WI-FI/BT, and the Intel 7260NGW is the built-in AC WI-FI/BT M.2 card that is provided with the board. It provides dual band AC WI-FI, which is a feature many users are demanding.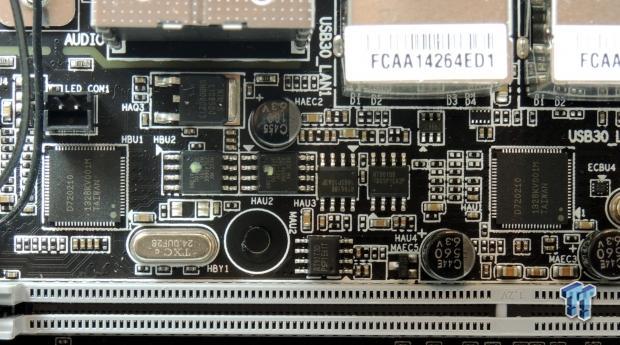 Dual Renesas (NEC) D720210 are used to expand two USB 3.0 ports from the PCH to eight USB 3.0 ports for the backpanel.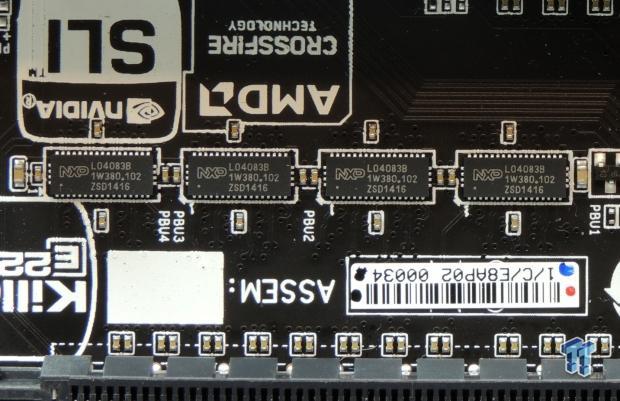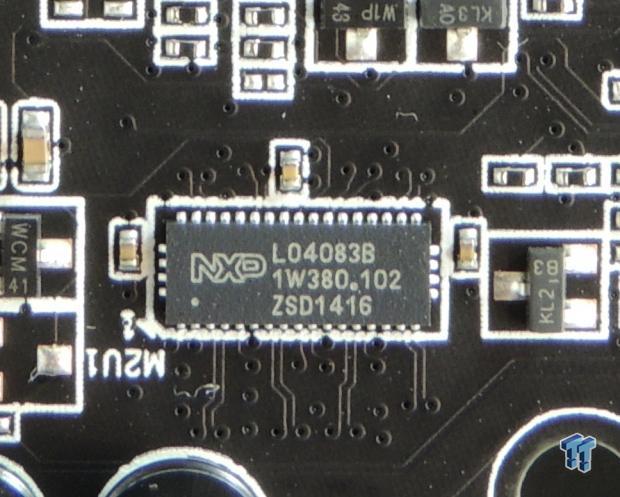 Four NXP L04083B switch 8x PCI-E 3.0 from the first 16x slot to the second 16x slot. GIGABYTE decided not to allocate CPU PCI-E 3.0 bandwidth to the M.2 slot as some other vendors have done, so they are using SATA 6GB/s and SATA Express bandwidth to do it. A single NXP L04083B allows two SATA 6GB/s to give up their bandwidth (2x PCI-E 2.0) to the M.2 slot.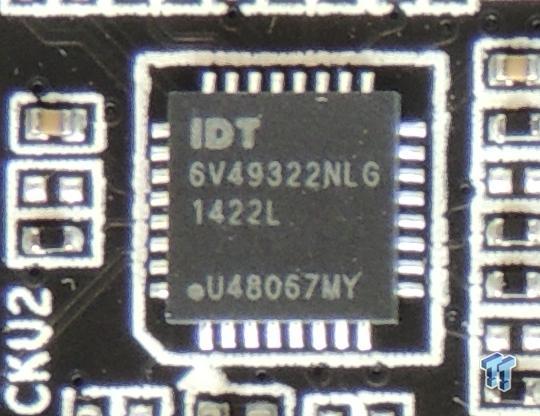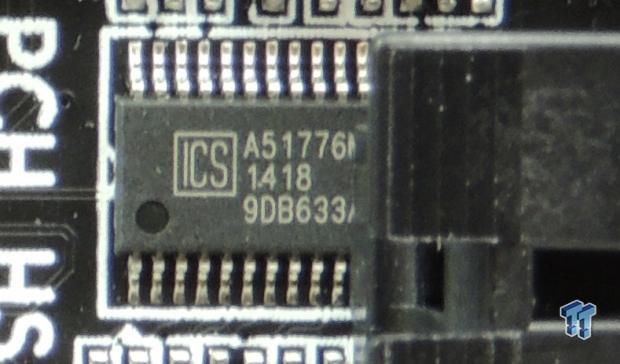 The board features two clock generators. The first is an IDT6V49332, which basically helps out with BCLK overclocking. The second is a common ICS clock gen used to generate the PCI-E signals.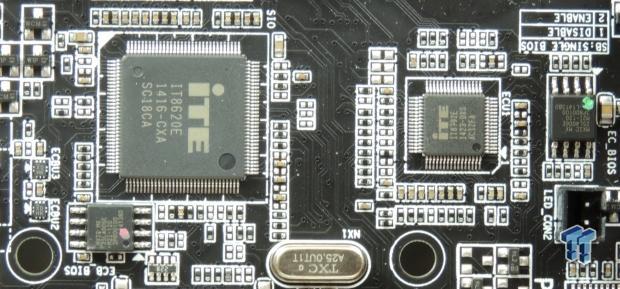 GIGABYTE is using a plethora of ITE branded ICs to control everything from SuperIOs to BIOS control mechanisms. First off, we have the ITE8620E, which is a super IO in charge of CPU fan control, and PS/2, four NCT3941S are also used to expand fan control to the four fan headers. IT8792E is the first embedded controller (EC) we find on this board, and its purpose is to expand OC features and fan control.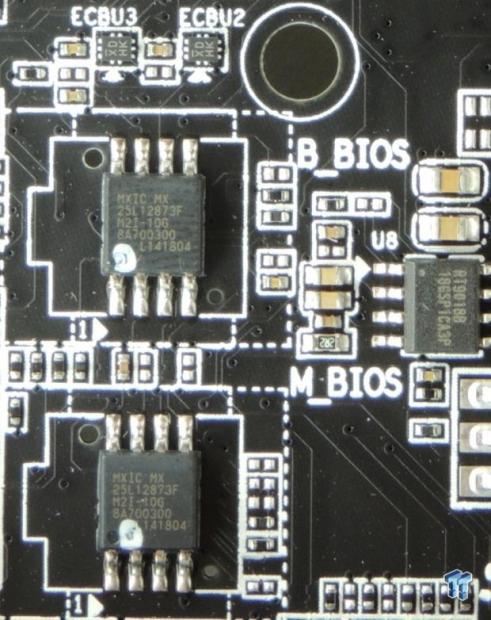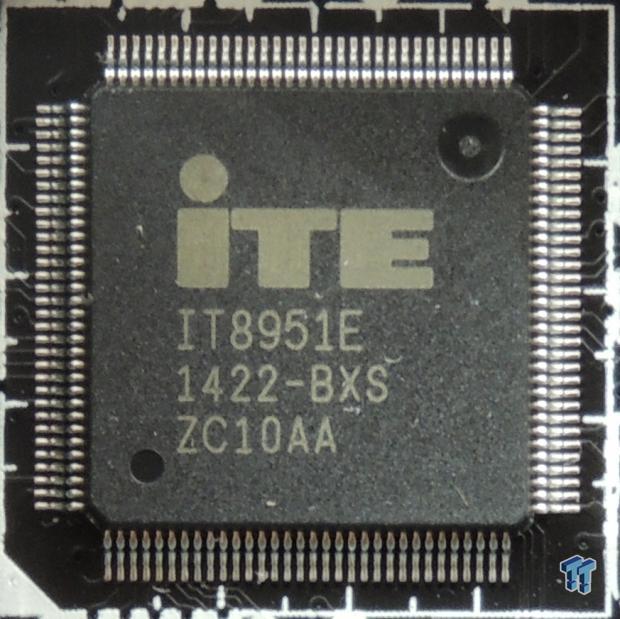 Dual 128Mbit BOS ROMs are used on this motherboard for the traditional GIGABYTE dual BIOS; however, GIGABYTE thought that users might like a way to update the BIOS ROM without needing to boot the system, so they added a feature they call QFlash+. It is similar to other USB BIOS recovery tools, in that all you need is a USB drive with the BIOS in a specific USB port, and then BIOS flashing is triggered. To provide this type of offline BIOS flashing, GIGABYTE uses an ITE8951E, along with a bunch of other ICs. It is another EC, and requires a lot more hardware, which can be found below.
Overclocking and BIOS Setup
Overclocking Features
I will now cover all the overclocking specific hardware features this motherboard offers.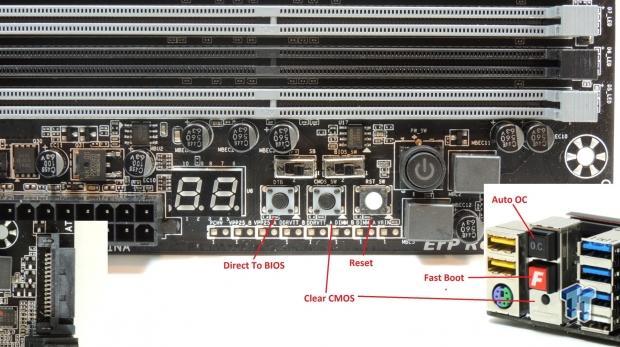 GIGABYTE decided to add more features than usual to its top of the line gaming board. For starters, they provided the typical BIOS selector, single BIOS mode, extra PCI-E power, voltage read points, power, reset, and clear CMOS on the board. This time, GIGABYTE provided both internal clear CMOS, as well as back panel clear CMOS buttons. I personally dislike back panel clear CMOS buttons, because as a reviewer, you never really test the motherboard in a case, but I have both options here. They have also added fast-boot, direct-to-BIOS, and auto OC buttons. The voltage read points provide real-time measurements with a digital multi-meter for all the VRMs on the board, but not those internal to the CPU (like VCore).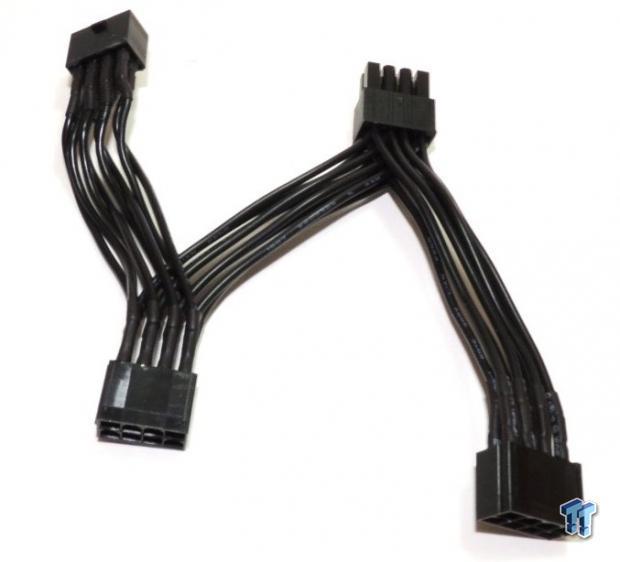 I usually don't cover the accessory package unless there is something interesting in there, and this time I overlooked a handy accessory from GIGABYTE that helps with overclocking. It's a three to one CPU power connector. It allows you to hook up three, eight-pin connectors from your PSU to the motherboard, effectively helping overcome some limitations of modern PSUs.
Many PSUs have multiple 12v rails, and they have current limits anywhere from 12A to 30A per rail, and if you go over the current rated for that rail the PSU will shut down. However, with the new X99 platform, the CPU can easily pull 25A from the 12v connector at speeds north of 4.5GHz. The connector GIGABYTE provides (pictured above) allows you to maintain OCP on multi-rail PSUs, while allowing much higher current to the CPU by effectively tying together multiple 12v rails from the PSU.
Max Stable Overclocks (BIOS settings are located further down):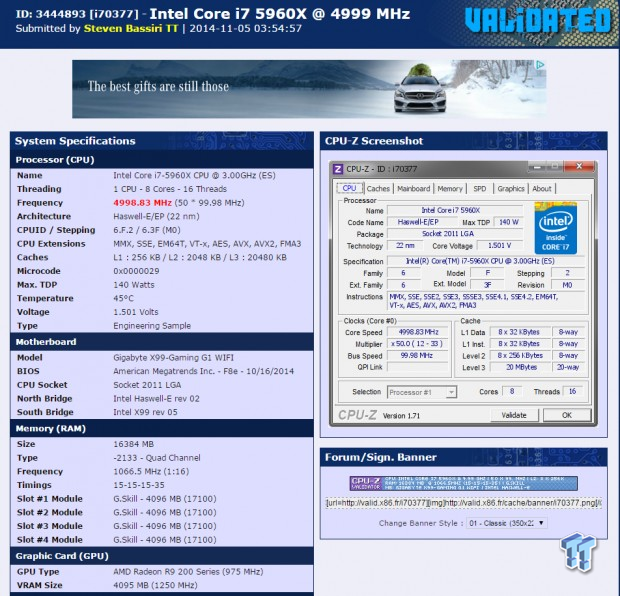 5.0GHz is the maximum of our CPU on many boards, including the GA-X99-Gaming G1 WIFI.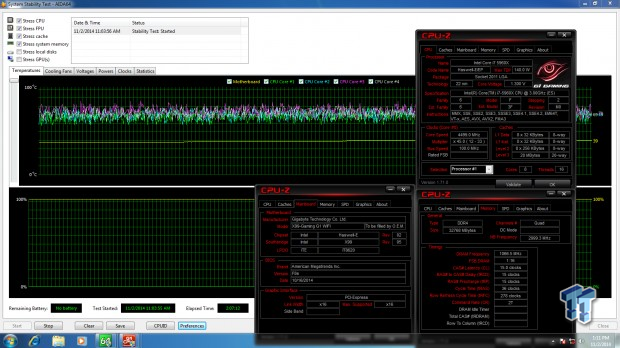 I was easily able to pull off 4.5GHz on the CPU with 3.0GHz cache, and a 2133MHz memory overclock (32GB) on my memory by manually tuning the UEFI. I will cover auto OC features later on.
Max BCLK is found at 1.67x (if it's operational), with fixed PCH Core voltage of 1.25v, and System Agent Voltage of +0.3v. All other ratios are tuned back to 12x (memory at 8x) to ensure they don't bottleneck the BCLK overclock.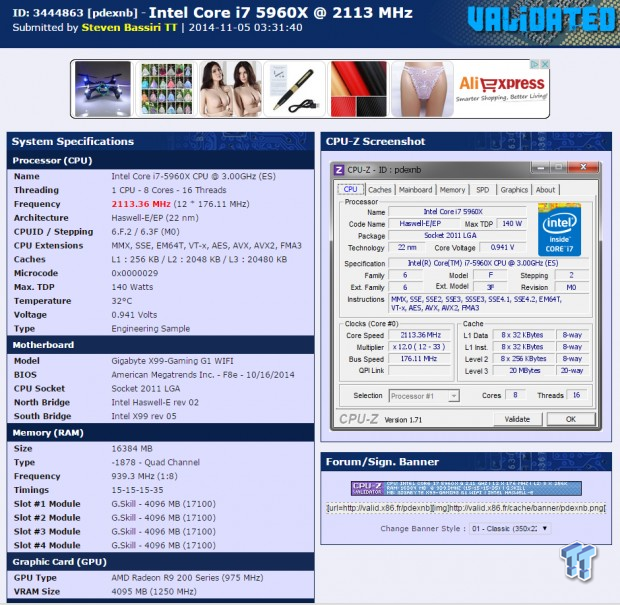 176.1MHz was the maximum BCLK OC I could achieve with optimal settings.
Memory overclocking with G.Skill 3200MHz 16GB Kit (Single sided Hynix modules)
Maximum clock on this memory is usually achieved by using the 1.00x BCLK ratio and the 32x memory multiplier. If these don't work, then I use 1.25x BCLK and 24x, and higher multipliers instead. DRAM voltage is set to 1.5v, and system agent to +0.5v; timings were set at 16-16-16-36 2T, and the rest on auto. These high voltages are for testing purposes. For the efficiency test, the 1.25x divider is used with 21.33x memory multiplier. The 24x multiplier is used for CPU and Uncore. HyperPI 32M is used for the efficiency test.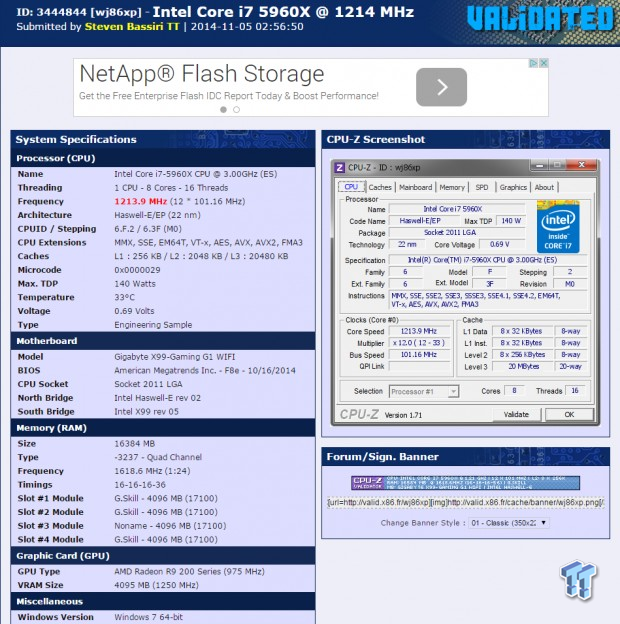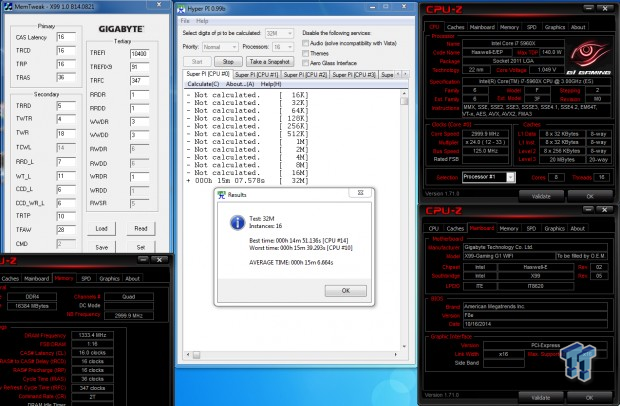 Max OC: 3237MHz
Efficiency time: 15min 6.664sec
It was easier for me to boot the 32x memory multiplier on this board than it has been on any other X99 motherboard so far. The board just booted up like it would on the 21.33x multiplier. However, its max OC was lower than other boards, while its efficiency is much better.
BIOS Settings for 4.5GHz Overclock with 32GB of 2133MHz Memory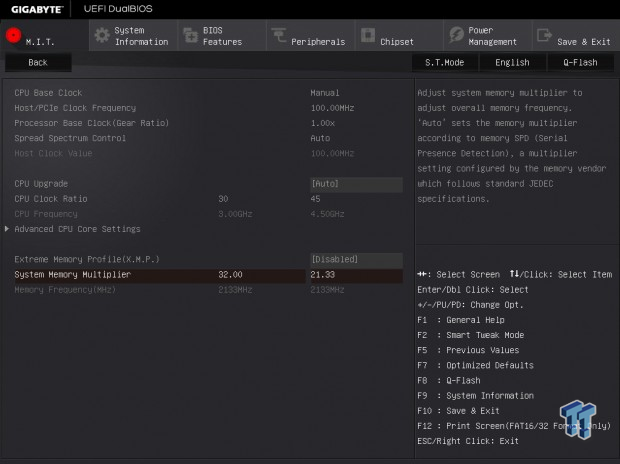 Here I set the CPU Frequency to 45x, and memory to 21.33x.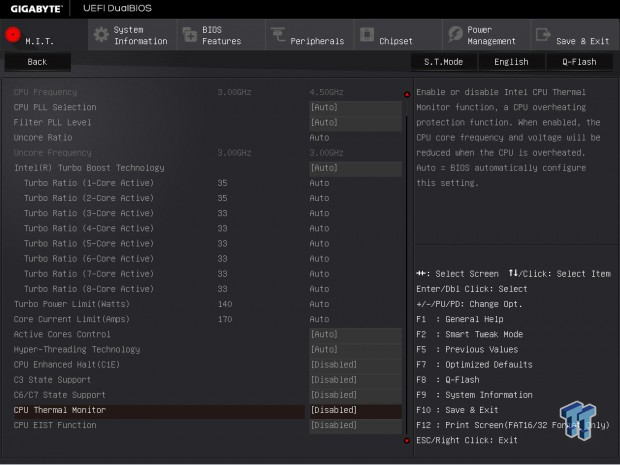 I disable EIST and C States, but you can leave them on if you want power savings.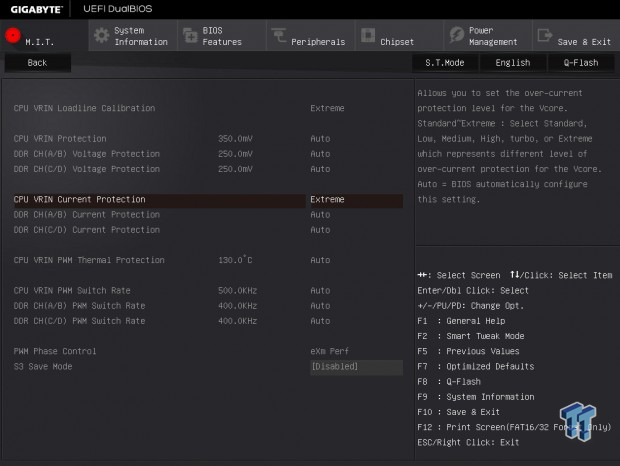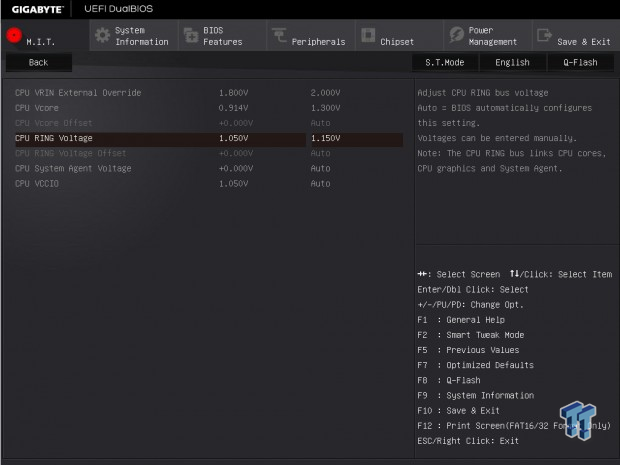 I increase the VRM performance by telling the PWM to go into eXm Perf mode, and then I increase current capability to Extreme and set LLC to Extreme. For voltages, I set VIN to 2.0, and VCore 1.3v. To stabilize the CPU/Uncore a bit, you can add a little cache/Uncore voltage; here I added 0.1v to the stock 1.05v.
OC Recovery Experience:
OC recovery was present and seemed to work well. A few times I had to use clear CMOS, but in general recovery from bad CPU or memory settings is easy enough. A really bad BCLK or memory OC might require a clear CMOS.
Test System Setup and Feature Testing
In this section, I will test GIGABYTE's features, including EasyTune "Auto Tune", built-in OC profiles, power draw, and audio.
Test System Setup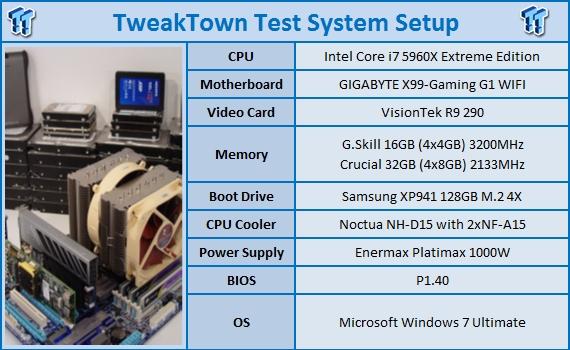 The Crucial memory kit was only used for the stability testing, and the G.Skill for the overclocking maximums.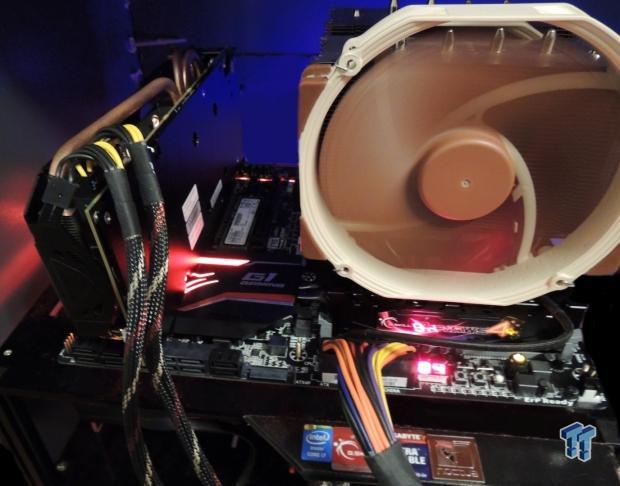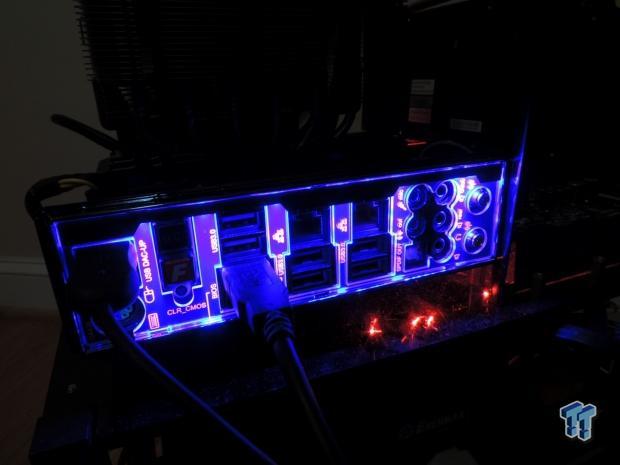 This board has some cool features. You will notice that it lights up like a UFO on a dark night. You can set the lights to pulse, react to music, or or just turn them all off if you enjoy the dark. The backpanel IO shield is lit up quite nicely as well. On the X99 SOC Force and X99 OC Formula, it was almost impossible to put a GPU in the first slot if I use the NH-D15; however, it actually is possible here, but it is a tight fit.
GIGABYTE's EasyTune and BIOS Overclocking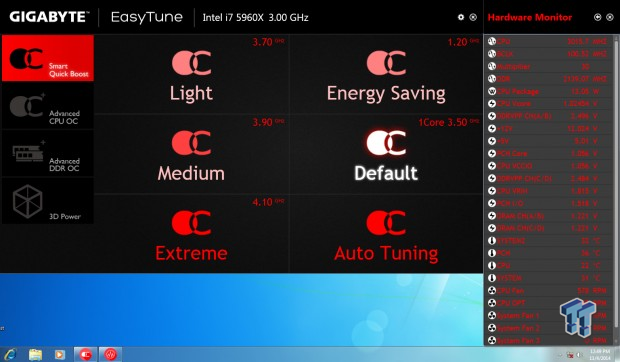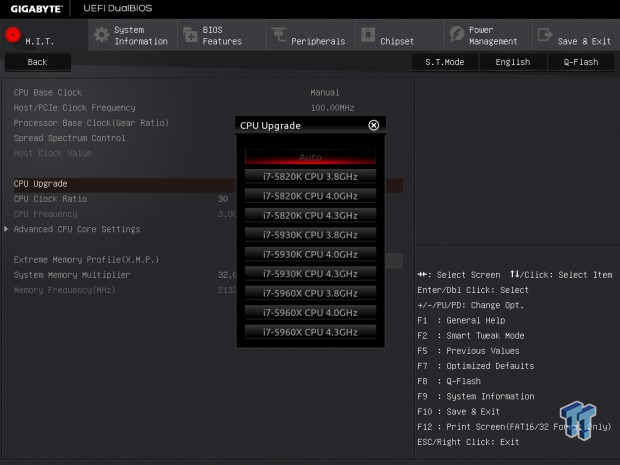 GIGABYTE offers overclocking profiles in both the UEFI and through the BIOS, the auto OC toggle button on the back of the board offers the same exact overclock as the 4.3GHz profile in the UEFI. You might notice that the OC profiles differ between EasyTune and the UEFI, in that the UEFI (BIOS) offers higher overclocks.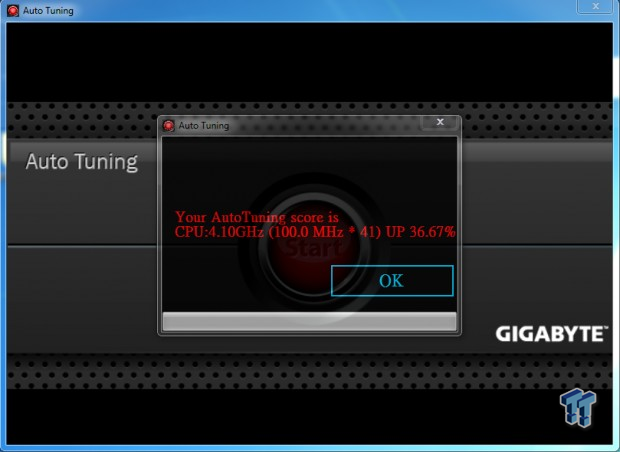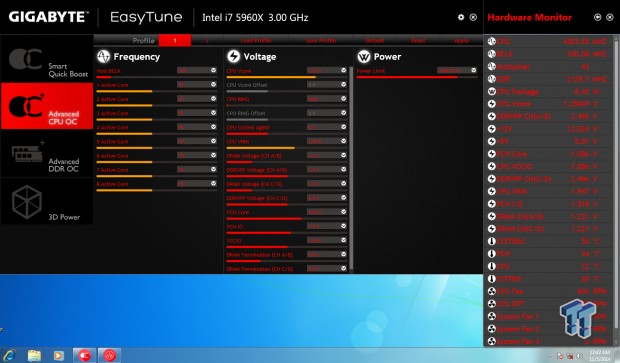 Auto Tune resulted in a 4.1GHz overclock with a 1.25v VCore. The 4.3GHz profile resulted in a 4.3GHz overclock, and a 1.25v VCore. The Auto Tune overclock resulted in a 1.9v VIN, and the 4.3GHz profile resulted in a 1.95v VIN. It is safe to say that you should probably use the 4.3GHz profile, as it offers more speed with the same voltages, and 1.25v seems like a good enough voltage for 4.3GHz.
Special OC Software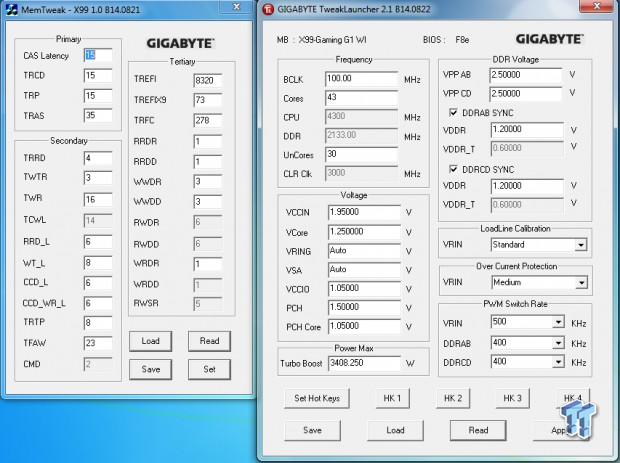 Apart from EasyTune, GIGABYTE provides their GIGABYTE Tweak Launcher program for in-Windows on-the-fly tuning, as well as MemTweak for memory timing tuning. These are real overclocking programs for hardcore overclocking. Make sure to use the latest GTL if you want to change multipliers in Windows with the latest GIGABYTE BIOS's.
Power Testing
I tested the power at the wall socket, and at the eight-Pin CPU power connector on the motherboard, which supplies the CPU power. Measurements were taken at 0% load for Idle and 100% load (at max spikes) using IntelBurnTest.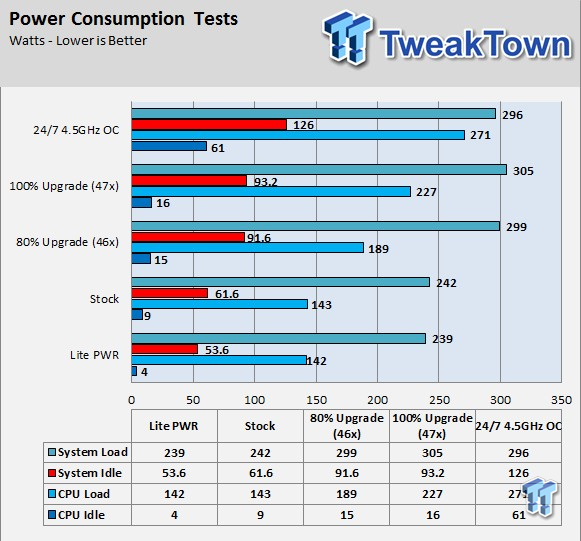 Windows power settings:
Power Saver: Optimized Power
Balanced: Stock, Auto OC (4.1GHz), 4.3GHz Preset
High Performance: 4.5GHz Manual
Audio Testing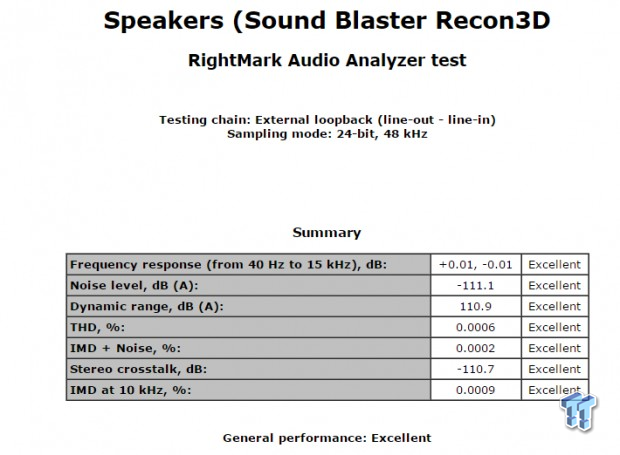 This is the testing done in RMAA5.5 with the audio; the results speak for themselves. I test with RMAA a bit differently than others; I make sure to disable all audio enhancements in packaged software, and in the control panel, and then I match bit rate and frequency before I finally run the test. Creative has their own guide on audio testing, so I try to follow that as well when I test Creative ICs. These results are in line with the Z97X-Gaming G1 WIFI/BK I tested a few months back; the two boards have almost identical audio setups.
Final Thoughts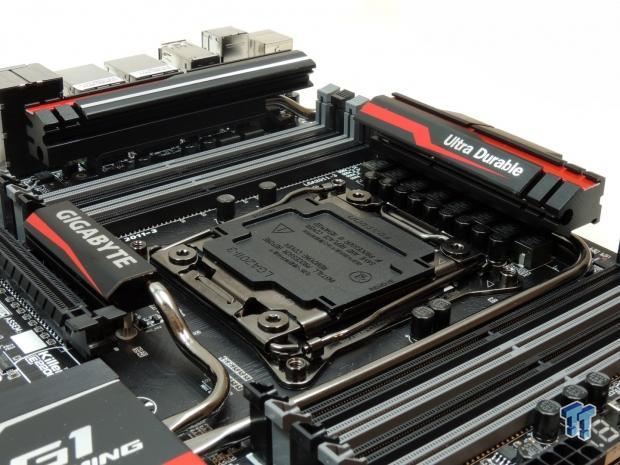 With the arrival of the X99 PCH, Intel re-introduced real high-end features with great overclocking potential, and I would have to say that the GA-X99-Gaming G1 WIFI is tied with the X58 G1.Assassin as my all-time favorite GIGABYTE G1 series motherboard. For $344.79, the GA-X99-Gaming G1 WIFI provides a lot of features, and a very solid hardware package.
The VRMs on this board are almost exactly the same as that of the X99 SOC Force, the only difference being the use of different capacitors. The SLI/CrossFireX capabilities make use of all PCI-E 3.0 lanes from the CPU, and there is a plethora of SATA6GB/s and USB 3.0 onboard. The GA-X99-Gaming G1 also offers SATA Express, but you will lose two SATA6GB/s ports and your M.2 if you chose to use it. The coolness factor is also strong with this board; the LED lighting is done tastefully, and can be easily disabled if you don't like it.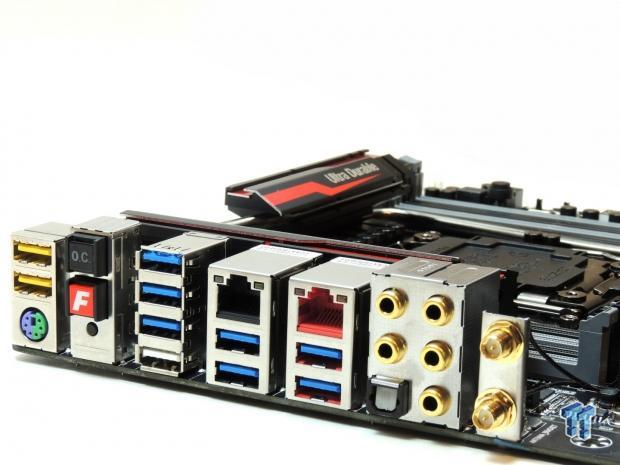 The gaming series from GIGABYTE has always been focused more towards gaming and customization than anything else, and that doesn't change with the GA-X99-Gaming G1 WIFI. Its CPU overclocking is strong and its memory overclocking is straight forward; however, what you won't get in extra tiny overhead that you might from overclocking motherboards, you will get in ease of use and performance. An example of this is the memory overclocking testing I did; max memory overclock was about 30- 50MHz lower than the overclocking specific boards we tried; however, at the same speeds it provided better efficiency (more performance).
GIGABYTE has bundled high-end hardware, connectivity, and gaming features into a gaming board, while also providing strong overclocking support. So, if you are in the market for a high-end gaming board that is designed to impress, you should give the GA-X99-Gaming G1 WIFI a closer look.
PRICING: You can find the GIGABYTE GA-X99-Gaming G1 WIFI for sale below. The prices listed are valid at the time of writing, but can change at any time. Click the link to see the very latest pricing for the best deal.
United States: The GIGABYTE GA-X99-Gaming G1 WIFI retails for $344.79 at Amazon.
Canada: The GIGABYTE GA-X99-Gaming G1 WIFI retails for CDN$494.84 at Amazon Canada.