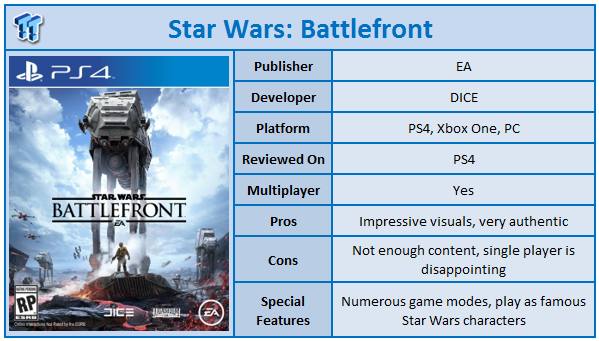 It's been a somewhat tough time for the Battlefield franchise these past few years. Earlier this year Battlefield Hardline was released to little fanfare and apparently lackluster sales, and Battlefield 4 launched with bugs that crashed servers when buildings collapsed during gameplay. The big issue for DICE was that particular feature became the most touted during its marketing campaign as the big change from Battlefield 3.
So, a few years later we have the next iteration of Battlefield although in a completely different, but recognisable universe; Star Wars. This is not the first time that a Battlefield-styled game has appeared in this universe with Lucasarts producing two earlier this century, but it certainly has been a long time between drinks. Thankfully, though, it seems to have been worth the wait.
The first thing you are likely to notice is that there are a huge number of game types on offer. The fact that only some of these are popular and worth playing is unlikely to surprise. However, it is clear DICE has made some very smart decisions during the development phase. Decisions such as including a vehicle only mode (Fighter Squadron) which bring back memories of games such as X-Wing vs. Tie Fighter show that DICE knew their target market very well.
However, if you are looking for a single-player experience, it's best to look elsewhere. While the game does have the ability to play solo, this is primarily in a horde style mode where you just have to survive waves of enemies. It's a real shame that DICE chose not to include a campaign in this game because the settings could have provided an amazing story base.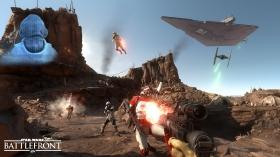 There are four key game modes worth playing; Supremacy, Walker Assault, Fighter Squadron, and Heroes vs. Villains. These are the modes that are unique to the game with most of the others either forming a team deathmatch or capture the flag/area style of play.
Supremacy (which for some reason EA did not include in the earlier BETA) is an all out war with up to forty players on the PS4 system. This is the mode that mimics the traditional Battlefield play the most with vehicles and soldiers going hard at it to try and capture points on the map. It's very much a tug of war with the points having to be captured to secure the entire map. There were many times where our team was about to capture a point, only for the enemy to secure the previous point, undoing all our hard work. Instead of being frustrating, this actually adds pressure to the game that makes it more interesting overall.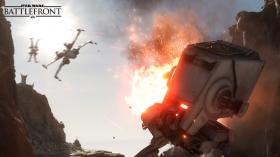 Walker Assault was the main mode featured in the BETA, and those of you who took part in the BETA will be right at home. The rebel forces are trying to fighter off the advancement of Imperial AT-AT vehicles with the ultimate aim of taking them down. This can be achieved two ways; either shooting them to the point of destruction or by mimicking once of the most famous scenes in the Star Wars universe; using a land speeder to wrap a hook and cable around the AT-ATs legs.
The other two modes mentioned, Fighter Squadron and Heroes vs. Villains are a bit less Battlefield but focus on some of the core games strengths. Fighter Squadron puts you in command of a rebel, or imperial ship tasked with shooting down the enemy while Hero Fight puts you in a shootout featuring both hero characters and regular soldiers. Hero characters are randomly handed out to players after each round, so this is the easiest way to experience what it's like to take the role of heroes such as Luke Skywalker on the battlefield.
There are numerous smart decisions that DICE made with this game, but perhaps the smartest was not to have vehicles just sitting on the map at the beginning of each mission. They are handed out via tokens that are found throughout the world.
Once you find a vehicle, you have a short period to begin using it before that vehicle is forfeit back to the world, stopping people hoarding vehicles. It is the same with the Hero characters, although there are not as many tokens available. It's refreshing to play a Battlefield-style game where players are not just running towards the vehicles during the start of a mission.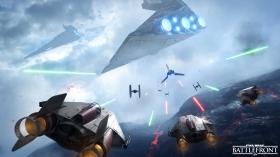 There is, however, an area where Battlefront seems lacking and that, unfortunately, is the level of content. While it is true that there are twelve maps on offer, this is split across the different modes. Along with this, there are only four different worlds (Tatooine, the Forest Moon of Endor, Hoth, and the Sorosuub Centroplex), and while they are all exquisitely detailed, it is possible to see the entire breadth of content within a single session. There is, of course, a leveling system that puts many weapons and character customization behind a level lock, but even then most of the decent weapons that you will use in the long term are available at fairly low levels.
The gameplay itself is incredible, and the gunplay feels just right. This is why it's so disappointing that the breadth of content available is just not there. Looking at the amount of modes on offer, that does seem like a surprising statement to make, but as good as the game is to play, there is a point where playing the same maps over and over becomes stale. However, it does remain incredibly awesome to be running around the world with some of the most famous universe characters around. You really can feel like you are in the middle of the battles from the films (Battlefront focuses on Episode 4, 5, and 6) and the first few hours you play, you may think this is the game of the year. It's only once the lack of content becomes apparent, that you may begin to feel a little disappointed.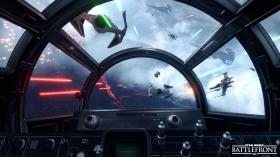 As you level up, you will also gain access to special weapons and items that you can use in the heat of battle via cards. These cards either require a token to use in a battle or are permanently made available once unlocked. These items control what side arms you have available as well as any additional items such as shields. One plus side is that these cards do not need to be purchased with real-world money and are instead the only way to get them is to play the game.
In the visuals department, the game is a tour de force of stunning graphics. On the PS4, the engine powers the game at 1080p (which is higher than the Xbox One's 720p) and the graphics are crisp. This is one of the best-looking games on the PlayStation 4 with the famous locations from the Star Wars universe brought to life by the artist and graphics team at DICE. There are also some destructible environments with trees regularly falling during play on the Forest Moon of Endor, though if you are looking for the kind of destruction seen in Battlefield 4, you will come away disappointed. The sound effects are also second to none with the laser sound, for example, sounding just like the film's sound effect.
Star Wars Battlefront is a fantastic game that just has one problem, a lack of content. Four maps for most of the modes just is not enough to keep interest long term, and while there are a season pass and more maps coming, it's likely you will find yourself shelving the game a lot earlier than you expected. Beyond that, though, the game is incredibly polished and still fun to play - just for not as long as we expected.