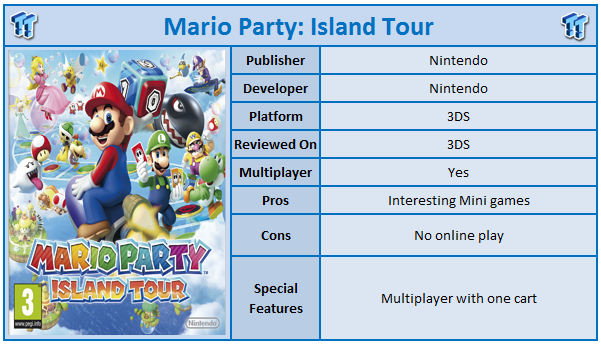 It's fair to say that one of the areas Nintendo has excelled at is local multiplayer gaming. One of the most popular franchises around for couch gameplay is the Mario Party series. First appearing on the Nintendo 64, the Mario Party series has become known as a game that combines board game style mechanics with some fun mini games based on Nintendo's core franchises. A few years back Nintendo announced that it was going to put Mario Party on the 3DS. Of course, many questions were asked: How would it work without the couch gameplay? What about the portability? Finally, we have those answers. Unfortunately, those answers are not necessarily positive ones.
Mario Party: Island Tour for 3DS tasks you with either playing against the computer or a bunch of friends (via download play, discussed further into this review), in a board game style mode. On the surface, this sounds like a very simplistic game, but Nintendo has thrown a few spanners into the works to keep the game fresh and different. For example, with one of the boards, the aim is to collect as many stars as you can throughout the course of the game, instead of getting to the end first.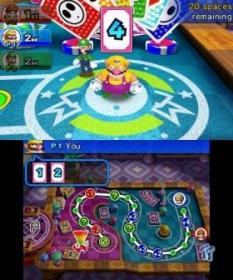 There is much to like about Mario Party for 3DS. First of all, the game has translated down fairly well to the small screen, and the mini games take advantage of generally all the 3DS offers (although the 3D mechanic is not specifically used, probably because of the 2DS). At times, you will be asked to play a mini game with just the analogue stick, whilst others, the stylus may come into play. There are eighty mini games overall, and it is not here that the problems with Mario Party 3DS can be found.
The mini games are actually quite enjoyable to play, and well thought out. There are mini games where you need to freeze frame a cinema roll, a game where you have to knock each other off of a deck in the clouds, and another game where you have to lead Goombas to a flag, and keep as many intact as possible. This is certainly not where you will see a lack of variety, and it will take many playthroughs before you have seen the entire arsenal of mini games on offer. However, a few of the mini games are not explained well in the tutorials, and others ask you to tilt the device. Depending on how much you like doing that in public, it may be a deal breaker if you regularly play your 3DS on the go.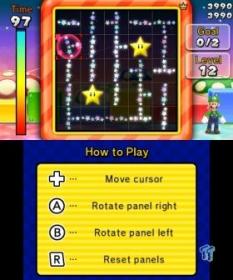 There have also been some modifications to the game to make it fit bitter on the 3DS system. First of all, the boards are significantly smaller in general than those found on the console games. This leads to games being over in about an hour, which suits the portable format perfectly. One of our games was finished in twenty minutes, and so it is clear that Nintendo correctly realized that changes would need to be made to take the game portable. In addition to this, there is a secondary game mode which just focuses on the mini games, and this is where we spent most of our time after finishing the board games on offer.
However, the game is not without its problems. First of all, multiplayer is only supported on the local devices, so if you want to play online, you are out of luck. This is kind of a big down side to the game, but on the plus side, the game does allow download play. Only one player requires the game cart (or digital download) to be installed, and the game can be temporarily downloaded to other devices during play, using the Wi-Fi connectivity. This is actually a smart move, and comes as a surprise.
We wouldn't have been surprised to see a game required per system, but this is a very smart move, and one that makes the game even more appealing for those with lots of friends with 3DS systems.
This somewhat flows into our other problem with the game, and that is the boards. In general the boards are good, and the redesign for the smaller system (and shorter time frame you generally have to play it on a commute) is well done, but there are some boards present in the game that cannot be played without other human players.
For a portable game, this is quite a pointless thing to do, and when you can blow through the other boards in about two and a half to three hours of gameplay, it can easily leave you with nothing else to do. The secondary game modes really come into play with this, and keep the game from suffering even more from these decisions made by the developers.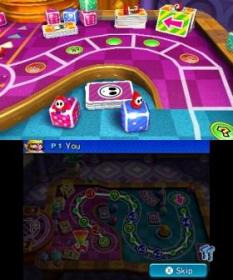 We've mentioned previously that we think Nintendo is really starting to hit their stride with the 3D technology, and that remains the same here. The 3D work in this game is stunning to say the least, and the visuals really pop out at you. Sometimes a character will be thrown towards the screen, and there are other 3D tricks that this game has up its sleeve. That is not to say that if you only have a 2DS system, you are missing a large chunk of the game, but it absolutely is better on the 3DS system.
Visually, the game stacks up pretty well, and has translated the bigger console game down to the small system almost perfectly. The game runs without frame rate drops despite there often being quite a bit of action going on, and the character visuals are also well done. There is quite a variety to the environments on offer; although, many of the boards only contain one theme, which is a bit disappointing when compared to the bigger brother consoles. Sound effects and music are typically Nintendo, with the characters muttering their trademark 'woohoos' and etc., and the music is fairly upbeat and catchy.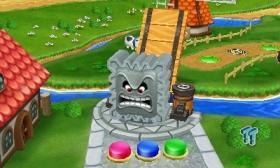 Mario Party: Island Tour was a game that had us wondering why it existed when it was announced. On paper, taking a game that demands couch play and friends being ported to the portable system seemed like a bit of a silly idea that just wouldn't work. However, we were mostly wrong. The game isn't without its issues, but the addition of download play, as well as many game modes for the single player component, really does keep this from being a game you should avoid.
Mario Party: Island Tour isn't a top 3DS game, and it really does require friends with systems to play properly, but if you have that and a few spare hours, you may just find something to like.
PRICING: You can find Mario Party: Island Tour for 3DS for sale below. The prices listed are valid at the time of writing, but can change at any time. Click the link to see the very latest pricing for the best deal.
United States: Mario Party: Island Tour for 3DS retails for $33.61 at Amazon.
Canada: Mario Party: Island Tour for 3DS retails for $29.99 at Amazon Canada.