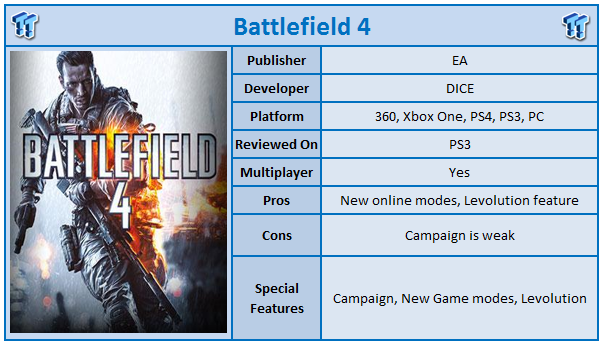 When it comes to large scale combat games, there aren't many that hold a candle to the Battlefield series. Starting off with Codename Eagle back in the day, DICE struck upon a magic formula that enticed gamers in. Two years ago we had Battlefield 3, the first real attempt to knock down the Call of Duty formula and that game had mixed results. An uninteresting campaign was paired with some of the best multiplayer gameplay around. This time around we are being promised that the campaign has had some TLC applied to it and the multiplayer is good as ever. At least one of those statements is true, and you can probably guess which one.
The campaign mode in Battlefield 4 is not a bad experience, at least not as bad as the previous game. However, yet again, we get the feeling that DICE felt pressured to go after the Call of Duty style scripted gameplay and campaign style when it really isn't the game's strength. Battlefield 4 tells the story of Tombstone, a specialist ops unit within the US Army who become caught behind enemy lines and have to escape to warn commanders of an impending disaster.
Battlefield 4 is a lot closer to the traditional console style of Battlefield Bad Company and this isn't a bad thing. Unlike Battlefield 3, you stick with the same characters throughout, allowing the story to develop and expand as you go along, and there is an overall single narrative, whilst Battlefield 3 felt more like a series of short stories.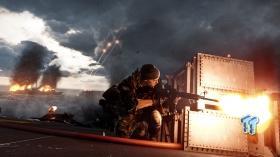 However, we still think that the campaign is a letdown and there are a few reasons for this. First of all, DICE really does not take advantage of what makes its game different. The vehicles. Throughout the campaign, you will pilot a grand total of two vehicles and not for very long. For a game which is so focused on vehicular gameplay in the multiplayer side, and one that does it so well, this is baffling to say the least.
The campaign could be so good if DICE decided to step away from the scripted nonsense that has come to define Call of Duty, and now Battlefield. They have a major scale combat game engine in multiplayer that could be used much better in the single player campaign. It really is a travesty that in the single player campaign you do not touch helicopters or aircraft once. That said, the campaign is significantly better than Battlefield 3, so improvements are happening.
Once you finish the campaign (or choose to ignore it), you get to the meat of the game and that is multiplayer. There hasn't been much changed this time around (and why would it, when it's so popular?) yet the improvements which have been made have successfully made the game feel even more epic in scale than its predecessor.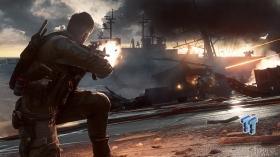 One of the best new additions to this game is the training field mode. In this mode, you are placed on an island with all the vehicles available to you and no enemies. This allows you to learn how to pilot helicopters, aircraft and other vehicles so that in multiplayer that you can actually be useful and not be the guy that jumps out of a fully loaded helicopter. An additional improvement to this mode could be to require that gamers pass a licence test within the training mode, before being able to pilot vehicles on the 'hardcore' servers.
When it comes to the mode most people will buy the game for, multiplayer, the game shines, but with one exception. During our playtest, the PS3 server browser just did not work at all and we found it difficult to find games. In fact, the only way we could find a game was to select quick match. Having asked around, this was not unique to us and seems like a problem systemic to the PlayStation 3 release right now. As well as this, it's quite difficult to pair up with friends because you cannot make a party or group before joining sessions, which for such a multiplayer focused game, is quite hard to understand.
Moving away from the peripheral problems, the game is impressive and a heck of a lot of fun to play. The tried and tested modes are back including conquest where you battle to remove reinforcements from the enemy by removing tickets from their score. Once the tickets reach zero, no more reinforcements can be had. The game also now has an obliteration mode where tickets are removed and it is just full scale warfare where you have to gather a bomb and take out enemy targets with it.
In a surprise, one of our favourite modes was domination, where vehicles are removed and the combat becomes a lot tighter. On the console systems, the player count is much lower than next generation and PC, so on the larger maps, they can seem a bit barren. Other modes include rush, typical death match style games as well as defuse and obliteration.
Obliteration is a mode that plays right into the Levolution feature of the game where instead of taking out enemy units, the aim is to destroy areas within the map. This can completely change the gameplay and also is a welcome addition. This is one of the better new modes within Battlefield 4 because it shows off the technology that DICE has employed for the game so well and specifically the Levolution feature.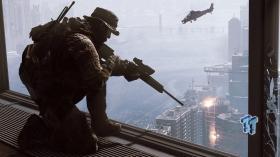 One of the more interesting additions this time around is commander mode. However, this is not the first time that this mode has appeared in a Battlefield game with it first appearing in the often forgotten 2142 and Battlefield 2. In this mode, you are taken away from the Battlefield and instead become the commander of forces. In a top down view, you can order in reinforcements including vehicles and weapons for the men on the ground to use. You can attack the enemy with weapons such as missiles, for example, or give supply drops to your troops. The main difference in Battlefield 4 is that if you play as the commander, you do not participate in the actual battle or even count against the server number, so you are a silent player, so to speak.
One of the major surprises this time around is that the real star of the show is the environments the game is set in. Not the levels themselves because they are the typical fare of urban and desolate war torn environments, but more what can occur within those levels. Termed 'Levolution', basically at any time, particular structures within the levels can be taken down and smashed to the ground with enough weaponry. You can be running through the level minding your own business and all of a sudden an attack helicopter will destroy a building, sending debris and rubble everywhere.
This can completely turn a game in an instant. One team might be completely dominating a map only for the other team to get a lucky shot off that takes out a large building and chaos ensues, especially if people are caught camping, for example, in that area of the map. There was a fear that Battlefield 4 could turn out to be nothing more than a large expansion pack, but Levolution certainly changes the game in a way that you cannot experience in Battlefield 3 - and that is a good thing.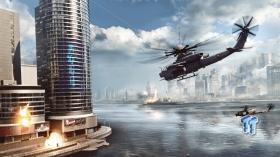 The main problem some people will find with Battlefield 4 is again the unlock system. It still works fine and encourages lengthy game sessions, but again for those without much time to play, you will get left behind. This can lead to people having far superior weaponry and options than that on offer to you and that makes it a very difficult game to get into for new players and this will only get worse as time goes on. It is hard to see how DICE can fix this, but one change that could improve it is having some servers locked to lower level players, for example.
Visually the game impresses on the PS3, despite the game being designed for next-gen consoles and the PC platform. There are some moments in the game where it's a mixed bag, but others where it looks absolutely stunning and the key factor in this appears to be whether the current gameplay is indoors or not. When taken to wide expanses and open areas, the graphics level drops down significantly to maintain frame rate, but in close quarters, there are areas where the PS3 build compares very nicely to what has been seen of next generation and PC versions. For those of you who may have issues with colour blindness, then is also some friendly graphical options to help with this.
There was a chance that Battlefield 4 was going to be a mega expansion pack as opposed to push the franchise forward, but the two years DICE spent on this game has been well worth it. Levolution completely changes the game in many ways and the campaign whilst short, does its job. We'd really like DICE to go and have a think about how the single player can be improved, because that's really the only let down in this whole package. With the chances being that next time around DICE won't have to deal with current gen technology, the sky could be the limit for this now formidable franchise.