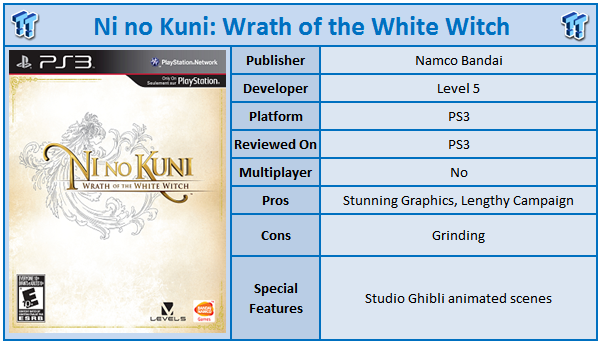 For years Japanese RPG dominated the PlayStation system in terms of its most popular games. There is no doubt that Final Fantasy VII propelled the original PlayStation console into the stratosphere in both Europe and North America and for years Square and other companies released JRPG after JRPG. Recently, however, it's been a bit of a wasteland. That is not to say there has not been JRPG's, but they have been a tad more niche and sales have reflected that. Roll in Ni no Kuni, the latest attempt to send a JRPG to the stratosphere by Namco Bandai, and for a game that originally started as a Japanese exclusive Nintendo DS game, it has translated to the big boy console very well indeed.
Ni no Kuni: Wrath of the White Witch (Ni no Kuni) tells the story of Oliver, a young boy growing up on his own with his mother in a town called Motorville. One evening Oliver sneaks out late to see a friend when a tragedy befalls his mother, leaving him orphaned and alone until he wakes up a mysterious fairy, Drippy, with his tears. Drippy tells Oliver about how he is the one with the purest heart and who must save Drippy's world. From there Oliver takes trips to and from the mysterious world trying to learn of his fate and the true fate of his mother.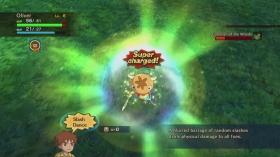 If there was ever a game that could be called JRPG Tropes: The Game, this is it. Ni no Kuni brings back a lot of video game tropes that we haven't seen for quite some time in a major mainstream game. First things first, if you don't like the grind of RPG titles, keep away from this game. You absolutely cannot mainline this game and be successful. Taking on side quests (errands) and exploring is part of this game in many ways, most of which is to ensure your character is of a sufficient level when you reach the many boss characters in the game.
Many of the boss characters are based around discovering their weakness and movement patterns as opposed to just bulldozing them. This is of course something that goes hand in hand with Japanese RPG titles, which is of no surprise, but again for those who haven't jumped into one for a long time, might find this a little bit grating. However, if you can look past some of the game mechanics that seem to have been ripped out of the last generation, you will find an absolutely gorgeous game that demands to be played over its length thirty plus hour campaign, until the very end. Don't be surprised if you find yourself playing nothing else until those thirty hours are done.
Ni no Kuni is collaboration between Level 5 (famous for the Professor Layton games of late in the west) and Studio Ghibli, one of Japan's most famous animation houses - and it shows. The cut scenes in Ni no Kuni are some of the most stunning cut scenes to ever grace a video game platform. They look exactly like you would expect from a Ghibli production and in many ways one of the reasons you continue to push forward in the game despite the grind - just to see the next amazing story cut scene. The storyline as well also reminds us of a Ghibli production and goes hand in hand with the beautiful visuals.
When it comes down to it Ni no Kuni gameplay is split into three distinct modes - travelling, in the towns, and the fights themselves. There is a lot of Ni no Kuni that can be likened to Pokemon style gameplay. First of all as you traverse the world and meet characters, you can gain familiars. Familiars are small magical creatures that wizards can control and rise for battle. At any one time you can carry multiple familiars, but you can only use one familiar at any one time during a battle. You can easily change familiars and doing so at the right time with the right strategy is the key to victory.
The primary difference between Pokemon and Ni no Kuni battle systems is that Ni no Kuni has real time battle. So rather than taking a move and waiting for the enemy to take theirs, you instead move around the battlefield trying to guess what the enemy will do next, whilst either being in a defensive or offensive attacking mode. You can at any time switch out familiars so if one is about to fall, you can quickly switch. Each of the familiars have special characteristics and are immune to different attacks. Balancing this is the key to success in the game and when battles seem tough, it's likely you are under levelled, or not using the correct familiar.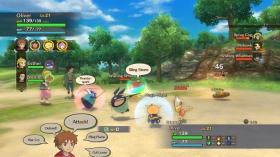 Over time as you use the familiars they gain levels and can evolve - yes, just like Pokemon. You will of course find favourites and use them often, but the best strategy is always to have a good mix, and just like Pokemon, there are rare and powerful familiars to be found in the game world.
When you are not battling away to save Drippy's world, you will be travelling in the beautiful over world. Again following the JRPG tropes, there is random battles to be found everywhere, and these can represent some extremely tough battles. You do not gain MP and HP back after each battle automatically, which increases the difficulty even more so. If you haven't enjoyed games like this in the past (despite its good looks), Ni no Kuni is not going to keep you happy.
At all times thanks to the beautiful visuals, you really do think you are playing a visual, interactive cartoon. The game transitions almost seamlessly between cut scene and gameplay and despite the PS3 now being six years old, it is one of the best looking games on the system to date. The large environments of the towns, paired with the over world, make this an enjoyable game to explore and find all its nooks and crannies.
On the voice side of things we were impressed as well. You can choose between Japanese or English language voice acting, and whilst usually Japanese is the way to go with these games, the English dub is some of the best voice acting we have ever heard. Drippy is delightful with his welsh tone and the voice actors for the other characters put in a huge effort to bring them truly to life within the game. It goes hand in hand with the graphics to create a visual and aural feast for the senses.
Ni no Kuni will go down as one of the best PS3 games of 2013 and we are only just into February. The stunning graphics, brilliant voice acting, interesting story and just plain awesome battle system all add up to a highly polished game. For years gamers cried out for Namco Bandai to bring the game west with a Nintendo DS port, and whilst we had to wait two years for it to happen, the fact it's come to the big boy console, and has improved graphics and full stunning voice acting, has made the wait worth it. If you love Japanese style RPG titles, you will find nothing better in the last few years than Ni no Kuni.