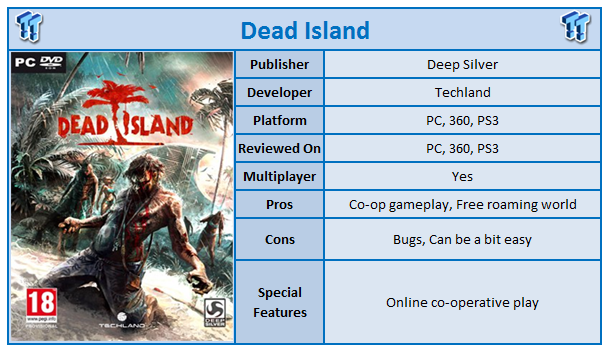 In many ways Dead Island has been an interesting game long before it shipped. Re-announced (after being announced in 2006) earlier this year, Dead Island was first shown with a trailer that defied all conventions of what a typical game trailer is made up of. It went in reverse and it was very 'artsy'. In fact, it was such a good advertisement for the game that the publisher, Deep Silver managed to win an award for it at the famous Cannes festival. But now the game is out, does it live up to the admittedly crazy hype? The answer is yes and no, and with a little bit more polish, it could have been a big yes.
Dead Island is set on a pacific island near Australia and the Solomon islands. You play as one of four characters, each who have different sets of skills which affect how the character improves and progresses through the story. The character is saved by a bunch of people, also stuck on the island when the zombie outbreak occurs and it is quickly discovered that your character can resist the zombie gene for at least a period of time. From there it's up to you to find how to get off the island and ensure it happens.
The game is played from the first person perspective and in many ways reminds us of 'Dead Rising', although it's most definitely not as over the top as Dead Rising and remains as realistic as it could be in a world full of zombies. You're tasked with completing quests, either main, or side that continue the story and improve your character. You might have to find a radio which can help people contact each other or reach a new part of the island.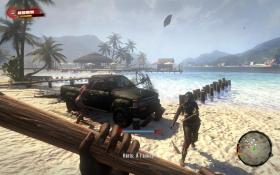 As you go about these quests you run into progressively more difficult zombies. Although in an interesting twist, the zombies are generally around the same level as you. This allows you to explore the island without fear of running into a bunch of overpowered enemies and this is most definitely one of the games positives. The only downside being the island is so interesting to explore that it will keep you away from the main game for hours on end. As you traverse the island, you will also gain weaponry, but not as often as we expected.
The weapons in the game are not prevalent. You have to really dig to find them. It's not like Dead Rising where almost anything can be picked up and used to beat zombie brains in and this does feel like a disappointment. Also, as you use them ,weapons will degrade and you need to spend money to repair them. Weapons which are almost completely broken become useless and we found many times we had to resort to our fists, which whilst effective, are not generally interesting to use in the heat of battle.
The game itself also feels like it is holding your hand a lot and does not offer a challenge. When your character eventually is taken by the zombie horde, the only punishment is a slight bit of money is taken from your inventory. The zombies you were beating up will not regenerate health and you do not lose items or in fact, much progress. This does lead to a feeling of always being able to progress, but it can also ruin the challenge. It would have been nice to have an option where you could make the game tougher for a real challenge.
However, that leads us to co-op, another one of the games shining features. You can play Dead Island with up to three other players online and this takes the game from moderately good to almost a must play. If you don't have friends, it's harder to recommended Dead Island than if you do.
The challenge is escalated based on the number of players with the highest level character determining the zombie level. So don't try and play co-op with a level 15 player when you are level 2. Thankfully the levelling up does seem to progress quickly when playing.
[img]2[/img]
The biggest problem with Dead Island is its stability and issues. In a game so large and with so many quests and features, it is of no surprise. When big games like Fallout 3 and New Vegas have the issues, then it comes to be the norm unfortunately. However, that does not let the developers off the hook. Since the release they have been releasing patches and with upcoming DLC coming hopefully the patches will continue to flow. With a bit of work Dead Island could be the game it was meant to be.
On the graphics side of things, the game is very impressive to say the least with crisp realistic looking textures and as mentioned before, a very interesting environment to explore. There is always something happening and something to find on Dead Island and it will take at least a few hours for you to see it all. There are also significant differences between the locations and areas, offering different challenges.
When entering hand to hand combat the animations and feel of the game can feel awkward, but this is fixed once you get hold of a weapon or two. The voice acting can come across as grating and the script is not the best, but overall it's an impressive aesthetic present in the game.
[img]3[/img]
Dead Island somewhat came out of nowhere. We had not heard much since the initial trailer that sent shockwaves through the gaming world, but the developers have managed to back up such an interesting trailer with a half decent game. Dead Island may not win any game of the year awards and it does have its problems, but there is enough to see that makes it worthwhile.