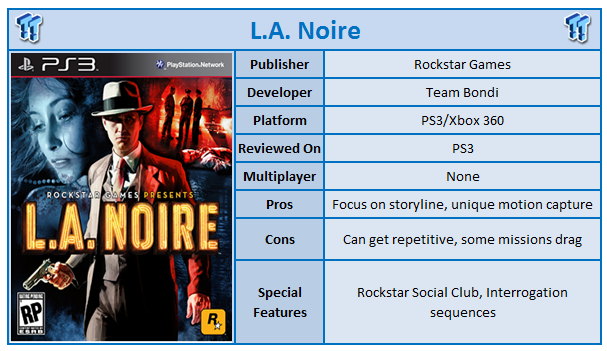 To say that the development of L.A. Noire has been epic would be an understatement. First announced as a PS3 exclusive during E3 many years ago, the game publishing was taken over by Rockstar midway through development. Team Bondi is a new developer on the scene from Australia. However, they have a pedigree which many gamers would be familiar with; the lead writer of L.A. Noire working for Team SoHo who developed both of The Getaway games for Sony. L.A. Noire takes what SoHo built for The Getaway and takes it back to the 1940s with many improvements and one of the most unique games you will play this year.
L.A. Noire picks up a few years after the end of World War II. You play as Cole Phelps, a returned hero from the war who decides to take up a role in the police force. Starting out as a regular beat man, you slowly progress your way through different 'desks' and these desks determine the nature of the missions that you are given. It's your job as Cole to interview witnesses or suspects and try and determine if they are lying, being half truthful or being honest with you. And as you will discover in the story, not everything is as it seems in the seedy world of 1940s Los Angeles.
The gameplay very much does not rely on gunplay or action, which is quite a surprise for a Rockstar game, but is a refreshing change. Instead, you must piece together evidence and testimony to get to the bottom of the case. However, should you not do this, you do not fail. Continuing a trend we are seeing recently in games, you can progress without solving the case the best way possible, thus reinforcing the strong storytelling element of the game.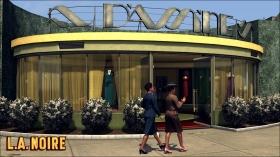 How you achieve this is by visiting various sites within the city obtaining clues and then questioning people. The game is not open world, and in this way is very much like The Getaway. You can pick up side missions in a free roam and choose which order to visit locations (this can determine whether you succeed or fail in a case), but you can't really go wherever you want when you want to. Once you get to an area you need to find clues and talk to people. The game does have options to help you with this such as a vibration when you are near a clue, and by default the music will stop playing once you have found all the clues. This somewhat leads to a feeling of having your hand held through the experience, but fortunately these options can be turned off.
Once you start to interrogate suspects and witnesses you see where the main development was done. Team Bondi have built a motion capture system like no other, allowing them to pick up small changes in facial reactions and it is these reactions you need to look out for to determine whether someone is withholding information or not. It's a unique system and for the most part, it works. Towards the end of the game it becomes very difficult to determine if someone is lying or not. How well you do during these investigations tends to determine how successful you are at solving a case on time and in the way the boss wants. If you hit someone with an accusation and cannot back it up, they may not give you that small piece of information required to crack a case. This leads to a high level of replay value trying to see where you failed in a case on a second play through, and cases can be played individually again once completed.
However, despite the uniqueness of the game, unfortunately it can seem repetitive after a while. We have no doubt that the first four to five hours you are playing L.A. Noire you will absolutely love it, but there is a point where the game does seem to drag and that is right in the middle. We found we got this feeling during the missions which have had the most hype before release, which is a shame. The game does pick up again towards the end and it is worth pushing through to finish, but the nature of the game does lead to feeling you are doing the same thing over and over again.
[img]2[/img]
Aside from the main story of the game, as you typically see in a Rockstar game, there are a number of side missions and collectables to be found. However, the side missions in L.A. Noire are a step above what we have seen before in the open world genre. They are interesting to play and offer new challenges for you to take on. It is easy to ignore them, however, as they do appear during the main mission sequences (with each mission having a number to complete on the side), but you can pick them up in the free roam mode unlocked on each desk once the missions are completed.
Los Angeles of the 1940s according to those who were around at the time (via an article in the LA Times) has been recreated to the nth degree and having looked at the city in game, we have no doubt this is true. Many landmarks are present in the game and form places you visit in the game, but also the city is gigantic and very much on the same level that you would have seen in other open world games.
[img]3[/img]
The visuals are in many ways appealing, but in some ways disappointing. As mentioned before, the motion capture really makes the game and delivers on the promise that Team Bondi gave, but the overall graphics are not the most thrilling you will ever see. The world is rendered well and at least on the PS3 there is hardly any pop in. We did notice a few graphical glitches during the time we played it, but aside from that the graphics do the job well. However, the sound is another story, it is magnificent. The voice acting is brilliant and you can tell the voice actors really cared about the script, whilst the soundtrack (made up of real songs from the era) suits the atmosphere of the game perfectly.
L.A. Noire is a game that delivers on many promises, but in the long run lets us down in some areas. There is no doubt it is one of, if not the most unique video game experience you will have this year and Team Bondi deserve plaudits for going out on a limb and trying to come up with not only a new IP, but also a new way to tell stories. L.A. Noire is worth buying for many reasons, but also for the fact that we need to reassure the industry that games which are polished, play well and try something new, will continue to sell in the face of the constant glut of sequels we are currently seeing.