Yakuza 4 PlayStation 3 Review
Sega rights its wrongs of Yakuza 3 for Yakuza 4 and produces a good quality game.
Published Apr 3, 2011 4:10 AM CDT
|
Updated Tue, Nov 3 2020 7:02 PM CST
Developer / Publisher: SEGA
3 minutes & 26 seconds read time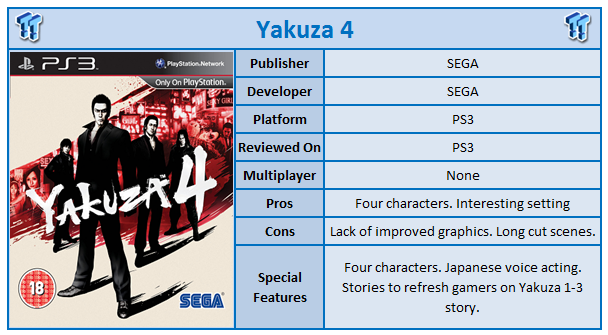 Many would say that last year with the release of Yakuza 3 SEGA had a misstep. Having decided to remove much of what makes the series unique, SEGA recorded a backlash almost like no other from gamers and sales dwindled as a result. SEGA got the message that western gamers were not going to put up with a game that was half the original and pay full price, and that lesson has been learned. Yakuza 4 has hardly anything cut for the western release, but does that make it a better game?
Yakuza 4 like the third iteration once again mainly takes place in Kamachuro, Japan, which could come across as a disappointment; however, it's fair to say that Yakuza 4 is one of the more innovative games in the series. The previous three games have focused on one character, but Yakuza 4 has four characters which you play throughout the game, however the structure is a little disappointing.
The main story of Yakuza 4 is set around events which occurred in 1985, the murder of a Japanese police officer and a major hit on a Yakuza family by another rival family. Each of the four characters in the game are directly related to the event somehow and as the game plays out you will discover via flashbacks and lengthy cut scenes just what those connections are.
Like most people, we love a good story in a game and Yakuza 4 delivers, but some of the cut scenes stretch on for a long time and there are times where many cut scenes occur very quickly after each other, leaving you often wondering if this is a movie or a game. Other than that misstep, the story really does keep the game ticking along.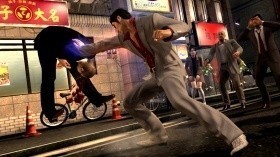 As mentioned before, you take the role of four characters by the time the game ends. However, in a somewhat disappointing structure you play these characters in a sequence. Starting with the rich club owner and progressing through a criminal and police officer, you never jump between each of them and the stories seem very encapsulated. Another disappointment to an extent is that what you do to one character does not continue to others, which makes you wonder if it's worth building up characters life bars and special moves, because once you move on you have to start all over again.
However, once you look past this and to the variety of gameplay that is offered by these different characters, it becomes very apparent that mixing the gameplay up between different characters has made the game better and less repetitive. Aside from the story driven missions, there are other character specific side quests you can take on such as with the police officer where you can help out community police. This allows you to try out many different side quests and also see how different characters react in different situations. For example, one of the characters cannot date the hostess characters in the game.
The main structure of Yakuza 4 is open world. Generally at any time you can choose what you want to do next, be it visit hostesses, play golf or take on the next mission. Yakuza 4 most definitely encourages exploration and whilst you can belt through the game quite quickly (11 or so hours), you will miss most of what makes the game so good and unique. Because when you take the unique elements out, it really is just an open world brawler.
[img]2[/img]
Last year much of what makes Yakuza unique was cut from the third iteration from the game, however in the fourth game the hostess clubs and various other unique Japanese cultural traits from the series are maintained. You can sing karaoke and as mentioned before, date hostesses from the hostess bars, something that was cut last year and it is these elements that make the game stand out. Why? Because Yakuza is very much a love letter to the Japanese culture and uniqueness of Japan, and for foreigners it is an interesting insight. The quizzes are still gone and the game still uses subtitles with Japanese voice overs, but that doesn't bother us.
[img]3[/img]
Visually the game is a mixed bag really. The cut scenes and some of the areas in the game are incredibly detailed and look fantastic, whereas others could feel right at home on the PS2 system. This is very much in the same vein as the third game in the iteration. However, when you consider the game is primarily set in the same city as three, it is disappointing that those areas were not reworked for the fourth game. The voice acting, although in Japanese, is very well done and brings the emotion of some of the scenes across very well.
Yakuza 4 almost fixes everything that made Yakuza 3 in the west such a disappointing game. We had played through the Japanese version of Yakuza 4 and were hotly anticipating SEGA bringing it west and in tact. Thankfully they did, because Yakuza 4 is one of the best open world brawling games around and with the unique elements based on the Japanese culture makes it a very interesting and different game to play for western audiences.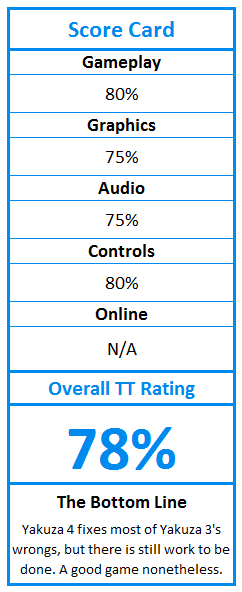 PRICING: You can find products similar to this one for sale below.

United States: Find other tech and computer products like this over at Amazon.com

United Kingdom: Find other tech and computer products like this over at Amazon.co.uk

Australia: Find other tech and computer products like this over at Amazon.com.au

Canada: Find other tech and computer products like this over at Amazon.ca

Deutschland: Finde andere Technik- und Computerprodukte wie dieses auf Amazon.de