A console Mario game is quite rare. Although there are many of them, unlike many big franchises they do not come out every year and as such make the wait for them all the more harder. However, Mario has always been quality over quantity and this continues to ring true. To have two Mario games within the same console generation is a surprise, but Miyamoto and his merry men have pulled that off. Not only is Super Mario Galaxy 2 a fantastic Mario game, it's one of the best, if not
the
best Mario game ever made.
As expected, Mario and the Princess are still very much a couple. Mario is off to visit the Mushroom kingdom, but when he arrives, Bowser has taken it over and once again taken his long time love, the Princess and like last time, she is being taken into space. Galaxy 2 really does pick up where the original left off. The storyline is cliche, but did you really expect anything else from a Mario game? I think we're at a point where people would be angry if the story was significantly different as it's become such a core element of the Mario series.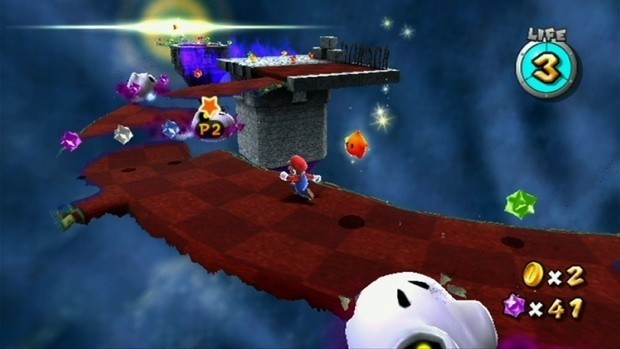 What really stands out about Super Mario Galaxy 2 is the huge variety on offer. Don't get us wrong, the core mechanics of running, jumping and solving a few puzzles along the way remain, but the environment and planets/galaxies where the game takes place offer up a lot of variety.
In previous Mario games you had a fire world and a snow world for example, but in Super Mario Galaxy 2 you can jump from a snow and fire planet to another in an instant. Each level is supremely crafted with excellent pacing and all sorts of variety. There is zero doubt that Miyamoto made a good decision in returning to the Galaxy universe as it's allowed them to really expand upon the success of the first game and have a lot of fun with it, which clearly they have. It is what Miyamoto wanted to do and he has succeeded.
[img]2[/img]
The additions to the game also really work as well. Every Mario adds a new quirk to the series and this is no exception. Mario has a cloud suit which allows him to create clouds to jump on and the second suit is a rock suit to roll over enemies. What proves that these suits work so well is that we didn't have to look at any instructions on how to use them or what they do. That's the genius of Miyamoto and it flows through well in Galaxy 2. Yoshi also makes a welcome return to the series and offers all sorts of puzzles and challenges.
The second player can also join in again and collect star bits to help Mario out. However, other than that Mario once again remains a single player game. The structure of the game is very much like the previous Super Mario Brothers games. Mario travels on the space ship (known as the face ship, as it looks like Marios face) between galaxies and levels and some levels contain more than one star to find. The Super Guide has returned as well to help you out, however, Nintendo now punishes you for using that by only giving you a bronze star and limiting it to particular levels.
[img]3[/img]
One thing that puzzled us was that Nintendo has chosen to once again forgo support for the Classic controller. Considering how much of a classic Mario this game is, it's a real shame. However, the controls remain good. One thing that did frustrate us was that to eat things with Yoshi you have to select the item with the wiimote. If you find it hard to get the sensor bar working properly or where to sit well when using the Wii, then certain parts of Galaxy 2 will be frustrating.
Super Mario Galaxy 2 is one of those games that comes along and reminds you of why the fantasy of games is so enthralling and fun. From moment one through to the end Galaxy 2 will leave you constantly with a smile on your face (except for the really tough bits) and yet again reminds us why Mario is one of the greatest video game series of all time.