When Just Cause was released a few years back the title showed great promise, but not much more. Riddled with bugs and not the most interesting storyline, Just Cause became yet another forgotten title in the deluge of games that was released a few years after the consoles themselves. Rico, however, is back and this time he is better than ever.
Avalanche took the criticism of the original game whilst retaining what made it fun and awesome and amped it up tenfold. Just Cause 2 is one of those games that comes out of nowhere, slaps you in the back of the head and doesn't let up until the final credits roll. And even when they do you will still go back trying more and more crazy things and side missions to get that ever elusive one hundred percent completion. Can you tell we like this game yet? - To see why, read on.
Rico is sent to the tropical island of Panau to take out an agency operative who has apparently gone rogue. Once Rico catches up with this operative it becomes apparent that he has gone deep undercover to discover he is fueling the corrupt government which currently rules the island of Panua. You quickly learn that to find more information Rico has to get in good with the islands numerous criminal factions, freedom fighters and just plain armed to the teeth mercenaries to get the information he needs and while on paper that may sound incredibly generic, and generally it is, the game still manages to pull off being one of the surprises of 2010.
Just Cause 2 does not get its excellent gameplay from the storyline; in fact, in certain instances you are better off ignoring it. You will find yourself moving to a mission marker, but along the way you will get distracted by something cool and drive off in that direction. A few hours later or even more you end up going back to the mission marker to progress the story. We found ourselves many times distracted by cool things and sometimes it's just a whole lot more fun in this game to try and create a whole load of chaos rather than progress the story.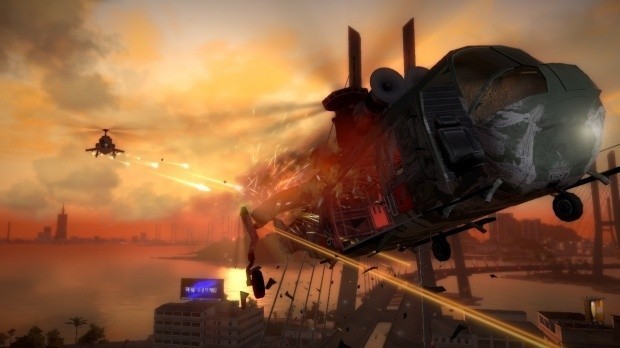 Chaos is key to Just Cause 2 and it is the main 'currency' of the game. As you destroy Government buildings and weapons, the Chaos level of the island raises and the local residents start to stand up against the Government. This is key to getting yourself in with the criminal factions as well as putting the Government under pressure. There are seven agency missions in all which form the crux of the storyline and while this may not seem like much, to trigger those missions you need to complete a variety of side missions for the criminal factions. On paper this sounded like a big mistake; in practice it was a masterstroke.
What Avalanche realised obviously early on was that they could not rely on the old pick up a few boxes, find a few people, get a few cars mentalities of other open world games for the side missions with such a focus on them. Instead they have crafted some of the most enjoyable and fun missions you will see in an open world game for quite some time. Missions can involve broadcasting a rogue group's message to the populace about Government corruption, destroying Government rockets or just plain taking over a stronghold from the Government to control things such as weapons and oil. A lot of times you will walk up to a building you have to take over and think 'how the heck am I going to get up there?', but with time and strategy you always will manage to.
And how you achieve these goals is completely up to you. To give you an example, one mission had us tasked with chasing down a flying helicopter to get the pilot who betrayed one of the criminal groups. Initially we tried to fly a plane and hijack the helicopter, but that didn't work, so then we grabbed a car, drove as fast as we could towards the helipad as it took off, jumped on the roof, let the car roll and hooked onto the helicopter. Mission complete. There are many other ways to finish missions, but that just gives you an idea of the crazy situations you can find yourself in.
[img]2[/img]
Primarily the driver for this game is the hook that Rico carries on his arm. He can attach to walls, vehicles, the ground and mountains just to name a few. It is this small game mechanic that takes Just Cause 2 to the next level. For example, you can hook two things together such as a car and statue. Drive the car with this enabled and the statue crumbles, causing further chaos. Experimenting with the hook is one of the best aspects of the game. When Rico says 'ahh, my rides here' as a helicopter turns up to take him down, he doesn't just say that for fun, he really means it as it's entirely possible to hook onto the chopper, throw the pilot out and take the chopper over.
The other big thing for Just Cause 2 is that the game is epic. The island is massive and the scale is extremely well done. If something says on your radar its twenty or so kilometres away, expect to be flying or running for a while as that really can feel like twenty kilometres away. The island is huge and includes snow areas, large mountains, desert areas, civilian cities and remote jungles to play around in. By the time you finish the game you will have seen most of it, but the island offers a lot of secrets for those who want to find them.
To alleviate this developers have included a black market where you can use your money to buy things such as weapons and vehicles. As you progress through the game and cause more Chaos, more weapons and vehicles are unlocked for purchase and this can also help get you around the island quicker with extractions possible to any location you have unlocked. The thing is, the best way to play JC2 is to drive to each location. Not only are the graphics absolutely stunning, but you will see some random events being played out and may discover a secret or two as well. Further to this, the map will populate much quicker with towns you can jump to and get a vehicle or weapon or just to create more Chaos.
[img]3[/img]
Considering the epic nature of the game, we were surprised that the frame rate and graphics maintained a solid click during our play-through. Pop in was never really apparent apart from a few occasions in the mountains and the fast paced nature of the game was really brought home by the fact it didn't miss a beat. We easily jumped from plane to car to helicopter in a few quick movements with the game not hiccupping at all. There is no doubt that Avalanche spent a great deal of time to optimise this title and it has definitely paid off.
The voice acting leaves a lot to be desired and in certain circumstances and situations borders on derogatory towards the ethnic races represented in the game. But other than that, the sound and music really hits the mark with huge explosions leaving your speakers rumbling and Rico running for cover.
Just Cause 2, as we said before, is one of those games that come out of nowhere and surprise you. The hype machine hasn't built this one up big time and in many ways, as gamers, we should be thankful. We should be happy that this game flew under the radar, because from the moment you boot it up to the moment the credits roll, it will continually surprise you, enthral you and entertain you.
Just Cause 2 is not only one of 2010s biggest surprises so far, but raises the bar for other open world developers. If fun is what you want in a game, then Just Cause 2 will fit the bill.