Is my 750W PSU enough to handle my system, or should I upgrade?
I have an AMD FX-8350, 16GB DDR3 RAM and an MSI Radeon R9 270X - is my 750W PSU enough to handle it, or should I upgrade?
What are some good guidelines to go by when determining how much power you'll need? Is 750 watts enough for modern times or is now the time to upgrade?

Running an AMD FX 8350 eight core processor at 4GHz

16GB DDR3 2400 RAM

MSI R9 270X 2GB video card

Been thinking of upgrading the video card but I'm worried my old 750W PSU won't be able to handle it.
Hi there Frank,
Most of the time, the VGA card is going to suck up the most amount of power. I have a review coming up soon on the VisionTek Radeon R9 270X 2GB OC, which is nearly identical to the card you're running, and my total system load during a game of Battlefield 4 at 4K was drawing 230W.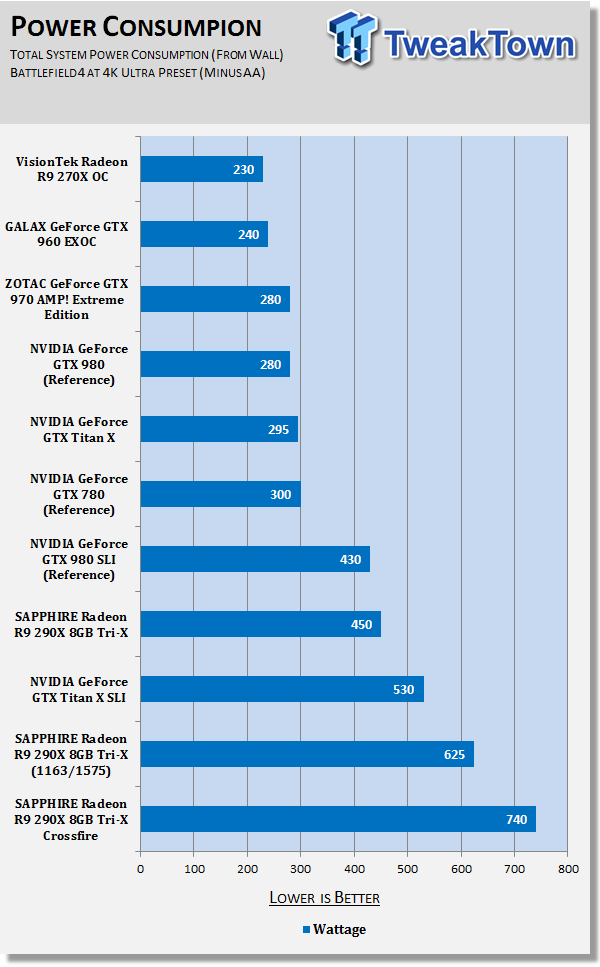 For your system, you'd be drawing less than 350-400W even if you had multiple mechanical HDDs, high-speed fans, and even LEDs. I wouldn't worry about upgrading the PSU for its power output. However, if you had a non brand name PSU, maybe you could consider buying a branded PSU like Corsair, and going for an 850W which should ensure you're safe from upgrading for quite sometime.
As you can see from the chart above, even NVIDIA's GeForce GTX Titan X in SLI only consumes 530W of power. The SAPPHIRE Radeon R9 290X 8GB Tri-X cards in Crossfire chew much more, with 740W total. I would suggest waiting, and using your current PSU unless it's a non brand name - then maybe you could upgrade, but don't be in any rush. For now, you're fine.
Last updated: Nov 3, 2020 at 07:10 pm CST
Related Tags