Intro & Speed Tests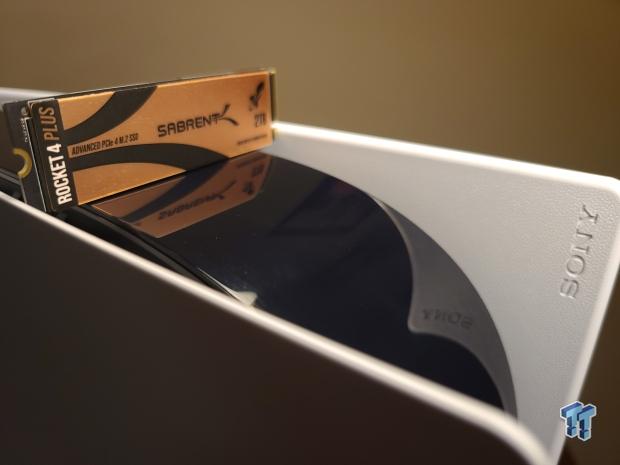 Today we'll be testing out Sabrent's PS5 SSD heat sink alongside its ultra-fast Rocket 4 Plus PCIe 4.0 SSD to determine whether or not a heat sink will help reduce temperatures while gaming.
We've also done some side-by-side speed test comparisons to see how the Sabrent Rocket 4 Plus compares to Sony's proprietary SSD tech. The results were pretty illuminating. First lets check out the speeds and then we'll move onto temperatures.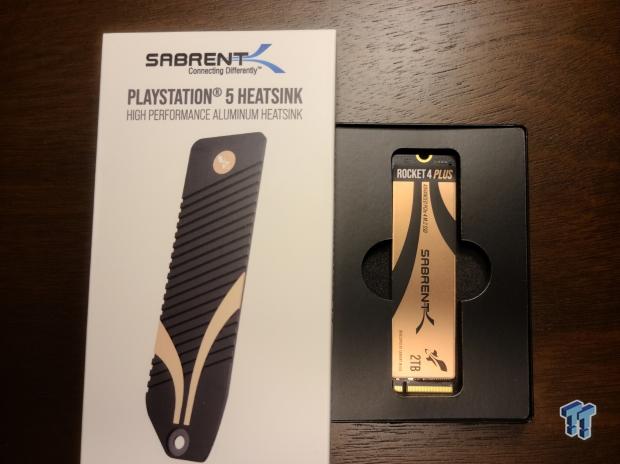 We tested 10 games total, 7 of which were PS5 games and the remaining were PS4 titles.
Assassin's Creed Valhalla

Far Cry 6

Control Ultimate Edition

Destiny 2

Final Fantasy 7 Remake

No Man's Sky

Resident Evil Village

Cyberpunk 2077 (PS4)

Bloodborne (PS4)

Red Dead Redemption 2 (PS4)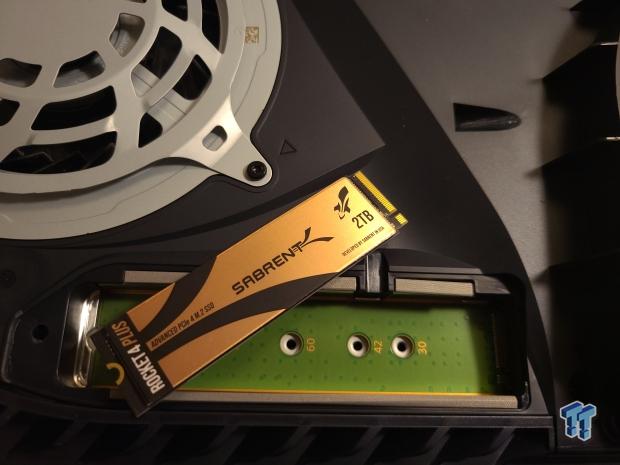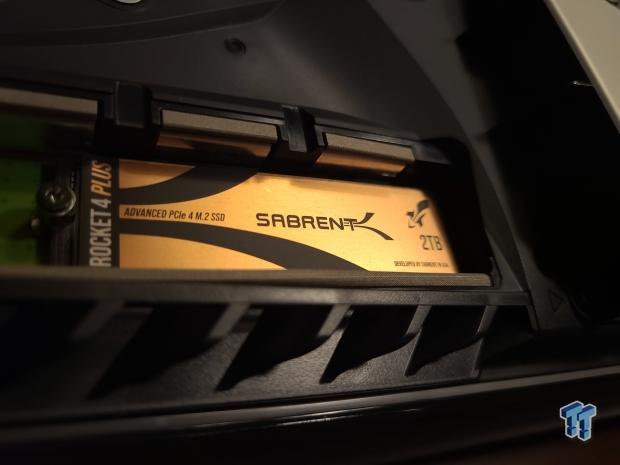 Testing methodology included fast travel and save load sequences for specific titles, including those optimized for PS5 and those that utilize backwards compatibility on the system. We recorded a side-by-side video showing each sequence and also recorded data for the file transfers. Transferring data is much faster from the PS5 to an M.2 drive, likely due to the PS5's built-in compression tech.
The PlayStation 5 recognized the Sabrent Rocket 4 Plus' read speeds at 6.5GB/sec.
Check below for Rocket 4 Plus specifications and the results of our transfer tests and load time tests.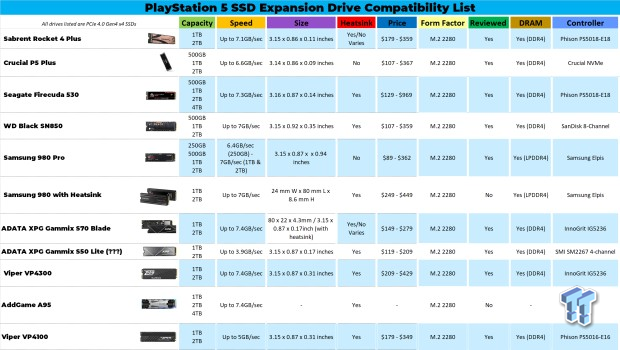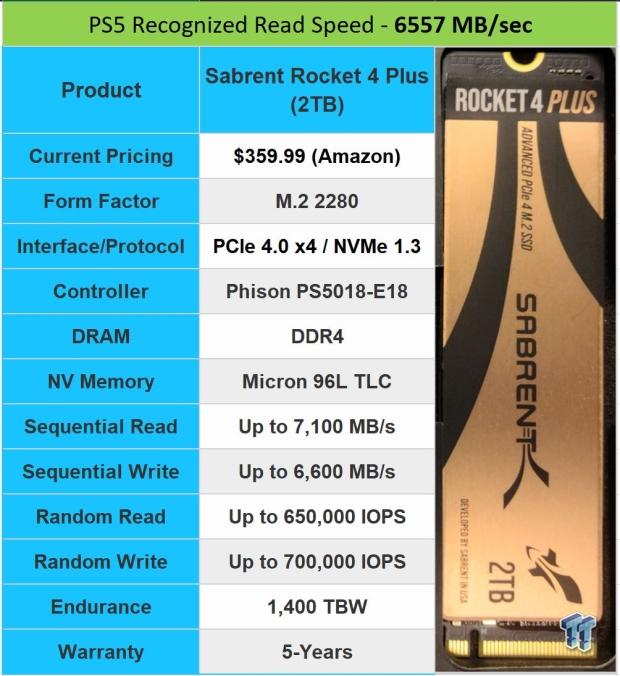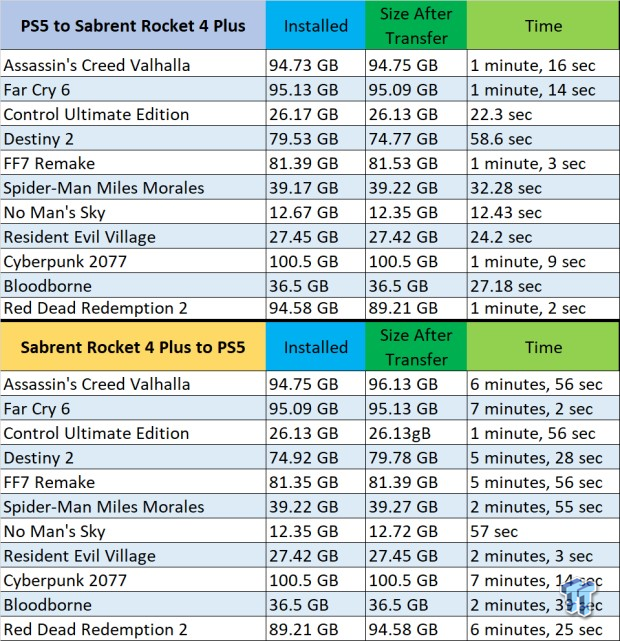 Read Also: Sabrent Rocket 4 Plus 2TB NVMe M.2 SSD Review
Temperature Tests - Methodology
Editor's Note: These are not perfect temperature readings and are meant to be a base guideline to help gauge expectations on specific performance.
In an attempt to see how hot installed M.2 NVMe SSDs could get when gaming on the PS5 we did a few multi-pass tests. For the duration of these tests the PlayStation 5 was kept in vertical orientation in an open area instead of a congested cubby or shelf (your PS5 should never be in this space to begin with).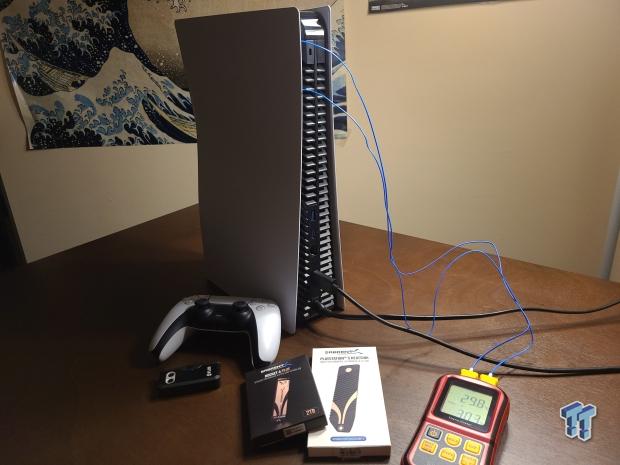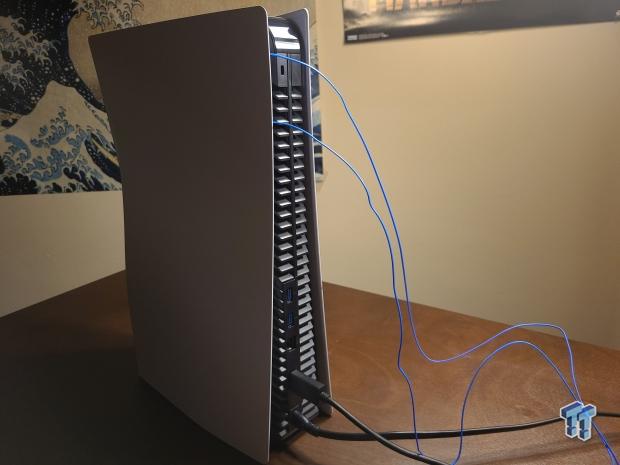 Due to limited games availability, we weren't able to test out all of Sony's latest and greatest PS5 games (these titles can get pretty costly when purchased en masse). Rather than running through each game shown in the side-by-side loading tests, instead I have selected four of the most demanding games in my current PlayStation 5 library:
Far Cry 6

Spider-Man: Miles Morales

Control Ultimate Edition

Assassin's Creed Valhalla
All of these games target 4K 60FPS except in ray-tracing or high-resolution Quality modes which were selected for these tests to help squeeze out more performance from the PS5.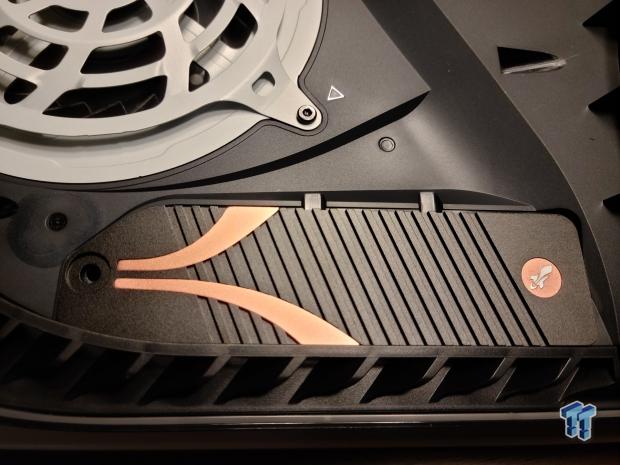 We conducted two separate test passes with the Sabrent Rocket 4 Plus: One pass with special Sabrent PS5 heat sink installed, and one with no heat sink installed with the stock expansion bay slot plate screwed in.
Each pass consists of 60 minutes of gameplay with four readings at 15-minute intervals, including a startup reading from initial PS5 bootup. Each increment has a thermometer reading on Type K thermocouples and one FLIR thermal image of the back-end of the PS5 to help illustrate how much heat is being exhausted versus how much heat is being generated in the specified area.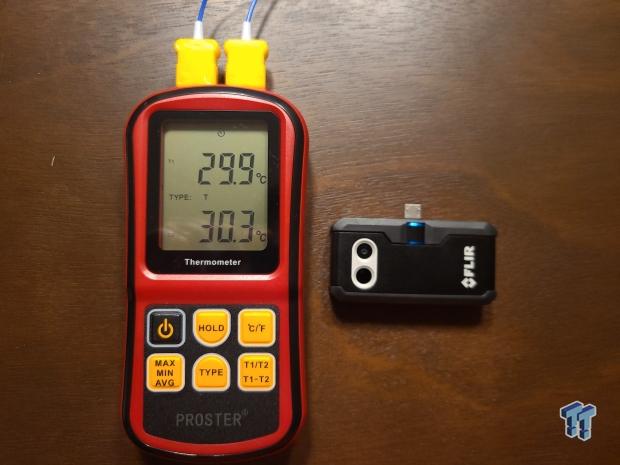 We used two pieces of equipment for this:
FLIR One Pro LT

Proster Dual-Channel Thermometer - PST095
We used two Type K thermocouples placed in two separate spots for each of the tests.
For phase 1 with the heat sink installed, one thermocouple was placed against the Rocket 4's flash chips on the underside of the drive, the part that is secured by warranty tape. The other thermocouple was placed underneath the heat sink, but not between the thermal padding that connects the Sabrent Rocket 4 Plus to the heat sink itself.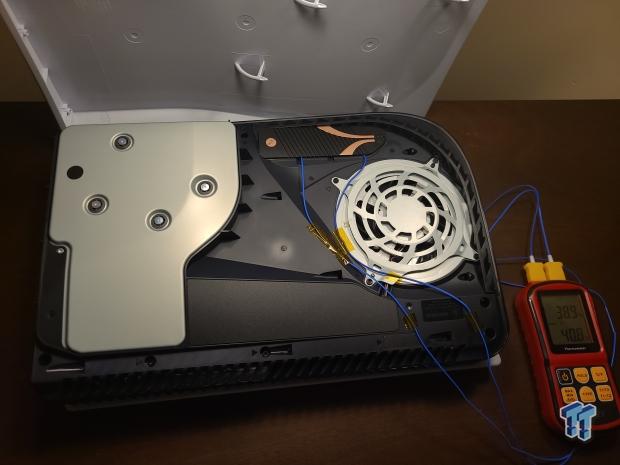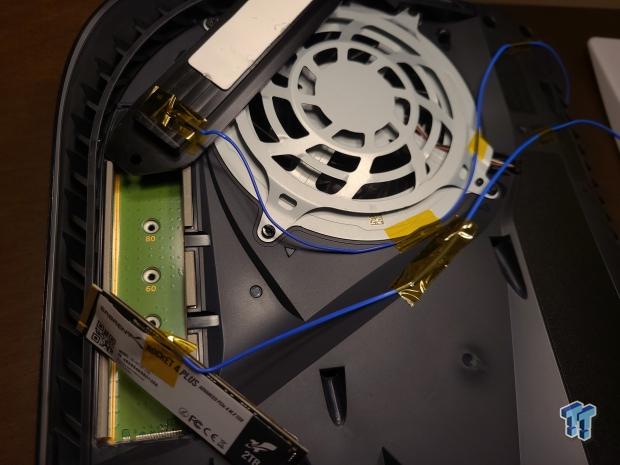 Phase 1: Heatsink
Thermocouple 1 - Below heat sink
Thermocouple 2 - Below flash chips on bottom portion of SSD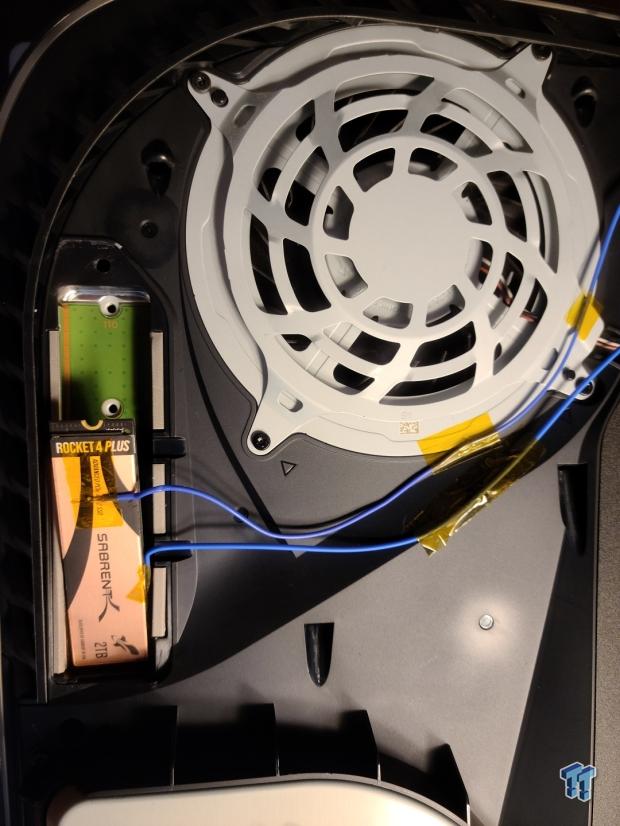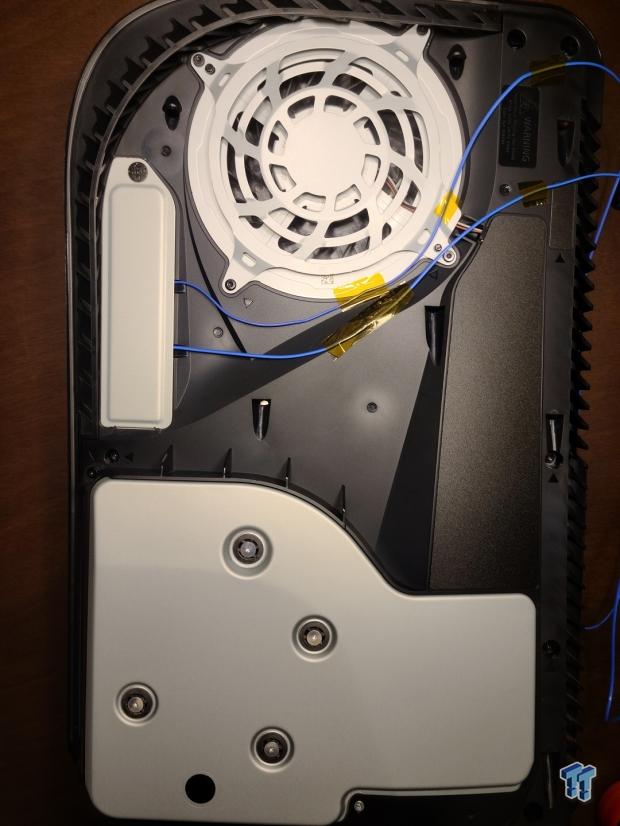 Phase 2: No Heatsink
For phase 2 with no heat sink installed, Thermocouple 1 was placed on top of the included heatshield. Thermocouple 2 remains unchanged.
Thermocouple 1 - On top of drive's included heatshield
Thermocouple 2 - Below flash chips on bottom portion of SSD
All readings are recorded in degrees celsius (C).
Temperature Tests - Phase 1: Heatsink Installed
Phase 1 - Temperature Readings with Heatsink Installed
Far Cry 6
Targeting 4K 60FPS with dynamic resolution scaling and locked frame rates.
Far Cry 6 is a spectacle on the PlayStation 5. The in-game lighting and weather effects create one a tropical paradise full of beauty, and the frenetic explosive combat brings lots of mayhem. Open-world exploration also demands power from the PS5's SoC, with everything from helicopters and planes in the skies to ATVs on land and jet skis at sea. With its 4K 60FPS targets, Far Cry 6 is one of the more higher-end games in our library.
Ubisoft's new Far Cry seems to tax the PS5's cooling system more during the daytime, especially in high-dense areas will lots of foliage, NPCs, and enemies. Lower flash memory temps reached about 54C maximum during our tests, with heat sink levels hitting about 40C. FLIR imaging shows the PS5's exhaust pushed out roughly 60C thermals.
PS5 FLIR boot temps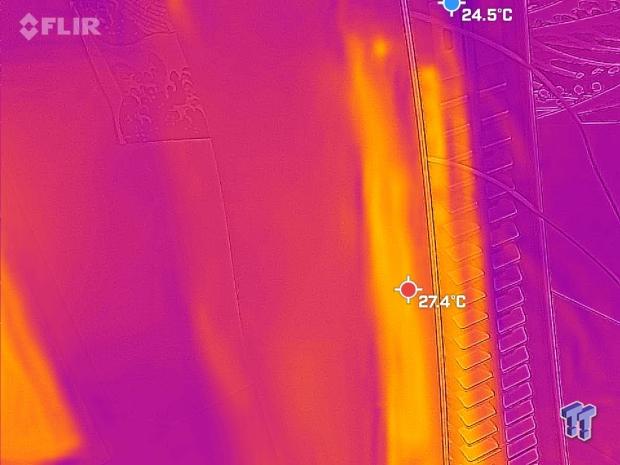 First Reading (15 minutes) - Explored Costa Del Mar and flew a helicopter from the main Libertad hub over to the tobacco valley. Lots of skirmishes here with local FND including firefights and explosive chaos, and went flying in an airplane to boot. Flash memory temps rose quickly to 51.6C with an average of about 48C throughout. Sunny weather and bright skies added to the graphical load.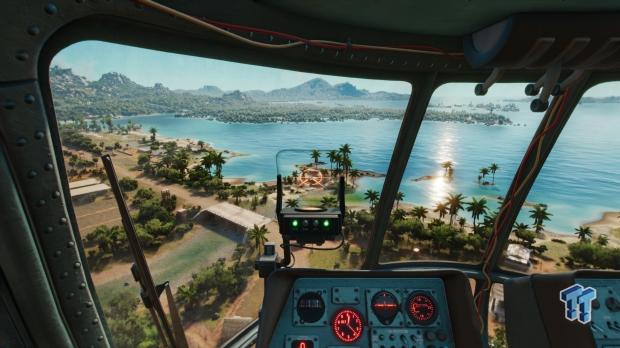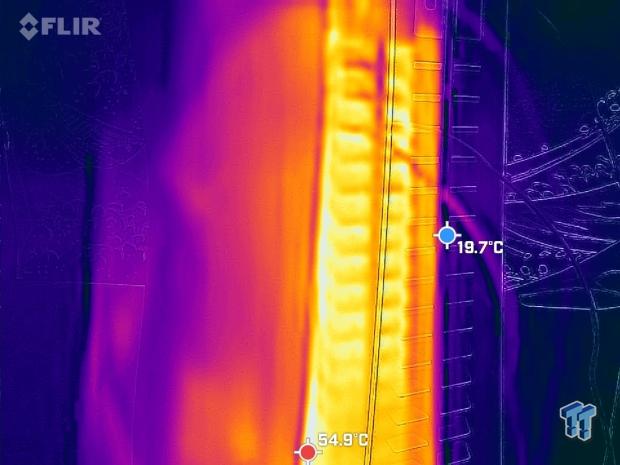 Second Reading (30 minutes) - For the second reading I went from the Cortina Weather Station in Costa Del Mar to a FND base on the Cortina Peninsula. It was crawling with FND soldiers and a 10-minute firefight ensured with tons of explosions. I destroyed three helicopters, one with a supremo blast and two with a turret. Weather was overcast and foggy then the sun set, blazing reflections across the entire scene. Temps rose to a high 54C during the sequence.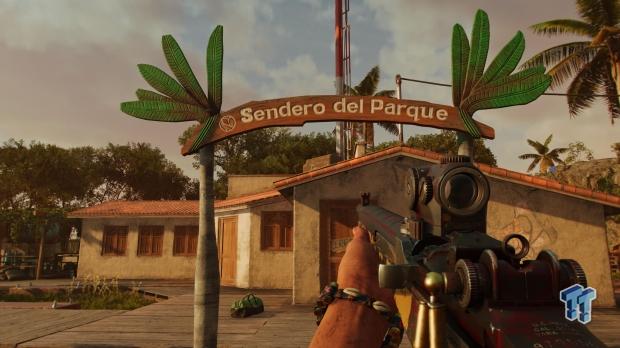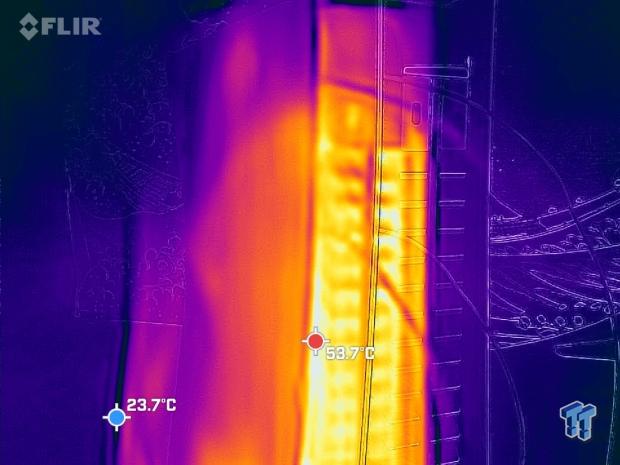 Third Reading (45 minutes) - Far Cry 6 cools down quite a bit during night exploration. This segment was 15 minutes of helicopter flying from Montero Farm across the northern cliffs, complete with parachuting and some night swimming. Temps stabilized in the 50C region and didn't rise...however there was no combat.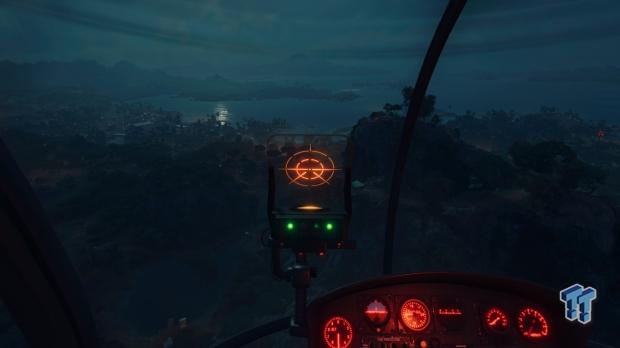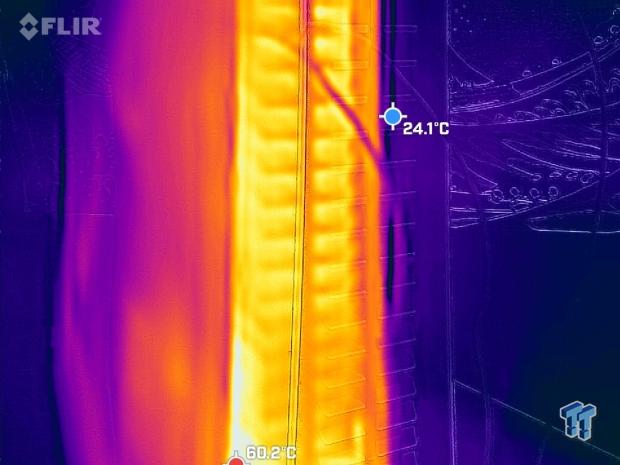 Fourth Reading (60 minutes) - In the next 15 minutes, I went back to Isla Santuario which is a more open-ended island with less density. The scene transitioned from day to night as I played, unleashing total chaos from Armoria to Vencejo to the northeast in a tank. Combat wasn't as frenetic and most of it was at night time--which seems to favor temps for Far Cry 6--with temps sitting at about 52C during fighting. Daylight effects rose temps by 1 degree to 53C..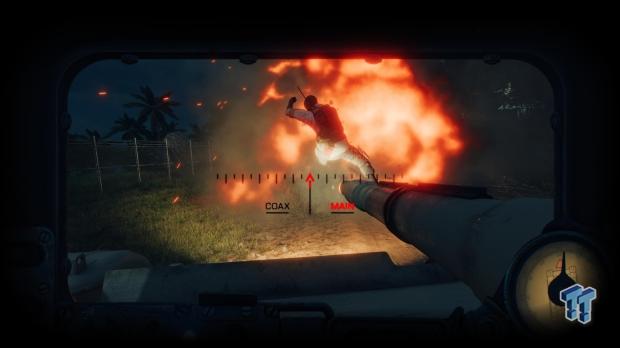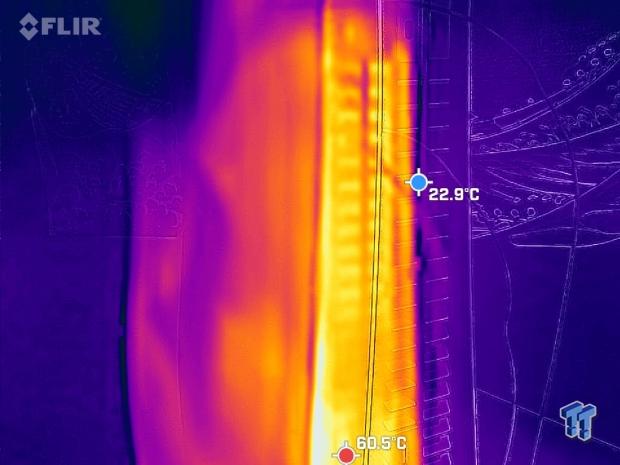 Spider-Man Miles Morales
4K 30FPS with Raytracing On
This is a premiere game on the PlayStation 5 that showcases what the console can do. Insomniac uses proprietary game-making tools to leverage the PS5's power in only a way first-party studios can. The raytraced visuals are impeccable, the 4K visuals crisp and clear, and the gameplay fast and fluid. It's also a great use-case for temp testing. We put the RT 30FPS fidelity mode on to try and push the console to higher performance targets.
PS5 FLIR boot temps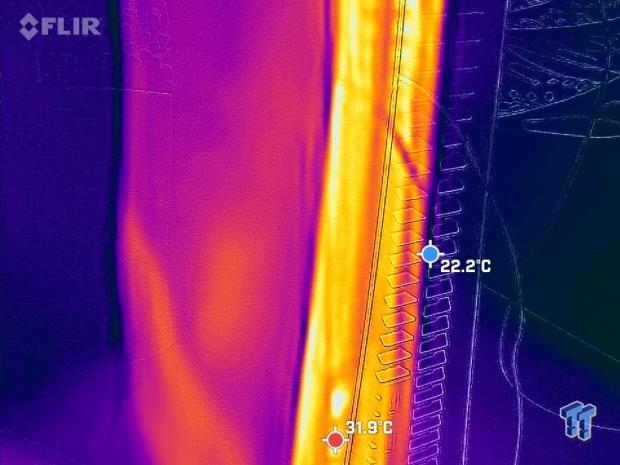 First Reading (15 minutes) - We kicked things off with some heavy combat in the Upper West Side with 8+ enemies on the screen at once, all set in a brilliant sunset backdrop. The combat lasted about 4 minutes and temps rose steadily from 34.9 all the way to 44C. Exploration in the city areas weren't as demanding, but temps did slowly rise to 46C as we moved to higher-NPC density areas. More combat at the end pushed temps to 50C before dropping down to about 49C.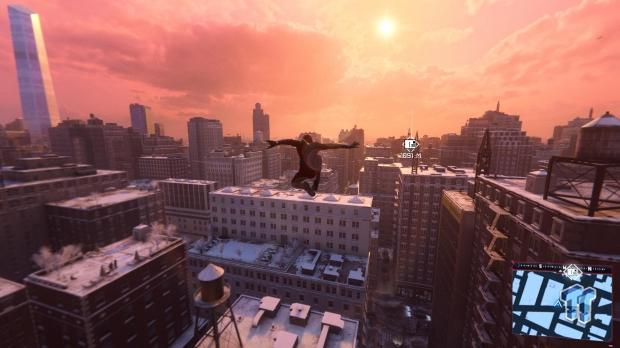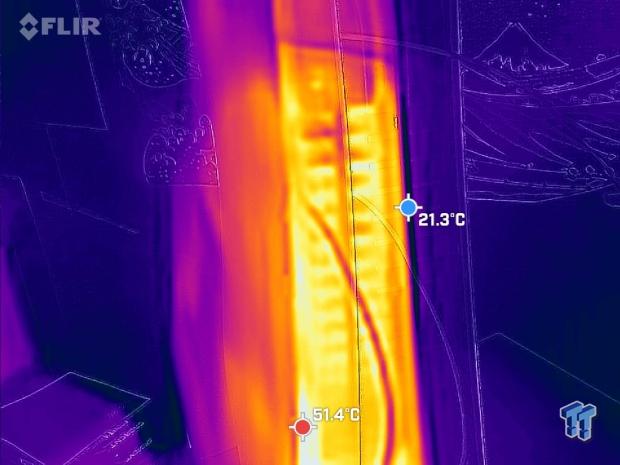 Second Reading (30 minutes) - Here I initiated a scavenger hunt celebrating Miles' birthday. The hunt took me from the Upper West Side to Midtown, some 2.5K meters away. I traversed this by web slinging across the city. Temps were low at first, roughly 47C in areas without many buildings, but rose to 49C and higher as I approached metropolitan areas. Temps hit their highest point at 55C atop the Empire State Building where I could see the entire city and water completely illuminated by the sunset, but eventually fell off to about 51C.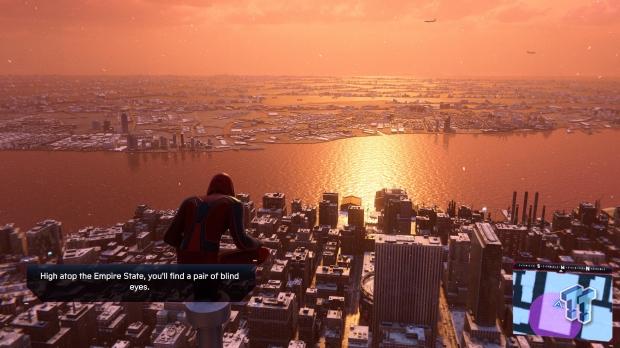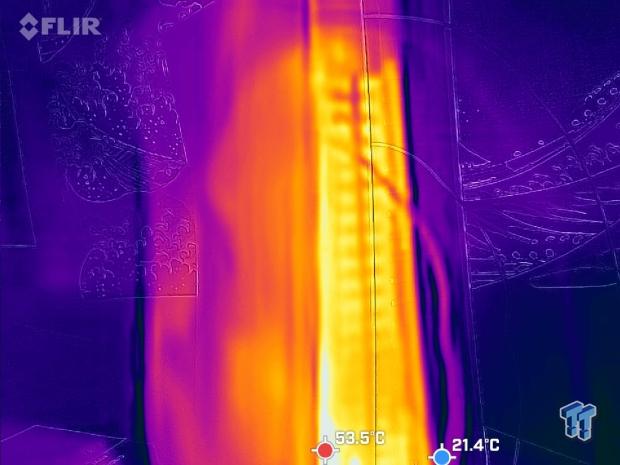 Third Reading (45 minutes) - Segment three was again a mix of light combat with various skirmishes and stopped robberies, but this time I traversed a big chunk of Manhattan continuing the scavenger hunt. My journey took me from Greenwich to the east and then down to the Financial District to the south and finally Chinatown to the east, where temps sat around 51C and eventually rose to about 52C throughout the journey.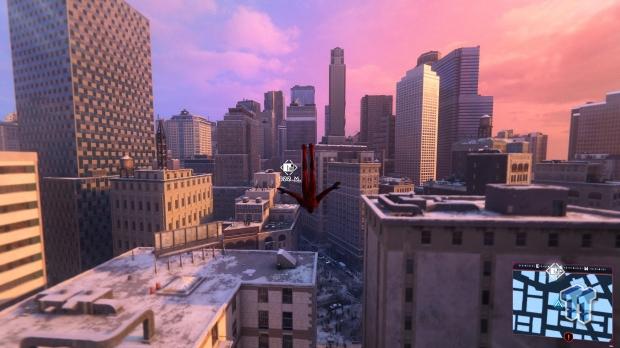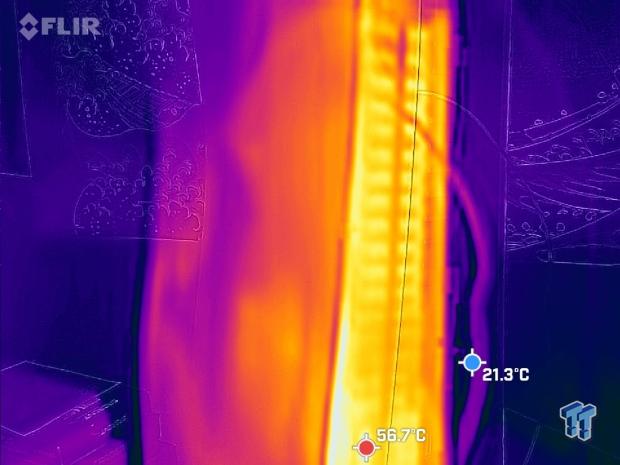 Fourth Reading (60 minutes) - The scavenger hunt took me all over Manhattan. The last test concluded in Harlem at CJ Walker Park, and temps were a steady 52-53C in the city areas both on ground level with NPCs and tons of cars and flying through the skies via web.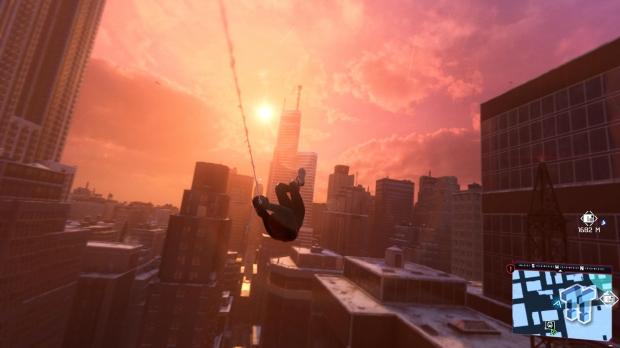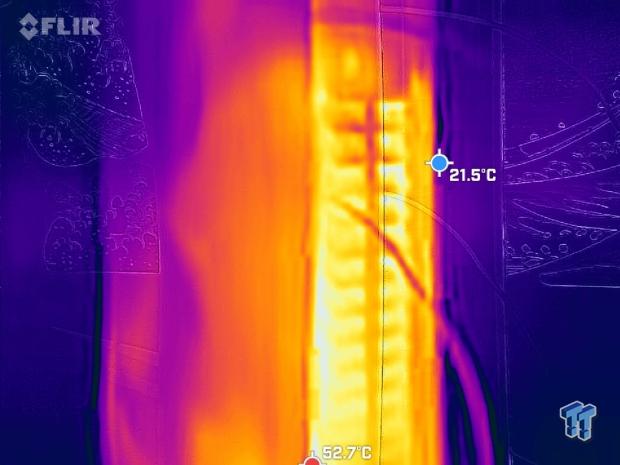 Control Ultimate Edition
4K 30FPS with raytracing on
With tons of atmospheric fog, volumetric lighting, raytraced reflections, and explosive physics destruction, Control should be a great game to help push PS5 temps to higher levels. Our rounds of testing showed max temps of 52.6C for thermocouple 2 and 32.7C for thermocouple 1. In short, Control will heat up your PS5, especially when you're deep in combat in destruction-heavy and effects-heavy environments.
PS5 FLIR boot temps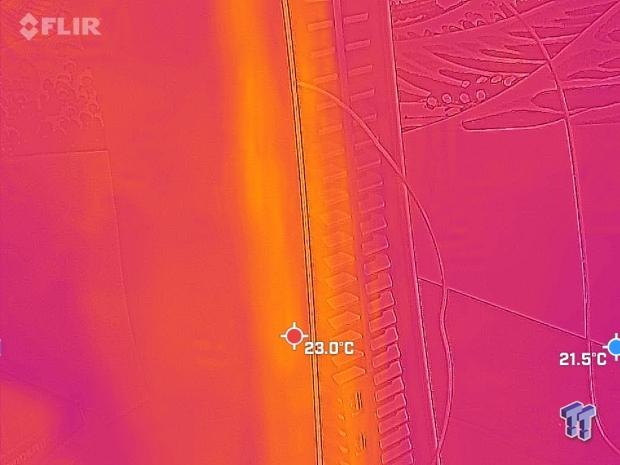 First Reading (15 minutes) - Started off in the Maintenance Sector, which is mostly ambient lighting effects--particle effects, fog, lots of shadows, diffuse light--and not many reflection surfaces to showcase raytracing. Temps rose to 43C quickly after interacting with the furnace, which emits lots of glowing light. Temps further jumped to 46C upon destroying various parts of the environment, and spiked as high as 48C during combat sequences in the NSC Energy Converter section.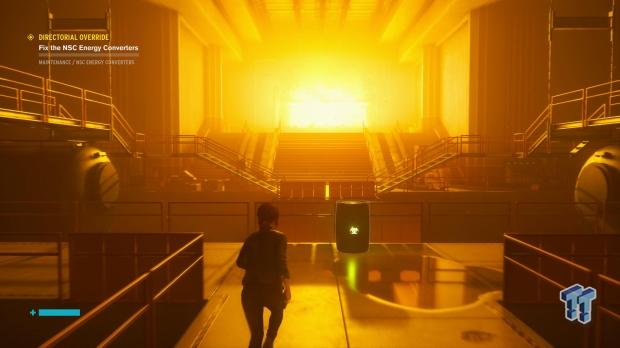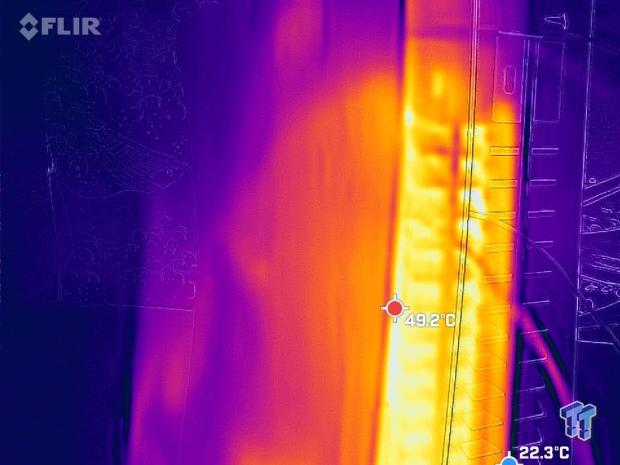 Second Reading (30 minutes) - Temps continued to rise during this sequence which saw me going from the NSC Control Room back to Central Executive, an area with higher levels of reflective surfaces. Multiple combat skirmishes took place, including one that pushed temps to over 50C with plenty of environmental destruction. Memory temperatures sustained at 49C even during in-engine cutscenes, and temps didn't lower below 48C during this test.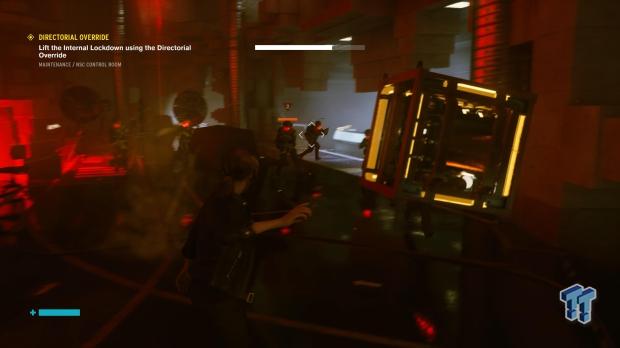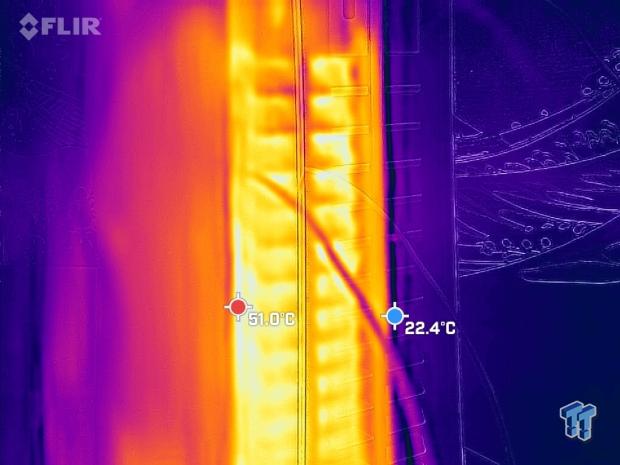 Third Reading (45 minutes) - This test is where things got pretty heated. The SSD's memory thermocouple reached 52C compounded temperatures after multiple bouts of multi-wave combat in the Research Division, an area with heavy lighting effects and low reflective surfaces (although there were more surfaces than previous areas). Temps rose after repeated combat sequences and heavy environmental physics destruction in adjacent cafeteria region.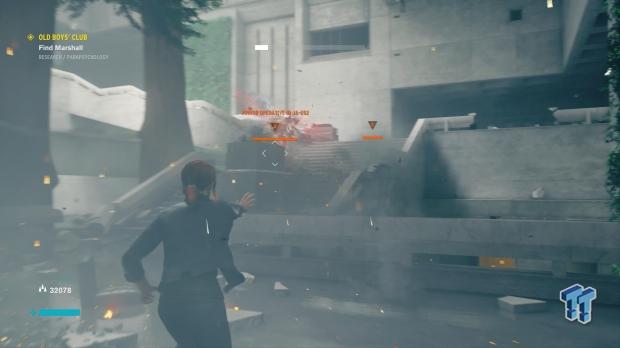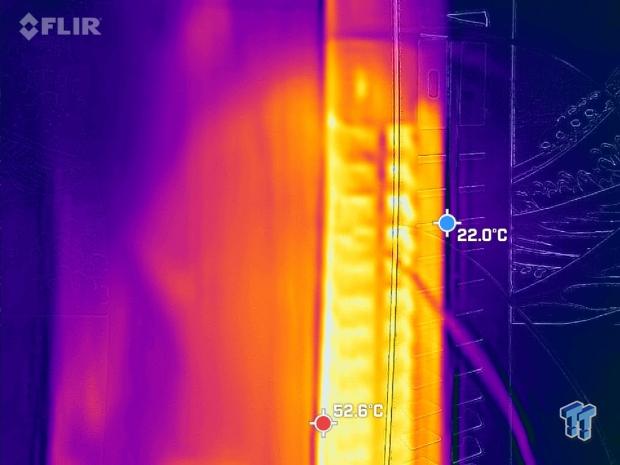 Fourth Reading (60 minutes) - Moved to Parapsychology division, which has lots of interesting architecture. Areas were crawling with enemies and I defeated roughly 15 enemies to cause lower flash thermocouple readings to reach 52.5C.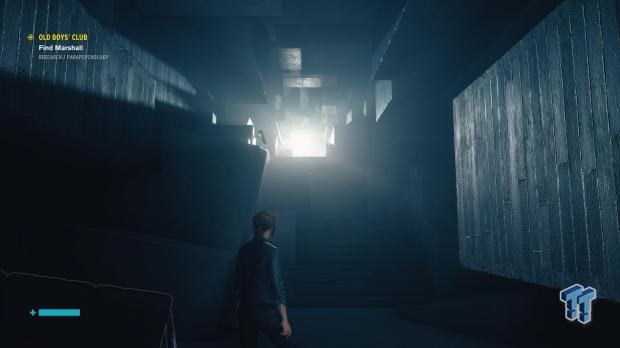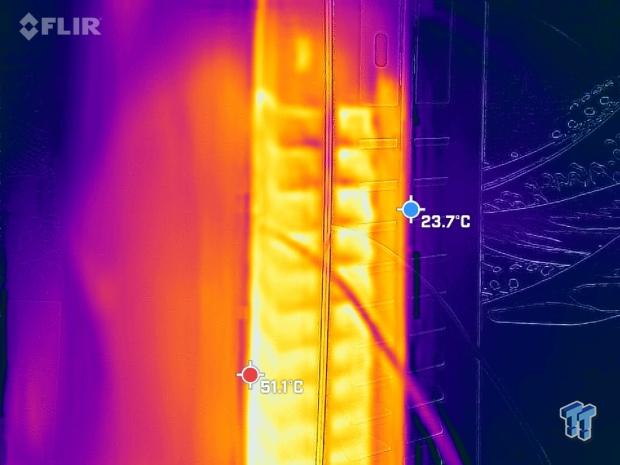 Assassin's Creed Valhalla
Quality Mode - Dynamic resolution targeting 4K resolution, scaled 30FPS
Assassin's Creed Valhalla is one of the best-looking PS5 games on the market, and its huge open world with dynamic weather and lighting effects make it a great fit for temp tests. Surprisingly, Valhalla maintained solid performance even during demanding load with thermocouple 2 temps hitting a high of 52C.
PS5 FLIR boot temps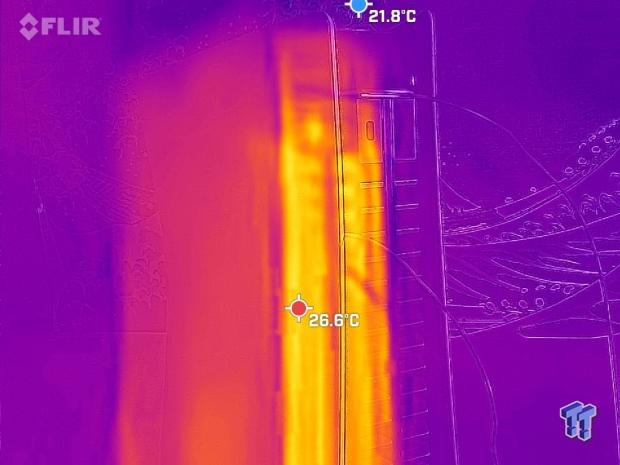 First Reading (15 minutes) - Our first stop is Jorvik, a Danish city in Northumbria. It was sunlight when I arrived, and turned to night as I traveled west to Wiccan's Cave. Temps were around 43C during city traversal with lots of NPCs throughout, and the travel was through snowstorms and dynamic weather conditions. Temps reached about 43C when I reached Wiccan's Cave, and raised to 45.6C in the interior, likely due to the robust lighting effects and shadows across the high-definition textured interiors.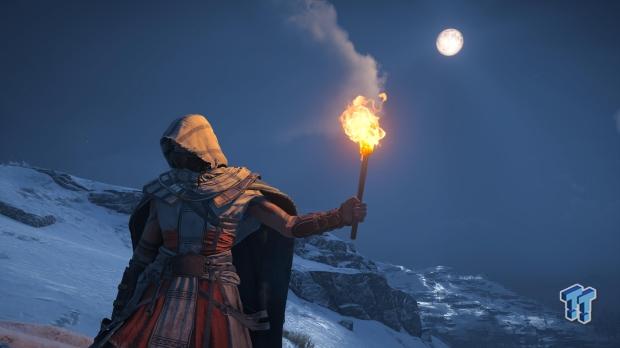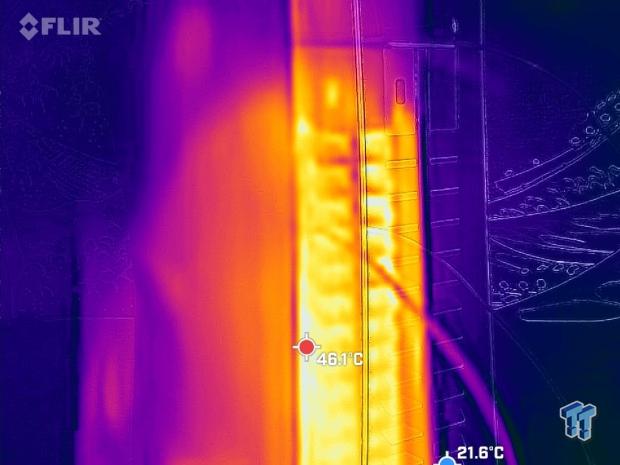 Second Reading (30 minutes) - In this sequence I fast-traveled to Canterbury to the south-east, a coastal region with brilliant verdant flora, sunny beaches, and rolling waves reflecting the blazing sun. It was early morning when I started traveling to the easternmost point of Cent and thermocouple 2 temps were about 45C as I roamed through the sunlit fields. I jumped off the cliff into the water and hopped on a boat, temps stabilizing at about 47C as I traveled on the water. Once I got to Dover Fortress to the south-west temps rose to about 49C during combat at the docks.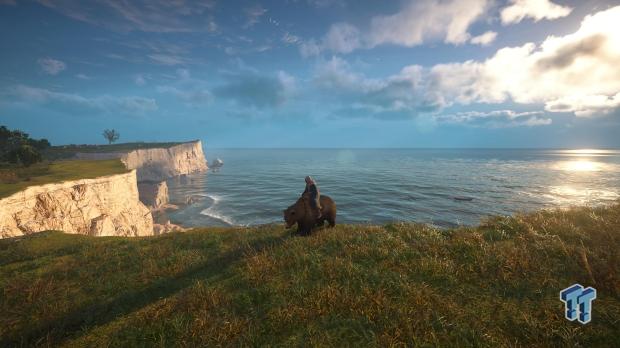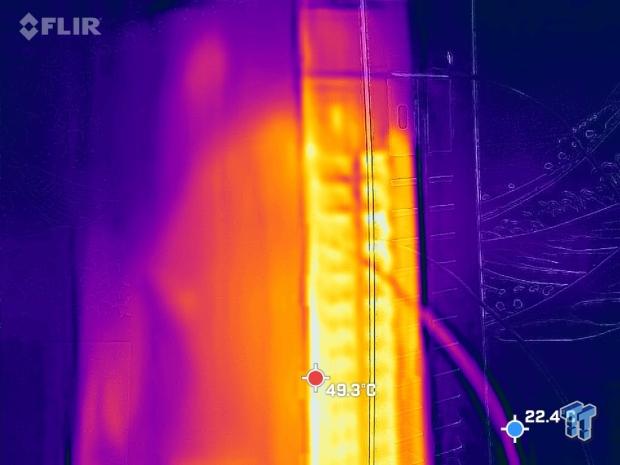 Third Reading (45 minutes) - Thermocouple 2 temps rose as higher as 51C as I proceeded to raid Dover Fortress in a flurry of combat with about a dozen or so foes. It was a sunny scene with lots of shadows and to try and push the effects higher I set fire to all the thatch roofs nearby. Then I traveled to the south to the Pharos of Dover, tackling an order member (Woden) in a bloody 1v1 battle where temps proceeded to drop to about 49C.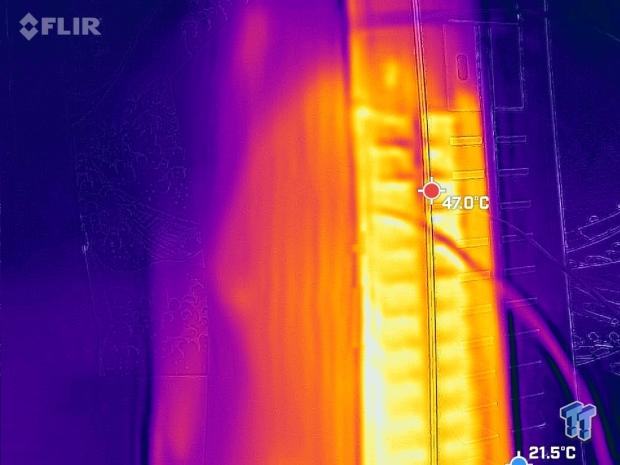 Fourth Reading (60 minutes) - Fast-traveled west to the village of Werham in Hamtunscire, a region with extremely foggy lowlands. Proceeded to fight all the enemies in the village and ignite roofs, but no raid initiated. Thermocouple 2 temps stuck at about 50C during the sequence, and maintained this level even as I traveled north through Wisherman's Wood to a nearby bandit camp. The camp was enshrouded in thick fog during the daylight hours.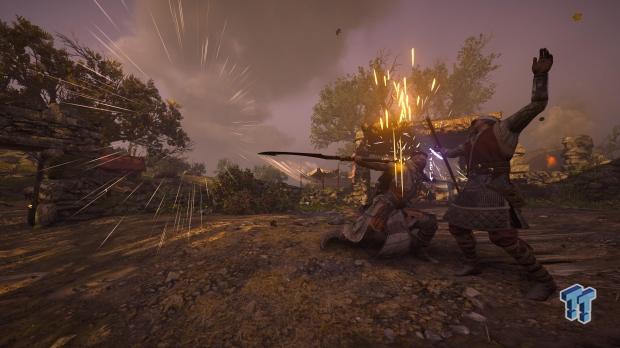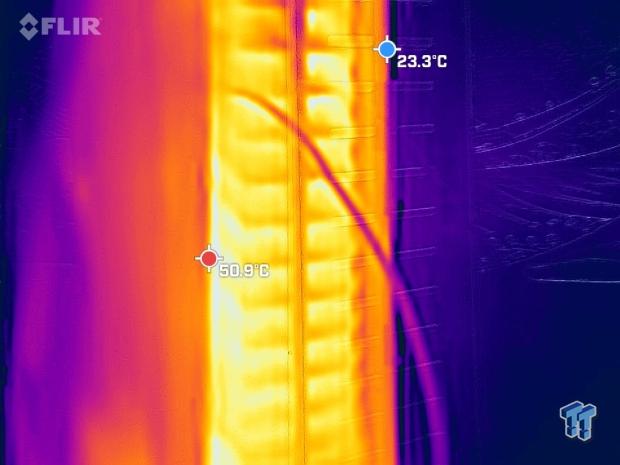 Temperature Tests - Phase 1: Heatsink Installed Results
Phase 1 Results - Heatsink Installed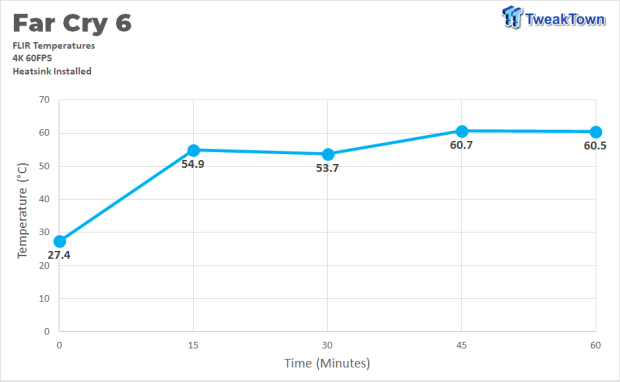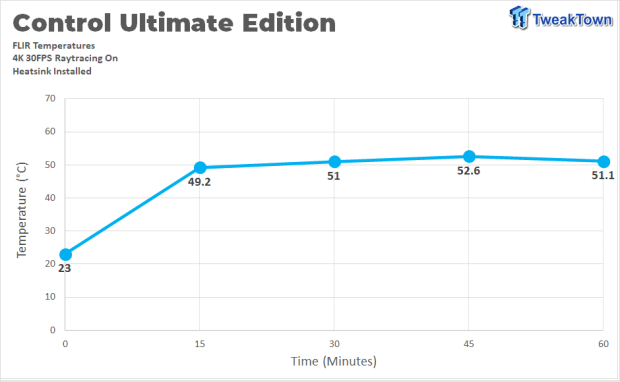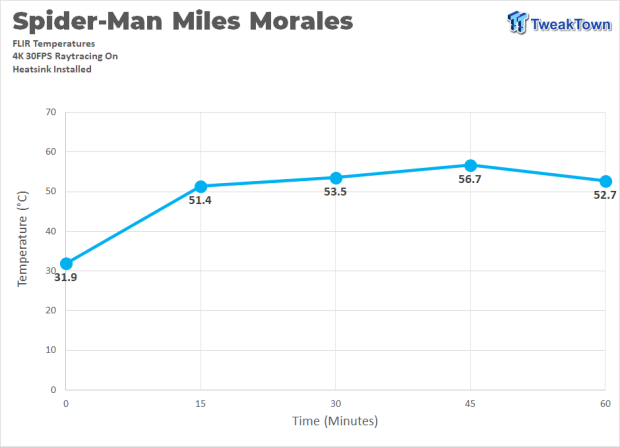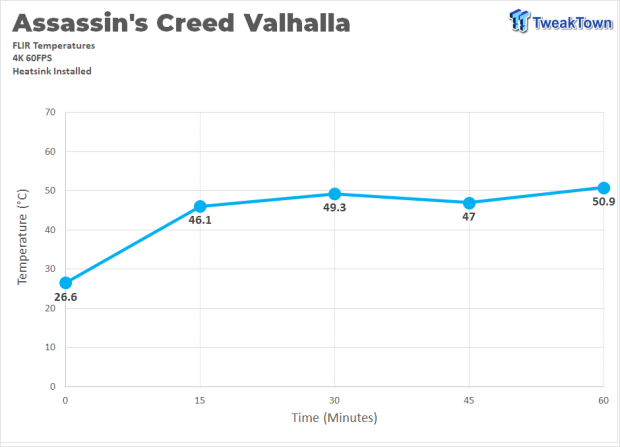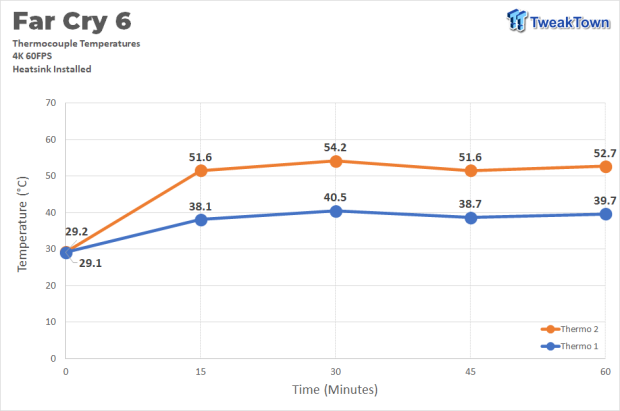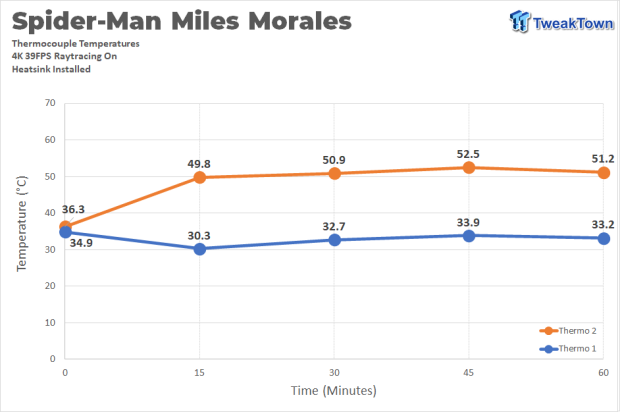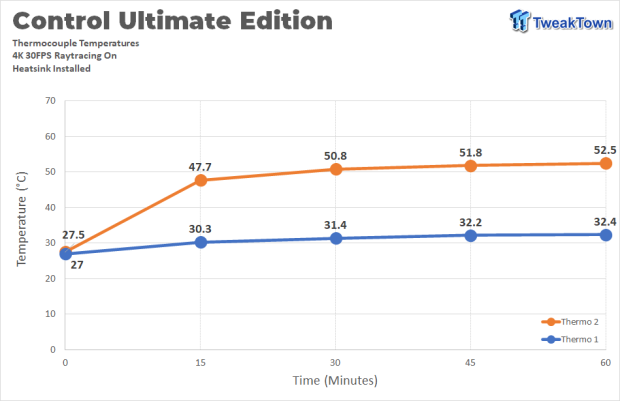 Temperature Tests - Phase 2: No Heatsink Installed
Phase 2 - Sabrent Rocket 4 Plus without Heatsink
In this pass we took off the Sabrent heat sink to do some bare temperature testing. As you could guess, topside SSD temperatures rose considerably from the previous heatsink-based tests.
As a reminder, the two thermocouple placements for this test are: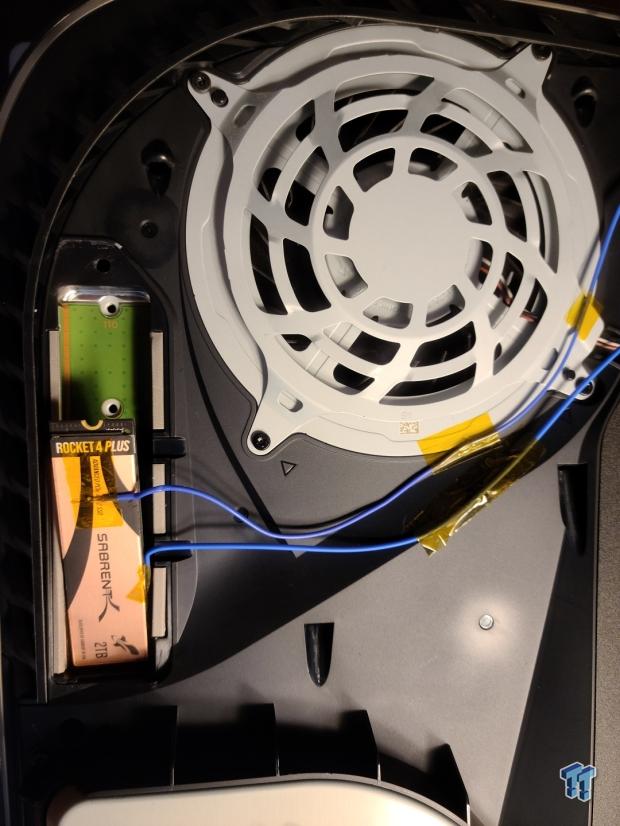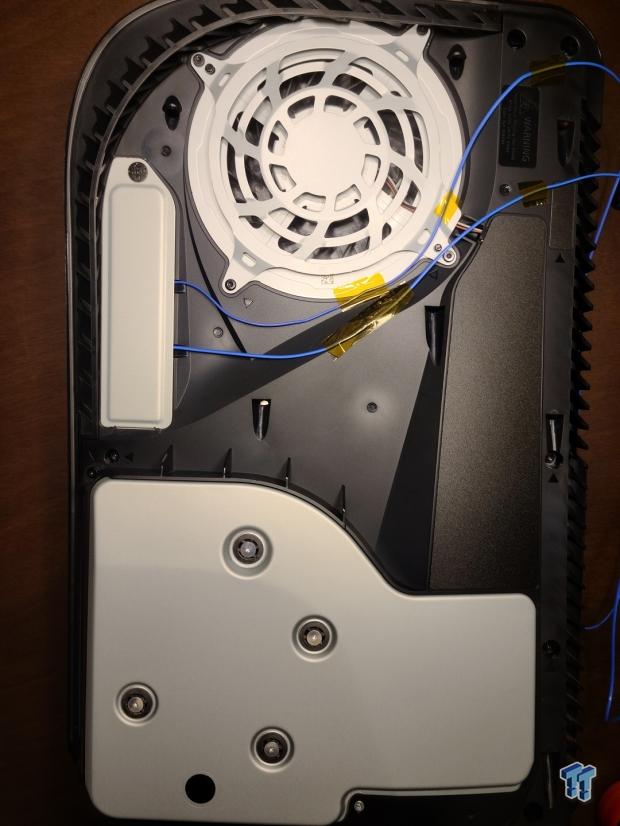 For phase 2 with no heat sink installed, Thermocouple 1 was placed on top of the included heatshield. Thermocouple 2 remains unchanged.
Thermocouple 1 - On top of drive's included heatshield
Thermocouple 2 - Below flash chips on bottom portion of SSD
The same four games were tested in this pass and we closed the SSD bay using the included metal shield.
Far Cry 6 - No Heatsink
4K 60FPS target, no RT, dynamic resolution scaling
PS5 FLIR boot temps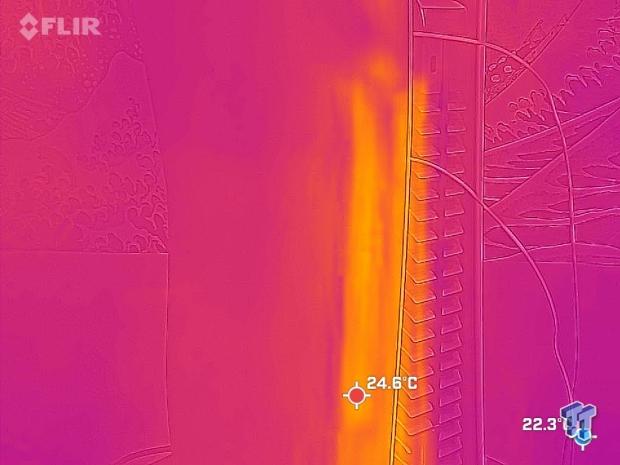 First Reading (15 minutes) - The first reading was conducted at Montero Farms where I attained a wingsuit. The scene was at night and there weren't any weather effects, however temps rose to about 40.6C in thermocouple 2 after just 4 minutes. Temperatures proceeded to climb to 47C at the 11-minute mark and up to 50C after 10 minutes of play. There was no combat during this sequence however I triggered an in-engine cutscene from a mission with Espada which bought me on a boat scene with heavy rain and lightning storms. Thermocouple 1 readings were at 47.4C showing that the drive's upper area gets hotter without a heat sink.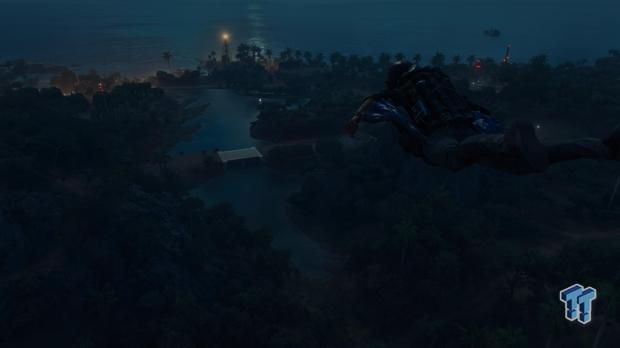 Second Reading (30 minutes) - Things started to really heat up with multiple bouts of combat. The mission took me to the southern-most island of Costa Del Mar to investigate Jose, one of Castillo's captains. Brutal bloody battles pushed temps to 55.2C after 10 minutes of combat with over 15+ enemies killed. Thermocouple 2 temperatures reached nearly 56C throughout and thermocouple 1 temps, which are based at the top of the SSD's heatshield, hit 51.8C. Lots of heavy combat throughout this 15-minute segment.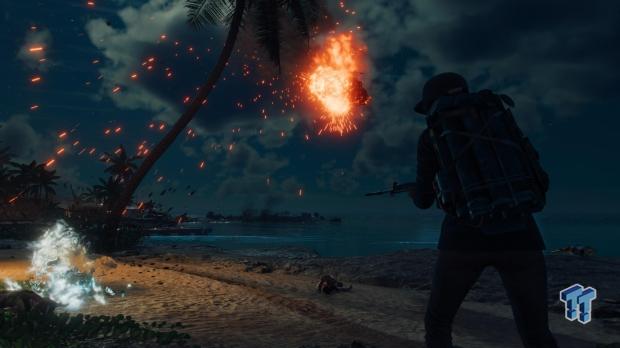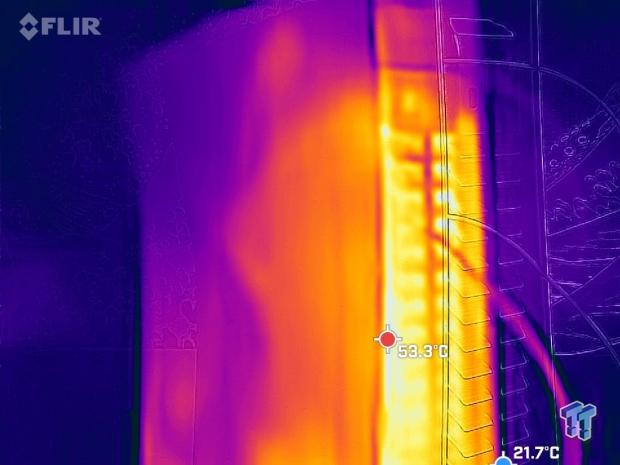 Third Reading (45 minutes) - This was a busy scene. We completed the Espada mission and uncovered a brutal torture chamber underneath Jose Castillo's lighthouse fortress, and temps hit about 57.6C during combat (thermocouple 1 sat at 53.4C) at the 8-minute mark. The sequence lasted through early morning and I rode a jetski to the north-east into the sunrise where thermocouple 2 temps hit a high of 58C.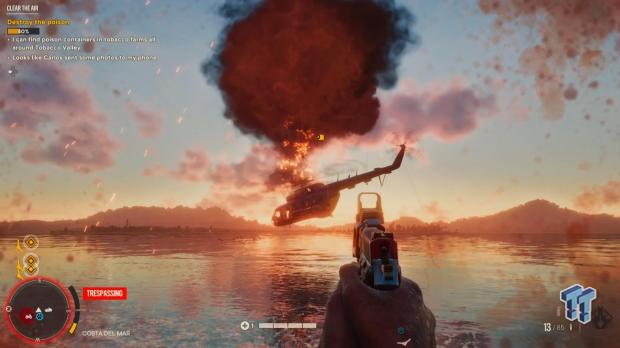 Fourth Reading (60 minutes) - Continued my journey north-east on jet ski to the middle portion of Romero Bay, Costal del Mar. Destroyed multiple poison containers for Carlos Montero, taking on waves of enemies in firefight battles--roughly 20 enemies killed in total, with as many as 5-6 enemies on the screen at once. It was daytime with dynamic weather that went from bright sunny skies to fog and then back to clear weather. Temps hit about 56C at the half-way mark in combat, and then thermocouple 2 temps rose to as high as 58.8C as I explored in the Caverna River to the north-west.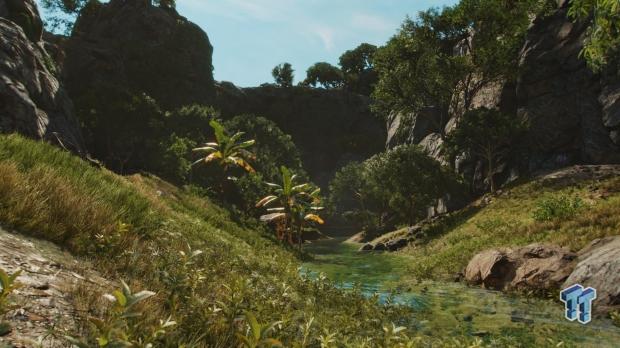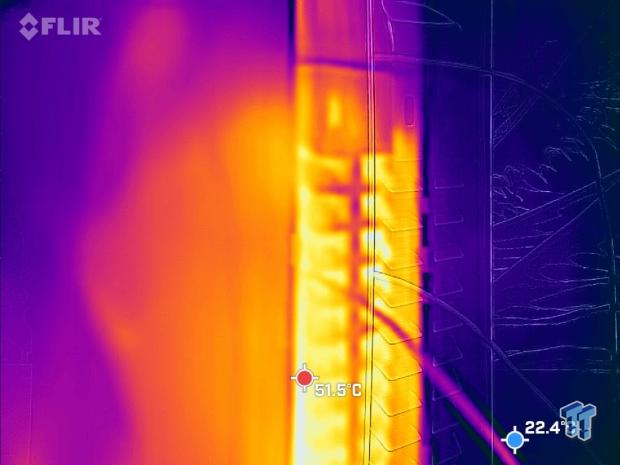 Miles Morales - No Heatsink
4K 30FPS target with raytracing on
PS5 FLIR boot temps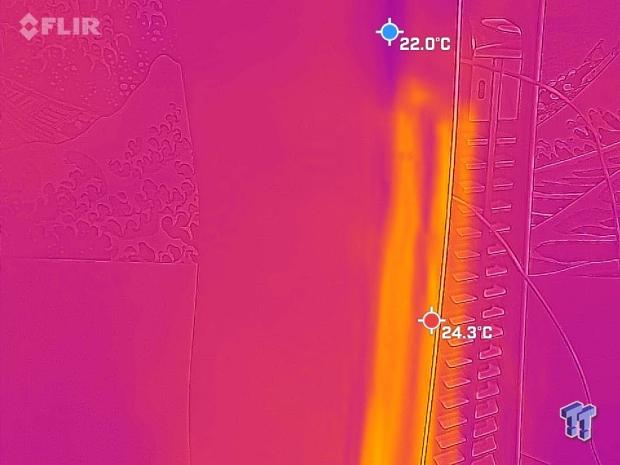 First Reading (15 minutes) - The first test took place during a replay of the Like Real Scientists mission. The sequence starts off in a combat-heavy segment in the Upper West Side, ontop of the Oscorp Science Center. Thermocouple 2 temps, which represent the bottom flash chips on the SSD, steadily rose to 47C within 4 minutes of play, climbing to 53C at 8 minutes of combat. Snow effects increased to heavy weather effects and pushed temps as high as 58.1C during the puzzle segment.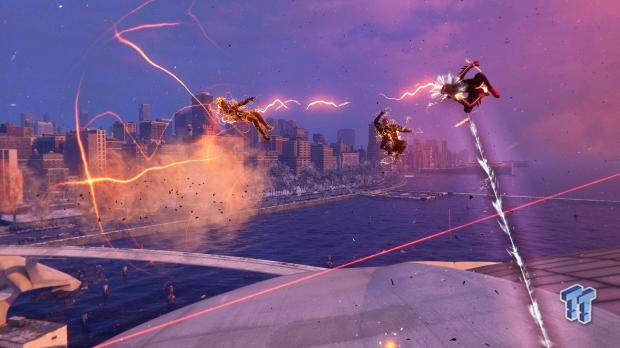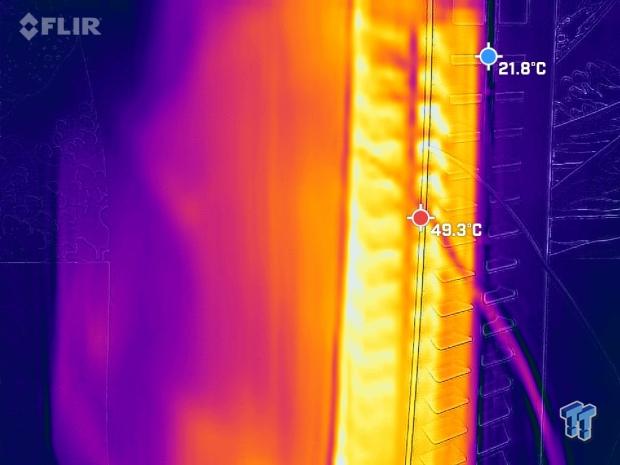 Second Reading (30 minutes) - Continued the Like Real Scientists quest and thermo 2 temps rose to 59.8C during the puzzle sequence. Temps stabilized and dropped to 56C (thermo 2) and 49.1C (thermo 1) respectively during the beginning interior sequences, and dropped significantly down to 51C during the aquarium/museum flashback segment. Fluctuations occurred during this sequence which contained lots or reflective surfaces and RT-based lighting, ranging from 53C (46.5C thermo 1) to as high as 57.3C (48.5C thermo 1) at the 14-minute mark.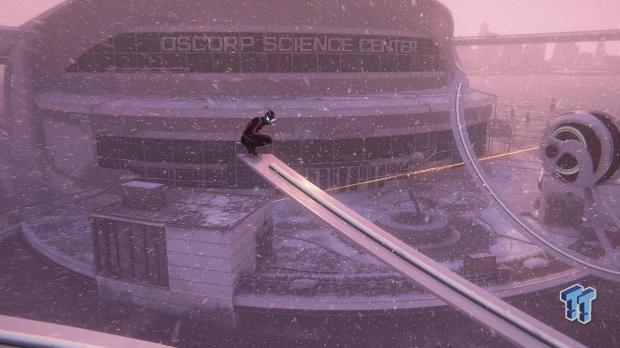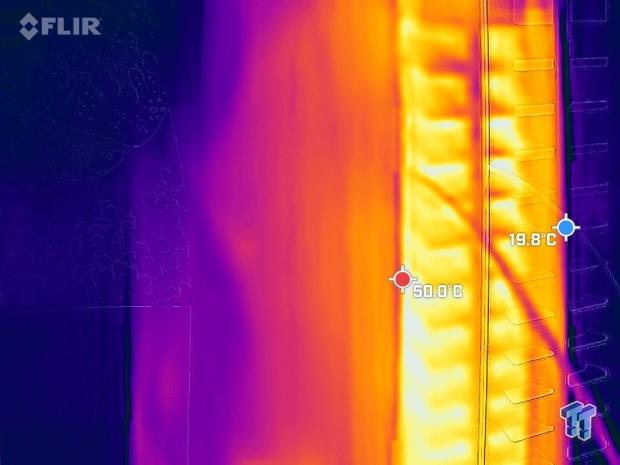 Third Reading (45 minutes) - Finished the quest after a combat sequence in-doors with lots of reflective surfaces. Temps hit 59C (49C) during the battles, which saw roughly 5-8 enemies on the screen at once. It's when I went outside when temps started to heat up and hit their all-time highest point in this series of testing. The game pushes the PS5 temps highest during on-foot traversal at night when there's lots of lighting, reflective surfaces, and NPCs around. Temps hit a high of 63.1C (thermo 2) and 52.2C (thermo 1) respectively as I walked around on foot in the Upper West Side.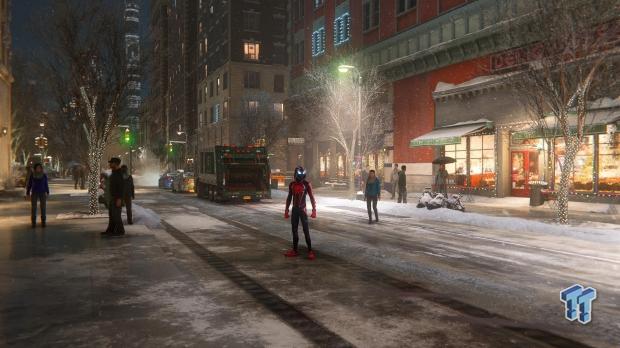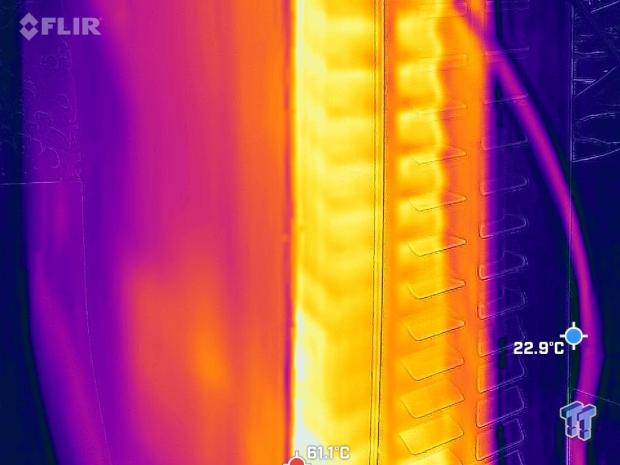 Fourth Reading (60 minutes) - One trend that I noticed was that the game's temps are lower in the air at night time than on foot, likely due to no NPCs and reduced concertation of lighting effects. Temps rose as high as 63.3C (thermo 2) and 53.2C (thermo 1) during a car-chase scene on the ground, and kept at that rate for a good solid 8-9 minutes as I traversed to the Financial District by webslinging near the surface ground level. Once I was in the air and tackling a rogue helicopter mission, temps lowered to about 61.5C and finally petered down to 61.4C / 51.5C during the end sequence.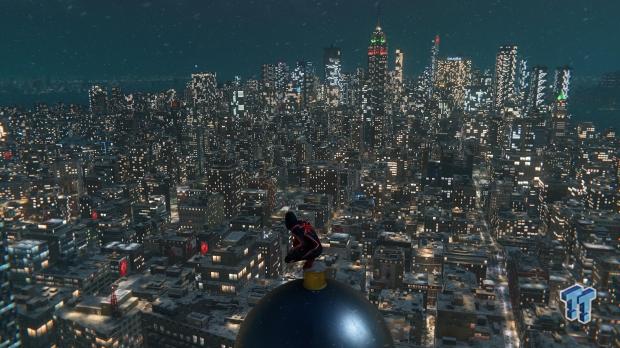 Control Ultimate Edition
4K 30FPS Quality Mode with raytracing
PS5 FLIR boot temps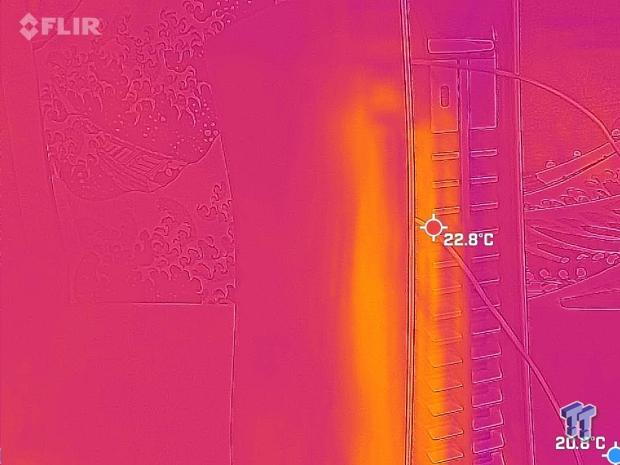 First Reading (15 minutes) - Traversed Parapsychology, no combat but more exploration in areas with gleaming reflections. I found an object of power in the Hypnosis Lab and learned the Seize ability with combat in the Astral Plane, temps hit around 40.5C (thermo 1) and 51.5C (thermo 2) at 11 minute mark, and eventually hit a max of 55.2C after 15 minutes.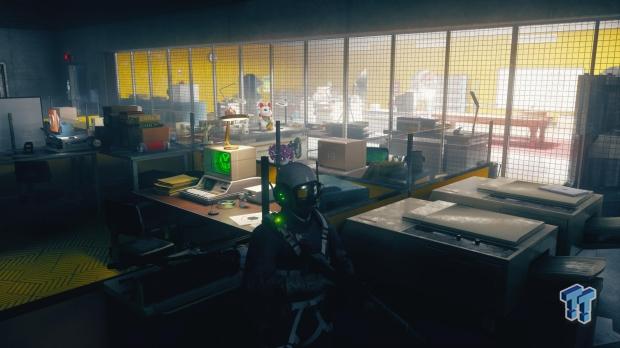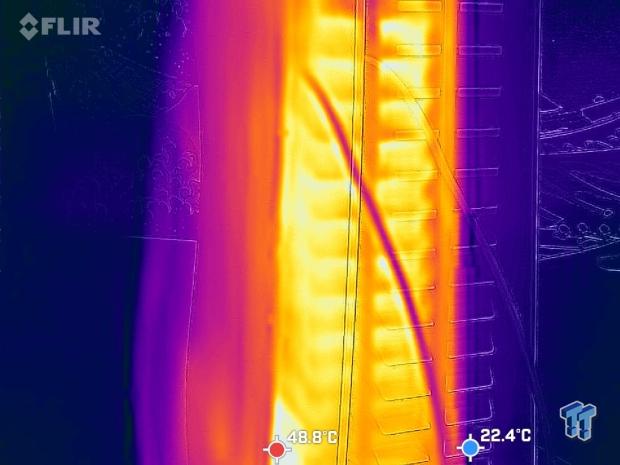 Second Reading (30 minutes) - Temps definitely started to raise here up to 48.3C (thermo 1) and 60C (thermo 2) during more heavy combat in the Ritual Division, fought Chief Lewis boss in a bigger fight sequence. Met Marshall and triggered NPC dialog and temps were a steady 55C on thermo 2 during early physics destruction sequences.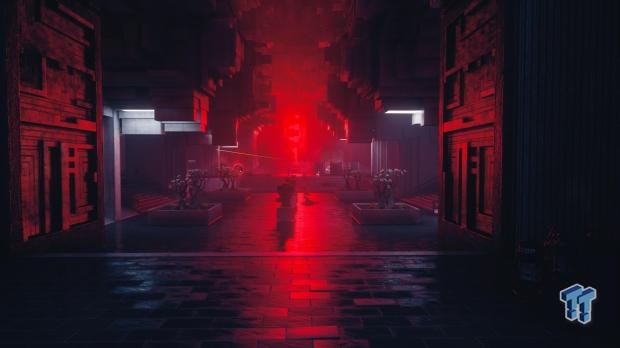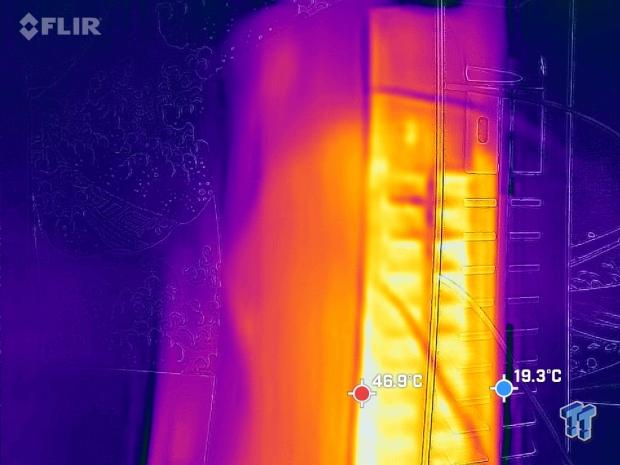 Third Reading (45 minutes) - Traveled through to Protective Studies branch and temps lowered a fair bit to 46.7C (thermo 1) and 56.8C (thermo 2) through most of the segment, but rose as I encountered a higher level of reflective surfaces and solved the HRA Lab puzzle.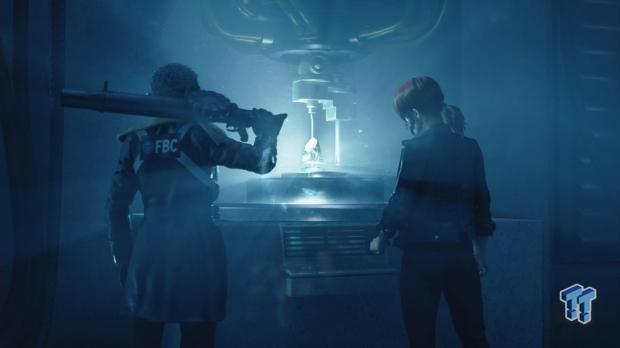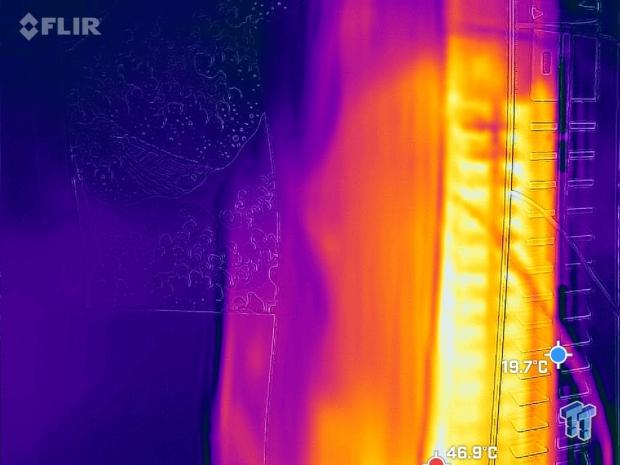 Fourth Reading (60 minutes) - Completed the Old Boy's Club mission and traveled to the Maintenance Sector to search for the Black Rock Processing area. Heavier regions of fog and atmospheric effects. Temps hit about 49.4C (thermo 1) and 61.8C (thermo 2) with light combat and completion of a small puzzle sequence.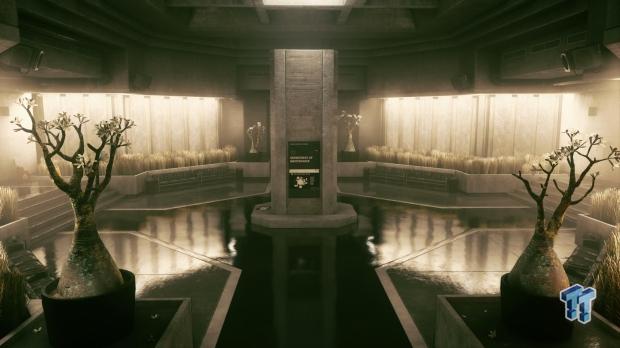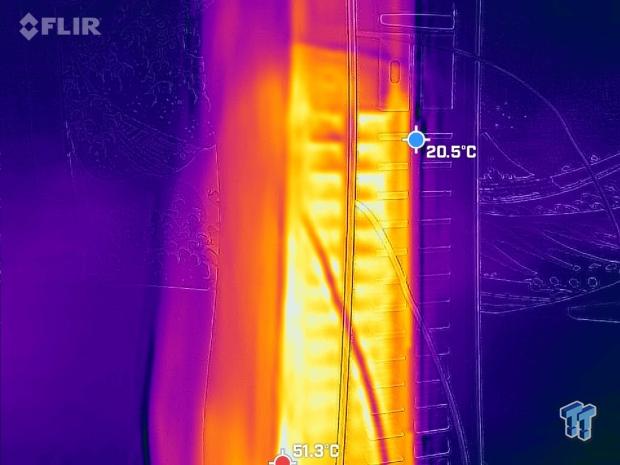 Assassin's Creed Valhalla
4K 60FPS target performance
In this test I have attempted to go to different regions with various environmental effects, biomes, NPC and foliage densities, and various dynamic effects that change in and out of specific sequences like combat raids. The results see temperatures predictably raising during combat, especially in areas with heavier effects like fog, ambient lighting, and other weather.
PS5 FLIR boot temps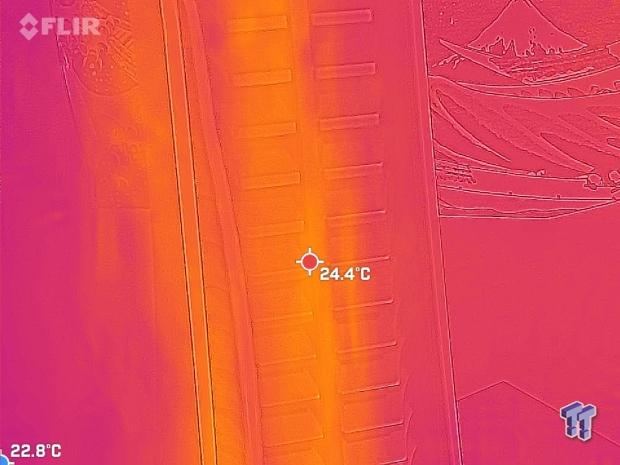 First Reading (15 minutes) - The first reading starts off in Lunden in Southern England. The city proper is shrouded in heavy fog with brilliant sunlight, creating atmospheric effects the game is known for. Temperatures steadily rose in this specific area presumably due to the environmental effects and NPC density--the city is pretty big--with temps hitting about 43.3C (thermo 1) and 55C (thermo 2) at 13 minutes in. Fog and smoke effects intensified and I also fought with nearby guards to push temps to 45.2C (thermo 1) and 57.9C (thermo 2).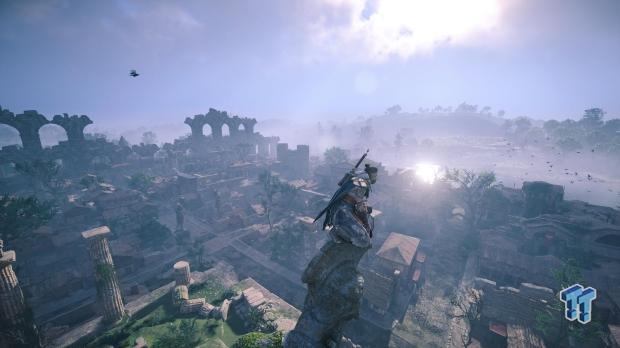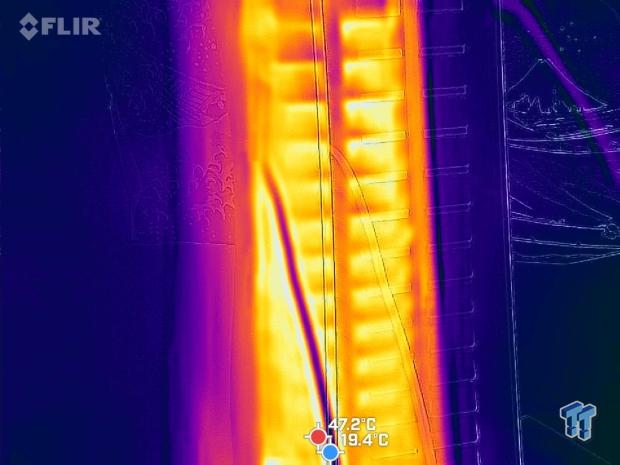 Second Reading (30 minutes) - The second test took me to Vinland, a more alpine region with beautiful rivers, misty mountains, towering pine trees, and glorious gleaming vistas. Vinland is an interesting place because it has various biomes with multiple instances of fog, water reflections, and bright sunlight (it's like a Bob Ross painting). Temps hit about 44.3C (thermo 1) and 54.8C (thermo 2) after 8 minutes of play, and rose as I explored forests with more dense foliage. Temps hit 45.4C and 56.5C in an area with flowing water physics, light rays, wind, and dynamic fog.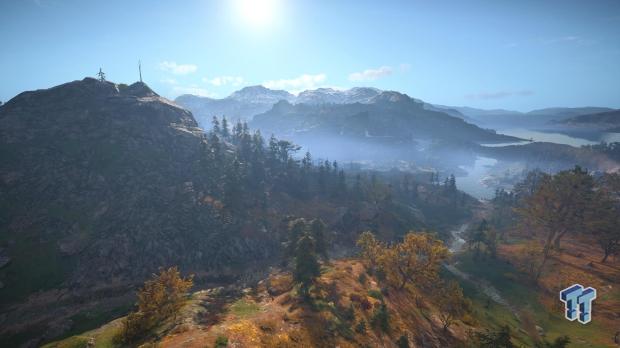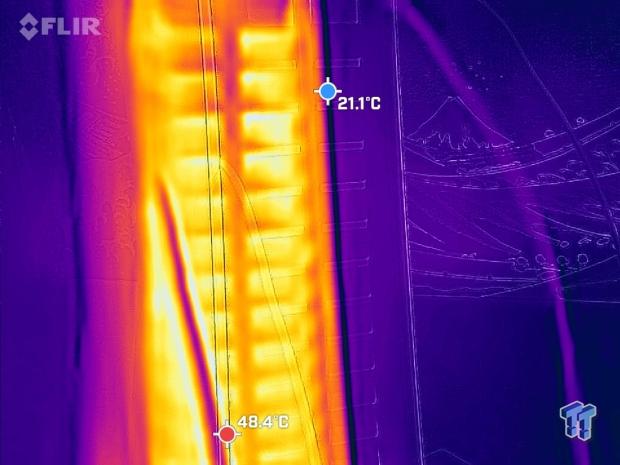 Third Reading (45 minutes) - This time I went to Norway, starting off in Fornburg in Rygafylke and slowly moved northeast to an island area. Norway is a frozen wilderness with ever-flowing snow and water all over the place as well as broad daylight. Temps hit about 44.4C (thermo 1) and 54.9C (thermo 2) within 2 minutes of testing, then rose steadily as I moved further east to the mainland on a longship. Temps hit their second-highest point in the entire 1-hour test with 49.2C (thermo 1) and 63C (thermo 2) during a combat raid on Haervik Village.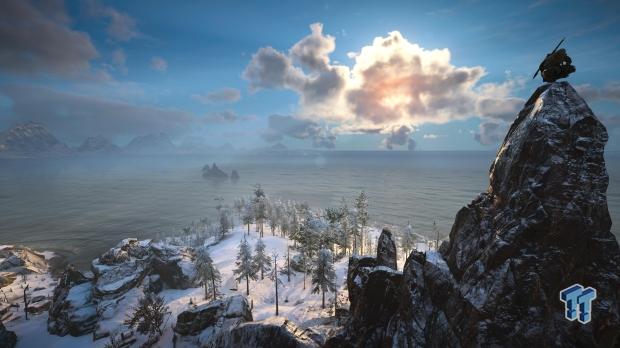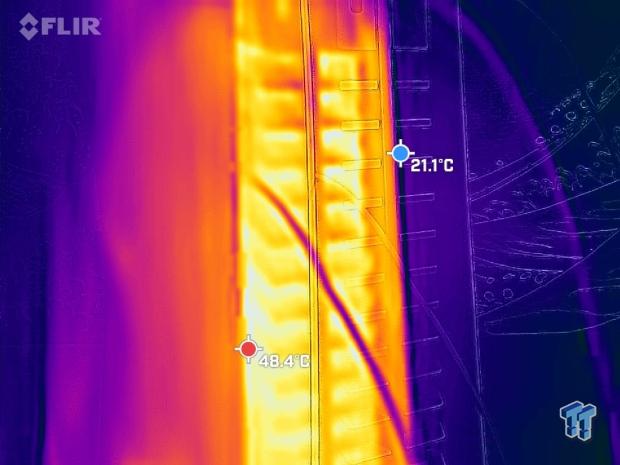 Fourth Reading (60 minutes) - The third and final test took us to the rolling grasslands of Francia during a night-time scene. I traveled to the Pont-d-l'Arche in the northeastern section in the Evresin territory and kicked off a fiery raid. Temps rose to their highest point during the raid with up to 48.4C (thermo 1) and 65.3C (thermo 2) 8 minutes into combat during the raid sequence as fire spread, smoke filled the air, and the moon illuminated the clouds and created lots of shadows across multiple surfaces. Eventually thermals lowered as combat petered down and I focused more on exploration in the city region.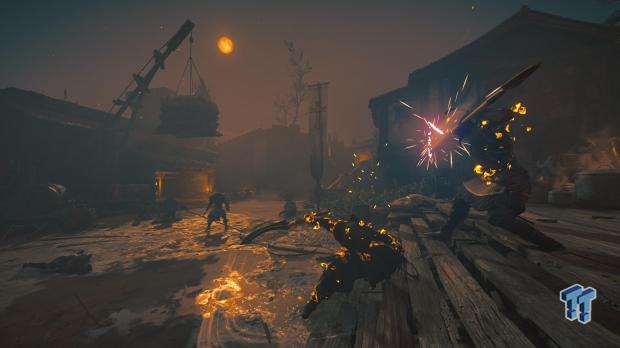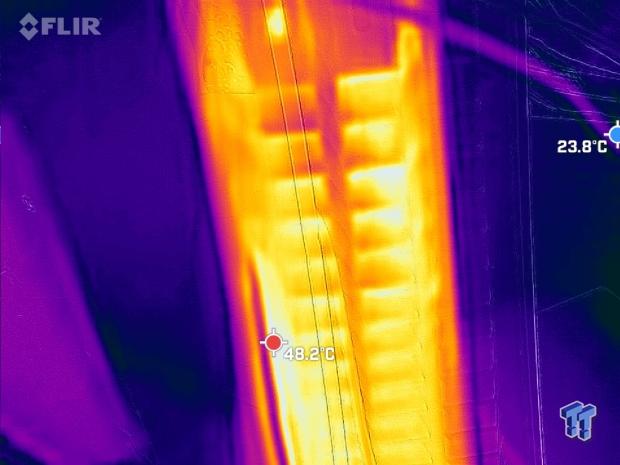 Temperature Tests - Phase 2: No Heatsink Installed Results
Phase 2 Results - No Heatsink Installed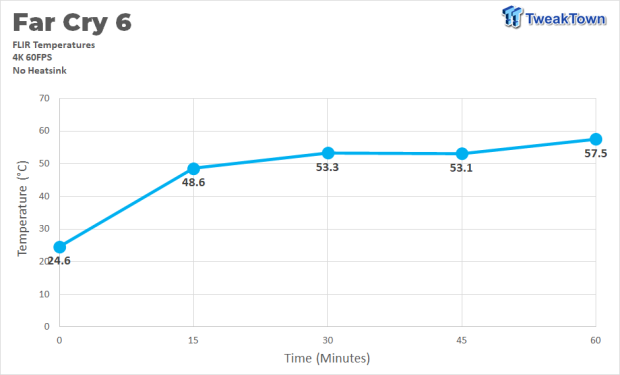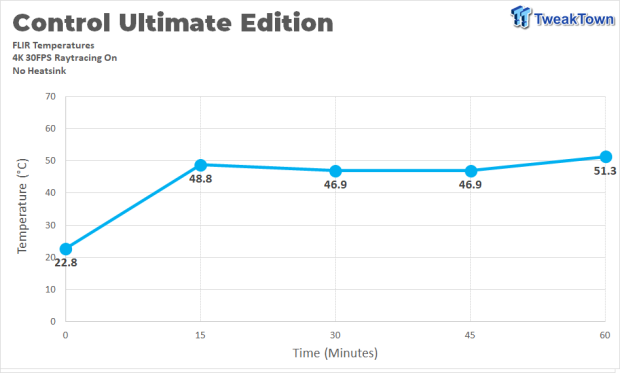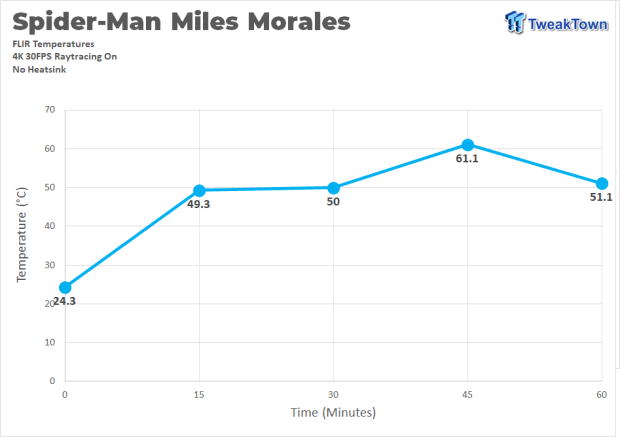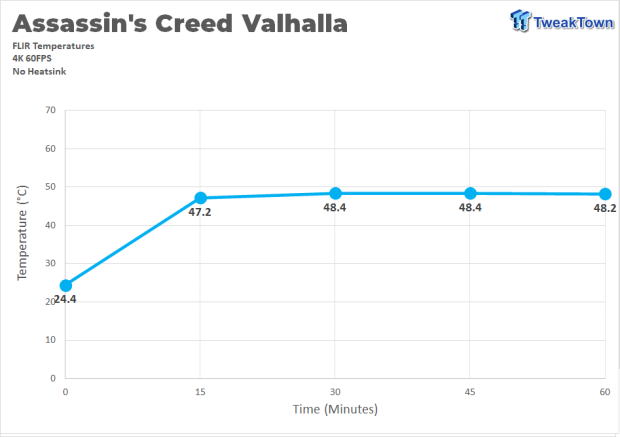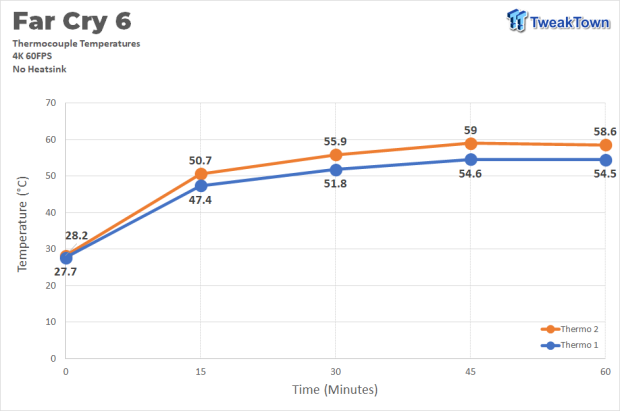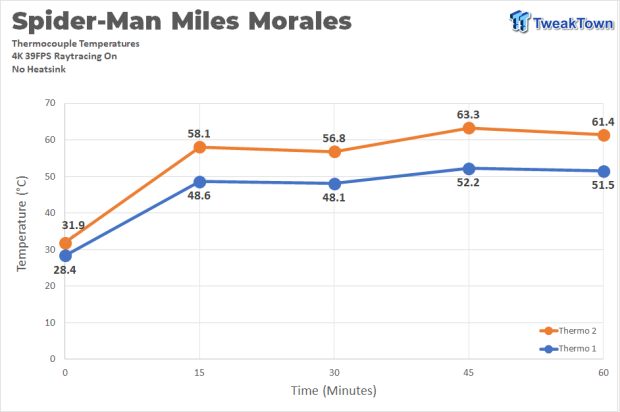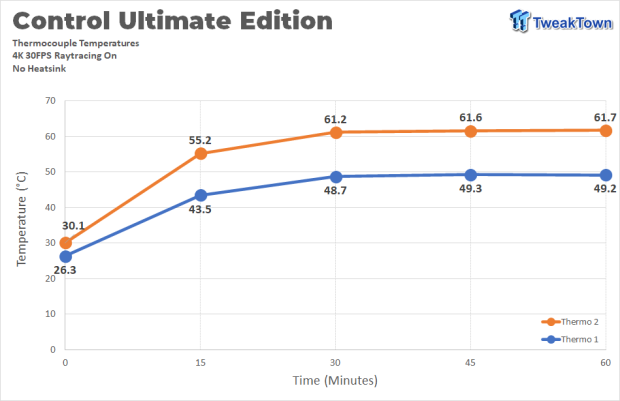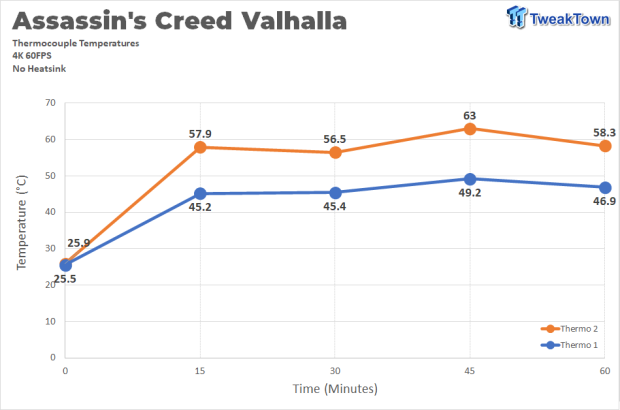 Conclusion & Heatsink vs No Heatsink Comparisons
Our tests conclude that you should definitely have a heat sink installed on any M.2 drive you put into the PlayStation 5. If you don't have a heat sink be sure to leave the expansion bay shield off--this thing really traps the heat in and the PS5 doesn't do an amazing job dissipating it through the screwed-in shield.
Ultimately we found that Sabrent's PS5 SSD heat sink helps reduce internal drive temperatures and is something you should consider picking up if you've spend multiple hundreds of dollars on ultra-fast PCIe 4.0 SSD technology.