Releasing the Beasts - Overclocking the GeForce 8800's
It's time to Release the Beasts - we overclock a couple of GeForce 8800 graphics cards and share our results with you!
Published Wed, Nov 15 2006 11:00 PM CST
|
Updated Tue, Nov 3 2020 7:04 PM CST
Introduction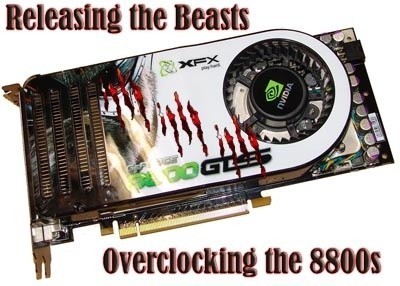 It's clear that the power on offer from the new GeForce 8800GTS and GTX beasts is more than enough for most people, though honestly - who cares? There is nothing wrong with wanting more power and this is where overclocking comes in.
We did have intentions to do a little piece on overclocking in our XFX article but we thought that we would dive into it more. We took some extra time see exactly what we can expect from the GeForce 8800 graphics cards when it comes to overclocking. Since all cards are practically all coming out of the same factory, you would think it's safe to assume that most cards are going to sit quite close together when it comes to overclocking.
The main thing we want to know today; can the 8800 GTS, which sits significantly cheaper, come in and match or even beat GTX performance at stock speeds? And if it does, how much further can the 8800 GTX go to make it worth your while to spend those extra hard earned dollars on it, as opposed to the GTS variant?
In this article we're not going to look at the graphics cards, we've already done that. Instead we will have a quick look at our test system setup and what we got with our overclocks. From there it's straight into the benchmarks as that's all we really need to see here today.
Let's get overclocking!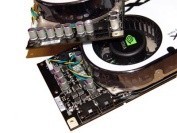 Benchmarks - Test System Setup and 3DMark05
Test System SetupProcessor(s):
Intel Core 2 Duo E6600 @ 3150MHz (350MHz FSB with memory @ 1:1)
Motherboard(s):
ASUS P5B Deluxe (Supplied by
ASUS
)
Memory:
2 X 1GB G.Skill HZ PC8000 @ 350MHz 4-4-4-12 (Supplied by
Bronet
)
Hard Disk(s):
Hitachi 80GB 7200RPM SATA 2
Operating System:
Windows XP Professional SP2
Drivers:
nVidia ForceWare 96.97 (Reviewer Driver) and DX9c
With Coolbits not working on the latest version of the nVidia drivers, it was time to go diving into some other program to use so we could start overclocking our XFX graphics cards.
Surprisingly, the current beta version of ATI Tool worked almost without a hitch. We thought we would be slack and try the auto detect feature but as soon as it went about 4MHz up on the core, it crapped out and we had artifacts everywhere. Using the old manual method - increase the clock speeds, run a 3DMark, rinse and repeat until we crashed something or got artifacts, we got our maximum speed on both the GeForce 8800 GTX and GTS.
At default the 8800 GTS comes in at 500MHz on the core and 1600MHz DDR on the memory. The core increased to a truly outstanding 643MHz (143MHz increase or about 22%) and the memory got a significant boost up to 1824MHz DDR (224MHz DDR increase or about 12%).
The 8800 GTX comes in at 575MHz on the core and 1800MHz DDR on the memory. We got that to 654MHz (79MHz increase or about 12%) which is just above what we got out of the GTS and the memory had no problems breaking the 2GHz DDR marking coming in at 2020MHz DDR (220MHz DDR increase or about 11%).
3DMark05Version and / or Patch Used:
Build 120
Developer Homepage:
http://www.futuremark.com
Product Homepage:
http://www.futuremark.com/products/3dmark05/
Buy It Here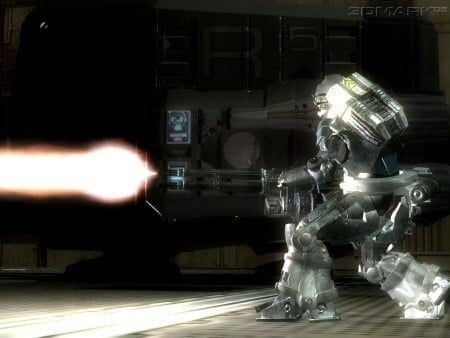 3DMark05 is now the second latest version in the popular 3DMark "Gamers Benchmark" series. It includes a complete set of DX9 benchmarks which tests Shader Model 2.0 and above.
For more information on the 3DMark05 benchmark, we recommend you read our preview
here
.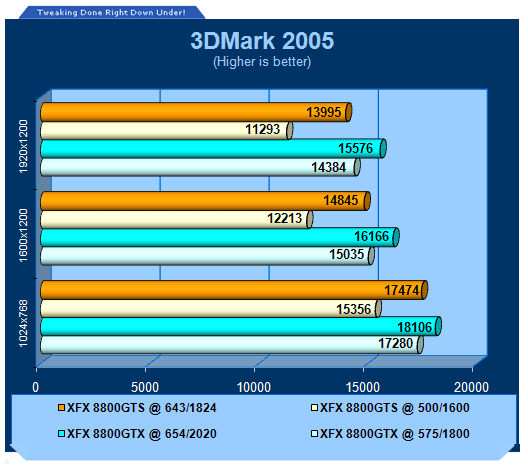 We can see in our first benchmark the massive overclocking on the GTS brings it to similar performance of the standard clocked GTX.
The GTX overclock wasn't as significant as what the GTS offered, so while we do see an increase, it isn't nearly as big as to what is on offer from the GTS which makes it even more impressive considering the price difference between the two cards.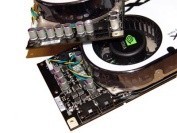 Benchmarks - 3DMark06
3DMark06Version and / or Patch Used:
Build 102
Developer Homepage:
http://www.futuremark.com
Product Homepage:
http://www.futuremark.com/products/3dmark06/
Buy It Here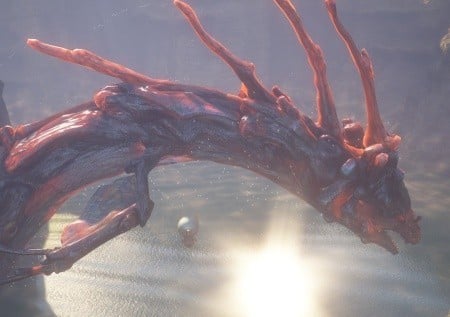 3DMark06 is the very latest version of the "Gamers Benchmark" from FutureMark. The newest version of 3DMark expands on the tests in 3DMark05 by adding graphical effects using Shader Model 3.0 and HDR (High Dynamic Range lighting) which will push even the best DX9 graphics cards to the extremes.
3DMark06 also focuses on not just the GPU but the CPU using the AGEIA PhysX software physics library to effectively test single and Dual Core processors.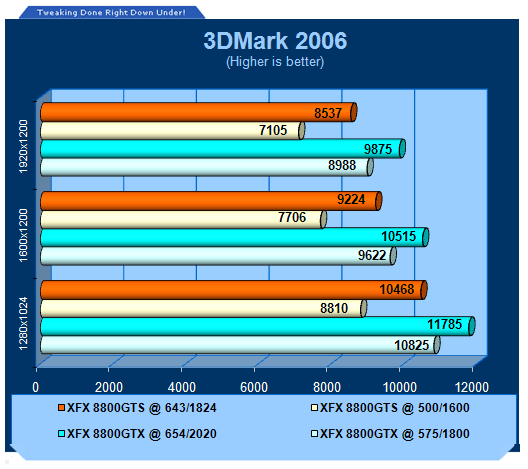 The more intensive 3DMark06 also sees the significant overclock stand out for the GTS. While it does come close to the GTX, when we overclock the most expensive card, we see another nice boost in performance for the top dog.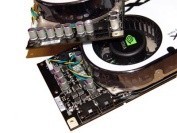 Benchmarks - Half Life 2 (Lost Coast)
Half Life 2 (Lost Coast)Version and / or Patch Used:
Unpatched
Timedemo or Level Used:
Custom Timedemo
Developer Homepage:
http://www.valvesoftware.com
Product Homepage:
http://www.half-life2.com
Buy It Here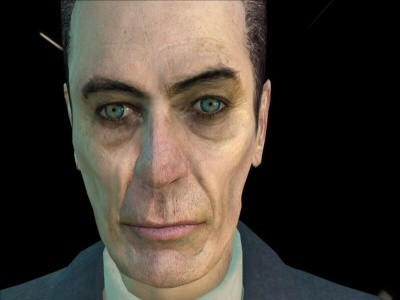 By taking the suspense, challenge and visceral charge of the original, and adding startling new realism, responsiveness and new HDR technology, Half-Life 2 Lost Coast opens the door to a world where the player's presence affects everything around him, from the physical environment to the behaviors even the emotions of both friends and enemies.
We benchmark Half Life 2 Lost Coast with our own custom timedemos as to avoid possible driver optimizations using the "record demo_name" command and loading the timedemo with the "timedemo demo_name" command - For a full list of the commands,
click here
.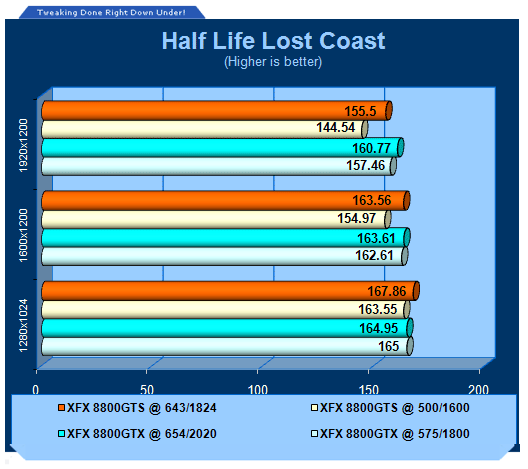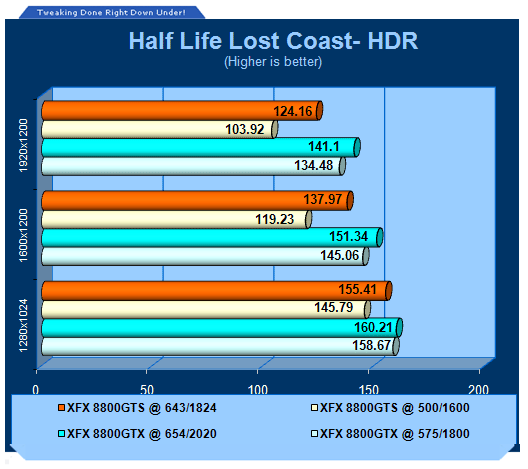 We can see in our non-HDR tests that the GTS wasn't quite hitting the CPU wall but when we overclocked, it was sitting up with the GTX.
We can also see the overclocked GTX has no performance gains at all here. As soon as we turn on HDR though and start moving up the resolutions again, we can see the difference a lot easier with the overclocked GTS just trailing behind a stock clocked GTX.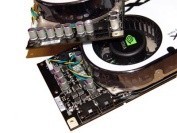 Benchmarks - PREY
PREYVersion and / or Patch Used:
Unpatched
Timedemo or Level Used:
HardwareOC Custom Benchmark
Developer Homepage:
http://www.humanhead.com
Product Homepage:
http://www.prey.com
Buy It Here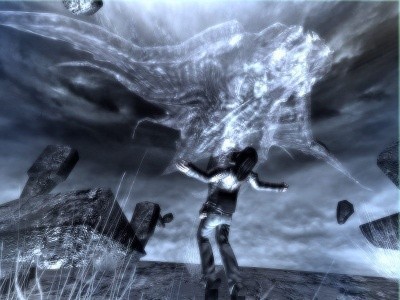 PREY is one of the newest games to be added to our benchmark line-up. It is based off the Doom 3 engine and offers stunning graphics passing what we've seen in Quake 4 and does put quite a lot of strain on our test systems.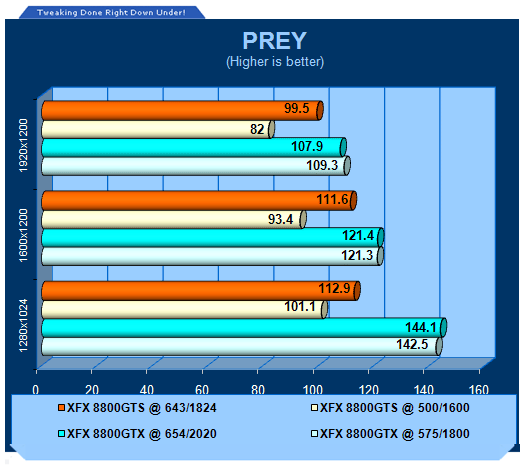 The GTX saw no gains when it came to overclocking though the GTS on the other hand rocks along and gets some very nice gains across the board.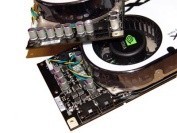 Benchmarks - F.E.A.R.
F.E.A.R.Version and / or Patch Used:
Unpatched
Timedemo or Level Used:
Built-in Test
Developer Homepage:
http://www.vugames.com
Product Homepage:
http://www.whatisfear.com/us/
Buy It Here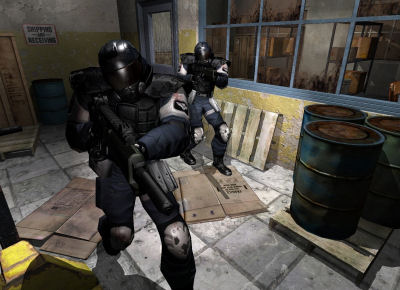 F.E.A.R. (First Encounter Assault Recon) is an intense combat experience with rich atmosphere and a deeply intense paranormal storyline presented entirely in first person. Be the hero in your own spine-tingling epic of action, tension, and terror...and discover the true meaning of F.E.A.R.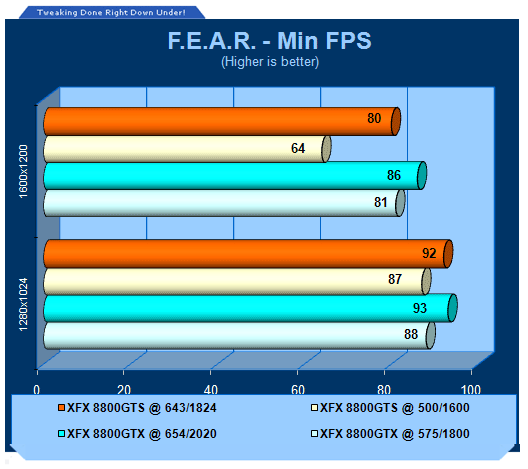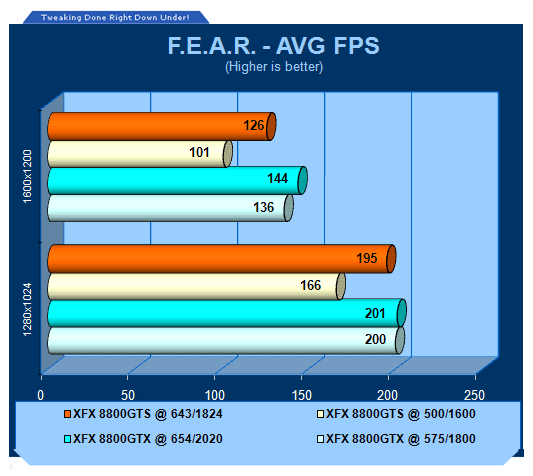 We see gains in the minimum on both cards but when we move to the average the GTX doesn't move much from 1280 x 1024. It's only at the higher resolutions we really see a difference.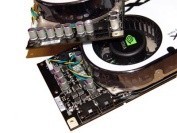 Benchmarks - Quake 4
Quake 4Version and / or Patch Used:
1.2
Timedemo or Level Used:
HardwareOC Custom Benchmark
Developer Homepage:
http://www.idsoftware.com
Product Homepage:
http://www.quake4game.com
Buy It Here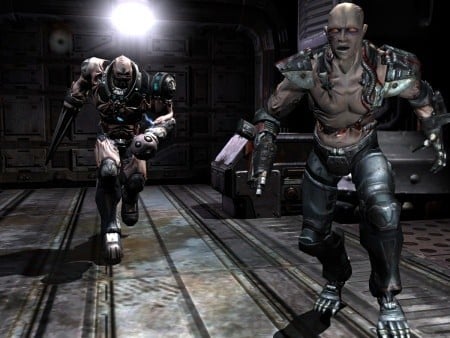 Quake 4 is one of the latest new games to be added to our benchmark suite. It is based off the popular Doom 3 engine and as a result uses many of the features seen in Doom. However, Quake 4 graphics are more intensive than Doom 3 and should put more strain on different parts of the system.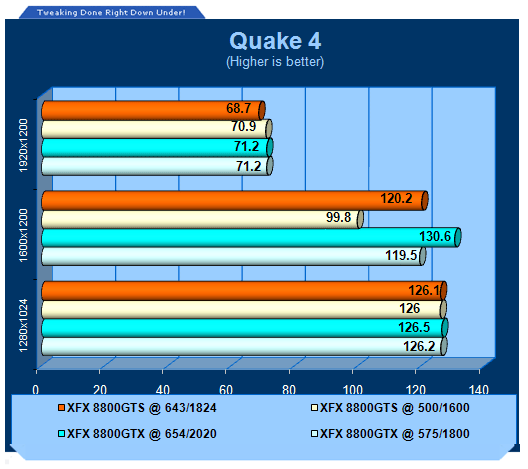 For some reason apart from 1600 x 1200 the overclock really didn't affect both cards. Both saw a significant increase at 1600 x 1200 but at 1280 and 1920, we see that the cards score almost identical.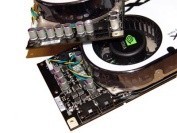 Benchmarks - Company of Heroes
Company of HeroesVersion and / or Patch Used:
Demo
Timedemo or Level Used:
Built-in Test
Developer Homepage:
http://www.relic.com
Product Homepage:
http://www.companyofheroesgame.com
Buy It Here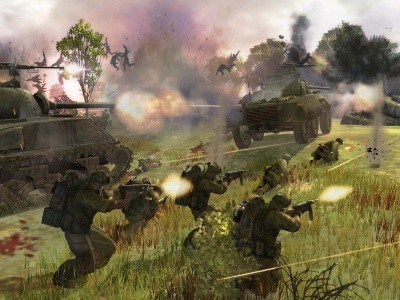 Company of Heroes, or COH as we're calling it, is one of the latest World War II games to be released and also one of the newest in our lineup of benchmarks. It is a super realistic real-time strategy (RTS) with plenty of cinematic detail and great effects. Because of its detail, it will help stress out even the most impressive computer systems with the best graphics cards - especially when you turn up all the detail. We use the built-in test to measure the frame rates.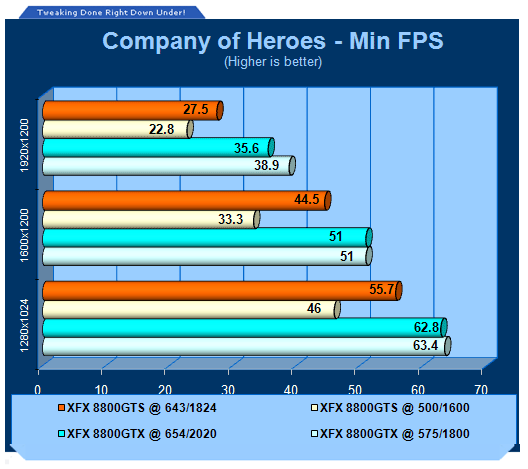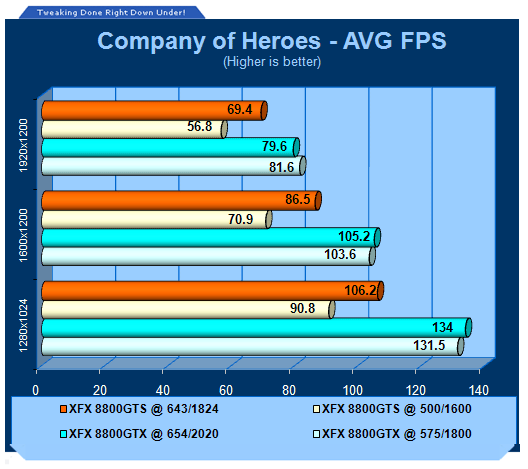 The overclock for the GTX doesn't see too much happening in COH though the GTS shows significant gains across the board especially when it comes to the minimum FPS, which is clearly the most important.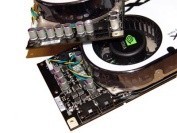 Benchmarks - High Quality AA and AF
High Quality AA and AF
Our high quality tests let us separate the men from the boys and the ladies from the girls. If the cards weren't struggling before they will start to now. ATI and the GeForce 8800 series are able to offer HDR and AA at the same time unlike older nVidia cards.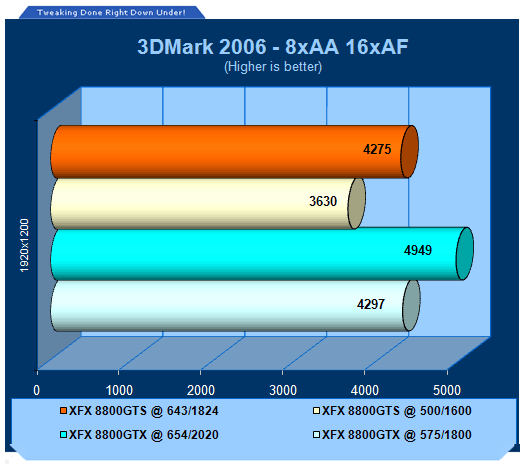 When we start to increase the detail, we see a similar picture with 3DMark06 - the overclocked GTS is just trailing a stock clocked GTX and the overclocked GTX is still consistently ahead.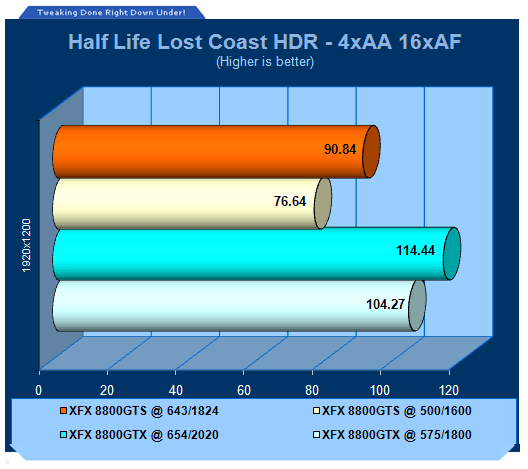 In Lost Coast when we aren't seeing a CPU limitation, we can see that it is able to make use of the new found performance from both cards.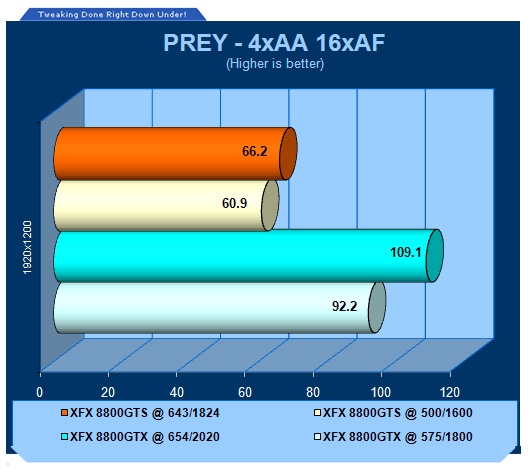 While PREY only saw gains at 1280 x 1024 with regular quality settings, when we turn on AA and AF, we can see at 1920 x 1200 both cards offer a good increase in performance.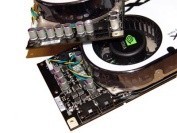 Final Thoughts
GeForce 8800 GTS offers an absolutely huge overclock thanks to how generous nVidia and its partners have been with the core. Generally speaking, the overclock brings it pretty close to the performance of a stock clocked GeForce 8800 GTX. With that said though, the GTX doesn't have any problems with overclocking either giving it the ability to go up and beyond what it was doing at default.
If you were thinking about getting a GTX and have thought, "
Oh maybe I will get a GTS instead, due to the overclock on offer...
", if you can afford the GTX, we would recommend that you continue with that and purchase it because it will be nice to have this kind of performance without having to overclock your graphics card.
One of the biggest things that you have to take note of is the frame rates you're getting with these overclocked cards. A GTX at default speeds with AA, AF and HDR on when running at 1920 x 1200 is getting an average of 104 FPS and when overclocked 114FPS. Is it worth the mucking around for an extra 10FPS? Yes, it is roughly 10% faster but you're honestly not going to see a real-world difference in game and all you're doing is increasing the amount of work your GPU is doing. Heck, you could probably even underclock the GTX if you wanted... but that's just silly.
You have to understand our point though - move away from 3DMark and move away from the FPS difference being 150FPS average and 175FPS average and think, is it really worth even contemplating overclocking your graphics card? It's pretty safe you will come to the assumption that it's not but others will want to overclock anyway.
Yes, overclocking can be done with ease and you do get a nice speed bump on the GTS - though honestly, you have to decide if it's even worth it. If GTS is
all
you can afford and you want to bump the AA up another level but it runs a little too slow, then do some overclocking. Although, unless you're gaming at levels of 1920 x 1200 and above, stock performance is clearly going to be enough for the time being it on the majority of the latest games.
Let's wait for some new games to be released, such as Crysis or UT2007, and then you'll probably want to overclock as far as you can as these games will be able to stress out the GPU more than the current batch of games.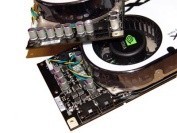 PRICING: You can find products similar to this one for sale below.

United States: Find other tech and computer products like this over at Amazon.com

United Kingdom: Find other tech and computer products like this over at Amazon.co.uk

Australia: Find other tech and computer products like this over at Amazon.com.au

Canada: Find other tech and computer products like this over at Amazon.ca

Deutschland: Finde andere Technik- und Computerprodukte wie dieses auf Amazon.de