Introduction
ASUS teased its new flagship ROG Strix XG43UQ gaming monitor earlier this year, with the big push behind it being that it was the world's first HDMI 2.1 gaming monitor.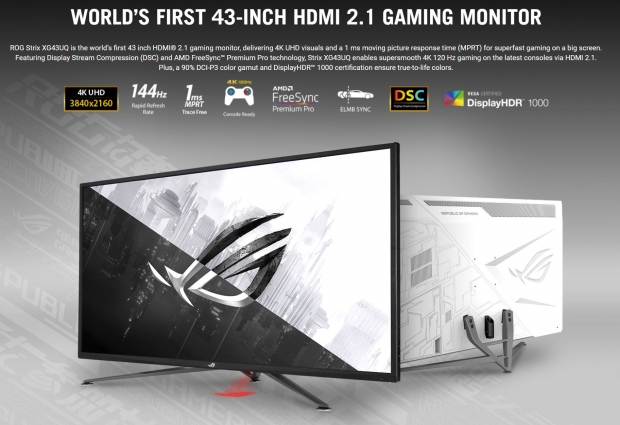 Well, now I have one of the very first panels off the production line and have been sitting in front of it for the last few days working countless hours and gaming away on it. I have a more detailed review coming in the next couple of weeks once I put some serious time into it, but for now I've got a first impressions article for you.
I've been using the ASUS ROG Strix XG43UQ gaming monitor for a few days now and I can safely say it's one of the best gaming monitors of 2021. The only thing better than the ROG Strix XG43UQ would be an LG OLED 4K 120Hz TV, but they're more expensive and some people don't want that oh-so-much larger 48-inch panel.
The ASUS ROG Strix XG43UQ gaming monitor has a large, but not too-large 43-inch 4K panel with up to 144Hz refresh rate if you're on the PC and using the DisplayPort 1.4 connector. ASUS is the first to market with an explosive gaming monitor packing HDMI 2.1 connectivity, which will drive up to 4K 120Hz.
For the purposes of using this monitor for this First Impressions article, and in a couple of weeks my full review, I'm using the most powerful GPU that I have: NVIDIA's GeForce RTX 3090. I will be using NVIDIA's new GeForce RTX 3080 Ti for the review part of the ASUS ROG Strix XG43UQ gaming monitor as I think that will be a graphics card people will buy for the 4K 120-144FPS side of things, versus the RTX 3090.
ASUS ROG Strix XG43UQ Overview
ASUS right out of the gate lets you know that the new ROG Strix XG43UQ has HDMI 2.1 connectivity, as that is the main focus of this monitor. HDMI 2.1 enables 4K 120Hz over HDMI if you've got one of the latest Ampere-based GeForce RTX 30 series or RDNA 2-based Radeon RX 6000 series graphics cards.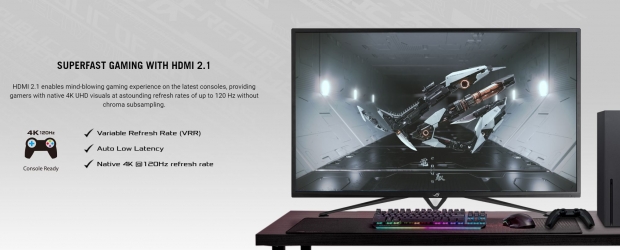 You've been able to do 4K 120Hz and even 4K 144Hz (through DSC, or Display Stream Compression) for a while now. The ability of 4K 120Hz over HDMI 2.1 is cool and all, but it's nothing new for PC gamers apart from being able to do that res + refresh rate over HDMI.
ASUS has proudly pushed HDMI 2.1 on the ROG Strix XG43UQ because of the next-gen Sony PlayStation 5 and Microsoft Xbox Series X/S consoles, as they support up to 4K 120FPS -- and more specifically 120FPS gaming.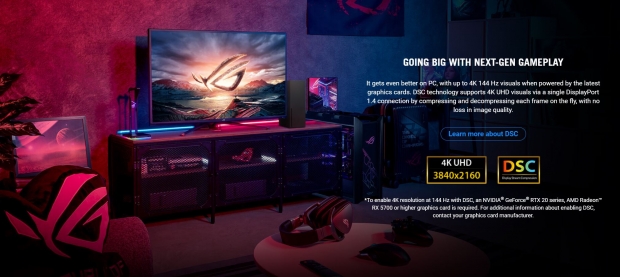 But if you're on the PC and want the very best, you can use the DisplayPort 1.4 connector and crank up that 4K resolution and join it with 144FPS... up from the 120FPS on the HDMI 2.1 connector.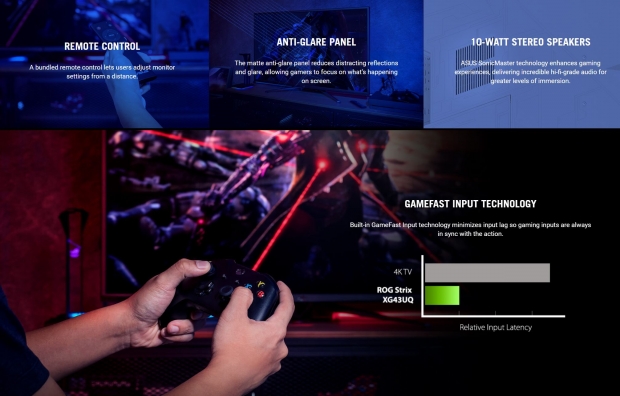 ASUS really does include a great combination of technology, features, and function into the ROG Strix XG43UQ. We have an included remote control which is super useful, and makes the monitor feel like a TV -- while the 10W stereo speakers do a great job at providing audio good enough for YouTube videos, Netflix streaming, and casual gaming.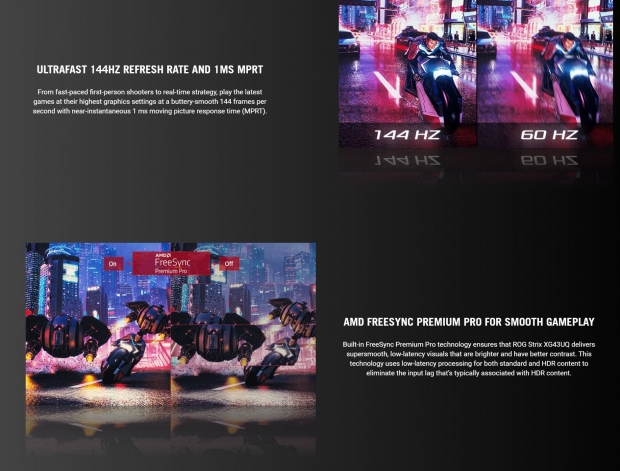 The super-fast 144Hz refresh rate has been fantastic for me so far, with a chunk of my time spent gaming on the ASUS ROG Strix XG43UQ gaming monitor inside of Call of Duty: Warzone at 4K 144Hz and it has been absolutely glorious.
If you've got the PC hardware horsepower, you won't be able to game on anything else once you're playing on the ROG Strix XG43UQ. There's also AMD FreeSync Premium Pro here, too.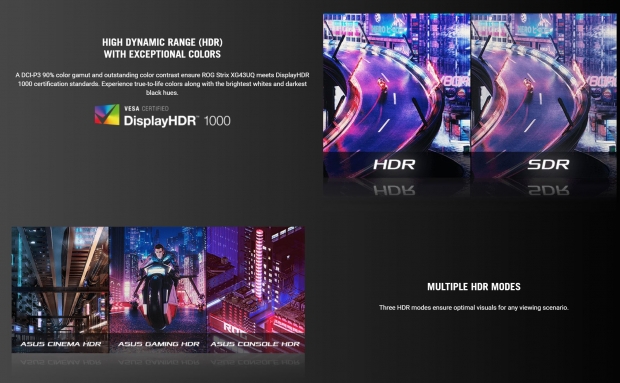 ASUS meets the VESA DisplayHDR 1000 standard with its ROG Strix XG43UQ, offering fantastic colors, HDR modes, and brightness. There's DCI-P3 90% color gamut and color contrast on the monitor, so your eyeballs will definitely be loving it.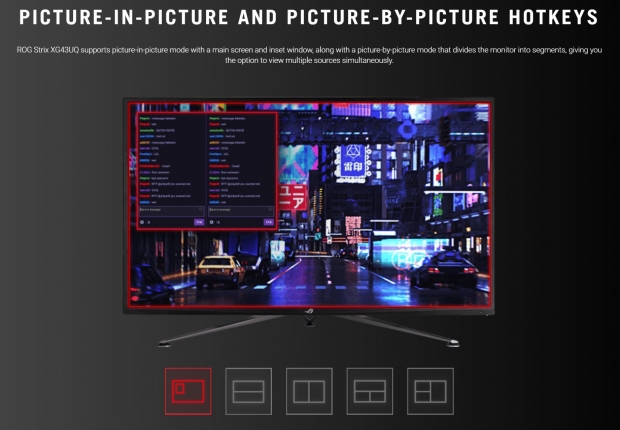 If you're someone who uses picture-in-picture mode, then ASUS includes that for you.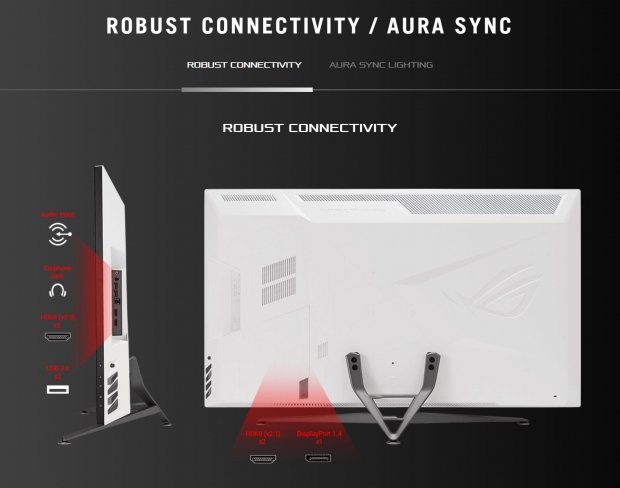 Meanwhile, connectivity is great -- we have 2 x HDMI 2.1 connectors, 1 x DisplayPort 1.4 connector, 2 x HDMI 2.0 connectors, 2 x USB 3.0 ports, as well as audio input and a 3.5mm headphone jack. You're not missing out on I/O connectivity on the ASUS ROG Strix XG43UQ gaming monitor, that's for sure.
Test System Specs
Latest upgrade: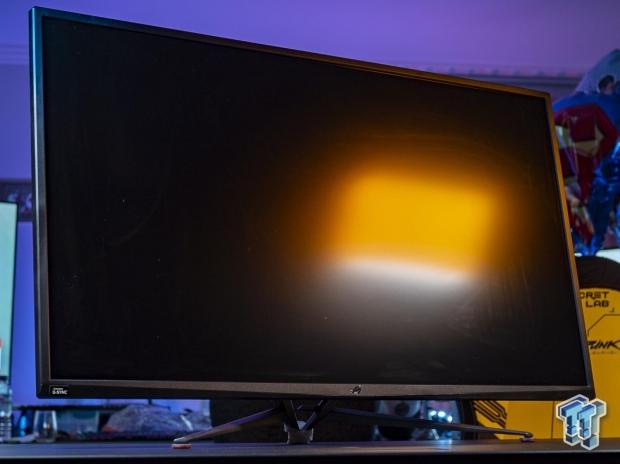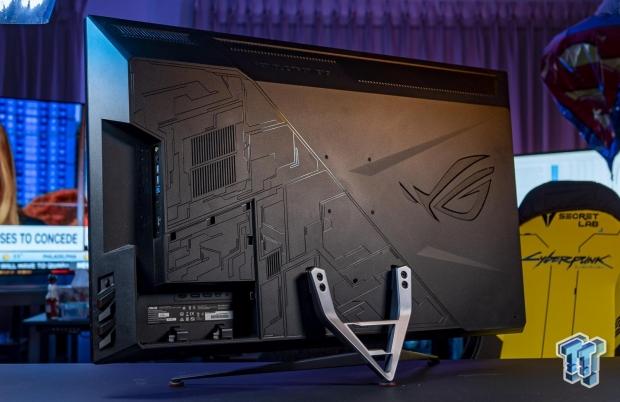 ASUS provided a rather large upgrade to my GPU testing lab -- or rather, I kept the ASUS ROG Swift PG43UQ gaming monitor after my review on it. The 43-inch 4K 144Hz panel is just glorious to look at -- it's huge, the DPI for Windows 10 when set perfect for your viewing distance is kiss-fingers-emoji good. It's just amazing -- for work, and gaming.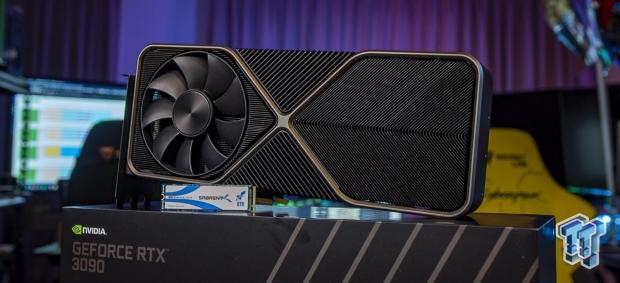 Sabrent sent over their huge Rocket Q 8TB NVMe PCIe M.2 2280 SSD, which will be my new Games install SSD inside of my main test bed.
I'll be making some changes over the coming months to the GPU test bed here for TweakTown, to both the Ryzen 9 5900X and then Intel's new Core i9-11900K to do some proper PCIe 4.0 testing between the chipsets for GPUs + super-fast load times into games on these new super-fast Sabrent SSDs.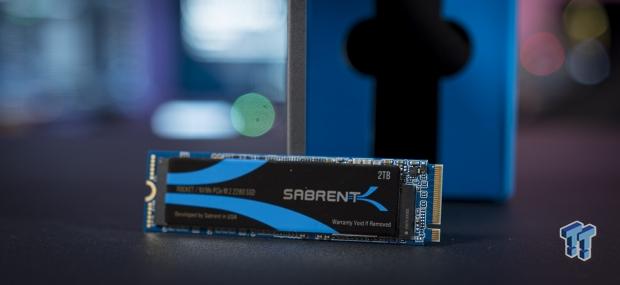 Sabrent helped out with some new storage for my GPU test beds, sending over a slew of crazy-fast Rocket NVMe PCIe M.2 2280 SSDs. I've got this installed into my GPU test bed as the new Games Storage drive, since games are so damn big now. Thanks to Sabrent, I've got 2TB of super-fast M.2 PCIe 3.0 x4 SSD storage now.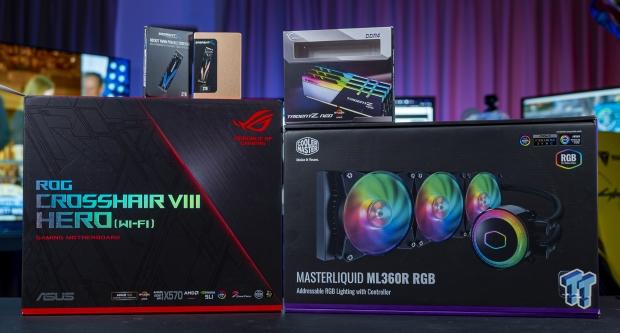 Anthony's GPU Test System Specifications
I've recently upgraded my GPU test bed -- at least for now, until AMD's new Ryzen 9 5950X processor is unleashed then the final update for 2020 will happen and we'll be all good for RDNA 2 and future Ampere GPU releases. You can read my article here: TweakTown GPU Test Bed Upgrade for 2021, But Then Zen 3 Was Announced.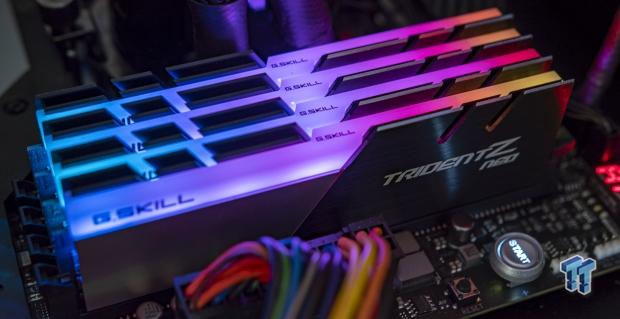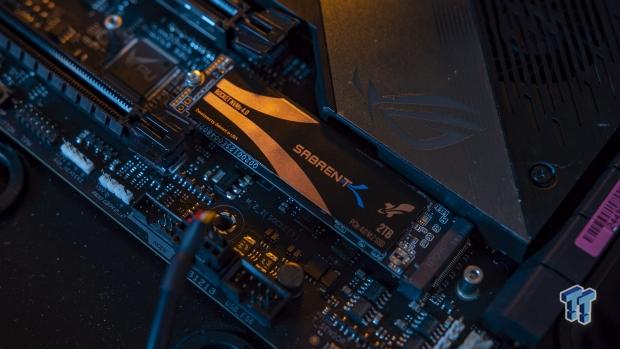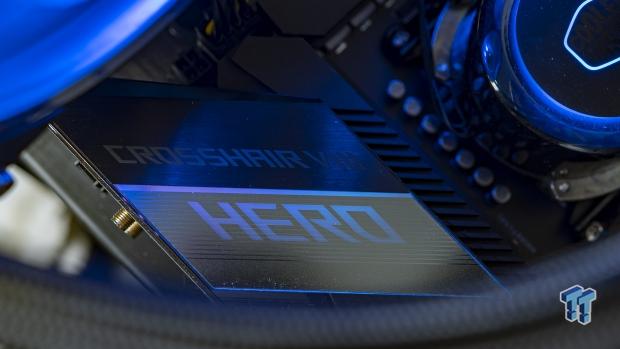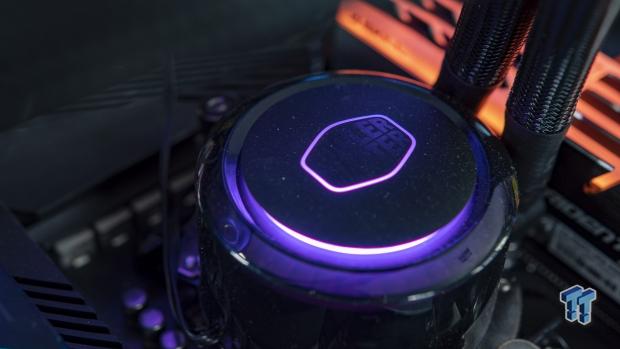 Setup & Initial Impressions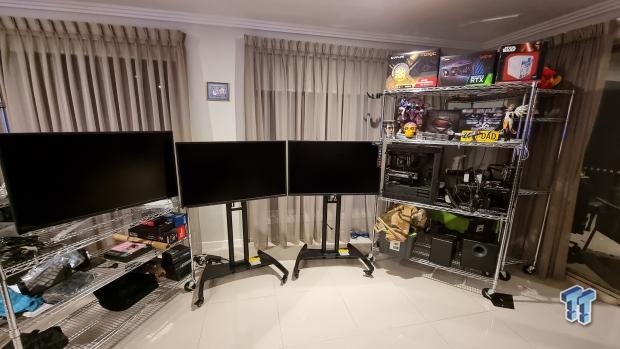 I'm now close to 4-5 days of full use of the ASUS ROG Strix XG43UQ gaming monitor, with a good mix of workstation and gaming use. I spent a good 30-40 hours working with the monitor, doing my day-to-day news duties on TweakTown as well as another 20-30 hours of Call of Duty: Warzone and a dabble in Days Gone.
It's funny... I started the review wave of the large 43-inch ASUS gaming monitors with the ROG Swift PG43UQ using the title "ASUS ROG Strix XG438Q Review: It's So Good, ASUS Will Hate This Review". Normally ASUS want their products back from me once I'm finished with the review, but it's not like I wouldn't send it back, I couldn't send it back.
So I guess I'll say it now: I'm sorry, ASUS... but the ROG Strix XG43UQ isn't coming back either. I know I'm going to have them say "oh but Anthony we only have one review sample for Australia" but that doesn't matter. I'm telling you -- our audience, fans of ASUS and TweakTown, that for you -- our beloved readers, that I will not send it back.
I'll do that for you.
But seriously, the ASUS ROG Strix XG43UQ gaming monitor is easily one of the best monitors of 2021 so far, and I don't think things can get better apart from using an OLED or Mini-LED panel. That would cost more as well, so that's another win for the ASUS ROG Strix XG43UQ.

The large 43-inch panel is too big for using on your desk, at least IMO, so I use a mobile TV stand. It's on wheels and it's pretty awesome. I actually have 3 of them side-by-side with all 3 of the 43-inch ASUS ROG gaming monitors and I have them sitting at around 1.5 arms lengths away from me.
The new ASUS ROG Strix XG43UQ gaming monitor is just awesome.
Amazing So Far, Full Review Soon
Right out of the box you'll see the striking white design that ASUS has chosen to dip the ROG Strix XG43UQ into... and that's something I didn't quite expect, but loved to see. It's a pity that it won't be seen as the white is on the back of the monitor, while the front of the monitor is black -- so don't worry, you won't be staring at a white border all day (and night) long.
I've got it plugged into a GeForce RTX 3090 graphics card, using the HDMI 2.1 connector for now just for testing purposes, and it has been flawless. From setup to using it for 30-40 hours for work and 20-30 hours of Warzone it has been fantastic.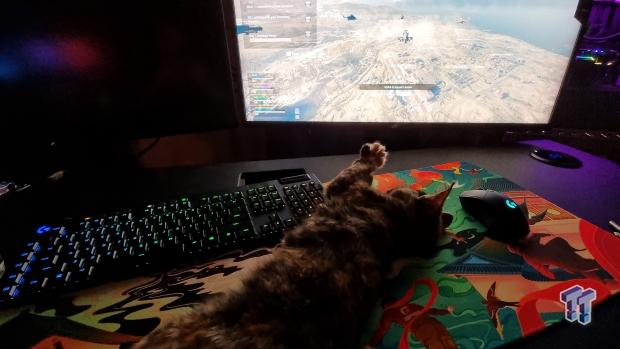 It's huge, it's bright, it's beautiful, it's hyper-smooth @ 120-144FPS if you can drive 4K @ 120-144FPS that is... but if you can, then the ASUS ROG Strix XG43UQ gaming monitor will blow your mind.
Call of Duty: Warzone running at 4K with NVIDIA DLSS 2.0 set to Performance (the best setting for 4K) with the graphics settings mostly on Ultra (ray tracing disabled), I was able to maintain 120FPS average (or so depending on where I dropped in the game) on the GeForce RTX 3090.
I will talk about the differences between the 43-inch ROG gaming monitors in my full review of the ASUS ROG Strix XG43UQ gaming monitor in the next couple of weeks.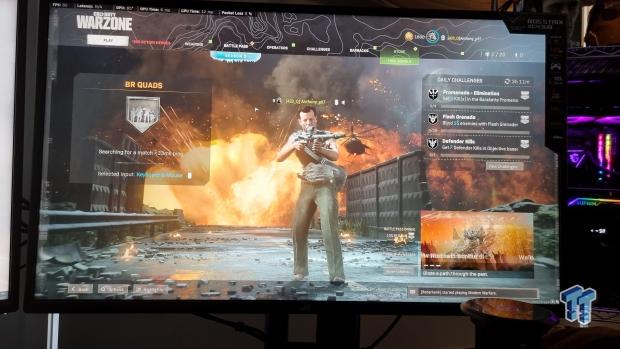 If you've got a next-gen PlayStation 5 or Xbox Series X/S console, and/or a PC -- lots of gamers have both -- then that's where the HDMI 2.1 connectivity on the ASUS ROG Strix XG43UQ gaming monitor comes into play. That is what the driving force is here, as we have the world's first HDMI 2.1 gaming monitor.
ASUS... you've done it again, and I'm sorry that the 43-inch ROG sibling wanted to be with its loved ones, now home with my triple 43-inch ASUS ROG 4K 120-144Hz monitor setup.