TweakTown's 2020 CPU Cooler Testing and Methodology
TweakTown gets a new CPU cooler test system! Find out how and why we test the way we do.

Published Jun 2, 2020 9:09 AM CDT
|
Updated Tue, Nov 3 2020 6:57 PM CST
12 minute read time
Introduction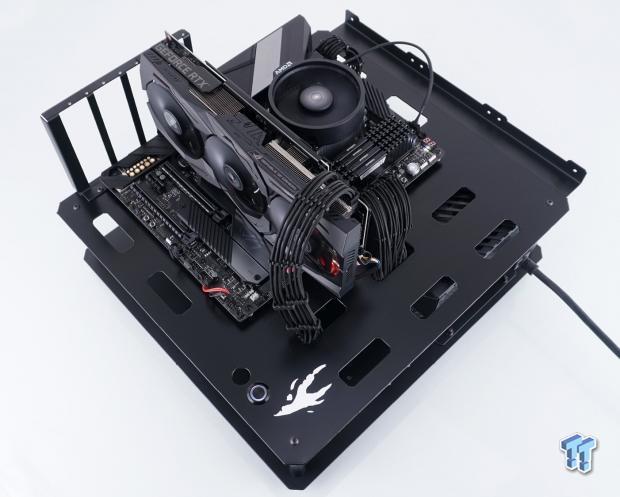 As we do from time to time, it is again time to upgrade the CPU cooler test rig, long past due! Not that we did not have a lot of fun testing coolers and keeping charts with over seventy CPU coolers, most of which are still available, giving users a broad spectrum of options! However, our 6700K based system is well past its prime, out of date, and starting to show its age. We have to give it to Intel, though, as we thrashed the living daylights out of this CPU for many years, and it is still willing to do more. While we are sad to see our old friend go, we are moving on to newer and better things!
Our decisions for the new system were based on the fact that we needed a mainstream CPU and system to test with, as we do not want to be an outlier with information that does not translate to the masses. Instead, we looked at trends and where the market is heading, right now, and after much thought and back and forth between both camps, we feel we have made the right call going forward. With help from ASUS, who supplied us with everything but the storage, RAM, and chassis, we feel that we have compiled a system that reflects what users are building today.
What will follow is what we at TweakTown do, after we have our images of the product taken, and get to testing the performance of whatever CPU cooler it is in the lab that day. We will take you through our product choices for the build, explain how we set up the system for testing, what software is used, and are also delivering charts with a handful of coolers we have tested or retested for filler and perspective going forward. We hope that after reading over this article, you too can replicate what we do so that you can see how your current cooler stacks up if the upgrade itch is upon you.
We want to show those who are pondering a build, what the best coolers are, where the best deals are. All while informing users of all aspects we pick up on as we write the CPU cooler reviews to follow.
The Test System Components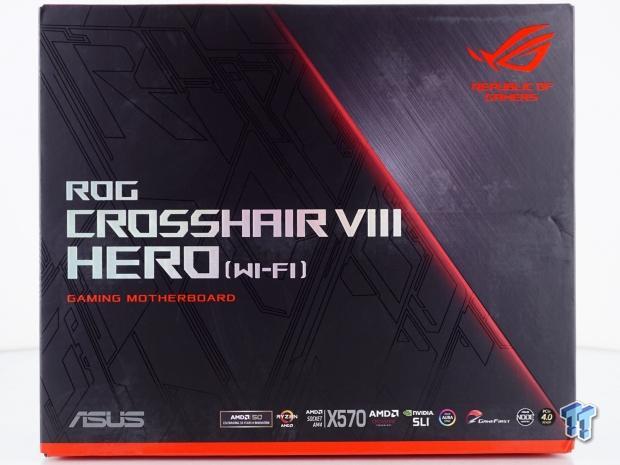 As we mentioned, ASUS stepped up and delivered us the ROG Crosshair VIII Hero Wi-Fi, X570 motherboard, as its base. Our call on this board comes down to two reasons. First and foremost, this motherboard comes highly recommended by many reviewers, including our own Shannon Robb. Secondly, we see many users opting for this motherboard in the forums we frequent.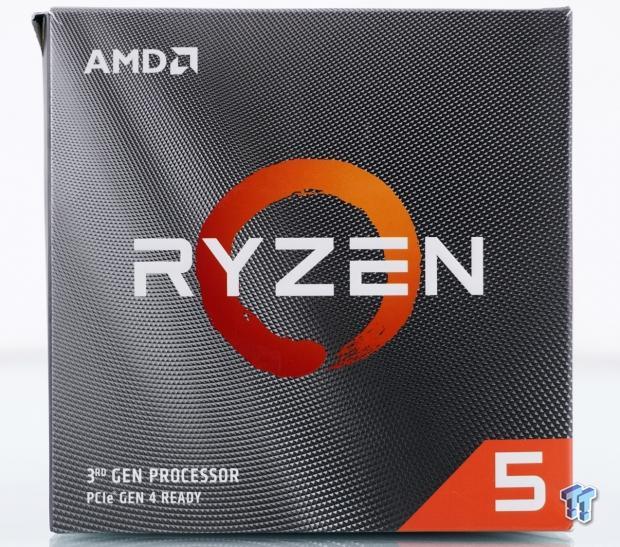 Of course, if we are using an X570 motherboard, we have moved to a Ryzen based system this time. As you can see, this is a Ryzen 5 CPU, allowing us to keep in touch with the majority of Ryzen users.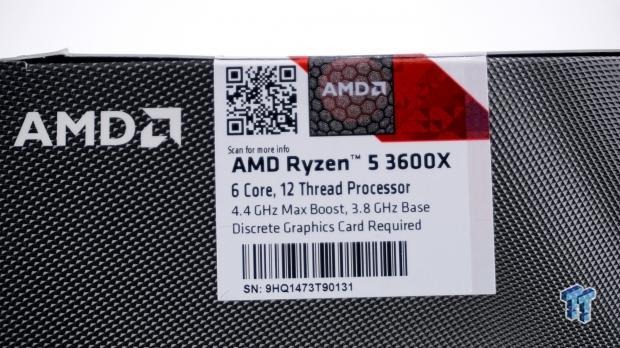 The CPU of choice is the Ryzen 5 3600X! The 3600X is AMD's six-core, twelve thread version with a base clock of 3.8 GHz, and the ability to boost a single core to 4.4GHz, as long as you meet all of the requirements to do so. For our purposes, only the base clock is relevant to our testing.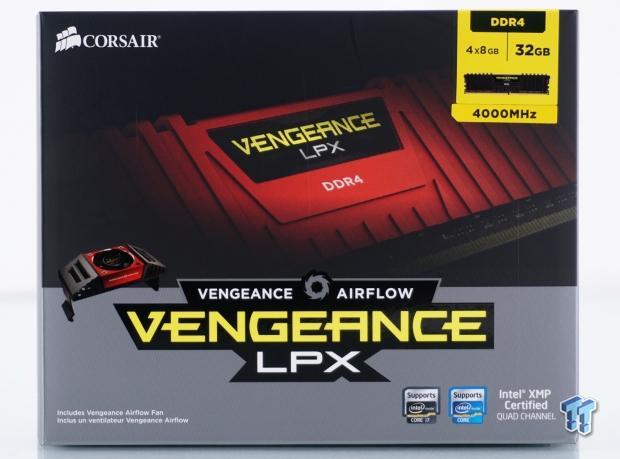 Corsair has taken good care of us over the years, and does so again, supplying us with the DDR4 we are going to use. We opted for a four-stick kit of Vengeance LPX, mainly for more stress on the IMC during testing, but we also see many users picking Vengeance in some form for their system, and more users are filling RAM slots these days for more capacity.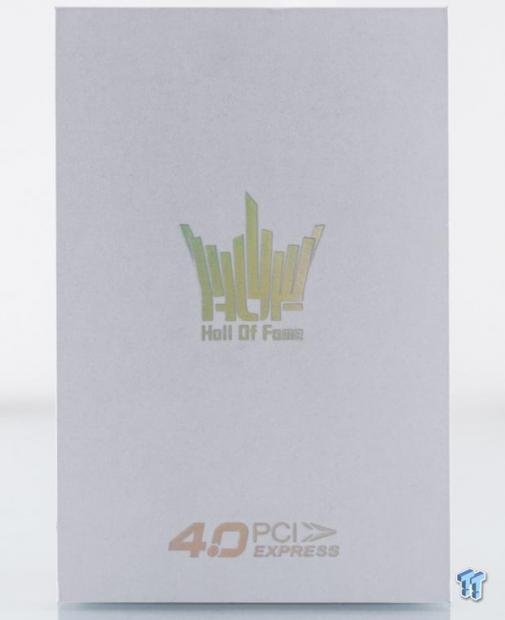 When it came to the storage, we went directly to the source and asked our own Jon Coulter for advice. What happened of that short conversation was this Galax HOF Pro M.2 1TB SSD being delivered to my door. While this drive certainly is overkill for our usage, we certainly are not going to complain!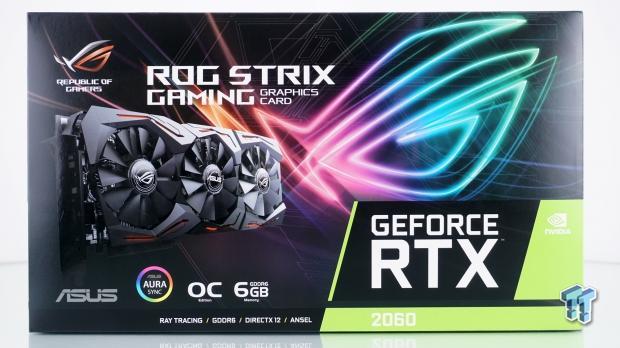 Without an integrated GPU in the processor, we needed something to produce a signal to the monitor. We were not picky, as we do not need a monster card to accomplish this goal. Along with the motherboard, ASUS also stepped up and delivered the ROG Strix RTX2060 O6G Gaming card, a terrific addition to the build!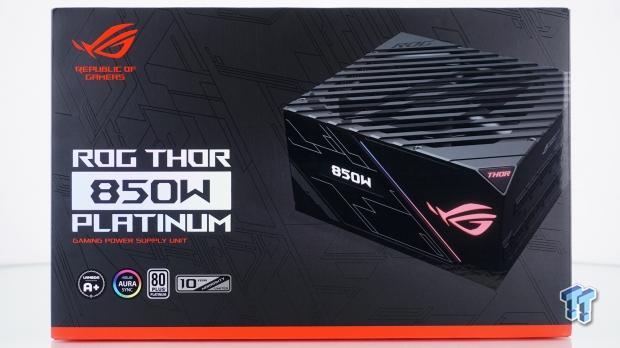 Powering the system, again, ASUS came through with the ROG Thor 850W Platinum PSU. Plenty of clean, stable power to test with and an attractive addition to any build, and a wire management masterpiece for our open-air testbed!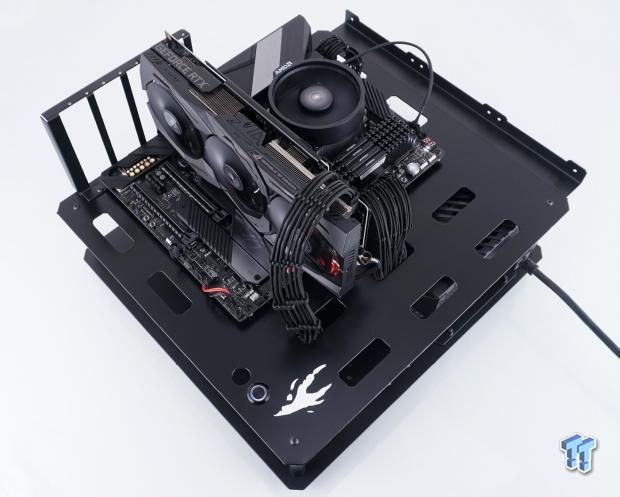 Our chassis of choice, if you want to call it that, is the open-air Hydra Bench Standard. Since we cannot test a CPU cooler in every chassis, we remove the enclosure to show the best-case scenario of any CPU cooler. We also got very tired of lugging around the D-Frame, and find that the Hydra Bench allows for radiator mounting, which was a downfall of our previous solution.
BIOS Profiles and Settings
The Boost feature of the AMD processors, being somewhat complicated to use as a test method, is not how we will test with this CPU. Therefore, our approach to this system is more old-school. We start with the base clock as our "stock" profile, where all cores run at 3.8GHz. Our "overclocked" profile is an all-core OC, where we control all of the variables, and both of the first two profiles utilize PWM functionality to control the fans.
There is one last profile, where we adjust the motherboard fan controls, setting everything to its maximums, allowing fans and or pumps to run as best as possible. Below is a rundown of our BIOs settings and what we changed to get our profiles, which we saved, once tested stable!
In the above paragraph, we referenced "profiles," and this image explains what we meant. Under tools, you can select ASUS User Profiles, and save settings, across the board, for up to eight profiles. For our CPU cooler reviews, we need only three, so that we can keep consistent settings between each cooler. Keep scrolling for the explanation of parameters in each profile.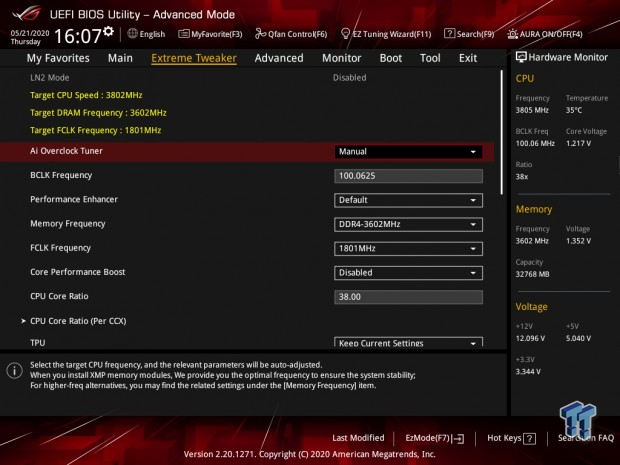 The 3600X STOCK profile has the CPU set to 3802MHz, the RAM is at 3602MHz, and the Infinity Fabric is at 1801MHz. We had to select Manual in the Ai Overclock Tuner tab, which allows us to lock the BLCK to 100.0625, ensuring we get to the 3.8GHz using the 38.00 CPU Core Ratio we have set. We also manually set the RAM frequency rather than opting for the DOCP profile.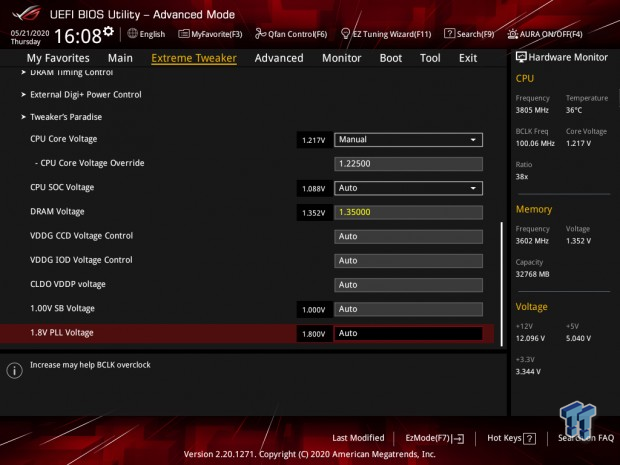 The second part of an OC is stable voltages, and in this image, you can see what we are using to achieve an all-core setting at 3.8GHz. To do so, we did manually set the CPU Core Voltage to 1.225V for stability. We passed testing with slightly less voltage but added three bumps to the voltage using the "+" key in BIOS to do so. When parts age, we are ahead of it with a tad more voltage already applied.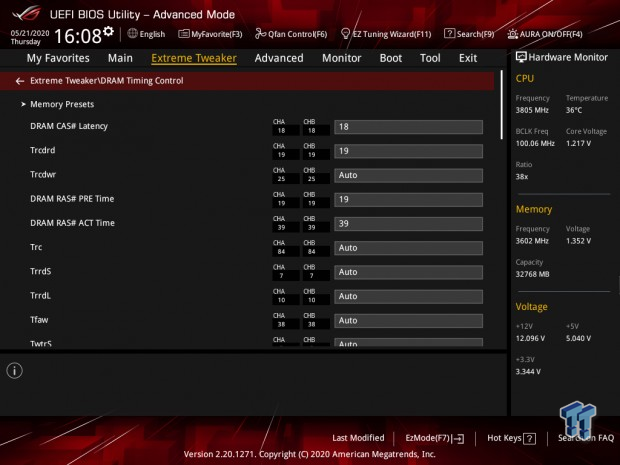 On all three of our profiles, our RAM and timings stay the same. While at 3602MHz, we found the 18-19-19-39 1T timings to be best with this 4000MHz, four-stick, 32GB, set of Corsair Vengeance LPX. We also manually set the DRAM voltage on all profiles to 1.35V.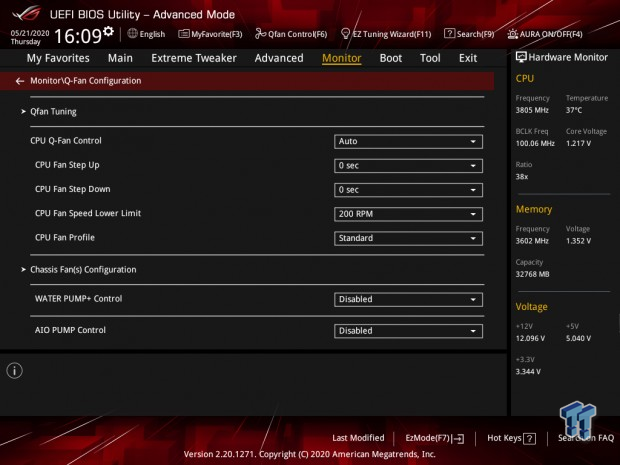 In both the 3600X STOCK and 3600X OC profiles, we allow the motherboard to control the fans via PWM, using the default setting that you will find in the Q-Fan Configuration. As we move from CPU air coolers to Liquid cooling solutions, we will ensure that we do change the settings of the Water Pump+ Control and AIO Pump Controls to their PWM options.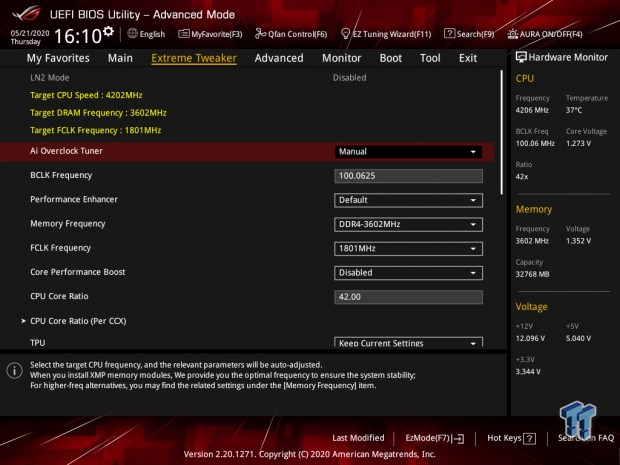 The 3600X OC profile is our all-core overclock, where we were able to get our 3600X to 4.2GHz. Still using the 100.0625 BCLK Frequency, and at 3602MHz on the memory, the only change is to the CPU Core Ratio, where we have entered 42.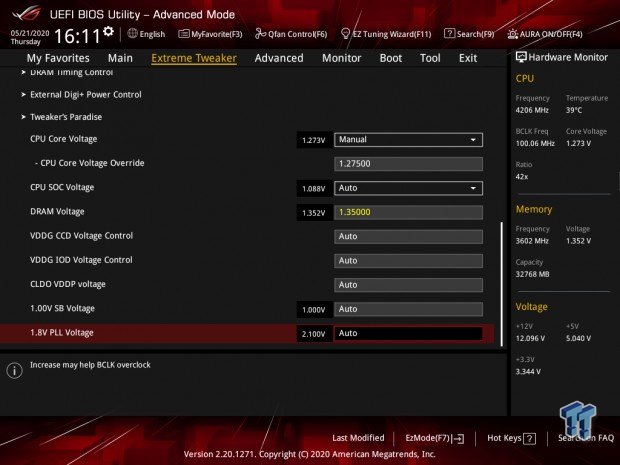 We did have to add some CPU Core Voltage to achieve this, to the tune of 1.275V, again with a few bumps to the voltage for age, beyond what it can run stable right now. In doing this, watching what the motherboard did in reaction to our changes, our Crosshair VIII Hero Wi-Fi does change the 1.8V PLL Voltage to 2.1V. Other settings for RAM and fans match the 3600X STOCK profile settings.
We call it the 3600X OC12V, virtually our 3600X OC profile, but with all of the fan controls maxed out. Rather than show multiple images of the fan settings changes that were made, as we exit the BIOS, the changes are listed neatly. We go from PWM to DC mode and set the profiles manually down the list. We adjust the thermal levels so that the fans spin faster at all levels, set the duty cycles to 100-percent where applicable, and have addressed the Water Pump+ controls.
Choice of thermal Paste and Application
Choice of Thermal Paste and Application
While we were avid users of MX-2 from Arctic, times change, and so do people's thermal paste choices. We could have gone extreme and used something like Thermal Grizzly solutions, but have opted to say with Arctic, but upgraded our selection.

We got back in touch with Arctic and asked that they again help us out, which they happily did! Since we do a lot of testing, sometimes with a need for a second application, should we forget the wretched plastic film while installing the cooler, we opted for the big tube of paste. The 45-gram tube we have is of the MX-4 thermal compound, the 2019 edition stuff.
Everyone seems to have their favored application method, and we see merits in all of them. Still, some are more wasteful than others, and some cover enough of the IHS to get the job done, while other methods squeeze paste over the edge of the IHS, many of them resulting in a similar spread. As to how we apply the paste, the images below show how we go about it.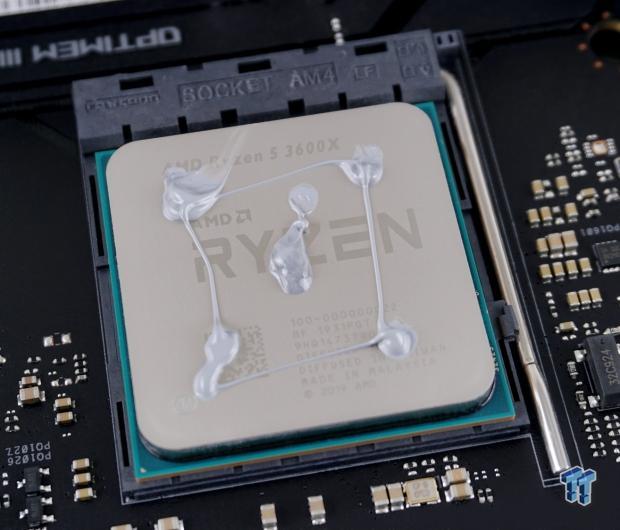 When dealing with a solid base on the CPU cooler, we apply five dabs of paste to the CPU, a larger one in the middle, with one near each corner as well.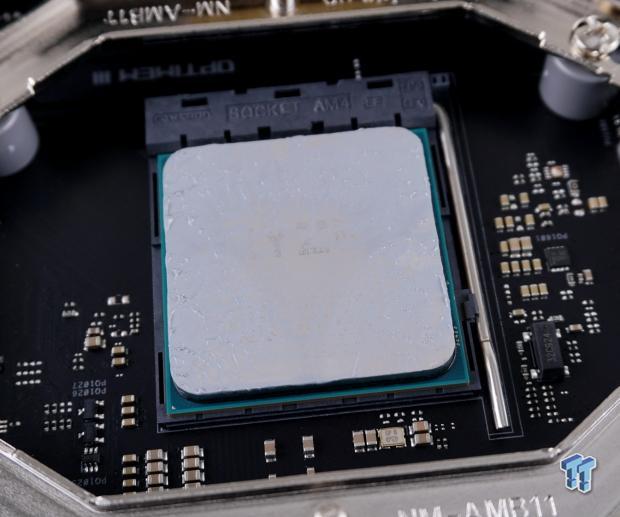 In this instance, we are using the Noctua NH-U12A cooler, and have mounted the cooler, and then removed it to look at our results. The spread is complete across the entirety of the IHS. The paste is thinner in the center due to the convex nature of many CPU cooler bases, but around the sides, the paste is even and has very little paste squeezing over the edges.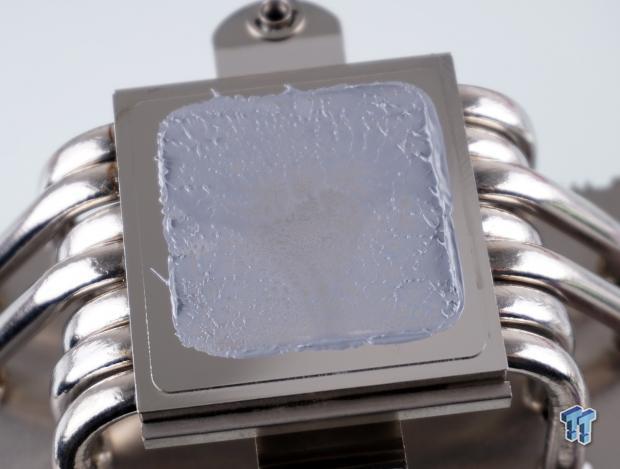 We wanted to look at the base of the cooler, and find the pattern on the base matches what we see on the CPU. As we have seen for years, the extra paste applied will get out of the way and tends to stay on the base of the cooler, rather than rolling over the CPU IHS.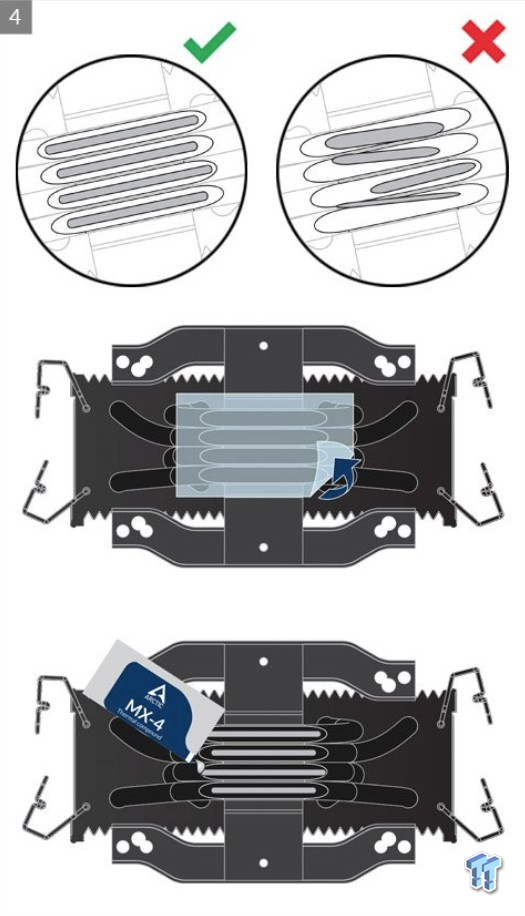 There are exceptions to the rule we just set, and that is when we receive direct touch coolers! We borrowed this image from the Freezer 34 manual, where Arctic shows the application to be the same as what we used in the early days of Xigmatek HDT coolers. We apply a thin line of paste to the individual pipes, and find the spread of the paste ends up looking like our standard base applications!
Software, Testing, and Results
To replicate our testing, you need three bits of readily available software. First, there is CPU-Z, of which we are on 1.91.0 x64, and it is just to verify CPU and RAM speeds, as well as a backup reading for CPU voltage under load. The Second thing we opted to use was AMD Ryzen Master, manly to compare thermals, but it also offers meters for other components that we can use as a reference to the accuracy of our last bit of software, AIDA64.
The use of AIDA64 allows us to use stress testing that is not a power virus but still applies a load that is comparable to normal PC usage, as well as delivering a statistic tab, where we grab the thermal and fan speed information.
We make sure to control the office temperature to a steady 23°C, but we do allow for a bit of fluctuation to the tune of a half of a degree either way. All of our coolers are tested within a range of 22.5°C to 23.5°C, with the humidity, kept as close to 40% as possible, no matter the season!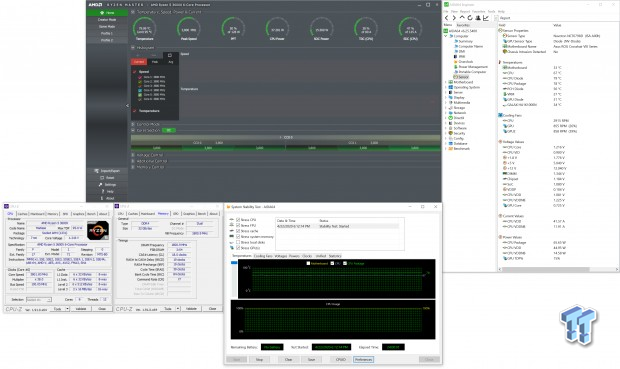 Above is our screen while testing the NH-U12A on the 3600X, and making sure we are rock solid and stable for all coolers that get tested on it. We passed twenty-four hours of stress to the CPU, FPU, cache, and system memory, and while how we test coolers, we threw in some GPU stress as well. Note the voltage used is 1.216V, which is lower than what we used when we saved the 3600X STOCK profile.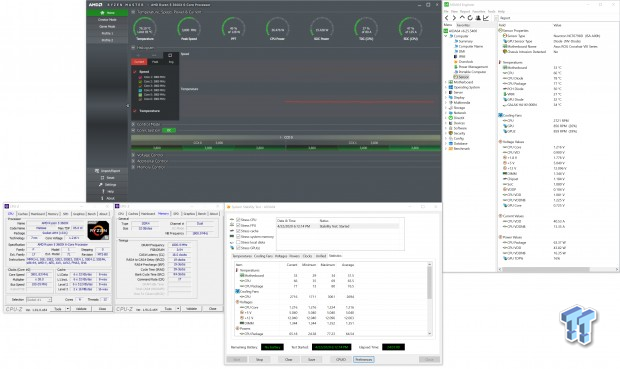 When we deliver thermal results, we are making sure to keep track of both the CPU and Package temperatures. Still, we are using CPU Package results for our charts, as they are closest to what AMD Ryzen Master shows, but we have minimums, averages, and maximums all laid out for us. We can even keep track of san speeds in the same manner.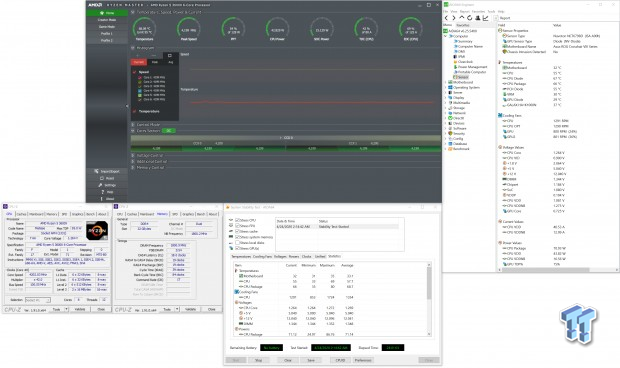 We did the same thing for the 3600X OC profile, which is also saved as part of the 3600X OC12V profile, where we abused the system for twenty-four hours straight. Again, the CPU voltage is slightly lower than what we saved to the OC profiles, but we are stable.
When it comes to the actual CPU cooler testing, all of what we have shown you is employed, except for two things. We do not run GPU stress while testing the CPU coolers, just the CPU, FPU, cache, and system memory, as AIDA64 shows as the default. The second thing we change is the time of testing, where a day is reduced to twenty minutes. We find that most coolers reach a state of equilibrium or saturation in that time; many do it much sooner! Once the time has passed, we take a screenshot like the ones above and record the pertinent information.
We obtain our sound pressure levels with our sound level meter at a foot away from the fan, fans, or pump, reporting what we find in charts that should be easy to read and follow.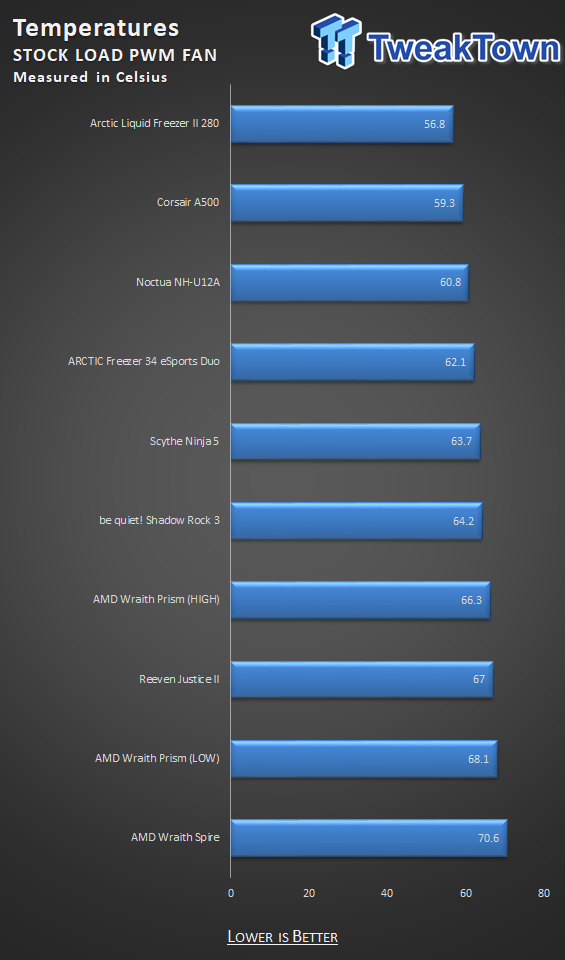 We tested ten random coolers, two of which are AMD stock cooling options, so you can get a complete picture of how everything compares to one another. We may add a few more coolers for reference later, but for now, this assortment of CPU cooling solutions are what we brought over from previous testing! The results you see in this chart are for the 3600X STOCK run on all of the coolers, ranked from best at the top, with lesser performing coolers at the bottom.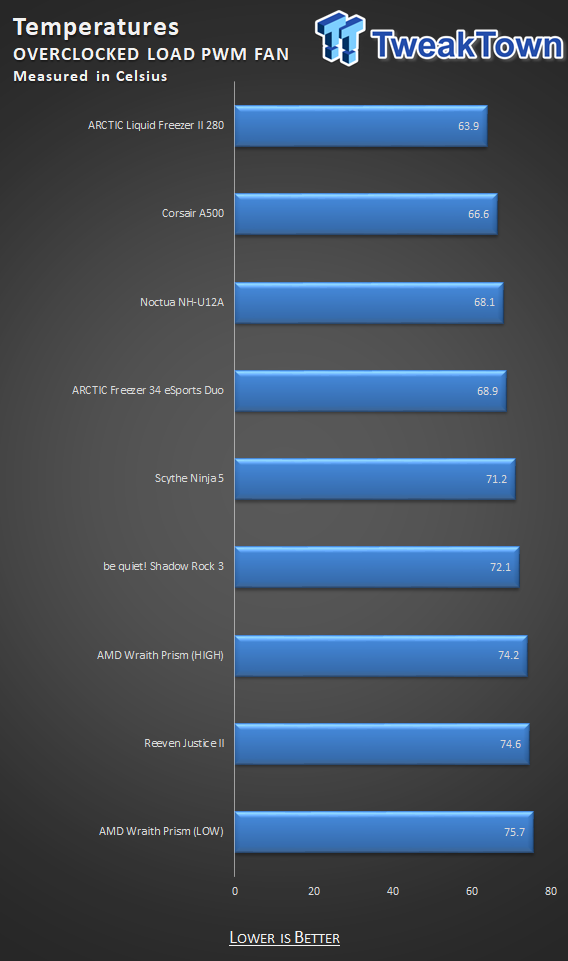 As to the 3600X OC profile, this chart is what comes of that testing. Again, coolers are ranked with the best performer at the top, descending in performance as you make your way down the list.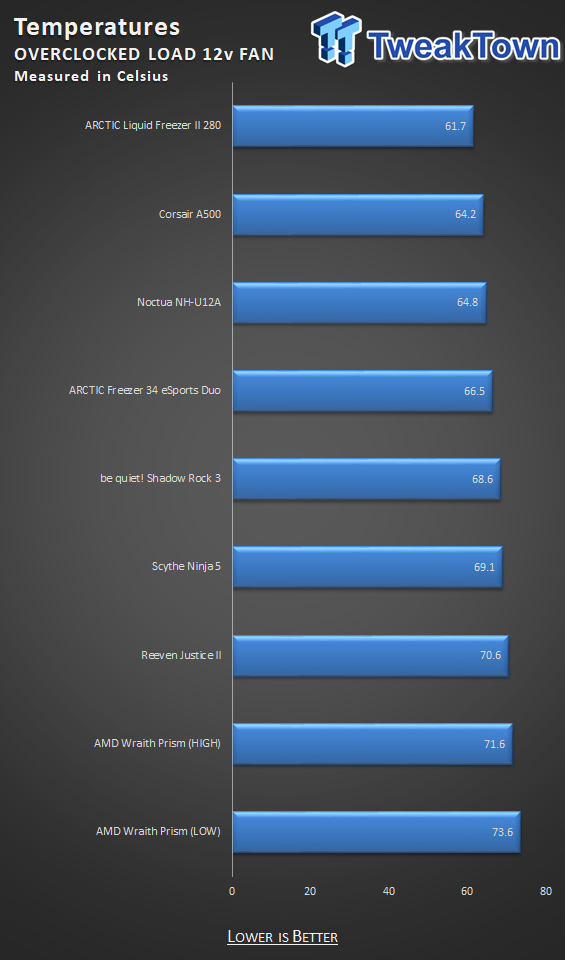 This chart is then representative of the 3600X OC12V profile testing. At this point, we remove the PWM lock, if we haven't maxed out the fans yet, to see what sort of headroom the manufacturer left on the table. Not only do we get to see the cooler's absolute best performance this way, but it also allows us to obtain a third set of sound pressure results.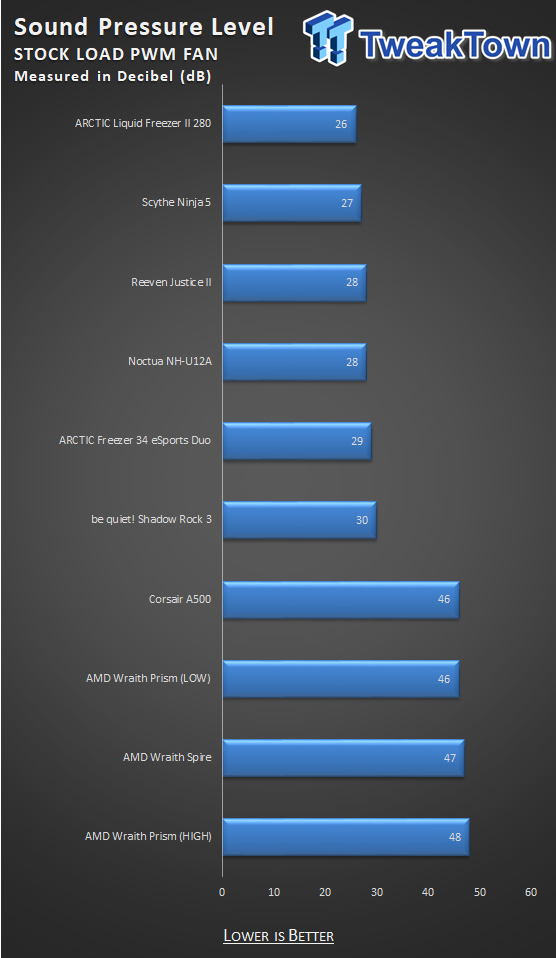 When it comes to the noise levels of a fan, we opt to stick with the standard decibel, and not adjust our scale. The results seen in this chart is from PWM control of the fans, while the 3600X STOCK profile is under stress, taking a reading while the fans are spooled up to their highest reading in those twenty minutes. Again, ranked in descending order.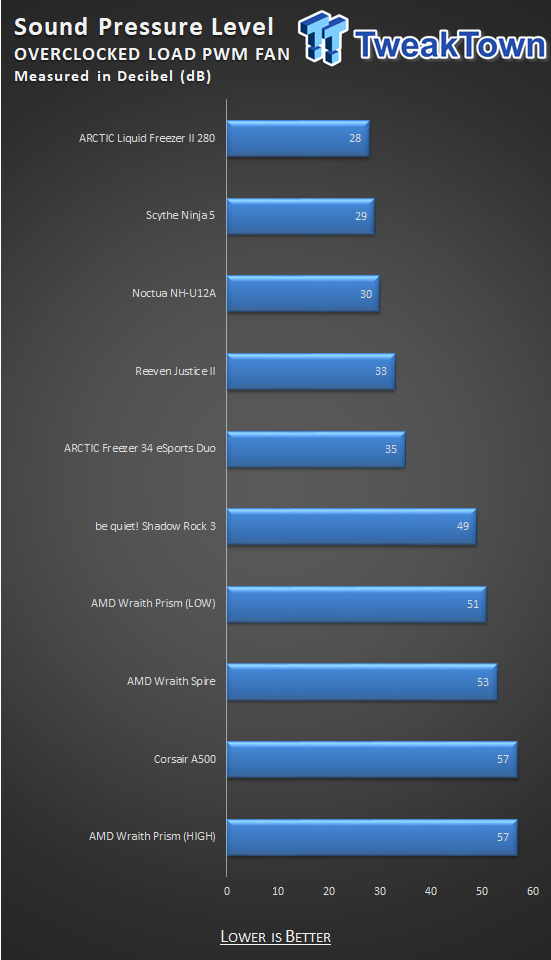 The 3600X OC profile delivers this list of descending results, again, taking a reading when we see the fans spool under stress. Fans are still controlled via PWM, and results of sound pressures have changed from previous results due to a CPU that runs hotter, calling for faster speeds to cool the rest of the CPU cooler.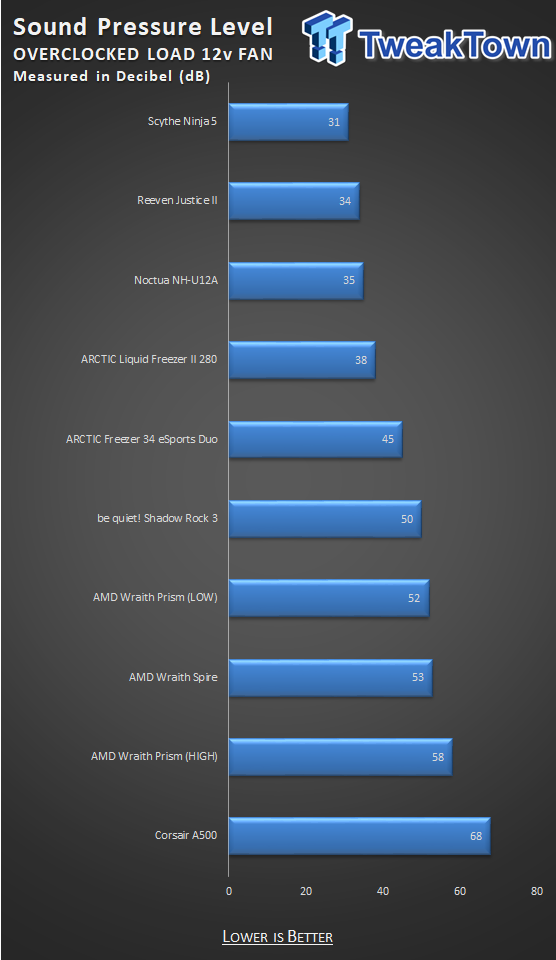 Our last of the sound pressure testing is obtained using the 3600X OC12V profile, this time with manual control of the fan speeds, eliminating any restrictions the BIOS will allow us to. This chart delivers the worst-case scenario of noise from the cooler so that you won't be surprised during the hot summer months!
Final thoughts
Final Thoughts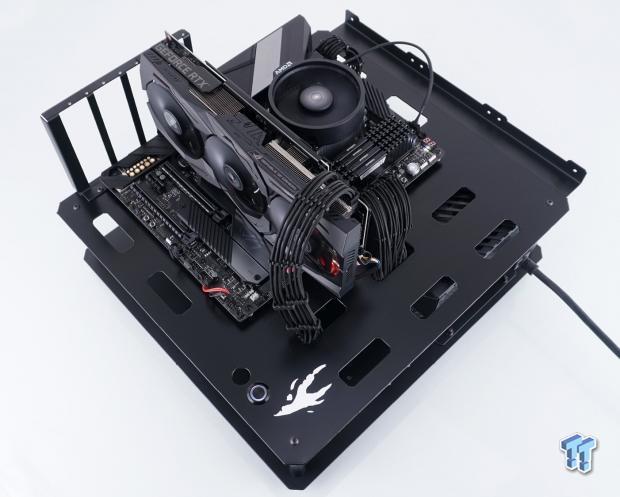 Hopefully, at this point, you have your head wrapped around how we obtain the results we deliver in our reviews. We feel that as long as you can control all of the variables, you stick to profiles and software that everyone can obtain and use without much confusion, the rest falls into place. Our effort goes into coming up with results that cannot be argued against, even if the conditions we test in does not suit you.
We opt for open-air testing, as we are not in the business of testing the chassis. We are here to present the CPU cooler results, without fiddling with things, using them out of the box, as intended, so that we can give you accurate and unmolested results.
One thing that has changed from all of our previous systems is the spike in thermals we see during stress testing on the Ryzen 5 3600X. While we have decided not to overwhelm you with more charts to cover what we see, we will be mentioning this "maximum" CPU spike. We find that the better the cooler, the lower the spike in temperature, and even though that spike may last just a split second, if it crosses the BIOS thermal threshold, the system can crash as we saw with the AMD Wraith Spire to see if it will handle the overclock.
Beyond that, our reviews will continue as they have in the past, with an in-depth look at what you get, and straight forward results in our charts. We feel we have covered all of the aspects and variables that plague CPU cooler reviewers while offering a level playing field for all that send us CPU cooling solutions.
In that regard, we feel that we have pretty much hit the nail on the head, and left no stone unturned in our quest to deliver what the readers want to see. We hope that all of the effort and attention to detail pans out for you, the reader, as you are the whole reason we are here!
As we leave you to absorb everything you just read, we would like to take the time to thank ASUS and Corsair again, for their support in making this all happen! With a small backlog of coolers that we have compiled, we are sure you will become familiar with this new test system and the results we obtain with it in all of the CPU cooler reviews to follow!
We openly invite the companies who provide us with review samples / who are mentioned or discussed to express their opinion. If any company representative wishes to respond, we will publish the response here. Please contact us if you wish to respond.
Related Tags