GIGABYTE and ASUS Join Forces - Our Questions Answered!
GIGABYTE and ASUS have announced their intentions to join forces. Our questions are answered in an exclusive interview.

Published Thu, Aug 10 2006 11:00 PM CDT
|
Updated Tue, Nov 3 2020 7:04 PM CST
Introduction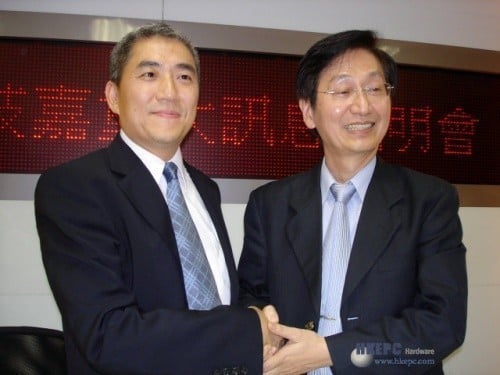 GIGABYTE and ASUS Joint Venture
This week the motherboard industry and probably the entire computer industry got a little shock - just another one in the past 12 months, as now seems to be the time for companies to join forces. After a meeting with the directors of GIGABYTE and ASUS, a decision was agreed on regarding a joint venture between the two Taiwan motherboard heavyweight giants.
Naturally we are very curious about the venture and all the specific details - there is information floating around on various other websites but we want to get all the important first hand details. We got in contact with Tim Handley, Marketing Manager at GIGABYTE, and asked him some questions about the arrangement between the two companies and exactly what it will mean for both companies and consumers in the future.
The following interview answers from GIGABYTE should provide you with all the juicy bits of information from the arrangement and what it means for both companies and the industry as a whole.
The questions and answers are on the next page.
Our Questions Answered
Q: What were the main reasons for the joint venture between GIGABYTE and ASUS? Were there any other underlying reasons for the venture besides the obvious?
A: The PC hardware market is becoming increasingly competitive and every vendor faces diminishing profit margins. This joint venture will allow GIGABYTE to focus more resources on designing innovative high-quality motherboards and VGA cards by outsourcing production to other companies and, in so doing, to become more efficient and competitive.
Q: Already there is some misconception in the industry that GIGABYTE and ASUS have merged as a single company. We know this is not true; can you give us a better idea of the exact business deal and business model between the two companies and what each company receives from the arrangement and exactly how the businesses will operate?
A: GIGABYTE still owns the GIGABYTE brand and its various business assets, as does ASUS its own business assets. This is simply a new joint venture (company) between the two companies where GIGABYTE owns the controlling share (51%) while ASUS owns the remainder (49%). This new joint venture will license the GIGABYTE brand from GIGABYTE to produce (through outsourced manufacturing) GIGABYTE branded motherboards and VGA cards - so all the other GIGABYTE products are not affected by this venture. Most of this production will be outsourced to the GIGABYTE factories that have traditionally produced GIGABYTE motherboards and VGA cards.
In essence, GIGABYTE benefits through a more efficient, design orientated business model while ASUS enjoys profits from both of the world's top two PC component brands.
Q: So, initially or in the long term, does this mean that we will no longer see GIGABYTE branded products in the retail channel? Will ASUS take over the GIGABYTE brand name or will it continue on?
A: GIGABYTE branded motherboards and VGA cards will continue to be designed and produced by the new joint venture. Both GIGABYTE and ASUS will invest heavily in the new joint venture and will naturally like to see it thrive. GIGABYTE and ASUS brands will continue to jostle for the top position in markets around the world. After all, competition is healthy and encourages innovation.
Q: In the months to come once the joint venture arrangement is in affect, will engineers from GIGABYTE and ASUS work together to produce new motherboards or VGA cards or so on utilizing the engineering experience from both companies?
A: The two companies will continue to innovate and design new products independently. i.e. they will continue to compete against each other for market leadership as they have in the past. Healthy competition is essential for the success of the joint venture.
Q: Clearly the venture between GIGABYTE and ASUS is a positive one for both companies with product shipments expected to increase as well as putting pressure on other motherboard companies. As a result, do you expect FOXCONN or any of your other closest competitors to make announcements to merge or buy other Taiwan motherboard companies, as a response?
A: It is hard to say how our competitors will react. However, in this kind of market everyone experiences the same pressures (e.g. price competition), so joint ventures, mergers, and other creative alliances are likely from competing companies.
Q: Has there been any word on a name for the new company? Maybe "Terabyte"?
A: :) I'll make sure that the top management gets that as a suggested name. No, there is no word regarding the name of the new joint venture yet, although it is a top priority, so it won't be long before we announce the new joint venture's company name.
Q: GIGABYTE in the past year or two has been concentrating hard on filling the gap left by certain motherboard companies who market their products towards gamers and overclockers. Will GIGABYTE continue their push into this section of the retail market with products for these types of users or will this arrangement distract GIGABYTE from continuing on creating enthusiast style products?
A: The focus for GIGABYTE is to produce the highest quality high-performance motherboards and VGA cards. This will also be the focus of the new joint venture. Nothing changes in this regard, including the competition with ASUS branded high-performance products.
Q: When exactly does GIGABYTE and ASUS expect the joint venture arrangements to come into affect and does this mean that both companies will now no longer need to rely on other OEM / ODM companies in Taiwan or China to produce product for you when GIGABYTE or ASUS is already at factory capacity limits?
A: The new joint venture will come into affect on January 1st, 2007 and will outsource most of the manufacture of GIGABYTE branded motherboards and VGA cards to the same GIGABYTE factories that have traditionally produced those products.
Q: Will GIGABYTE and ASUS continue business as usual, will there be any combining of resources besides manufacturing or will each company continue its sales and marketing and all other departments individually?
A: It's business as usual. GIGABYTE and ASUS will continue to battle it out as the top two PC hardware brands. Each company will operate independently of each other and see the other as competition in achieving market leadership.
Q: We would like to thank you for taking up some of your valuable time to answer our questions regarding the joint venture. In closing, is there anything further you would like to add?
A: Thanks for making time for this interview.
PRICING: You can find products similar to this one for sale below.

United States: Find other tech and computer products like this over at Amazon.com

United Kingdom: Find other tech and computer products like this over at Amazon.co.uk

Australia: Find other tech and computer products like this over at Amazon.com.au

Canada: Find other tech and computer products like this over at Amazon.ca

Deutschland: Finde andere Technik- und Computerprodukte wie dieses auf Amazon.de
We openly invite the companies who provide us with review samples / who are mentioned or discussed to express their opinion. If any company representative wishes to respond, we will publish the response here. Please contact us if you wish to respond.