Introduction To High FPS Gaming
High FPS Gaming FTW
With the rise of battle royale games like PUBG, Fortnite and now Apex Legends from Titanfall developer Respawn Entertainment, high FPS gaming is more important than ever.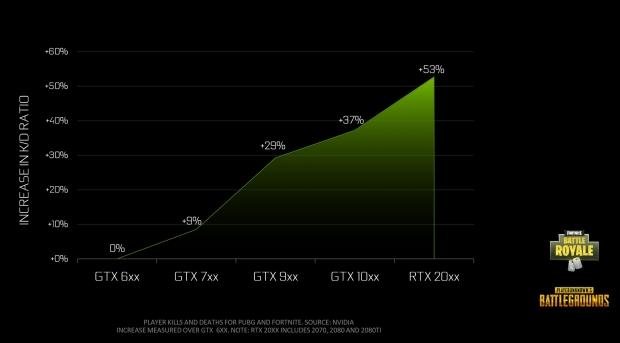 Playing these games at high FPS isn't an easy thing to do, and while it might be easier at 1080p when you get to 1440p and then 4K pumping 120-240FPS gets harder and harder. NVIDIA has the most powerful gaming GPUs on the planet right now, and has done for many years now but this latest report from NVIDIA is an interesting look into the relation between super-fast GeForce GTX and RTX graphics cards, and the kill/death ratio in popular battle royale games.
When it comes to the professional battle royale players and streamers, ProSettings.net reports state that 99% of the "battle royale pros" are using 144Hz or above gaming monitors. These games include Fortnite, PUBG, and Apex Legends which have over 100 million playing right now combined.The report breaks it down into seeing 32% of these battle royale pro gamers using 240Hz monitors.
Hitting the high 144/165/240Hz refresh rates isn't just pure GPU core clocks and VRAM speeds, but also comes down to the perfect blend of herbs and spices to get the latency of delivering those 144/165/240 frames per second to your screen at the lowest latency possible. There is an incredibly huge difference between end-to-end latency between an integrated GPU, a previous-gen GeForce GTX 750 Ti and a new GeForce RTX 2080.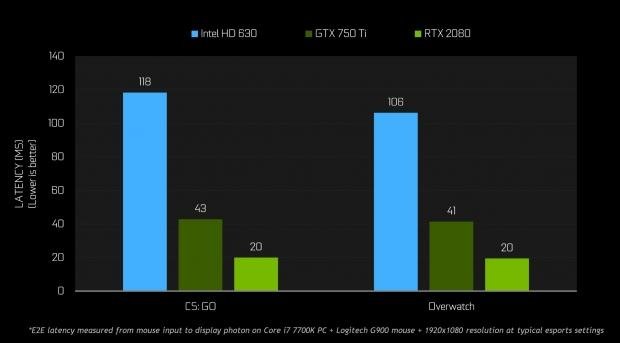 The numbers are pretty shocking in games like CS:GO where an Intel HD 630 has 118ms of latency, compared to the GTX 750 Ti with 43ms and the new RTX 2080 with 20ms. The same latency is seen in Overwatch, with 106ms on the Intel HD 630, 41ms on the GTX 750 Ti, and just 20ms on the RTX 2080. This is a huge reduction in latency, showing you that high refresh rate and professional gamers, esports pros, and Twitch streamers need the latest hardware to stay at the top of their game.
For pro gamers, latency is everything.
Data Collection & High FPS Benchmarking
How Was The Data Gathered?
NVIDIA's research team worked with professional gamers and Esports Studio, where they saw the benefits of high FPS and refresh rates "play out in directed aiming and perception tests". The teams created blind A/B tests, with pros in NVIDIA's own labs able to "consistently discern and see benefits from even a handful of milliseconds of reduced latency".

The company directly responds to its own question of "what does higher frame rates and lower latency mean for your competitiveness in Battle Royale?" with a few points:
Higher FPS means that you see the next frame more quickly and can respond to it.

Higher FPS on a high Hz monitor makes the image appear smoother, and moving targets easier to aim at. You are less likely to see microstutters or "skip pixels" from one frame to the next as you pan your crosshair across the screen.

Higher FPS combined with GSYNC technologies like Ultra Low Motion Blur (ULMB) makes objects and text sharper and easier to comprehend in fast moving scenes.
NVIDIA used "anonymized GeForce Experience Highlights data" on the KDR events for both Fortnite tand PUBG, where they "found some interesting insights on player performance and wanted to share this information with the community".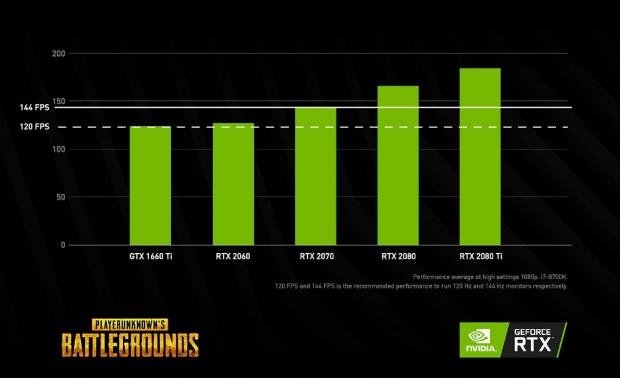 The KDR performance in Fortnite and PUBG was measured by the "median player for each GPU generation" and by using the GTX 600 series as the basline, the KDR skyrockets up up by 53% on the new GeForce RTX series cards. The GTX 700 series rises 9%, GTX 900 series by 29%, and the GTX 10 series by 37%.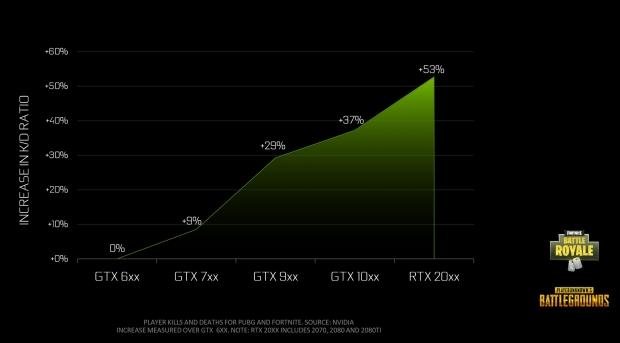 A huge 53% change in the KDR of those games is incredible, but it makes sense. Higher fidelity graphics, far lower latency, and better-than-ever frames per second. All of this leads to a super silky gaming experience, which ultimately leads to being a better player at this level of the game, especially pro esports gamers and streamers.
The testing continues, with NVIDIA finally saying what I've been saying for years: "144 is the new 60" and they're right. 144Hz is superior to 60Hz, and the KDR improves once again in this area. The full suite of benefits of a super-fast new GeForce RTX series card comes out with high refresh rate displays, especially when you're hitting 144/165/240FPS.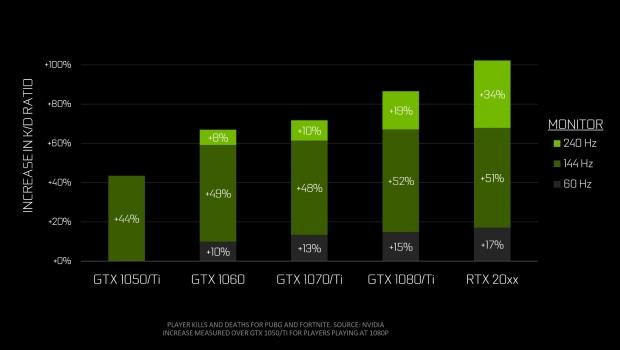 NVIDIA pulled out a bunch of cards including the GeForce GTX 1050/1050 Ti, GTX 1060, GTX 1070/1070 Ti, GTX 1080/1080 Ti, and the RTX 20 series cards. You can see from their charts that there is a huge increased in KDR with the RTX 20 series cards at 240Hz, but the same KDR average (give or take a percentage point) between the GTX 10 and RTX 20 series cards.
What this goes to show you is that above 144Hz is what you want for the best possible visual experience, which does heighten your senses in these games. The RTX 20 series improvement to 240FPS shows how important the continued work into next-gen GPU architectures is, a game that AMD only just entered with its me-too Radeon VII graphics card.
Game Benchmarks At High FPS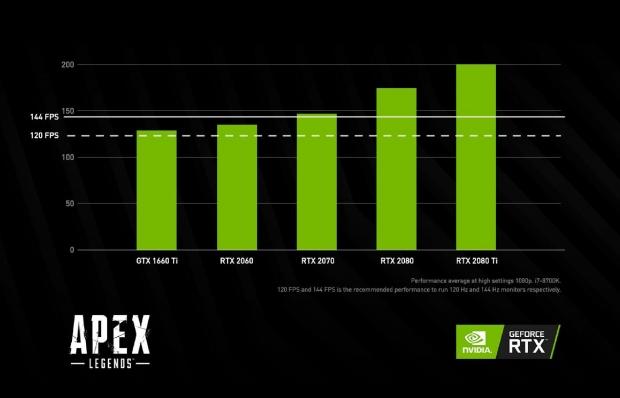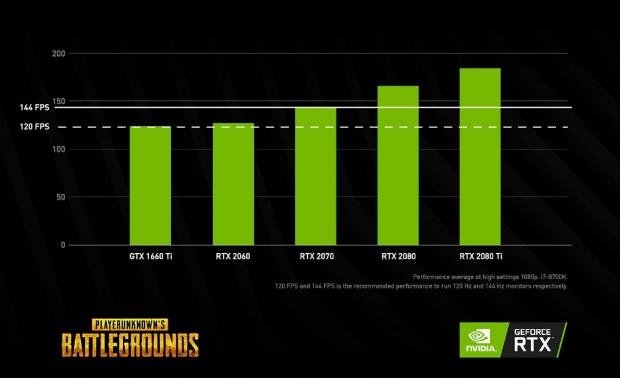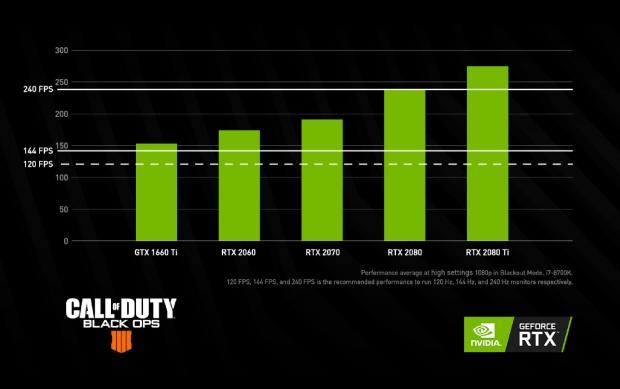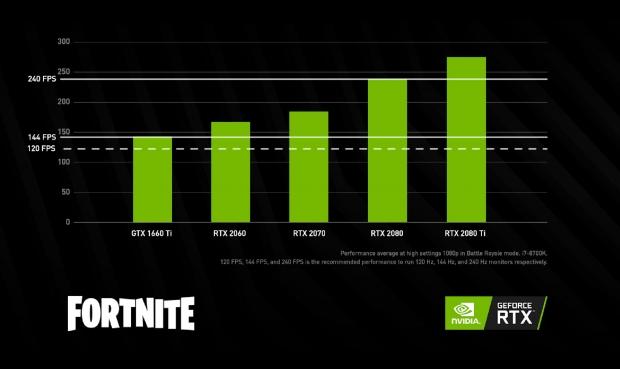 Final Thoughts
To end, I have some benchmarks in the pipeline with Apex Legends that will be interesting and feed directly into this data. Expect that content to start flowing next week as I've tested a bunch of graphics cards on CPUs like the Intel Core i3-6100, a chip that is below the minimum CPU requirement in Apex Legends... right through to the Core i9-9900K.

Hitting 144FPS+ is a huge point for these games, and something that is truly understated.
$300-$350 for 27-inch 1440p 144Hz

$350-$450 for 24-inch 1080p 240Hz

$450-$400 for 32-inch 1440p 144hz
There are some cheap 1080p 240Hz gaming monitors on Amazon right now but they don't have G-Sync, which is something you'll have to spend a chunk more on with something like the ASUS ROG Swift PG258Q. That's a 24.5-inch 1080p 240Hz G-Sync monitor that costs $530 or so, but that's something I wouldn't recommend.
If you were spending the money on a new GeForce RTX series graphics card I would recommend grabbing a 1440p 144Hz monitor as you would have longer life out of it. Buying a 1080p 240Hz panel is fast and all, but it's still just 1080p. Pairing your new graphics card with a higher-end 1440p 144Hz monitor is a much better situation to be in, and the price difference isn't anywhere near as much as it used to be.
There are a few 32-inch 1440p 144Hz gaming monitors on Amazon for between $400-$450 with FreeSync, but still have 144Hz refresh rate and feel buttery smooth on a GeForce graphics card. The 32-inch panel is a much better fit for 1440p, in my opinion, and is super smooth to play games like Apex Legends on. I literally dived off a testing Apex Legends on a 32-inch 1440p 144Hz monitor, one of my personal favorites in terms of price/performance.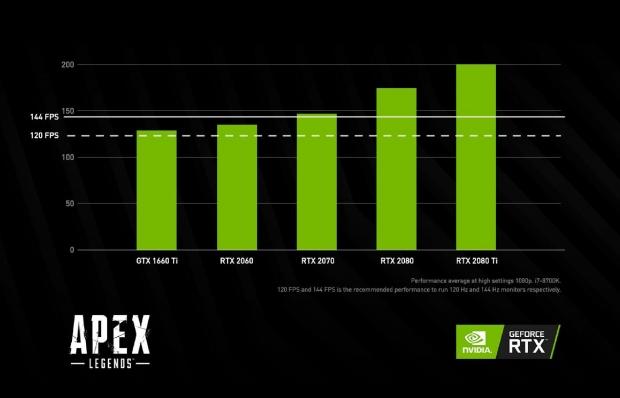 Of course you can go the gaming brand way with an ASUS ROG Strix XG32VQ, a 31.5-inch curved 1440p 144Hz FreeSync/Adaptive Sync gaming monitor which will cost you close to $685. There's also the LG 32GK850G-B, a 32-inch 1440p 144Hz G-Sync monitor for $645.
Even cards like the GeForce GTX 1660 Ti and GeForce RTX 2060 can handle most of these games at 1080p 120/144Hz, while 240FPS is reerved for the RTX 2080 and RTX 2080 Ti. You'll want a GTX 1080 Ti/RTX 2080 and above for anything 1440p 144Hz and above, with a GeForce RTX 2070 finding its way into a great price/performance spot there for these esports games.
For now, back to Apex Legends so I can bring you guys a massive benchmark series on it. If you haven't played it, you really should! It's great!