Intel launches 8th Gen CPUs with Radeon GPUs & Hades Canyon
AMD product on an Intel processor. No way, right? Actually, it has happened. Let's discuss.
Published
5 minute read time
Introduction and SKUs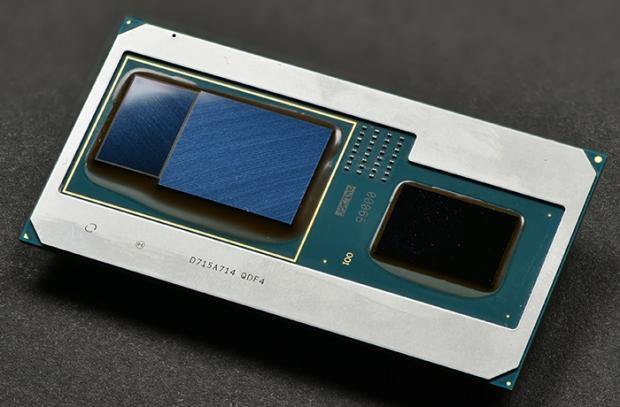 Rumors have been flying around for a few months that Intel and AMD's Radeon divisions had teamed up to produce a relatively powerful CPU with a fairly powerful GPU integrated onto the same package (a SoC or APU), and Intel confirmed it with a press release about a month ago. Today we are here to tell you more about those SoCs. Intel has also taken things a step further and has introduced multiple variants that are capable of demolishing anything before it in the small form factor realm.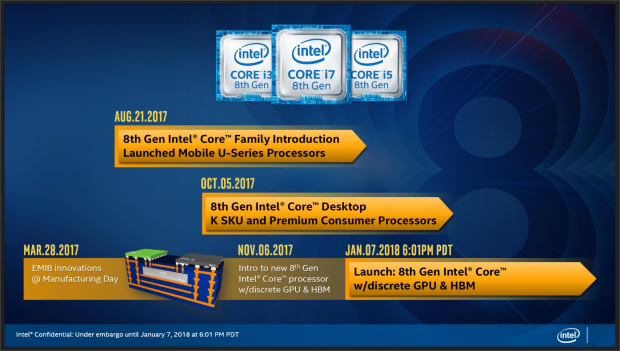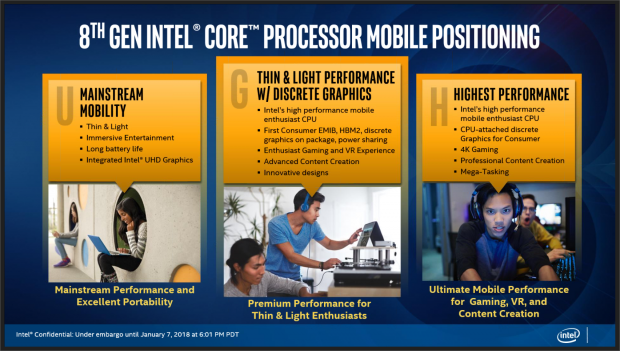 Intel has already launched their U-series (ultra mobile) and S-series (desktop) parts, and now it's time for what lies in between. Between the high-end desktop SKU and the ultra-mobile SKUs is the G-series SKU. The G-series SKUs are developed for thin and light systems with discrete graphics. However, when we say discrete graphics we are talking about an on-package discrete part. The H-series SKUs typically have discrete graphics cards from 3rd party vendors attached to the CPU through a typical PCI-E connection. The new G-series processors are what we are going to be covering today.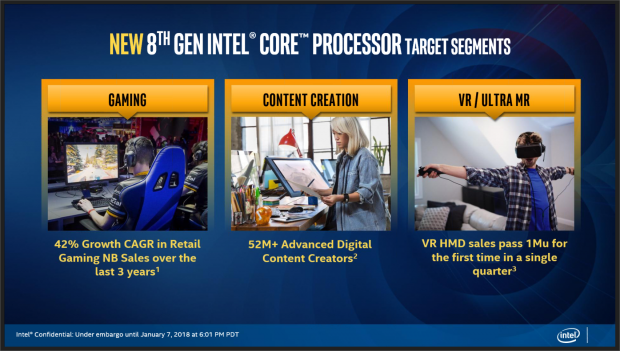 The target market for these new 8th Generation G-series SKUs are on-the-go gamers, content creators, and it even includes VR/MR users.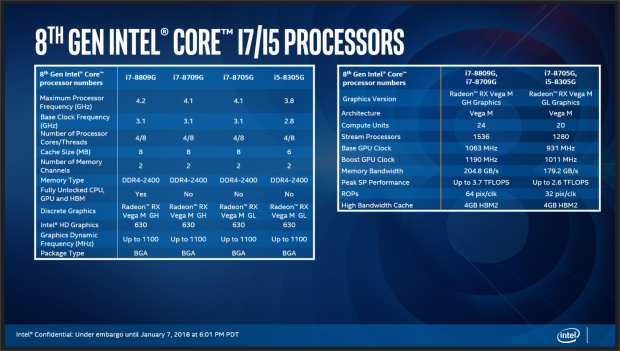 Here we have the official SKUs that are launching. We get the i7-8809G, i7-8709G, i5-8705G, and i5-8305G, which clock in at 4.2/3.1, 4.1/3.1, 4.2/3.2, and 3.8/2.8GHz respectively. All CPUs have four cores and eight threads, but not all of them support the same graphics core. The i7 CPUs get Radeon RX Vega M GH discrete graphics while the Radeon RX Vega M GL is found on the i5s. The GH variant has 24 Compute Units while the GL gets 20 Compute Units. The GH also has a higher clock speed on the GPU core and higher memory bandwidth. GH and GL stand for Graphics High and Graphics Low. The GL SKUs are 65W while the GH SKUs are 100W.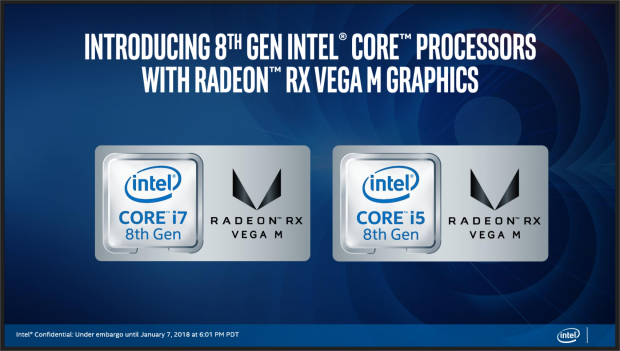 The new badging for the new CPUs don't include AMD anywhere in the naming. Instead, we get the Radeon brand. I will mention that Intel said it will handle the driver updates to the SoC, and that they will work with Radeon to develop them.
High Level Architecture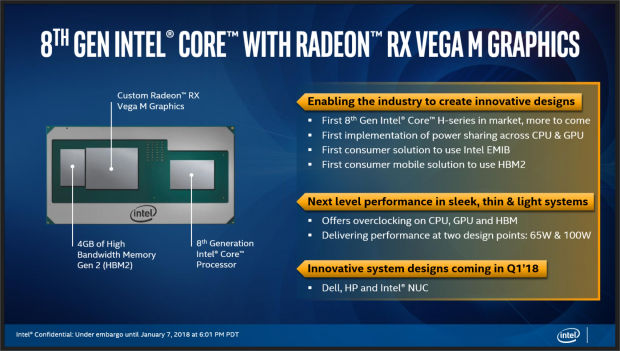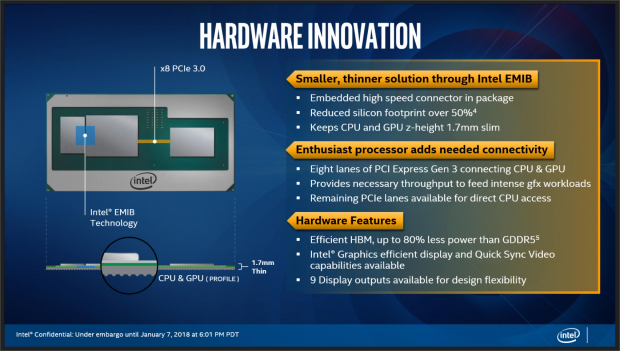 As you can see the main CPU core remains the same as the rest of the 8th generation mobile processors, and it retains its integrated graphics, but the package adds on the "discrete" Vega GPU. Both GH and GL get 4GB of HBM, which is exclusive to the CPU. The CPU is connected to the dGPU through Intel's EMIB bridge. The Embedded high-speed connector in package produces an x8 PCI-E 3.0 link. It keeps z-height down and reduces silicon footprint by 50%, making it a solid contender for slim form factors.
The HBM memory uses up to 80% less power than GDDR5, which also makes it a solid contender for slimmer notebooks and devices. At a total (dGPU + iGPU) you get nine display outputs. You also get the ability to switch between integrated and discrete graphics options.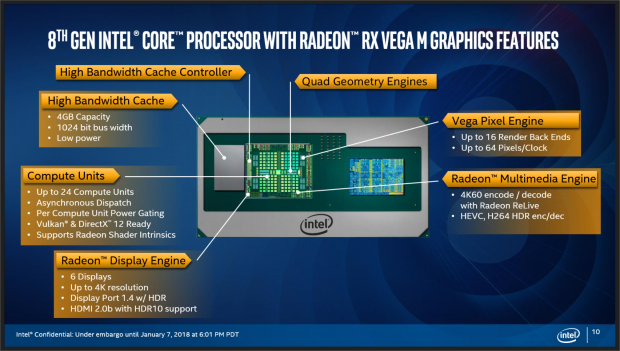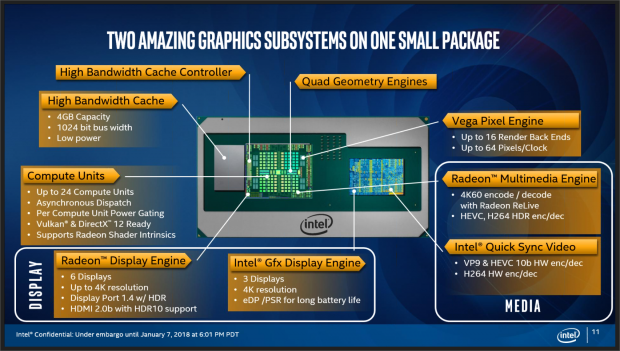 The Radeon Display engine provides up to 6 display outputs, 4K resolution, HDMI 2.0 with HDR10 support, and DP 1.4 w/HDR. The HBM features a 1024-bit bus and low power options. With up to 24 Compute Units, the GH configuration should be one of the fastest on-package mobile gaming solutions on the market. We also get Radeon's Multi-Media Engine with 4K60 encode/decode, and HEVC. Adding the Intel CPU's capabilities into the mix creates a feature-rich product.
Intel's integrated HD graphics provide three more display outputs, 4K resolution support, and eDP/PSR for longer battery life. We also get the benefits of Intel's own multimedia engine with VP9, HEVC 10b hardware based encode/decode, and H264 hardware encode/decode.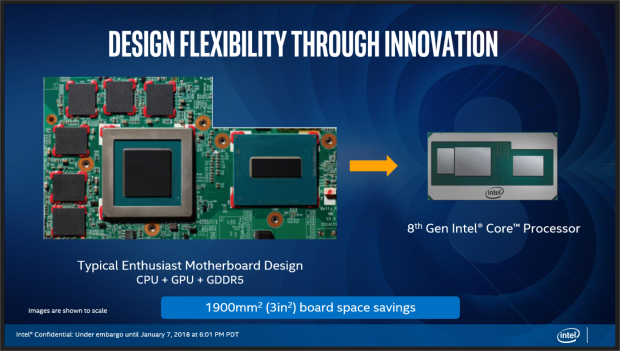 Intel is comparing to scale the size of the new SoC and previous mobile discrete gaming solutions. The size reductions are immense, allowing for larger batteries or smaller devices.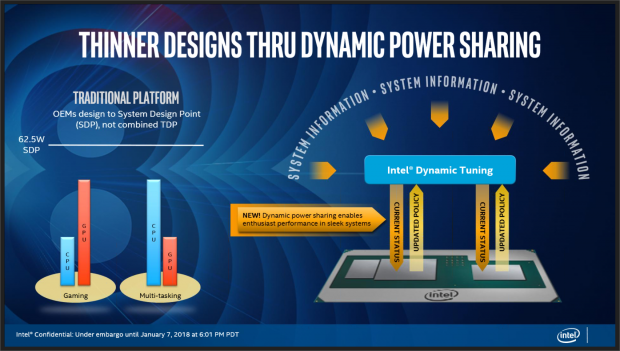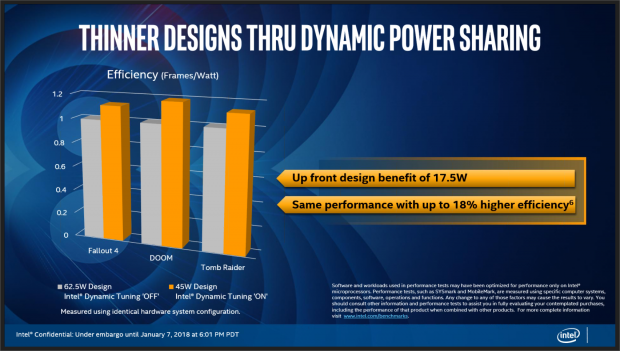 Intel is also introducing Dynamic Power Sharing. Intel's dynamic power sharing allows for the system to understand how much of the CPU or GPU is being utilized at any given time, and then provide just the right amount of power to each device. When you play games or do other real-world tasks, you almost never engage the CPU and GPU equally or all the way at the same time and this new technology allows Intel to better balance power delivery to provide better battery life and maximize component performance when possible.
Performance Results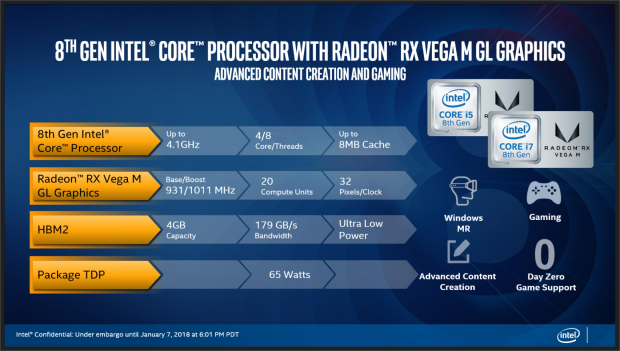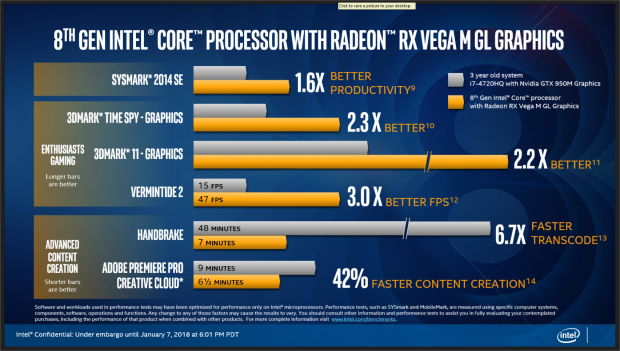 First we can look at the 8th Gen processors with Radeon RX Vega M GL graphics, so basically, the two i5 CPUs listed. They offer up to 4.1Ghz Turbo clocks and four cores and eight threads, and a 65W TDP. Compared to a 3-year old Intel system we see immense performance gains. We see these gains in graphics benchmarks because of the added graphics capabilities, but also in content creation and overall performance benchmarks because of the added CPU cores and performance.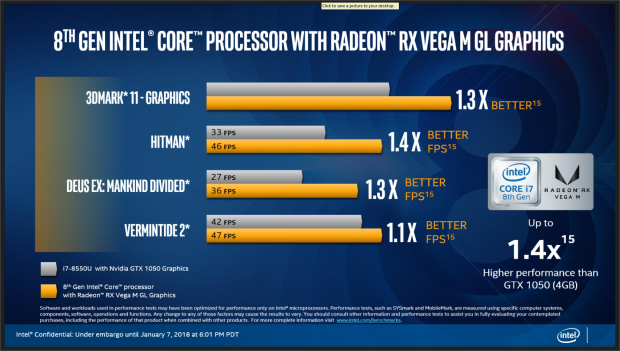 Intel even went ahead and compared the new 8th Gen G-series i5 to their i7-8550U with a discrete GTX 1050 GPU, and we can see that the new G-series CPU is far superior in gaming situations.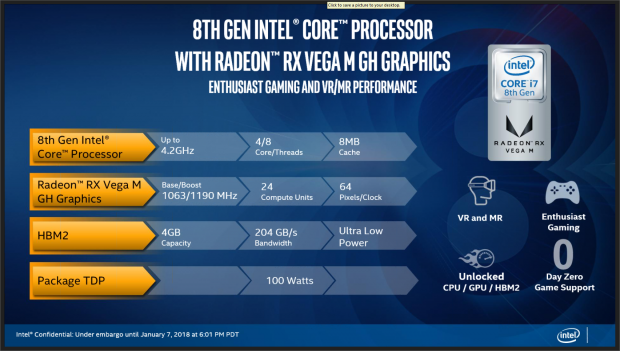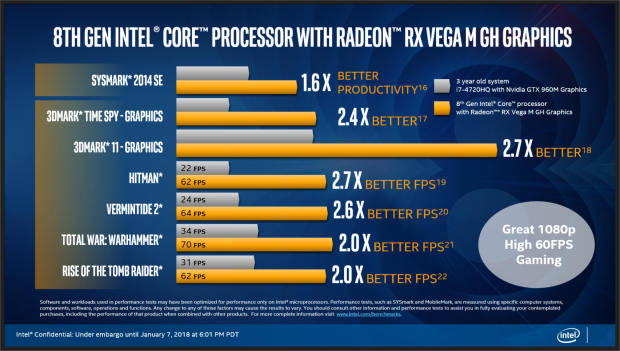 Now we can see how the 8th Gen with Radeon RX Vega M GH, the two i7 parts, stack up. They have a more beefy and faster Vega GPU teamed up with a faster CPU. However, the added GPU and CPU enhancements increased the TDP to 100W, and so you might only find them in larger devices. Compared to a three-year-old Intel system, the new G-series i7 does exceedingly well, and Intel says it's perfect for 1080P gaming.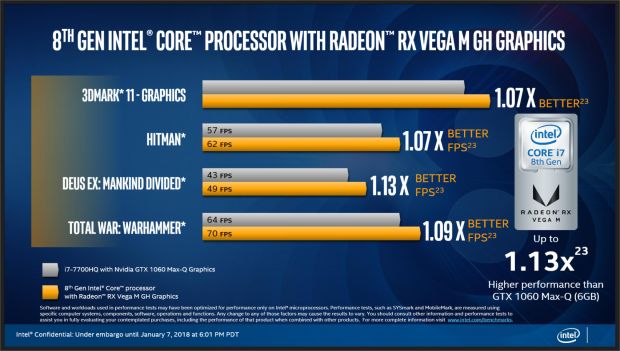 Looking at how it stacks up against an Intel i7-7700HQ with a GTX 1060 Max-Q we can see that the new i7 G-series SoC (CPU + GPU) is extremely powerful. The i7-7700HQ and GTX 1060 were a very common pair throughout our notebook testing in 2017, and these results are shockingly excellent. However, we need to test it out ourselves to make a substantial claim or recommendation.
Introducing the Hades Canyon NUC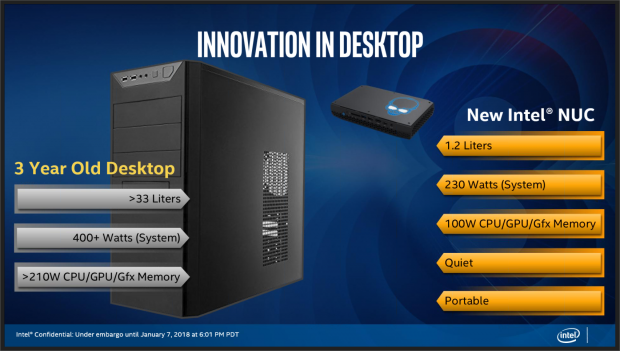 While it's obvious that the G-series i5 CPUs are rated at 65W and are meant for notebooks, the G-series i7s are a different breed, and as such, they are meant for small form factor systems or thicker notebooks, and Intel has stuffed one into a high-performance NUC. While we met Skull Canyon in 2017, we are more excited to see how the Hades Canyon NUC stacks up; 6th Gen with Iris Pro vs. 8th Gen with Vega.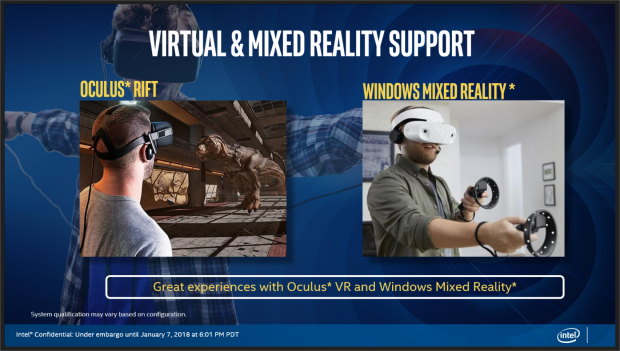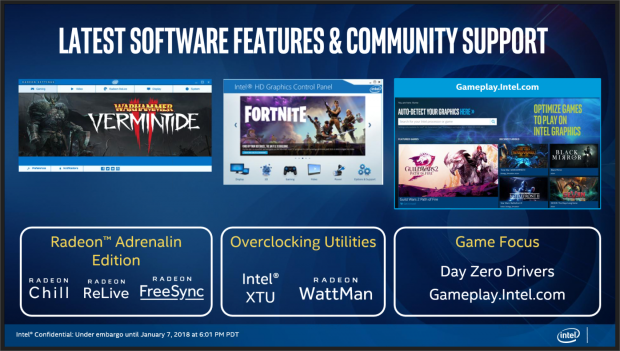 For starters, the new NUC is meant to totally replace your current desktop PC. I actually have used the Skull Canyon NUC as my main work computer since I received it, and I have to say it's an impressive piece of machinery. However, it could do more, and that is what Hades Canyon is looking to deliver. I might even be able to play Ashes Of the Singularity: Escalation at work!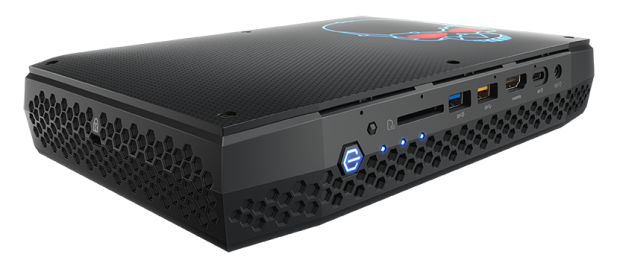 The new Hades Canyon NUC will use the unlocked i7-8809G processor with the RX Vega M GH GPU. It will be no more than 1.2L in volume, and it will offer dual everything.


We find dual M.2 internally, but externally we also find dual ThunderBolt 3, Dual DisplayPort, Dual Gbit LAN, dual HDMI, seven USB ports (one charging and one type-C), as well as SDXC, TOSLINK, and headphone jack. It looks just as sleek as its predecessor, and hopefully, it's much faster.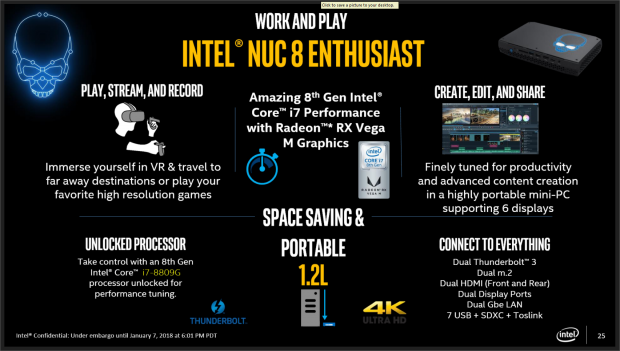 The Hades Canyon NUC is designed to redefine Intel's loosely defines Skull Canyon space. It's meant to really be a gaming/work computer, and we have faith it should be capable of producing excellent results. We will have a review of the unit for you in the coming weeks/months. We also wanted to mention that Intel's new G-series processors are going to be used for cloud gaming by Gamestream and Artesyn.
PRICING: You can find products similar to this one for sale below.

United States: Find other tech and computer products like this over at Amazon.com

United Kingdom: Find other tech and computer products like this over at Amazon.co.uk

Australia: Find other tech and computer products like this over at Amazon.com.au

Canada: Find other tech and computer products like this over at Amazon.ca

Deutschland: Finde andere Technik- und Computerprodukte wie dieses auf Amazon.de
We openly invite the companies who provide us with review samples / who are mentioned or discussed to express their opinion. If any company representative wishes to respond, we will publish the response here. Please contact us if you wish to respond.