Hitting the G-Spot with NVIDIA's G-SYNC on the ASUS ROG Swift PG278Q
The new ASUS ROG Swift PG278Q is the best gaming monitor on the market right now, powered by NVIDIA's impressive G-SYNC technology. Anthony shows us why.

Published Aug 26, 2014 1:10 AM CDT
|
Updated Tue, Nov 3 2020 6:59 PM CST
14 minute read time
Introduction & What Is G-SYNC?
It was just over a week ago that Trace reviewed the new ASUS ROG Swift PG278Q monitor, a new display from ASUS that fuses the world's of a 2560x1440 panel, with NVIDIA's new refresh rate technology, G-SYNC, together. The results? A kick-ass new gaming monitor, a monitor that all gamers should be paying attention to right now. Today, we're going to talk about G-SYNC, what it's about, why it's an amazing technology, and how it feels to be playing games with it enabled, and disabled.

Since we've already had Trace review the monitor itself, this is more of a deep dive into NVIDIA's G-SYNC technology, and a deeper run into gaming on the new ASUS ROG Swift PG278Q display. First, let's talk about G-SYNC, and explain to you what it does exactly.
NVIDIA's G-SYNC technology was unveiled at the NVIDIA Editor's Day last year in Montreal, Canada. We were on-hand when it was unveiled, with it really blowing me away that NVIDIA had this technology and had sat on it, without a leak getting out. Once I had seen it in person, I had to have one of the displays, but was disappointed with the resolution of just 1080p. Well, obviously we're past that now, and right up to 2560x1440, or 1440p, with the new ASUS ROG Swift PG278Q display.
NVIDIA wanted to solve the problem of screen tearing, reducing display stutter and input lag in order to provide the best gaming experience possible. But, you can't do that without doing some serious changes to the way a monitor refreshes, and that's where G-SYNC comes into play.
Rewinding the clock back to when CRT monitors dominated, where the 60Hz standard was born - the 60Hz refresh rate came about because the United States power grid is based on 60Hz AC power, so monitor manufacturers matched TV refresh rates with the 60Hz power grid in order to have early electronics easier to build, with less power interference on the screen. 60Hz with fixed refresh rates became a total standard by the time the PC started to enter the home, but then we moved onto LCD, and then LED. Since then, we haven't seen a company change outside of the 60Hz mantra, except for TN-based 120Hz and 144Hz gaming monitors.
The problem here is that VSync is the center of all of these stuttering and screen tearing issues, so NVIDIA developed Adaptive VSync. Even still, the issues associated with VSync are still there, and they are a big problem. This is where NVIDIA's G-SYNC technology steps in to save the day for gamers, and many other users who are sick of the input lag, stuttering and screen tearing associated with VSync.
What Is G-SYNC?
First, G-SYNC isn't software, it is a piece of hardware that comes in two forms: a board that can be installed into a compatible monitor, or you buy a G-SYNC capable monitor, like the ASUS ROG Swift PG278Q that we have here today.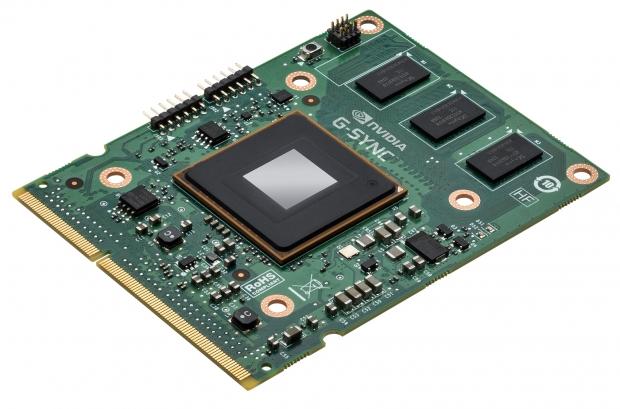 A monitor that is powered by NVIDIA's G-SYNC technology allows the monitors to synchronize with the output from the GPU, instead of the other way around. This provides an experience that is tear-free, faster, and much smoother than traditional setups that rely on VSync. Thanks to this increase in smoothness, and the lack of screen tearing, professional gamers can enjoy a seriously powerful display, making them game at an even higher level than previously thought.
What makes G-SYNC special is that it provides the best of both world's: an untethered frame rate, with no screen tearing. Normally gamers had to choose one or the other, the benefits of high FPS, but having to experience screen tearing by disabling VSync. Alternatively, enabling VSync and being locked to the monitors refresh rate, which is normally 60Hz. This has plagued PC gamers forever, but this all changes with G-SYNC.
The way this works is that G-SYNC allows the monitor to display refresh rates that aren't locked to the usual refresh rates offered by monitors: 60Hz, 120Hz and 144Hz. It does this without having to put the user through tearing, something that rips your eyes apart when you disable VSync. The problem is, these are all just words... you really need to see NVIDIA's G-SYNC in person to truly appreciate what the company has on offer with this new technology.
Enter the ASUS ROG Swift PG278Q, Our Setup & Enabling G-SYNC
Enter the ASUS ROG Swift PG278Q
Personally, I've been pushing the boundaries of high resolution and high refresh rate monitors forever. My first big purchase for my PC was way back when I purchased a Sony G520 21-inch CRT that provided 1600x1200 (at this time this was equivalent to 4K monitors) at 85Hz. Heck, the G520 was able to drive up to 170Hz depending on the resolution - even today, 170Hz is an impressive feat.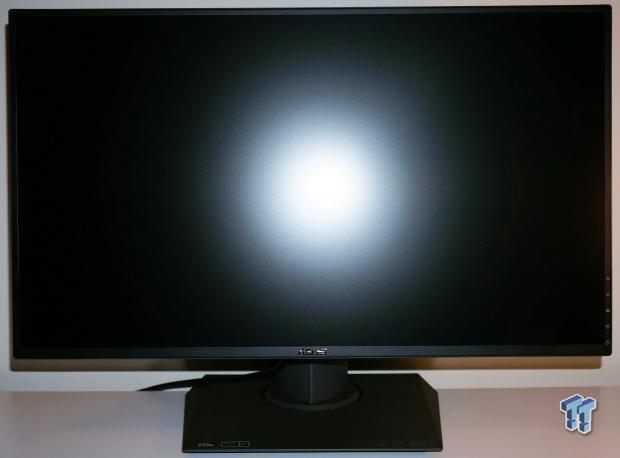 This is where the ASUS ROG Swift PG278Q steps up to the plate, offering its WQHD resolution of 2560x1440. Every other 2560x1440 monitor before it has been locked at 60Hz, which has seen gamers steer clear of them if they wanted to pursue high frame rates above the 60Hz threshold, shifting down to the 1920x1080 panels that offer 120Hz or even 144Hz. ASUS' other 144Hz monitor is the VG278HE, which has a resolution of 1920x1080, and a 2ms response time. This was one of the monitors that gamers could choose, if they wanted a seriously powerful display, until now.
ASUS has packed the ROG Swift PG278Q with a slew of gaming-related features outside of the obvious 2560x1440 resolution and NVIDIA's G-SYNC technology. Trace talked about these points, but I'm going to reiterate them quickly. ASUS has baked in a single DisplayPort 1.2 port on the ROG Swift PG278Q, something I'm perplexed with. Sure, 1440p at 144Hz requires DisplayPort 1.2, but surely ASUS could've provided other inputs if people chose to plug in a PS4, Xbox One, or even a PC that doesn't have DisplayPort. For me, my ASUS 31.5-inch 4K monitor had to be unplugged, because that too can only be plugged in through a DisplayPort connection (#firstworldproblems, I know).
We have two USB 3.0 ports which come in handy for plugging your mouse and keyboard into the monitor, which saves having to plug them into your PC, especially at a LAN. The 2560x1440 resolution and 144Hz refresh rate are also met with a super-rapid refresh rate of just 1ms, which culls virtually every single iota of motion blur and lag, providing the smoothest gaming monitor I've ever used, and I've used A LOT.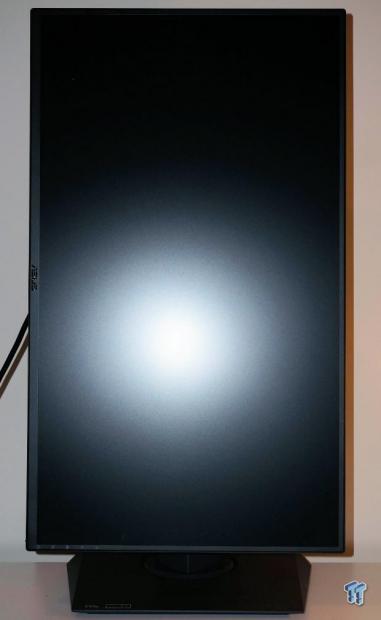 But it's not just technical specs that ASUS has made sure are nailed down, it's the smaller things outside of the monitor, too. Things like the is-it-even-there bezel of just 6mm, which makes it perfect for triple-monitor setups (something we hope to do in the very, very near future with three of these bad boys and GeForce GTX GPUs in triple SLI). But ASUS has also provided VESA wall mounting capabilities, an ergonomic stand that has full tilt, swivel, pivot and height adjustments - which makes it not only a great performing monitor, but a versatile monitor that will meet any gamer's needs. The ability to move it into portrait mode is one big feature, especially for those like myself who want to build systems with three of these bad boys, for NVIDIA Surround Vision in portrait - oh yes.
Not only that, we have two other big technologies built into the ROG Swift PG278Q - ULMB and NVIDIA 3D Vision. The first, ULMB or Ultra Low Motion Blur technology is NVIDIA's way of reducing the effects of motion blur, and is a quasi-sequel to NVIDIA's LightBoost technology from its 3D Vision technology. But, ULMB can only be enabled if you have G-SYNC disabled, so you have to choose between these two technologies - hint, I'd recommend G-SYNC.
Secondly, ASUS' new gaming monitor also supports 3D Vision 1 and 2. For those not acquainted with 3D Vision, it is NVIDIA's 3D technology that provides a seriously slick way of playing your games - in 3D. There are over 700 3D Vision ready games available to play, as well as the slew of 3D Blu-ray movies and YouTube 3D Playback content. Not everyone is a fan of 3D Vision, myself included, but the technology is there on top of a bunch of other great modes and technology to play with.
Our Setup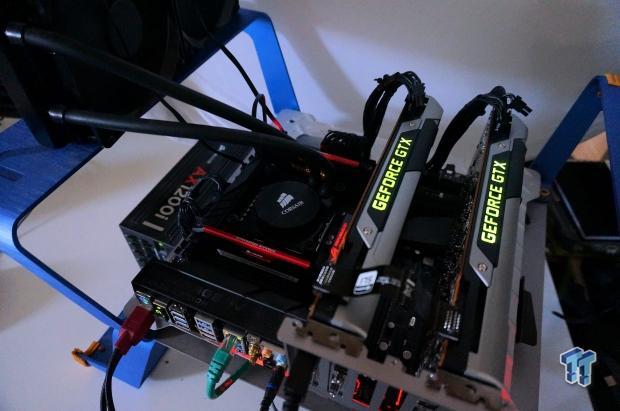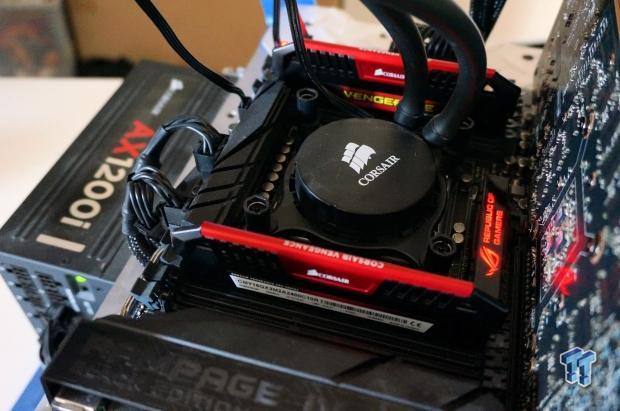 For our testing, NVIDIA provided the display chops with the ASUS ROG Swift PG278Q, but for the rest of our system, here's what I'm running right now:
CPU: Intel Core i7 4930K processor w/Corsair H110i cooler (stock clocks)
Motherboard: ASUS Rampage IV Black Edition
RAM: 32GB Corsair Vengeance Pro (2 x 16GB kits) of 2400MHz DDR3
GPU: NVIDIA GeForce GTX 780 (reference) in SLI
Storage: 240GB SanDisk Extreme II and 480GB SanDisk Extreme II
Chassis: InWin X-Frame Limited Edition
PSU: Corsair AX1200i digital PSU
Software: Windows 7 Ultimate x64
Drivers: GeForce 340.43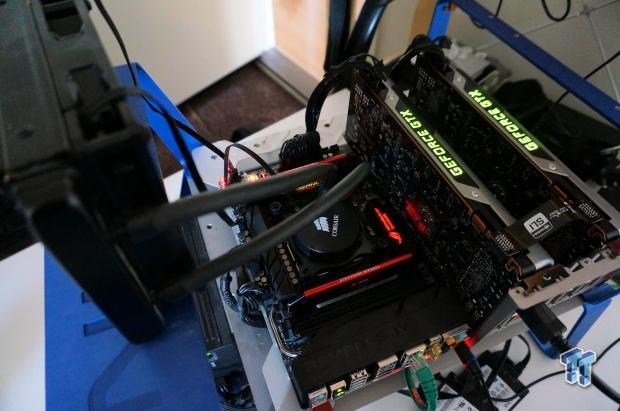 We'd like to thank all of our partners for their support, as this couldn't be possible without NVIDIA, ASUS, Corsair, SanDisk, or InWin. Without them, we wouldn't have the hardware here to test today, so I'd like to thank them all for providing us with the hardware here in my lab.
Enabling G-SYNC
Enabling G-SYNC is incredibly easy, simply go into the NVIDIA Control Panel (right click on the desktop and click the NVIDIA Control Panel). Once you're in there, there are four sections to choose from: 3D Settings, Display, Stereoscopic 3D and Video. In the Display options, the second-to-last option is "Set up G-SYNC".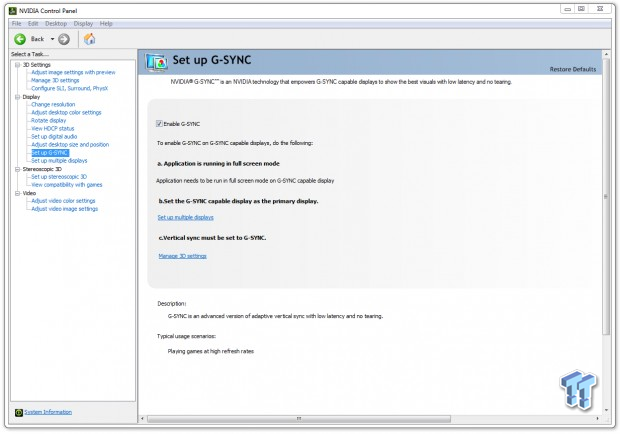 Go into the Set up G-SYNC tab, and make sure to click the box that says 'Enable G-SYNC'. Once you've done this, there's just a couple of other things you have to confirm: that you're running 144Hz - if you've got the hardware capable of driving anything above 100FPS at 2560x1440.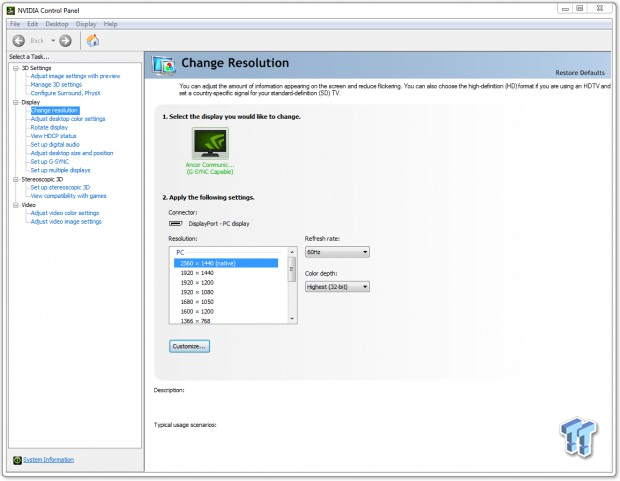 To do that, in the Display options, click 'Change Resolution'. Once you're in there, you'll see that you're sitting on 2560x1440 - but if not, change it to 2560x1440 - and the refresh rate is set to 60Hz. You should see something identical to the image above. To the right, you can see 'Refresh Rate' - change this to 144Hz.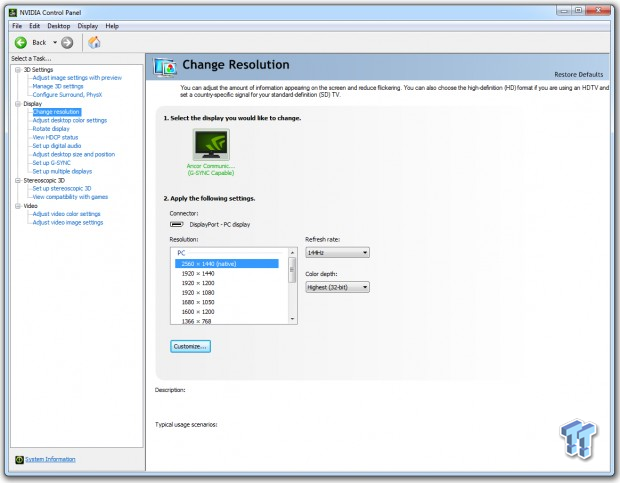 If you've done this, you'll see what I have above: 2560x1440 at 144Hz. Now move the mouse around... there is an instant change to the entire movement of your mouse, isn't there? Try grabbing a window, and moving it in circles - you can still read the text inside of it. Better yet, grab a movie or video file and play it, moving the window in circles on the desktop. Beautiful, isn't it?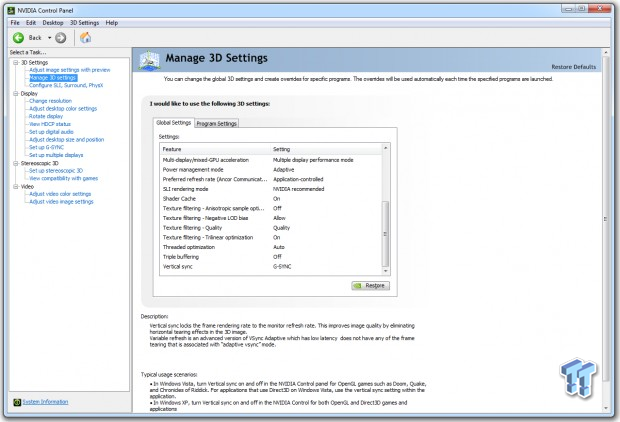 There's one final step you have to do, and that is to go into the 'Manage 3D Settings' in the 3D Settings tab. Once you're in there, make sure that the 'Vertical Sync' option says 'G-SYNC'. Once you've done that, you're all ready to get your G-SYNC on.
Gaming with NVIDIA's G-SYNC & Gaming At 144Hz Isn't Always Perfect
Gaming with NVIDIA's G-SYNC
Before you purchase the ASUS ROG Swift PG278Q, there are a few things you need. First, you need a compatible GeForce GTX video card that starts from the GeForce GTX 650 Ti Boost and up. Driver wise, you're going to need 340.43 or higher, and of course the ASUS ROG Swift PG278Q monitor - or any other G-SYNC capable display, but at this stage, we would only recommend the new ASUS monitor thanks to its 2560x1440 resolution.

We tested a few games with G-SYNC enabled and disabled for our testing, including Battlefield 4, Team Fortress 2 and Metro: Last Light.
Battlefield 4
Battlefield 4 is a big favorite of mine, and whilst it's not perfect, it's a great title to stretch the legs out on your hardware. It really pushes everything against the wall when you've got everything cranked up to 1440p (or beyond to 4K), and even more so when you're needing to drive 144FPS for the 144Hz refresh rate. But, this is where G-SYNC comes into play - you don't need to hit 144FPS as you're still going to get a smooth experience.
I played Battlefield 4 extensively for the purposes of testing out G-SYNC to its limits, dropping the detail in the game to Medium, and playing it at 2560x1440. Most maps I was achieving 100FPS+ most of the time, with the assistance of G-SYNC making it a much smoother experience. On my previous 120Hz-capable LCD, if I was getting 80-100FPS, I would feel the drop. It was noticeable to me when it dropped, but on the G-SYNC monitor, this was no issue whatsoever.
Battlefield 4 is an entirely different game when it is powered by G-SYNC, and you're hitting the 100FPS+ mark. It really is in a league of its own when everything is so smooth, your aiming improves, and you're finding yourself pulling off stunts and shots that you've never done before. You're able to spot people running against buildings or through bushes, thanks to the lack of motion blur and screen tearing.
Metro: Last Light
This is something where the effects of G-SYNC really kicked in, especially when I had the ROG Swift monitor set to 60Hz. Sitting at 60Hz with G-SYNC enabled, there was absolutely no screen tearing, making the game feel like it was closer to 100Hz or so (but not quite 120Hz). Thanks to the beginning stages of Metro: Last Light being underground, there isn't that much to render, so it's easy to get decent frame rates.
My GeForce GTX 780 SLI setup was pushing 60FPS+ constantly at the highest settings possible in-game (without AA), something mixed with G-SYNC makes it feel liquid smooth. Flicking the button on the side of the ROG Swift monitor and cranking things up to 144Hz was an entirely new beast - liquid smooth first-person gaming. 144Hz and G-SYNC is something that simply needs to be seen in order to be believed, making the Metro: Last Light experience completely new.
Team Fortress 2
This is one of my favorite go-to games for testing high refresh rate monitors, as it's easy to get past 120FPS on even mid-range hardware, but the look and design of the game makes the smoothness of G-SYNC and high refresh rate screens really pop on the screen.
Team Fortress 2 at 2560x1440 at 144Hz, so 144FPS minimum, is absolutely gorgeous. It is the best test to show off to friends who don't believe in the benefits of high refresh rates (oh, but my IPS-based panel has true color!) or better yet: G-SYNC. At 144Hz with G-SYNC enabled, the experience in TF2 is nothing short of amazing. It is so smooth that the entire time I was playing, it felt really fake - like it was butter melting in a hot pan - just so, so unbelievably smooth. Screen tearing is something of the past with G-SYNC, so TF2 feels like something really special with NVIDIA's technology behind it.
Gaming At 144Hz Isn't Always Perfect
The problem with having this beautiful, highly specced monitor sitting in front of me is that it requires quite a few things to hit its stride and really take off. Apart from the fact that you need some serious hardware to pump 2560x1440 out at a massive 144Hz, you need to be rendering closer to 100FPS or so for G-SYNC to play well with the refresh rate magic it does.
With my testing, I found that if I was gaming at 60Hz - knowing full well in the background that I'm rendering at well over 100FPS - that it still felt laggy. Not laggy in the sense of my ping, but I could definitely feel that it wasn't 120 or 144Hz.
G-SYNC does step in, removing the screen tearing and reducing the motion blur and lag, but it isn't a one-stop shop magic trick that fixes all of these problems. I found that at 144Hz, if I was getting around 100FPS that G-SYNC kicked in much stronger, and the experience was liquid smooth - much smoother than I thought it would be on paper, without testing it in front of me.
I think where my experience with high refresh rates comes in, is this technology from NVIDIA. I've been using a 1920x1080 capable 120Hz panel for years now - the Samsung S27A950D. This monitor was my gaming monitor until the ROG Swift PG278Q. Running 120FPS minimum was hard with most games, and whenever my frame rate dipped to 80-100FPS, I could feel it not synching the frames at 120Hz.
Achieving over 120FPS in most games is next to impossible without some seriously powerful multi-GPU hardware, but that's when you have to take a trade off if you're not willing to spend the money on the additional hardware required. From here, you have two options.
First, throw more money at more hardware. In order to push 2560x1440 at 144Hz, where you're aiming for close to a minimum of 144FPS, you're going to require at least two GeForce GTX 780 Ti GPUs, or better yet, two GeForce GTX TITAN Black Edition GPUs. 3GB of VRAM might be enough, but I would recommend going for the 6GB GPUs.
The second option would be to drop the detail in the games down, something I had to do in Battlefield 4 in order to creep closer to 144FPS. But, you don't want to be dumping down $800 on a new monitor, and $1500+ on new GPUs to drop the detail in your games, right? This is where G-SYNC helps, a lot.
G-SYNC feels like it connects the dots between ~80-100FPS and 144FPS, so you don't necessarily need to buy another GPU or start overclocking them like crazy to reach the 144FPS minimum mark, which would be close to impossible on two GPUs in something like Battlefield 4 or Metro: Last Light at their highest in-game graphics quality settings.
What's Hot, What's Not & Final Thoughts
What's Hot
G-SYNC Is Amazing: After some intensive gaming over a couple of nights with G-SYNC, I could never go back. I've been spoiled by NVIDIA's G-SYNC technology, it's as simple as that. There is no going back from 2560x1440 at 144Hz with G-SYNC, it's simply the best gaming experience you can have outside of VR.
ASUS' ROG Swift PG278Q Is The Best Gaming Monitor Money Can Buy: It's simple. ASUS has crafted the best gaming monitor you can buy with the ROG Swift PG278Q. With a few simple facts: 2560x1440, 144Hz and of course, NVIDIA's G-SYNC technology. These three points combine their powers to become the best gaming monitor money can buy.
Gaming Goes Next-Gen: Forget those "next-gen" consoles, barely capable of 720p at 60FPS, let alone 1080p. We have a 2560x1440, or 1440p screen that is capable of driving not just 30FPS, or 60FPS, or even 120FPS, but a massive, truly next-gen frame rate of 144FPS. When you've got the hardware to drive 144FPS minimum in a game (and that game can handle it), then you're going to experience an entire new level of gaming you never thought was possible.
What's Not
Steep Hardware Requirements: This isn't a totally negative point, because ASUS and NVIDIA aren't pushing G-SYNC into the market of sub $700 PCs. This is for the gamers and enthusiasts. At a minimum, you're going to want a GeForce GTX 770 for 1440p at Medium graphics settings in most games to keep 60FPS+, but you're really going to want SLI GPUs to get the most out of the ROG Swift and its G-SYNC technology.
Final Thoughts
ASUS has the best gaming monitor on the market with the ROG Swift PG278Q, period. It truly is the best monitor out on the market right now, with so many features and technologies built into it, for a price that might seem high, but it really is a great price for what is included.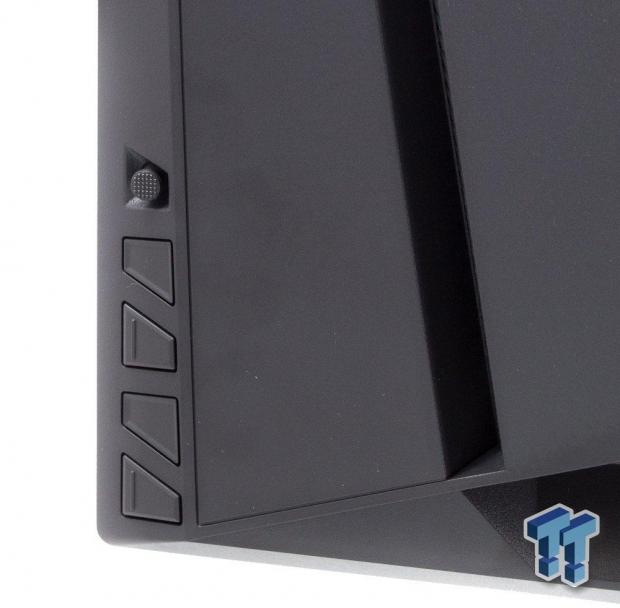 You're getting a WQHD 2560x1440 panel with a 144Hz refresh rate, meaning if you're running an AMD Radeon GPU, you're not left out in the cold. That's right, you can still run this beast of a gaming monitor on an AMD Radeon GPU, but you won't get the best experience on a Radeon GPU. On top of that, the ROG Swift PG278Q offers NVIDIA's G-SYNC technology, 3D Vision support, a great OSD with buttons that are easy to press and use, tilt, pivot, height adjustment and more.
Not only that, but NVIDIA's G-SYNC technology is truly something next-gen. For those who are after something that changes their system in more ways than one, then G-SYNC is what you need. The difference it does to your games is night and day, especially when you can hit anywhere near 60FPS, and maintain that.
The easiest way to explain it is for people who have gone from a mechanical HDD to an SSD in the last couple of years. The difference that an SSD made to your system was instantly noticed, and something that you can never go without. Have you ever gone from an SSD-powered system to a mechanical HDD? It's horrible. The same goes for G-SYNC, once you've hit the G-Spot with G-SYNC, you won't be going back to gaming without it.
The simple fact is, right now, if you're in the market for a new gaming monitor, the best that money can buy is found in an ASUS ROG Swift PG278Q with its NVIDIA G-SYNC technology.
PRICING: You can find products similar to this one for sale below.

United States: Find other tech and computer products like this over at Amazon.com

United Kingdom: Find other tech and computer products like this over at Amazon.co.uk

Australia: Find other tech and computer products like this over at Amazon.com.au

Canada: Find other tech and computer products like this over at Amazon.ca

Deutschland: Finde andere Technik- und Computerprodukte wie dieses auf Amazon.de
We openly invite the companies who provide us with review samples / who are mentioned or discussed to express their opinion. If any company representative wishes to respond, we will publish the response here. Please contact us if you wish to respond.