Patriot Memory for Ultrabook - Scaling SODIMM RAM Density vs. Battery Life
Last month we reviewed Patriot's low voltage SODIMM 'Memory for Ultrabook' RAM and found it increased notebook battery life over standard 1.5v SODIMM memory. We're back now to answer the question we left with last month - what happens to battery performance when I use more than one stick of memory?
Published Tue, Feb 5 2013 2:55 AM CST
|
Updated Tue, Nov 3 2020 7:01 PM CST
Introduction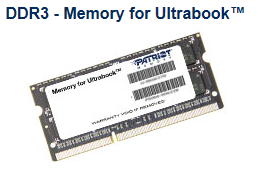 Last month we jumped on an opportunity presented to us to use our SSD Notebook Power Test system to observe battery life with a new product from Patriot. Patriot released a new product called Memory for Ultrabook. The name is exactly what it is, but we would of preferred something cool like Battery Saver SODIMM or something a little less...err, well whatever the hell Memory for Ultrabook is.
Despite the funky product name, Patriot's 1.35v Memory for Ultrabook RAM delivered and in a big way. In our initial testing, we observed a 17 minute increase to battery life just by replacing our OEM Samsung 4GB SODIMM with a Patriot Memory for Ultrabook 8GB SODIMM. The Patriot model we used ran at the same 1600MHz speed as our original OEM Samsung 1.5v stick so we don't lose performance in any way.
When we finished the article only one question remained in my mind, what happens when you replace two memory sticks with one and what happens to battery performance when you run four sticks?
So, today we are back and with four Patriot Memory for Ultrabook sticks running at 1600MHz. We're going to test with one, two and finally four sticks to see how physical density affects battery performance. Let's take a look at Patriot's Memory for Ultrabook specs, see the product and go over the benchmark configuration before the test results.
Specifications, Pricing and Availability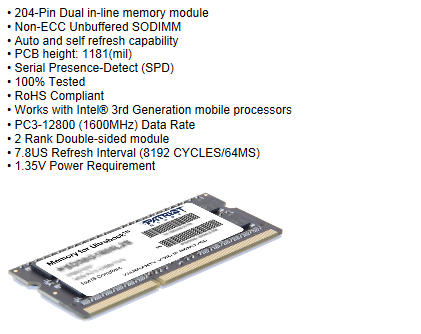 Patriot has four SKUs in the new Memory for Ultrabook product line. These differ by density, 4GB and 8GB, and speed, 1333MHz and 1600MHz. Today we're looking at the largest and fastest model, 8GB running at 1600MHz. All four of these products use the new low voltage power scheme, 1.35 volts.
At the time of writing only two companies offer 1600MHz SODIMM products at Newegg, Patriot and Mushkin. Prior to writing this editorial I went back to check for changes in Patriot's pricing. The model we're testing today, 8GB 1600MHz at 1.35v is still listed at $44.99. Patriot doesn't offer bundle packs, just single stick SODIMM blister packs.
Patriot backs Memory for Ultrabook with a limited lifetime warranty, which is nice. There aren't any accessories, but we're talking about RAM, you don't really need any.
Packaging and Patriot Memory for Ultrabook
Packaging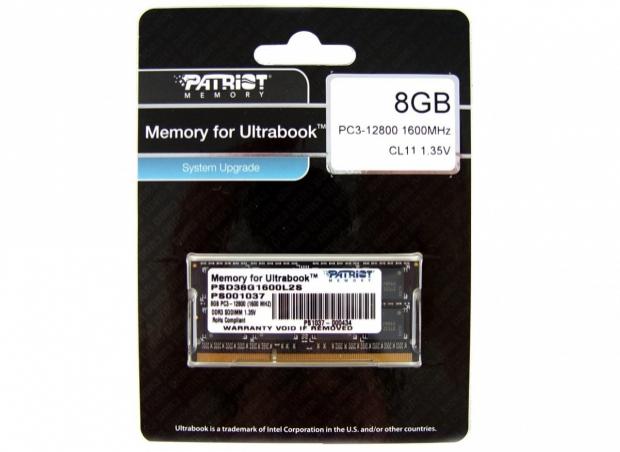 The memory sticks in a Patriot blister pack with one stick per pack. The specs are listed on the front; Patriot puts a sticker on the package that shows the density and memory speed.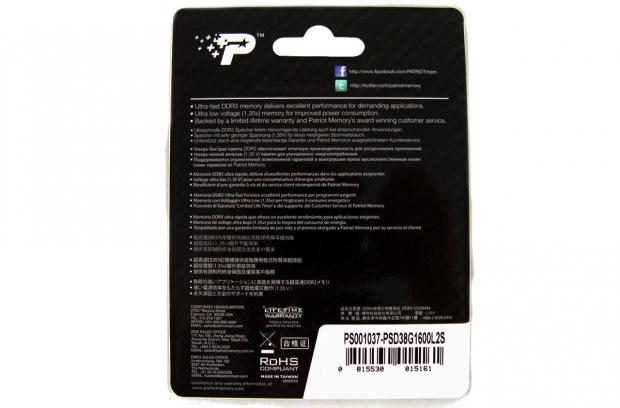 Some general information about the ultra low memory is on the back of the package and the product SKU is on the bottom.
Patriot Memory for Ultrabook 8GB 1600MHz 1.35V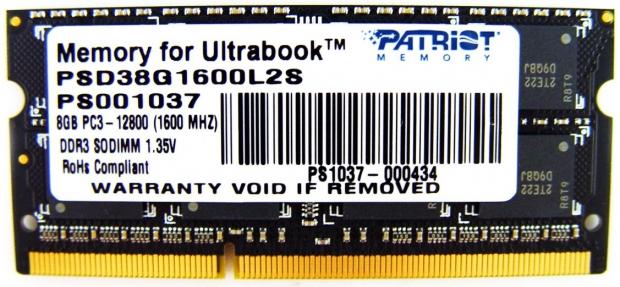 On the outside the Memory for Ultrabook looks like any other DDR3 SODIMM stick. The label on the package lets us know this is a 1.35V part, but other than the label, it looks like any other notebook memory stick.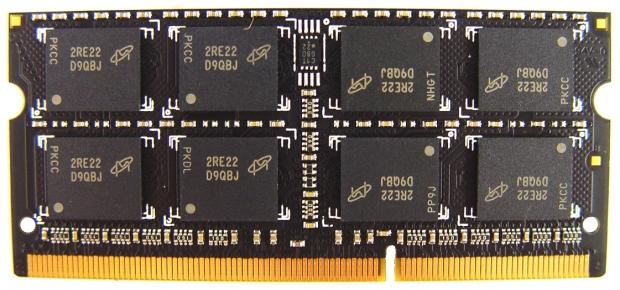 There are 16 Micron DRAM chips, eight on each side.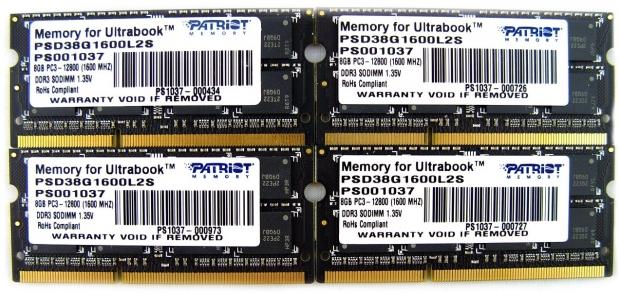 Today we're using four sticks to test battery life with 4, 2 and finally 1 stick in our Lenovo W530 notebook.
Benchmarks - Test System Setup and Battery Life Test
Lenovo W530 - Mobile Workstation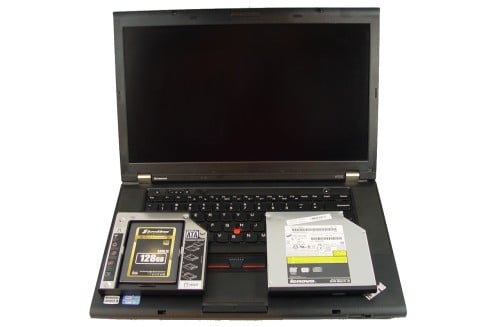 It's important to remember that our Lenovo W530 isn't designed for long battery life. This is a mobile workstation unit with a beefy NVIDIA Quadro GPU and real processing power at the heart of the unit. When we chose the W530 for power testing, we wants to find a product that would emulate two types of readers, gamers and our business readers. At the time the W530 also simulates mainstream users with older notebooks that have batteries that aren't in the best condition.
Our Lenovo W530 uses a 6-cell battery to decrease the length of the MobileMark 2012 test. A common upgrade for mobile professionals is the upgraded 9-cell battery. Since we are worried more about comparing two (or more) products to each other in comparison, the comparison difference is of more value than the raw number on its own.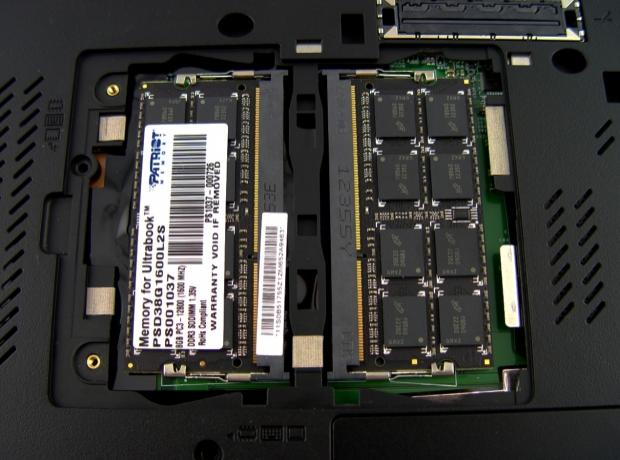 Our Lenovo W530 shipped with a single stick of DDR3 RAM running at 1600MHz. The base system ships with 4GB of RAM and that's what we normally use to test with. The stock RAM draws 1.5 volts. The Patriot Memory for Ultrabook doubles the stock density, 8GB, retains the same speed, 1600MHz and uses just 1.35 volts. Today we're going to scale the RAM by stick density. This will also scale the density of RAM, 8GB to 16GB then to 32GB while moving from 1 stick to 4 sticks.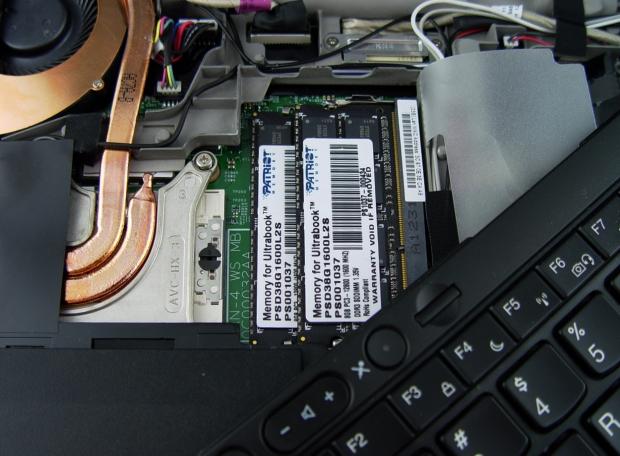 Like many mobile workstation notebooks, the W530 has four slots for SODIMMs. These are paired into twos, one under the keyboard and one under a cover on the bottom.
Testing and Final Thoughts
Bapco MobileMark 2012 1.5
Version and / or Patch Used: 2012 1.5
Developer Homepage: http://www.bapco.com
Test Homepage: http://www.bapco.com
MobileMark 2012 1.5 is an application-based benchmark that reflects usage patterns of business users in the areas of office productivity, media creation and media consumption. Unlike benchmarks that only measure battery life, MobileMark 2012 measures battery life and performance simultaneously, showing how well a system design addresses the inherent tradeoffs between performance and power management.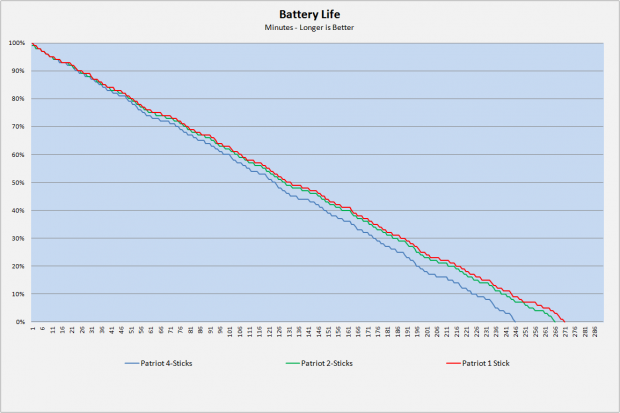 It really doesn't take a genius to know that the more powered items you add to a notebook, the less battery life you get. The question was always how much of a difference it makes. In our testing, going from one SODIMM stick to two wasn't that big of a deal, we lost between 5 to 6 minutes of battery life.
Moving from two sticks to four sticks had a large impact on battery life, around 20 minutes. That makes the difference between one 8GB stick and four 8GB sticks (32GB total) around 25 minutes.
Final Thoughts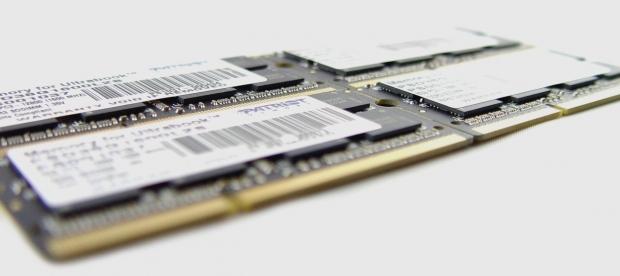 Today's test really answers a lot of questions for me, or at least brings to light something I've observed and not spent a lot of time thinking about.
When I buy a new notebook the first thing is do is slap in the fastest SSD available at the time and fill the system full of RAM. There are usually a couple of days in between getting the notebook from the OEM and then 'making it mine'. Before I really didn't think too much about it, but I could always tell the battery life had dropped off, but I never realized exactly how much until now. These tests tell us that you want to use a few memory sticks in your laptop as possible for optimal battery life. It does make a sizable difference to performance.
I have a few more articles planned in this mini-series dedicated to increasing notebook battery life. All of our SSD reviews include power testing and the MyDigitalSSD BP4 with new 19nm Toshiba Toggle 2 NAND currently leads the battery performance charts in the SSD category. The other articles include notebooks filled with crapware (the software that comes preloaded on your notebook from the factory) versus a clean install. Then we'll look at HDD cache products, small SSDs paired with HDDs.
If you have a battery life related test you would like to see, comment below. We're watching.
PRICING: You can find products similar to this one for sale below.

United States: Find other tech and computer products like this over at Amazon.com

United Kingdom: Find other tech and computer products like this over at Amazon.co.uk

Australia: Find other tech and computer products like this over at Amazon.com.au

Canada: Find other tech and computer products like this over at Amazon.ca

Deutschland: Finde andere Technik- und Computerprodukte wie dieses auf Amazon.de
We openly invite the companies who provide us with review samples / who are mentioned or discussed to express their opinion. If any company representative wishes to respond, we will publish the response here. Please contact us if you wish to respond.
Related Tags