Patriot Memory for Ultrabook PC3-12800 8GB LoVo SODIMM Review
The big push in 2013 for mobile performance will be fought in battery life. Like every other market, if you want to get the best available you have to go to the aftermarket for premium components. The Patriot Memory for Ultrabooks will increase your notebook or ultrabook battery life, but just like everything premium, you have to pay a bit more.
Published Jan 9, 2013 12:46 AM CST
|
Updated Tue, Nov 3 2020 7:01 PM CST
4 minute read time
Introduction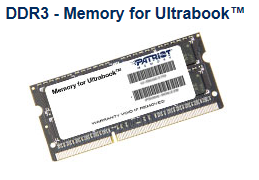 If you follow our SSD reviews you know we recently acquired a Lenovo W530 notebook for measuring battery life across our SSDs. The new test is so good it stuck and is now a standard test for all of our SSD reviews. Now that we have the test procedures locked down we can use the same platform to test other essential components. Most of these tests are to satisfy my own curiosity. At some point I may track down a few different mobile processors in the mobile Ivy Bridge family to see how different models affect battery life, but don't expect us to test 50 memory kits in 2013 for battery life performance.
At this time, it would be difficult to make this a regular product category anyhow. Newegg only lists two 8GB 1600MHz with ultra-low 1.35V. There are a number of 1.35V 4GB memory sticks at Newegg, but only Mushkin and Patriot have 8GB sticks available.
Our Lenovo W530 has four memory slots, but when trying to maximize battery life, lower is better. One memory stick will give you better battery life than two, three or four sticks. Our Lenovo W530 shipped with a 4GB 1600MHz 1.5V memory stick.
Can the Patriot Memory for Ultrabook double our DRAM density and still increase the battery life? We'll see today.
Specifications, Pricing and Availability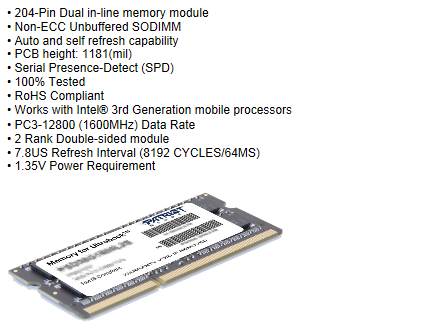 Patriot has four SKUs in the new Memory for Ultrabook product line. These differ by density (4GB and 8GB) and speed (1333MHz and 1600MHz).
Today we're looking at the largest and fastest model, 8GB running at 1600MHz. All four of these products use the new low voltage power scheme, 1.35 volts.
As we stated in the introduction, there are only two 8GB 1600MHz LoVo models listed at Newegg, one from Mushkin and the Patriot Memory for Ultrabook we're looking at today. With only two products available with these specs you'll need to pay a little more for the features.
Newegg lists the Patriot Memory for Ultrabook 8GB 1600MHz 1.35V stick for $44.99 at the time of writing. The lowest priced 8GB 1600MHz stick on Newegg costs $32, but it uses 1.5 volts and is from a brand I don't recognize.
Packaging and Patriot Memory for Ultrabook
Packaging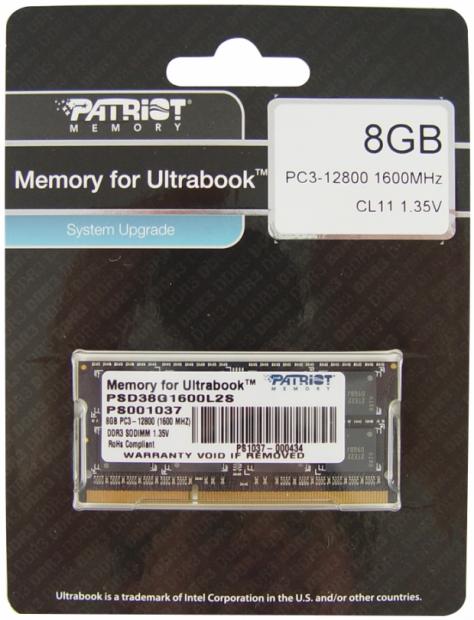 The memory sticks in a Patriot blister pack with one stick per pack. The specs are listed on the front; Patriot puts a sticker on the package that shows the density and memory speed.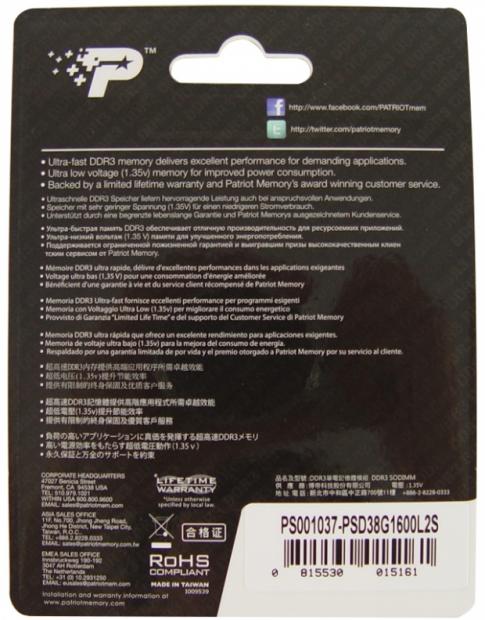 Some general information about the ultra low memory is printed on the back of the package and the product SKU is on the bottom.
Patriot Memory for Ultrabook 8GB 1600MHz 1.35V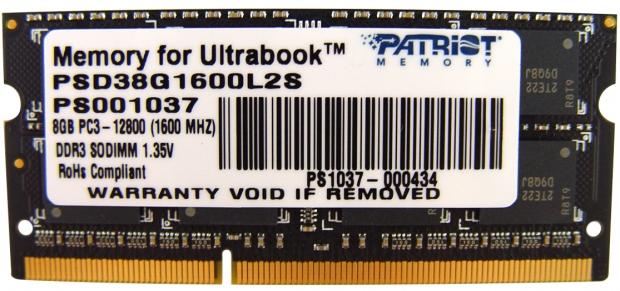 On the outside the Memory for Ultrabook looks like any other DDR3 SODIMM stick. The label on the package lets us know this is a 1.35V part, but other than the label it looks like any other notebook memory stick.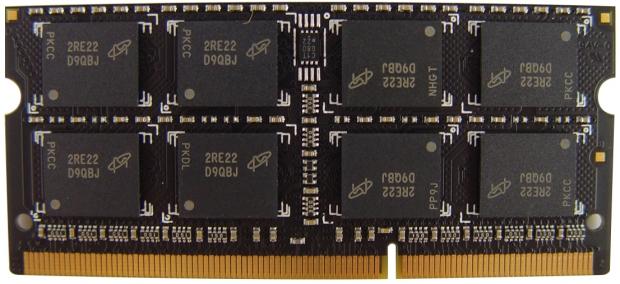 There are 16 Micron DRAM chips, eight on each side.
Benchmarks - Test System Setup and Battery Life Test
Lenovo W530 - Mobile Workstation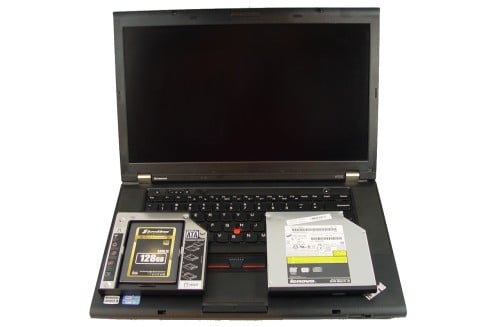 It's important to remember that our Lenovo W530 isn't designed to be a long life notebook with 10+ hours on the portable juice. We use this system to test SSD performance in our standard SSD reviews. Since we review more SSDs than any other publication in the world, online or in print, we often need to run two and three drives in a single day. To reduce the number of hours in our notebook test we use a lower capacity 6-cell battery instead of a 9-cell battery. We also only run the notebook with moderate power savings in the BIOS settings. Even with these settings we can achieve nearly 300 minutes of use on a single charge depending on what SSD we have in the notebook.
Our Lenovo W530 shipped with a single stick of DDR3 RAM running at 1600MHz. The base system ships with 4GB of RAM and that's what we normally use to test with. The stock RAM uses 1.5V.
The Patriot Memory for Ultrabook doubles the stock density, 8GB, retains the same speed, 1600MHz and uses the new lower power setting, 1.35V. Going into the review I wasn't sure if the Patriot 1.35V SODIMM would outperform the Lenovo stock SODIMM since it doubles the density, but those fears have been sidelined.
Bapco MobileMark 2012 1.5
Version and / or Patch Used: 2012 1.5
Developer Homepage: http://www.bapco.com
Test Homepage: http://www.bapco.com
MobileMark 2012 1.5 is an application-based benchmark that reflects usage patterns of business users in the areas of office productivity, media creation and media consumption. Unlike benchmarks that only measure battery life, MobileMark 2012 measures battery life and performance simultaneously, showing how well a system design addresses the inherent tradeoffs between performance and power management.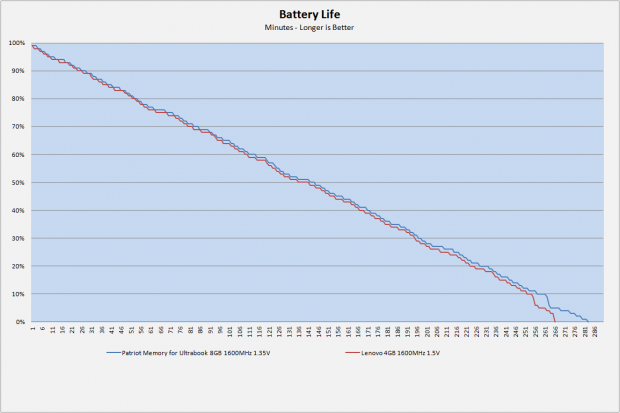 Getting right down to business, we have our results. The Patriot Memory for Ultrabook stick running just 1.35 volts gave us a measurable battery life increase. The stock Lenovo RAM delivered 266 minutes of battery life and the Patriot Memory for Ultrabook delivered 283 minutes. The Memory for Ultrabook improved our battery life by 17 minutes in our configuration.
We want to point out that if we configured the W530 to extend the battery life as far as it could, the time difference would be much further apart. With a 9-cell battery, a common upgrade for notebook users and all of the power saving features enabled the battery life would increase, nearly double and the difference between these two memory sticks would nearly double as well.
Final Thoughts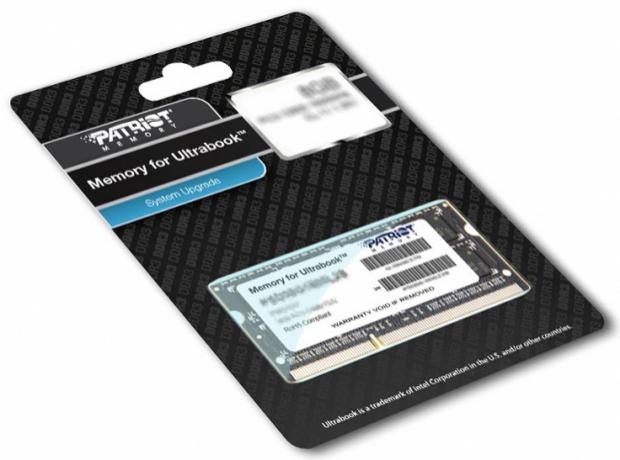 As I get older my computers are changing. I value pixel density in a notebook over screen size on my desktop, longer battery life over frames per second and cool processing (so I don't burn my leg) over overclockability. Yes, I'm getting lame, but like many others, I've turned my passion for computers into a full time job and I work more than I game these days. Come to think of it...getting old kind of sucks. At least I still have football on the TV, like right now. My notebook, after being optimized, gives me enough power to write this review during a Bowl game and I don't need to go get the power brick.
We've proven today that using LoVo DRAM isn't just a marketing gimmick and actually increases battery performance. I was honestly surprised at how much more battery life we gained in our test today. We double the density as well, moving from 4GB to 8GB and at one point, I feared we might actually go backwards but luckily, that wasn't the case. In our test, we gained an additional 17 minutes of battery life, double the density and the end result is a more enjoyable user experience.
The Patriot Memory for Ultrabook costs more than run of the mill DDR3 SODIMMs, but it works as advertised. If you're looking at 8GB sticks there are only two manufacturers offering high speed 1600MHz products with 1.35V and Patriot is one of them. I'm picking up three sticks, one for each of my notebooks.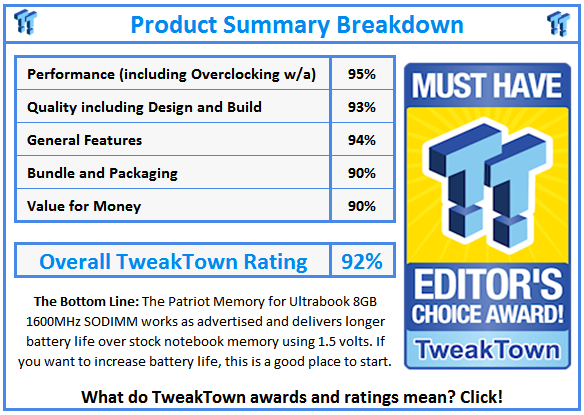 PRICING: You can find products similar to this one for sale below.

United States: Find other tech and computer products like this over at Amazon.com

United Kingdom: Find other tech and computer products like this over at Amazon.co.uk

Australia: Find other tech and computer products like this over at Amazon.com.au

Canada: Find other tech and computer products like this over at Amazon.ca

Deutschland: Finde andere Technik- und Computerprodukte wie dieses auf Amazon.de
We openly invite the companies who provide us with review samples / who are mentioned or discussed to express their opinion. If any company representative wishes to respond, we will publish the response here. Please contact us if you wish to respond.