Biwin NuvoDrive NX Novachips Bugatti Preview - World Exclusive
Biwin's NuvoDrive NX is the first SSD announced with the new Novachips Bugatti controller. Today Chris takes a full run with an engineering sample to see if this 10-Channel controller lives up to its racy name.
Published Mon, Jul 9 2012 8:27 AM CDT
|
Updated Tue, Nov 3 2020 7:01 PM CST
Introduction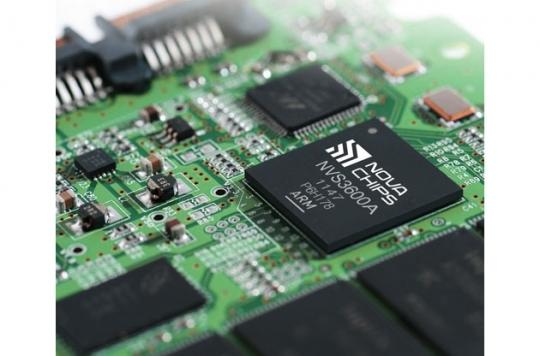 Most of you don't know Daniel Kim, but if you purchased an SSD in 2009 or 2010, the chances are he designed the controller inside it. Back then, two SSD controllers dominated the consumer market. Intel held the performance crown with the 10-channel X25-M and Indilinx's Barefoot dominated the low-price segment. The Indilinx Barefoot was all over the market, much like SandForce is today. If SandForce had a blueprint going into the consumer market they swiped it from Indilinx because the Barefoot was the first controller to gain mass acceptance with drive manufacturers.
As most of you know, OCZ Technology scooped up Indilinx in March of 2011 for roughly 32 million dollars in common stock. In the package was around 20 patents and patent applications according to Wikipedia, but Daniel Kim, pretty much the father of Barefoot, didn't make the transition. Daniel had other plans and today we're going to see the first new product to come from his new company, Novachips.
Just days before we took to the sky for Computex 2012, Biwin announced a new enterprise SSD under the name NuvoDrive NX. The press release for the NuvoDrive NX was also the first time we'd heard Novachips was ready to unveil their first SSD controller.
Officially dubbed NVS3600A, a rather unmemorable part number, the code name for this 10-channel controller is Bugatti. I doubt anyone would officially tell us Bugatti has any relation to the Italian car maker responsible for such marvels as the EB110, one of my favorites of all time and the current supercar masterpiece Veyron 16.4. That's OK though, we get it even without an official statement. Obviously Novachips wants us to associate the NVS3600A with high speed.
Today we take a world exclusive look at an engineering sample Biwin NuvoDrive NX. This drive is based on beta hardware and beta firmware. The performance we show today will not be the same as the final product. The test does allow us to get a good feel for the drive. We also identified a couple of issues that we reported back to Biwin which will allow them to put out a better product when it comes time to review the NuvoDrive NX.
Specifications, Pricing and Availability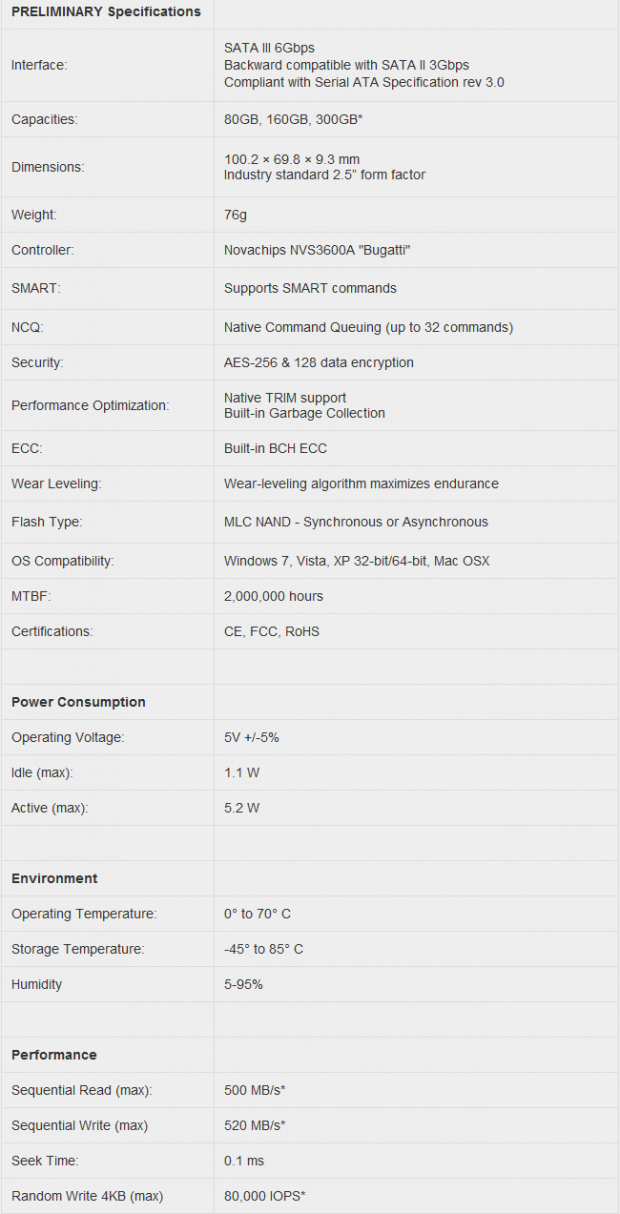 Biwin already published the PRELIMINARY specifications. Since the performance data was taken from early hardware and early firmware, we expect some of these values to change. When Indilinx released the Barefoot, the closest relative to Bugatti, the performance was good, but the final release firmware was much faster. This is very common with SSDs and one that we welcome because free performance via a simple firmware flash is a nice feature.
The official, PRELIMINARY performance for sequential reads is 500MB/s and 520MB/s for the sequential writes. The random 4K write performance is right around 80K IOPS. To date very few SSDs have been able to match the performance from the SandForce controllers, but the Bugatti is a contender. Unlike the Team SandForce MLC products, Bugatti does not take a hit when working with incompressible data.
When we first heard about the Bugatti we were interested in finding out more right off the bat. It's been quite a while since we'd seen a 10-channel controller. After thinking about it a bit we understood why Novachips would go this route. The controller was engineered to outperform an Intel 10-channel SATA III drive, or at least compete with one. The old Indilinx hardware team missed a generation, but so did Intel. In their absence SandForce and Marvell picked up the slack. It's easy to see that Novachips saw the superior 10-channel design as a step in the right direction and a way to compete with other controller makers.
At this time we can't say much about the price or availability except Biwin plans to hit current SandForce level pricing. As for when the NuvoDrive NX will hit the market, your guess is as good as mine.
Biwin NuvoDrive NX Early Preview SSD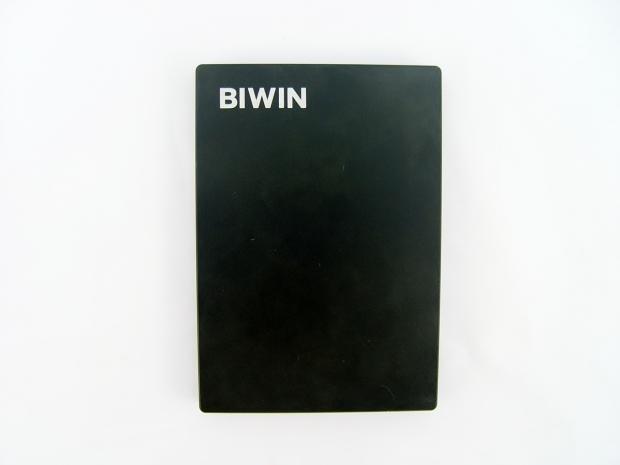 The NuvoDrive NX uses the same case design as the Elite series model we have in the lab with a SandForce controller under the hood.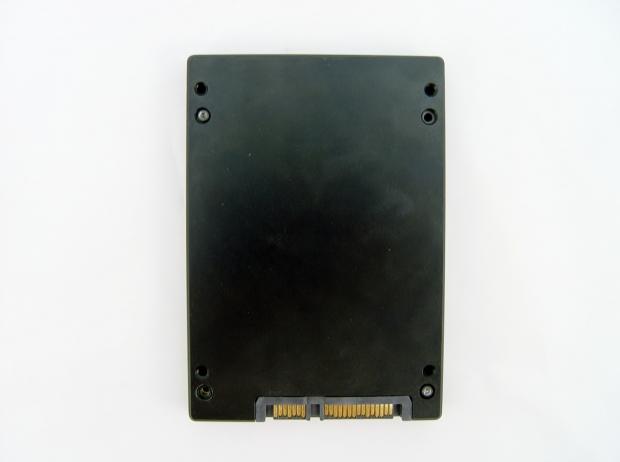 The early sample drive uses a 2.5" form factor with a 9mm z-height.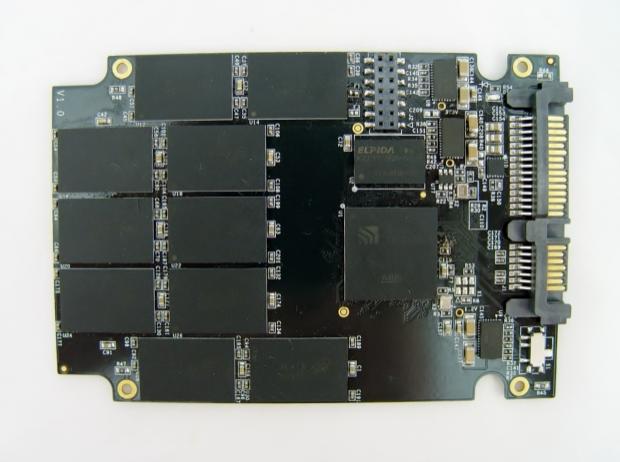 Getting right to the good part. The Novachips Bugatti controller is the large chip to the right of the PCB. This is a 10-channel controller so there are 20 NAND flash ICs instead of the standard 16 that we see on most drives using 8-channels.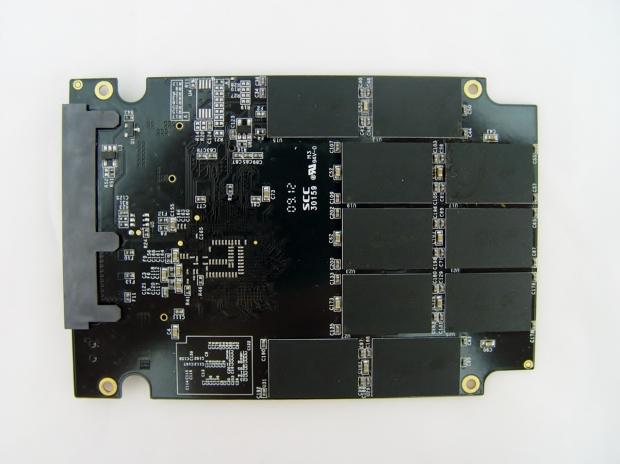 There are 10 flash ICs on each side of the PCB.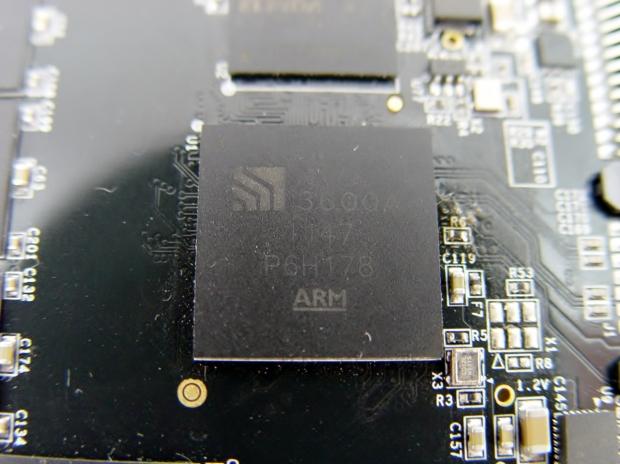 Here we get our first look at the Novachips Bugatti controller. The writing on the chip is pretty worn from the thermal pad that rests between the controller and the drive case.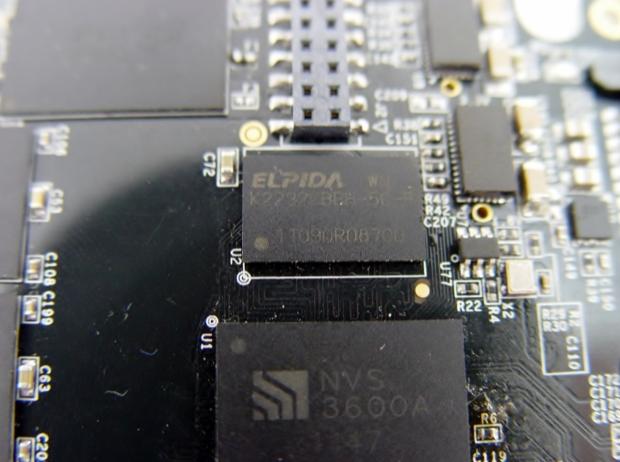 On the early sample Biwin chose to use a 256MB DDR buffer. With many of the new Marvell drives going up to a 1GB buffer (Vertex 4 512GB), it will be interesting to see what Biwin does on the final drive.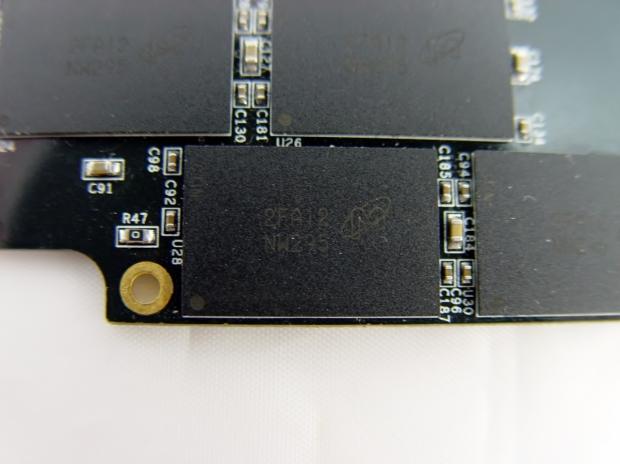 The early sample uses Micron flash that is labeled 2FA12 and NW295. This should be L74A which is 25nm ONFi flash. The total amount of flash is 320GB.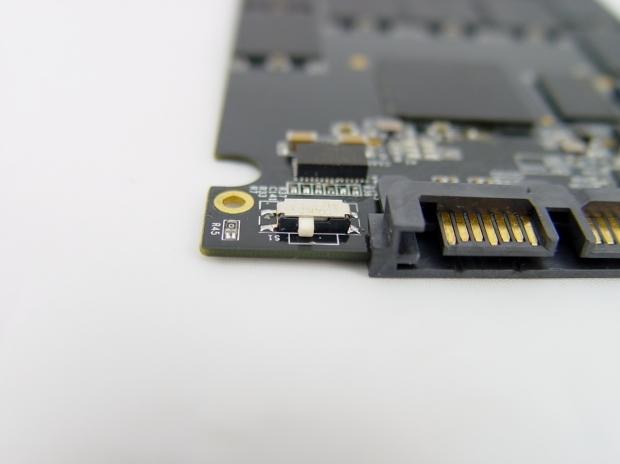 This may bring back some memories. On the early Indilinx Barefoot drives you had to close the circuit with a jumper to flash the drives with new firmware. We can't say for sure what the jumper is for - we didn't want to kill the sample in this test.
Benchmarks - Test System Setup and ATTO Baseline Performance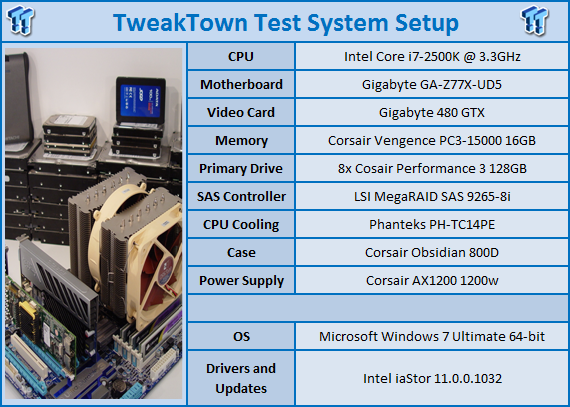 We would like to thank the following companies for supplying and supporting us with our test system hardware and equipment: AVADirect, GIGABYTE, LSI, Corsair and Noctua.
You can read more about TweakTown's Storage Product Testing Workstation and the procedures followed to test products in this article.
In order to fully utilize SATA III you need a system with native SATA III support. P67, Z68, Z77 and X79 systems are preferred, but AMD has made advances in their newer SATA III systems as well. Older X58 systems with Marvell based SATA III ports do not deliver the same high levels of performance, so we recommend newer systems when available.
ATTO Baseline Performance
Version and / or Patch Used: 2.34
ATTO is used by many disk manufacturers to determine the read and write speeds that will be presented to customers.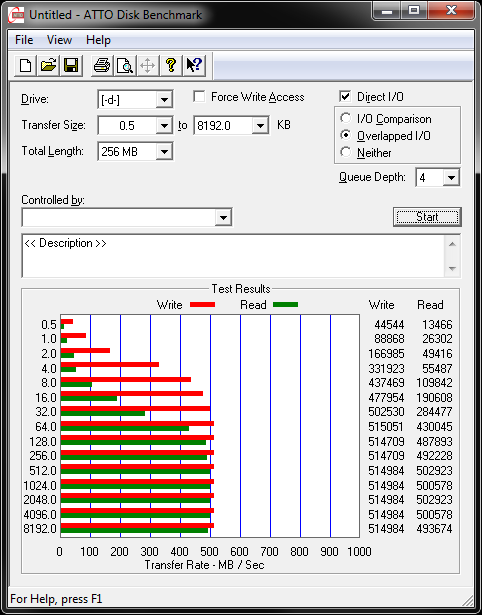 In our testing with the early beta sample Biwin NuvoDrive NX we achieved nearly 515MB/s write performance and just over 500MB/s read. These numbers are very close to the published performance numbers released by Biwin.
Benchmarks - HD Tune Pro
HD Tune Pro
Version and / or Patch Used: 4.00
Developer Homepage: http://www.efdsoftware.com
Product Homepage: http://www.hdtune.com
HD Tune is a Hard Disk utility which has the following functions:
Benchmark: measures the performance
Info: shows detailed information
Health: checks the health status by using SMART
Error Scan: scans the surface for errors
Temperature display
HD Tune Pro gives us accurate read, write and access time results and for the last couple of years has been gaining popularity amongst reviewers. It is now considered a must have application for storage device testing.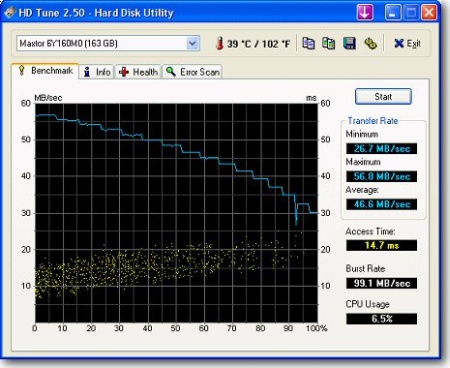 In its current form the Biwin NuvoDrive NX has the same limitation we found on the Vertex 4. The single command read performance is limited to just under 280MB/s. In order to reach the full 500+MB/s when reading data you have to do it with native command queuing or more than one transfer at the same time.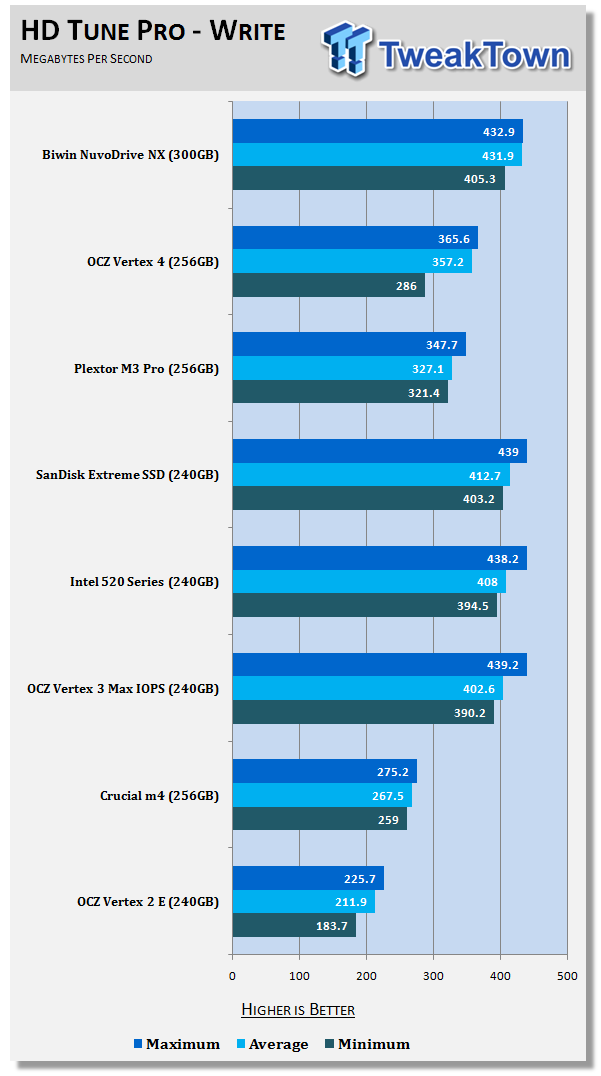 When writing data across the NuvoDrive NX we didn't have the same limit. Here we see a solid 430MB/s average run when writing data across the drive. This test uses compressible data, the type that SandForce drives are able to write quickly. The NuvoDrive NX with the Novachips Bugatti still outperforms the SandForce SF-2281 drives in write speed. That was no easy task for sure.
Benchmarks - AIDA64 Random Access Time
AIDA64 Random Access Time
Version and / or Patch Used: 1.60
Developer Homepage: http://www.aida64.com
Product Homepage: http://www.aida64.com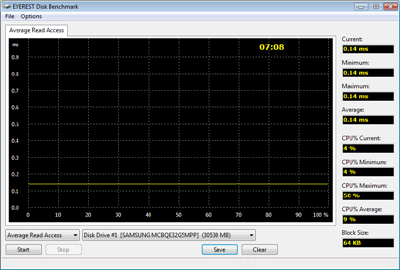 AIDA64 offers several different benchmarks for testing and optimizing your system or network. The Random Access test is one of very few if not only that will measure hard drives random access times in hundredths of milliseconds as oppose to tens of milliseconds.
Drives with only one or two tests displayed in the write test mean that they have failed the test and their Maximum and possibly their Average Scores were very high after the cache fills. This usually happens only with controllers manufactured by JMicron and Toshiba.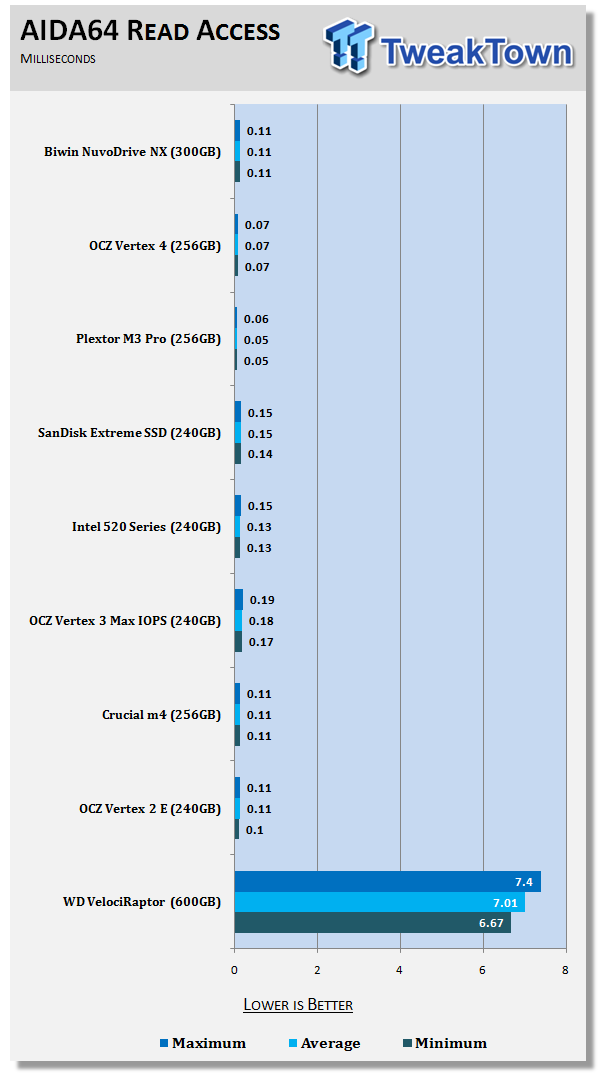 The read access times are lower than the SandForce based drives, but not as low as the Marvell drives. The lower the access times the faster the drive feels when you bounce between windows and open programs.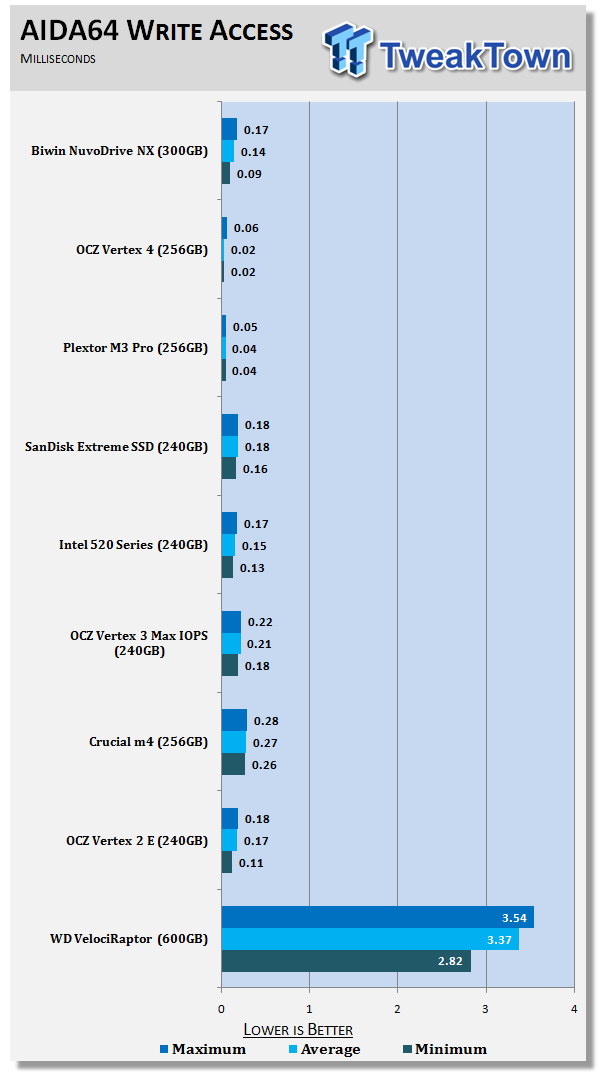 The write access times are in line with the SandForce based drives, but this is something we expected to see since the random 4K IOPS are very close to SandForce's claimed performance.
Benchmarks - CrystalDiskMark
CrystalDiskMark
Version and / or Patch Used: 3.0 Technical Preview
Developer Homepage: http://crystalmark.info
Product Homepage: http://crystalmark.info/software/CrystalDiskMark/index-e.html
Download here: http://crystaldew.info/category/software/crystaldiskmark
CrystalDiskMark is a disk benchmark software that allows us to benchmark 4K and 4K queue depths with accuracy.
Key Features:-
* Sequential reads/writes
* Random 4KB/512KB reads/writes
* Text copy
* Change dialog design
* internationalization (i18n)
Note: Crystal Disk Mark 3.0 Technical Preview was used for these tests since it offers the ability to measure native command queuing at 4 and 32.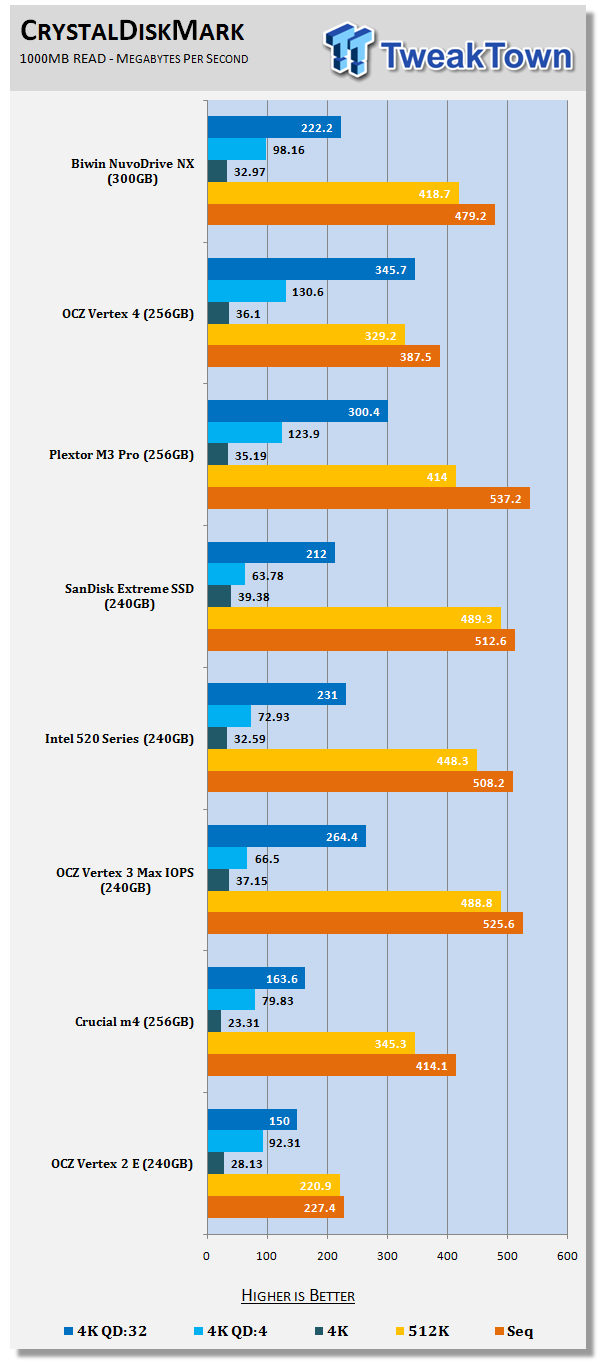 Here were looking at 4K and native command queuing performance. Across the board all of the leading drives are capable of between 32 - 39MB/s in 4K read performance. When you get to QD:4 the Biwin NuvoDrive NX takes a 30 to 40MB/s lead on the SandForce drives, but is around 20 - 30MB/s slower than the Marvell based drives from OCZ (Vertex 4) and Plextor (M3 Pro).
The 4K write speed recorded in our test with the early sample produced a 141MB/s score which is nearly identical to the Vertex 4 256GB drive. The QD:4 and QD:32 performance went up to 271MB/s. The original Barefoot drives didn't scale from QD:4 to QD:32 either.
A bit more interesting is the sequential performance in this test. The NuvoDrive NX dominates this test and the reason why because this test uses incompressible data.
Benchmarks - PCMark Vantage Hard Disk Tests
PCMark Vantage - Hard Disk Tests
Version and / or Patch Used: 1.0.0
Developer Homepage: http://www.futuremark.com
Product Homepage: http://www.futuremark.com/benchmarks/pcmark-vantage/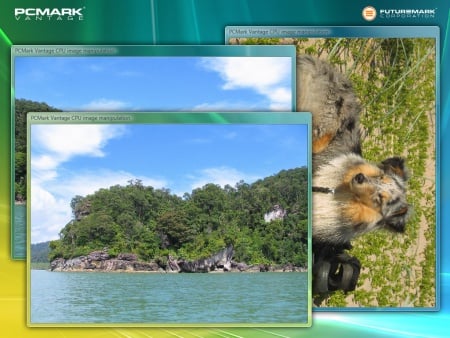 PCMark Vantage is the first objective hardware performance benchmark for PCs running 32 and 64 bit versions of Microsoft Windows Vista. PCMark Vantage is perfectly suited for benchmarking any type of Microsoft Windows Vista PC from multimedia home entertainment systems and laptops to dedicated workstations and high-end gaming rigs. Regardless of whether the benchmarker is an artist or an IT Professional, PCMark Vantage shows the user where their system soars or falls flat, and how to get the most performance possible out of their hardware. PCMark Vantage is easy enough for even the most casual enthusiast to use yet supports in-depth, professional industry grade testing.
FutureMark has developed a good set of hard disk tests for their PCMark Vantage Suite. Windows users can count on Vantage to show them how a drive will perform in normal day to day usage scenarios. For most users these are the tests that matter since many of the old hat ways to measure performance have become ineffective to measure true Windows performance.

HDD1 - Windows Defender
HDD2 - Gaming
HDD3 - Windows Photo Gallery
HDD4 - Vista Startup
HDD5 - Windows Movie Maker
HDD6 - Windows Media Center
HDD7 - Windows Media Player
HDD8 - Application Loading
Just like the Vertex 4, the Biwin NuvoDrive NX takes a threaded approach to sequential read performance. Vantage doesn't operate with multiple threads or requests for data to be read back. Because of that the Vantage score is lower than what it would be if threaded.
Benchmarks - PCMark Vantage - Drives with Data Testing
PCMark Vantage - Drives with Data Testing
For a complete breakdown on the Drives with Data Testing please read this article. You will be able to perform this test at home with the files provided in the article - full instructions are included.
- Brief Methodology
SSDs perform differently when used for a period of time and when data is already present on the drive. The purpose of the Drives with Data testing is to show how a drive performs in these 'dirty' states. SSDs also need time to recover, either with TRIM or onboard garbage collection methods.
Drives with Data Testing - 25%, 50%, 75% Full States and Dirty / Empty Test
Files needed for 60 (64GB), 120 (128GB), 240 (256GB)
60GB Fill " 15GB, 30GB, 45GB
120GB Fill - 30GB, 60GB, 90GB
240GB Fill " 60GB, 120GB, 160GB
Empty but Dirty - a test run just after the fill tests and shows if a drive needs time to recover or if performance is instantly restored.

HDD1 - Windows Defender
HDD2 - Gaming
HDD3 - Windows Photo Gallery
HDD4 - Vista Startup
HDD5 - Windows Movie Maker
HDD6 - Windows Media Center
HDD7 - Windows Media Player
HDD8 - Application Loading
Looking at the performance drop off when data is added we see that the NuvoDrive NX goes from 47276 Marks when empty to 35798 Marks when half full. The performance further decreases to just 32K Marks when 75% full, but when all of the added data is deleted TRIM works very well and performance goes back to 43K Marks.
Benchmarks - AS SSD
AS SSD Benchmark
Version and / or Patch Used: 1.2.3577.40358
Developer Homepage: Alex Intelligent Software
Product Homepage: Alex Intelligent Software
Download here: http://www.alex-is.de/PHP/fusion/downloads.php?cat_id=4&download_id=9
AS determines the performance of Solid State Drives (SSD). The tool contains four synthetic as well as three practice tests. The synthetic tests are to determine the sequential and random read and write performance of the SSD. These tests are carried out without the use of the operating system caches.
In all synthetic tests the test file size is 1GB. AS can also determine the access time of the SSD, the access of which the drive is determined to read through the entire capacity of the SSD (Full Stroke). The write access test is only to be met with a 1 GB big test file. At the end of the tests three values for the read and write as well as the overall performance will be issued. In addition to the calculated values which are shown in MB/s, they are also represented in IO per seconds (IOPS).
Note: AS SSD is a great benchmark for many tests, but since Crystal Disk Mark covers a broader range of 4K tests and HD Tune Pro covering sequential speeds, we will only use the Copy Benchmark from AS SSD.
- Copy Benchmark
The further I roll through these benchmarks the closer the Novachips Bugatti controller looks like a Marvell controller. What's important is that the Bugatti is a fresh design on early firmware and hardware and the Marvell controller on the Plextor M3 Pro is already almost two years old.
In the AS SSD Copy test we see solid performance in all three tests. The NX is already able to compete with the drives already on the market today.
Benchmarks - Anvil Storage Utilities
Anvil Storage Utilities
Version and / or Patch Used: BETA 11
So what is Anvil Storage Utilities? First of all, it's a storage benchmark for SSDs and HDDs where you can check and monitor your performance. The Standard Storage Benchmark performs a series of tests, you can run a full test or just the read or the write test or you can run a single test, i.e. 4K DQ16.
Anvil Storage Utilities is not officially available yet but we've been playing with the beta for several months now. The author, Anvil on several international forums has been updating the software steadily and is adding new features every couple of months.
The software can be used several different ways and to show different aspects for each drive. We've chosen to use this software to show the performance of a drive with two different data sets. The first is with compressible data and the second data set is incompressible data. Several users have requested this data in our SSD reviews.
Fill Compressible Data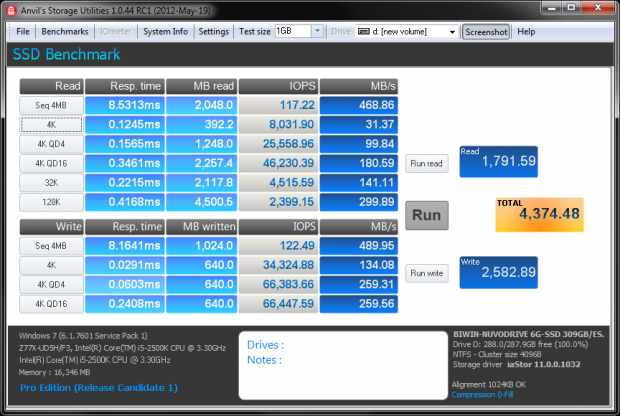 Incompressible Data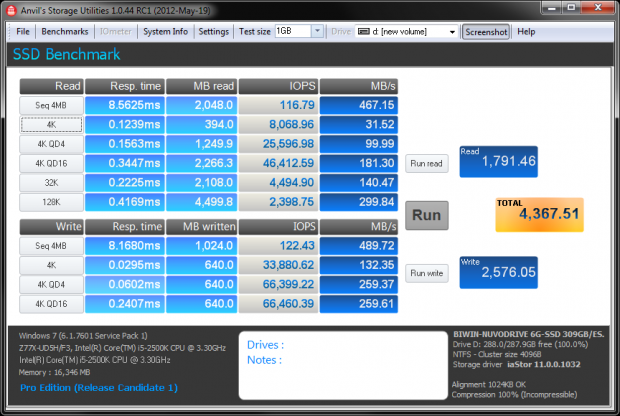 In ANVIL we see there isn't much of a drop off when moving from compressible to incompressible data.
Benchmarks - Passmark
Passmark Advanced Multi-User Tests
Version and / or Patch Used: 6.1
Developer Homepage: http://www.passmark.com
Test Homepage: http://www.passmark.com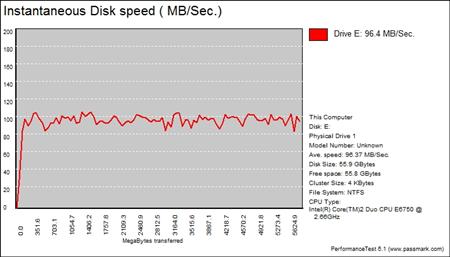 Many users complain that I/O Meter is too complicated of a benchmark to replicate results so my quest to find an alternative was started. Passmark has added several multi-user tests that measure a hard drives ability to operate in a multi-user environment.

The tests use different settings to mimic basic multi-user operations as they would play out on your server. Variances is read / write percentage as well as random / sequential reads are common in certain applications, Web Servers read nearly 100% of the time while Database Servers write a small amount of data.
The Workstation test is the only single user environment and will be similar to how you use your system at home.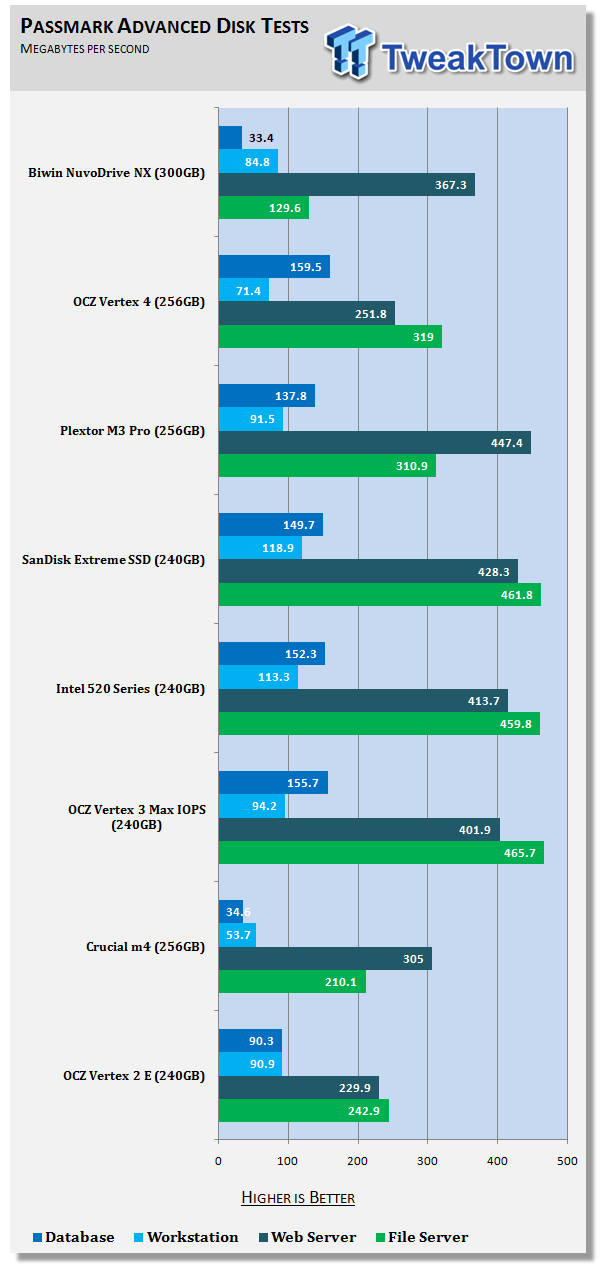 In my limited enterprise tests used for the consumer drive reviews the NuvoDrive NX doesn't break any performance records. In Biwin's documentation it sounds like Biwin is still thinking about marketing the NuvoDrive NX an enterprise drive.
After I finished with the NuvoDrive NX it was shipped over to Paul Alcorn, our new enterprise SSD reviewer for some tests. Look for his report to come out later this week. This will be the first time Paul and I compared my limited enterprise numbers to his full bore enterprise tests.
Final Thoughts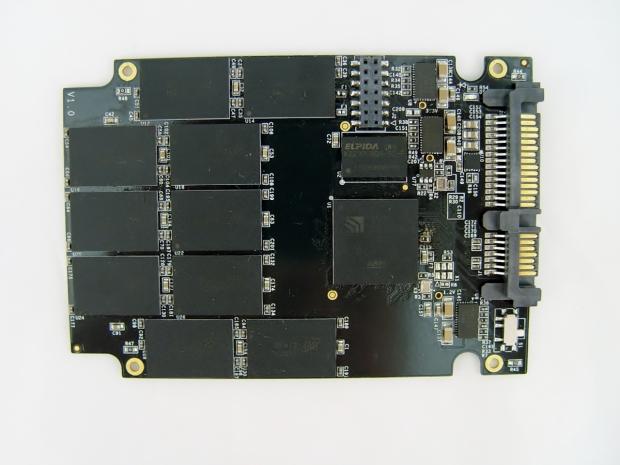 I really can't stress enough that the drive we looked at today is a very early sample. Neither the hardware or the firmware is final spec and we know this product will get quite a few changes as it progresses through the development stage. One change we will most likely see is the move to lower cost 20nm or 19nm flash. Another area where we might see a change is in the size DRAM buffer. When SSDs go through development the first area that is addressed is stability. When that is nailed down the controller maker starts working on performance via programming and firmware. That said, we can guarantee this early firmware will see a makeover.
All that said, the Biwin NuvoDrive NX is progressing nicely. We did find an issue during testing and it did affect our normal routine of testing. Ideally we test drives starting from a clean or fresh out of box (FOB) state and wear the drive down to steady state with tests. The NuvoDrive NX could not be secure erased with the tools we use to run an SE cycle. This is something that will be addressed as the finishing touches go on the drive. That said, our drive was already in steady state when we started our tests so the HD Tune Pro numbers are not as high as we expect to see on the retail product. We did notice very good TRIM and garbage collection performance with the NuvoDrive NX, but even with those working exceptionally well, the numbers from a FOB drive will still be higher.
At this point were still not sure where Biwin will position this drive in their product line up. I know most of you reading this today have yet to hear of Biwin, but they will be a big player in the US market and are already making waves in Asia. Biwin America, the USA subsidiary is made up of industry experts who know how to play the game. This article backs that up pretty well. Getting back on track, Biwin has several products in their lineup. A quick look at their website reveals consumer, enterprise and products built for the OEM market. A quick look at Newegg shows that Biwin is already doing what's needed to get their products in the hands of consumer, too.
We'll keep a close eye on the Novachips Bugatti controller and Biwin NuvoDrive NX. In a couple of days Paul will publish his enterprise test results which will give us further insight into this next generation contender.
PRICING: You can find products similar to this one for sale below.

United States: Find other tech and computer products like this over at Amazon.com

United Kingdom: Find other tech and computer products like this over at Amazon.co.uk

Australia: Find other tech and computer products like this over at Amazon.com.au

Canada: Find other tech and computer products like this over at Amazon.ca

Deutschland: Finde andere Technik- und Computerprodukte wie dieses auf Amazon.de
We openly invite the companies who provide us with review samples / who are mentioned or discussed to express their opinion. If any company representative wishes to respond, we will publish the response here. Please contact us if you wish to respond.