The Return of the Mini-ITX Form Factor staring AMD
Today we focus our attention on two of the new Mini-ITX form factor boards from AMD and see what's been crammed on.
Published Fri, Nov 12 2010 12:24 AM CST
|
Updated Tue, Nov 3 2020 7:02 PM CST
Introduction

There are times when you see trends begin and, of course, times when you don't. When we first saw the Mini-ITX form factor we thought it was a neat idea, but not one that would go anywhere. However, that was before CES 2010; at the show we saw a rather large amount of products that were either in the design stage or already in production and waiting for release. We asked about this and found that there was a growing demand for small, light, green and yet powerful systems.
Now, I know what you are thinking; the Micro ATX form factor can handle that. That is what we thought too; that is until we got the chance to play with the
GIGABYTE H55N-USB3
. This one little board opened our eyes in a way that we simply did not expect. It has caused something of an addiction here. We have gone out of our way to find these tiny little systems and to
put them through the wringer
to see what they can do with the right hardware. Of course, the only one we have been able to tinker with was an Intel based product. But AMD is not out of the market; in fact, we have two new 8 series chipset based Mini-ITX boards sitting in the lab waiting for our attention.
The problem is that we have not been able to get them up on the bench yet. Still, we do want to show you some of the differences in design choices and features that two very different companies have used to build this new platform. So let's introduce you to the ASUS M4A88T-I Deluxe and the JWL MINIX 890GX-USB3.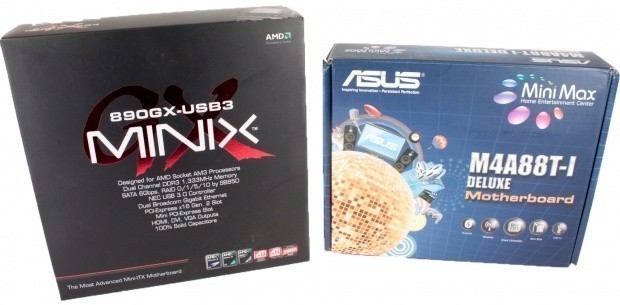 But before we get in too deep here, we need to qualify first; this is not a head to head review, but more of a look at the two available design philosophies for the AMD chipset and the Mini-ITX platform. The two products are aimed at very different segments inside this emerging market.
Two Paths to the Same Place
Ever since VIA first introduced the Mini-ITX board it has been primarily the realm of Intel (after it was called a failed form factor from VIA). But the industry did not let it die. They saw the value in this design and have worked to break it out of the "low-power" rut that it has gotten into. Of course, since the Mini-ITX has been used to make Intel Atom platforms for so long, some of the first products were bound to feature Intel. However, even back then we heard rumblings of AMD based boards built inside the tiny box that the Mini-ITX offers.
Taking the high-level look at both of these products, we find them to look similar on the surface (after all, there is not much room for component placement). In fact, they look very similar to the Intel based solutions.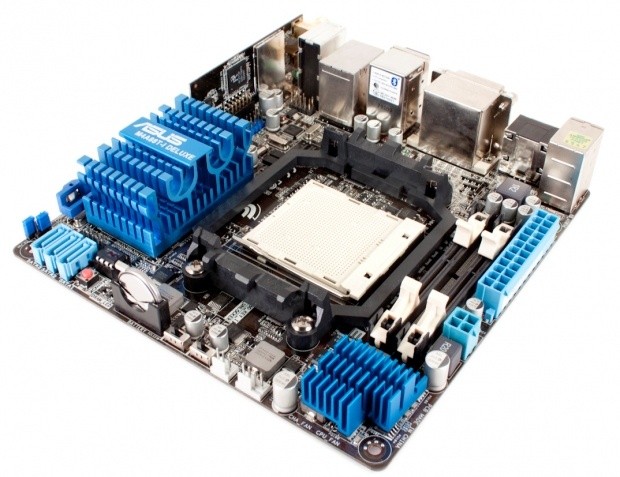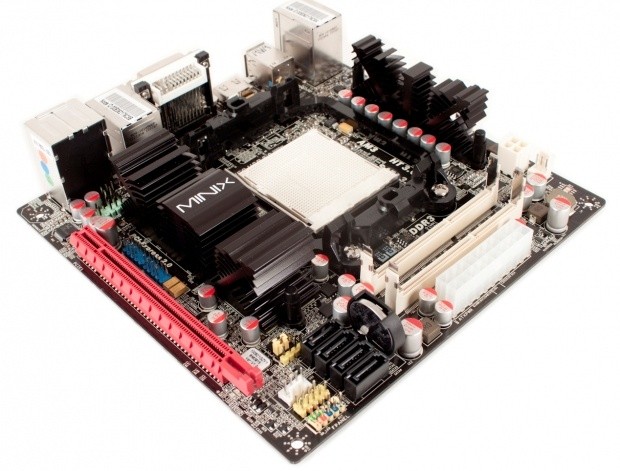 However, there are some very obvious departures. The biggest is the use of SODIMMs instead of the normal 240-Pin DIMMs found on the Intel based boards (even the Atom ones).This has two advantages; the first is that it reduces the space needed for memory (after all, SODIMM slots are about half the size), while it is also a little easier to tune the traces to these slots (after all, there are 36 less pins in an SODIMM than your typical DDR3 RAM slot).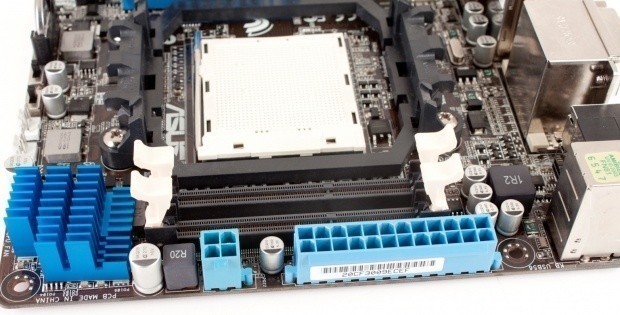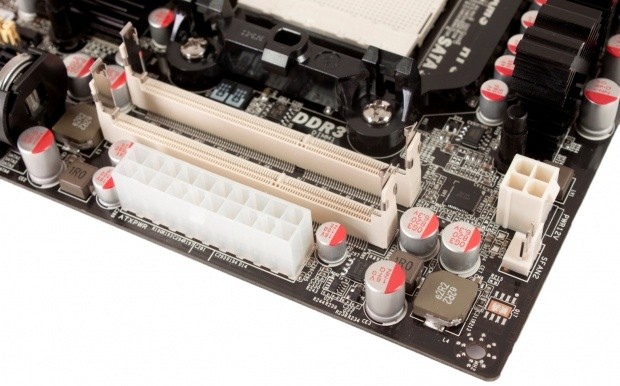 The arrangement of the power connectors on the board is similar. Both boards place the power connectors in close proximity to each other. As the Mini-ITX form factor is not designed for high wattage CPUs, you only get a 4-pin Aux connector in addition to the normal 24-pin one. We can also infer something else here from the placement of the power ports. Both boards have significantly shortened power paths compared to even a Micro ATX board. If setup properly this can mean excellent power efficiency (something we are looking forward to testing). On the other side, it can hinder overclocking; but if done carefully, the impact should be very minor.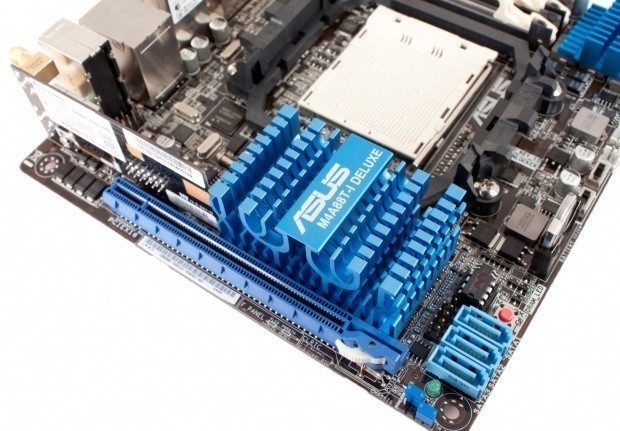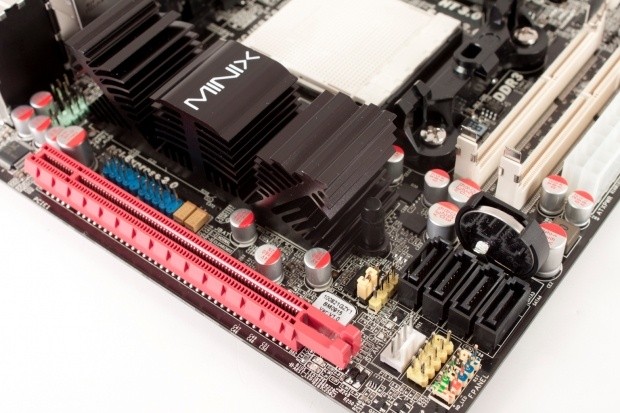 As with most of the Mini-ITX boards we have seen, you do get a single x16 PCIe slot. This allows for some limited expansion. You also can see a divergence here in the two products. ASUS has opted for only three SATA ports, while JWL went with the usual four. ASUS has placed their N spec wireless adapter on the top of the board very close to the PCIe slot, while JWL put theirs on the bottom of the board in a Mini-PCIe slot. Something to note in the pictures are the two switches visible on the ASUS M4A88T-I. These are actually for their Core Unlocker and Turbo Key functions.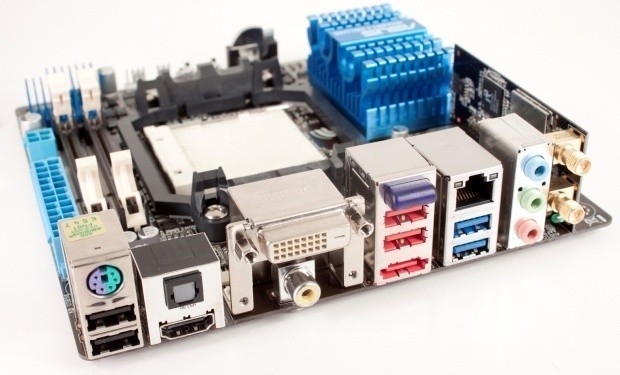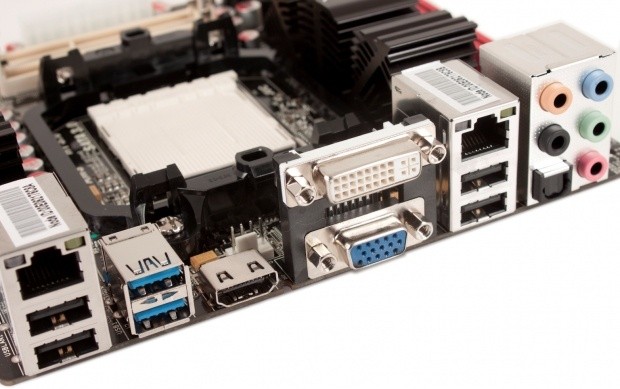 The I/O ports of the two are fairly evenly stacked. On the ASUS you get Bluetooth, a Single GBe network port, USB 3.0, powered USB and eSATA, and what looks like your typical digital audio. For the JWL you get dual GBe ports, a VGA port, four standard USB ports, USB 3.0 and what looks like a more analog oriented audio CODEC.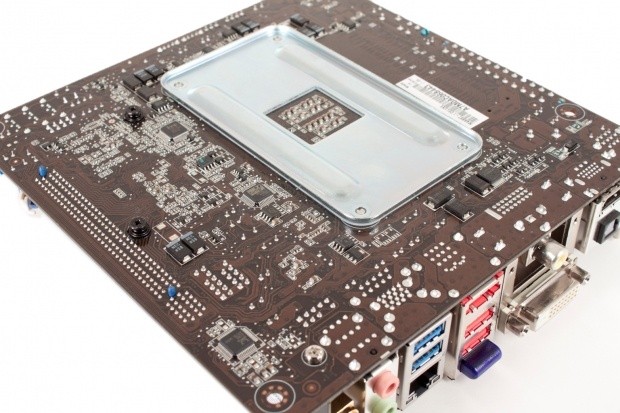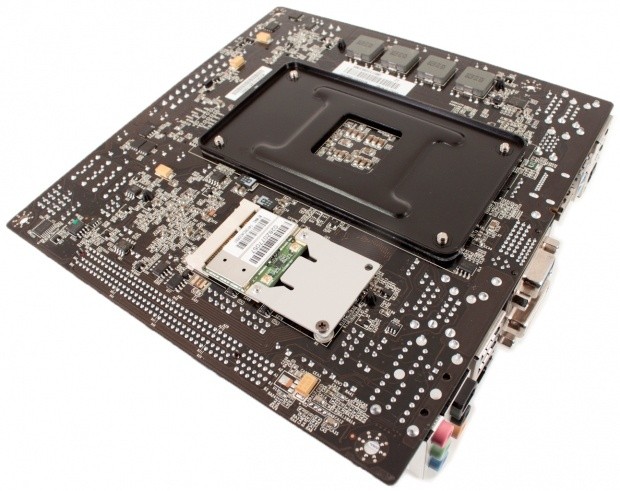 The bottoms of the boards show one of the draw backs to the Mini-ITX for factor. There is just not enough room for everything to be on the top of the board. This puts a fair number of components on the underside of the board. On the JWL we even find a row of chokes. To put it mildly, things are a tad tight on this style of board.
So what can we garner from our brief exposure to the AMD based Mini-ITX boards? - Well, one thing is that AMD will be a big player in this market. There is no way they are going to be left out. After all, most AMD CPUs are going to be very affordable and unless you are trying to use a 140watt CPU they are usually easier to keep cool and pull a little less power. The HD 4290 found in the 890GX should give excellent business and entry level graphics, while the 4250 on the 880GX is not too far behind. The Dual LAN ports on the MINIX 890GX-USB3 even give it potential use in some non-desktop roles (nothing like a tiny little Linux or even MS based firewall). We even see potential as a storage system (again running Linux or MS Storage Server).
For the ASUS design things are a little more straight-forward. After all, it is an ASUS product. You know you are going to have overclocking options; and we have already shown you the Core Unlocker and Turbo Key switches. The beefed up cooling on the chipset and a few other ASUS touches lets us know that we can probably expect some decent results from the M4A88T-I Deluxe.
So it looks like the Mini-ITX form factor is being pushed out onto the market with at least three manufacturers offering products with this design. The interesting thing is that they are not limiting themselves to the Atom, but are now pushing out lower end Socket 1156 boards and two AMD based products with the two top end GPU packing chipsets onboard; the 890 and 880GX. I think the SFF market just got a ton more interesting. As we (im)patiently await our DDR3 SODIMMs, we are thinking of what this new market has in store for us later this year!
PRICING: You can find products similar to this one for sale below.

United States: Find other tech and computer products like this over at Amazon.com

United Kingdom: Find other tech and computer products like this over at Amazon.co.uk

Australia: Find other tech and computer products like this over at Amazon.com.au

Canada: Find other tech and computer products like this over at Amazon.ca

Deutschland: Finde andere Technik- und Computerprodukte wie dieses auf Amazon.de
We openly invite the companies who provide us with review samples / who are mentioned or discussed to express their opinion. If any company representative wishes to respond, we will publish the response here. Please contact us if you wish to respond.