GIGABYTE X58A-UD9 Tested in Quad SLI w/ GTX 480
Now that we know the GIGABYTE X58A-UD9 can handle three-way SLI with the GTX 470, we find out if it can hang with the big dogs; a ravaging pack of GTX 480s in Quad SLI.
Published Sun, Oct 3 2010 10:36 PM CDT
|
Updated Tue, Nov 3 2020 7:02 PM CST
Introduction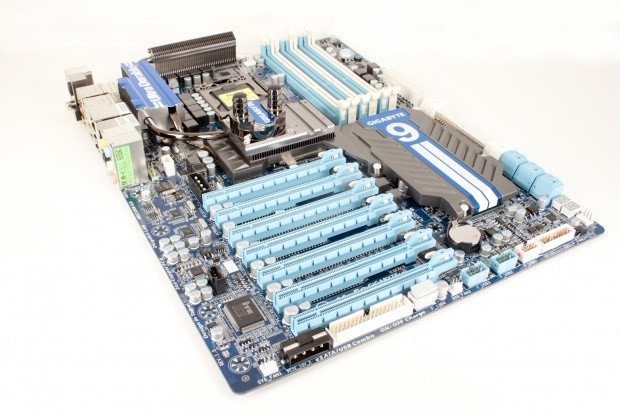 The GIGABYTE X58A-UD9
has shown us
that it is one serious motherboard. We have now put it through our normal battery of tests with our stock motherboard test setup and have even run it through our new extended motherboard graphics tests. So far the UD9 has shown that it is a benchmarking monster with some extra room for desktop and even workstation performance.
Now we come to another test; can the X58A-UD9 really handle Quad SLI with four GTX 480 GPUs? - This is a bigger question than you might think. While we know that GIGABYTE dropped in two NF200 chips (each with 32 PCIe 2.0 lanes), what we do not know is if the power regulation, capacitors and other components can truly handle the current and wattage draw from four GTX 480s along with everything else that would be needed to run the board.
That is what we are going to find out today. Well, that and what kind of performance you can expect if you choose to head down this particular path. So, shall we break open the boxes containing four brand new GIGABYTE GTX 480s and fire up the test bench? - The fire extinguishers are standing by for today's testing runs.
Test System Setup and Comments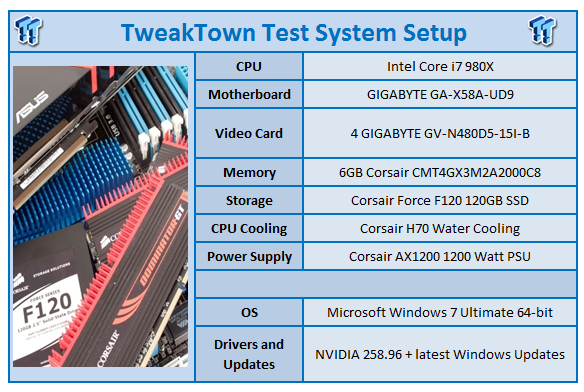 Once again, our basic test system is identical to the one we used for both the
initial review
and the
Three-Way SLI
review. The only thing that has changed was the GPUs used and we removed the SATA 3.0 drive. The rest including the installation of Windows 7 was left the same.
Of course, now we have a slight issue; the AX1200 Gold only has enough ports for Three-Way SLI. There are six 12-Volt (8 and 6 pin) connectors for PCIe. This could mean that the AX1200 Gold will not support all four GTX 480s. We will have to use adapters to add the fourth GPU in. This time the culprits are GIGABYTE's
GV-N480D5-15I-B
.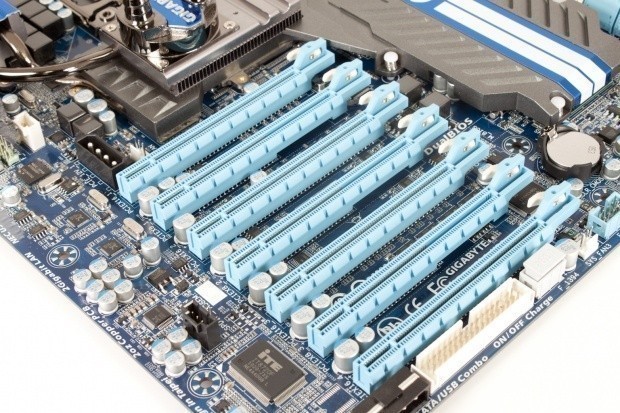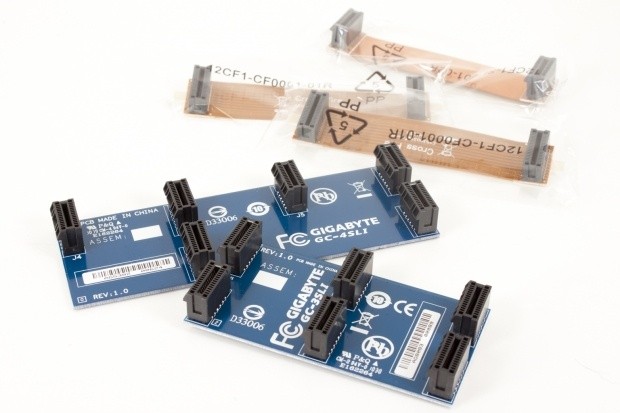 As you can see, using adapters makes things a little messy on the test bench, but it would seem that we can physically arrange things. Now we have the issue of worrying about if the 100 Amps on the AX1200 Gold's 12V rail is going to be enough. Of course, if the X58A-UD9 is not efficient enough, we will have some trouble here.
GIGABYTE claims they have tweaked the voltage regulation to ensure efficient power to the board. This is a good thing, as if some of the things we have read are to be believed a single GTX 480 can use almost 40 Amps. This would mean 60 Amps are needed for SLI (1.5 single GPU load is the rule of thumb), 80-90 Amps are needed for Tri SLI and over 130 Amps would theoretically be needed for four-way SLI.
Of course, we have a hard time believing that the GTX 480 would need almost double what the GTX 470 needs. We are thinking that we may still be able to sneak in under the power curve of the AX1200 Gold, but it will be close.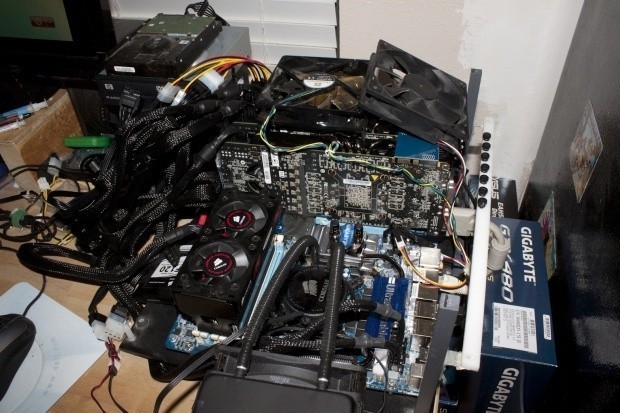 Cooling was another concern and we had to break out our fans again. This time we needed one to blow air in and also across the SLI Bridge. We were surprised to see how hot that little piece of hardware got during use. But with these two fans in place, we were all set for testing.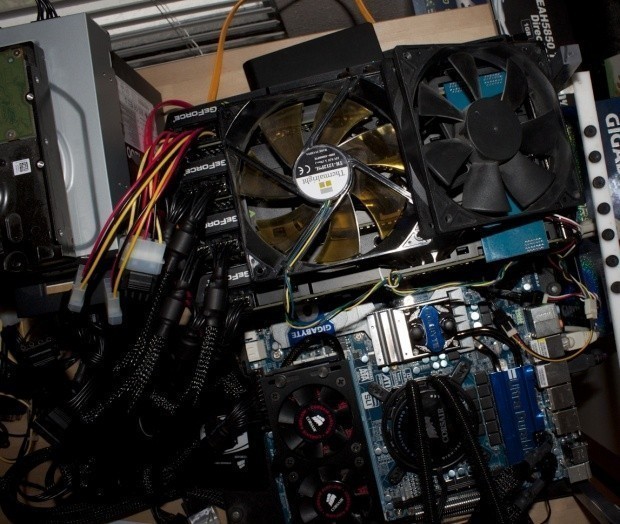 In the end the first test was also one of the hardest on the system. Believe it or not, 3DMark Vantage does use up quite a bit of power and can push a GPU pretty hard. However, the X58A-UD9 and Corsair AX1200 Gold was more than up to the task!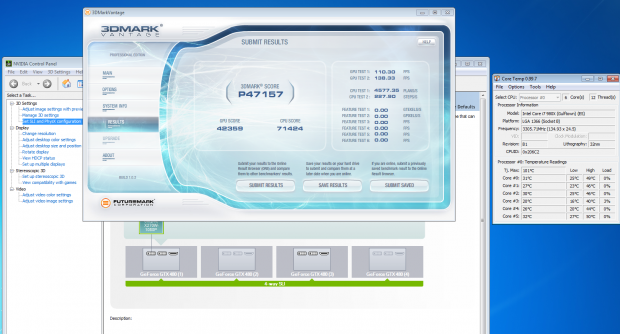 Of course, it was a close thing; the X58A-UD9 is more than up to the task, but the PSU is probably right on the line. We decided not to push our luck and try to overclock the CPU or GPUs at this time. As you can see, just under the load of the four GTX 480s and our test setup, we were well over 1000 Watts of power drawn from the wall. Still, like we said, the X58A-UD9 was able to pull it off nicely.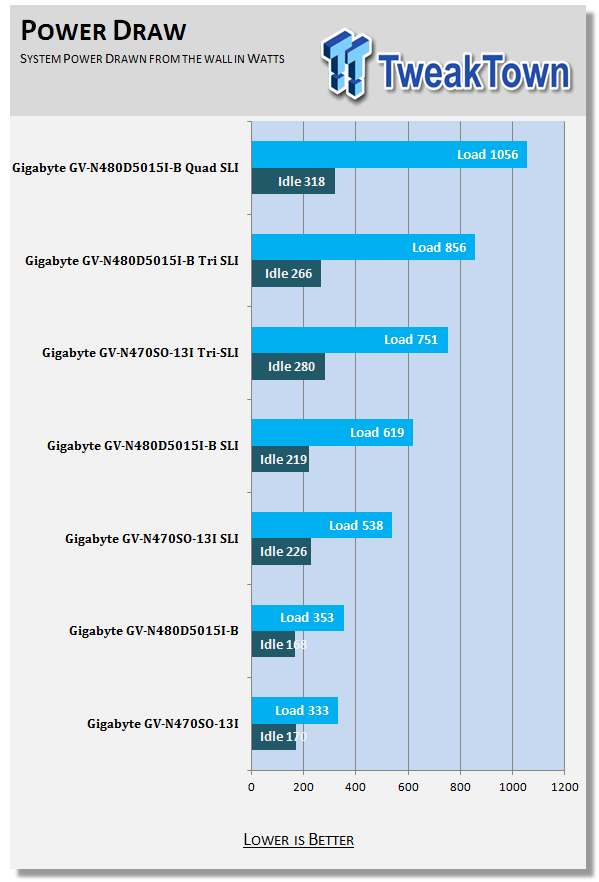 Synthetic Tests
Our synthetic tests will cover most of the features available within the most popular forms of DirectX (DX 9, 10 and 11). These tests are included as the repeatable "static" numbers to ensure that we are not getting results that are out of the normal range. Our tests used for this were 3DMark Vantage, Unigine's Heaven 2.0 Bench and S.T.A.L.K.E.R. Call of Pripyat bench.
3DMark VantageVersion and / or Patch Used:
1.0.1
Developer Homepage:
http://www.futuremark.com/
Product Homepage:
www.futuremark.com
Buy It Here
For synthetic gaming tests we used the industry standard and overlockers bragging tool 3DMark Vantage. This is a test that strives to mimic the impact modern games have on a system. Futuremark went a long way to change from the early days of graphics driven tests to a broader approach including physics, AI and more advanced graphics simulations.
3DMark Vantage uses the DX10 API in addition to having support for PhysX. As we are no longer using an NVIDIA GPU for testing (at least until we can get a GTX 4xx card) you will only see the CPU based PhysX results in the scores. For testing we use the Performance test run.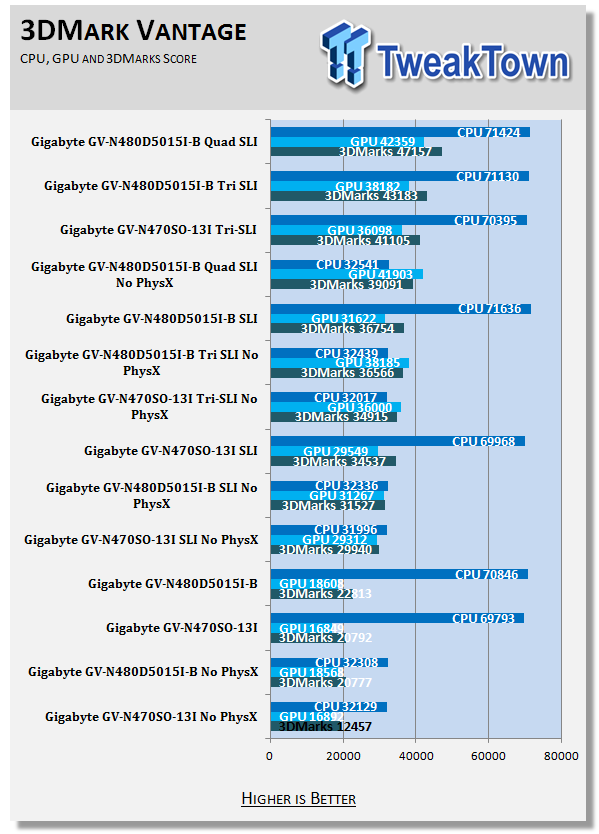 The way things stack up here is very interesting. Adding a second GTX 480 only yields a 30% performance gain, while dropping in two gives you 47%. Adding that last GTX 480 brings us up to a 51% improvement over a single card, which is a little less than expected.
It was during this test run that we saw that massive 1000+ Watt draw from the wall. During this test we carefully monitored the X58A-UD9 for the aroma of overheating silicon. Fortunately, there was none and the board ran without issue.
Unigine Heaven BenchVersion and / or Patch Used:
2.0
Developer Homepage:
http://unigine.com/
Product Homepage:
http://unigine.com/products/heaven
Download It Here
Unigine's Heaven Benchmark is a DirectX 11 GPU benchmark based on advanced Unigine engine from Unigine Corp. It reveals the enchanting magic of floating islands with a tiny village hidden in the cloudy skies. Interactive mode provides emerging experience of exploring the intricate world of steampunk. It offers a good combination of features like; Support of DirectX 9, DirectX 10, DirectX 11 and OpenGL 4.0, tessellation, Advanced SSAO (screen-space ambient occlusion), volumetric cumulonimbus clouds, changing light conditions and dynamic sky with light scattering.
We ran the Heaven Bench in both DX10 and DX11 modes to see where things landed.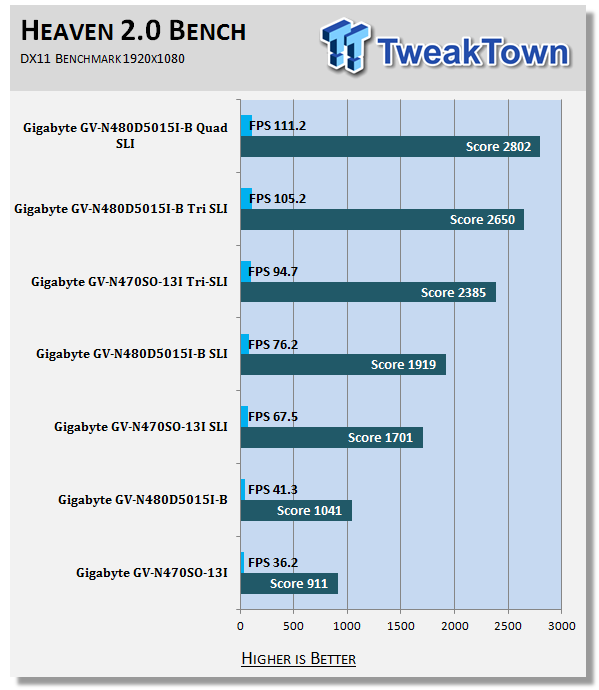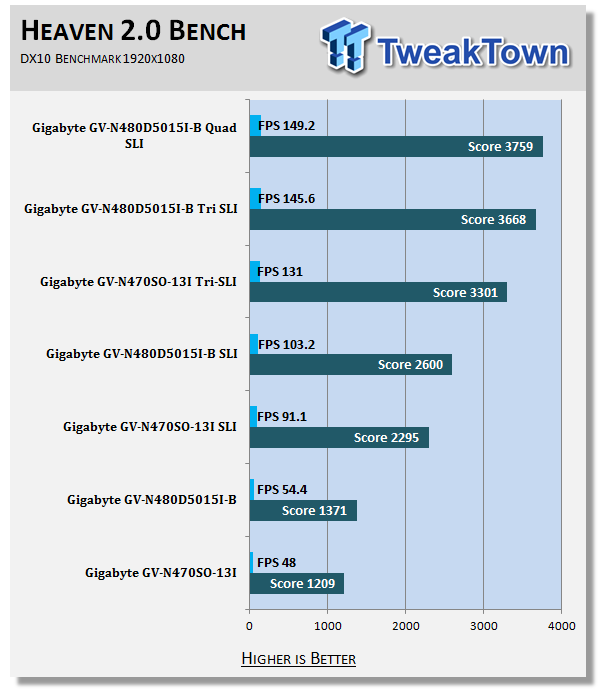 With the Heaven Bench we again see that adding in more cards will get you a good boost. Of course, this is another synthetic test and as such is something that can be tweaked and optimized for in drivers. Still, these are some excellent numbers from the X58A-UD9 when it is loaded up.
S.T.A.L.K.E.R. Call of Pripyat BenchVersion and / or Patch Used:
1.0.1
Developer Homepage:
http://www.thq.com
Product Homepage:
http://cop.stalker-game.com
Download It Here
The game S.T.A.L.K.E.R. Call of Pripyat is based off of the XRAY 1.6 engine. This same engine runs the benchmark and in both DX11 and DX10 modes. Like the game it can simulate hard contact shadows and tessellation. The benchmark runs through several lighting conditions; Day, Night, Rain and Sun Streaks. These comprise the bench four runs. We take the average frame rates for each and recorded them here.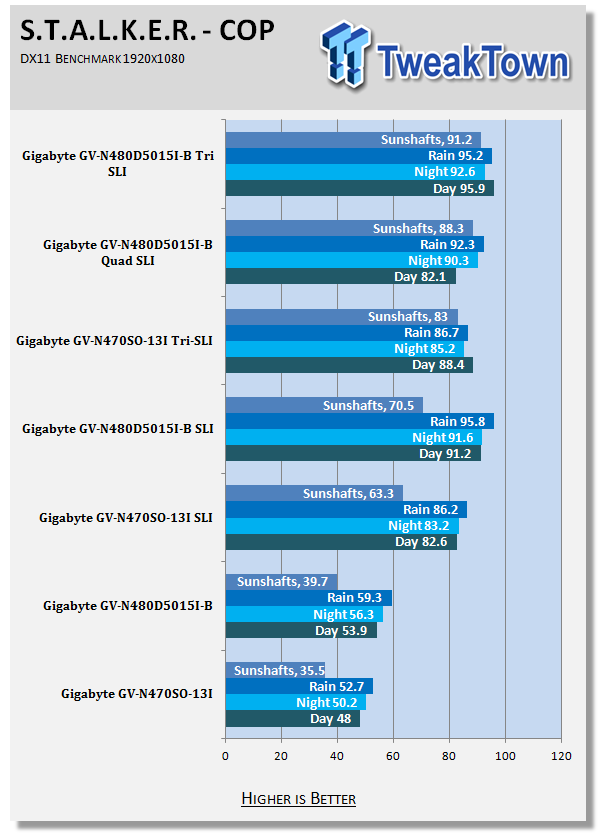 This one was something very out of place. For some reason the three-way SLI setup with the GTX 480 was faster than the four way setup. Our thoughts here are that the benchmark does not know what to do with the extra card.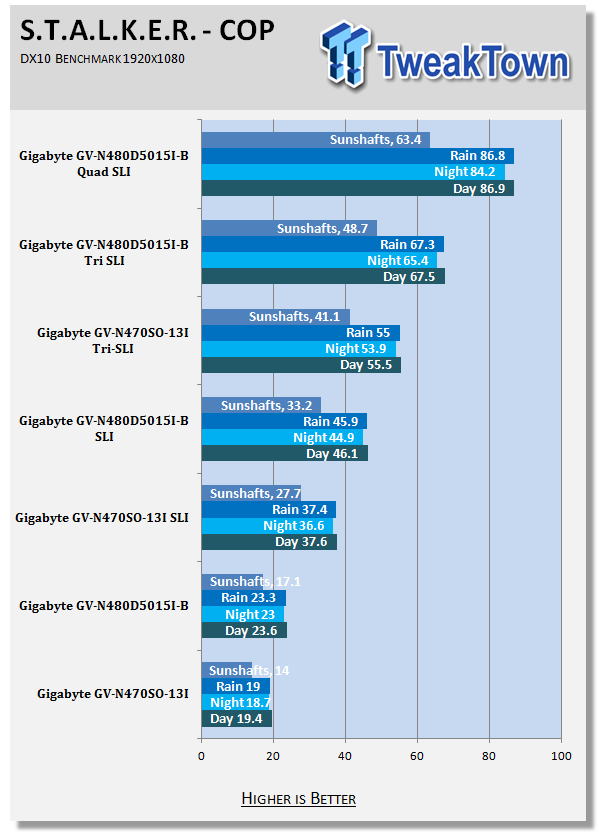 The DX10 run shows things as we would expect them to be. The three and four way setups with the GTX 480 are out on top.
Synthetic Conclusion
As we expected, the X58A-UD9 is a benchmarking monster when you load it up with four GTX 480s. The only odd occurrence was with the DX11 run of the Stalker COP bench. For some reason this test showed a decrease when we dropped in that fourth and final GPU.
Real-World Tests and Final Thoughts
Here we have our real gaming tests. Each of the games we chose use multiple cores and GPUs. They are able to stress the system through use of good AI. Both have decent positional audio that adds impact to the sound subsystem of the board. We ran each game through the level or parts listed and recorded frame per second using FRAPS. This brings the whole game into play.
Call of Duty Modern Warfare 2 (DX9)Version and / or Patch Used:
1.0
Timedemo or Level Used:
First combat until the school is cleared
Developer Homepage:
http://www.infinityward.com
Product Homepage:
http://modernwarfare2.infinityward.com
Most of you know about the game Modern Warfare 2; it caused quite a bit of controversy in the latter half of 2009. The game is a first person shooter with a heavy combat emphasis. It follows the events in the first Modern Warfare very closely and brings back several characters from the original.
As with most games in the Call of Duty franchise, it features a heavy AI load. This is not because of a complex AI routine, but more due to the sheer number of enemies in any given combat situation. It is also our single DX9 based game in our testing suite. Settings are shown below.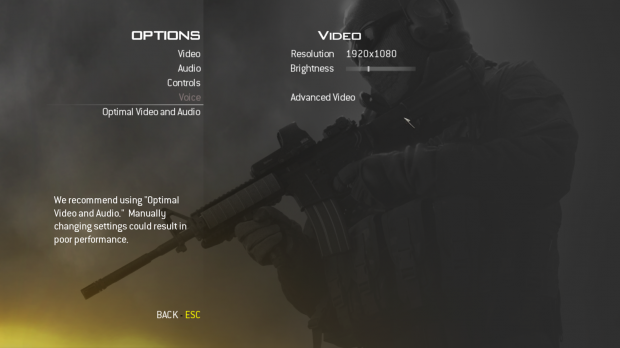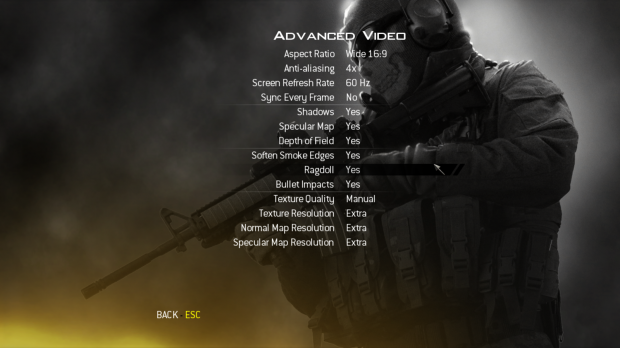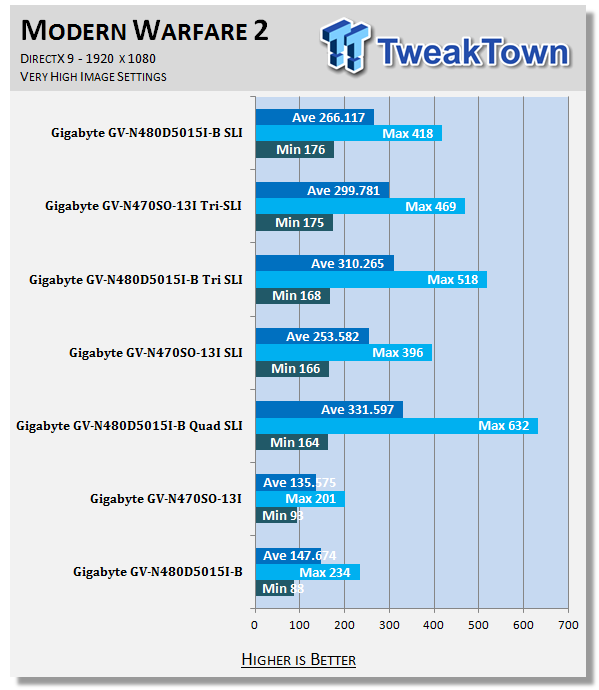 Here we have some more numbers that are a tad off. It looks like the X58A-UD9 can take the stress of the four GTX 480s, but not all tests can. Here we find the four-way setup dropping behind in minimum frame rate, but still leading in average FPS. Then again, it looks like most of the setups with more than two GPUs begin to have slower minimum frame rates.
Far Cry 2 (DX10)Version and / or Patch Used:
V1.00
Timedemo or Level Used:
Clearing the Safe house through to the Rescue
Developer Homepage:
http://www.ubi.com
Product Homepage:
http://farcry.us.ubi.com
Far Cry 2 is a large sandbox style game. There are no levels here so as you move about the island you are on you do not have to wait for the "loading" sign to go away. It is mission driven so each mission is what you would normally think of as the next "level".
In the game you take the role of a mercenary who has been sent to kill the Jackal. Unfortunately your malaria kicks in and you end up being found by him. Long story short, you become the errand boy for a local militia leader and run all over the island doing his bidding. Settings we used for testing are shown below.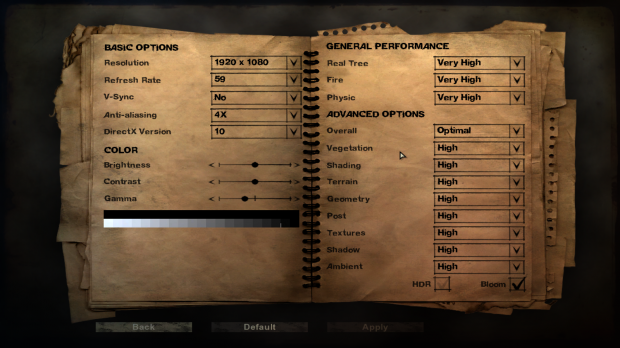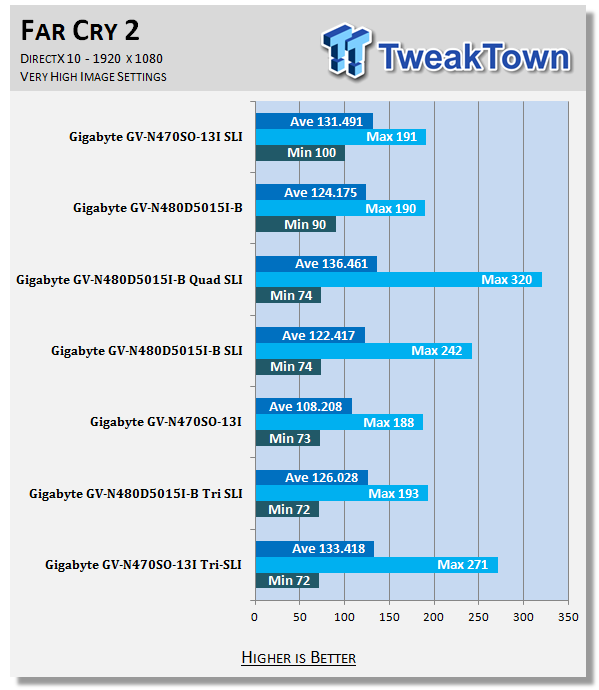 As with the three-way GTX 470 setup, we find that Far Cry2 does not like more than two GPUs. Of course, you are still around 70 FPS, but you would expect more from this type of rig.
Battlefield Bad Company 2 (DX11)Version and / or Patch Used:
V1.00
Timedemo or Level Used:
From washing up on the beach to the mine fields.
Developer Homepage:
http://www.ea.com/
Product Homepage:
http://badcompany2.ea.com/
Battlefield Bad Company is another sequel and also another game "franchise". Bad Company 2 is also our DX11 Shooter game. The game follows a fictitious B company team on a mission to recover a Japanese defector. This puts you back in World War II (at least for the beginning of the game) while the multi-player game is centered on much more modern combat. For our testing we used the single player mode. Settings are shown below.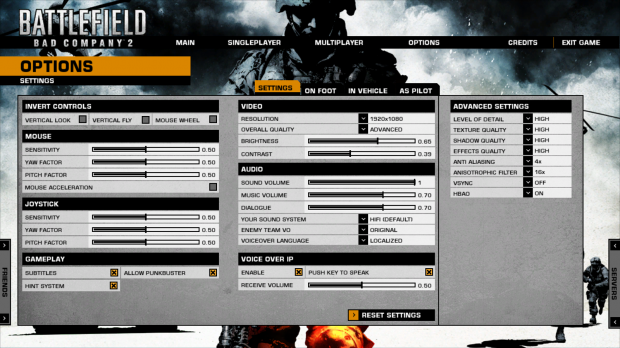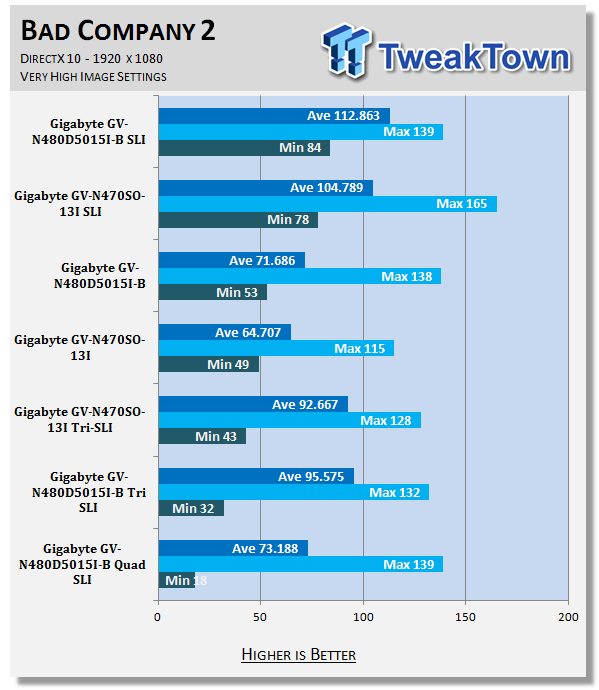 Again, just like the GTX 470 testing, Bad Company 2 begins to break down with more than two GPUs. We even saw the game begin to stutter and jerk during game play.
Bioshock 2 (DX10)Version and / or Patch Used:
V1.00
Timedemo or Level Used:
From the opening to the meeting with Dr. Tanenbaum.
Developer Homepage:
http://www.2kgames.com
Product Homepage:
http://www.2kgames.com/#/games/bioshock-2
Buy It Here
Bioshock 2 is the follow on to the original blockbuster hit FPS, Bioshock. In it you take the persona of a Big Daddy, but one that is very different from what you ran into in the original game. You have many powerful weapons, but are also able to make use of Eve and Plasmids to enhance your combat abilities. The DX10 portion of the game is limited to textures and lighting, but it is still enough to keep things interesting for your GPU.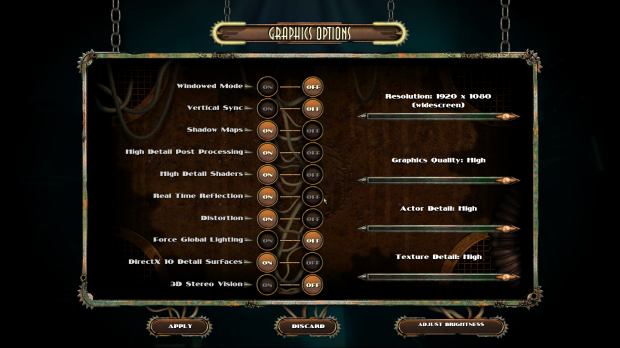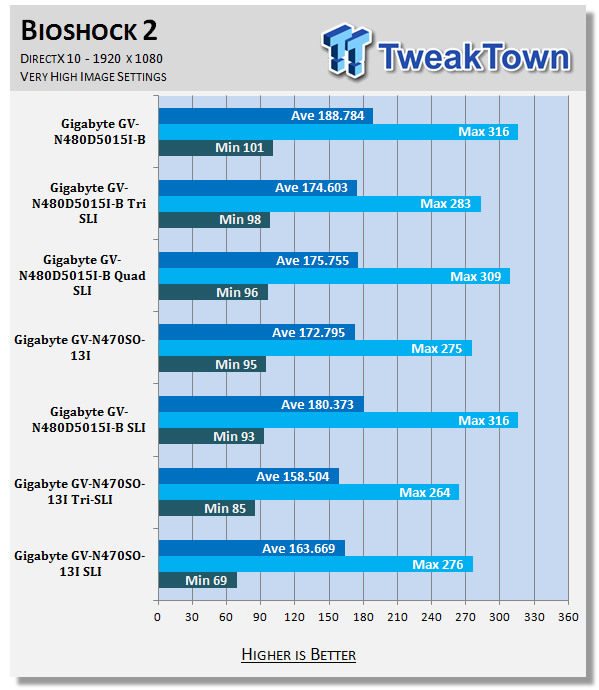 Not much to say here; Bioshock 2 does not play well with multiple GPUs.
Metro 2033(DX11)Version and / or Patch Used:
V1.00
Timedemo or Level Used:
From washing up on the beach to the mine fields.
Developer Homepage:
http://www.metro2033game.com/us/age_gate
Product Homepage:
http://www.metro2033game.com
Metro 2033 is a game that was created by some of the same developers that made the game STALKER. The Engine used has been described as "what XRAY should have been". It is very detailed and has some of the more realistic human rendering available. The shadows, fog simulations and other eye-candy make this game rough on even the most powerful of GPUs.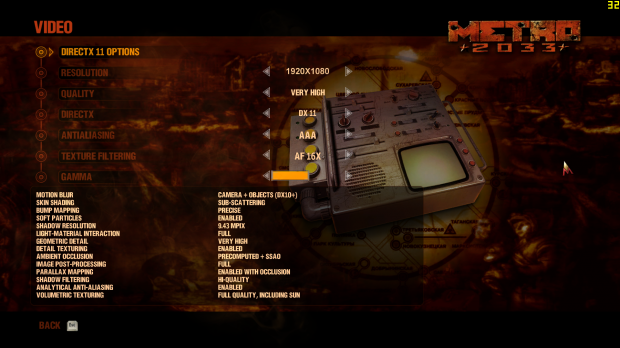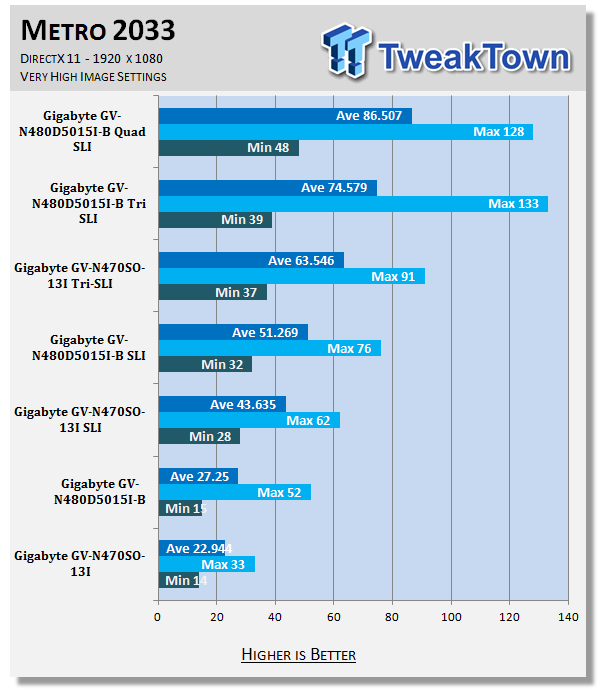 Well, even though most of our games did not know what to do with more than two (or three) GPUs, Metro 2033 does. As with our three-way SLI testing, we saw a nice scaling with each new GPU that was added, allowing for much smoother game play and cleaner effects. We were very impressed with the way Metro 2033 played with four GPUs in the system.
Gaming Conclusion
There is not much to say here. Three-Way and Four-Way SLI are still niche items. As you can see, even with our limited testing suite there are very few games that will actually gain something from this type of setup. We are sure there will be ones that will show up (look at Metro 2033), but for the most part you are not going to get an exceptionally good return on your investment in terms of gaming.
Final Thoughts
As we have said before, the GIGABYTE X58A-UD9 is a benchmarking monster.
At $649.99 from NewEgg.com
it is an expensive one as well. Of course, like many items, you have to take the market focus into consideration.
The X58A-UD9 is not for the average gamer. It is not even for most enthusiasts. It is for the person that just
HAS
to have the fastest system out. To that end, it does an excellent job. You can get some simply stunning performance with the right CPU, cooling, GPUs and of course power supply (or supplies). In the end, as we have said three times now, the X58A-UD9 is one of the most audacious boards we have tested. If you are looking to break some world records, then this is your motherboard!
PRICING: You can find products similar to this one for sale below.

United States: Find other tech and computer products like this over at Amazon.com

United Kingdom: Find other tech and computer products like this over at Amazon.co.uk

Australia: Find other tech and computer products like this over at Amazon.com.au

Canada: Find other tech and computer products like this over at Amazon.ca

Deutschland: Finde andere Technik- und Computerprodukte wie dieses auf Amazon.de
We openly invite the companies who provide us with review samples / who are mentioned or discussed to express their opinion. If any company representative wishes to respond, we will publish the response here. Please contact us if you wish to respond.