NVIDIA ForceWare 260.52 Performance Analysis
Alongside the launch of the new GTS 450, NVIDIA give us a brand new driver that's supposed to yield good gains. Let's put it to the test and see if that holds true.
Published Wed, Sep 15 2010 6:17 AM CDT
|
Updated Tue, Nov 3 2020 7:02 PM CST
Introduction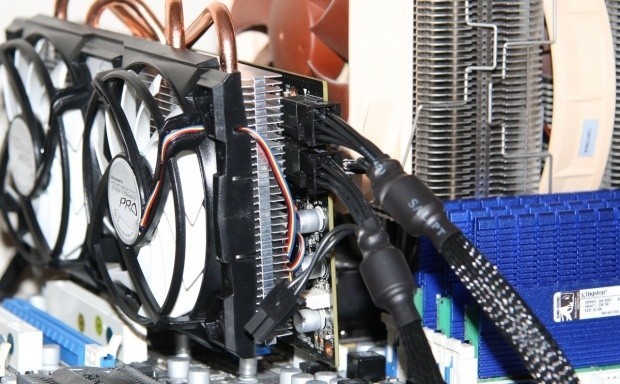 While not as common as Catalyst releases, major ForceWare releases are probably more important for the simple fact that they don't come as often. The fact that they don't come as often also means that people expect more out of them, since AMD make the effort to release drivers monthly.
The launch of the GTS 450 has brought with it the new ForceWare 260 package, and while it's had a bit of a cosmetic upgrade when it comes to installing the drivers, we ask if NVIDIA have just slapped some makeup on the latest set and sent them on their way.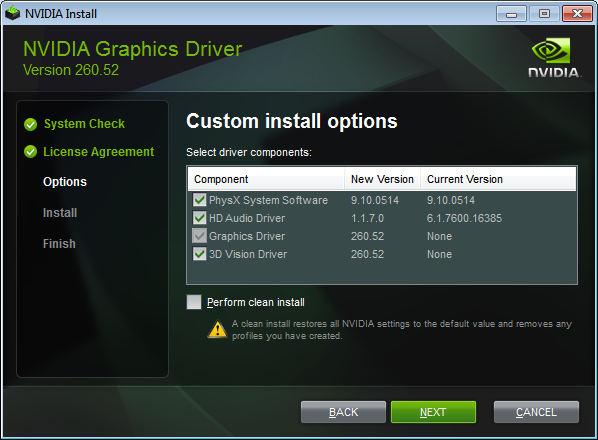 We'll be taking the normal approach to the ForceWare 260.52s as we would a Catalyst set; test a couple of cards, in this case the GTX 480 and GTX 460, across a good bunch of synthetic and real world games to see if the latest driver package does anything for overall performance.
In our
Galaxy GTS 450 review
you saw that originally we had a 259 driver with the card. Just after I finished testing, this driver arrived and it showed some good gains for the new mid range NVIDIA model. We've been told that these gains should translate into other 400 series cards, but there's only one way to find out. Let's quickly check out the test system before we get stuck into the performance of the new drivers compared to the old ones.
Test System Setup and 3DMark Vantage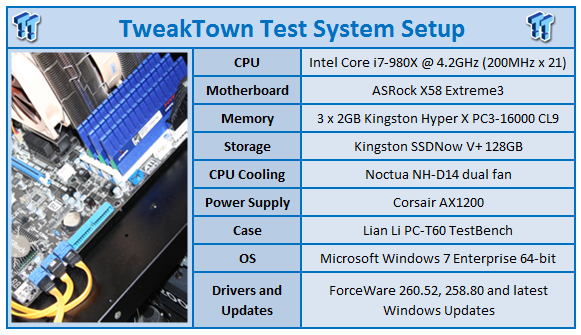 We would like to thank the following companies for supplying and supporting us with our test system hardware and equipment:
Intel
,
ASRock
,
Kingston
,
Mittoni
,
Noctua
and
Corsair
.
Today we'll be checking out the new 260.52 ForceWare driver against the 258.80 driver that we've been using for a while now. While our game lineup is shortened just a little, we're still including all the important stuff like Tessellation, PhysX and AA to name just a few things.
As for the cards we'll be using, we've got the GIGABYTE GTX 480 to look at the top end of the NVIDIA range and the ECS Black GTX 460, a model that just can't be ignored. The GTX 460 has become the card to own if you're looking at spending under $250 US and we hope owners, or future owners of that model will be able to find themselves with some extra performance from today onward.
Let's get started!
3DMark VantageVersion and / or Patch Used:
1.0.1
Developer Homepage:
http://www.futuremark.com
Product Homepage:
http://www.futuremark.com/products/3dmarkvantage/
Buy It Here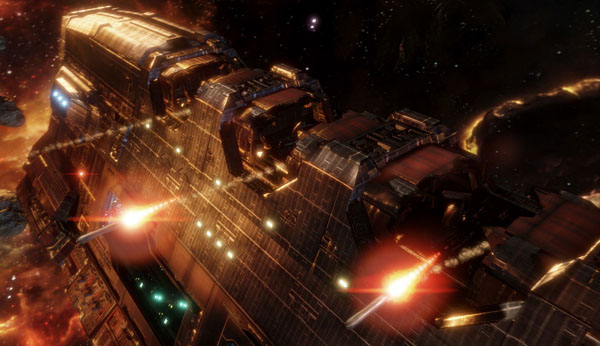 3DMark Vantage is the new industry standard PC gaming performance benchmark from Futuremark, newly designed for Windows Vista and DirectX10. It includes two new graphics tests, two new CPU tests, several new feature tests, and support for the latest hardware.
3DMark Vantage is based on a completely new rendering engine, developed specifically to take full advantage of DirectX10, the new graphics API from Microsoft.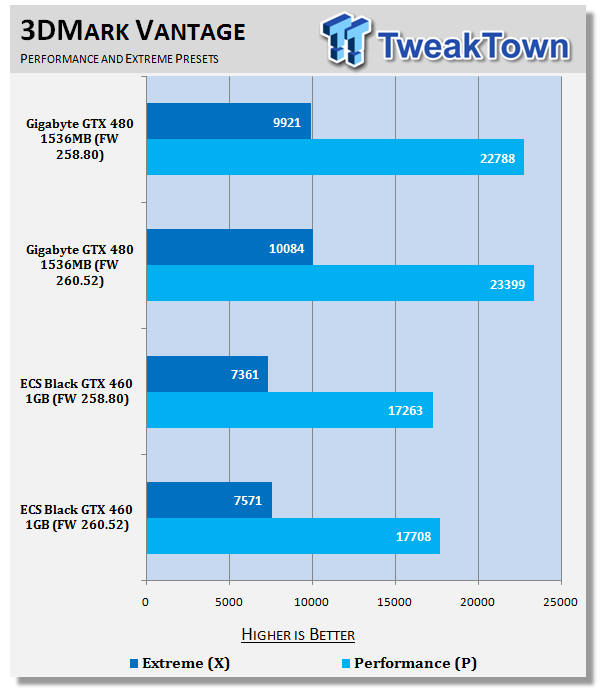 In Vantage we can see a nice little bump in both presets on both cards. Hopefully these increases translate to increases in real world games and aren't just limited to the synthetic benchmark that both NVIDIA and AMD put a lot of effort into.
Unigine Heaven Benchmark
Version and / or Patch Used:
2
Developer Homepage:
http://www.unigine.com
Product Homepage:
http://unigine.com/press-releases/091022-heaven_benchmark//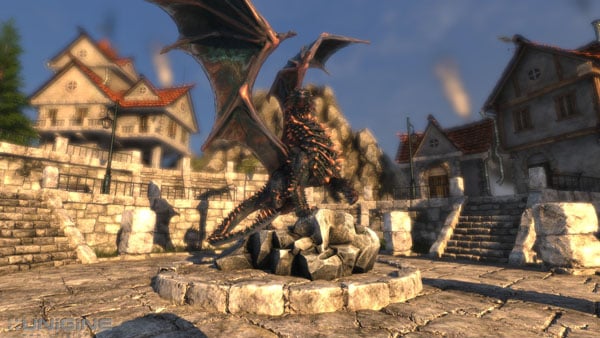 New benchmark grants the power to unleash the DirectX 11 potential in the gift wrapping of impressively towering graphics capabilities. It reveals the enchanting magic of floating islands with a tiny village hidden in the cloudy skies. With the interactive mode emerging experience of exploring the intricate world is ensured within reach. Through its advanced renderer, Unigine is one of the first to set precedence in showcasing the art assets with tessellation, bringing compelling visual finesse, utilizing the technology to the full extend and exhibiting the possibilities of enriching 3D gaming.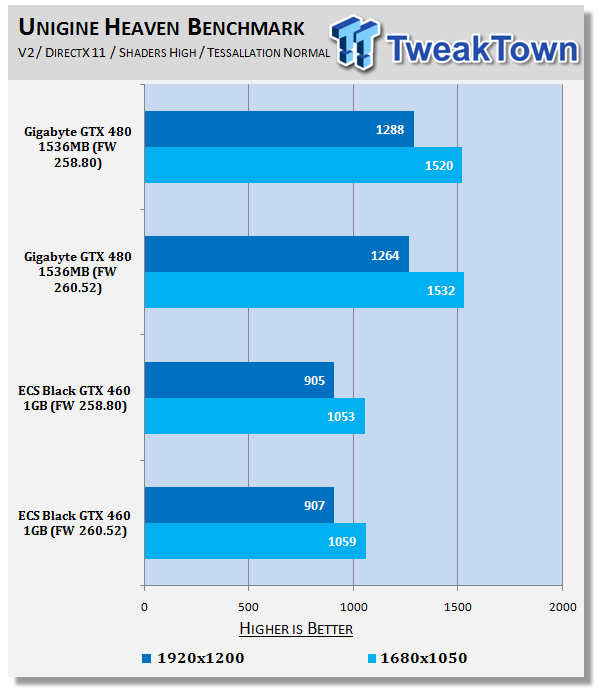 Under Heaven which is a test that concentrates on Tessellation performance, we can see that there's really no change with the latest driver. Hopefully not a sign of things to come.
Benchmarks - Mafia II
Mafia IIVersion and / or Patch Used:
Latest Steam Update
Timedemo or Level Used:
Built in Benchmark
Developer Homepage:
http://www.2kczech.com/
Product Homepage:
http://www.mafia2game.com/
Buy It Here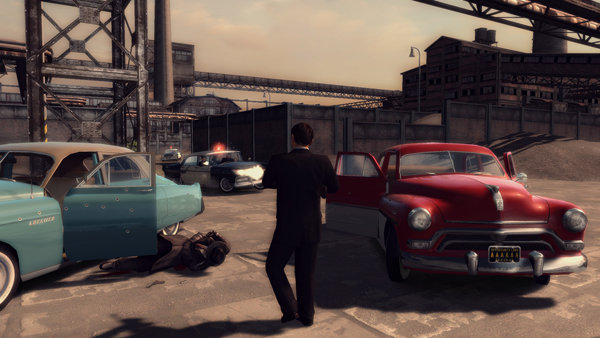 Mafia II is a third-person action-adventure video game, the sequel to Mafia: The City of Lost Heaven. It is developed by 2K Czech, previously known as Illusion Softworks, and is published by 2K Games. The game is set from 1943 to 1951 in Empire Bay (the name is a reference to New York's state nickname "The Empire State"), a fictional city based on San Francisco and New York City, with influences from Chicago and Detroit. The game features a completely open-ended game map of 10 square miles. No restrictions are included from the start of the game. There are around 50 vehicles in the game, as well as licensed music from the era.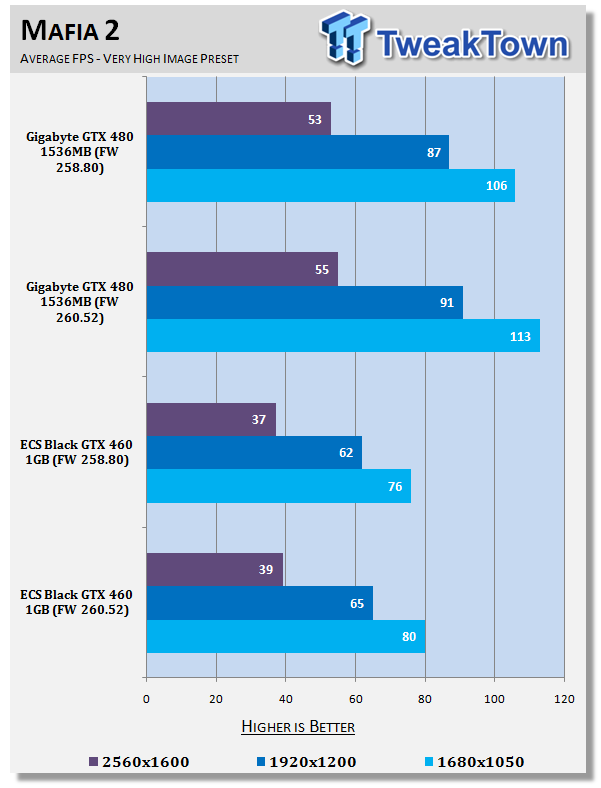 Getting into our first real world test and you can see across the board we've got some nice increases in performance. The 1920 x 1200 GTX 460 increase is really nice from 62 FPS to 65 FPS. Since we're so close to that average, an extra few FPS is appreciated as it helps bump up our minimum and ultimately offer us smoother game play.
Benchmarks - Lost Planet 2
Lost Planet 2Version and / or Patch Used:
Benchmark Demo
Timedemo or Level Used:
Built in Benchmark - Test A Scene 1
Developer Homepage:
http://www.capcom.com/
Product Homepage:
http://www.lostplanet2game.com/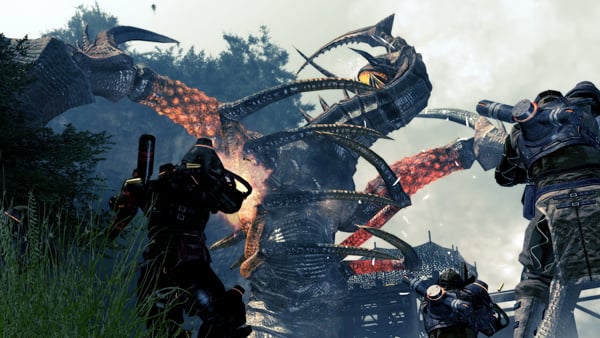 Lost Planet 2 is a third-person shooter video game developed and published by Capcom. The game is the sequel to Lost Planet: Extreme Condition which is also made by Capcom, taking place ten years after the events of the first game, on the same fictional planet. The story takes place back on E.D.N. III 10 years after the events of the first game. The snow has melted to reveal jungles and more tropical areas that have taken the place of more frozen regions. The plot begins with Mercenaries fighting against Jungle Pirates. After destroying a mine, the Mercenaries continue on to evacuate the area, in which a Category-G Akrid appears and attacks them. After being rescued, they find out their evacuation point (Where the Category-G appeared) was a set-up and no pick up team awaited them. The last words imply possible DLC additions to the game, "There's nothing to be gained by wiping out snow pirates... unless you had some kind of grudge."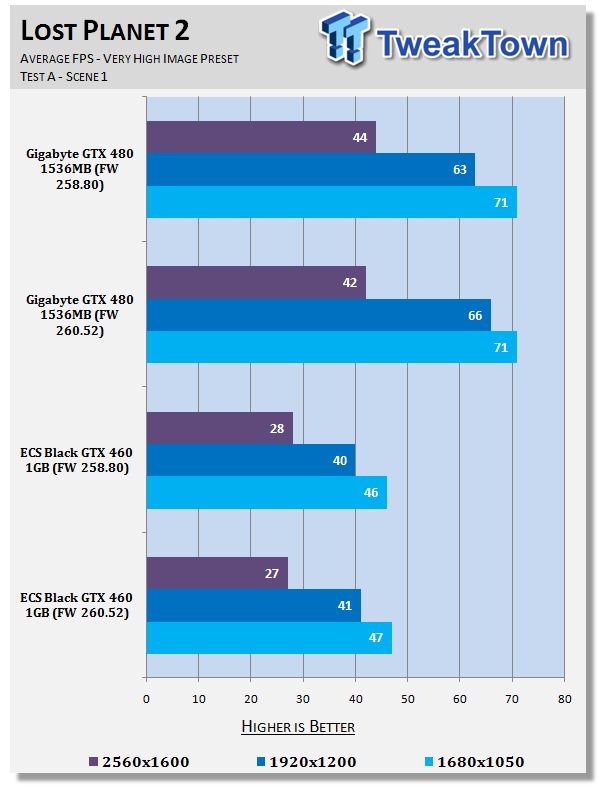 Lost Planet 2 performance is a little all over the place. You can see some gains in one area, a dip in another and no change in the other. Nothing all that concrete here; it's ultimately no worse or no better than the current driver under Lost Planet 2.
Benchmarks - Aliens vs. Predator
Aliens vs. PredatorVersion and / or Patch Used:
Standalone Benchmark
Timedemo or Level Used:
Built in Benchmark
Developer Homepage:
http://www.rebellion.co.uk/
Product Homepage:
http://www.sega.com/games/aliens-vs-predator/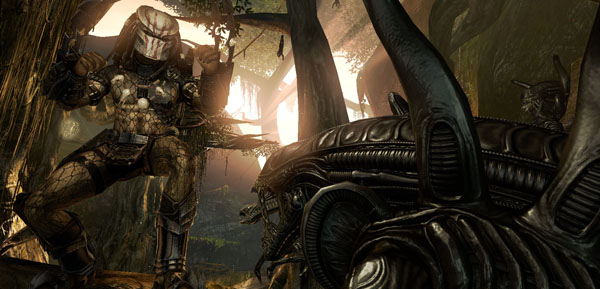 Aliens vs. Predator is a science fiction first-person shooter video game, developed by Rebellion Developments, the team behind the 1999 original PC game, and published by Sega for Microsoft Windows, the PlayStation 3 and the Xbox 360. The game is based on the Alien vs. Predator franchise, a combination of the characters and creatures of the Alien franchise and the Predator franchise. There are three campaigns in the game, one for each race/faction (the Predators, the Aliens and the Colonial Marines), that, while separate in terms of individual plot and gameplay, form one overarching storyline.
Following the storyline of the campaign modes comes the multiplayer aspect of the game. In this Multiplayer section of the game, players face off in various different gametypes in various different ways.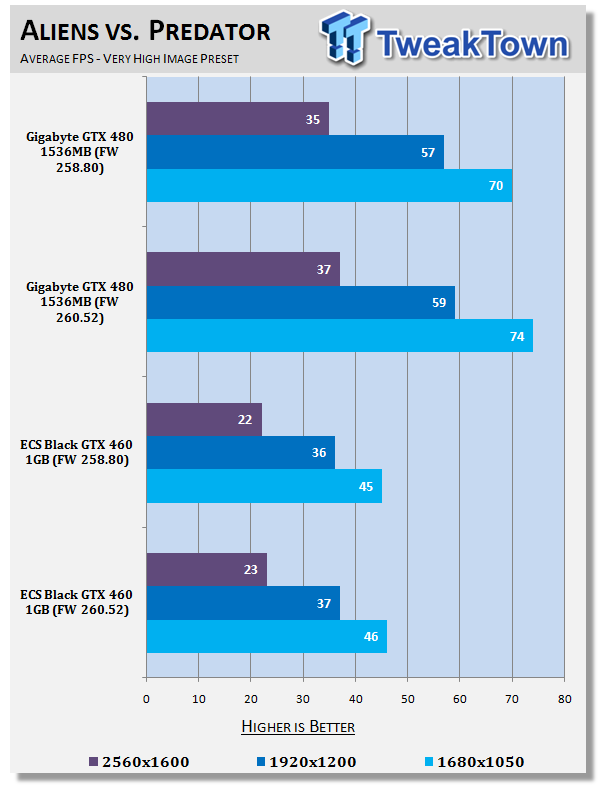 The GTX 460 manages to see a small bump across the board. The GTX 480s increase is a little larger and no doubt going to be appreciated. You can see our 1920 x 1200 average now sits only a single FPS behind that 60 FPS number we like to see.
Benchmarks - Far Cry 2
Far Cry 2Version and / or Patch Used:
1.01
Timedemo or Level Used:
Ranch Long
Developer Homepage:
http://www.ubi.com/
Product Homepage:
http://www.farcry2.com/
Buy It Here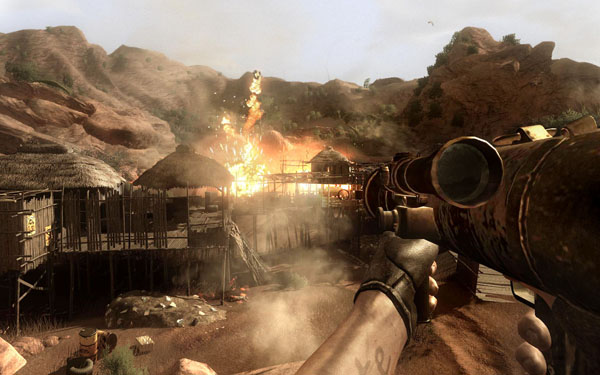 The Dunia Engine was built specifically for Far Cry 2 by the award-winning Ubisoft Montreal development team. It delivers the most realistic destructible environments, amazing special effects such as dynamic fire propagation and storm effects, real-time night-and-day cycle, dynamic music system, non-scripted enemy A.I. and so much more.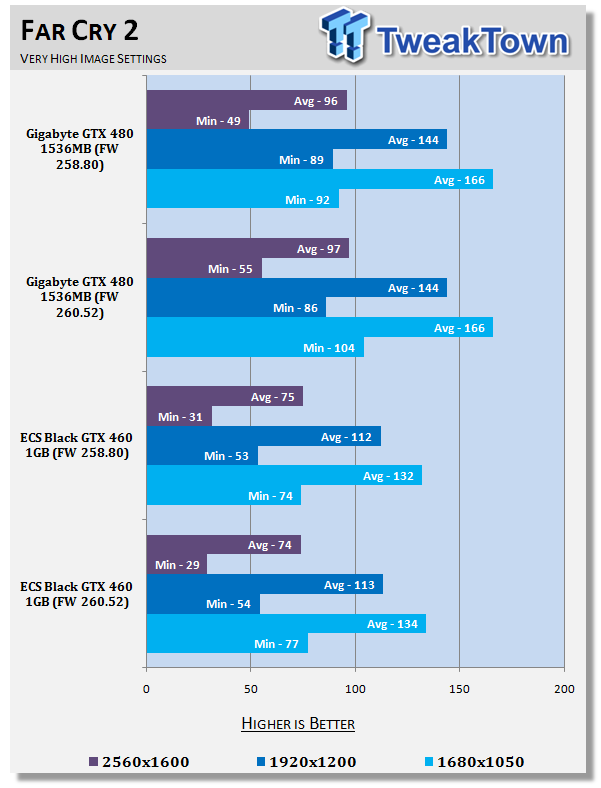 At the lower resolution we can see the GTX 460 sees some gains, while at the higher the performance is very similar to just a little behind. The GTX 480 on the other hand shows very good gains at the lower and higher resolution, while 1920 x 1200 doesn't show any real change.
Benchmarks - High Quality AA and AF
High Quality AA and AF
Our high quality tests let us separate the men from the boys and the ladies from the girls. If the cards weren't struggling before they will start to now.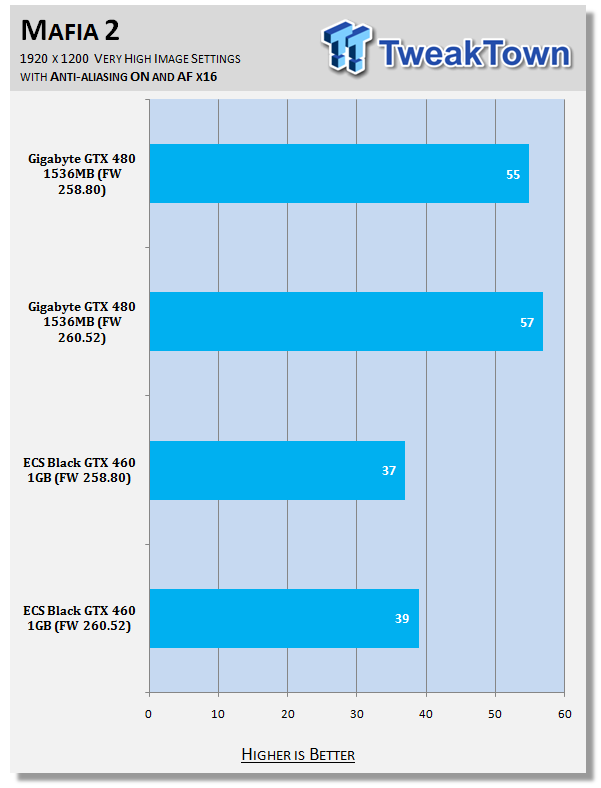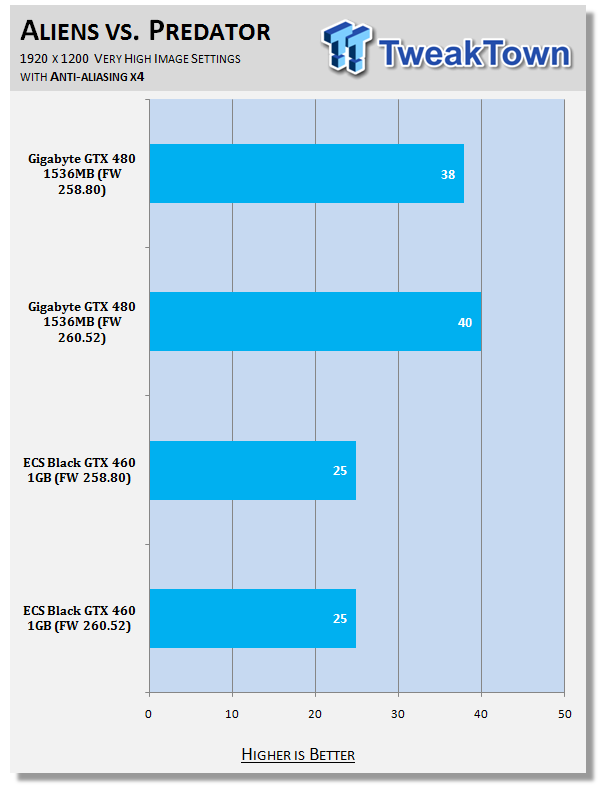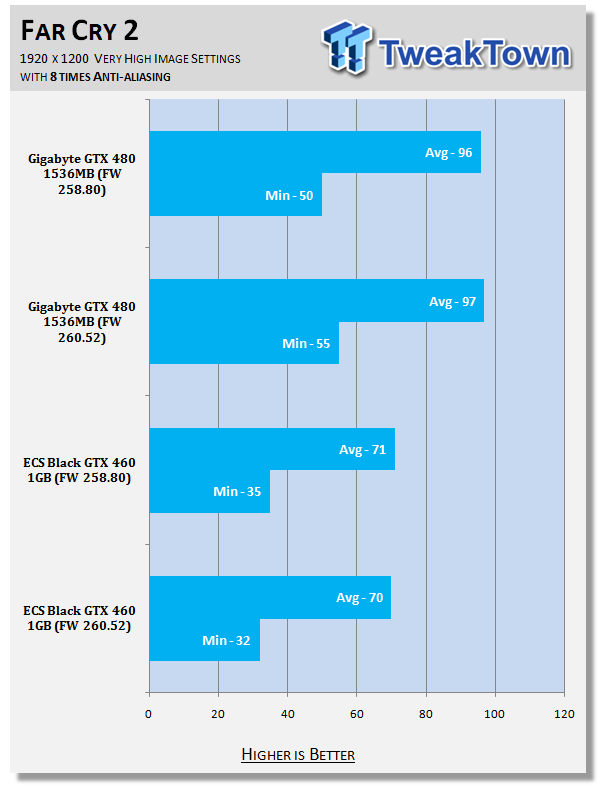 Turning on AA, we can see some very good gains again for the GTX 480. It's not quite the same picture for the GTX 460 whose performance is a little all over the place again, like we've seen in one or two other tests.
Benchmarks - PhysX Tests
PhysX Tests
Here we're able to find out when PhysX is turned on in games that support it what kind of frame rates we're able to get. We always set PhysX to the highest possible in game settings while also keeping detail at its highest.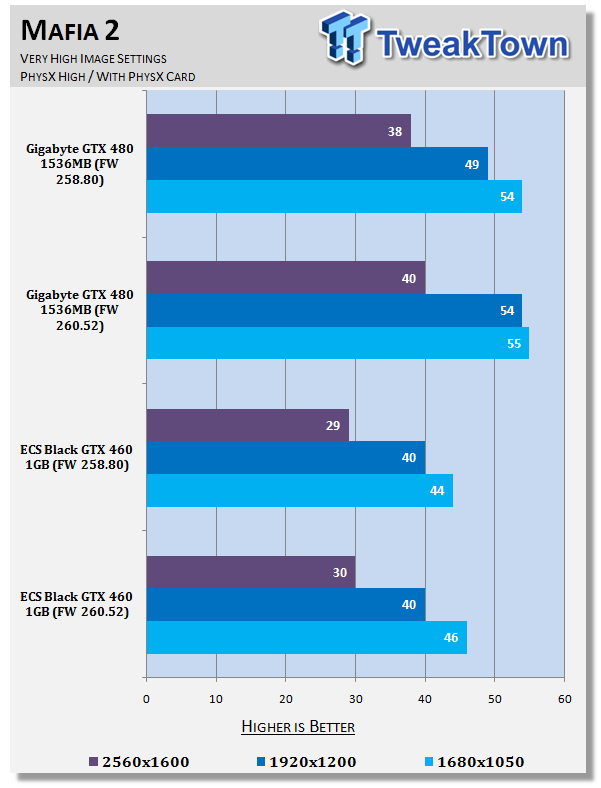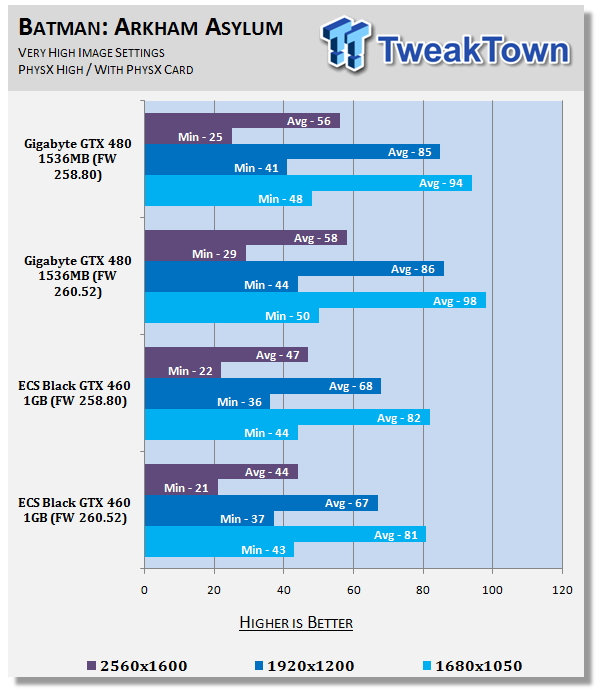 Under Mafia 2, a very new game, we see the GTX 460 gets a nice little bump across the board. Under Batman AA there's very little change. The GTX 480 on the other hand manages to see a nice bump in both games at all resolutions.
Final Thoughts
NVIDIA continue to bring it with new driver releases and as we mentioned in the introduction, while they're not as common as AMD ones, they tend to always yield not only the standard bug fixes, but also some nice performance gains; something that's not as common when it comes to AMD drivers. Yes, they get performance gains, but quite often not as clear, and not as across the board as NVIDIA with its driver releases.
The other thing to remember is that NVIDIA do release drivers on a regular basis in beta stage through their website; they just don't offer official WHQL drivers on a monthly basis, something that some people simply don't care about. If there's a major bug in a game, NVIDIA can often bring a driver as quickly as AMD can who often offer non WHQL updates.
The new interface on the install is really nice; it's a bit like a cleaner version of the AMD one which is quite messy. Tacky ads for games and the inclusion of annoying things like trials for MMO games make it quite cluttered. On the first page you can see the menu you get after selecting the Expert installation and it's just very precise and easy to use.
It's good to see NVIDIA finally throw some makeup on the old installation process and bring it into 2010 and beyond.
Finally, as to if you should be upgrading or not, if you're a GTX 480 user, for sure. And really, if you're a GTX 460 one, yes as well. While the latter might not see the strongest gains when compared to the GTX 480, across the board there's some nice performance increases and in the situation where we saw performance take a little hit for some reason, it's nothing that's going to change your overall game experience in a negative way.
Of course, if you haven't looked already, the GTS 450 Super OC from Galaxy we tested also compared the original driver that came with the card to the new 260.52 one, so if you want to see how that model likes the new driver suite, I would recommend that you
check out the review
.
PRICING: You can find products similar to this one for sale below.

United States: Find other tech and computer products like this over at Amazon.com

United Kingdom: Find other tech and computer products like this over at Amazon.co.uk

Australia: Find other tech and computer products like this over at Amazon.com.au

Canada: Find other tech and computer products like this over at Amazon.ca

Deutschland: Finde andere Technik- und Computerprodukte wie dieses auf Amazon.de