Introduction, Test System Setup and Preparation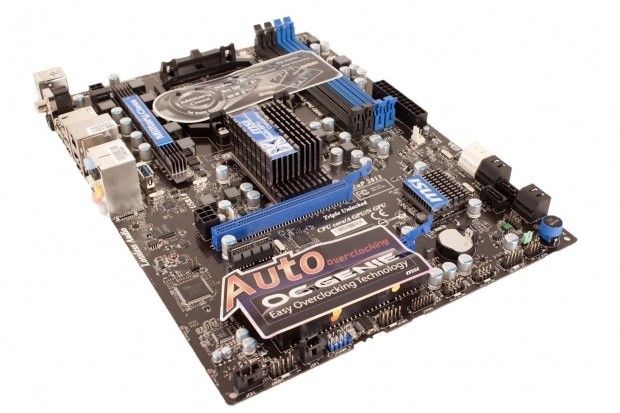 Introduction
In the third instalment of our extended review of the MSI 870A Fuzion (and its new dual GPU method), we turn to a more traditional option for dual GPU operation. This is where you combine identical GPUs. These are labelled as A-Mode for dual AMD GPUs and N-Mode for dual NVIDIA GPUs.
These are listed as the more stable and usable modes by both Lucid and MSI. But what we want to know is, will they offer any gains when put into real use? We know that SLI and Crossfire can offer some benefits (most often to synthetic benchmarks rather than real world gaming) and we also know that NVIDIA is very protective of their multi-GPU mode technology.
Will Fuzion be able to meet or exceed these levels of performance? Will we run into any driver issues with NVIDIA? Since this is an AMD 770 chipset, how will the Catalyst drivers feel about something else controlling the multi-GPU mode? I guess we will find this out as we drop in a pair of ASUS EAH5870 V2 Stalker Edition GPUs followed by a pair of GIGABYTE GV-N470SO-13I Super Clocked GPUs into this $140 motherboard from MSI to see what we get.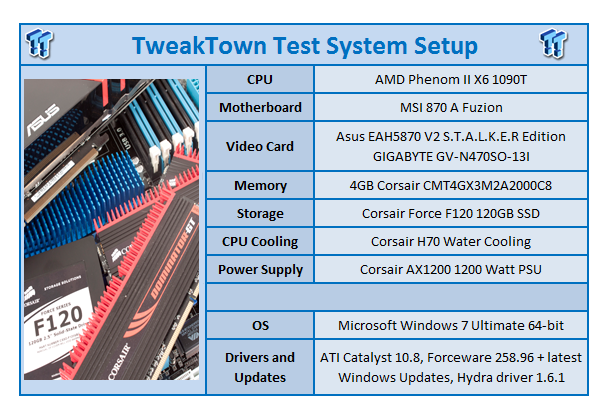 We would like to thank the following companies for supplying and supporting us with our test system hardware and equipment:
AMD
,
ASUS
,
MSI
,
Corsair
and
Sceptre
.
For this test we reused the same basic components used in
the original review
and in
the X-Mode test
. The drivers for both remained the same, and we again ran the single card tests with the Fuzion drivers uninstalled. We did not allow the system to run any updates between the original tests and these. It was important to ensure we had the same platform for these tests as the others.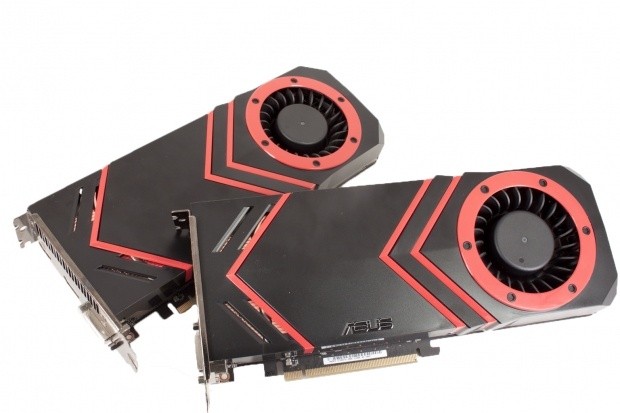 For out ATI A-Mode test we used a pair of
ASUS EAH5870 V2 S.T.A.L.K.E.R. Edition
video cards. These are factory overclocked to 868MHz with a GDDR5 memory speed of 4800MHz. The V2 designation means that there is an option to push up the voltage for higher clocks on the GPU. These are the same GPUs that we use now in all of our motherboard tests and they have done outstanding so far.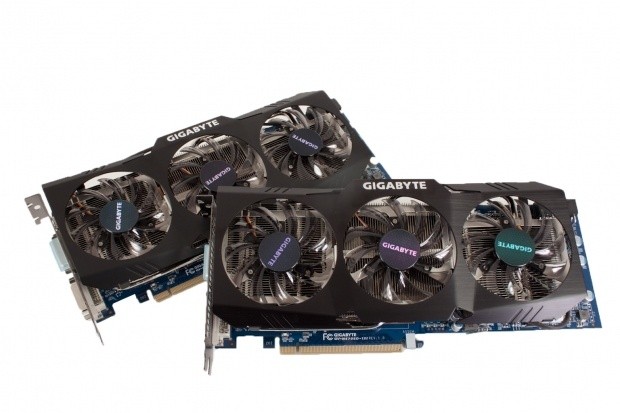 For our NVIDIA tests we ran with the
GIGABYTE GV-N470SO-13I Super Clocked GTX470
video cards (again, a pair of them). This is also a factory overclocked video card with a core speed of 700MHz, a memory clock of 3348MHz and a nice 1280MB of GDDR5. It comes with a 12 Phase power setup that should allow for extra headroom on both the GPU and the memory. We picked up four of these on a temporary basis for an upcoming review, but saw no reason not to take them for a spin here.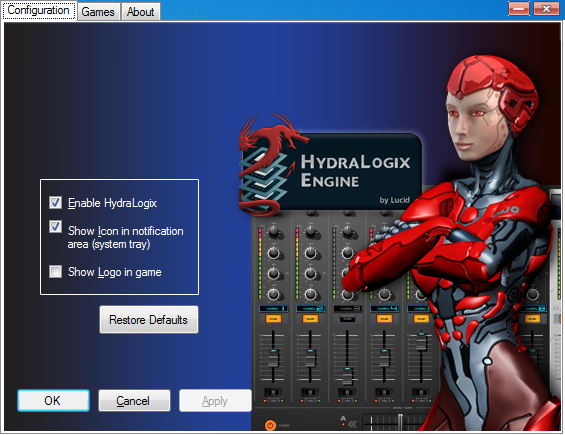 With each run we found that the Fuzion drivers installed without issue. After installation and with both cards installed the Multi-GPU mode was already enabled with the first boot. We did have a problem with the Hydra logo; despite telling it not to display during the game, it still showed up in the upper left hand corner. We do hope this is resolved in future releases as it was distracting and not needed.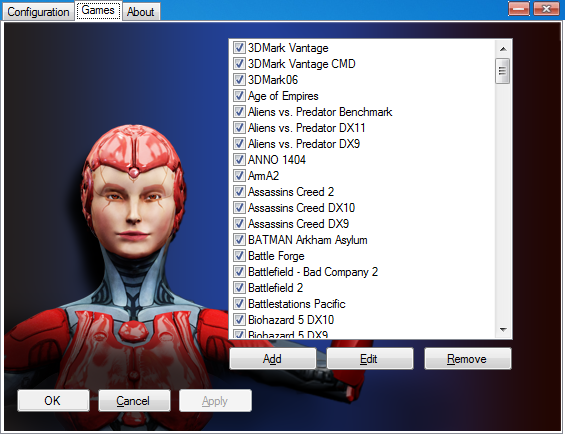 Fuzion, like SLI and Crossfire has to be associated with the game in question. Although there is quite a list by default, you can still add in new games and tests by browsing to where the .exe is in the system (many times you will also need to add the engine .exe as well). Fortunately for us, all of the games and tests we use were listed and we did not have to add anything into the mix and try to see if it would work.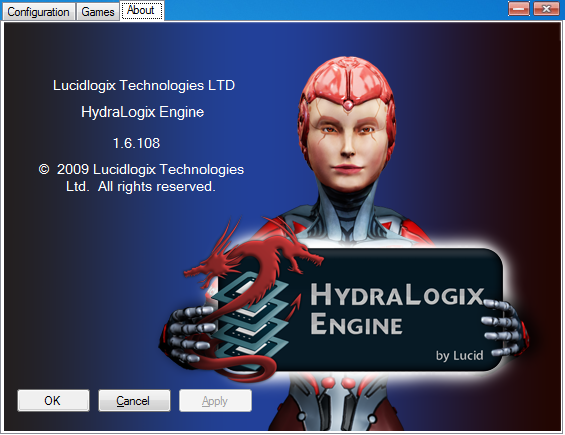 Synthetic Tests
Our synthetic tests will cover most of the features available within the most popular forms of DirectX (DX 9, 10 and 11). Each of these is intended to give an idea on how well the A and N-Modes will operate for you when you want to take it for a spin. These tests are included as the repeatable "static" numbers to ensure that we are not getting results that are out of the normal range. Our tests used for this were 3DMark Vantage, Unigine's Heaven 2.0 Bench and S.T.A.L.K.E.R. Call of Pripyat bench.
3DMark VantageVersion and / or Patch Used:
1.0.1
Developer Homepage:
http://www.futuremark.com/
Product Homepage:
www.futuremark.com
Buy It Here
For synthetic gaming tests we used the industry standard and overlockers bragging tool 3DMark Vantage. This is a test that strives to mimic the impact modern games have on a system. Futuremark went a long way to change from the early days of graphics driven tests to a broader approach including physics, AI and more advanced graphics simulations.
3DMark Vantage uses the DX10 API in addition to having support for PhysX. For testing we use the Performance test run.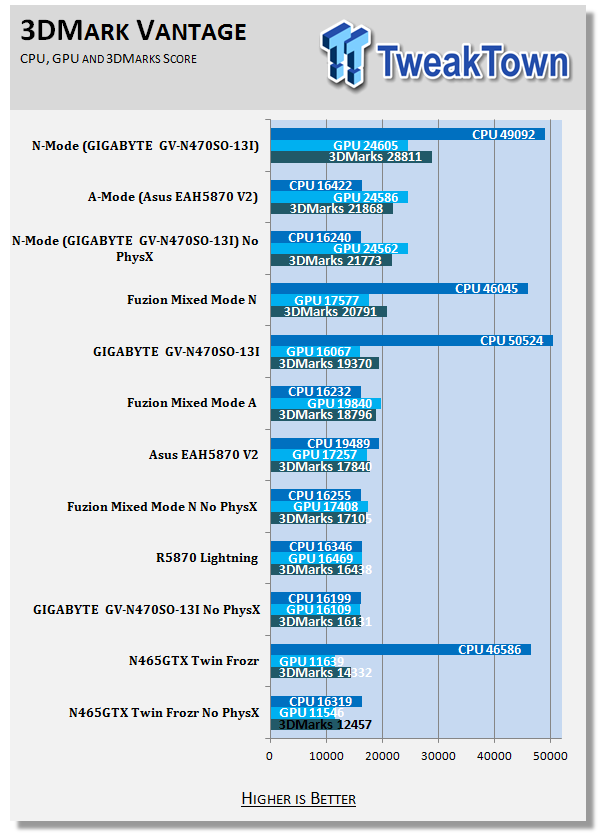 3DMark in both A-mode and N-mode show a boost when over the single card speeds. For the N-mode we see a 25% boost when PhysX is off and a 32% boost when it is on. A-mode manages an 18% increase which is actually less than what we saw with X-mode while the N465GTX was in the lead and PhysX was on (31% boost). So far N-mode is looking like it could have some promise; but as we always say, one synthetic test does not tell the whole story.
Unigine Heaven BenchVersion and / or Patch Used:
2.0
Developer Homepage:
http://unigine.com/
Product Homepage:
http://unigine.com/products/heaven
Download It Here
Unigine's Heaven Benchmark is a DirectX 11 GPU benchmark based on advanced Unigine™ engine from Unigine Corp. It reveals the enchanting magic of floating islands with a tiny village hidden in the cloudy skies. Interactive mode provides emerging experience of exploring the intricate world of steampunk. It offers a good combination of features like; Support of DirectX 9, DirectX 10, DirectX 11 and OpenGL 4.0, tessellation, Advanced SSAO (screen-space ambient occlusion), volumetric cumulonimbus clouds, changing light conditions and dynamic sky with light scattering.
We ran the Heaven bench in both DX10 and DX11 modes to see where things landed.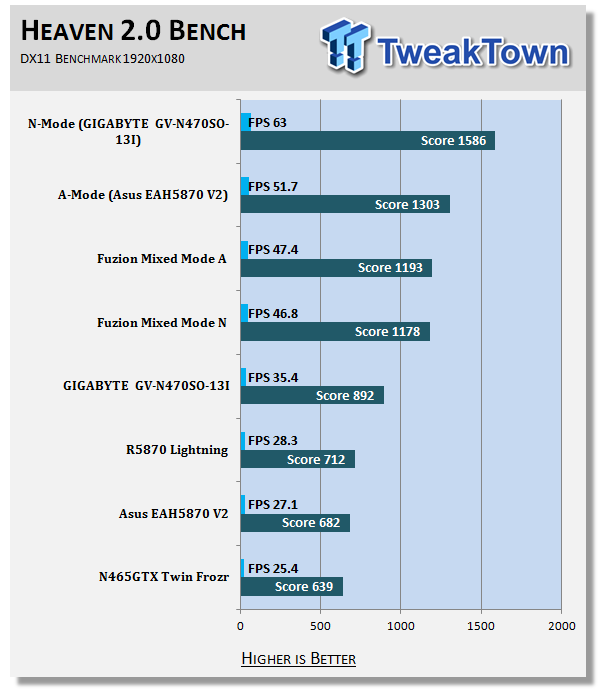 For the DX11 Heaven bench we saw some impressive leaps in performance. The lowest jump was from the single R5870 Lighting to X-mode with a 40% jump. A-mode with the two ASUS EAH5870 V2 cards showed a 47% leap while N-mode still picked up 43%. It looks like no matter the pairing, a dual card configuration and the DX11 mode of Heaven is a winning deal.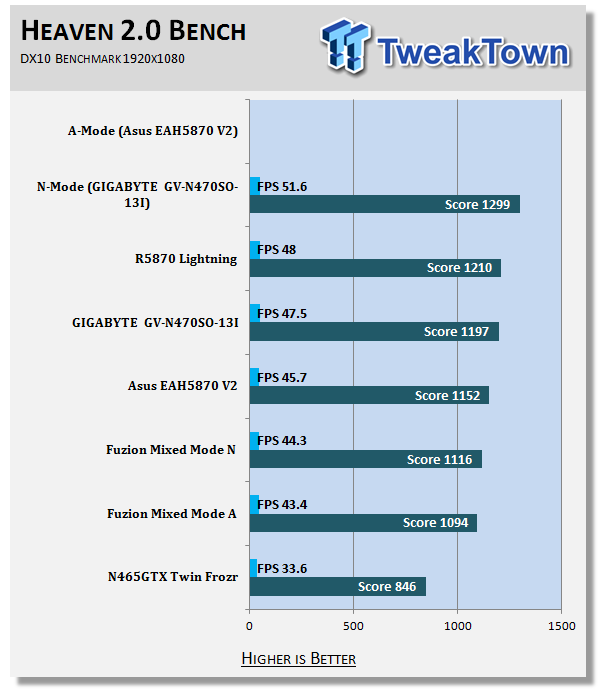 Unfortunately the DX10 mode of the Heaven bench does not do so well. The best performance gain is with the N465GTX in X-mode (24%) while the N-mode with the GV-N470SO-13I only yields 7.8%. The A-mode locked up continuously and would not complete the test. This issue is more than likely down to drivers and could be resolved in the next release or two.
S.T.A.L.K.E.R. Call of Pripyat BenchVersion and / or Patch Used:
1.0.1
Developer Homepage:
http://www.thq.com
Product Homepage:
http://cop.stalker-game.com
Download It Here
The game S.T.A.L.K.E.R. Call of Pripyat is based off of the XRAY 1.6 engine. This same engine runs the benchmark and in both DX11 and DX10 modes. Like the game is can simulate hard contact shadows and tessellation. The benchmark runs through several lighting conditions, Day, Night, Rain and Sun Streaks. These compromise the bench four runs. We take the average frame rates for each and recorded them here.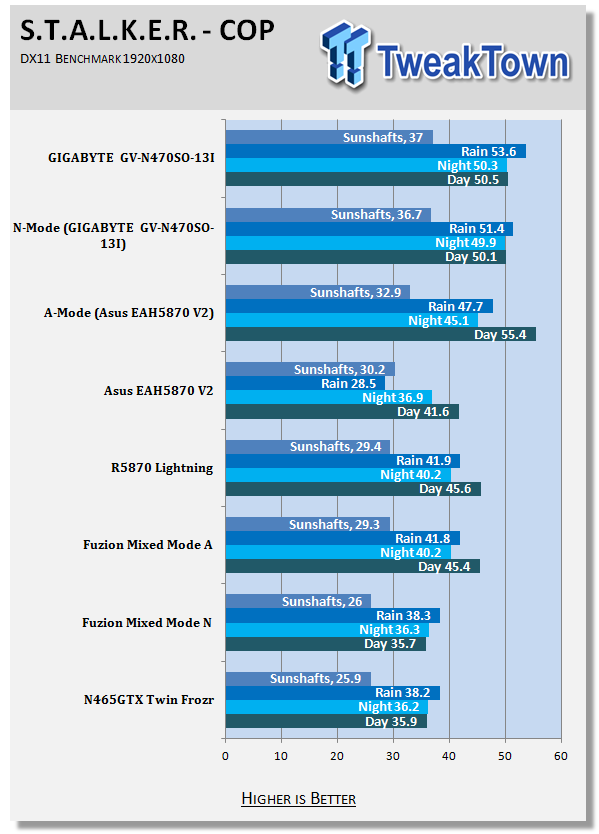 I wish I had more to report on here, but it still looks like there is not much of a boost when running Fuzion and the Stalker bench. In fact, the N-mode was a hair slower than the stock GV-N470SO-13I. A-mode did show a small performance increase in three of the four tests (between 8 and 19 FPS), but was less than 2 FPS faster in the Sun Shafts test.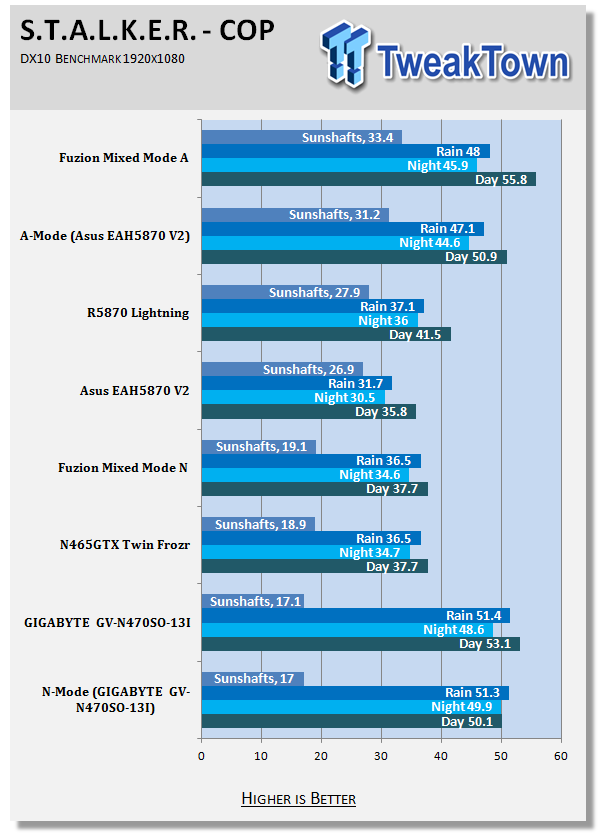 The DX10 test again sees the AMD configurations as the winner (both A-mode and X-mode with the HD 5870 in the lead).
Synthetic Conclusion
We see something interesting here. We have found that the current Fuzion drivers do not like to run our DX10 synthetic benches. This has to be an issue with the Fuzion driver seeing the same engine running different levels of DX. We will be looking into this to see if this is the case, but for now we see that 3DMark Vantage and Heaven Bench 2.0 (DX11) enjoy the largest performance increase out of our synthetic tests.
Real-World Tests
Here we have our real gaming tests. Each of the games we chose uses multiple cores and GPUs. They are able to stress the system through use of good AI. Both have decent positional audio that adds impact to the sound subsystem of the board. We ran each game through the level or parts listed and recorded frame per second using FRAPS. This brings the whole game into play.
Call of Duty Modern Warfare 2 (DX9)Version and / or Patch Used:
1.0
Timedemo or Level Used:
First combat until the school is cleared
Developer Homepage:
http://www.infinityward.com
Product Homepage:
http://modernwarfare2.infinityward.com
Most of you know about the game Modern Warfare 2; it caused quite a bit of controversy in the latter half of 2009. The game is a first person shooter with a heavy combat emphasis. It follows the events in the first Modern Warfare very closely and brings back several characters from the original.
As with most games in the Call of Duty franchise, it features a heavy AI load. This is not because of a complex AI routine, but more due to the sheer number of enemies in any given combat situation. It is also our single DX9 based game in our testing suite. Settings are shown below.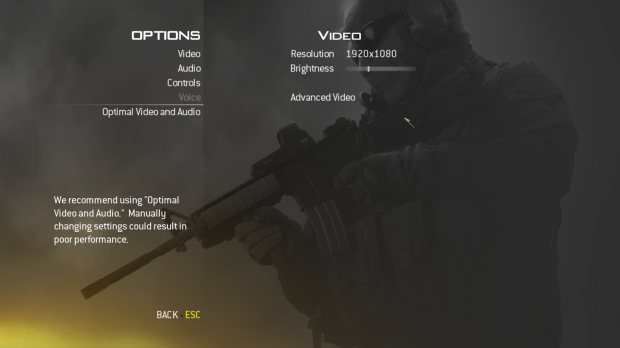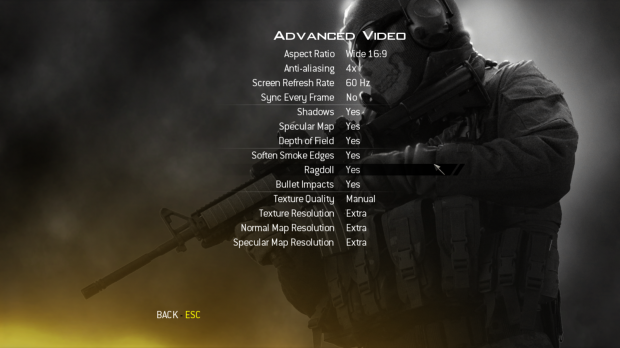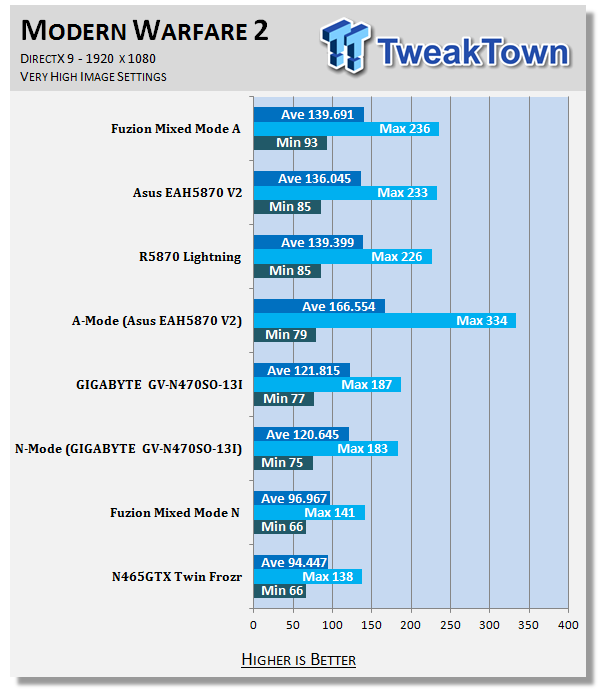 This is a tough one to call. You see, on one hand we like to measure the minimum frame rate to see if the GPUs in question are able to at least maintain 30-32FPS for game play. So if we look at minimums we see that X-mode with the R5870 as the lead card is out ahead of everyone else by 8 FPS, but we are looking at 80-90 FPS; I doubt that 8 would be noticed.
If we look at average frame rate then the A-Mode with the dual ASUS EAH5870 V2s is the winner by almost 27 FPS. Now that could possibly be noticed as a much more fluid game. The N mode is not high on the list at all; it comes in behind all of the single cards for minimum and average frame rate. But the difference is not terribly large.
Far Cry 2 (DX10)Version and / or Patch Used:
V1.00
Timedemo or Level Used:
Clearing the Safe house through to the Rescue
Developer Homepage:
http://www.ubi.com
Product Homepage:
http://farcry.us.ubi.com
Far Cry 2 is a large sandbox style game. There are no levels here so as you move about the island you are on you do not have to wait for the "loading" sign to go away. It is mission driven so each mission is what you would normally think of as the next "level".
In the game you take the role of a mercenary who has been sent to kill the Jackal. Unfortunately your malaria kicks in and you end up being found by him. Long story short, you become the errand boy for a local militia leader and run all over the island doing his bidding. Settings we used for testing are shown below.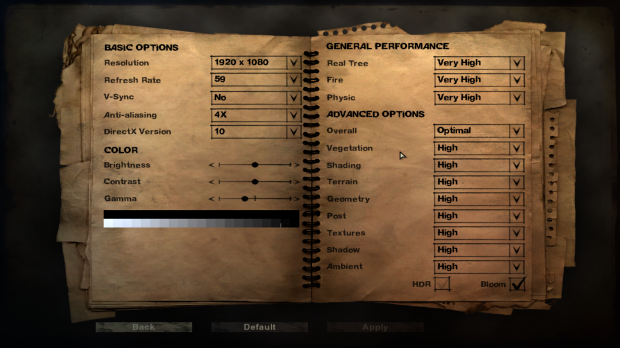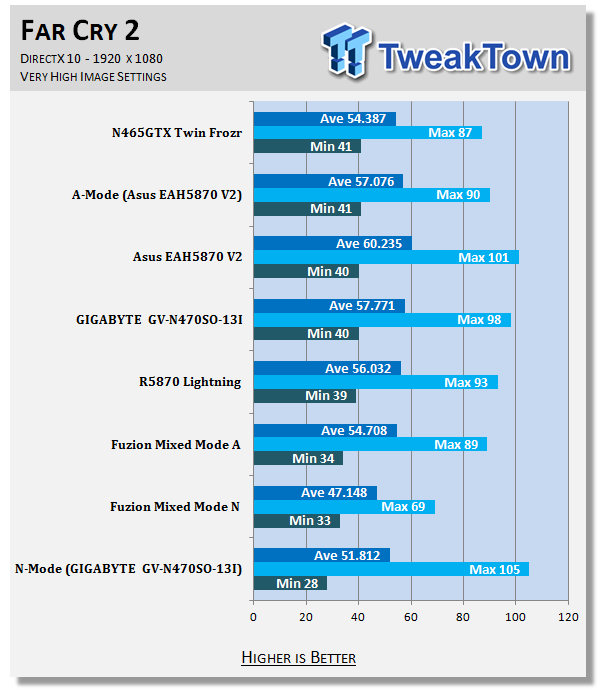 N-mode here had some issues. There were a few spots where the game seemed to pause and then restart. A-mode seemed much more fluid with Far Cry 2, but is was still a little (2FPS) slower than the single EAH5870 V2 for average frame rate and only 1 FPS behind for our minimum testing.
Battlefield Bad Company 2 (DX11)Version and / or Patch Used:
V1.00
Timedemo or Level Used:
From washing up on the beach to the mine fields.
Developer Homepage:
http://www.ea.com/
Product Homepage:
http://badcompany2.ea.com/
Battlefield Bad Company is another sequel and also another game "franchise". Bad Company 2 is also our DX11 Shooter game. The game follows a fictitious B company team on a mission to recover a Japanese defector. This puts you back in World War II (at least for the beginning of the game) while the multi-player game is centered on much more modern combat. For our testing we used the single player mode. Settings are shown below.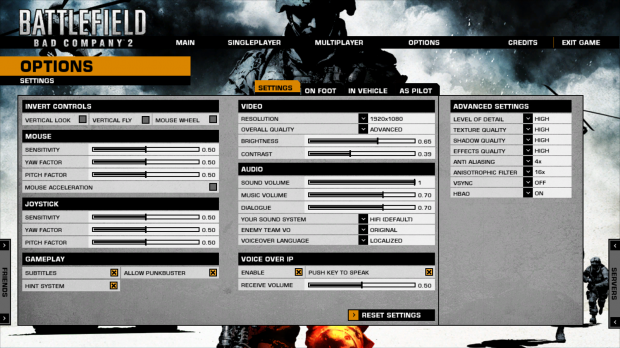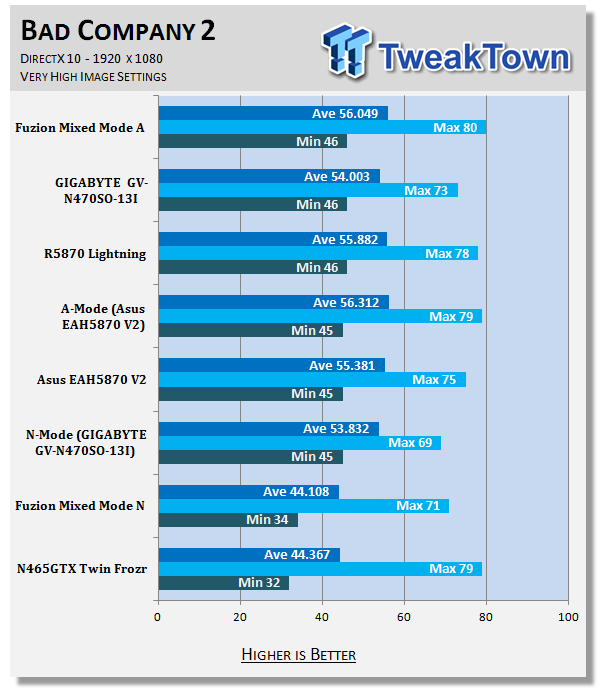 I did not expect this. The scores are so close it almost makes no sense to try and call a "winner". I would have expected a much better showing from any of the multi-GPU modes. Sadly we did not.
Bioshock 2 (DX10)Version and / or Patch Used:
V1.00
Timedemo or Level Used:
From the opening to the meeting with Dr. Tanenbaum.
Developer Homepage:
http://www.2kgames.com
Product Homepage:
http://www.2kgames.com/#/games/bioshock-2
Buy It Here
Bioshock 2 is the follow on to the original Bioshock. In it you take the persona of a Big Daddy, but one that is very different from what you ran into in the original game. You have many powerful weapons but are also able to make use of Eve and Plasmids to enhance your combat abilities. The DX10 portion of the game is limited to textures and lighting, but it is still enough to keep things interesting for your GPU.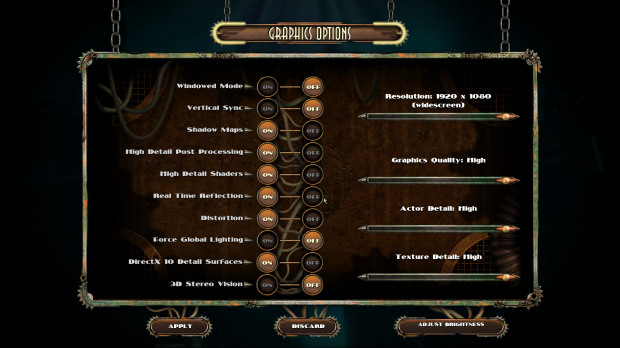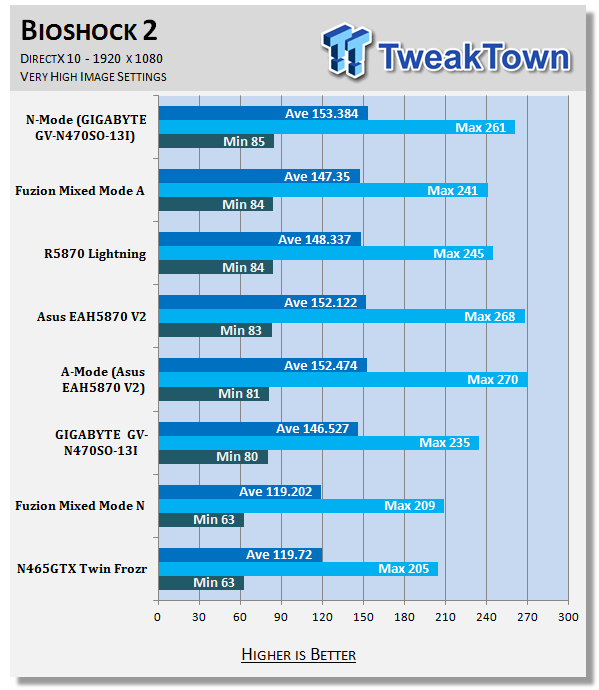 With a lead of 1 FPS over the X-mode (with the R5870 as primary) and the single R5870 Lightning, it hardly seems worth the effort here. At least this is the case if you are looking to play Bioshock 2.
Metro 2033(DX11)Version and / or Patch Used:
V1.00
Timedemo or Level Used:
From washing up on the beach to the mine fields.
Developer Homepage:
http://www.metro2033game.com/us/age_gate
Product Homepage:
http://www.metro2033game.com
Metro 2033 is a game that was created by some of the same developers that made the game STALKER. The Engine used has been described as "what XRAY should have been". It is very detailed and has some of the more realistic human rendering available. The shadows, fog simulations and other eye-candy make this game rough on even the most powerful of GPUs.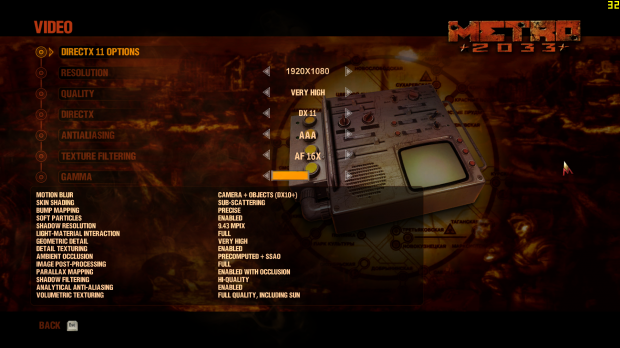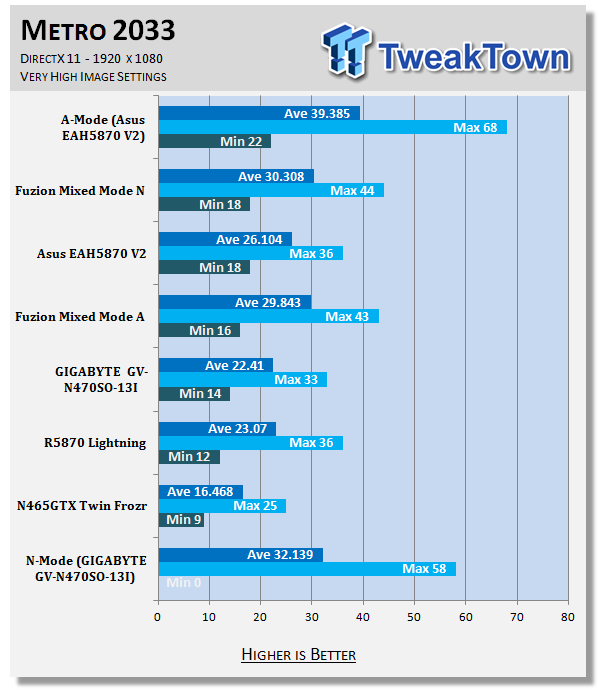 Notice that zero for the minimum FPS during our N-mode run? That was because the game would hard lock for several seconds at a time when we tried to play it. It was frustrating and despite trying everything from changing which GPU handled PhysX to turning off PhysX on the GPU entirely, we could not get past that. Instead, the A-mode came out on top by 4 FPS minimum and 9 average (we did not count the 32 of N-mode as the game was not playable).
Gaming Conclusion
Our gaming experience did not turn out like we thought it would. There are just too many things that need to be resolved right now for Fuzion to run real games properly. Unless I am missing something, my guess is that the lack of performance boost we saw has a lot to do with the drivers and the systems inability to handle the data throughput.
We think this is something that can be corrected with drivers, but there has to be some additional changes made. With the exception of the issues noted (games locking up and the jitter in X-mode for Metro 2033), the rendering was excellent. The only thing lacking was the actual performance levels.
Final Thoughts
Multi GPU performance and gaming has always been something of a mystery as well as a game of hit and miss. Many times you will not see a significant performance increase when you drop in the second GPU, while others may yield excellent results. It is one of those things that either works; or it doesn't. And that is just SLI and Crossfire. When we throw Fuzion into the gaming mix we find things are even more complicated.
Fuzion adds another level of complexity to the game. It is fighting systems that are already in place in addition to drivers that may be working against the system. With the AMD GPUs we saw the system try and enable Crossfire until the Fuzion driver took over. A Similar thing happened with PhysX and the NVIDIA pair. MSI and Lucid have a lot of work to do on the Fuzion drivers to make them work better under the stress of real world gaming. They have many of the benchmarks down (3DMark Vantage works well), but let's face it; not all of us buy a board to run 3DMark.
We will be working with MSI to see where the root causes of this are and if there is a simple and effective way to get around the gaming issues we saw here. For now, it is very cool to get dual NVIDIA GPUs working together on the 870A Fuzion. Now they just need to get it to work right.