Introduction, Test System Setup and Preparation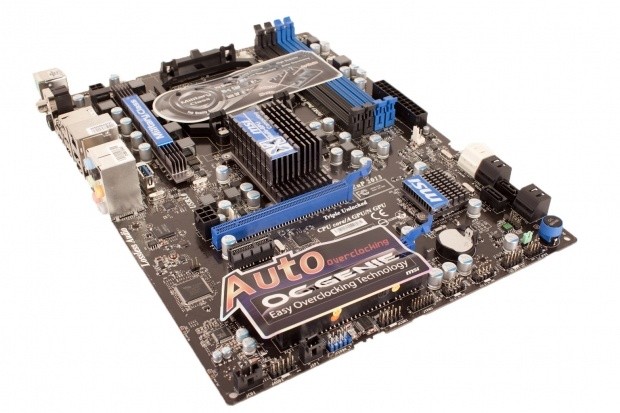 Introduction
Now that we know how the 870A Fuzion will perform when run as a single GPU system, we need to see if the Fuzion side of the house is worth the price of admission. After all, that is one of the major selling points of the system (running dual NVIDIA GPUs on the board).
But simply getting an SLI replacement on an AMD system does not cover what Fuzion is all about. As we have mentioned before, there are three modes for Fuzion. There is A Mode - which is dual AMD based GPUs, N Mode - dual NVIDIA GPUs and the one that made Fuzion famous; X-Mode or mixed mode. Each of these modes offer different levels of performance gain and can help to deliver a different type of performance boost.
For our testing here we are going to dive right in and look at the X-Mode performance. We are going to stick within the MSI family for now and will be playing around with an MSI R5870 Lighting and an MSI N465GTX Twin Frozr. Shall we see what kind of results we get?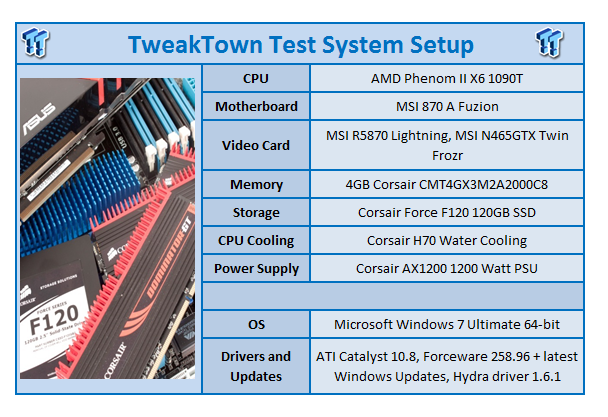 We would like to thank the following companies for supplying and supporting us with our test system hardware and equipment:
AMD
,
MSI
,
Corsair
and
Sceptre
.
The system we used for testing today was identical to the one used for the basic testing, with the exception of the GPUs we used. As we'd just mentioned, for our X-Mode testing we went with an MSI N465GTX Twin Frozr and an MSI R5870 Lightning. These two cards represent a good division of tech and of course are both DX11. This means that there should be no issues with our DX11 game testing.
What will be interesting to find out is if there are any issues with the new NVIDIA drivers and PhysX. If the drivers block PhysX from working we will know it at once. It will also be interesting to find out what happens with each card running as the primary GPU. According to some of the initial claims from Lucid, the Fuzion (usually called the Hydra chip) will dynamically determine which GPU renders what for the best performance gain. This test will find out if that is true for X-Mode.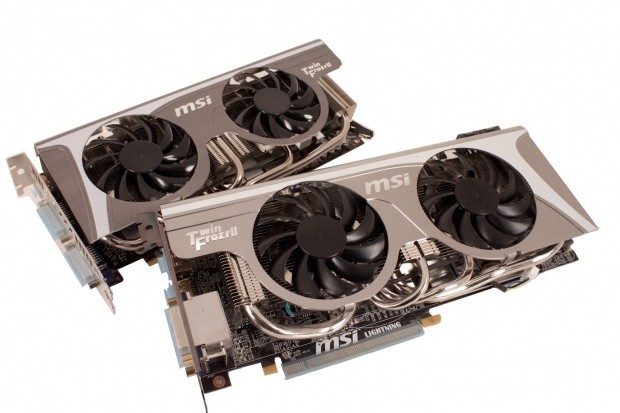 We will run each card as a stand-alone with Fuzion disabled and then with the other card added in. In our graphs below the Fuzion setups are labelled A and N. These represent when the AMD GPU is primary and when the NVIDIA GPUs is in the driver seat.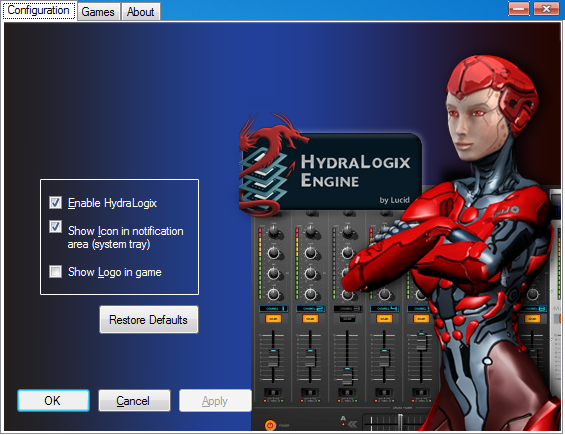 Enabling Fuzion is simple; insert the secondary card, install the most current driver for that GPU, then install the most current Fuzion driver from MSI's website. Once that is complete you will have Fuzion enabled and running.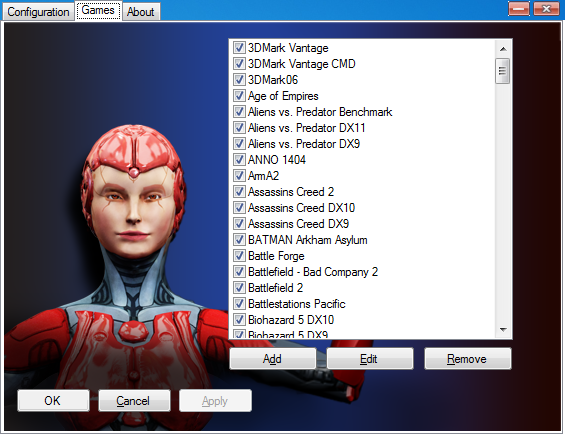 Fuzion, like SLI and Crossfire has to be associated with the game in question. Although there is quite a list by default, you can still add in new games and tests by browsing to where the .exe is in the system (many times you will also need to add the engine .exe as well). Fortunately for us all of the games and tests we use were listed and we did not have to add anything into the mix and try to see if it would work.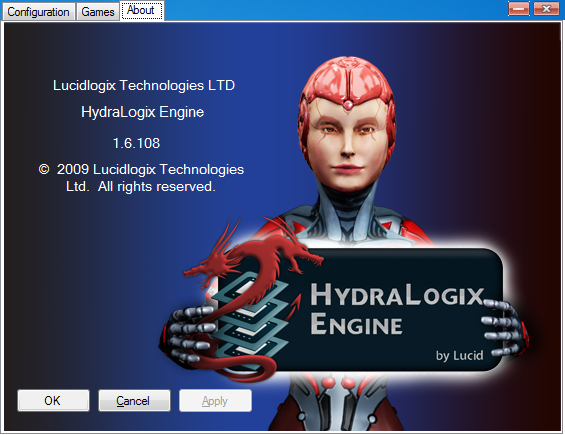 Remember that this is only X-Mode for now. We will get to the AMD and NVIDIA dual GPU performance in an upcoming article. For now, let's dive in and get to work.
Synthetic Tests
Our synthetic tests will cover most of the features available within the most popular forms of DirectX (DX 9, 10 and 11). Each of these is intended to give an idea on how well the X-Mode will operate for you when you want to take it for a spin. These tests are included as the repeatable "static" numbers to ensure that we are not getting results that are out of the normal range. Our tests used for this were 3DMark Vantage, Unigine's Heaven 2.0 Bench and S.T.A.L.K.E.R. Call of Pripyat bench.
3DMark VantageVersion and / or Patch Used:
1.0.1
Developer Homepage:
http://www.futuremark.com/
Product Homepage:
www.futuremark.com
Buy It Here
For synthetic gaming tests we used the industry standard and overlockers bragging tool 3DMark Vantage. This is a test that strives to mimic the impact modern games have on a system. Futuremark went a long way to change from the early days of graphics driven tests to a broader approach including physics, AI and more advanced graphics simulations.
3DMark Vantage uses the DX10 API in addition to having support for PhysX. As we are no longer using an NVIDIA GPU for testing (at least until we can get a GTX 4xx card) you will only see the CPU based PhysX results in the scores. For testing we use the Performance test run.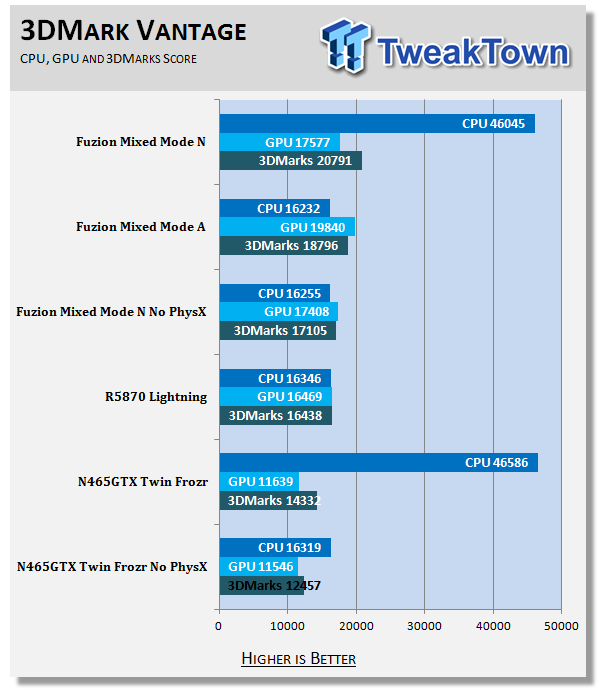 We found out something very interesting early on in our testing. If an NVIDIA GPU is in the primary slot (the one that actually does the rendering output) you do get PhysX. This raises some interesting questions about how the Fuzion chip is working between the two GPUs. In terms of real performance increase (without PhysX playing into it) the biggest jump we saw was with the N465GTX in the primary slot and the R5870 in the secondary. We were able to add a little over 5,800 points to the GPU score alone and this was without PhysX. The highest non-PhysX score was with the R5870 in the lead, though. This type of increase is encouraging, but it does not let us draw any firm conclusions yet.
Unigine Heaven BenchVersion and / or Patch Used:
2.0
Developer Homepage:
http://unigine.com/
Product Homepage:
http://unigine.com/products/heaven
Download It Here
Unigine's Heaven Benchmark is a DirectX 11 GPU benchmark based on advanced Unigine™ engine from Unigine Corp. It reveals the enchanting magic of floating islands with a tiny village hidden in the cloudy skies. Interactive mode provides emerging experience of exploring the intricate world of steampunk. It offers a good combination of features like; Support of DirectX 9, DirectX 10, DirectX 11 and OpenGL 4.0, tessellation, Advanced SSAO (screen-space ambient occlusion), volumetric cumulonimbus clouds, changing light conditions and dynamic sky with light scattering.
We ran the Heaven Bench in both DX10 and DX11 modes to see where things landed.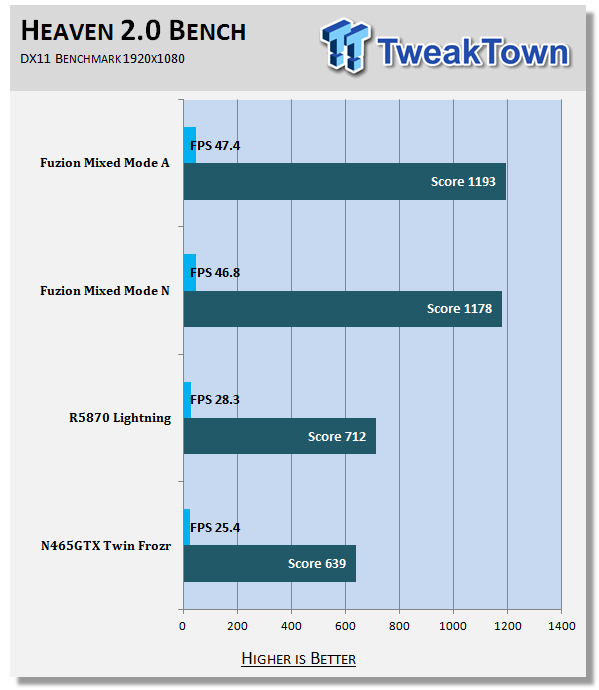 As the Heaven Bench does not take PhysX into account at all, it is not surprising to see that when the R5870 was in the number one slot it takes the top performance mark. However, the biggest gain was by adding the R5870 to the N465GTX, with about a 46% jump.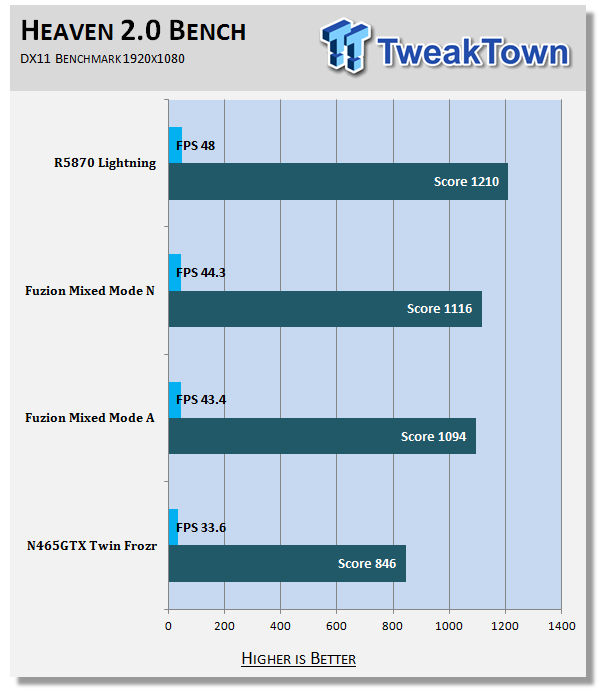 DX10 performance was almost the opposite. The R5870 all on its own does quite well, but then loses performance when we add in the N465GTX. Meanwhile the N465GTX gets a nice boost from adding the R5870. Go figure.
S.T.A.L.K.E.R. Call of Pripyat BenchVersion and / or Patch Used:
1.0.1
Developer Homepage:
http://www.thq.com
Product Homepage:
http://cop.stalker-game.com
Download It Here
The game S.T.A.L.K.E.R. Call of Pripyat is based off of the XRAY 1.6 engine. This same engine runs the benchmark and in both DX11 and DX10 modes. Like the game, it can simulate hard contact shadows and tessellation. The benchmark runs through several lighting conditions; Day, Night, Rain and Sun Streaks. These compromise the bench four runs. We take the average frame rates for each and recorded them here.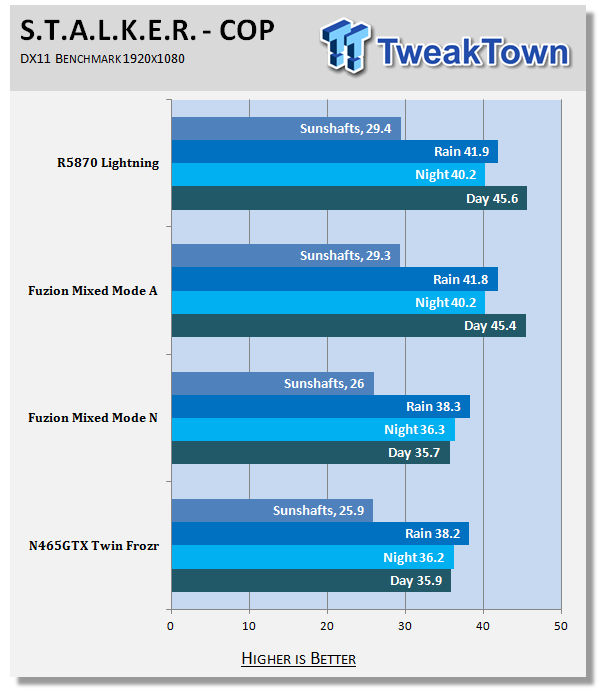 When we ran the Stalker COP bench we saw another odd performance run. The R5870 Lightning does excellent on its own while the both X-Mode configurations are just behind it. It looks like at least this test gets nothing from running with Fuzion enabled.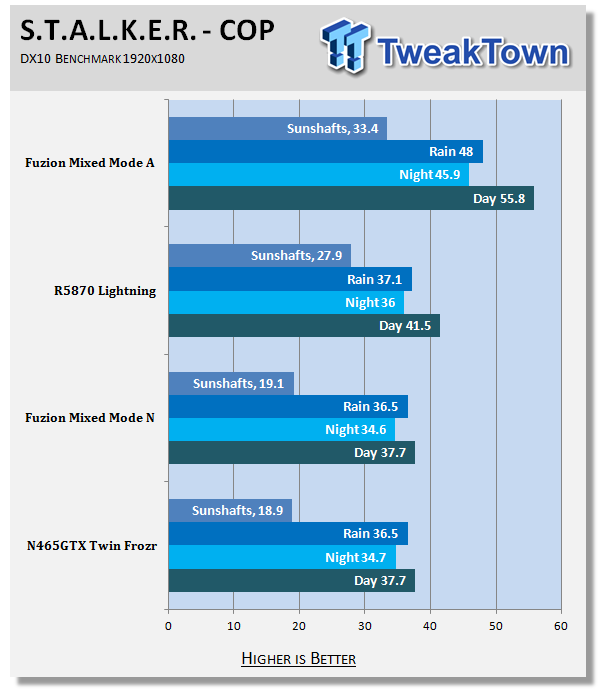 The DX10 run shows a little better performance with more of a boost to the R5870 than we get with the N465GTX.
Synthetic Conclusion
The Synthetics were sort of all over the place. We saw good performance with some tests and nothing with others. We also noted that the actual performance numbers do not seem to be in keeping with some of the claims that Lucid made when they introduced the platform. It also looks like some tests are not affected at all by Fuzion. This is more than likely an issue with the drivers. I know speaking with MSI they have said the drivers for Fuzion are an ongoing item with new performance improvements and tweaks always being worked on.
Real-World Tests
Here we have our real gaming tests. Each of the games we chose uses multiple cores and GPUs. They are able to stress the system through use of good AI. Both have decent positional audio that adds impact to the sound subsystem of the board. We ran each game through the level or parts listed and recorded frame per second using FRAPS. This brings the whole game into play.
Call of Duty Modern Warfare 2 (DX9)Version and / or Patch Used:
1.0
Timedemo or Level Used:
First combat until the school is cleared
Developer Homepage:
http://www.infinityward.com
Product Homepage:
http://modernwarfare2.infinityward.com
Most of you know about the game Modern Warfare 2, it caused quite a bit of controversy in the latter half of 2009. The game is a first person shooter with a heavy combat emphasis. It follows the events in the first Modern Warfare very closely and brings back several characters from the original.
As with most games in the Call of Duty franchise, it features a heavy AI load. This is not because of a complex AI routine, but more due to the sheer number of enemies in any given combat situation. It is also our single DX9 based game in our testing suite. Settings are shown below.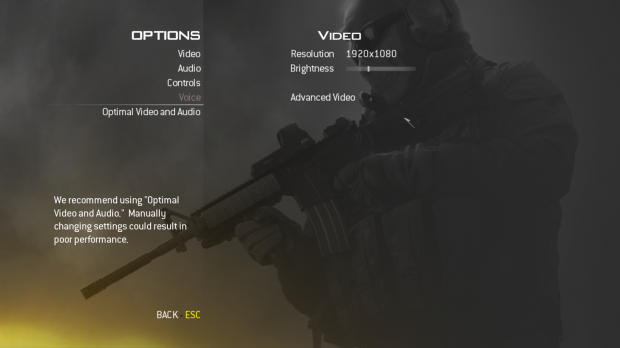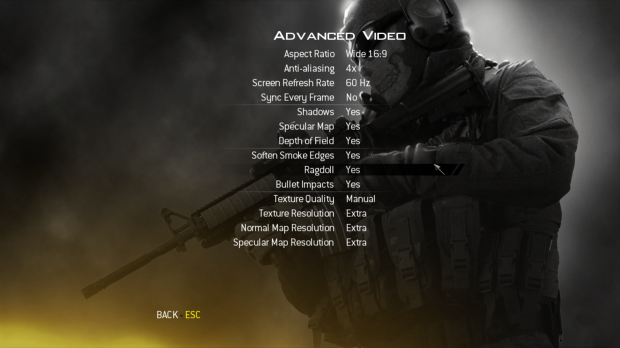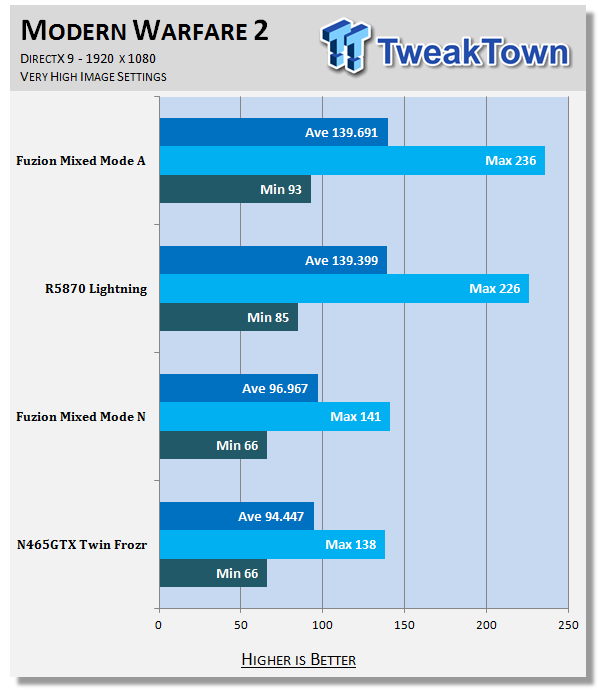 With only an 8 FPS jump from using the single R5870 to the Fuzion configuration it is hardly worth the effort. We also saw minimal improvement when the N465GTX was in the driver seat. We hope this is not a trend in real world gaming.
Far Cry 2 (DX10)Version and / or Patch Used:
V1.00
Timedemo or Level Used:
Clearing the Safe house through to the Rescue
Developer Homepage:
http://www.ubi.com
Product Homepage:
http://farcry.us.ubi.com
Far Cry 2 is a large sandbox style game. There are no levels here so as you move about the island you are on you do not have to wait for the "loading" sign to go away. It is mission driven so each mission is what you would normally think of as the next "level".
In the game you take the role of a mercenary who has been sent to kill the Jackal. Unfortunately your malaria kicks in and you end up being found by him. Long story short, you become the errand boy for a local militia leader and run all over the island doing his bidding. Settings we used for testing are shown below.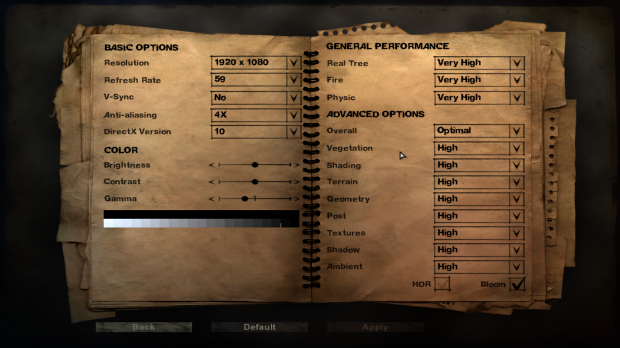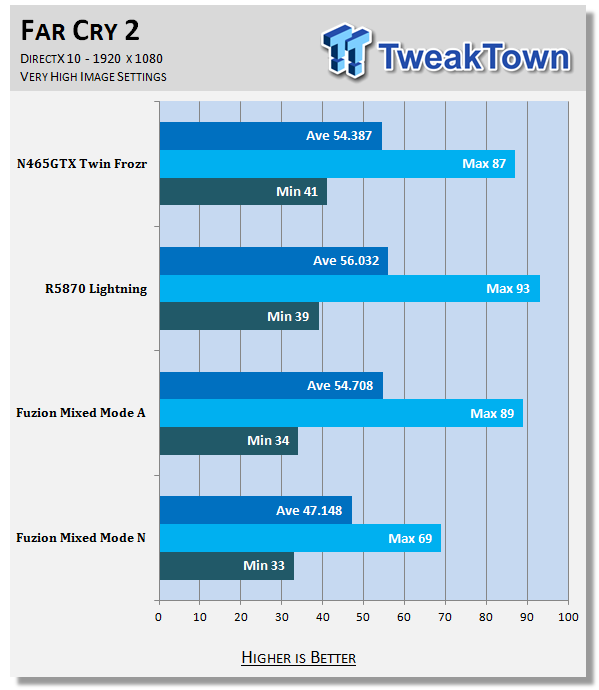 Ouch, running Far Cry 2 things actually slowed down when running Fuzion. I hope this is a driver issue and one that can be corrected quickly.
Battlefield Bad Company 2 (DX11)Version and / or Patch Used:
V1.00
Timedemo or Level Used:
From washing up on the beach to the mine fields.
Developer Homepage:
http://www.ea.com/
Product Homepage:
http://badcompany2.ea.com/
Battlefield Bad Company is another sequel and also another game "franchise". Bad Company 2 is also our DX11 Shooter game. The game follows a fictitious B company team on a mission to recover a Japanese defector. This puts you back in World War II (at least for the beginning of the game) while the multi-player game is centered on much more modern combat. For our testing we used the single player mode. Settings are shown below.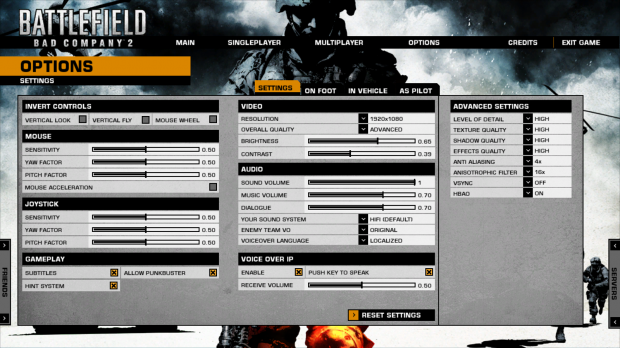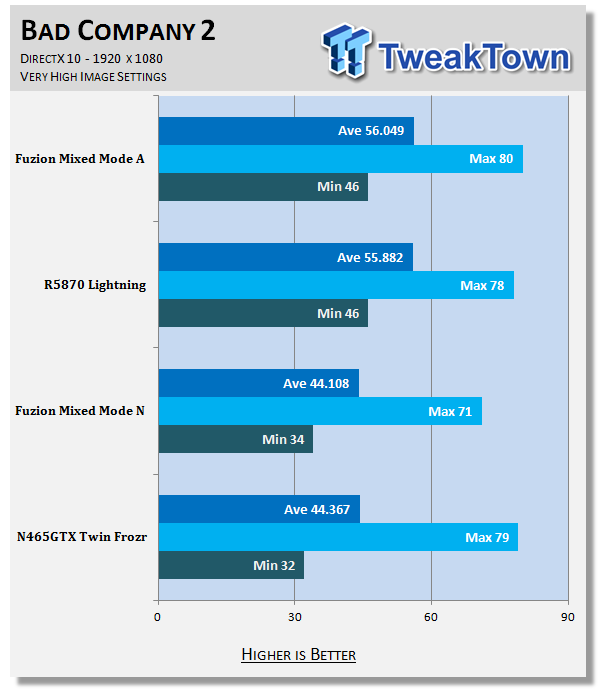 Again minimal performance gains for the effort. I am beginning to wonder if the NVIDIA drivers are coming into play here as I cannot believe we are seeing this lack of performance.
Bioshock 2 (DX10)Version and / or Patch Used:
V1.00
Timedemo or Level Used:
From the opening to the meeting with Dr. Tanenbaum.
Developer Homepage:
http://www.2kgames.com
Product Homepage:
http://www.2kgames.com/#/games/bioshock-2
Buy It Here
Bioshock 2 is the follow on to the original Bioshock. In it you take the persona of a Big Daddy, but one that is very different from what you ran into in the original game. You have many powerful weapons but are also able to make use of Eve and Plasmids to enhance your combat abilities. The DX10 portion of the game is limited to textures and lighting, but it is still enough to keep things interesting for your GPU.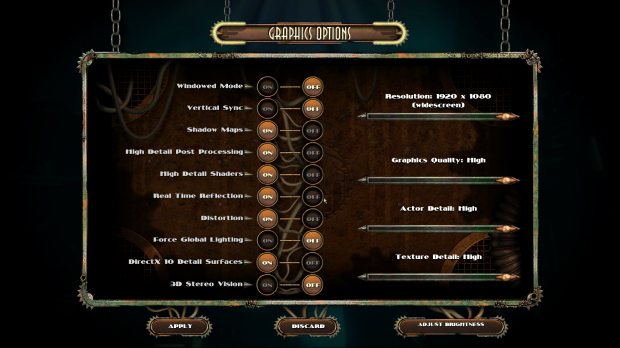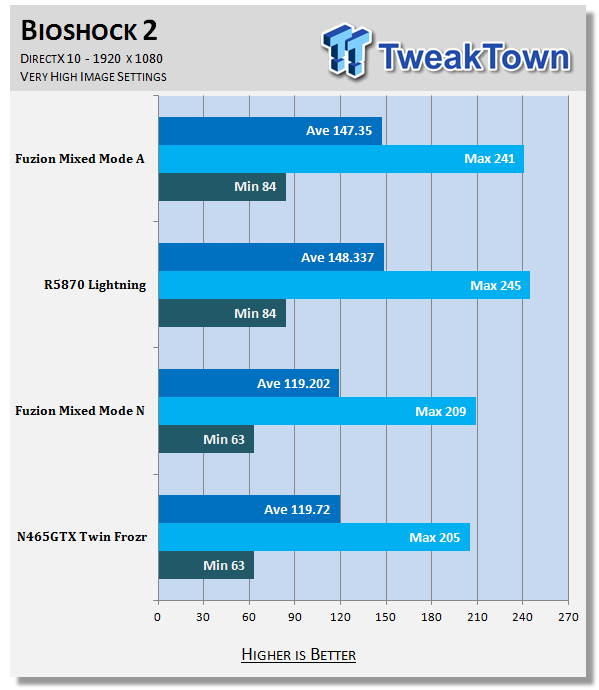 Again no gain to be seen from using Fuzion's X-Mode. This is rather disappointing.
Metro 2033 (DX11)Version and / or Patch Used:
V1.00
Timedemo or Level Used:
From washing up on the beach to the mine fields.
Developer Homepage:
http://www.metro2033game.com/us/age_gate
Product Homepage:
http://www.metro2033game.com
Metro 2033 is a game that was created by some of the same developers that made the game STALKER. The Engine used has been described as "what XRAY should have been". It is very detailed and has some of the more realistic human rendering available. The shadows, fog simulations and other eye-candy make this game rough on even the most powerful of GPUs.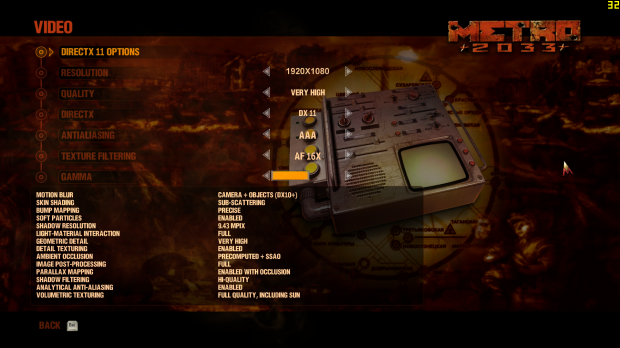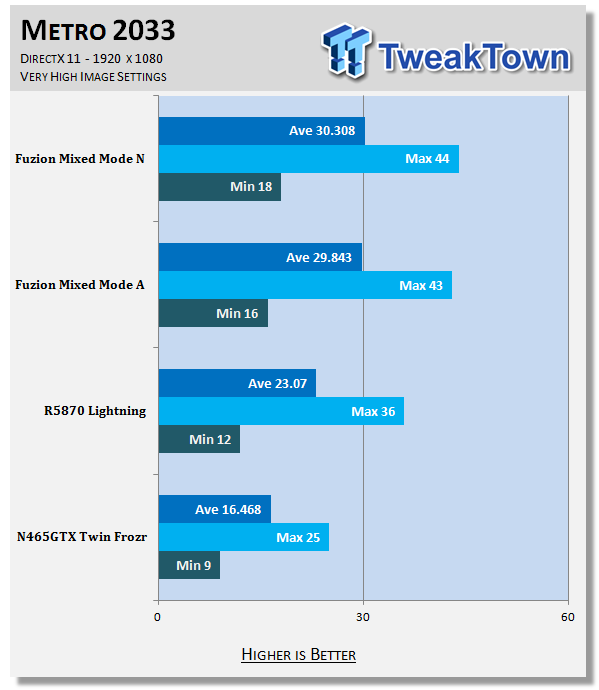 Hmmmm, well it is about time we see some type of performance increase. The big winner here is the N465GTX; all by itself it can barely manage 10 FPS at minimum. With the Fuzion configuration it doubles this to 18 and the average frame rate is just over 30FPS.
Gaming Conclusion
Fuzion's X-Mode looks like it could be a bust. With the five games we tested we saw little to no improvement in four of them and only in Metro 2033 did we see anything approaching a worthwhile gain for the cost of the setup used. I hope this is an issue with the current driver or somehow the four games we used that showed no improvement are the exceptions to the rule, but for some reason I have my doubts that is the case. Still, we will talk to both MSI and Lucid to see what the deal is and if there is an explanation for the performance we see with real gaming.
Final Thoughts
When I first read about Hydra I was of a mixed mind. I thought that
if
they could get things working the way they wanted, it would be the death of the proprietary dual GPU setups. I also knew that getting it to work would be a very large task. It is one thing to say you can match up identical GPUs using a bridge chip; it is another to say you can do this with competing technologies and make it work.
We saw some of this evident in our X-Mode testing. The Synthetics we tested seemed to have some staggering performance leaps (as much as 45%). These are great. but once again only half of the game. It is also much easier to program for these tests as they are static in nature. To program for different games and game engines is a much more complex task. We have a feeling that it is this part of the Fuzion/Hydra equation that may never have a proper solution, at least not for X-Mode. We do hope that MSI and Lucid can come up with one, because it has great potential; we just think that it might take too long to be viable in the market.
So we have to say that X-Mode is not something we would recommend at this stage. We are still going to see what we get from N and A modes in the very near future, but for now we can honestly say that X-Mode is not worth the cost of the extra GPUs. Even if the two different GPUs are in the $100-150 range, the extra performance is not worth the cost.