Introduction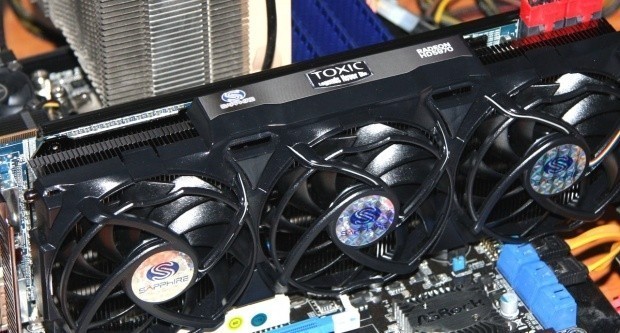 Testing a video card isn't a 5 minute job. To be honest, it's not even a 5 hour job or a 1 day job. From the minute a video card arrives 'till the moment I can send it off to my editor, many, many hours are put into the review; everything from photography to benchmarking.
The HD 5970 TOXIC 4GB from Sapphire today is getting a preview; this is something we tend to only do with cards that we look at in Taiwan or at a trade show. The reason we're doing it for this model is that it deserves it! - There's only a few samples released worldwide right now and we want to bring you some information as soon as possible.
We're not going to talk too much; on the next page we'll have a few pictures of the card and the associating bundle. After that we're onto a few graphs and then we'll quickly give a wrap-up. The full review will be followed in only just a few days, but you should get to see what's going on with it now, as I'm excited to see it for myself.
The HD 5970 TOXIC 4GB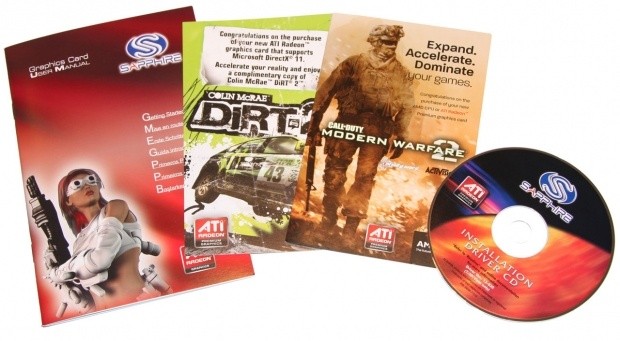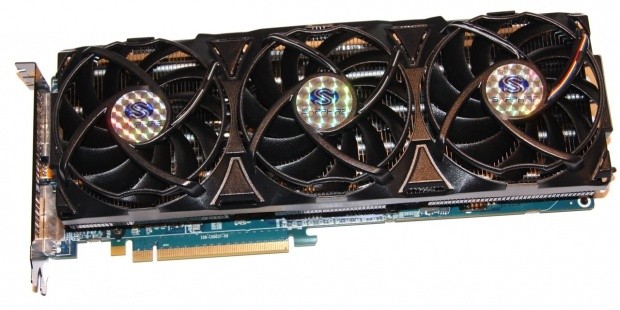 It's awesome to see that Sapphire has chosen to include both a Dirt II and Modern Warfare 2 voucher; one of the best game bundles we've seen in a long time.
On the card front we'd seen pictures around the net of it and the cooler is as huge as it looks in those pictures. The massive three-fan design is also a triple slot cooler, so running CrossFire X might be a problem for some, depending on your motherboard.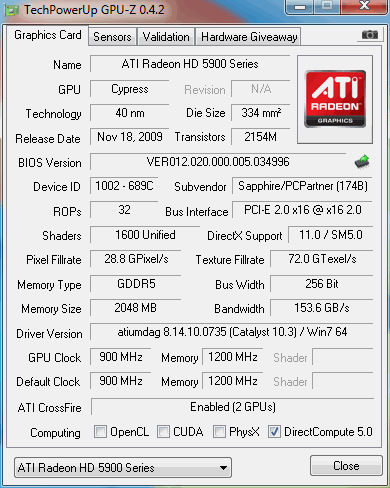 On the clock front the card is impressive...and I
mean impressive
! - Considering the stock clocks on a HD 5970 are 725MHz on the core and 4GHz QDR on the memory, we don't really need to say much else.
Test System Setup and 3DMark Vantage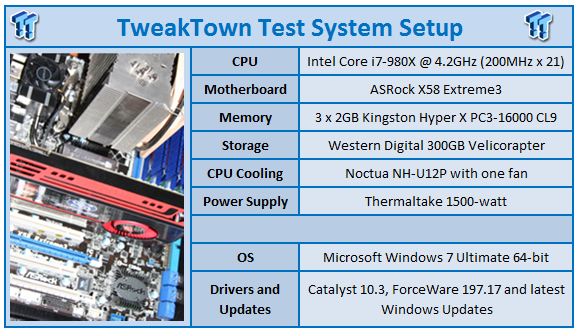 We would like to thank the following companies for supplying and supporting us with our test system hardware and equipment:
Intel
,
ASRock
,
Kingston
,
Western Digital
,
Noctua
and
Thermaltake
.
While we've completed all our benchmarks, we'll only be including a few today just to give you a little taste of what to expect. Please note that also in these graphs we have the GIGABYTE GTX 480 which has been tested, but hasn't been written up. A full review of our first retail GTX 480 will be making its way to TweakTown soon and it'll be just before the full review of the HD 5970 TOXIC 4GB from Sapphire goes live.
Let's get started!
3DMark VantageVersion and / or Patch Used:
1.0.1
Developer Homepage:
http://www.futuremark.com
Product Homepage:
http://www.futuremark.com/products/3dmarkvantage/
Buy It Here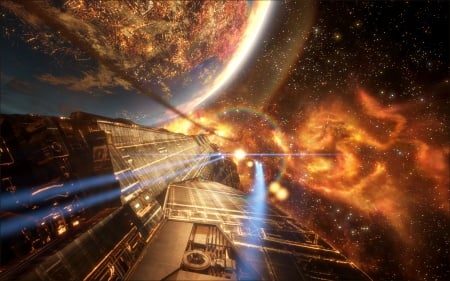 3DMark Vantage is the new industry standard PC gaming performance benchmark from Futuremark, newly designed for Windows Vista and DirectX10. It includes two new graphics tests, two new CPU tests, several new feature tests, and support for the latest hardware.
3DMark Vantage is based on a completely new rendering engine, developed specifically to take full advantage of DirectX10, the new graphics API from Microsoft.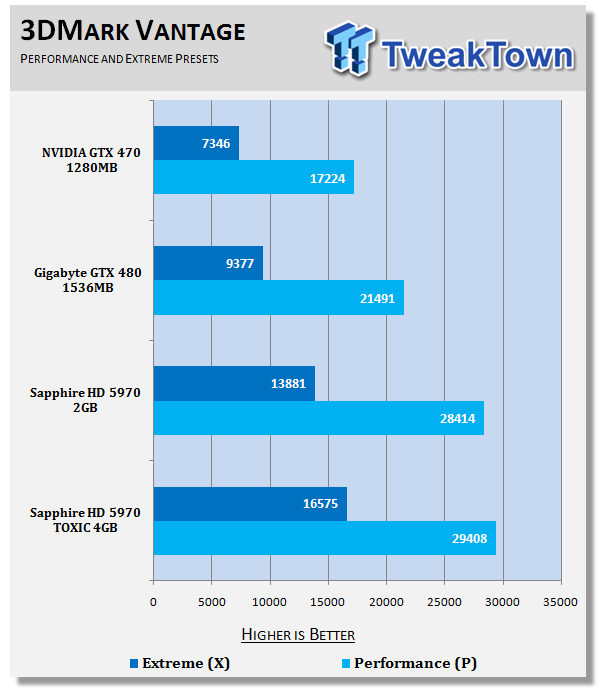 In the X preset you can see there's some serious performance gains when compared to the stock model. The gains aren't as huge at the performance preset, though.
Benchmarks - BattleForge
BattleForgeVersion and / or Patch Used:
Auto Patched at Load
Timedemo or Level Used:
Built-in Test
Developer Homepage:
http://www.battleforge.com/
Product Homepage:
http://www.battleforge.com/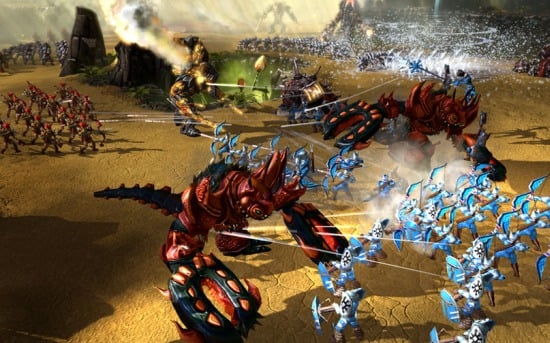 The Gods have disappeared and the old sun has died, letting a vile twilight engulf the world of Nyn. In exchange for all treasures the mortals possessed, the evil giants agreed to forge a new sun and hurl it into the sky.
But the deal was betrayed, the treasure stolen and now the mortals flee the wrath of the giants. Under the light of a new sun the mortals stumble into a world changed and twisted by an age of twilight. The long journey home has become a conquest of survival.
Note:
Supporting DirectX 11 we have seperated the graphs for NVIDIA and ATI cards. While the numbers between the two brands can be compared you have to make note that ATI based HD 5000 series cards are running DirectX 11.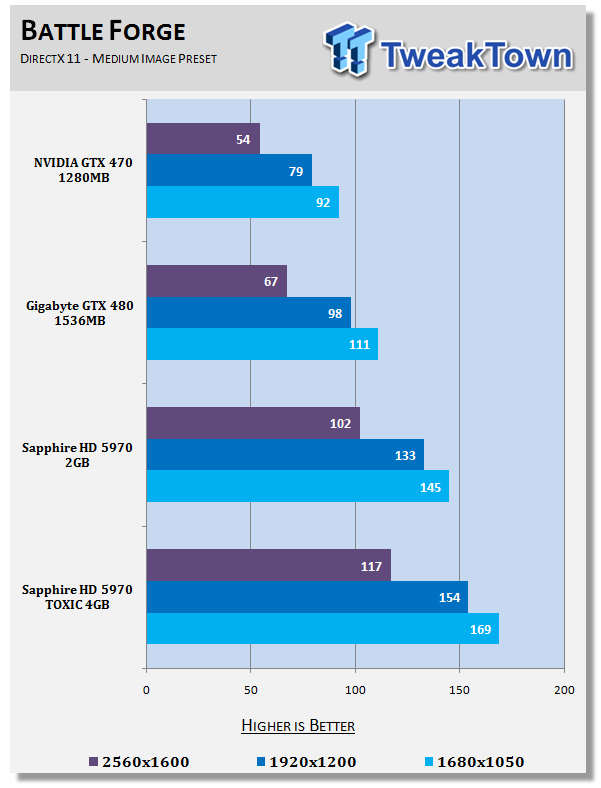 Powe! Like honestly, it's just disturbing what the HD 5970 TOXIC from Sapphire can do to one of the most intensive games on the market.
Benchmarks - Tom Clancy's H.A.W.X.
Tom Clancy's H.A.W.X.Version and / or Patch Used:
Benchmark Demo
Timedemo or Level Used:
Built-in Test
Developer Homepage:
http://www.ubi.com/UK/default.aspx
Product Homepage:
http://www.hawxgame.com/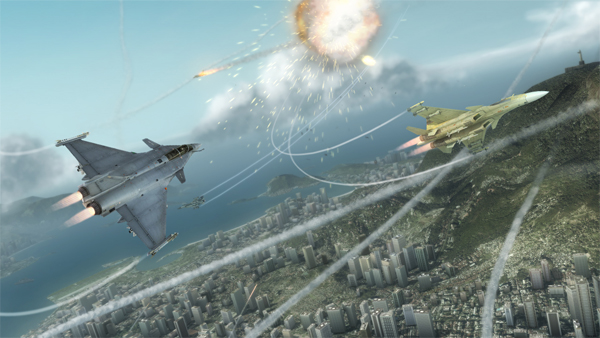 Tom Clancy's H.A.W.X is an arcade-style flight simulator video game developed by Ubisoft Romania and published by Ubisoft for Microsoft Windows, Xbox 360, PlayStation 3, and iPhone OS.
The fundamental gameplay mechanics are similar to those of other console-based flight series. Players take on enemies with over 50 aircraft available. Each mission is at real world locations in environments created with commercial satellite data. A cockpit, first person, and third person view are selectable. The third person view gives the player an external view of both their plane and the target.
Set above the skies of a near-future world, increasingly dependent on private military companies with elite mercenaries who have a relaxed view on the law. As these non-governmental organizations gain power, global conflict erupts with one powerful PMC attacking the United States.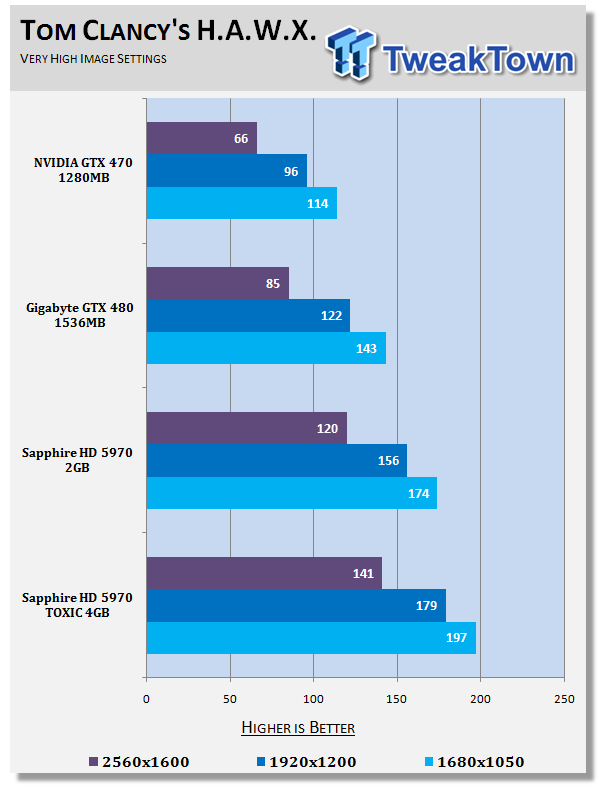 You can see the gains over the standard HD 5970, but what it does to the new GTX 400 series is kind of embarrassing.
Benchmarks - Far Cry 2
Far Cry 2Version and / or Patch Used:
1.01
Timedemo or Level Used:
Ranch Long
Developer Homepage:
http://www.ubi.com/
Product Homepage:
http://www.farcry2.com/
Buy It Here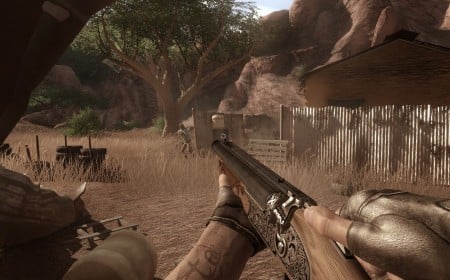 The Dunia Engine was built specifically for Far Cry 2 by the award-winning Ubisoft Montreal development team. It delivers the most realistic destructible environments, amazing special effects such as dynamic fire propagation and storm effects, real-time night-and-day cycle, dynamic music system, non-scripted enemy A.I. and so much more.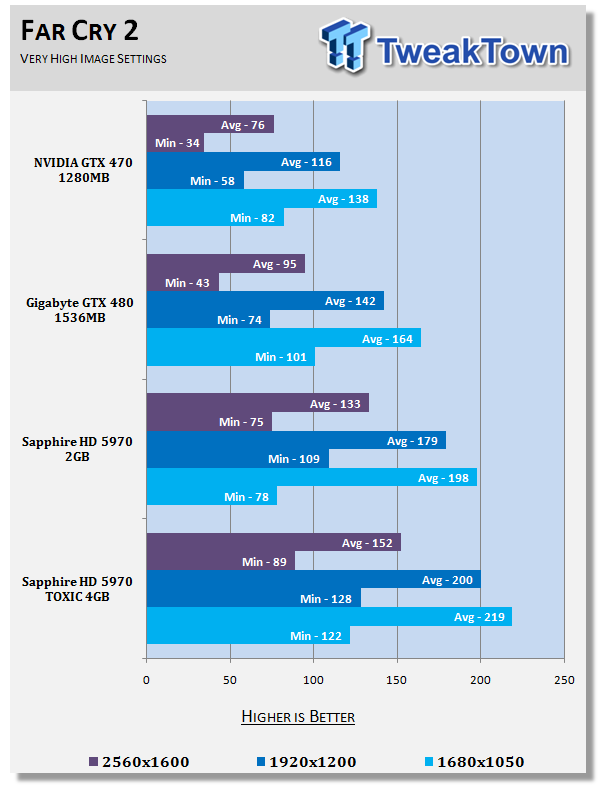 It's sooooo fast; we love it.
Benchmarks - High Quality AA and AF
High Quality AA and AF
Our high quality tests let us separate the men from the boys and the ladies from the girls. If the cards weren't struggling before they will start to now.
Far Cry 2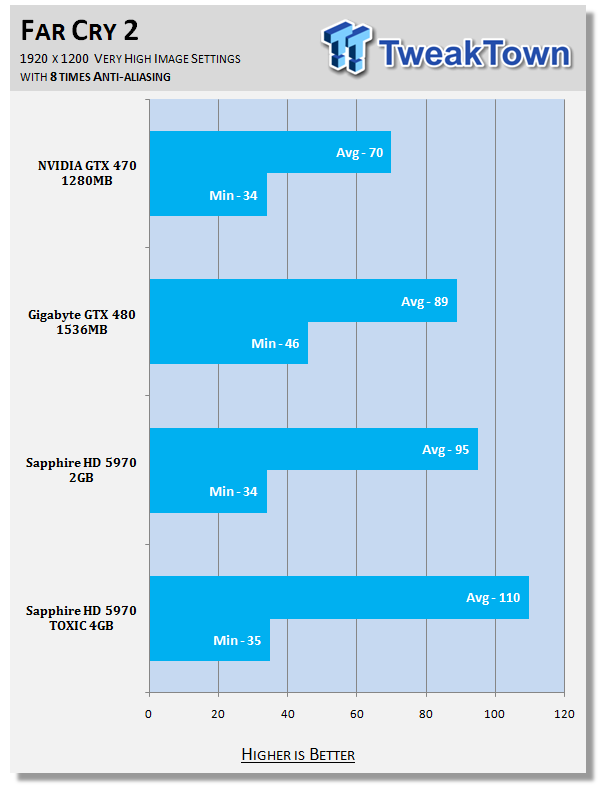 Above 30 FPS; that's all that really matters. It's clear that AA and AF is a strong point for NVIDIA cards. At least we're above that minimum we need to see, though.
Power Consumption Tests
Using our new PROVA Power Analyzer WM-01 or "
Power Thingy
" as it has become quickly known as to our readers, we are now able to find out what kind of power is being used by our test system and the associated graphics cards installed. Keep in mind; it tests the complete system (minus LCD monitor, which is plugged directly into AC wall socket).
There are a few important notes to remember though; while our maximum power is taken in 3DMark06 at the same exact point, we have seen in particular tests the power being drawn as much as 10% more. We test at the exact same stage every time; therefore tests should be very consistent and accurate.
The other thing to remember is that our test system is bare minimum - only a 7,200RPM SATA-II single hard drive is used without CD ROM or many cooling fans.
So while the system might draw 400 watts in our test system, placing it into your own PC with a number of other items, the draw is going to be higher.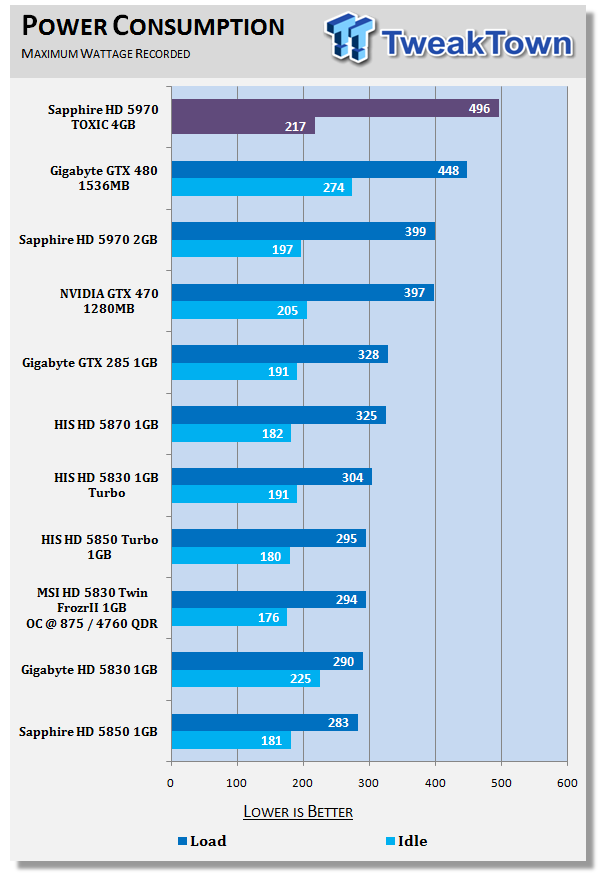 It comes as no surprise that the card sucks some serious power under load; its idle numbers are very impressive when compared to the GTX 480, however.
Final Thoughts
You can see that there's some serious power on offer from the HD 5970 TOXIC 4GB from Sapphire. There's no denying that the extra power would come more so from the extra MHz on the core and memory rather than the extra RAM, but in creating what they want which seems to be the ultimate graphics card, it's clearly a nice touch.
We're not going to really go into any more detail here than we need to, as this is just a simple preview. It's to give you an idea of what to expect from the card and how it performs in just a few of our benchmarks. Of course, in our full review we'll have all our benchmarks including our GPGPU ones which include Wireless Security Auditor.
We'll also have temperature and noise levels along with our latest featured TPR and TVR graphs to give you an idea of just how exactly the model sits compared to everything else we've tested to date.
For now, though, get excited about what is no doubt going to be the fastest video card on the market.