OCZ Technology's Vertex 2 Pro 100GB Solid State Disk
With equal parts of enterprise and consumer components, OCZ shoots for a true enthusiast class SSD.
Published Mon, Mar 1 2010 7:16 AM CST
|
Updated Tue, Nov 3 2020 7:02 PM CST
Introduction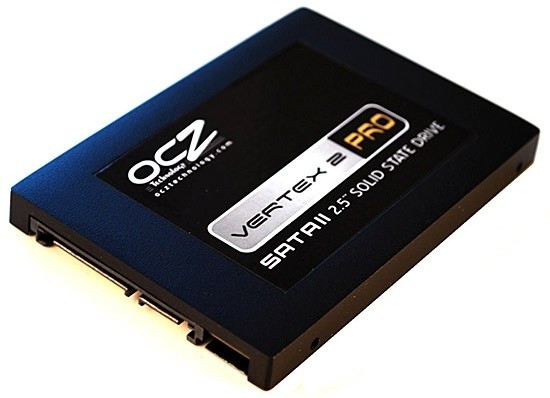 Pairing enterprise technology with consumer parts is nothing new. In modern times Western Digital comes to mind with their Raptor Series of products that mate 10,000 RPM platter rotational speeds, previously an enterprise only feature with the consumer SATA interface. With each version release the Raptor shoots to the top of the performance charts and generally stays there for several months.
Even before the Raptor was introduced, enterprise products found a comfortable warm spot in enthusiasts PCs. When Seagate released their follow up to the first generation X15 line, the 36LP, the market was flooded with first generation 15,000 RPM drives. The X15s offered twice the platter speed of the day's fastest desktop drives and this equaled access times of 3.9 milliseconds (ms) and 2ms of rotational latency. After factoring in the additional costs like a SCSI Ultra2 Wide controller and the cable needed to run such a storage sub system, enthusiasts were spending around 350 USD, but for many the benefits of low latency storage system for the operating system far outweighed a little number like cost per GB.
As time goes on we are seeing what was once enterprise-only technology being weaved into consumer products. Dual core processors have eliminated the need for dual processor systems used for A/V production. In the storage field we have the adaption of 10K platter speeds and technological advances like Native Command Queuing.
Today we are looking at the OCZ Technology Vertex 2 Pro. What makes the Vertex 2 Pro so special is that it uses one of the first true enterprise grade solid state controllers and pairs it with low cost consumer grade Multi-Level Cell (MLC) NAND flash memory.
Let's move on and take a shallow dive into the Vertex 2 Pro and see what the drive has to offer.
Specifications, Pricing and Availability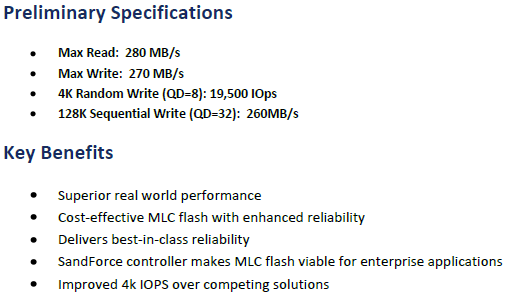 As a prototype there wasn't a lot of information to start with as far as specs go. We already know that the SandForce 1500 and 1200 controller uses the SATA 3G interface and judging from the early numbers by OCZ the Vertex 2 Pro is limited by the interface.
Before we draw too many parallels between the Vertex 2 Pro and the Vertex Limited Edition, there are a few things to discuss. The Vertex 2 Pro we are testing today uses a 16 channel SF 1500 controller like the one that will be issued in the flagship, enterprise bred Vertex 2 Pro EX. The difference between the EX and the non EX model will be the flash; the EX will receive super fast SLC while the Pro 2 non EX receives MLC. For the consumer the Vertex 2 Pro isn't going to matter too much since it will never see a retail shelf. OCZ has removed the product from their roadmap and replaced it with a limited edition model that will be released in just a few days, but in limited numbers. The LE retains the MLC flash but has a controller that is sort of a hybrid between the SF 1200 and SF 1500.
From the start SandForce's big tag line has been the ability to use low cost MLC flash in a way that would make it just as reliable as SLC products. Sounds like an easy task, right? Well, seeing is believing. SandForce has the most advanced solid state controller to date and they have many technical innovations that push the limits of everything we know about solid state drives. In an upcoming editorial we will cover the technology behind SandForce's first round of products that will change the game.
As for pricing and availability, the Vertex 2 Pro is dead in the water. This is one of those cases where the king is dead, long live the king. The Vertex 2 LE will take over for the Vertex 2 Pro, but if you want one you will need to act quickly as supply is limited and there is a chance e-tailers will get a little greedy with their pricing as supply dwindles. The cost is currently set at 399 for the 100GB model and 829 for the 200GB model.
The OCZ Technology Vertex 2 Pro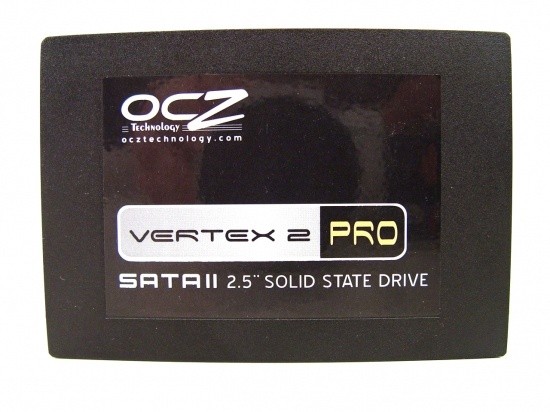 Although our sample Vertex 2 Pro appears to be an example of a retail product, it is only a prototype so the packaging was of the brown box type. Here we see the label which looks like a final retail label.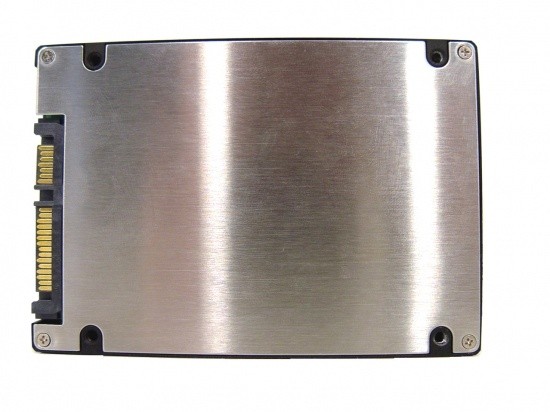 With a retail product there would be a label here with the model and serial number of the drive.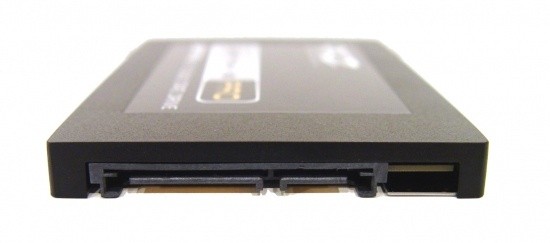 The SATA power and data connections are where they should be, making the drive a direct fit in your notebook or desktop with a 3.5 to 2.5" adapter.

The Vertex 2 Pro uses a typical 9mm drive height. There are also two screw holes on each side as they are supposed to be.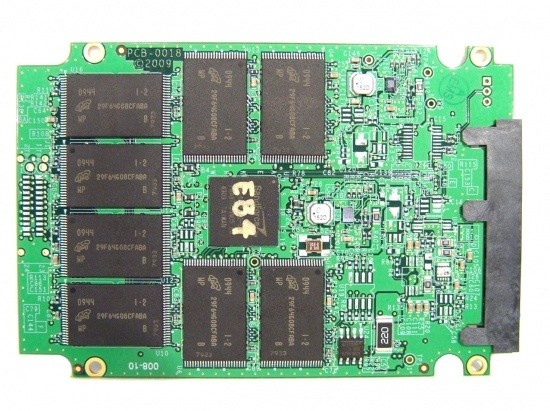 Here we get to see the PCB, flash and controller. I was a little disappointed to see the writing on the controller; it made it difficult to get all of the numbers off of it.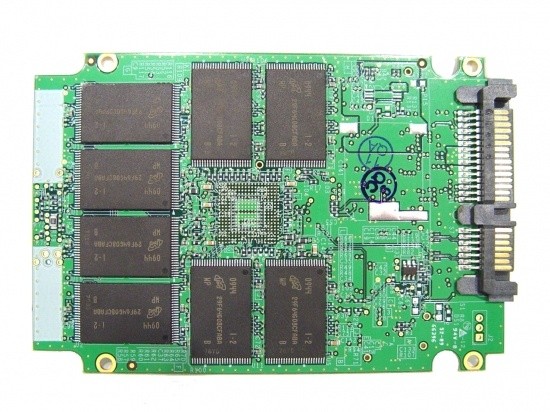 Some of the media sample drives that were floating around came with a large capacitor where the two quality control stamps are, but our unit didn't have this. Also absent is any cache module; the SandForce 1500 doesn't use an external DRAM cache.
Test System Setup and ATTO Baseline Performance
Test System
Motherboard
: Gigabyte X58A-UD7 (Supplied by
Gigabyte
)
Processors
: Intel 975 EE (Supplied by
AVADirect
)
Memory
: Corsair Dominator 1600 MHz Triple Channel Kit
Graphics Card
: Leadtek Quadro FX1700 (Supplied by
Leadtek
)
Enclosure
: Lian Li V2000
Cooling
: Noctua NH-U12P SE2 (Supplied by
Noctua
)
SAS Controller
: LSI MegaRAID SAS 9260-8i (Supplied by
LSI
)
Operating System
: Microsoft Windows 7 Ultimate X64
You can read more about TweakTown's Storage Product Testing Workstation and the procedures followed to test products
in this article
.
Today we are looking at the OCZ Technology Vertex 2 Pro solid state drive and compare its performance against some of the fastest SSDs we have ever tested.
It is important to keep in mind that the Vertex 2 Pro that we received is a media sample that is running early firmware. As it sits right now, the Vertex 2 Pro will never see a retail shelf. The Vertex 2 Limited Edition uses a nearly identical hardware configuration, but will have newer firmware on the drive at the time of shipping.
To my knowledge at least one Vertex 2 Pro has died in the hands of media. While testing our sample the OCZ Toolbox stopped responding to commands and the drive started dropping out of Windows 7 for no apparent reason. By that time we had already ran two rounds of benchmarks on the Vertex 2 Pro and it was time to ship the drive back to OCZ. I really wish we were able to get some more testing in on the drive to try and find a solution for our issue.
ATTO Baseline Performance
Version and / or Patch Used:
2.34
ATTO is used by many disk manufacturers to determine the read and write speeds that will be presented to customers.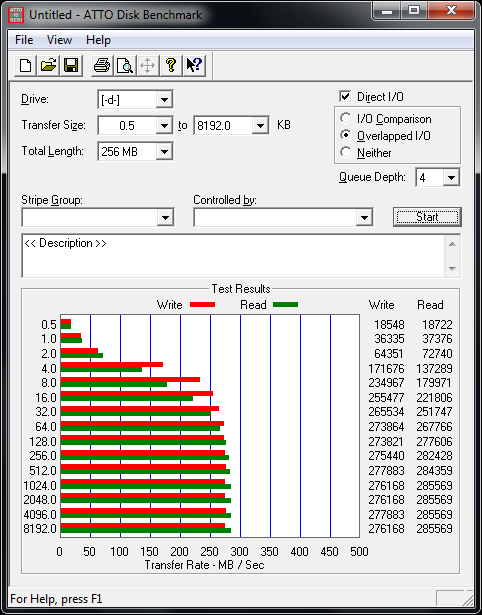 In ATTO we see that the OCZ Technology Vertex 2 Pro is able to max the SATA II bus in both read and write.
Benchmarks - HD Tune Pro
HD Tune ProVersion and / or Patch Used:
4.00
Developer Homepage:
http://www.efdsoftware.com
Product Homepage:
http://www.hdtune.com
HD Tune is a Hard Disk utility which has the following functions:
- Benchmark: measures the performance
- Info: shows detailed information
- Health: checks the health status by using SMART
- Error Scan: scans the surface for errors
- Temperature display
HD Tune Pro gives us accurate read, write and access time results and for the last couple of years has been gaining popularity amongst reviewers. It is now considered a must have application for storage device testing.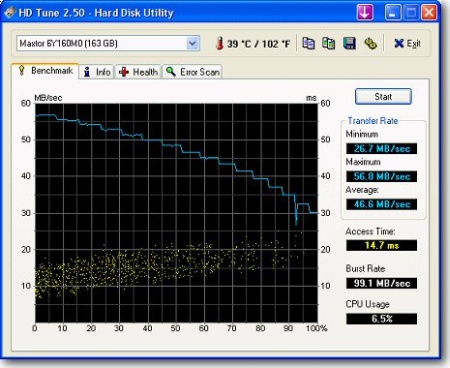 Read Tests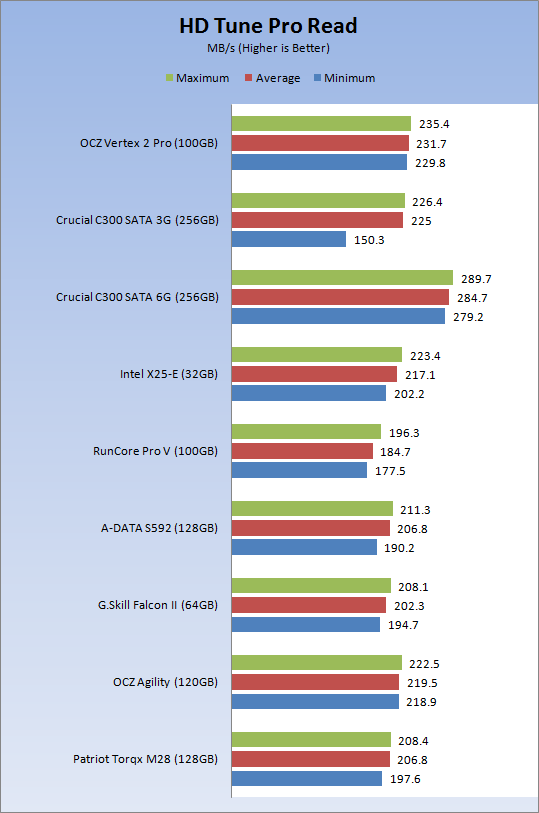 We have already observed very high read numbers in the ATTO test and they are carried over to the HD Tune Pro read test as well. As it sits here, the Vertex 2 Pro is only out ran by the Crucial RealSSD C300 when the C300 is used with a SATA 6G controller.
Write Tests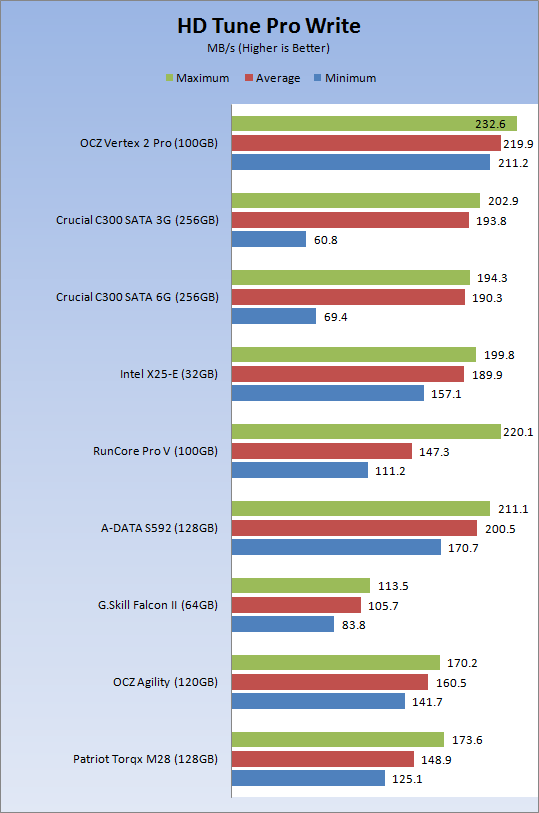 When it comes to write speeds the Vertex 2 Pro is the fastest 2.5" form factor drive we have tested to date. Even more impressive than that is the low amount of fluctuation we observed between the maximum and minimum write speeds.
Benchmarks - Everest Random Access Time
Everest Random Access TimeVersion and / or Patch Used:
4.60
Developer Homepage:
http://www.lavalys.com
Product Homepage:
http://www.lavalys.com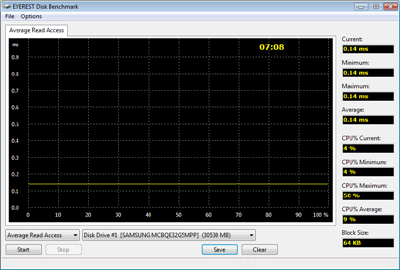 Everest Ultimate and Corporate Edition offer several different benchmarks for testing and optimizing your system or network. The Random Access test is one of very few if not only that will measure hard drives random access times in hundredths of milliseconds as oppose to tens of milliseconds.
Read Tests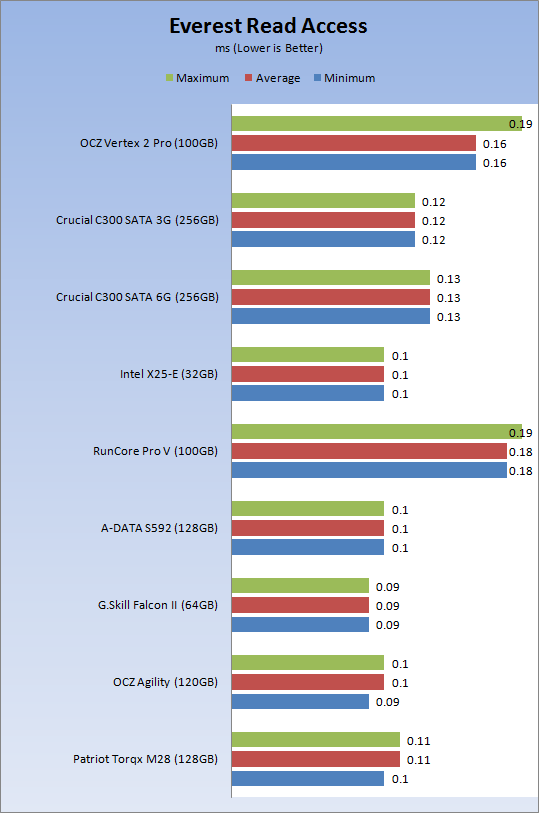 The two SandForce 1500 drives in our test show the highest read latency of all drives tested. Even with a .16ms average the Vertex 2 Pro is still leaps and bounds faster than the fastest 15K RPM platter drives.
Write Tests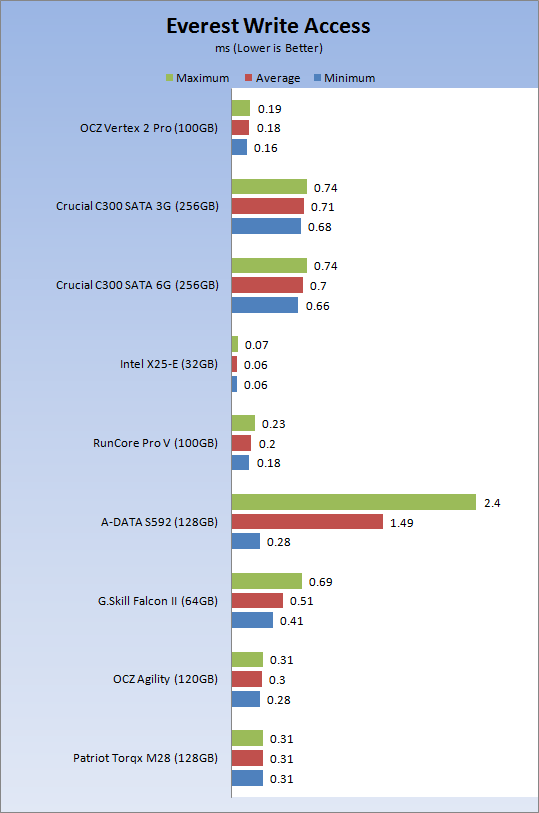 Unlike the read access times, the write access times are very, very low. The only drive putting up better numbers came from the enterprise focused Intel X25-E.
Benchmarks - Crystal Disk Mark
CrystalDiskMarkVersion and / or Patch Used:
3.0 Technical Preview
Developer Homepage:
http://crystalmark.info
Product Homepage:
http://crystalmark.info/software/CrystalDiskMark/index-e.html
Download here:
http://crystaldew.info/category/software/crystaldiskmark
CrystalDiskMark is a disk benchmark software.
Key Features:-
* Sequential reads/writes
* Random 4KB/512KB reads/writes
* Text copy
* Change dialog design
* internationalization (i18n)
Note:
Crystal Disk Mark 3.0 is not available to the public yet, but the Technical Preview does allow us to test 4K performance at queue depths of 4 and 32 in addition to 1. The current release Crystal Disk Mark only shows us QD 1.
Read Tests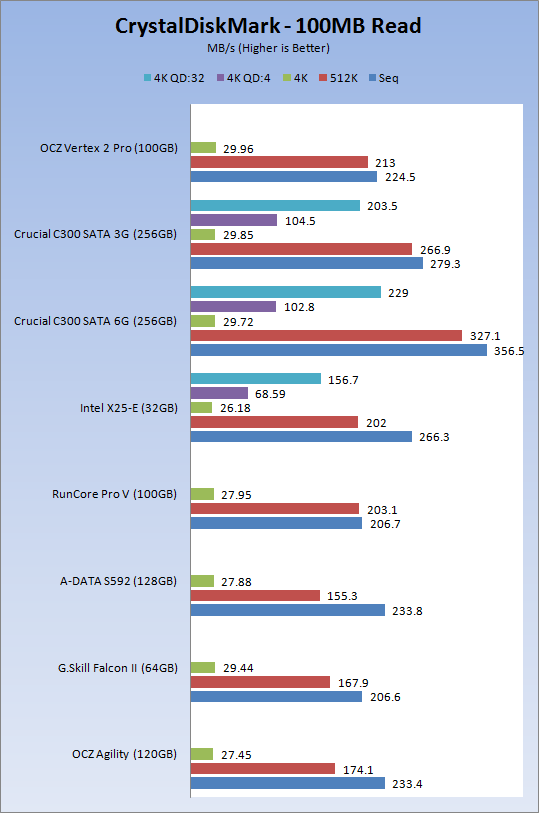 At the time we were testing the Vertex 2 Pro we were not using the Technical Preview edition of CDM; because of this we were not able to get the more advanced 4K performance at various queue depths. Here we see the 4K read numbers running in line with the other next generation drives that we have already tested.
Write Tests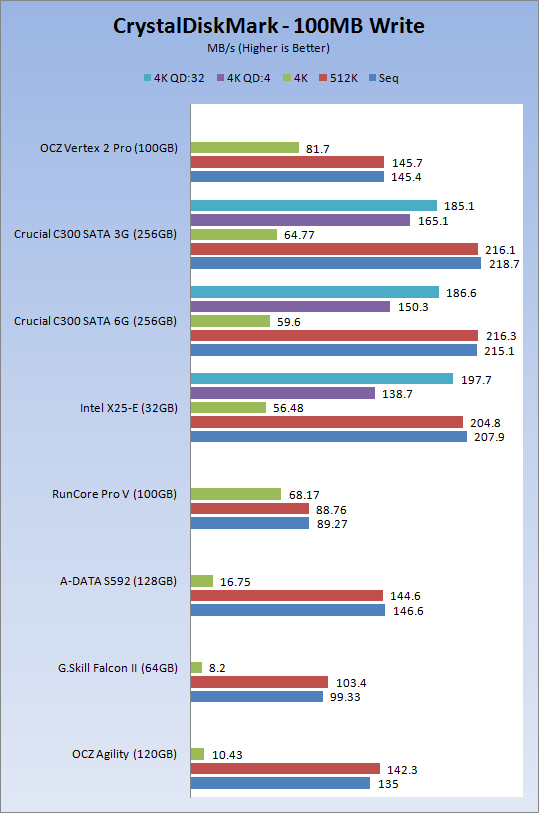 The 4K write numbers are the highest we have ever seen to date. This should make it so the Vertex 2 Pro blazes through most Windows tests in Vantage.
Let's have a look at Vantage and see how the synthetic numbers relate to real world performance.
Benchmarks - PCMark Vantage Hard Disk Tests
PCMark Vantage - Hard Disk TestsVersion and / or Patch Used:
1.0.0
Developer Homepage:
http://www.futuremark.com
Product Homepage:
http://www.futuremark.com/benchmarks/pcmark-vantage/
Buy It Here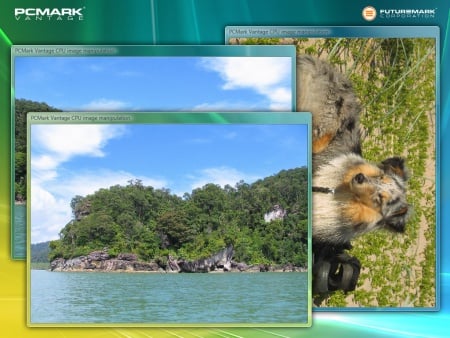 PCMark Vantage is the first objective hardware performance benchmark for PCs running 32 and 64 bit versions of Microsoft Windows Vista. PCMark Vantage is perfectly suited for benchmarking any type of Microsoft Windows Vista PC from multimedia home entertainment systems and laptops to dedicated workstations and high-end gaming rigs. Regardless of whether the benchmarker is an artist or an IT Professional, PCMark Vantage shows the user where their system soars or falls flat, and how to get the most performance possible out of their hardware. PCMark Vantage is easy enough for even the most casual enthusiast to use yet supports in-depth, professional industry grade testing.
FutureMark has developed a good set of hard disk tests for their PCMark Vantage Suite. These tests are based on real world applications that many of us use daily.

HDD1 - Windows Defender
HDD2 - Gaming
HDD3 - Windows Photo Gallery
HDD4 - Vista Startup
HDD5 - Windows Movie Maker
HDD6 - Windows Media Center
HDD7 - Windows Media Player
HDD8 - Application Loading
Typical users running Windows 7 will find this set of benchmarks the most beneficial for determining how a drive will perform in their system. If you are upgrading from a standard platter drive or even an Indilinx based SSD you will see a significant performance increase that you can feel while bouncing around Windows.
When compared to our current benchmark king, the Crucial RealSSD C300, we that the Vertex 2 Pro is able to outperform the C300 in a couple of key benchmarks and runs fairly close in the others. With results like these it is fair to say that the average user will not feel much difference when switching back and forth between one drive and the other if the C300 is only running in SATA 3G mode. The SATA 6G numbers for the C300 show that there really isn't any replacement for a higher available bandwidth when you are able to take advantage of it. We will go over this more in the conclusion of this article.
Benchmarks - AS SSD
AS SSD BenchmarkVersion and / or Patch Used:
1.2.3577.40358
Developer Homepage:
Alex Intelligent Software
Product Homepage:
Alex Intelligent Software
Download here:
http://www.alex-is.de/PHP/fusion/downloads.php?cat_id=4&download_id=9
AS determines the performance of Solid State Drives (SSD). The tool contains four synthetic as well as three practice tests. The synthetic tests are to determine the sequential and random read and write performance of the SSD. These tests are carried out without the use of the operating system caches.
In all synthetic tests the test file size is 1GB. AS can also determine the access time of the SSD, the access of which the drive is determined to read through the entire capacity of the SSD (Full Stroke). The write access test is only to be met with a 1 GB big test file. At the end of the tests three values for the read and write as well as the overall performance will be issued. In addition to the calculated values which are shown in MB/s, they are also represented in IO per seconds (IOPS).
Note:
AS SSD is a great benchmark for many tests, but since Crystal Disk Mark covers a broader range of 4K tests and HD Tune Pro covering sequential speeds, we will only use the Copy Benchmark from AS SSD.
- Copy Benchmark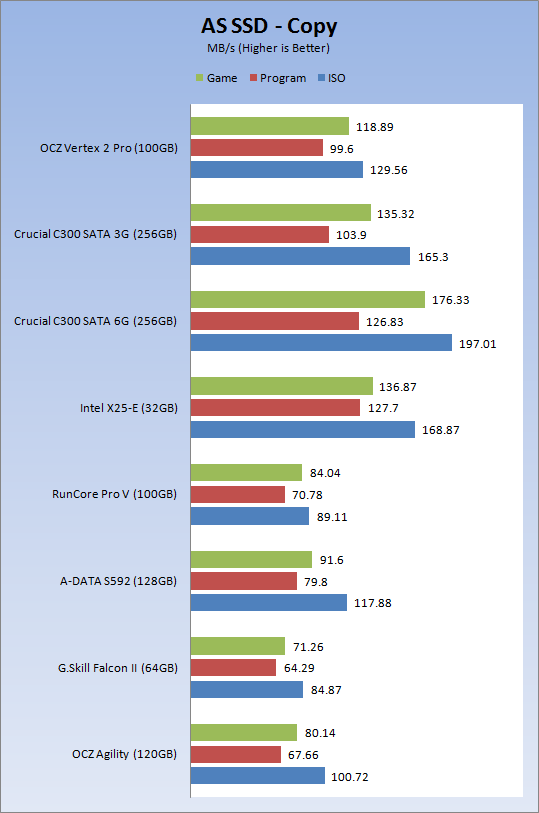 In the copy benchmark we see the Vertex 2 Pro taking a back seat again to the Crucial RealSSD C300. In this test we also saw the Vertex 2 Pro running behind the Intel X25-E. The OCZ drive was able to pump data along faster than all of the Indilinx drives.
Benchmarks - Passmark
Passmark Advanced Multi-User TestsVersion and / or Patch Used:
6.1
Developer Homepage:
http://www.passmark.com
Test Homepage:
http://www.passmark.com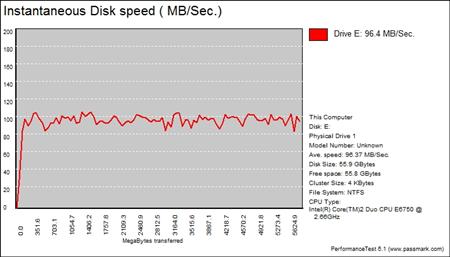 Many users complain that I/O Meter is too complicated of a benchmark to replicate results so my quest to find an alternative was started. Passmark has added several multi-user tests that measure a hard drives ability to operate in a multi-user environment.

The tests use different settings to mimic basic multi-user operations as they would play out on your server. Variances is read / write percentage as well as random / sequential reads are common in certain applications, Web Servers read nearly 100% of the time while Database Servers write a small amount of data.
The Workstation test is the only single user environment and will be similar to how you use your system at home.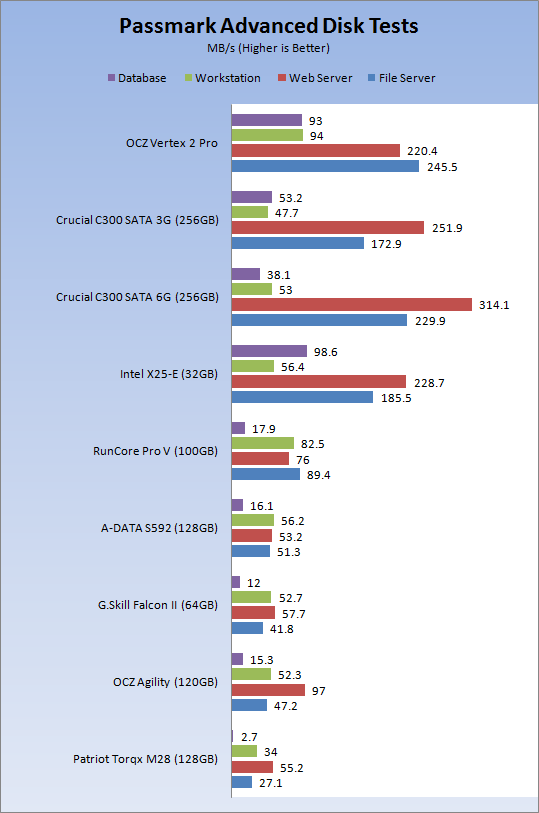 As we said at the start of this article, the SandForce 1500 is designed for enterprise duty. Even when paired with MLC memory the 16 channel controller nearly guarantees phenomenal server performance. As guaranteed, the OCZ Vertex 2 Pro does an outstanding job in all tests and is the best drive overall. Once you start breaking it down to individual tests we see that there are other drives that take a little here, but lose a little there.
With companies starting to adapt more virtualization technologies and mixing server duties on the same machine, the numbers shown by the Vertex 2 Pro in all tests become more important. What we really need to look at, though, are three, four and five drive RAID 5 numbers to see how the single drive performance carries over since most of these servers will surely be running redundancy.
Final Thoughts
As it sits right now you can't buy the OCZ Technology Vertex 2 Pro and you will never be given the opportunity. I don't even get to keep the drive sent to me, but there is light at the end of the availability tunnel. The OCZ Technology Vertex 2 Pro does have a closely related cousin that will be available in limited numbers. The drive is called the Vertex 2 Limited Edition (LE). At the start the LE model will have a newer but slower performing firmware out of the box. Since the LE is limited to around 5,000 units we are not sure how OCZ will handle future resources when it comes to firmware updates. My guess is OCZ will still work on the firmware while updating their SandForce 1200 consumer class and SandForce 1500 / SLC enterprise class products. This limited edition drive may actually turn out to be the fastest drive ever offered to date after a few firmware revisions, but that is a gamble you have to be willing to take.
At CES we were told that the RunCore Pro V was ready to go with final firmware. Since then we have learned that isn't the case at all. With Anand's Vertex 2 Pro dying and mine on its last leg when we shipped it back, the only thing we can really hope for at this point is that OCZ gets these issues worked out. It is fair to say that when a drive comes in for review we beat the hell out of it, but a consumer expects to be able to do that as a boot drive for at least a couple of years.
For us the OCZ Vertex 2 Pro is little more than a nice little technical demo of things to come, well, things to come, but only for a short while. OCZ made a lot of ground with their Indilinx Barefoot drives. The benchmarks that were ran on the early firmware found when the drives were released is nothing like the current firmware. OCZ played a large role in the evolution of Barefoot firmware and were always the first to release code to enthusiasts. Some companies have yet to release a single update for their Indilinx Barefoot drives. Clearly OCZ is a leader, if not THE LEADER when it comes to added value and support after the purchase. I like to judge companies on their past actions and if OCZ treats their SandForce products like they did the Indilinx drives then the performance we observed today is only the starting point.
When it comes to the price we already know that the Vertex 2 Pro will never have a retail SKU, but we can look at the LE version for pricing. The 100GB drive should be available by the time you read this for 499 in limited quantities. This is a significant dollar amount since it is the exact same as Crucial's 128GB RealSSD C300. The obvious here is that the C300 has 28GB more space, but it also has SATA 6G connectivity (that actually adds performance in real world environments and not just a paper increase) as well as a guaranteed future supply if you are looking to RAID drives in the future.
In the coming days we will have a full breakdown of SandForce's technology and how the company is positioning their products in the market. We have been going back and forth with the company for the past month on some of the finer details.
PRICING: You can find products similar to this one for sale below.

United States: Find other tech and computer products like this over at Amazon.com

United Kingdom: Find other tech and computer products like this over at Amazon.co.uk

Australia: Find other tech and computer products like this over at Amazon.com.au

Canada: Find other tech and computer products like this over at Amazon.ca

Deutschland: Finde andere Technik- und Computerprodukte wie dieses auf Amazon.de
We openly invite the companies who provide us with review samples / who are mentioned or discussed to express their opinion. If any company representative wishes to respond, we will publish the response here. Please contact us if you wish to respond.
Related Tags