Crucial RealSSD C300 256GB SATA 3Gbps Performance Analysis
SATA 6G products are out but a majority of the market share still goes to SATA 3G. Today Chris shows us how the Crucial RealSSD C300 runs on SATA 3G.
Published Feb 23, 2010 12:55 AM CST
|
Updated Tue, Nov 3 2020 7:02 PM CST
Introduction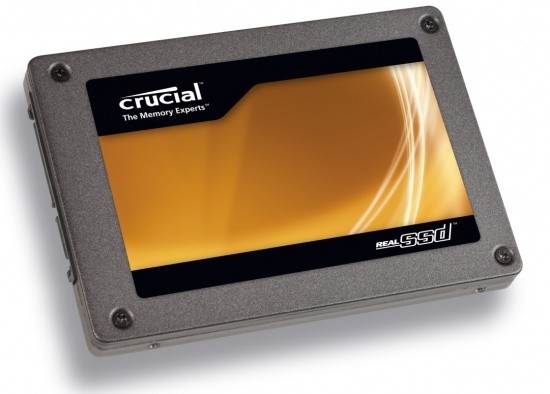 If you missed our original review of the Crucial RealSSD C300, now is a good time to spend a few minutes
reading the entertaining back story
. Crucial didn't try to hide the C300 from the public; they even started publishing a blog showing benchmark results. Most of the test results they displayed were the kind of thing that us storage nerds like to test with, but they don't give a good indication of how a drive will perform in real world conditions. Because of this we really wanted to get a drive for testing and at Storage Visions one such drive was passed around right before our eyes. The temptation to grab it and run was high, but with the boss lurking around the halls, getting the TweakTown Team banned from the show was not an option.
Option 2 had us playing the wait game and luckily we didn't have to wait too long. The day our drive arrived we had to spend a little time building a new workstation based on the GIGABYTE X58A-UD7, the current board that all enthusiasts dream about. Wasting no time, we pulled off a near record time build just like at the SYX PC Race for Charity and were installing Windows 7 x64 in 6 minutes or less.
Our testing showed that while using the GIGABYTE X58A-UD7's SATA 6G ports that the Crucial RealSSD C300 was the fastest drive we have ever tested. Our test results also included results from the RunCore Pro IV, another next generation solid state drive, but based on the SandForce 1500 enterprise controller and paired with consumer grade Multi-Level Cell memory. The level at which the Crucial RealSSD C300 dominated the other drives in our charts lead us to conclude that this is the drive that will dominate the enthusiast class solid state market for the first half of 2010.
Today we are going to make another run at the Crucial RealSSD C300, but this time focus on the drives performance on the Intel ICH SATA 3G. SATA 6G may be the way of the future and even though it is available on a select few motherboards and add-on cards are available for less than 50 USD, the fact is that SATA 3G is everywhere right now.
To spice things up, we have also included in our performance charts the results of the recently tested Intel X25-E and the OCZ Technology Vertex 2 Pro. Reviews of these products will be published over the next month. For now let's see how everything performs at SATA 3G.
Test System Setup and ATTO Baseline
Test System
Motherboard
: ASUS P6T7 WS SuperComputer (Supplied by
ASUS
)
Processors
: Intel 975 EE (Supplied by
AVADirect
)
Memory
: Corsair Dominator 1600 MHz Triple Channel Kit
Graphics Card
: Leadtek Quadro FX1700 (Supplied by
Leadtek
)
Enclosure
: Lian Li V2000
Cooling
: Noctua NH-U12P SE2 (Supplied by
Noctua
)
SAS Controller
: LSI MegaRAID SAS 9260-8i (Supplied by
LSI
)
Operating System
: Microsoft Windows 7 Ultimate X64
You can read more about TweakTown's Storage Product Testing Workstation and the procedures followed to test products
in this article
.
For today's tests we went back to the ASUS P6T7 WS SuperComputer for all but the SATA 6G C300 benchmarks. While testing the GIGABYTE X58A-UD7, we found an issue that effects solid state drives on this board. In our first chart of the C300 we noticed that one test in PC Mark Vantage ran extremely slow. At the time we wrote it off as an issue with the C300's firmware, but further testing exonerated the C300 as the cause. A big thanks goes out to Olin from Benchmark Reviews for helping us with re-testing. GIGABYTE is currently investigating the issue that seems to affect the C300, Indilinx Barefoot and X25-M in this one test.
What makes this test interesting is that the Intel ICH SATA 3G ports have been proven to perform up to 10% faster than the Marvell SATA 6G ports with high speed SATA 3G drives. When I started the testing I knew there would be a very good chance that the Intel SATA 3G performance may very well be higher than the Marvell 6G. Let's get to it.
ATTO Baseline Performance
Version and / or Patch Used:
2.34
ATTO is used by many disk manufacturers to determine the read and write speeds that will be presented to customers.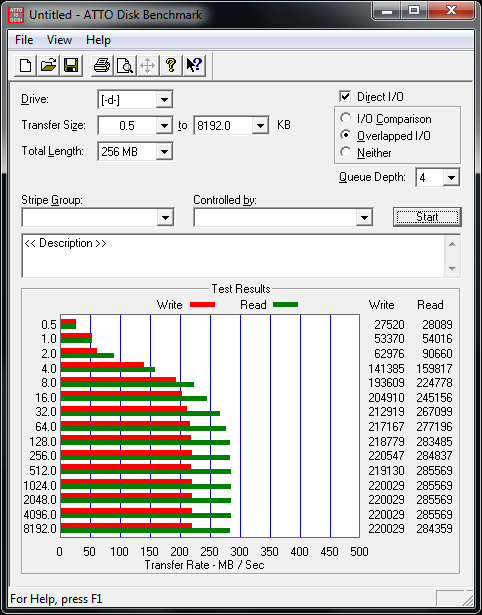 ATTO shows us read speeds that are limited by SATA 3G and this is something we expected since the Crucial RealSSD C300 is the first drive that actually makes use of the available head room of 6G. The write speeds are a hair faster on the Marvell SATA 6G, but the results are nearly identical and within the margin of error.
Benchmarks - HD Tune Pro
HD Tune ProVersion and / or Patch Used:
4.00
Developer Homepage:
http://www.efdsoftware.com
Product Homepage:
http://www.hdtune.com
HD Tune is a Hard Disk utility which has the following functions:
- Benchmark: measures the performance
- Info: shows detailed information
- Health: checks the health status by using SMART
- Error Scan: scans the surface for errors
- Temperature display
HD Tune Pro gives us accurate read, write and access time results and for the last couple of years has been gaining popularity amongst reviewers. It is now considered a must have application for storage device testing.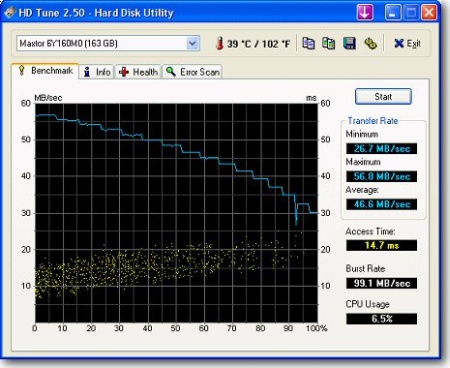 Read Tests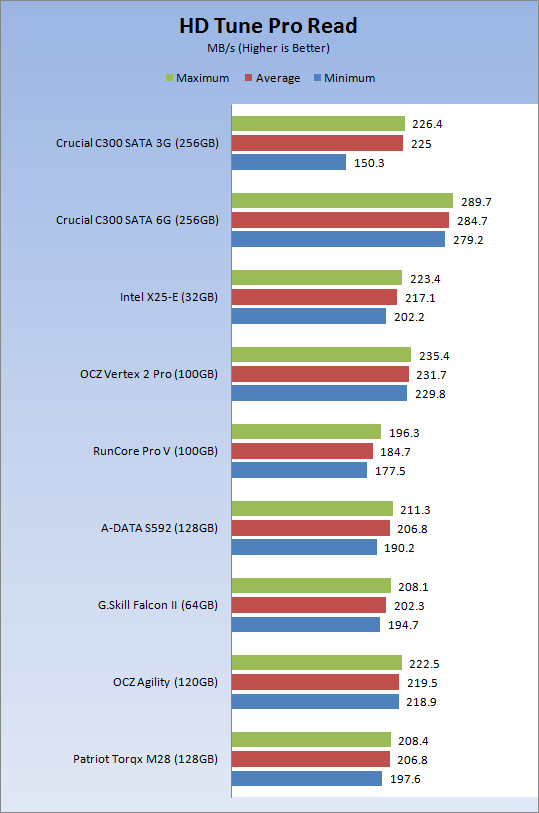 Right from the start we see the performance hit in the synthetic STR benchmark by moving to SATA 3G, but as you can see it just pulls the Crucial C300 back down to the same levels as the fastest SATA 3G drives.
Write Tests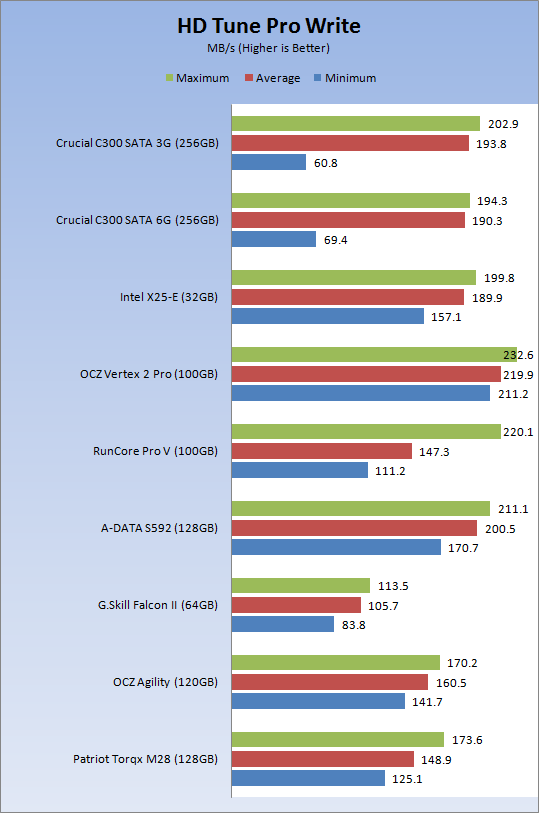 The write test shows the Intel ICH SATA 3G doing exactly what we were expecting, running just a little faster, but the very slight performance increase doesn't appear to be enough to make you want to run your C300 on SATA 3G if given the option.
Benchmarks - Everest Random Access Time
Everest Random Access TimeVersion and / or Patch Used:
4.60
Developer Homepage:
http://www.lavalys.com
Product Homepage:
http://www.lavalys.com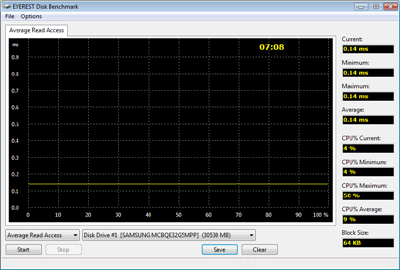 Everest Ultimate and Corporate Edition offer several different benchmarks for testing and optimizing your system or network. The Random Access test is one of very few if not only that will measure hard drives random access times in hundredths of milliseconds as oppose to tens of milliseconds.
Read Tests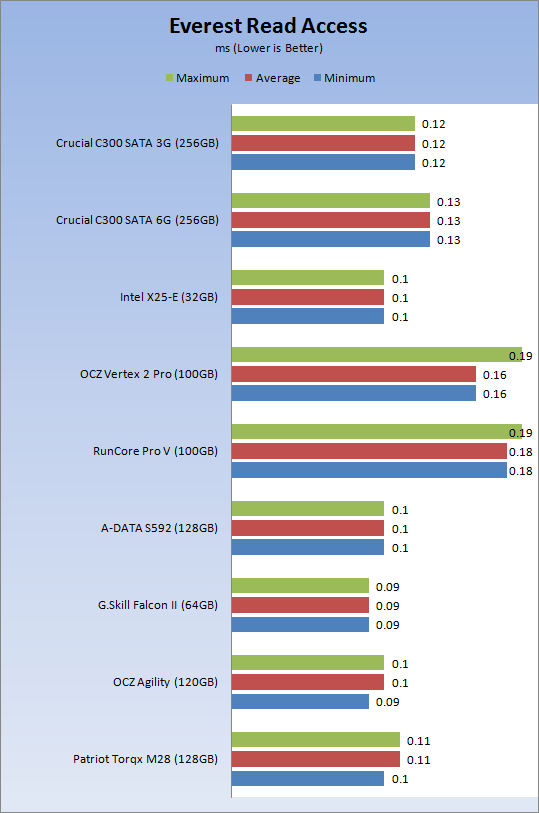 Access times are what give solid state drives such a massive advantage over traditional platter based drives. Here we see the SATA 3G ICH cutting a small amount of time from the process.
Write Tests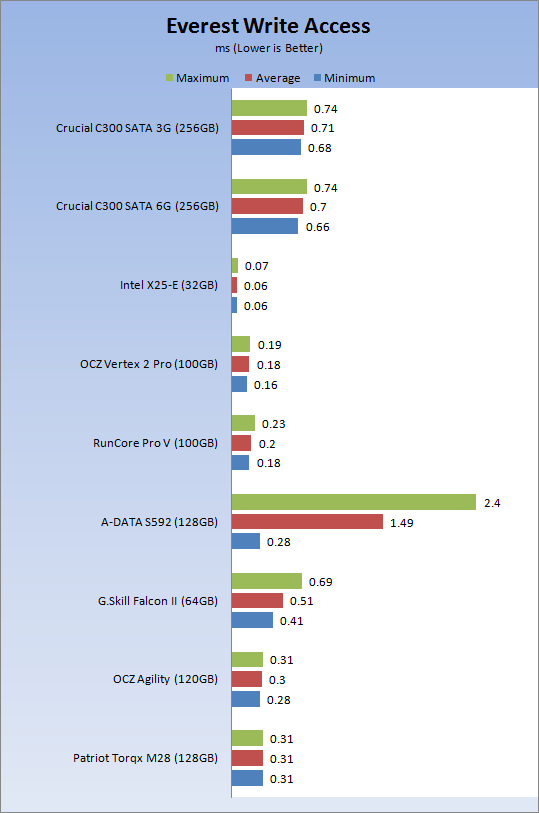 The write access times are nearly identical for the SATA 3G and SATA 6G C300 tests.
Benchmarks - Crystal Disk Mark
CrystalDiskMarkVersion and / or Patch Used:
3.0 Technical Preview
Developer Homepage:
http://crystalmark.info
Product Homepage:
http://crystalmark.info/software/CrystalDiskMark/index-e.html
Download here:
http://crystaldew.info/category/software/crystaldiskmark
CrystalDiskMark is a disk benchmark software.
Key Features:-
* Sequential reads/writes
* Random 4KB/512KB reads/writes
* Text copy
* Change dialog design
* internationalization (i18n)
Note:
Crystal Disk Mark 3.0 is not available to the public yet, but the Technical Preview does allow us to test 4K performance at queue depths of 4 and 32 in addition to 1. The current release Crystal Disk Mark only shows us QD 1.
Read Tests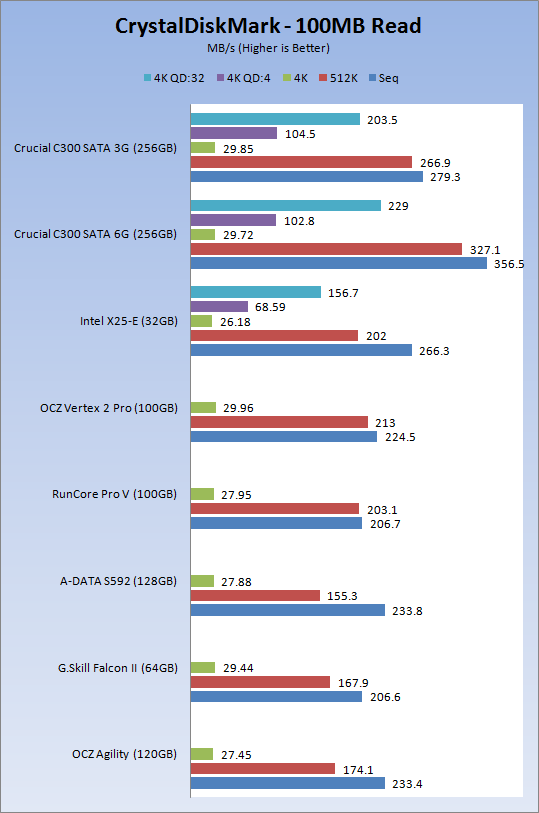 Until we start getting into areas where the additional head room comes into play, the SATA 3G numbers look nearly identical to the SATA 6G.
The older drives at the bottom of the list were not tested with version 3.0 Technical Preview.
Write Tests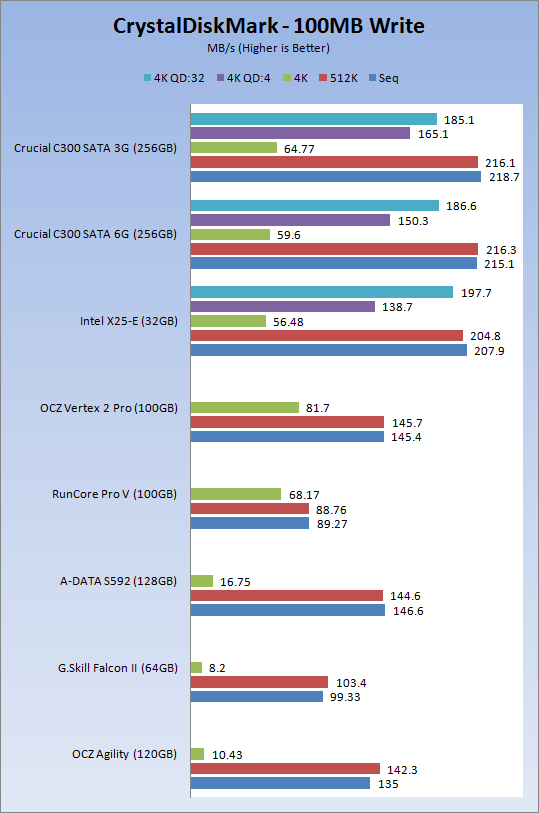 The write tests show no change between SATA 3G and SATA 6G.
Let's move past the synthetic benchmarks and see how the drives perform in the real world.
Benchmarks - PCMark Vantage Hard Disk Tests
PCMark Vantage - Hard Disk TestsVersion and / or Patch Used:
1.0.0
Developer Homepage:
http://www.futuremark.com
Product Homepage:
http://www.futuremark.com/benchmarks/pcmark-vantage/
Buy It Here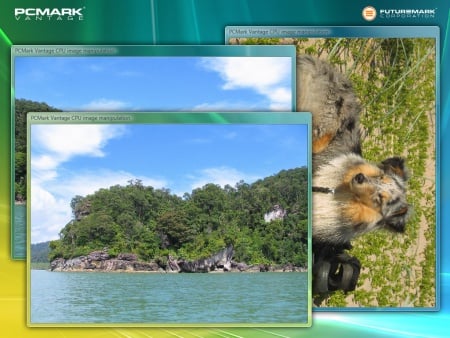 PCMark Vantage is the first objective hardware performance benchmark for PCs running 32 and 64 bit versions of Microsoft Windows Vista. PCMark Vantage is perfectly suited for benchmarking any type of Microsoft Windows Vista PC from multimedia home entertainment systems and laptops to dedicated workstations and high-end gaming rigs. Regardless of whether the benchmarker is an artist or an IT Professional, PCMark Vantage shows the user where their system soars or falls flat, and how to get the most performance possible out of their hardware. PCMark Vantage is easy enough for even the most casual enthusiast to use yet supports in-depth, professional industry grade testing.
FutureMark has developed a good set of hard disk tests for their PCMark Vantage Suite. These tests are based on real world applications that many of us use daily.

HDD1 - Windows Defender
HDD2 - Gaming
HDD3 - Windows Photo Gallery
HDD4 - Vista Startup
HDD5 - Windows Movie Maker
HDD6 - Windows Media Center
HDD7 - Windows Media Player
HDD8 - Application Loading
If you are a typical Windows 7 user these benchmarks are the most important to look at in the entire article. Here we see that the Crucial RealSSD C300 is able to perform very well when running SATA 3G. What is very interesting is that even when on 3G, the C300 is still able to outperform the Intel X25-E and SandForce controlled drives in many tests.
This leads us to believe that it will be possible for users looking to upgrade their system in stages to purchase the C300 and then a SATA 6G capable motherboard when the funds are replenished or when Intel or AMD launches boards with native SATA 6G.
Benchmarks - AS SSD
AS SSD BenchmarkVersion and / or Patch Used:
1.2.3577.40358
Developer Homepage:
Alex Intelligent Software
Product Homepage:
Alex Intelligent Software
Download here:
http://www.alex-is.de/PHP/fusion/downloads.php?cat_id=4&download_id=9
AS determines the performance of Solid State Drives (SSD). The tool contains four synthetic as well as three practice tests. The synthetic tests are to determine the sequential and random read and write performance of the SSD. These tests are carried out without the use of the operating system caches.
In all synthetic tests the test file size is 1GB. AS can also determine the access time of the SSD, the access of which the drive is determined to read through the entire capacity of the SSD (Full Stroke). The write access test is only to be met with a 1 GB big test file. At the end of the tests three values for the read and write as well as the overall performance will be issued. In addition to the calculated values which are shown in MB/s, they are also represented in IO per seconds (IOPS).
Note:
AS SSD is a great benchmark for many tests, but since Crystal Disk Mark covers a broader range of 4K tests and HD Tune Pro covering sequential speeds, we will only use the Copy Benchmark from AS SSD.
- Copy Benchmark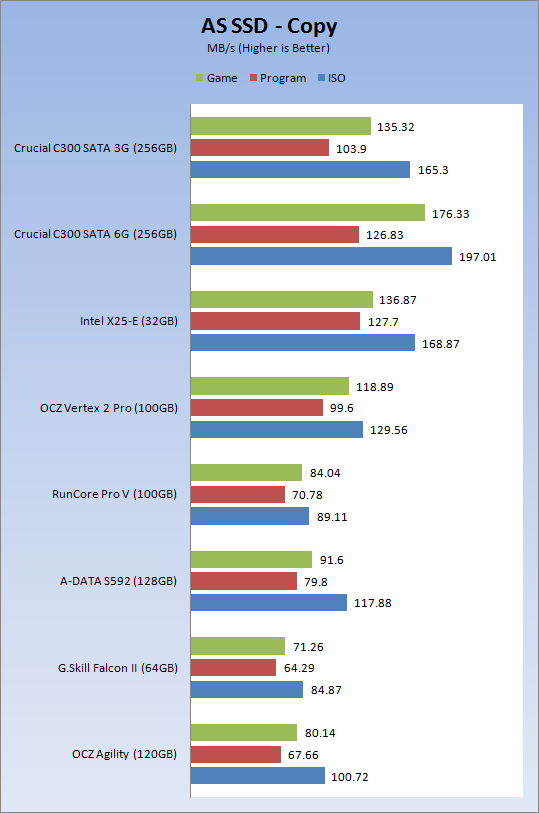 In the file copy test we see the C300 running on SATA 6G gaining a nice performance boost and the 3G running nearly identical speeds as the Intel X25-E enterprise drive in two of the three tests. The OCZ Vertex 2 Pro lags behind both tests of the C300.
Benchmarks - Passmark
Passmark Advanced Multi-User TestsVersion and / or Patch Used:
6.1
Developer Homepage:
http://www.passmark.com
Test Homepage:
http://www.passmark.com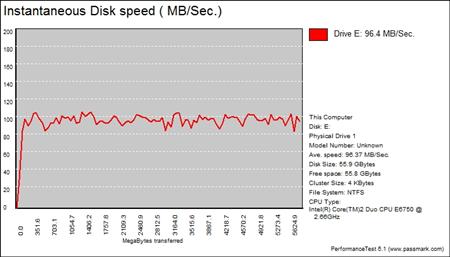 Many users complain that I/O Meter is too complicated of a benchmark to replicate results so my quest to find an alternative was started. Passmark has added several multi-user tests that measure a hard drives ability to operate in a multi-user environment.

The tests use different settings to mimic basic multi-user operations as they would play out on your server. Variances is read / write percentage as well as random / sequential reads are common in certain applications, Web Servers read nearly 100% of the time while Database Servers write a small amount of data.
The Workstation test is the only single user environment and will be similar to how you use your system at home.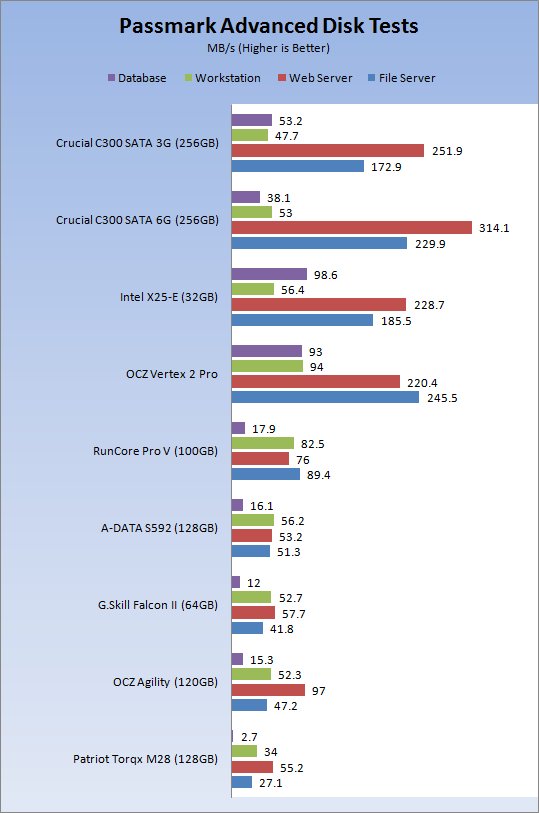 Here we see the server test performance numbers. The Crucial RealSSD C300 was not designed to be a server drive, but it appears that in some usage scenarios it may have a bright future in the area.
Final Thoughts
With enthusiast motherboards now breaking the 400 USD mark not everyone is comfortable with purchasing a new board on an impulse buy like what would happen just a few years ago. Motherboard manufacturers have taken a play from the video card manufacturers and turned the enthusiast motherboard market into yet another component that you keep for a year or two because of the high cost. With that in mind, there are SATA 6G add-in boards that are
already selling for as low as 40 USD at Newegg
, but I think a majority of users would prefer to use a native on board solution. Intel will not release a new chipset with native SATA 6G until 2011 so that leaves everyone with a tough choice, use SATA 3G for now, an add-in board, or purchase a new motherboard with a Marvell SATA 6G controller on board.
Notebook users really don't have many options at this point. Since Intel will not have SATA 6G ready for another year they are stuck running SATA 3G without an existing upgrade path for some time. The tests today with the Crucial RealSSD C300 should allow notebook users to make an informed buying decision on the C300.
Even on older SATA 3G hardware, the Crucial RealSSD C300 is still one of the fastest solid state drives available on the market today. Desktop users will be able to purchase and use the drive and still see significant performance increases over their current HDD or SSD and have the ability to purchase either an add-on board or a new motherboard when the time is right to get the maximum performance possible. Notebook users who are pretty much in a holding pattern until 2011 will also be able to update their existing HDD or SSD to the C300 and see instant performance benefits.
When it really comes down to it, no matter which side of the fence you find yourself on, either SATA 3G or 6G, the Crucial RealSSD C300 is the best possible choice for all out performance. The 128GB and 256GB drive should already be on sale by the time you read this for 499 and 799 USD at Crucial.com.
At this point you might think this is the final chapter from us on the new C300, but we still have one more set of benchmarks to run. Since I was not able to find a Pentium III motherboard with native SATA to see just how far we could go back and see a performance gain, that left us just one last option, RAID performance. Check back in a few days to see how a pair of Crucial RealSSD C300s perform in RAID 0 with onboard and add-in board RAID controllers including the new LSI 9260-8I with adaptive cache technology, PCIe 2.0 and 6G support out of the box. Be sure to hide your credit card, because after you see the performance the question will quickly turn into how many C300s you want right away.
PRICING: You can find products similar to this one for sale below.

United States: Find other tech and computer products like this over at Amazon.com

United Kingdom: Find other tech and computer products like this over at Amazon.co.uk

Australia: Find other tech and computer products like this over at Amazon.com.au

Canada: Find other tech and computer products like this over at Amazon.ca

Deutschland: Finde andere Technik- und Computerprodukte wie dieses auf Amazon.de
We openly invite the companies who provide us with review samples / who are mentioned or discussed to express their opinion. If any company representative wishes to respond, we will publish the response here. Please contact us if you wish to respond.