Windows 7 (Final OEM) vs. Windows Vista VGA Performance
With the final OEM of Windows 7 installed, we see how its VGA performance compares to Windows Vista today.
Published
|
Updated Tue, Nov 3 2020 7:03 PM CST
6 minute read time
Introduction
I have to say that it feels like Windows 7 really came out quickly. Normally we see operating system launches drag out for what feels like years, but with Windows 7 we have one month where we're looking at an RC version of the operating system and the next thing, we have a final OEM build!
It's really nice to see, because for someone like me who upgrades their computer so often with just minor upgrades such as a new CPU, more RAM, faster graphics card etc. your system never feels like new again. With a new operating system, though, it's like starting fresh.
Today we'll be having a look at how the new Windows 7 operating system goes against Windows Vista which has really got a love / hate relationship going for so many people. The uptake on the OS was never great, which is the main reason why today we're still including XP in our graphics card benchmarks. The main focus today will be VGA performance; we'll have a look at one card in a number of our benchmarks and see how performance differs in the two operating systems.
There isn't a whole lot that has to be said today, so we'll quickly have a look at our testbed and give a quick blurb on what we're doing before getting stuck into the benchmarks and see how the two operating systems perform.
Test System Setup and 3DMark Vantage
Test System SetupProcessor(s):
Intel i7 920 @ 3.8GHz (190MHz x 20)
Cooling:
Noctua NH-U12P (Supplied by
Noctua
)
Motherboard(s):
GIGABYTE EX58-UD5 (Supplied by
GIGABYTE
)
Memory:
3 X 2GB OCZ Technology PC-12800 DDR-3 8-8-8-24 (OCZ3G1600LV6GK)
Hard Disk(s):
Western Digital 300GB Velicorapter (Supplied by
Western Digital
)
Operating System:
Windows 7 Ultimate 64-Bit Final OEM, Windows Vista SP2 64-Bit
Drivers:
ForceWare 190.38
With our GIGABYTE GTX 285 2GB card in hand, it's time to see what kind of performance we've got going on in both operating systems. With the ForceWare 190.38 installed we'll see if Windows 7 is going to be ready come October 22 to be you're new operating system.
3DMark VantageVersion and / or Patch Used:
1.0.1
Developer Homepage:
http://www.futuremark.com
Product Homepage:
http://www.futuremark.com/products/3dmarkvantage/
Buy It Here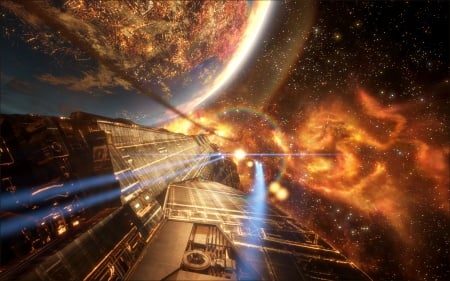 3DMark Vantage is the new industry standard PC gaming performance benchmark from Futuremark, newly designed for Windows Vista and DirectX10. It includes two new graphics tests, two new CPU tests, several new feature tests, and support for the latest hardware.
3DMark Vantage is based on a completely new rendering engine, developed specifically to take full advantage of DirectX10, the new graphics API from Microsoft.
Under our first test we can see there is nothing between the two operating systems. The move to Windows 7 is not going to yield a decrease or increase under Vantage from what we can see here.
Benchmarks - CINEBENCH R10
CINEBENCH R10Version and / or Patch Used:
Release 10
Developer Homepage:
http://www.maxon.net/
Product Homepage:
http://www.maxon.net

CINEBENCH is a real-world test suite that assesses your computer's performace capabilities. MAXON CINEBENCH is based on MAXON's award-winning animation software, CINEMA 4D, which is used extensively by studios and production houses worldwide for 3D content creation. MAXON software has been used in blockbuster movies such as Spider-Man, Star Wars, The Chronicles of Narnia and many more.
MAXON CINEBENCH runs several tests on your computer to measure the performance of the main processor and the graphics card under real world circumstances. The benchmark application makes use of up to 16 CPUs or CPU cores and is available for Windows (32-bit and 64-Bit) and Macintosh (PPC and Intel-based).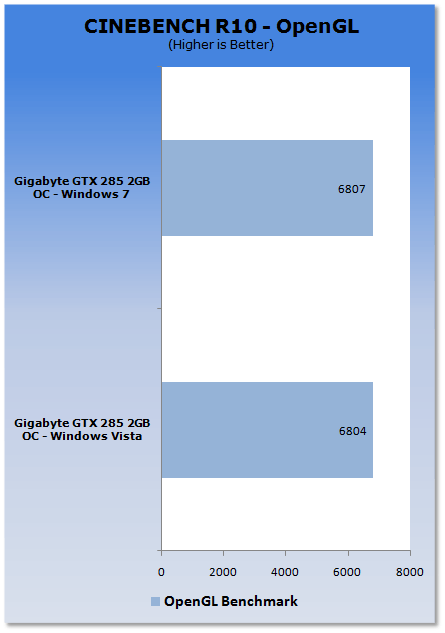 CINEBENCH also sees that both operating systems perform almost identically.
Benchmarks - World in Conflict
World in ConflictVersion and / or Patch Used:
1.0.0.5
Timedemo or Level Used:
Built-in Test
Developer Homepage:
http://www.massive.se
Product Homepage:
http://www.worldinconflict.com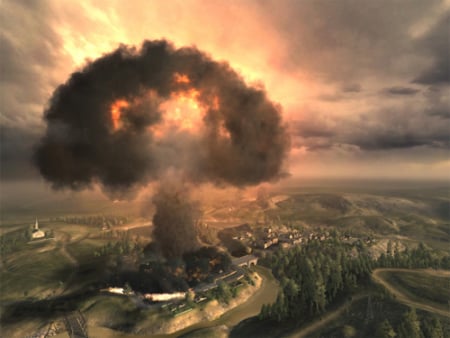 World in Conflict is a real-time strategy video game by Massive Entertainment and to be published by Sierra Entertainment for Windows (DX9 and DX10).
The game is set in 1989 where economic troubles cripple the Soviet Union and threaten to dissolve it. However, the title pursues a "what if" scenario where, in this case, the Soviet Union does not collapse and instead pursues a course of war to remain in power. It is an intensive new game is sure to put plenty of stress on even the latest graphics cards and we use the built-in benchmarking for our testing.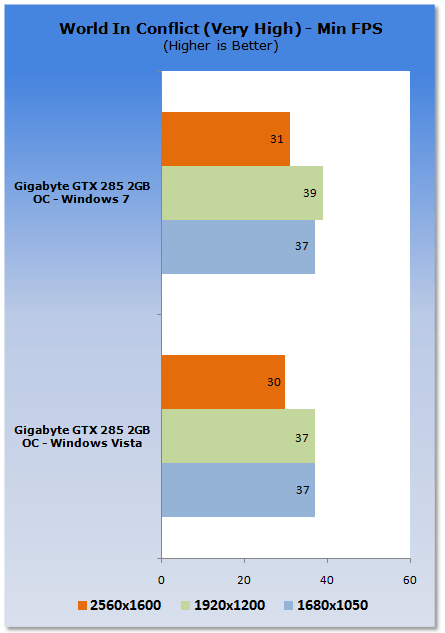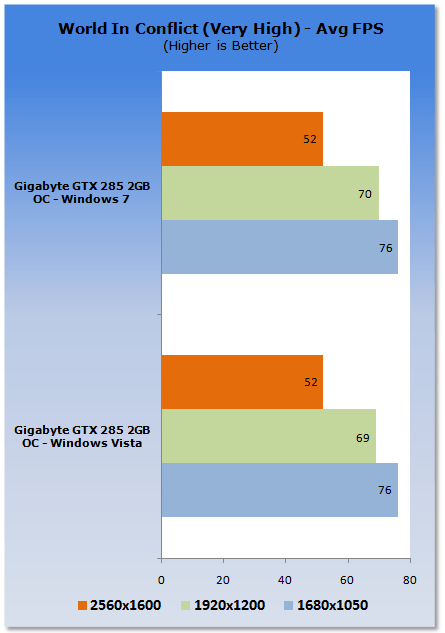 In the minimum segment we can see that performance is slightly up on the GTX 285 under Windows 7.
Benchmarks - Crysis Warhead
Crysis WarheadVersion and / or Patch Used:
unpatched
Timedemo or Level Used:
Airfield
Developer Homepage:
http://www.crytek.com
Product Homepage:
http://crysiswarhead.ea.com/
Buy It Here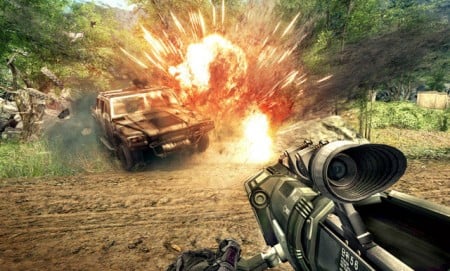 Crysis Warhead updates and refines the gameplay of the original game through a sidestory plot involving Psycho, one of previous protagonist Nomad's allies. The game is a parallel story that follows Sergeant Michael "Psycho" Sykes, a character from the original Crysis, as he faces his own trials and challenges on the other side of the island during the time period of the first game.
It also showcases a new, enhanced and optimized version of CryEngine 2 using full DX10 extensions and is the first game developed by Crytek's Budapest studio.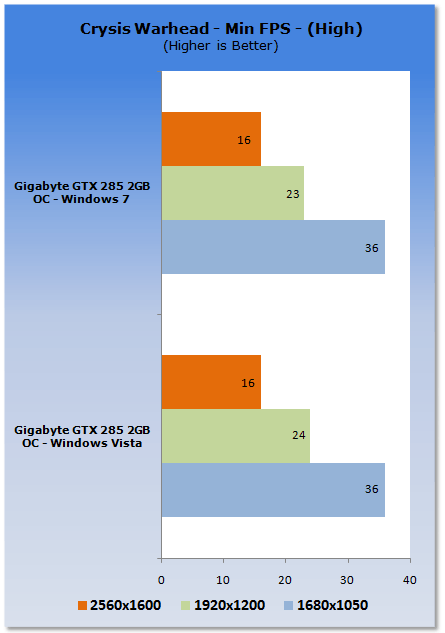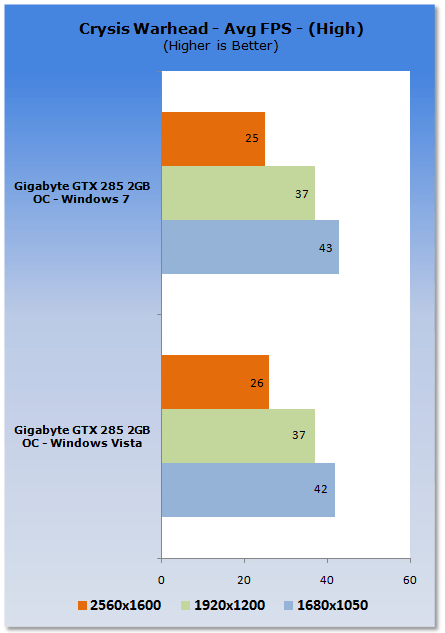 Across the board we can see that performance is almost identical, with a frame up in one spot and a frame down in another.
Benchmarks - Far Cry 2
Far Cry 2Version and / or Patch Used:
1.01
Timedemo or Level Used:
Ranch Long
Developer Homepage:
http://www.ubi.com/
Product Homepage:
http://www.farcry2.com/
Buy It Here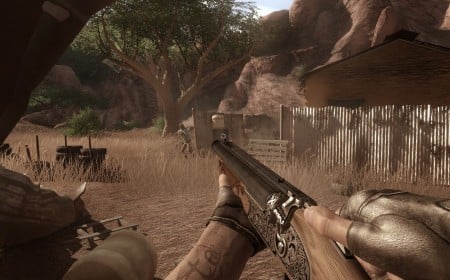 The Dunia Engine was built specifically for Far Cry 2 by the award-winning Ubisoft Montreal development team. It delivers the most realistic destructible environments, amazing special effects such as dynamic fire propagation and storm effects, real-time night-and-day cycle, dynamic music system, non-scripted enemy A.I. and so much more.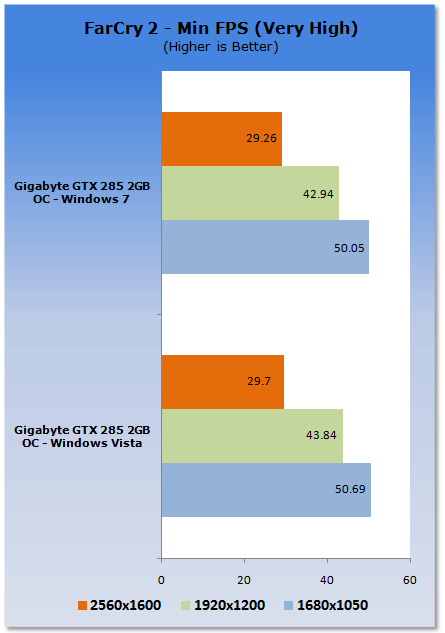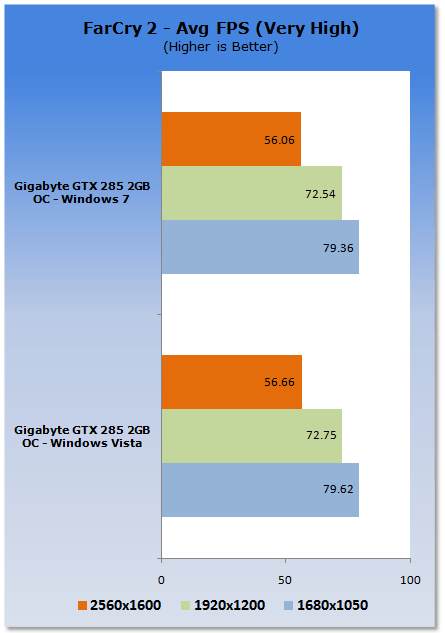 We again see that between the two operating systems there is very little difference with the GIGABYTE GTX 285 2GB installed.
Benchmarks - S.T.A.L.K.E.R. - Clear Sky
S.T.A.L.K.E.R. - Clear SkyVersion and / or Patch Used:
1.5.07
Timedemo or Level Used:
Custom Timedemo
Developer Homepage:
http://www.gsc-game.com/
Product Homepage:
http://cs.stalker-game.com/en/
Buy It Here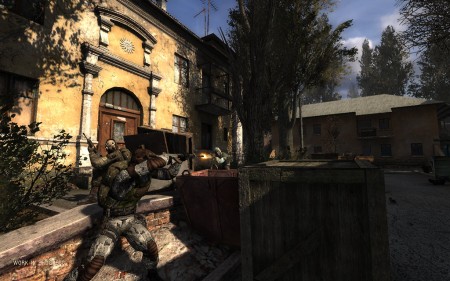 S.T.A.L.K.E.R.: Clear Sky, is the stand-alone prequel for S.T.A.L.K.E.R.: Shadow of Chernobyl, a first-person shooter computer game by Ukrainian developer GSC Game World.[3] The game consists of a roughly 50/50 mix of new areas and old, remodeled areas from the previous game. The X-ray graphics engine has been updated to version 1.5 and includes DirectX 10 support (later patch 1.5.06 included DirectX 10.1). Additionally, the AI received an overhaul to accommodate the new faction wars feature.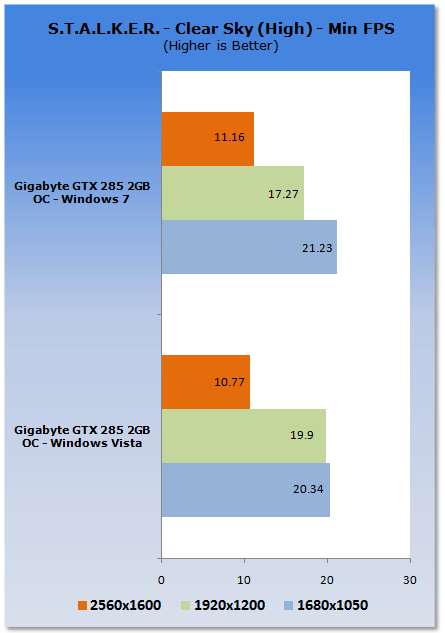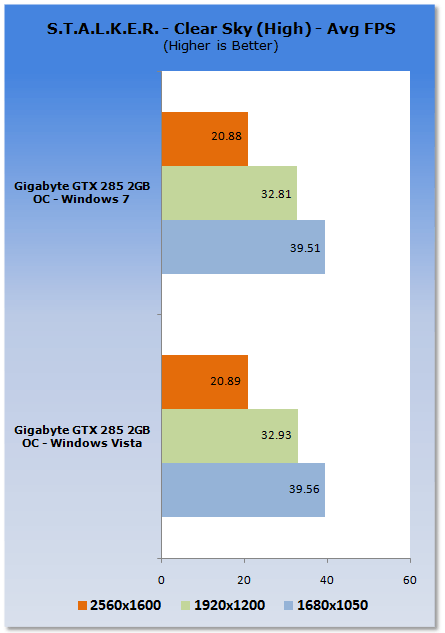 Performance is a bit up and down here. We can see at the higher resolution the minimum is up and at 1920 x 1200 it's down, while at 1680 it's up again slightly.
Benchmarks - High Quality AA and AF
High Quality AA and AF
Our high quality tests let us separate the men from the boys and the ladies from the girls. If the cards weren't struggling before they will start to now.
Far Cry 2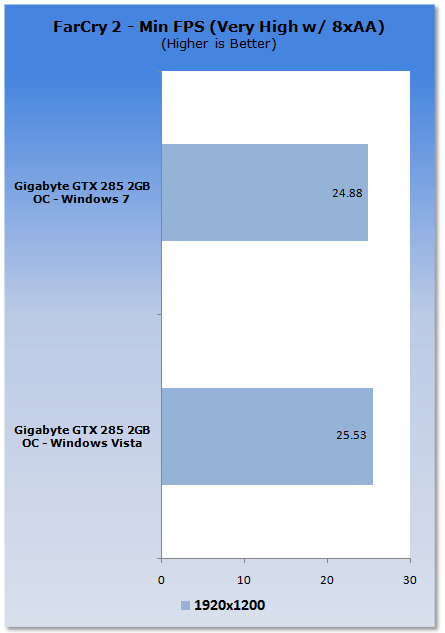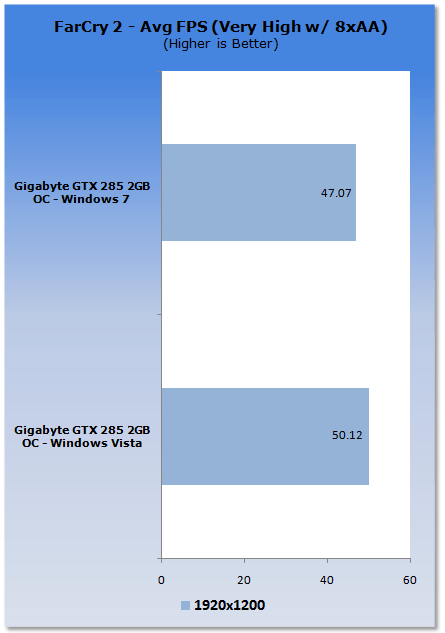 Less than an FPS separate the two operating systems in the minimum department, while in the averages Windows 7 is down just over 3 FPS.
World In Conflict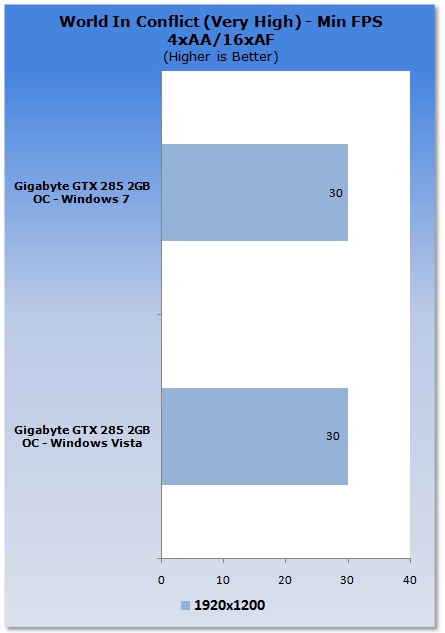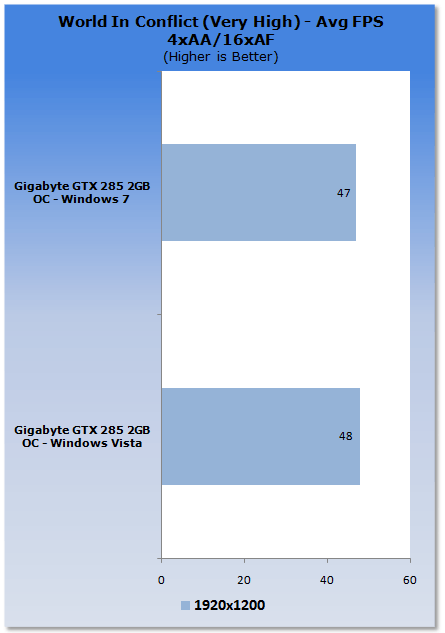 Only in the average department do we see we've dropped an FPS.
Final Thoughts
If you're happy with the overall graphics card performance you receive from Windows Vista, but think it's time to jump on the new Windows 7 bandwagon, you can know that you're not going to be disappointed with low frame rates in the newly released operating system.
When Vista launched it was nice to have all those new bells and whistles. The problem was that if you were a gamer you would quickly find yourself greeted with BSODs, random crashing and poor FPS. Out of the gate we don't have this issue with Windows 7; the only notable problem we did have was when we tried to run the FC2 Benchmark Tool from the desktop shortcut created, it would just crash instead of opening. If you went directly into the FC2 folder, however, and ran it there, the program would run without an issue.
There's going to be some teething issues from the operating system, no matter what. Some of those problems are going to be for the game creators to fix, though. For the most part we love the operating system and we love the fact that we can get straight into it and not have to worry about losing precious FPS in our favorite games.
The fact that our performance is very similar now hopefully means that as time goes on driver companies are going to be able to really harness the power of Windows 7 and offer us even more performance than we see here today.
If you do have a problem with a game in the final OEM build of Windows 7, make sure you
drop us a line in the forums
so other people know. Of course, we only test a few of the thousands of games that are out there.
PRICING: You can find products similar to this one for sale below.

United States: Find other tech and computer products like this over at Amazon.com

United Kingdom: Find other tech and computer products like this over at Amazon.co.uk

Australia: Find other tech and computer products like this over at Amazon.com.au

Canada: Find other tech and computer products like this over at Amazon.ca

Deutschland: Finde andere Technik- und Computerprodukte wie dieses auf Amazon.de